Our House Salad Recipe
Our house salad recipe can not be any easier to make! It's our go-to salad 99% of the time. Made with crisp romaine lettuce, cucumbers, sweet tomatoes, and creamy avocado, then tossed in a zesty dressing.
Serving Tip! Pair it with our Vodka Sauce Recipe and hot buttery noodles for an effortless meal or with spring chicken vegetable stew for something cozy.
What is a House Salad?
Every home has a house salad. You know a salad that you make almost every night to go with your dinner. Our recipe for a house salad is so crisp and fresh. It's one of those salads that you can eat every single day and never get tired of it. Plus it goes with just about any entrée imaginable!
The best part of this house salad recipe is the zesty and tangy homemade vinaigrette. Whisk it up in just a couple of minutes and be ready to serve the salad with dinner quickly.
It's a great healthy side salad to pair with a main dish. Or add some grilled chicken tenders or roasted red pepper salmon to turn this into a complete meal. Feel free to make this into your very own 'house salad' by mixing and matching your favorite salad ingredients and dressings!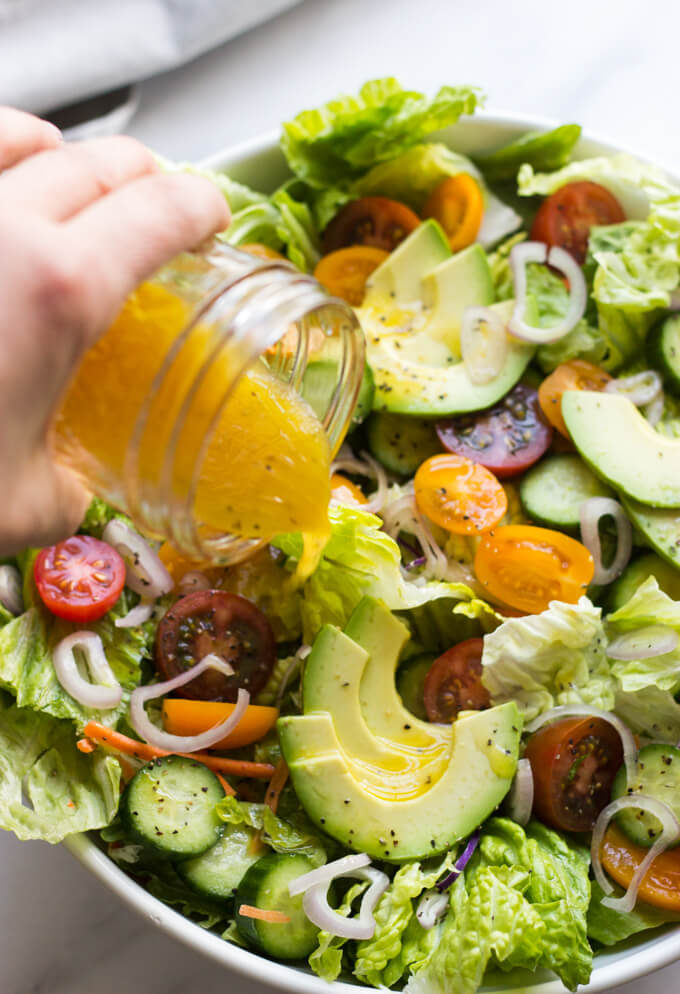 Ingredients
These simple ingredients are fresh and make this salad really stand out.
Romaine lettuce – Chopped romaine is a great option for this basic salad recipe. Sometimes I like to use bagged romaine salad mix with shredded carrots and red cabbage. It goes really well here too.
Mini cucumbers – These smaller cucumbers are crunchy and delicious. You can usually find them in a bag in the refrigerated section of the produce aisle.
Grape tomatoes – Grape or cherry tomatoes are sweet and delicious in this salad. Plus a favorite with kids!
Shallot – Mince the shallots so you get a little with each bite and don't overwhelm your palette with onion flavor. You can also choose to very thinly slice them.
Avocado – Choose a ripe avocado if you plan to eat the salad right away. If you need to let the avocado ripen, leave it on the counter until it's just right.
Olive oil – Good quality oil is the secret to a great dressing. You can tell if it's high-quality by the taste and texture when you take a taste.
Fresh lemon juice – Freshly squeezed lemon juice is tangy and bright and the perfect accompaniment to this salad.
Red wine vinegar – Be sure your bottle of red wine vinegar is still fresh and hasn't expired. Shake well before pouring it as well.
Salt and black pepper – Kosher is the best option for cooking and baking. Try to avoid table salt if possible.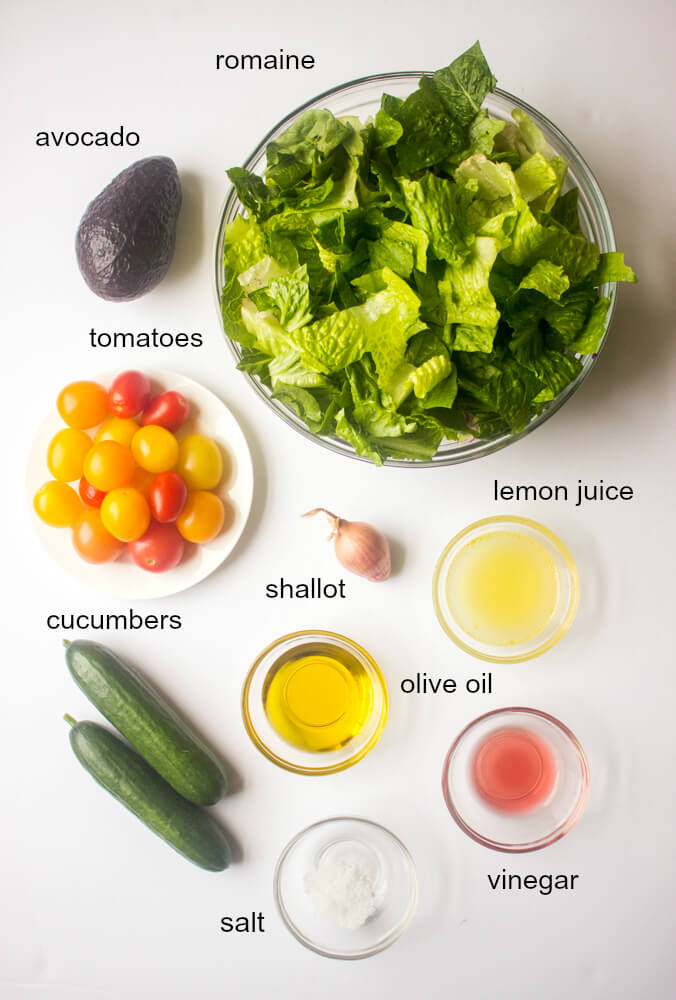 How to Make a House Salad
The steps to make this salad are incredibly simple. For the full description, see the recipe card below.
Slice the cucumbers into rounds, halve the grape tomatoes, thinly slice the shallot, and pit and slice the avocado.
Combine the salad ingredients in a bowl along with romaine lettuce.
Whisk the dressing ingredients together and pour over the salad. Taste for salt and add more if needed. Serve immediately.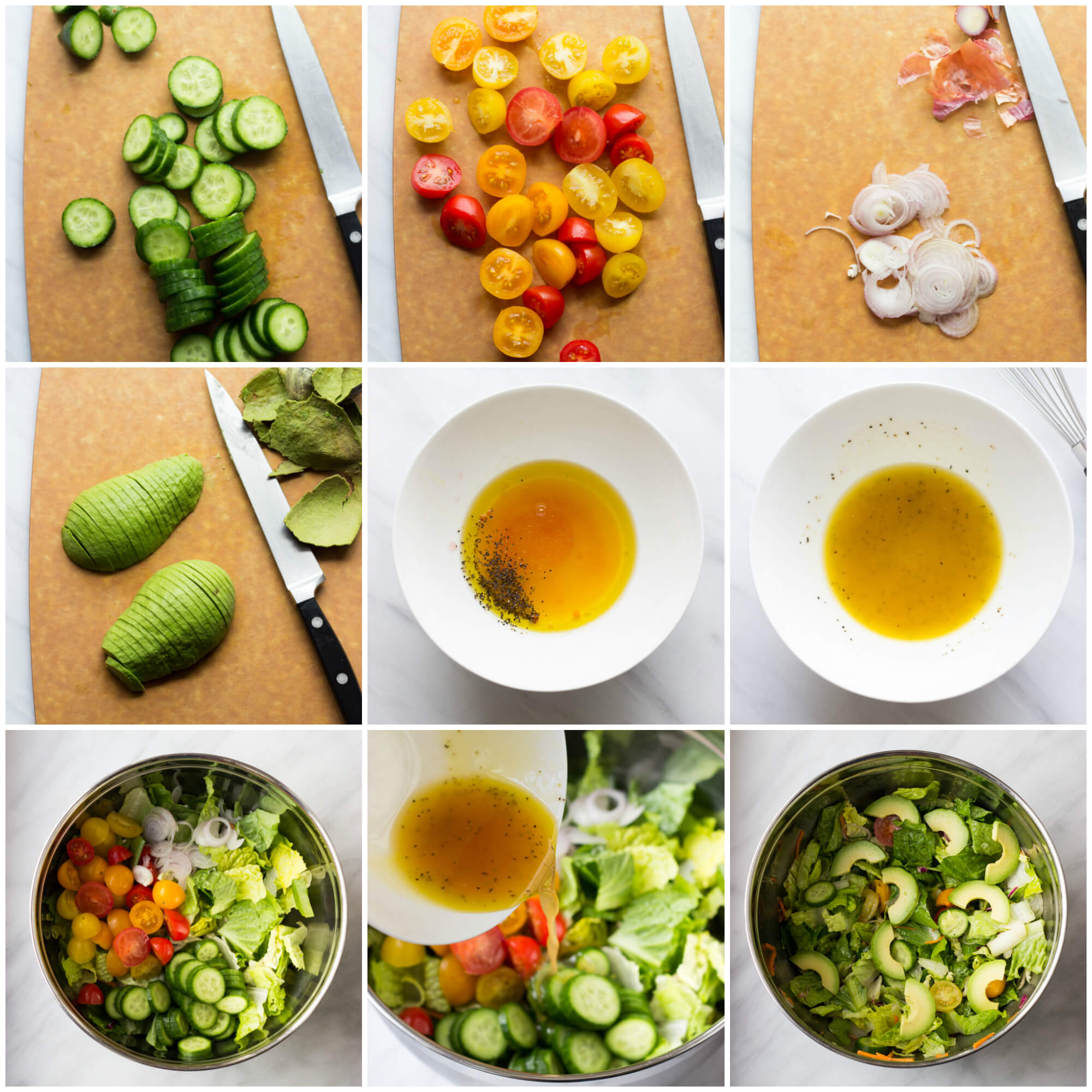 Other Ways to Make the Vinaigrette
The basic components of a vinaigrette are high-quality extra-virgin olive oil, an acid, and flavorings.
Feel free to switch up the ingredients in place of the ones in this recipe to suit your taste or to simply use what you already have in your pantry.
Some options include avocado oil, apple cider vinegar, white wine vinegar, dijon mustard, minced garlic, diced green onions, or dried spices such as oregano or basil.
Recipe Tips
Here are some tips and tricks to help you make the best house salad.
Variations
This house salad recipe is easily adaptable to fit your tastes and preferences. Here are some options to get you started.
You can use regular cucumbers if you can't find mini cucumbers.
Substitute thinly sliced red onion for the shallot.
Use other types of lettuce like butter lettuce, spinach, arugula, or a spring mix.
Add other fruits and veggies like bell pepper, diced carrots, blueberries, strawberries, or dried cranberries.
Top with shredded cheddar cheese or crumbled feta cheese.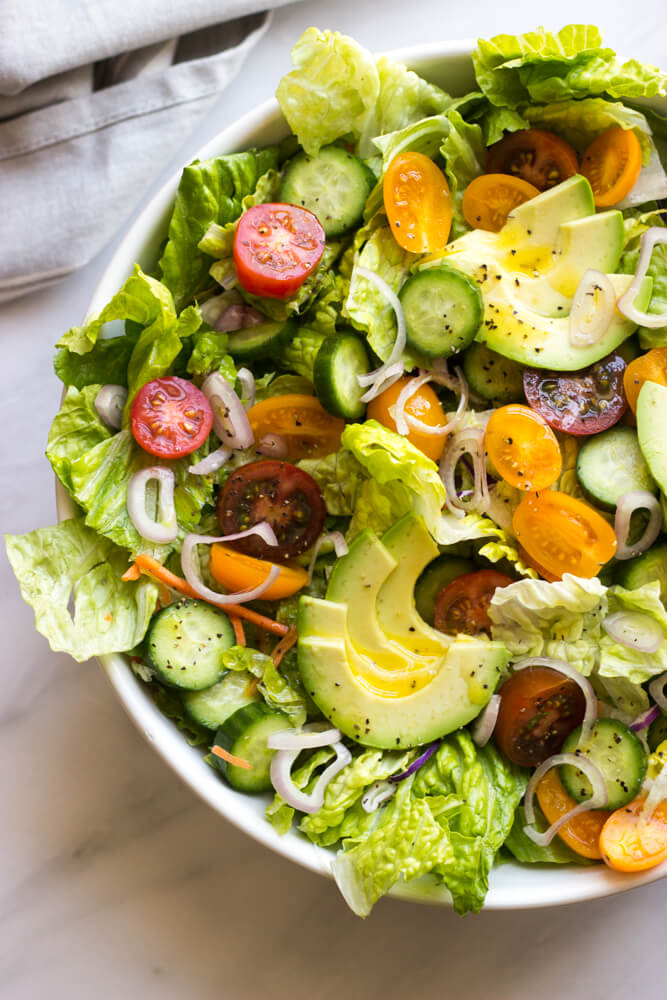 How to Serve
This simple house salad is the perfect weekday side for any main course. It can be served with a variety of different dishes.
Storing Tips
If you know you'll have leftovers, store the lettuce, avocado, and vinaigrette separately, and toss them together right before serving. It's a great way to have a meal prep salad on hand as it will keep fresh this way for up to 5 days.
FAQs
Why is it called a 'house salad'?
Restaurants use this term for their own specialty salad that is always on the menu no matter the season. It's generally a simple salad with a few ingredients and a homemade dressing. Many people adopt their own 'house salad' that they love making any day of the week or time of year.
Can I make this salad ahead of time?
You can make this salad up to one day ahead of time. Store the fresh vegetables and lettuce separately from the homemade dressing so the salad stays fresh and crispy in the fridge.

Make the salad dressing up to two weeks ahead of time and keep it in an airtight jar in the fridge so you can easily toss any salad.
Can I use store-bought dressing on this salad?
This classic house salad includes a recipe for a homemade vinaigrette that's tangy and easy to make. You can use your favorite dressing or buy one from the store if you'd prefer.
More Easy Salad Recipes
Print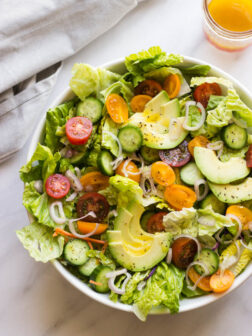 Our House Salad Recipe
Author: Katya
Prep Time: 15 mins
Total Time: 15 mins
Yield: 6 1x
Category: Salad
Method: Chop
Cuisine: American
---
Description
Our house salad recipe can not be any more easier to make! It's our go to salad 99% of time. Made with crisp romaine lettuce, cucumbers, sweet tomatoes, and creamy avocado, then tossed in a zesty dressing. 
---
12 cups chopped romaine lettuce or romaine salad mix (with shredded carrots + red cabbage)
2–3 mini cucumbers or 1/2 seedless cucumber, thinly sliced
8 oz. grape or mini heirloom tomatoes, halved
1 small shallot, thinly sliced
1 ripe avocado, pitted and sliced
Dressing
3 Tbsp. extra-virgin olive oil
2–3 Tbsp. fresh lemon juice, about 1 1/2 lemons
2 tsp. red wine vinegar
1/2 tsp. kosher salt
Black pepper, to taste
---
Instructions
First prepare the salad dressing by whisking together the olive oil, lemon juice, red wine vinegar, and salt. Season with black pepper, to taste.
Then, in a large salad bowl, combine the romaine lettuce, cucumbers, tomatoes, and shallots. Pour the dressing and toss to combine. Taste for salt and pepper and add more if needed.
Lastly, layer the avocado slices on top of the salad or gently mix them in. Serve immediately.
---
Nutrition
Serving Size: 1/6 salad
Calories: 155
Sugar: 3 g
Sodium: 207.4 mg
Fat: 13.3 g
Carbohydrates: 9.8 g
Protein: 2.6 g
Cholesterol: 0 mg
Keywords: favorite, easy, everyday
You May Also Like…