Vodka Sauce Recipe
Now you can make this popular creamy pink vodka sauce right at home! Incredibly easy lightened-up recipe with olive oil, tomatoes, half and half, and fresh basil.
Love vodka sauce? Try our Vegan Vodka Sauce recipe.
Cooking dinner together with my hubs is one of my all-time favorite things. Sunday night is normally our go to night…and my hubby is the opposite of me.
He cooks on a whim. Throws things together as he owns it and it always turns out delicious.
This past weekend he made a classic Russian dish…borscht while I made homemade vodka sauce. It felt like a mini date in the comfort of our cozy kitchen.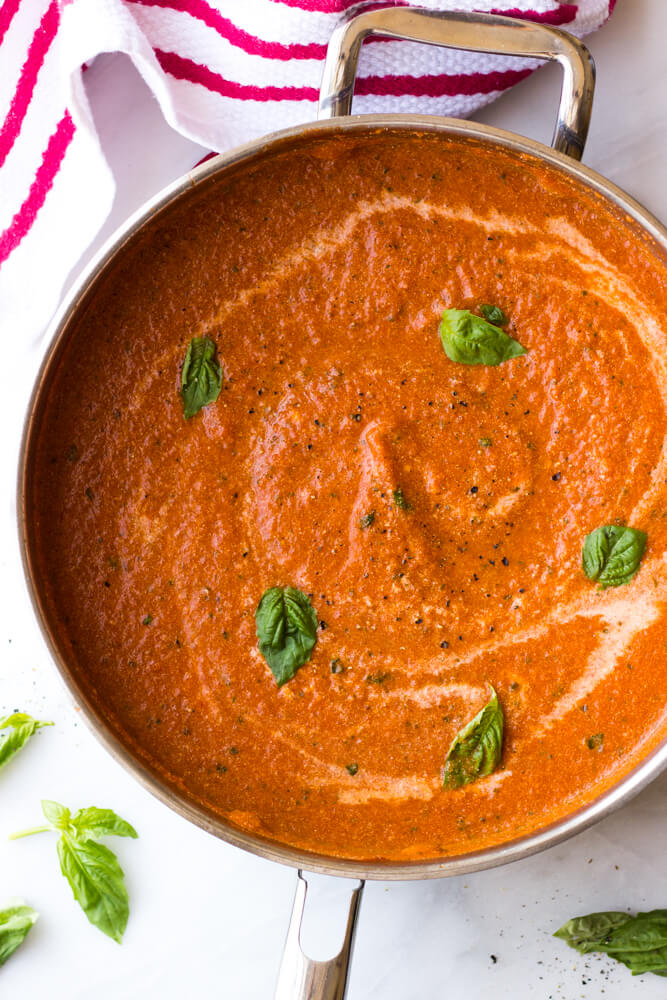 And since it is Valentine's Day…I hope you guys are staying in and cooking together. Because of crowds, cold, and overpriced pre-fixed menus…I mean we can do better than that?! Right?
This homemade creamy pink vodka sauce is the perfect recipe for date night in! It's really simple to make and I promise you'll never go back to jarred sauce ever again.
It tastes like restaurant quality but without the heavy price tag. Pair it with hot buttery penne pasta and an Avocado Caesar Salad and you've got yourself effortless Valentine's dinner.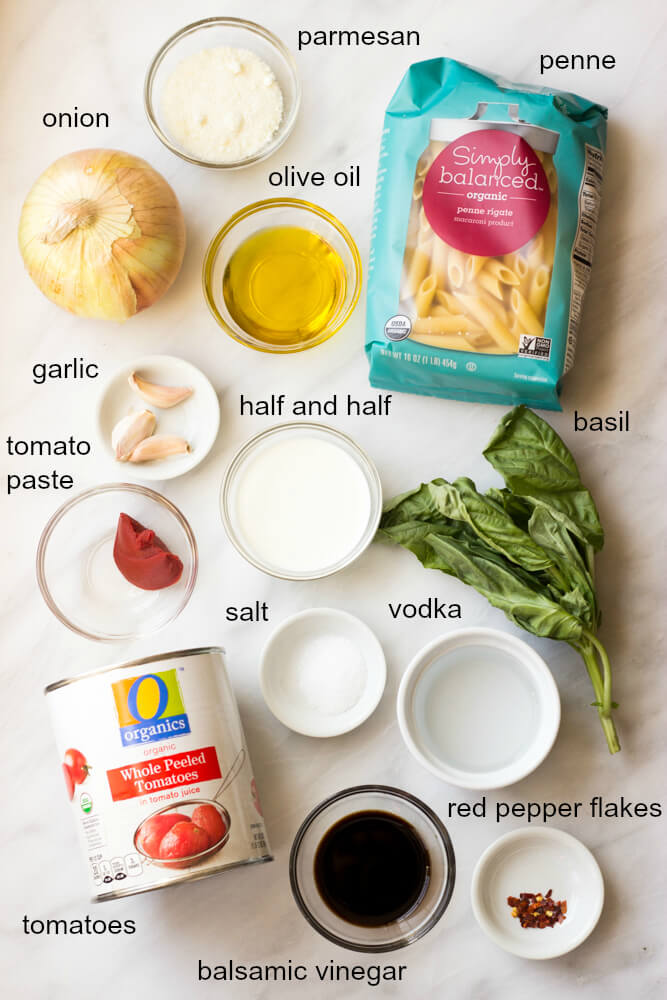 There's so many different versions of vodka sauce recipes but the base is tomatoes, vodka, and heavy cream. Some include butter, parmesan cheese, and fresh herbs. If you're concerned about the taste of vodka…don't be!
You can't taste the harshness of the vodka, it is simply here to enhance the flavors. It adds a touch of heat to help balance out the sweetness of the tomatoes and the cream.
Is it necessary??…well no….but then it wouldn't be a vodka sauce.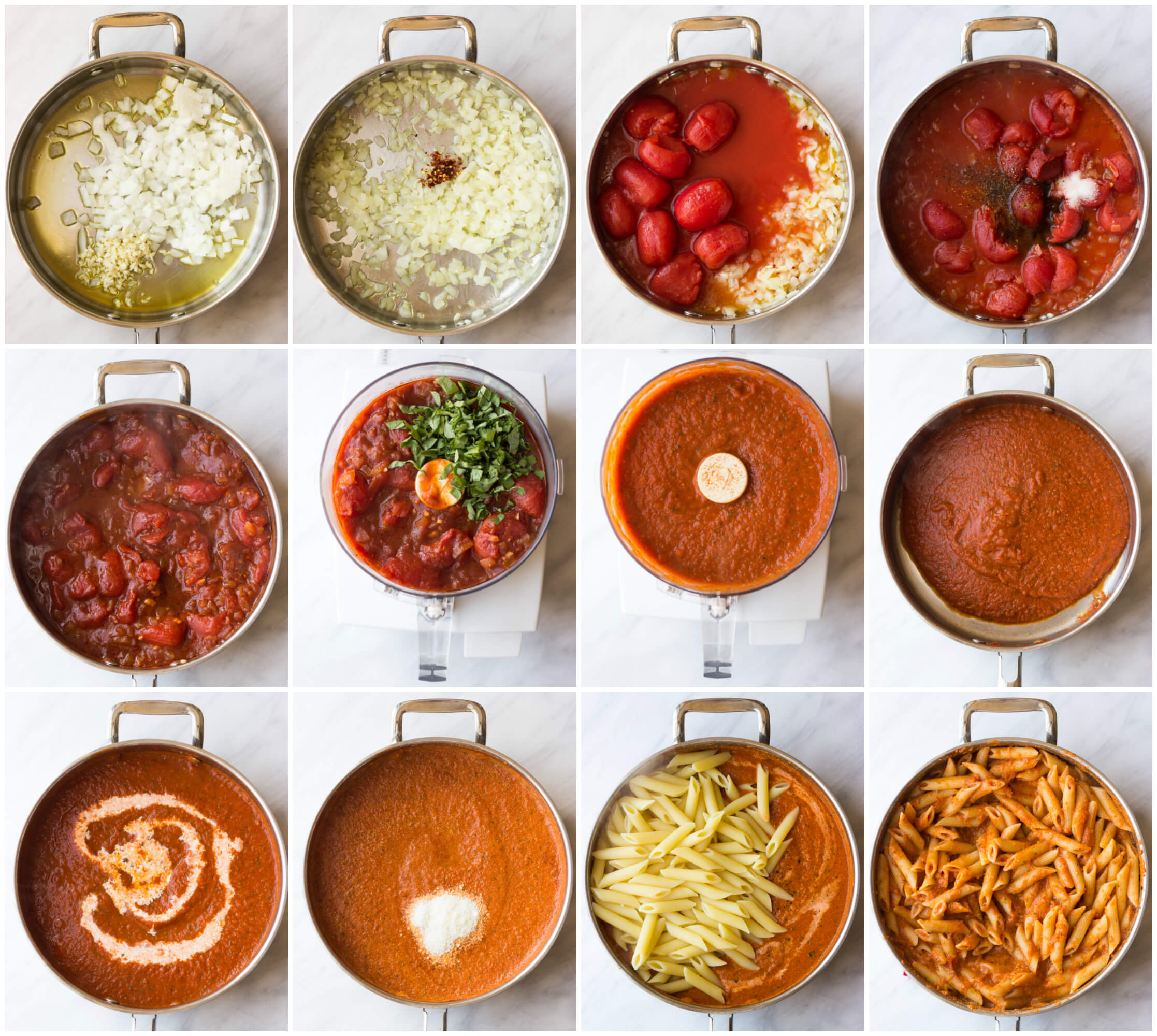 To make this recipe a little lighter, I used olive oil in place of butter, half and half in place of heavy cream, a fraction of the cheese, and also plenty of fresh basil.
Basil adds just the right amount of fresh flavor and half and half along with parmesan cheese all the creaminess.
This sauce is a combo of the sweet-spicy mixture and when you pair it with hot buttery penne pasta…it's a match made in heaven! All you need is a simple salad, such as Tomato Mozzarella Salad and you're set!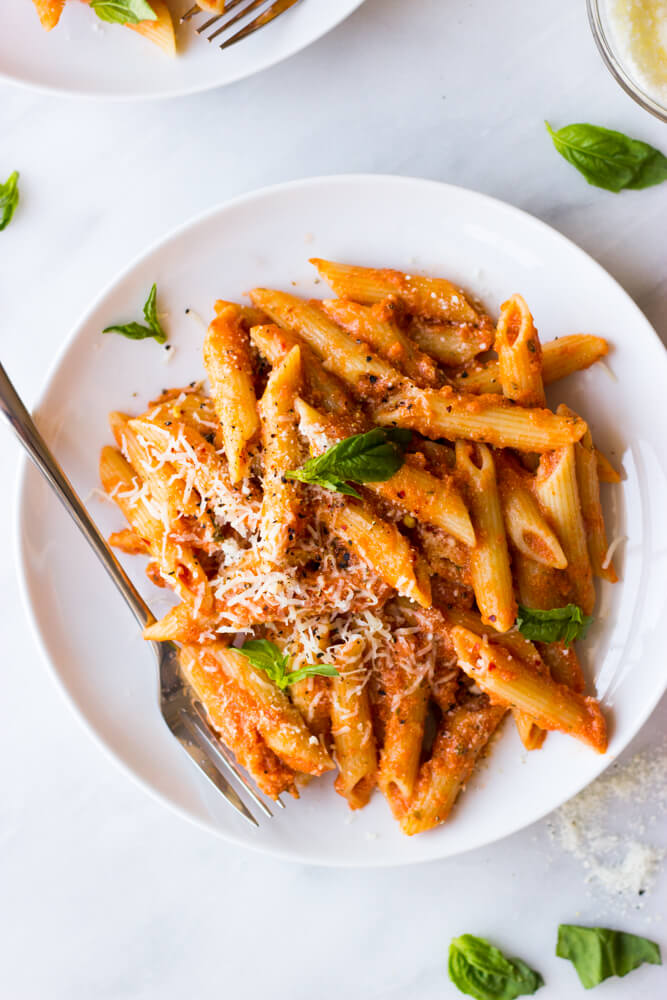 Ways To Serve Vodka Sauce
One of my personal favorite ways to serve vodka sauce is simply swapping it in some of our favorite recipes where it calls for a pasta sauce. It's a great way to add flavor without compromising the overall recipe.
But of course, you can always simply toss the vodka sauce with hot buttery noodles, pair it with a salad and call it a day. Here are some of our favorite salads to pair with pasta:
Video: How to Make Vodka Sauce Recipe
Love vodka sauce? Try our Penne Vodka Sauce recipe, which is an easy and quick version of this popular pasta sauce.
Print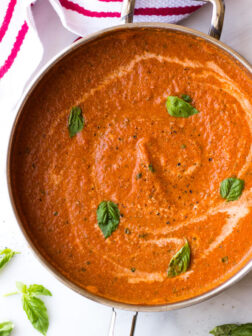 Vodka Sauce Recipe
Author: Katya
Prep Time: 15 mins
Cook Time: 40 mins
Total Time: 55 mins
Yield: 8 1x
Category: Dinner
Method: Blend
Cuisine: Italian
---
Description
Now you can make this popular creamy pink vodka sauce right at home! Incredibly easy lightened-up recipe with olive oil, tomatoes, half and half, and fresh basil. 
---
3 Tbsp. extra-virgin olive oil
1 medium sweet onion, chopped
3 garlic cloves, minced
1/4 tsp. red pepper flakes
28 oz. can whole peeled tomatoes
1/3 cup vodka
1 Tbsp. tomato paste
1 Tbsp. balsamic vinegar
1 tsp. kosher salt
1/4 cup fresh chopped basil
1/2 – 3/4 cup half and half
2 Tbsp. grated Parmesan cheese
16 oz. penne pasta
Fresh black pepper, to taste
---
Instructions
In a large sauté pan, heat olive oil over medium heat; add onions and garlic and cook until soft, about 3-4 minutes. Add red pepper flakes and cook for 1 minute.
Stir in tomatoes and vodka and continue cooking the mixture for 5-7 minutes until slightly reduced, stirring occasionally.
Then stir in the tomato paste, balsamic vinegar, salt, and black pepper to taste. Reduce heat to low and simmer partially covered for 20 minutes until reduced by half, stirring occasionally.
In the meantime, cook pasta in salted water according to package directions. Drain and set aside.
Transfer tomato mixture to a food processor or blender, add basil, and purée until smooth. Return sauce to the pan and stir in half and half. You want creamy and slightly sweet consistency. Start with 1/2 cup of half and half, taste, and add more if needed. Cook until warmed through, about 2-3 minutes. Stir in parmesan cheese and then the cooked pasta. Toss to combine.
Serve immediately with additional sprinkle of cheese and basil, if desired.
---
Nutrition
Serving Size: 1/2 cup sauce + 1 1/4 cup cooked pasta
Calories: 316
Sugar: 8.2 g
Sodium: 609.7 mg
Fat: 9.1 g
Carbohydrates: 53 g
Protein: 10.3 g
Cholesterol: 6.2 mg
Keywords: best vodka sauce recipe, vodka sauce pasta, vodka sauce ingredients, vodka sauce recipe