What I Ate Wednesday #4
Food diary documenting what I eat in a day. Simple, quick, and for the most part healthy!
It's been insanely cold in Maryland for the last week (I'm talking negatives during the day) so I've been craving all things comfort food.
BREAKFAST
Ok so I shared on instastories my smoothie packs that I prepped over the weekend. Beets, carrots, celery, and orange evenly distributed in 5 sandwich size ziploc bags. I can't tell you how much easier they have made my mornings! Usually I'm up with the kids and it's a go. Breakfast for both, prepping lunch for the oldest, and I'm lucky if I get a cup of coffee in me before the school run.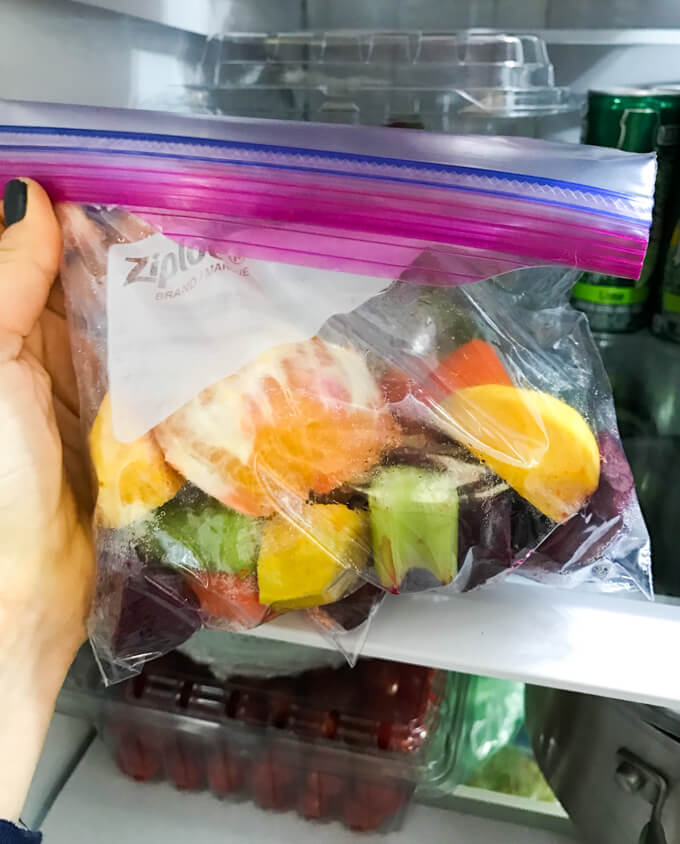 Well I've been basically dumping the smoothie pack into my blender with whatever else I want and five seconds later my smoothie is done! I'm going to try to keep up with it every weekend. I'll keep you guys posted 🙂 Oh and the coffee well…it almost never happened. I was photographing new recipes for the blog and halfway into the day it just dawned on me that I didn't have coffee. I mean, how is that even possible?!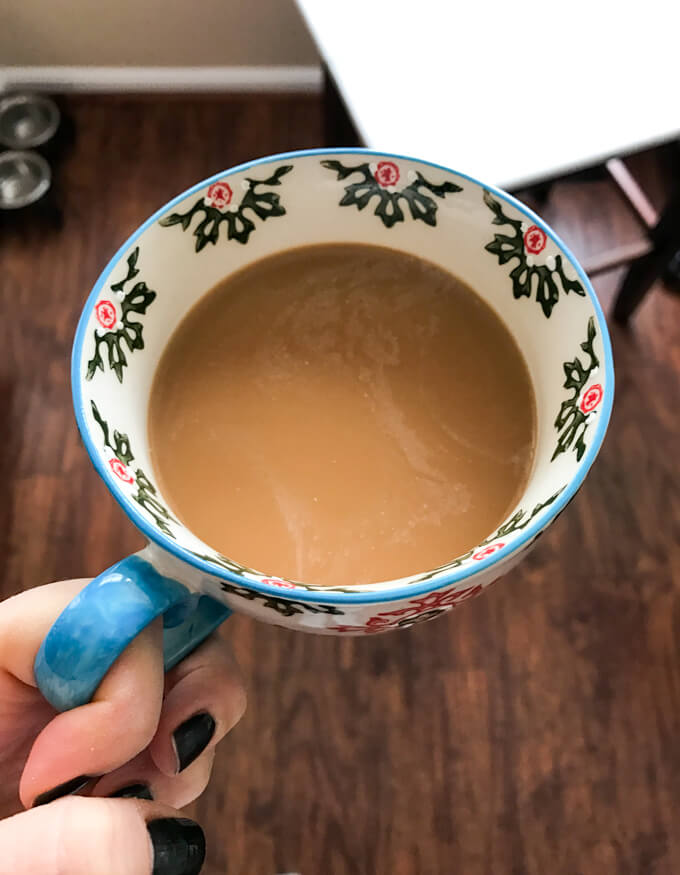 LUNCH
Lunch was leftover Sicilian Chicken Soup from the weekend. It worked out perfect because if it wasn't for leftovers I probably would've skipped lunch. Plus soup on second, third, or sometimes even fourth day is so amazingly good!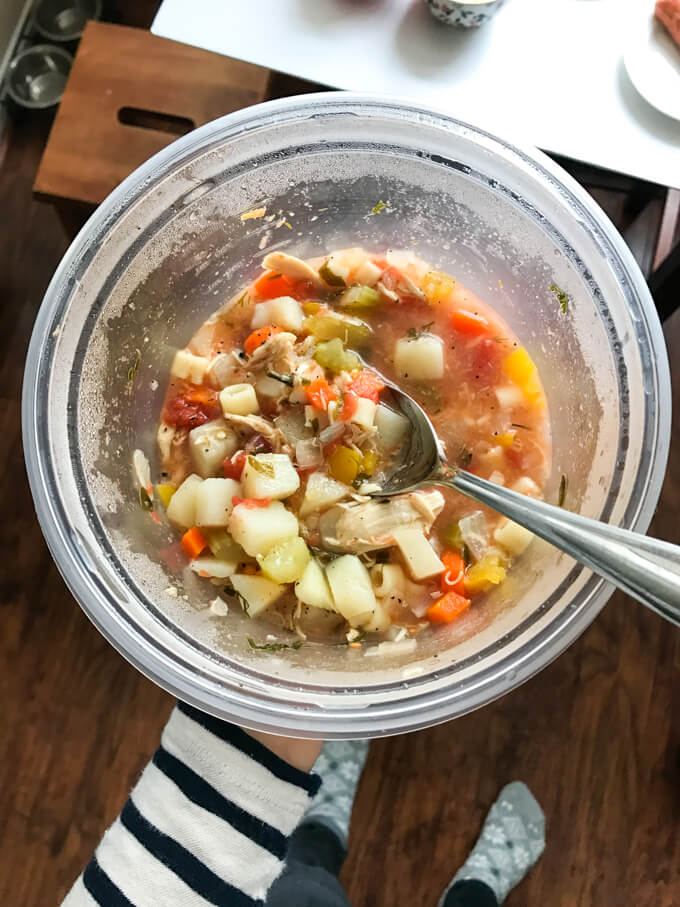 AFTERNOON PICK ME UP
My go to tea at the moment: peach tranquility from Teavana with side of homemade granola. I've been finding myself reaching for cup of tea in the afternoons as it's usually the time that I try to do computer work. It's also nap time in our house. So a hot cup of tea in front of my computer sounds almost soothing and pleasant. Sometimes I'll slice up some pink lady apples and eat them with my granola and tea. Kind of a weird combo but surprising very good.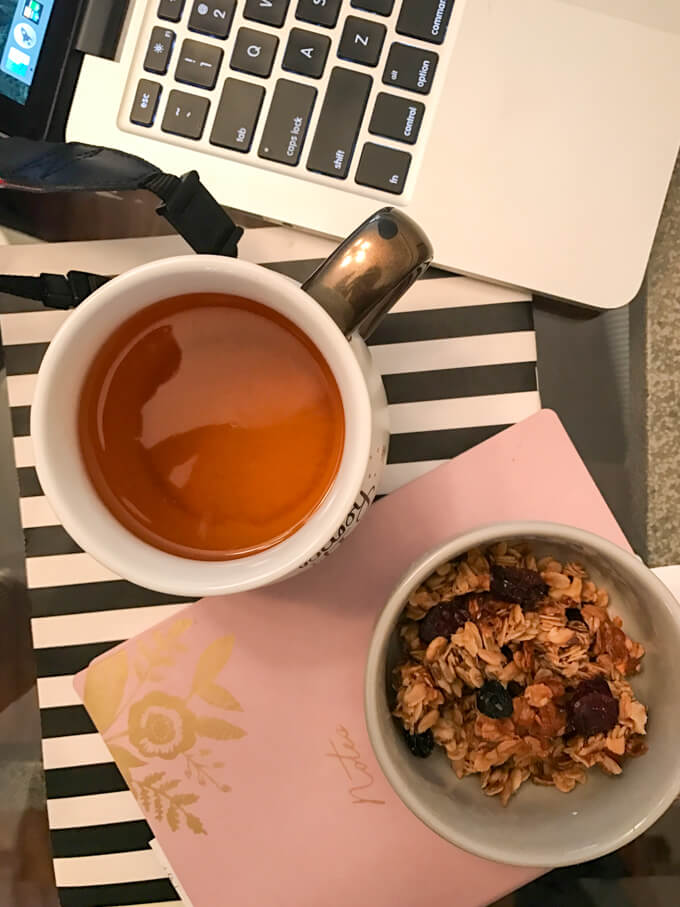 SECOND PICK ME UP
I was starving by dinner time. I think because of my liquid lunch. Peanut butter + bananas. It's one of my favorite snacks. We always have a jar of some type of butter in the pantry and fresh fruit in the fridge.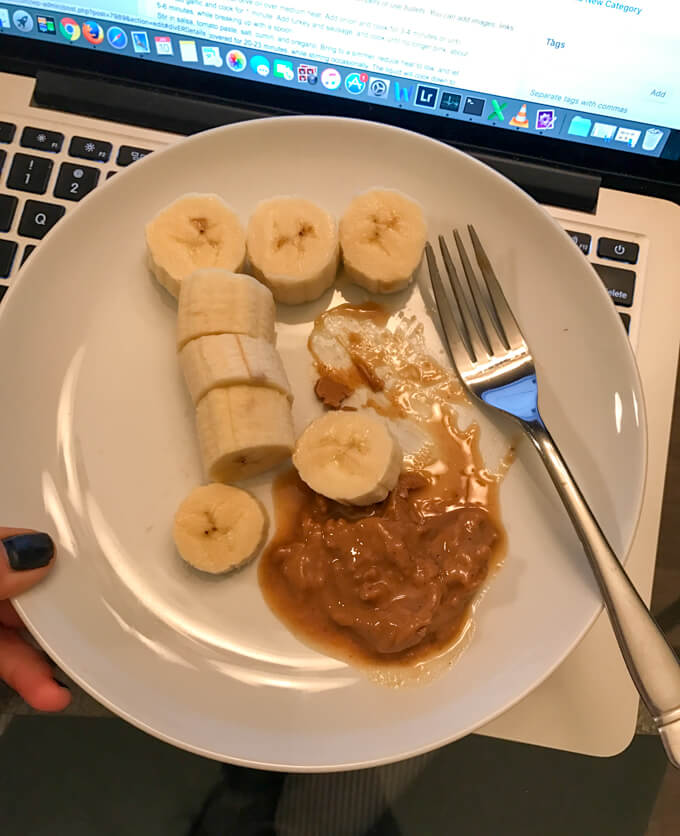 DINNER
Okay, dinner was kind of little bit of everything. I've been testing a recipe for stuffed bell peppers over the last two weeks and my fridge was packed with peppers. I probably could've re-heated them for dinner but honestly I was just not feeling peppers AGAIN. Instead I went with what was easy. I roasted some broccoli and potato slices. Then I made a quick garlicky avocado mash. It's simply avocado, cilantro, lime juice, garlic, and salt/pepper. It was actually very satisfying. I went for a second plate of roasted broccoli. If you've never tried roasted broccoli, you so have to! Drizzle raw broccoli with olive oil/salt/pepper and roast at 425F for about 40 minutes. It's gets super tender and little charred at the tips. It's one of my favorite ways to eat broccoli.