Strawberry Yogurt Popsicles
Strawberry Yogurt Popsicles are perfect for hot summer days and are easy to make with only three ingredients. These bright and creamy popsicles are healthy and excellent for dessert or an afternoon snack.
What are Strawberry Yogurt Popsicles
Easy kid snacks is something everyone loves and these strawberry yogurt popsicles only take 10 minutes of prep time and are perfect for kids, toddlers, and teething babies.
This recipe is healthier than ice cream and even tastier! They are quick and easy to prep and only take two hours to harden once you get them in the freezer.
It's easy to remove them from the mold and serve when you're ready for a sweet, cold treat.
Recipe Tips & Notes
Strawberry yogurt popsicles are cold and delicious, but here are some tips for changing the texture, flavor, and shape.
Make these popsicles into chocolate yogurt popsicles by adding cocoa powder to the yogurt and leaving out the strawberries.
Make other fun shapes with different kinds of molds. You can buy some on Amazon that are long and skinny, short and round, and any shape in between.
If you like your popsicles less creamy and icier, leave out the yogurt and make them with just the fruit and sweetener.
Use a food processor or blender to mix up the strawberries and yogurt to make it nice and smooth.
Add lemon juice to make tart strawberry lemonade popsicles.
Whip up some cream cheese and sugar and make strawberry cheesecake popsicles.
Use frozen strawberries instead of fresh strawberries if they're not in season for the best flavor.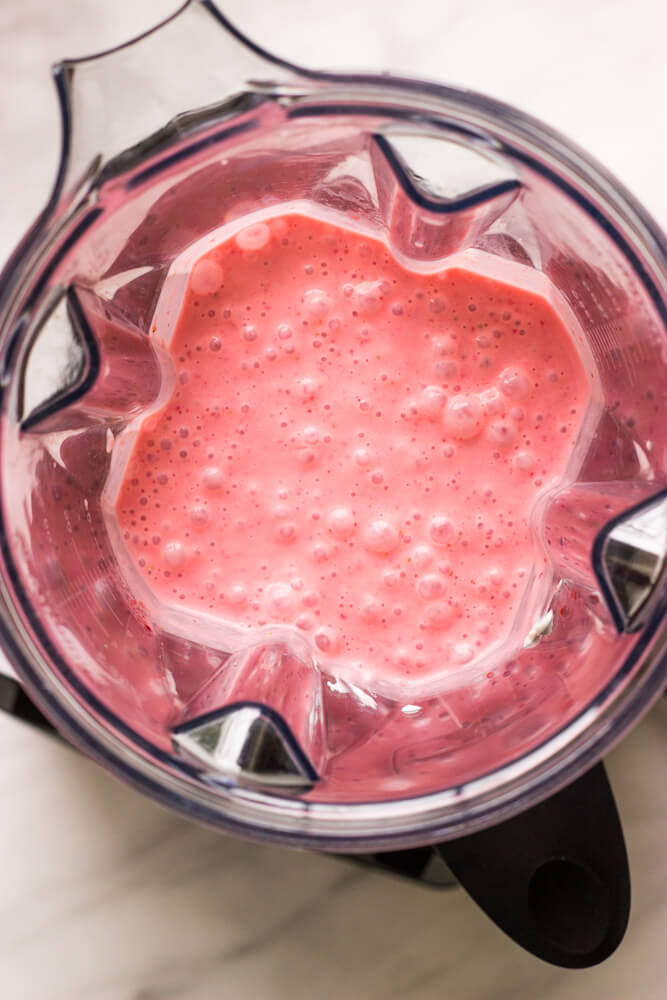 Ingredients
There are only three ingredients needed to make yogurt popsicles with frozen fruit.
Strawberries: Fresh, in-season strawberries are best for making popsicles.
Yogurt: Full-fat Greek yogurt is perfect for thick and creamy popsicles.
Honey: Honey is a wonderful sweetener without using granulated sugar.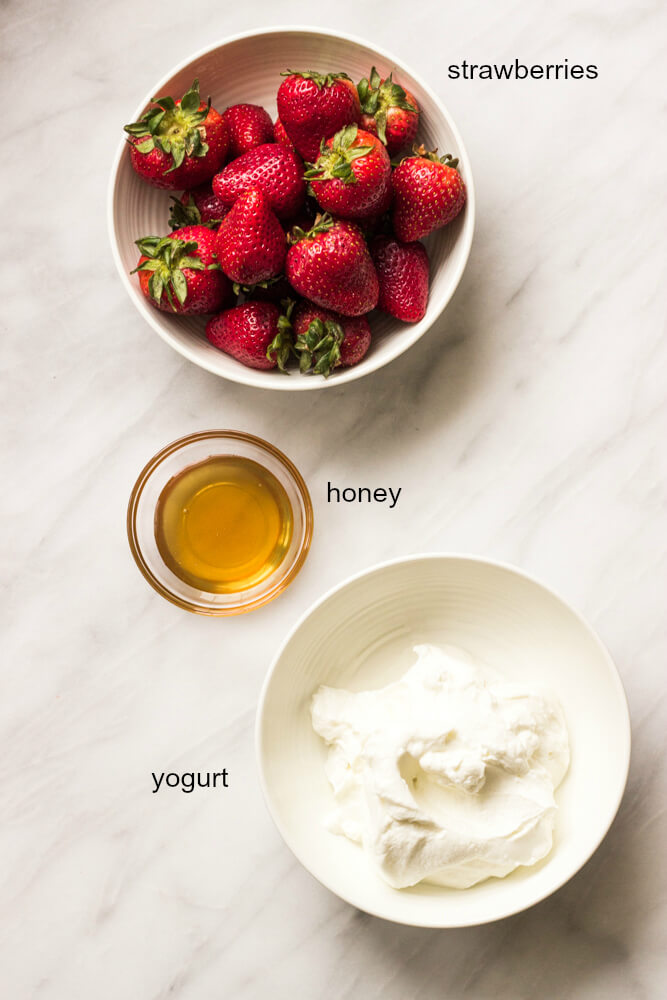 Tools You'll Need
You only need a few tools to make the perfect popsicles. You can buy a popsicle kit from the store or use whatever you have at home that will work.
Popsicle molds: These are usually made out of plastic or rubber and come in all shapes and sizes.
Popsicle sticks: These can be plastic and come with a kit, or you can use craft sticks if you have them on hand.
The linked popsicle mold is the exact one that I have. I've had it for a few years now and it's held up pretty well.
How to make strawberry yogurt popsicles
To make yogurt popsicles, puree the strawberries in a blender. Use the ripest strawberries possible. Then add in your Greek yogurt and honey.
I love using full-fat Greek yogurt. It gives the popsicles just the perfect amount of creaminess. If you want to make them even creamier, add more yogurt to the mixture.
Next, pour the mixture into a popsicle mold and freeze for at least 2 hours or until the mixture has hardened.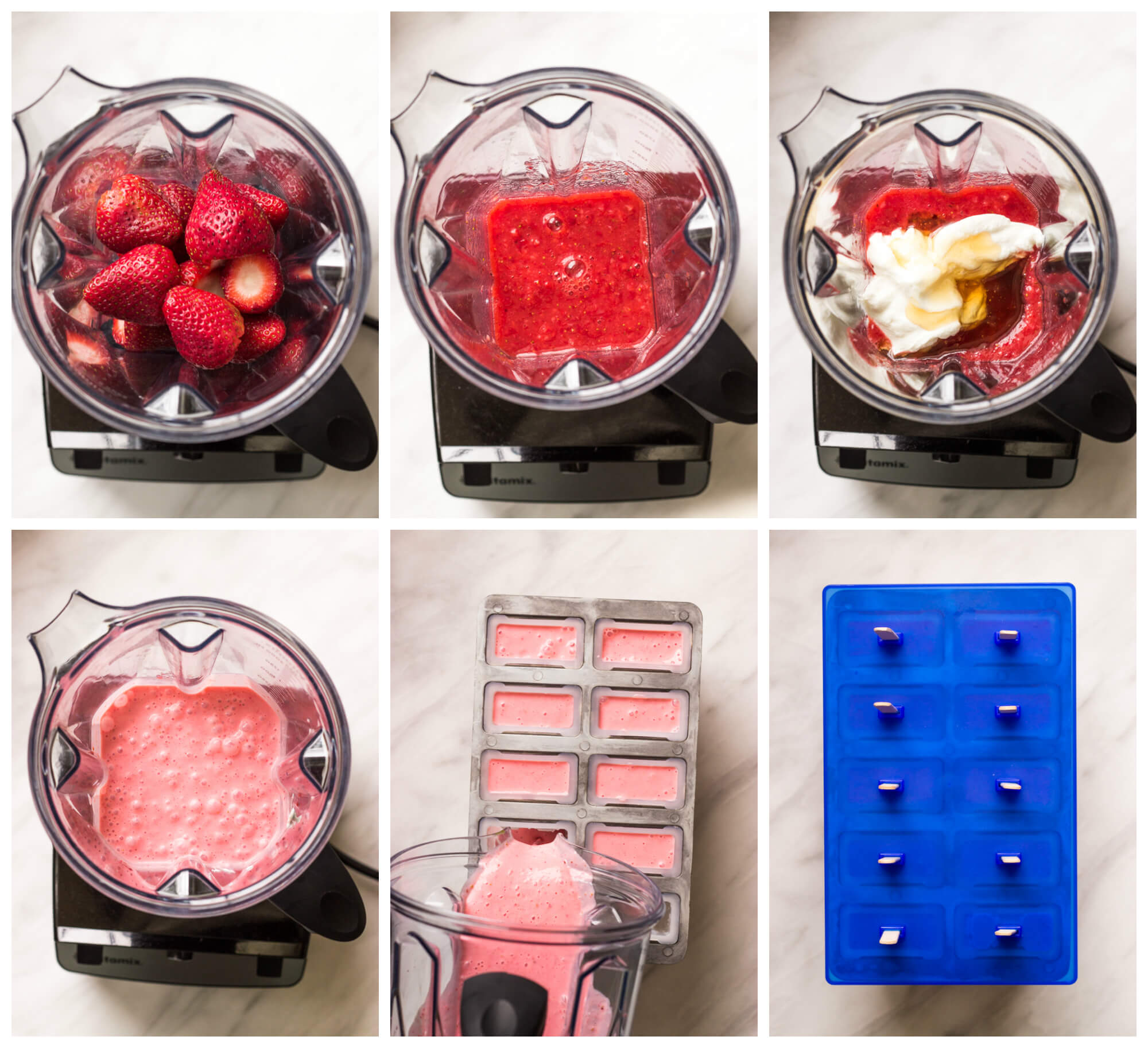 Other fruits you can use
Fresh strawberries are a delicious choice for summer popsicles. You can use other in-season fruit as well if you'd like. For best flavor, buy the ripest fruit from a farmer's market or grocery store.
Here are some tasty options:
Peaches
Blueberries
Blackberries
Mangoes
Pineapple
Papaya
Banana
Watermelon
Orange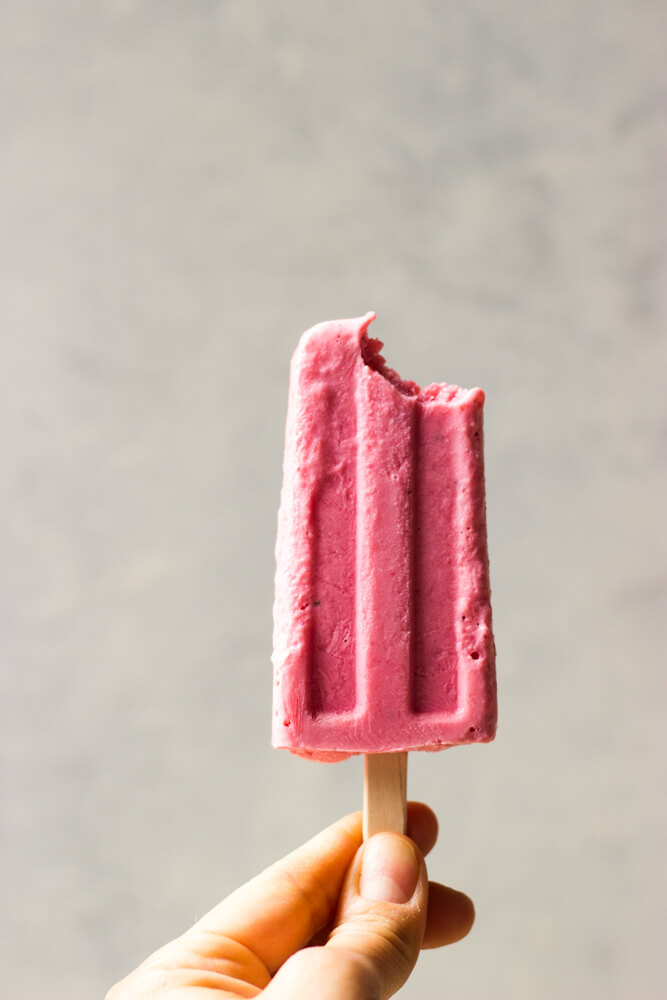 How to serve
Greek yogurt popsicles are perfect for a cold snack on a hot summer day. Hand them out at your backyard barbecue or pool party for a special treat.
They are also perfect for dessert after a tasty main meal such as pesto pasta, creamy mushroom pasta, turkey Cuban sandwich, or herb-roasted chicken.
How to Store
Homemade strawberry popsicles can stay in the freezer for up to three months as long as they don't get freezer burn.
This can happen if the freezer opens too often and the popsicles get warm and cold continuously. Ice crystals form and make that burned flavor we're all familiar with.
FAQs
How long does it take to freeze a yogurt popsicle?
It takes about two hours to freeze yogurt popsicles. It may take longer if your freezer isn't cold enough. 

Also, try to keep the door shut (no peeking) for the full two hours. This keeps the temperature in the freezer consistent which will harden the popsicles more quickly. 
What can you use instead of popsicle molds?
You can easily buy molds from the grocery store or online, but if you don't have any, use ice cube trays and regular craft (popsicle) sticks instead. 

Since the ice cube trays are pretty small, you may want to cut the sticks in half so they aren't too large and you can use less of them.  
How do you unmold homemade popsicles?
Sometimes popsicles get stuck in the mold, but it's easy to get them out. 

If the popsicles are stuck in the mold, run warm water over the bottoms for about 30 seconds until the popsicles easily slide out. 
More Berry Desserts
Print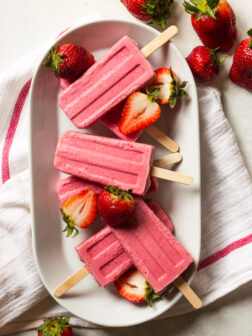 Strawberry Yogurt Popsicles
Author: Katya
Prep Time: 15 mins
Total Time: 15 mins
Yield: 10 1x
Category: Dessert
Method: No Bake
Cuisine: American
---
Description
3-Ingredient creamy strawberry yogurt popsicles are simple healthy treats that will keep you cool all summer long! 
---
12 oz. fresh ripe strawberries
2 cups full-fat plain Greek yogurt
1/4 cup honey
Special Equipment
---
Instructions
Blend strawberries on high speed in a blender or food processor until puree like consistency. Add yogurt and honey, and continue to blend until combined.
Pour the mixture into popsicle molds, insert the sticks, and freeze for at least 5 hours up to overnight.
Run popsicle molds under warm water until the pops loosen, and then remove. Makes 10 (3 oz.) popsicles.
---
Notes
If your popsicle mold does not have slots for sticks, freeze the pops until partially frozen (about two hours), slide the stick into the center of the pop (it should stand on its own), and return to the freezer for another three hours or until completely frozen.
Recipe originally published May 2018
Nutrition
Serving Size: 1 (3 oz.) popsicle
Calories: 92
Sugar: 10.9 g
Sodium: 20.6 mg
Fat: 3 g
Carbohydrates: 11.9 g
Protein: 5.4 g
Cholesterol: 7.4 mg
Keywords: easy, healthy, summer, kid friendly