Chicken with Zucchini Recipe
Juicy chicken with zucchini recipe with corn just has to be the perfect summer meal! It comes together in one-pan with easy-to-find ingredients.
Summer is all about simple meals that you can put together in a cinch. This one-pan chicken with zucchini and corn comes together so easily with ingredients that you can find at your local farmer's market.
I love it not only because there's minimal cleanup but it's so juicy and flavorful, and you only need a handful of ingredients.
Best way to cut zucchini for this dish 
Bright green zucchini is a gorgeous vegetable that can easily enhance the presentation of any dish. There are many ways to cut it that will make your dish look pretty.
Cut extra large zucchini into rounds, make zucchini noodles, or horizontal zucchini slices.
Ingredients
Olive oil
Butter
Onion
Zucchini
Fresh corn
Dried oregano
Chicken thighs
Parmesan cheese
Fresh basil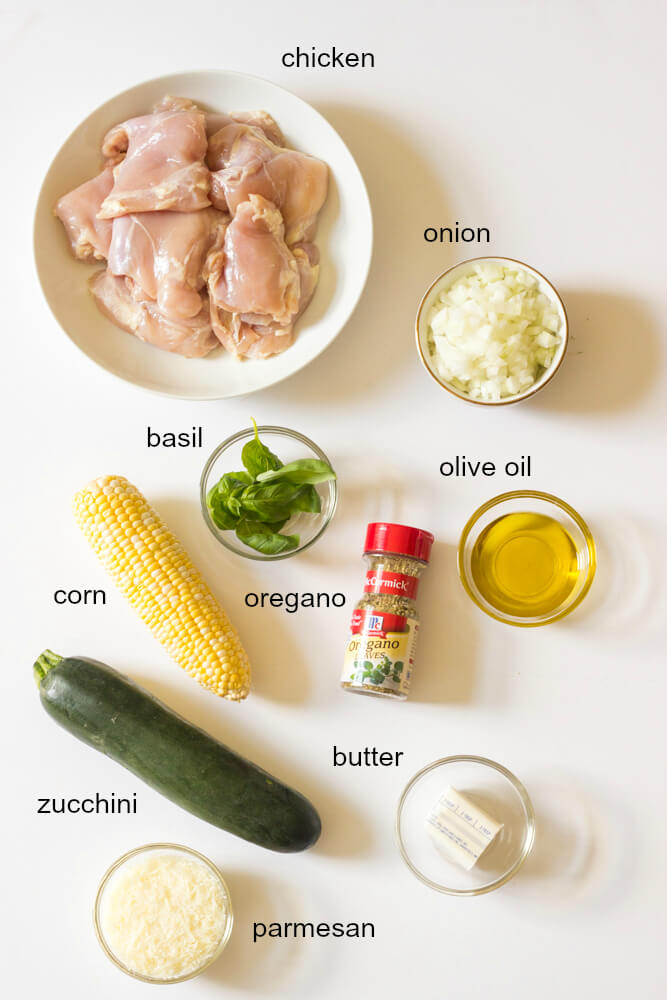 How to Make Chicken with Zucchini Recipe
You begin by sautéing the onions and zucchini. Slice your zucchini 1/4-inch thick, and season everything with dried oregano, salt, and pepper.
It only takes about 5 minutes to cook the zucchini. It will be fairly firm but will finish cooking in the oven.
Next, transfer the zucchini mixture to a bowl and in the same skillet, heat the remaining oil and butter. To the hot skillet, add your chicken and sear for only 1-2 minutes per side. Once the chicken is done searing, top it with a zucchini mixture, corn, and parmesan cheese.
Lastly, bake for about 15-18 minutes in a 375 F degree oven. Garnish with fresh basil and serve over cooked quinoa or pasta.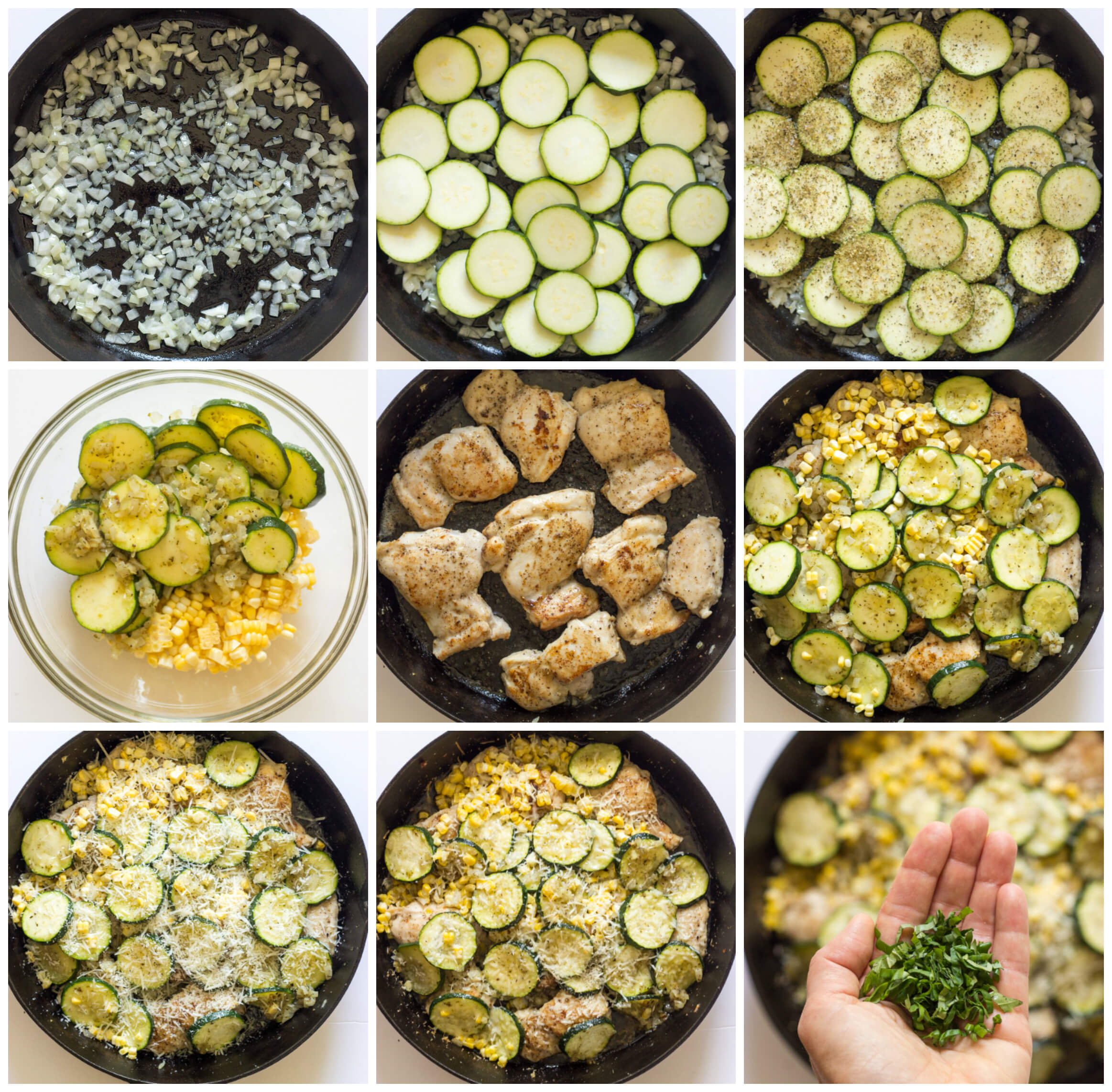 I love using my cast-iron for searing meat. Because it holds heat really well and the meat always sears beautifully. If you don't own a cast-iron skillet, then any other oven-safe pan will do.
Other cooking methods 
This recipe is adapted to cook on the stove and then finish by baking in the oven. You can also cook it in other ways if you'd prefer. Here are some options you can try.
Grill: Put the chicken breasts on the grill and cook until it reaches 165 degrees. Put the veggies in a grill basket and set it on the grates to cook. 
Air fry: Put the chicken and veggies on a baking pan and turn it into a sheet-pan dinner in the air fryer.
Instant pot: Sear the chicken in the instant pot, pour in some chicken broth, put the veggies on top, cover, and cook for 5 minutes on high pressure.   
Variations 
You can use these different options to make this dish your own, depending on your tastes and preferences.  
Substitute peas for corn
Yellow squash for zucchini 
Olive oil for butter 
Use mozzarella cheese
Add bread crumbs
Pour in a little chicken broth
Make it creamy with cream cheese or heavy cream 
Add a splash of white wine
Lemon zest
Use rotisserie chicken
Other veggies to add 
You can add your favorite vegetables to this zucchini bake, depending on what you like and what you have in your fridge. Here are some options that pair well with these flavors.
green beans
asparagus
mushrooms
red bell pepper
pinto beans
garlic
red onion
cherry tomatoes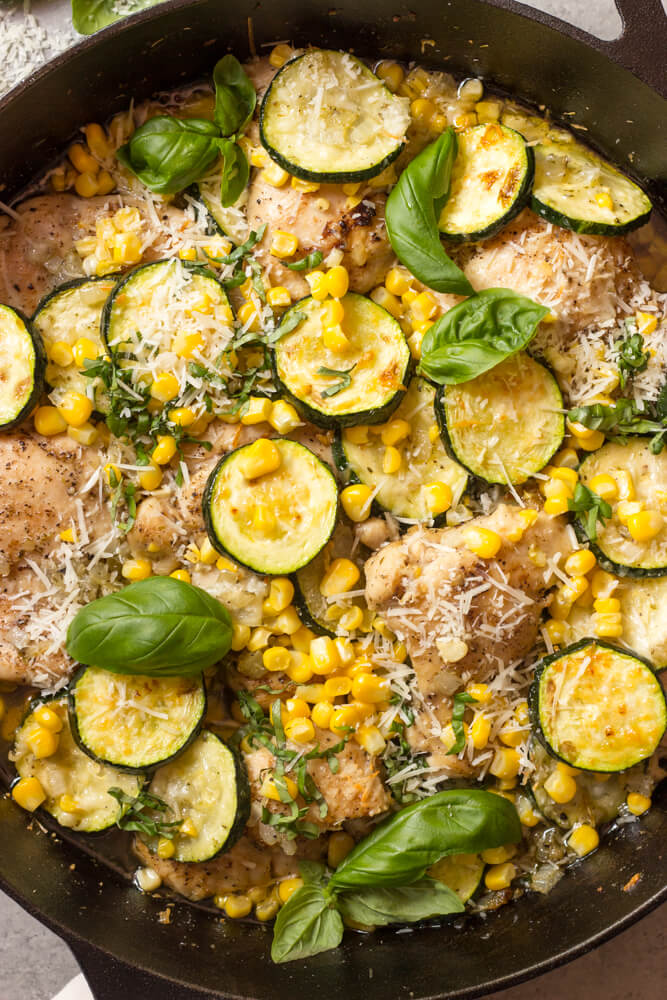 How to serve 
This hearty chicken and zucchini dish is perfect when served on its own, however, you can serve it with a light side.
Some delicious options include cilantro lime rice, cauliflower tabbouleh, roasted asparagus with lemon, or sour cream dill potato salad.   
How to store 
Refrigerate: Store leftover chicken in an airtight container in the refrigerator for up to 3 days after cooking.
Reheat: Reheat chicken and zucchini in the microwave in 30-second increments until it's hot all the way through.  
Freeze: You can easily freeze extra chicken from this dish, but it's not a good idea to freeze the zucchini as well. Zucchini doesn't thaw well once frozen and will have a mushy texture. You can use the chicken with another dish or saute some fresh zucchini to go with reheated chicken.
FAQs
Do I need to use a cast iron skillet to make this chicken with zucchini recipe? 
Cast irons skillets are great to use because they impart more flavor to the dish and cook very evenly. You don't need to use one, though. You can use a stainless steel pan instead.  
Do I need to sear the chicken first?
For best flavor, I highly recommend searing the chicken first. Not only does it make the chicken more flavorful but it also seals all the juices inside. 
How long should I bake chicken with zucchini in the oven?
Chicken needs to cook to 165 degrees, which will take about 15 minutes at 375 degrees, but make sure to check it with a digital thermometer. It's a good practice to check it five minutes before it's supposed to be done and adjust the cooking time accordingly. 
More chicken recipes
Print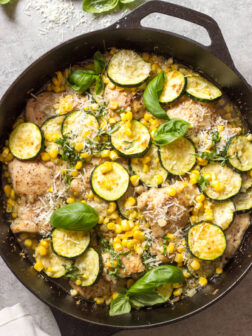 Chicken with Zucchini Recipe
Author: Katya
Prep Time: 15 mins
Cook Time: 35 mins
Total Time: 50 mins
Yield: 4-6 1x
Category: Dinner
Method: Baked
Cuisine: American
---
Description
Juicy chicken roasted with zucchini and corn just has to be the perfect summer meal! It comes together in one-pan with easy to find ingredients.
---
3 Tbsp. olive oil, divided
3 Tbsp. unsalted butter, divided
1 cup chopped onion
12 oz. zucchini, cut into 1/4-inch thick rounds
1 cup fresh corn, cut from about 1 ear of corn
1 tsp. dried oregano
1 1/2 – 1 3/4 lbs. boneless, skinless, chicken thighs
1/3 cup shredded Parmesan cheese, plus more serving
Fresh basil, thinly sliced
Kosher salt and freshly ground black pepper, to taste
---
Instructions
Preheat the oven to 375 degrees F.
In a large oven-safe saute pan, heat 1 Tablespoon of butter and 2 Tablespoons of olive oil over medium heat. Add onions and cook for 2-3 minutes or until they begin to soften.
Add zucchini, spreading in a single layer as much as possible. Season with oregano, salt, and pepper. Cook for about 5 minutes, or until just begins to soften, tossing couple times. They should still be fairly firm after 5 minutes.
While the zucchini is cooking, cut the corn from the cob and place into a bowl. To the same bowl, transfer the cooked zucchini mixture.
Increase the heat to medium-high. Add the remaining 2 Tablespoons of butter and 1 Tablespoon of olive oil to the pan. Season the chicken on both sides with salt and pepper. When the oil is hot, add chicken to the pan in a single layer and sear for 1-2 minutes per side. You want a lightly golden outside. The inside will still be raw.
Remove the pan from the heat and top the chicken with zucchini corn mixture. Sprinkle with Parmesan cheese and bake, uncovered, for 15-18 minutes or until the chicken is cooked through and the zucchini is tender. Garnish with fresh basil and additional Parmesan cheese, if desired.
---
Notes
To serve: Serves well over cooked quinoa or pasta.
Leftovers: Store in airtight container for up to 3 days.
Nutrition
Serving Size: 1 thigh with corn and zucchini
Calories: 343
Sugar: 2.4 g
Sodium: 224.3 mg
Fat: 20.6 g
Carbohydrates: 7 g
Protein: 32.6 g
Cholesterol: 160.5 mg
Keywords: one pan, summer, easy,