Penne Vodka Sauce
Penne vodka sauce is an easy weeknight meal made with marinara sauce, vodka, penne pasta, and fresh basil. It's tasty and incredibly quick to make!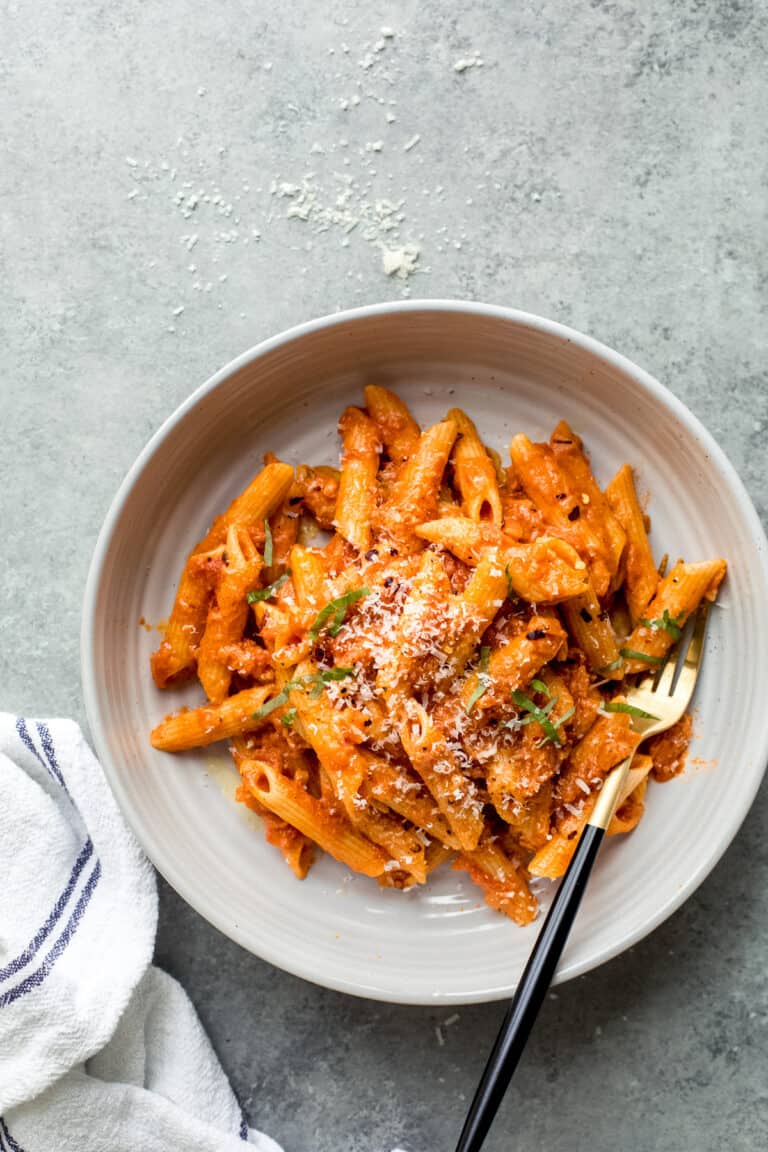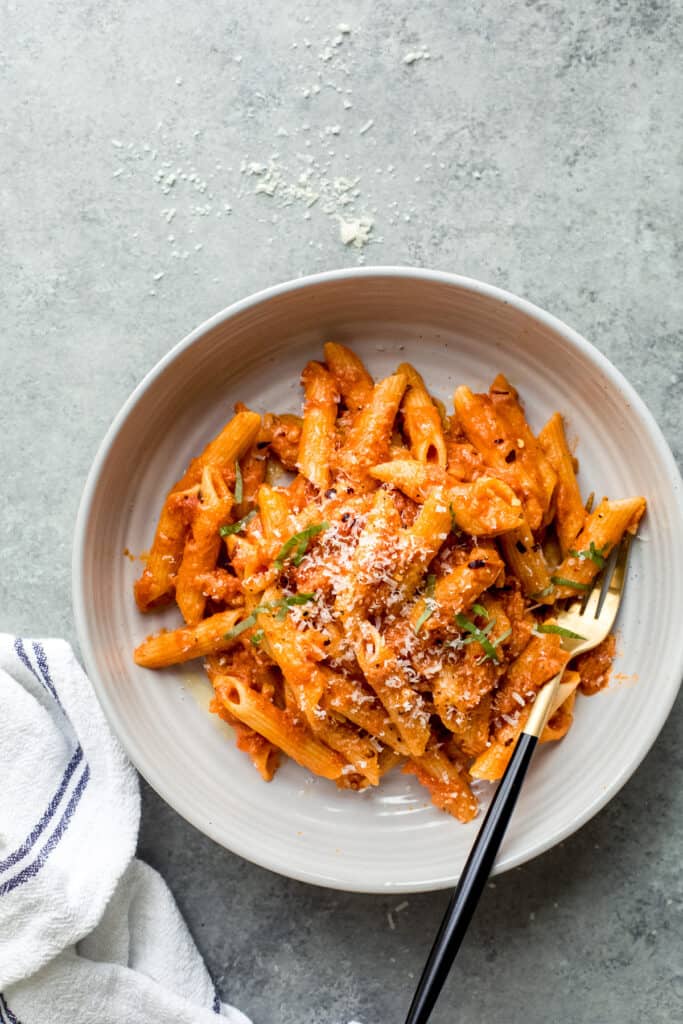 Love vodka sauce? Try this classic Vodka Sauce recipe or our Vegan Vodka Sauce.
This shortcut version uses store-bought marinara sauce to make a flavorful and chunkier sauce. It can easily be topped with chicken or shrimp for a more filling meal that your whole family will love.
Why This Recipe Works
Penne with vodka sauce is best when it's homemade and can be frozen to save for later.
If you'd like to add some protein, you can try grilled chicken, shrimp, ground Italian sausage, or premade meatballs.
This pink sauce can also be made ahead of time if you want to prep your meals in advance to pull it out of the refrigerator, heat it up, and pile it on some pasta.
Adding red pepper flakes makes it a little spicy too! You can make it spicier if you really like zing to your food or cut it out altogether if you don't like spicy food or are serving kids.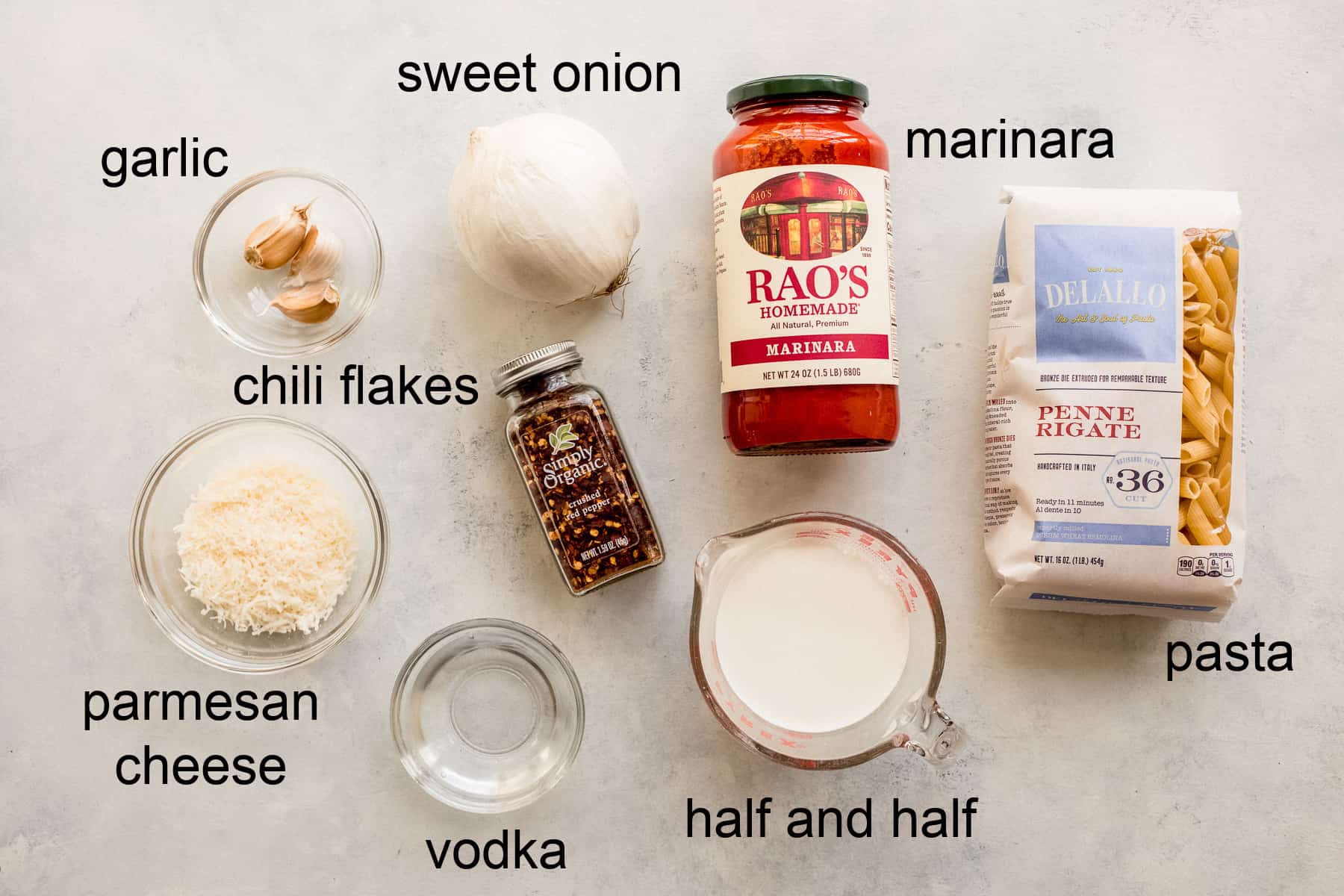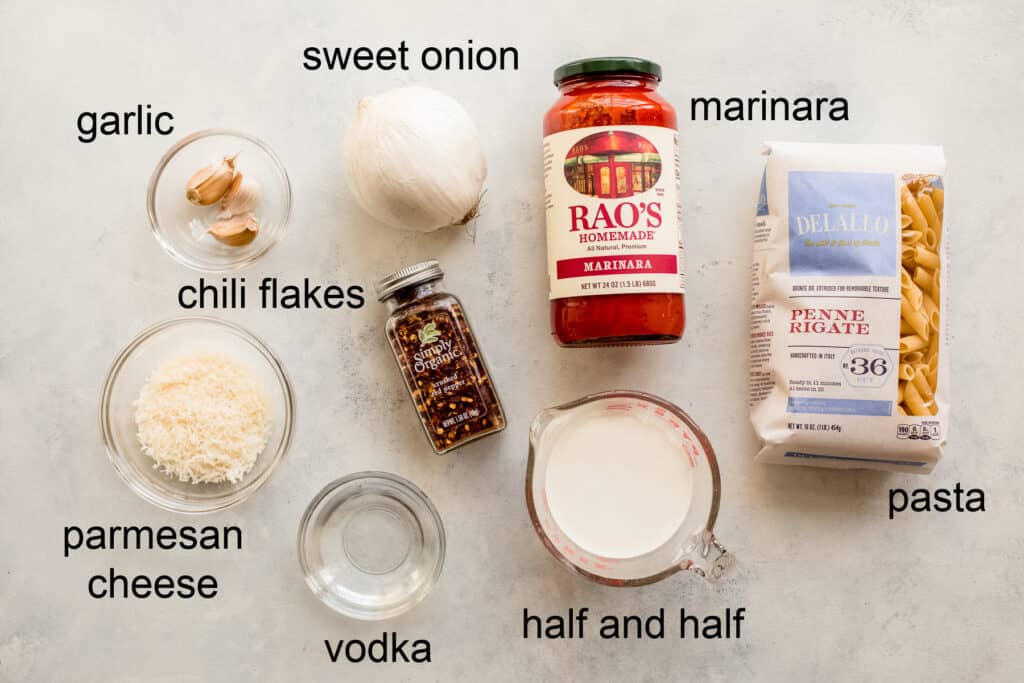 What's the Difference Between Marinara and Vodka Sauce?
There are a couple of differences between marinara and vodka sauce.
Marinara sauce is made with fresh tomatoes, garlic, onions, basil, salt, and pepper. It's simmered for around 30 minutes and can be served on pasta or in other dishes.
Vodka sauce is also made with tomatoes (or jarred marinara sauce for bolder flavors), basil, garlic, cream or half and half, and vodka. It's smooth and creamy while marinara sauce has no cream or vodka.
How to Make Penne Vodka Sauce
Cook the onions until softened. Add the garlic and red chili flakes. Pour in the marinara sauce and vodka and bring it to a simmer.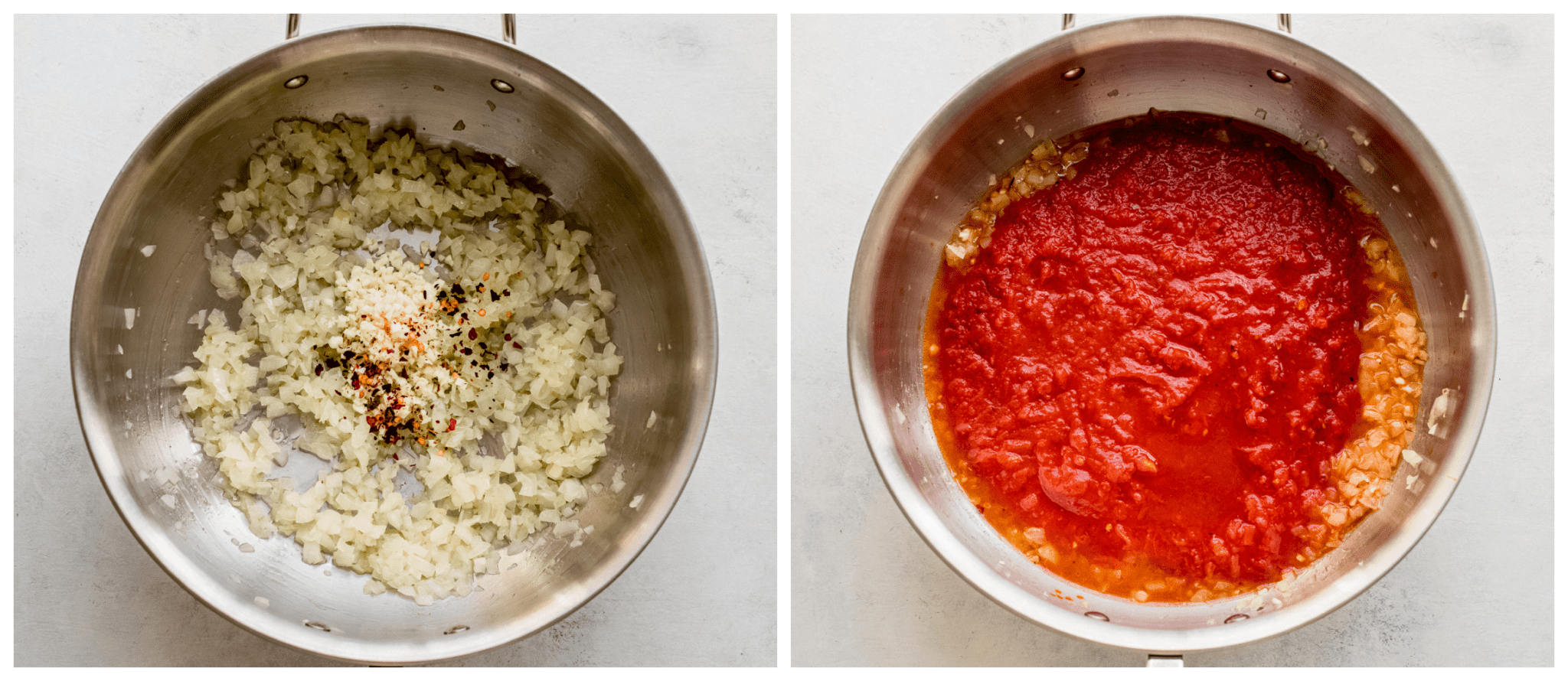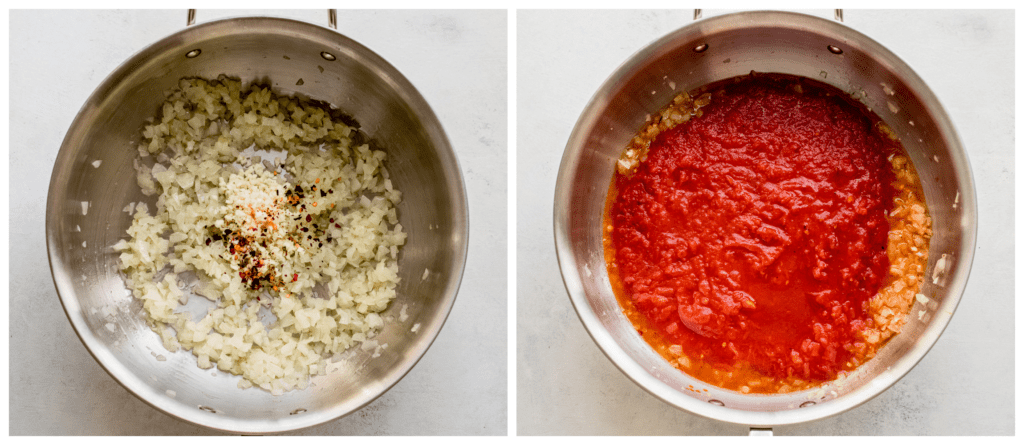 Stir in the half and half and parmesan cheese.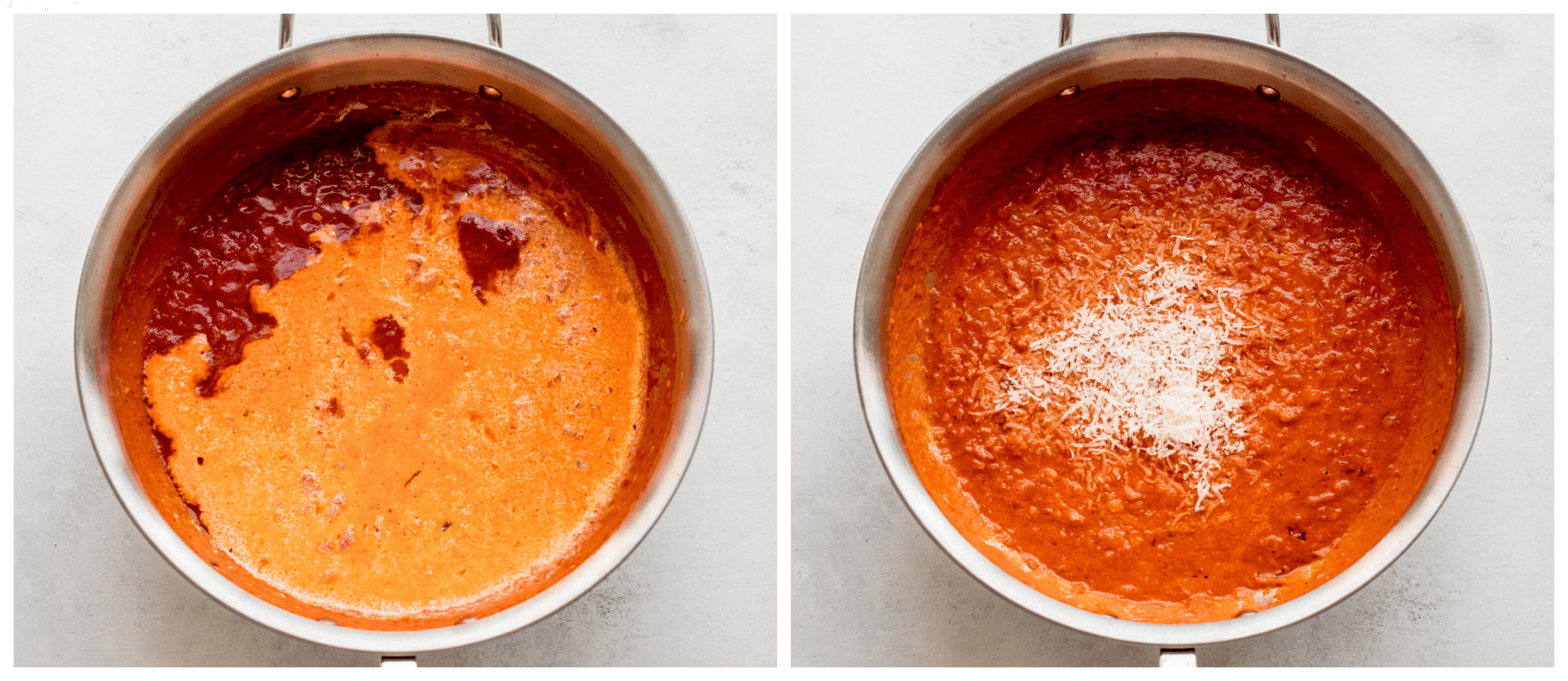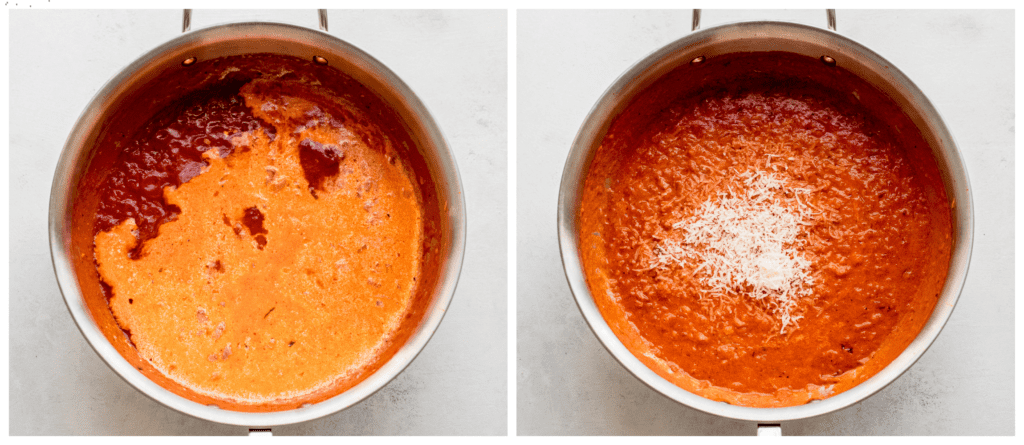 Cook the penne pasta according to the package directions. Toss with sauce and serve.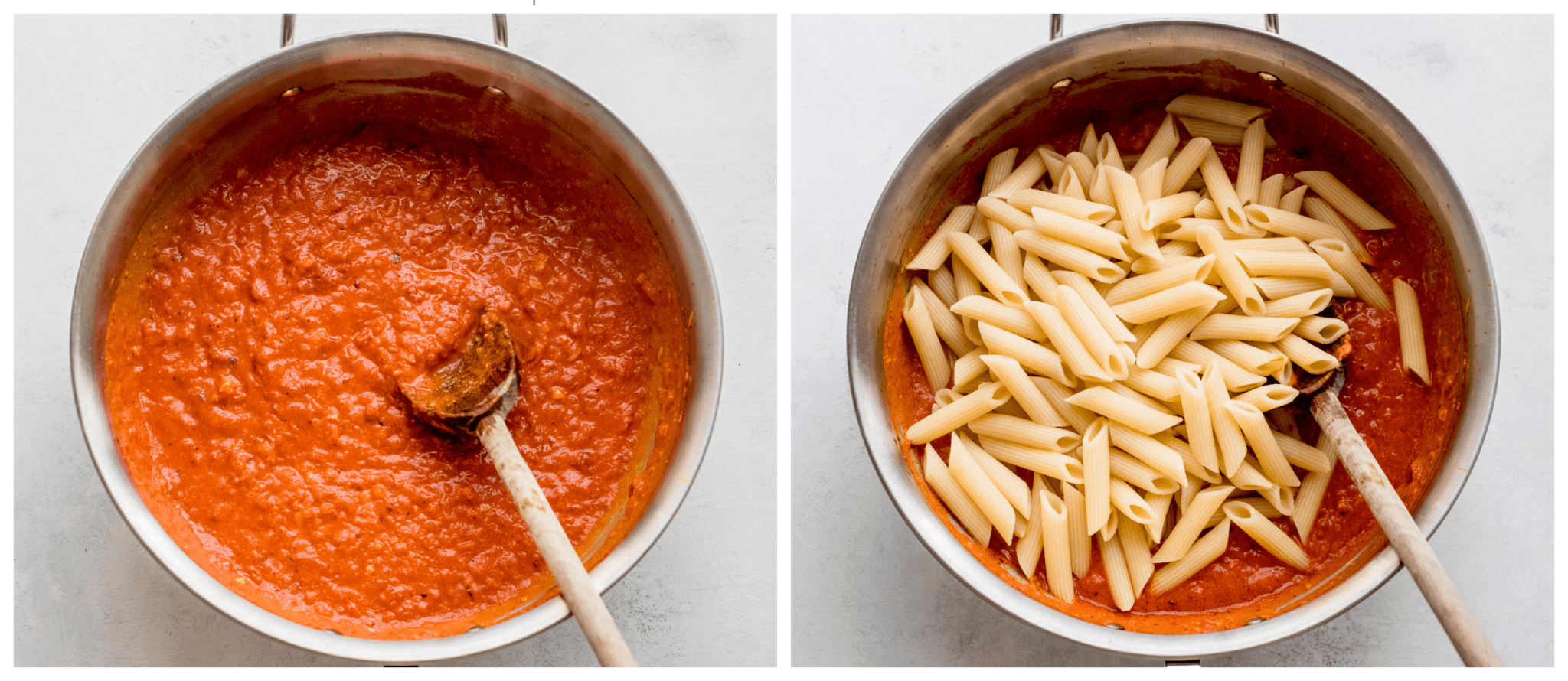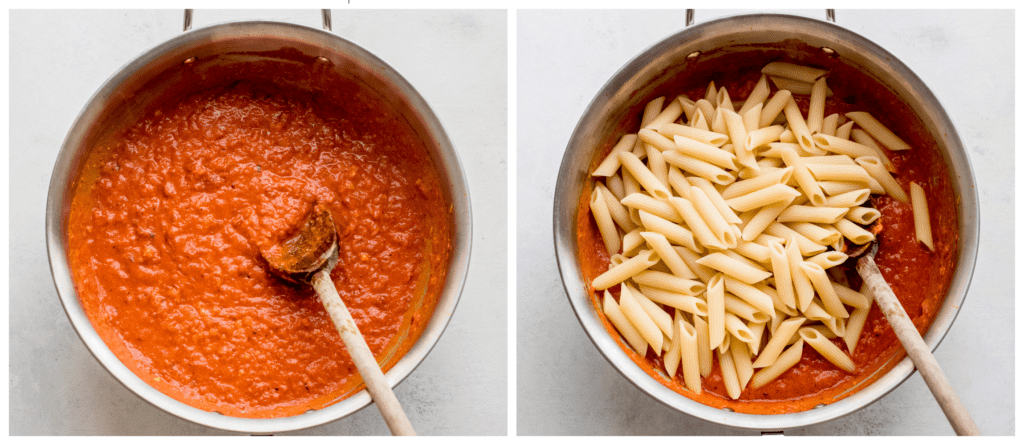 How to Make This Recipe In An Instant Pot
You can easily make this pasta dish in a pressure cooker. This handy kitchen appliance is fun to use and allows the flavors of any dish to meld together in a short amount of time.
To cook this sauce in your instant pot, follow the instructions in the recipe card to saute the onions and garlic and stir in the marinara sauce and vodka. Seal on the lid, cook for 20 minutes, carefully release the pressure, remove the lid, and serve immediately.
How to Serve
You can serve this penne vodka sauce in a large, family-style bowl or in individual servings. Scoop the pasta into the bowl, lay a spoonful of the sauce over the top, grated Parmesan cheese on top, and sprinkle with fresh basil.
Be sure to pair this dish with roasted broccoli or parmesan prosciutto asparagus, sourdough garlic bread, fluffy dinner rolls, or fruit salad to make it a meal.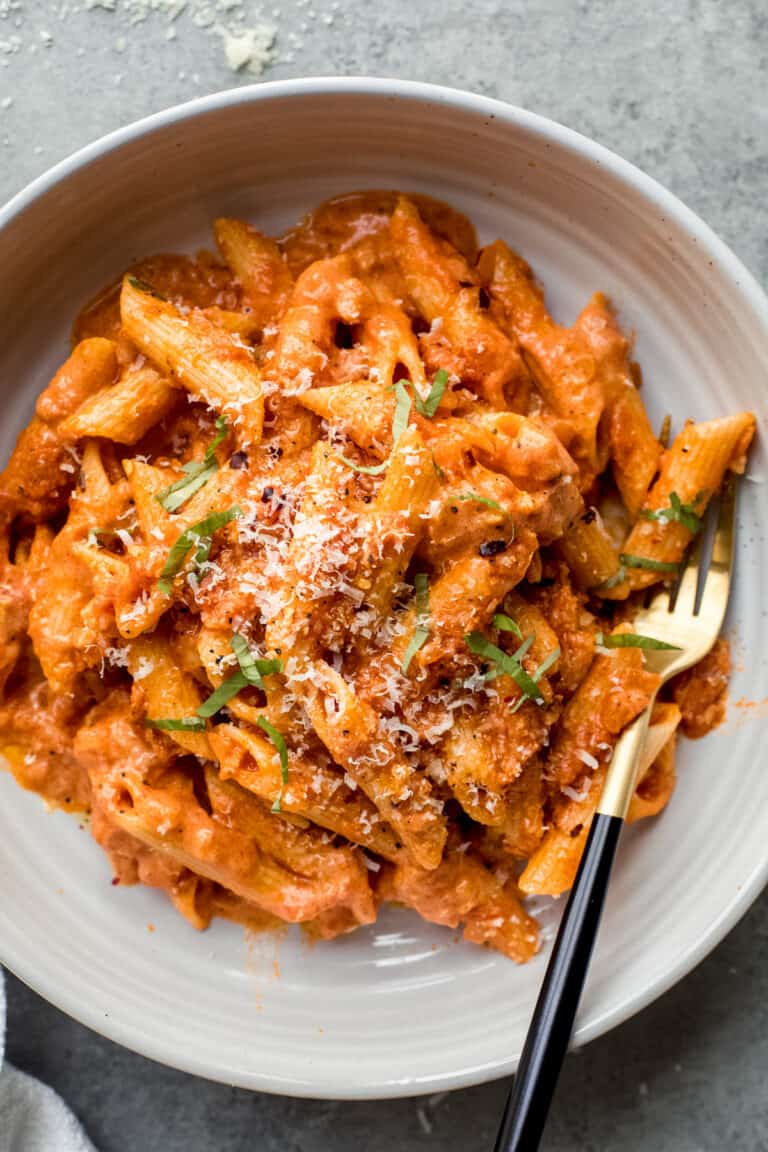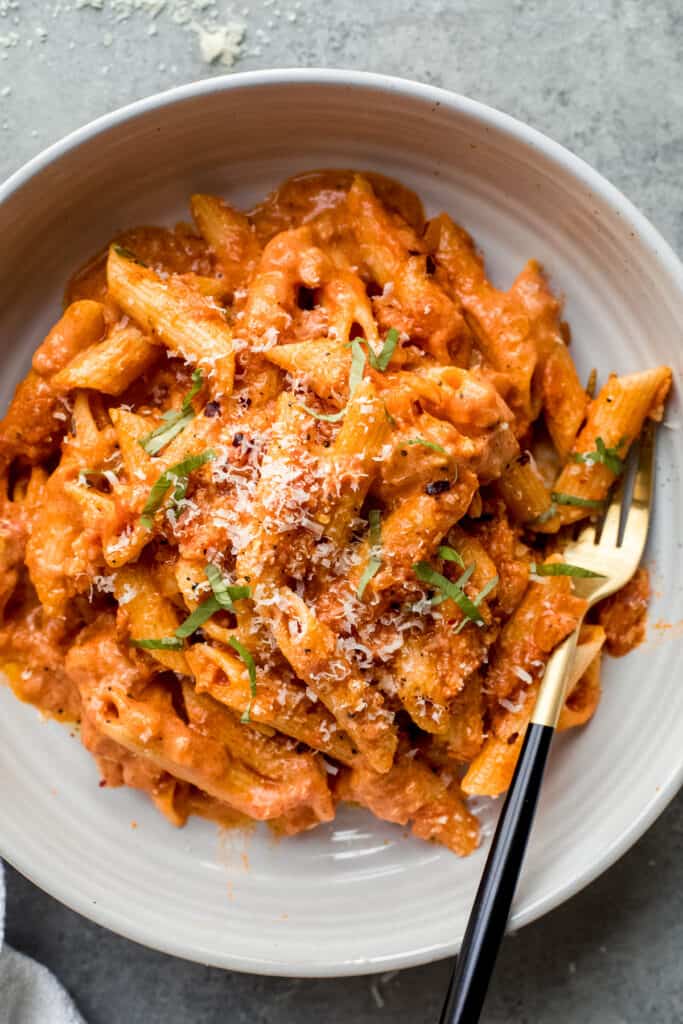 How to Store
Refrigerate: Save any leftover sauce and pasta in separate airtight containers in the refrigerator. This ensures the pasta doesn't get soggy.
You can keep these in the fridge for up to five days.
Combine them together in a bowl, cover, and heat in the microwave in 30-second increments until heated all the way through.
Freeze: The sauce is also perfect to freeze so you can pull it out later to serve with a different pasta dish or to give to a friend or family member.
Store it in an airtight container and label it with what it is and the date so you remember when you pull it out of the freezer. You can keep it in the freezer for up to three months.
Reheat the sauce in the microwave or leave it in the refrigerator overnight until it's thawed.
Frequently Asked Questions
Does penne vodka have alcohol?
Yes, but it's cooked off so you won't consume it and it's safe for kids. You can also make it without vodka if you're concerned about it.  
What does vodka do to pasta sauce?
Cream and tomato sauce don't mix together well since one is acid-based and the other is fat-based. It's like mixing oil and vinegar. They need a stabilizing ingredient to make them emulsify. That's where the vodka comes in.

Adding a little vodka allows the tomato sauce and cream to come together in a smooth sauce.  In addition, vodka adds a sharp peppery bite to the sauce to help balance out the sweetness.
How long does it take to burn off vodka in sauce?
You can easily burn off the alcohol from this dish so there's no need to worry about consuming it with the meal. All it takes is 7 minutes of simmering to remove alcohol from this dish.  
More Easy Pasta Recipes
Here are some more amazing recipes for you to try:
Print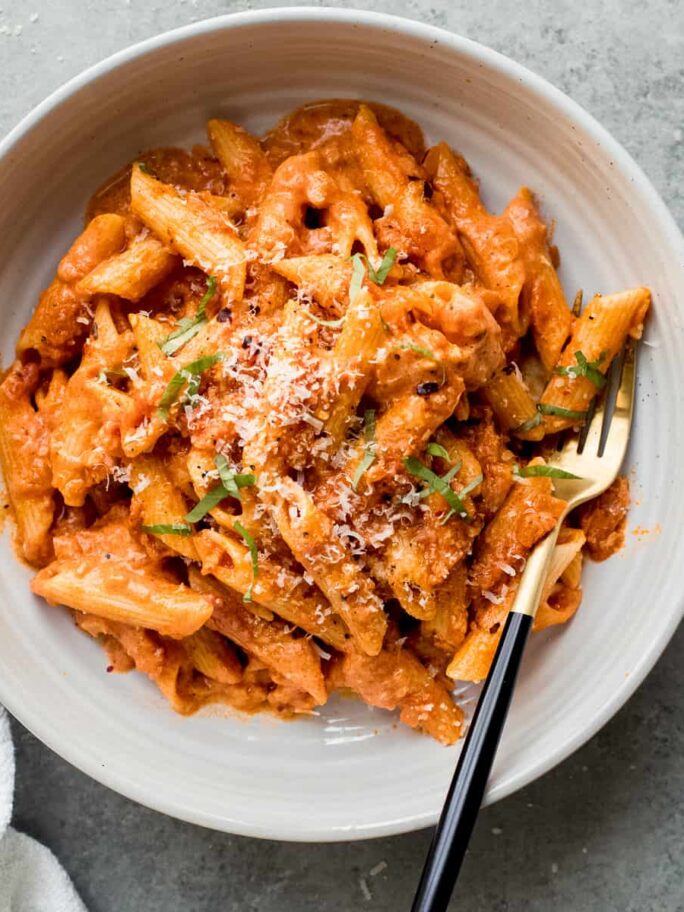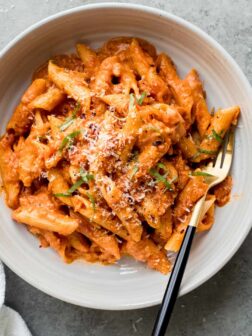 Penne Vodka Sauce 
Author: Katya
Prep Time: 10 min
Cook Time: 20 min
Total Time: 30 minutes
Yield: 8 1x
Category: Main
Method: Simmer
Cuisine: Italian
---
Description
Penne vodka sauce is an easy weeknight meal made with marinara sauce, vodka, penne pasta, and fresh basil. It's tasty and incredibly quick to make!
---
3 Tbsp. olive oil
1 cup finely chopped sweet onion
3 garlic cloves, minced
1/4 tsp. red chili flakes
24 oz. jar good-quality marinara sauce, such as Rao's
1/3 cup vodka
1/2 cup half and half, plus more to taste
2 Tbsp. freshly grated Parmesan cheese, plus extra for serving
16 oz. dry penne pasta
Fresh basil, to serve
---
Instructions
In a large deep skillet or saute pan, heat oil over medium heat. Add onions with a pinch of salt and cook until softened, about 4-5 minutes. 
Stir in garlic and red chili flakes. Cook until fragrant while stirring constantly.
Add marinara sauce and vodka. Season with salt and pepper to taste. Bring to a simmer and cook until slightly reduced, stirring occasionally for about 8-10 minutes. Keep the pan uncovered and if needed reduce the heat to a medium-low so the sauce is at a gentle simmer.
Stir in half and half and cook until warmed through, about 1-2 minutes. Stir in Parmesan cheese. Taste the sauce, and add more half and half if needed. The sauce should taste creamy with a slightly sweet but sharp, bright flavor from the vodka and chili flakes. 
Cook penne pasta in salted water according to package directions. Drain, reserving about 1 cup of pasta water.
Toss the cooked pasta with sauce. If needed, add some of the reserved pasta water to thin out the sauce. Serve immediately garnished with fresh basil and more Parmesan cheese.
---
Notes
Leftovers: Store leftovers in the refrigerator in an airtight container for up to 5 days.
Nutrition
Serving Size:
Calories: 341
Sugar: 7.4 g
Sodium: 401.7 mg
Fat: 8 g
Carbohydrates: 51.9 g
Protein: 9.7 g
Cholesterol: 3.3 mg
Keywords: easy, pasta sauce, blush sauce
You May Also Like…