Meatball Stroganoff
Meatball Stroganoff is a delicious dish with tender meatballs nestled in a creamy sauce and served over egg noodles. It's a family favorite that you can make for cozy family dinners. It's easy to make a double batch to serve a crowd too!
What is Meatball Stroganoff?
Meatball Stroganoff is a twist on the traditional chicken stroganoff. It's a family-friendly meal that's savory and filling, made with prepared store-bought or homemade meatballs.
It's a quick and easy dish that can be made on any weeknight. Serve it over noodles for a meal or as an appetizer in small bowls at your next party.
Best Meatballs To Use
Meatballs are the centerpiece of this dish. Cooked, fresh, or frozen meatballs all work in this recipe. You can make them at home or buy store-bought meatballs to save on prep time.
Tip: Avoid using meatballs with any type of strong seasonings, such as Italian-style meatballs as the herbs don't always pair well with the flavors of the stroganoff sauce. Plain meatballs made with chicken, turkey, or beef work best for this recipe.
I make a quick variation of my healthy chicken meatballs or turkey pesto meatballs for this recipe with bread crumbs, egg, seasonings such as onion and garlic, and ground meat of choice. Roll them into golf size balls and then cook or save them for later. You can keep the raw meatballs in the fridge for a couple of days or freeze them for up to three months.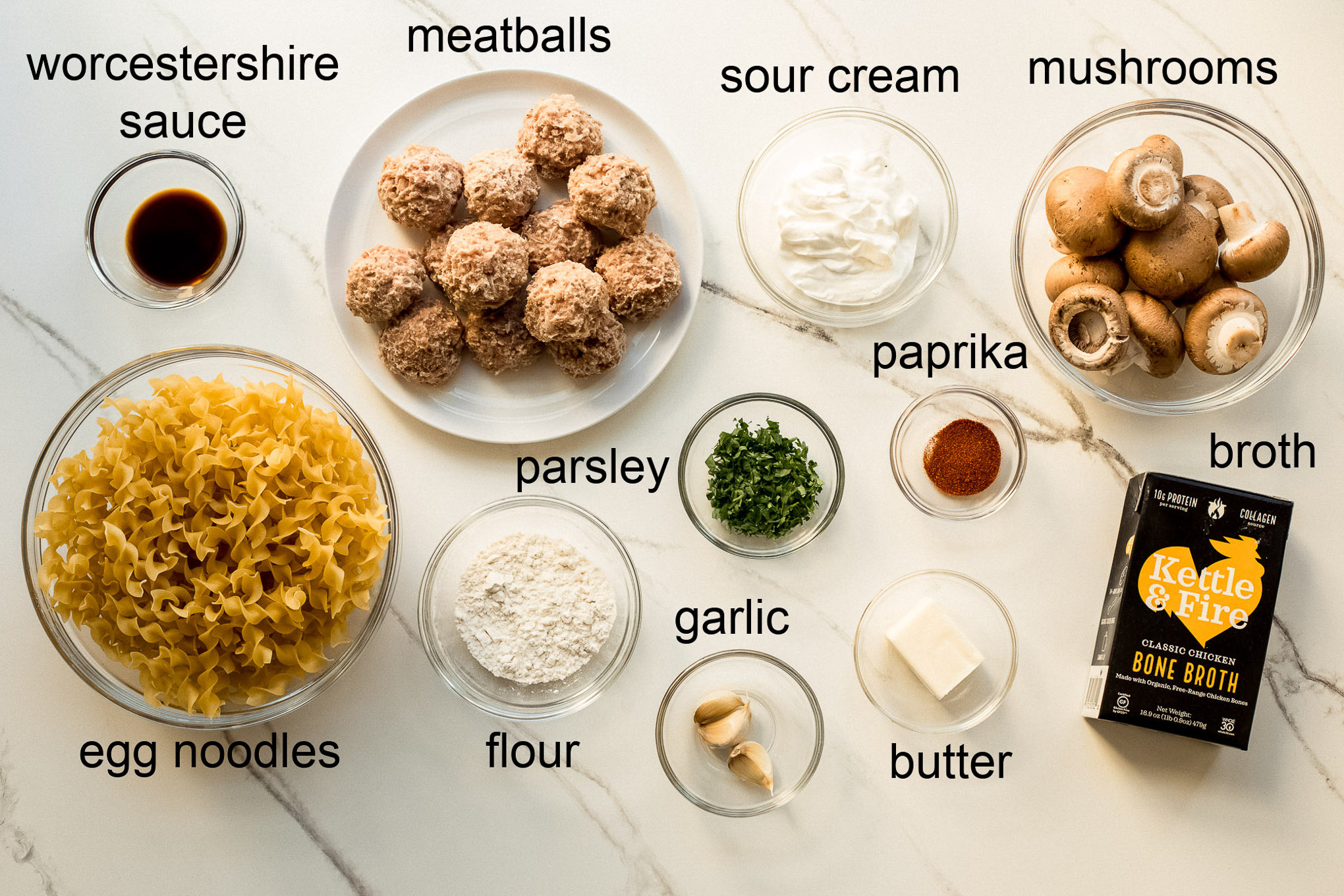 Ingredients
The simple ingredients for this easy dinner recipe can be found at your local grocery store.
Butter: Unsalted butter is best so you can control the amount of salt that is added.
Mushrooms: Cremini mushrooms add a delicious rich flavor to the sauce. You can also use white button mushrooms.
Garlic: It's best to use garlic cloves, but you can substitute with garlic powder if necessary.
Paprika: Paprika will add a hint of sweetness to the dish.
Flour: All-purpose flour is added to thicken the sauce.
Chicken broth: A little broth or beef stock adds a savory flavor to this quick dinner.
Worcestershire sauce: Worcestershire sauce adds unami flavor – tangy, savory, sweet, and salty.
Prepared meatballs: You can make these at home or buy them from the store.
Sour cream: Bring the sour cream to room temperature before adding it to the sauce.
Fresh parsley: Parsley brightens up the dish and makes for a beautiful green presentation.
Egg noodles: Buy egg noodles in a bag at the store. Cook them until they're al dente, drain them, and set them aside.
How to Make Meatball Stroganoff
The steps to make this quick meatball stroganoff are easy to follow. For a full description see the recipe card below.
Cook the mushrooms until lightly golden and tender, and season with salt and black pepper. Stir in the garlic and paprika. Then add the flour.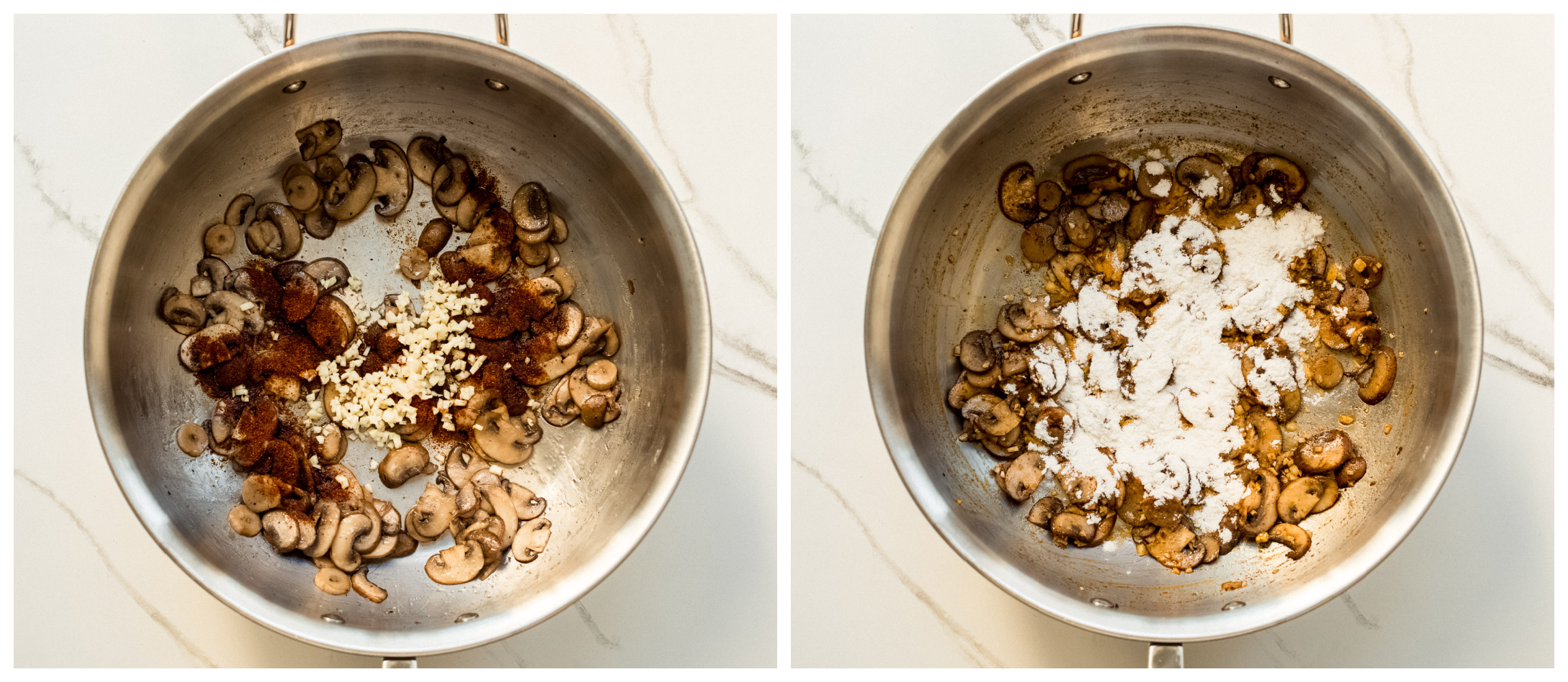 Pour the broth and Worcestershire sauce into the pan and bring to a simmer. Add the meatballs and cook until the meatballs are cooked through. Off heat, stir in the sour cream and parsley.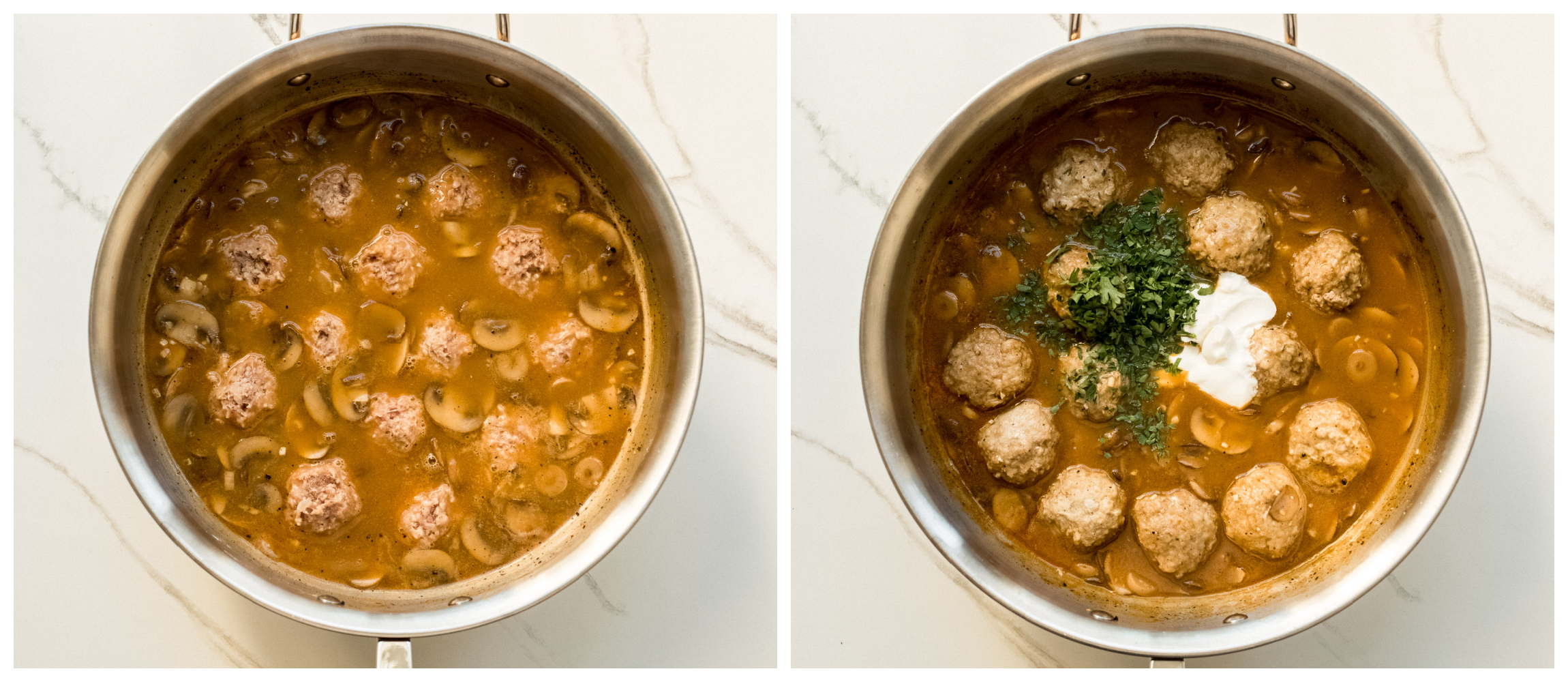 Cook egg noodles according to package directions. Serve meatballs and sauce over cooked noodles.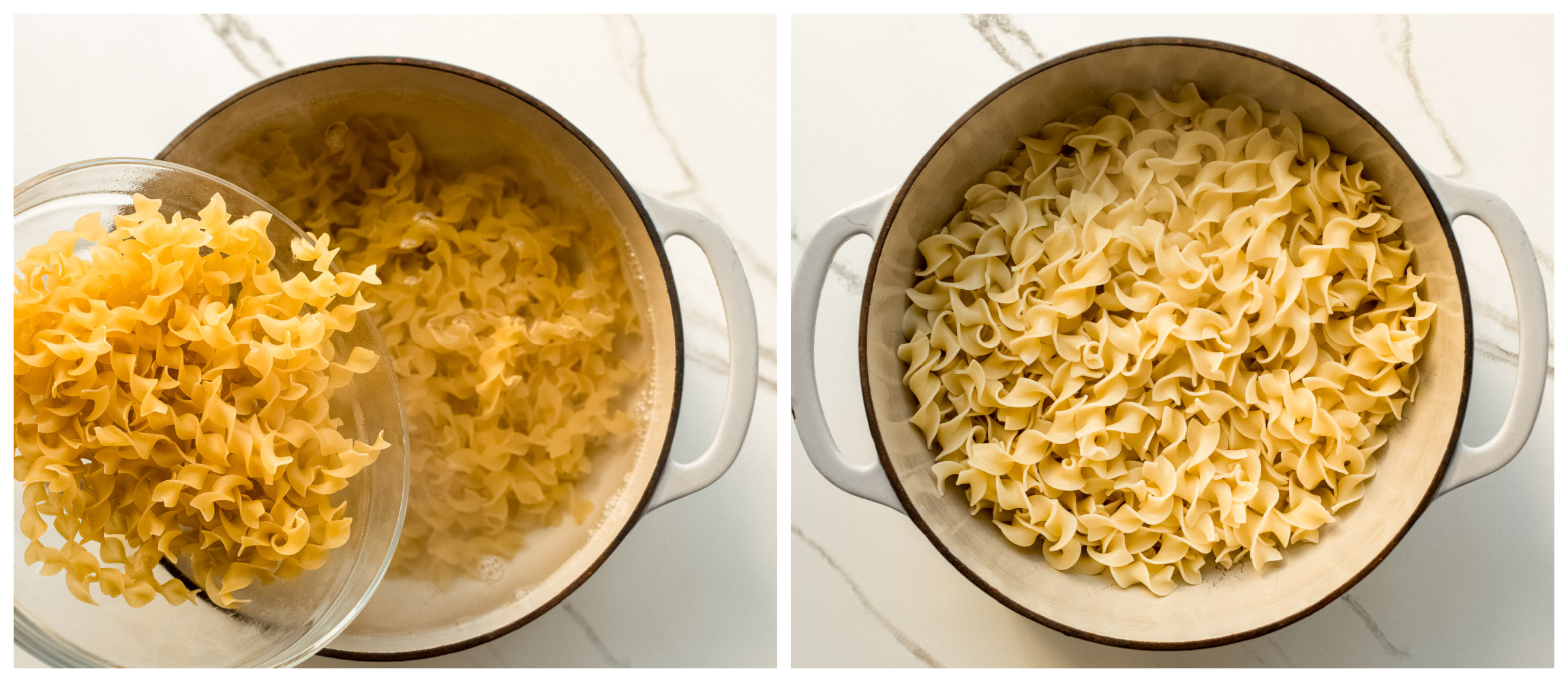 Recipe Tips
Here are some tips and tricks to help you make this delicious dish.
Serve sauce over noodles. Stroganoff sauce is best served over egg noodles instead of mixing it all up, otherwise, the noodles soak up too much of the sauce.
Cooking time. Cooking time will depend on the type of meatballs used. The kind of meat, its size, and if they're pre-cooked determine how long they need to be cooked.
Any type of meatballs. Feel free to use frozen, freshly made, or cooked in this recipe.
Garnish! Grate fresh parmesan cheese over the top before serving.
Variations
This easy meatball stroganoff can be altered to fit your preferences. Here are some ideas to get you started.
Use beef broth instead of chicken broth if you're using beef meatballs.
This recipe can be made with beef, pork, turkey, or chicken meatballs.
Use plain yogurt or cream cheese instead of sour cream.
Make it gluten-free by using cornstarch instead of all-purpose flour to thicken the sauce.
Leave out the fresh mushrooms or replace them with chopped zucchini or squash.
Pour in a splash of white wine to balance the flavors of this rich sour cream sauce.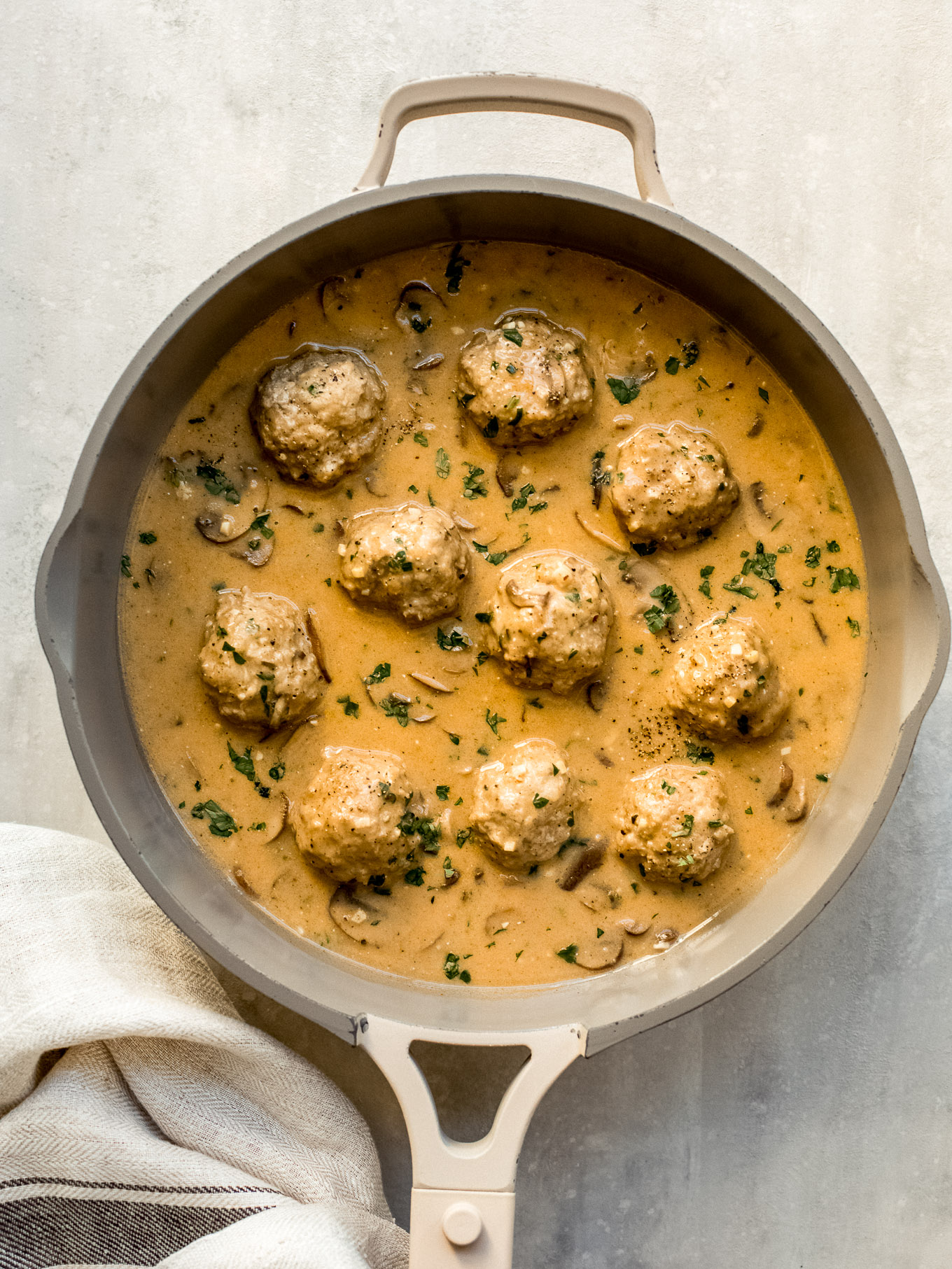 How to Serve
While egg noodles are the most common dish paired with stroganoff, feel free to use any other type of noodles and/or pasta or even mashed red skin potatoes or cauliflower ricotta mash for a low-carb version.
It also pairs well over rice or in a bowl with a slice of homemade sourdough garlic bread to dip into the sauce.
Don't forget sides to make this into a complete meal! Here are some delicious side dishes to pair with this dish:
Storing Tips
Refrigerate: Keep the meatballs and sauce in an airtight container in the refrigerator for up to four days. Keep the noodles in their own container, so they don't mix.
Reheat: When you're ready to eat leftovers, heat up a bowl in the microwave in 30-second increments until warm all the way through.
Freeze: It's not a good idea to freeze this dish for later. The sauce contains dairy, which will have a grainy texture when thawed, and the pasta will become soggy.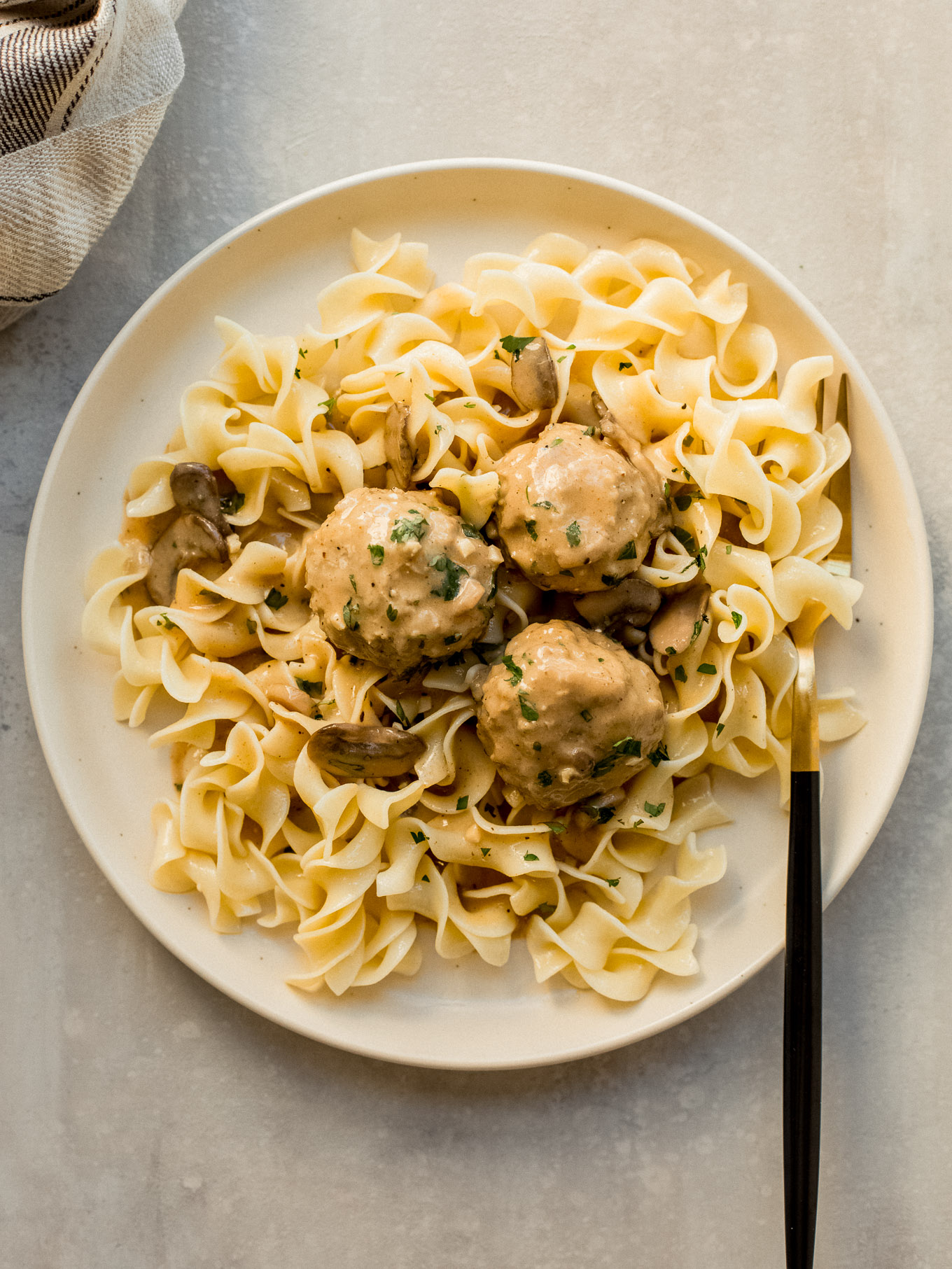 Slow Cooker Meatball Stroganoff Directions
To make this meatball stroganoff in the slow cooker, add butter, mushrooms, garlic, paprika, 2 1/2 cups chicken broth, Worcestershire sauce, meatballs, salt, and pepper to a slow cooker and cook on low for 3-4 hours.
Combine the remaining 1/2 cup of chicken broth with flour. Add the mixture to the crockpot and cook on high for 30 minutes.
Stir in sour cream into the sauce and then toss with cooked noodles. Garnish with parsley before serving.
FAQs
What is stroganoff sauce made of?
This creamy sauce is made with butter, mushrooms, garlic, seasonings, chicken stock, Worcestershire sauce, and sour cream.
Can I use frozen meatballs in this dish?
Yes, you can use frozen, pre-made meatballs in this recipe.
Why do the noodles get soggy in meatball stroganoff?
If you mix the noodles into the sauce on the stove, they will soak up the liquid and become soggy. It's best to keep them separate until you're ready to serve.
More Comfort Recipes
Print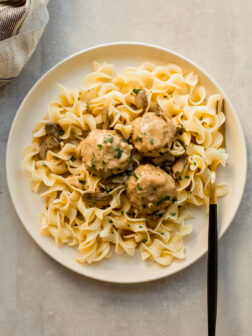 Meatball Stroganoff
Author: Katya
Prep Time: 15 min
Cook Time: 30 min
Total Time: 45 minutes
Yield: 6 1x
Category: Main
Method: Stovetop
Cuisine: American
---
Description
Meatball Stroganoff is a delicious dish with tender meatballs nestled in a creamy sauce and served over egg noodles. It's a family favorite that you can make for cozy family dinners. It's easy to make a double batch to serve a crowd too!
---
4 Tbsp. unsalted butter
8 oz. sliced mushrooms, cremini, or white button
3 garlic cloves, minced
1 tsp. paprika
1/4 cup all-purpose flour
3 cups chicken broth
1 Tbsp. Worcestershire sauce
1 lb. prepared meatballs, cooked, fresh, or frozen (see note)
1/4 – 1/2 cup sour cream
2 Tbsp. fresh chopped parsley
12 oz. egg noodles, cooked per box instructions
Kosher salt and fresh black pepper
---
Instructions
In a large saute pan, melt butter over medium heat. Add mushrooms and cook for about 8-10 minutes or until lightly golden and tender. Halfway through cooking or after mushrooms release their liquid, season with salt and pepper, to taste.
Stir in garlic and paprika. Cook until fragrant for about 30 seconds while stirring constantly.
Sprinkle the flour and stir until absorbed. Add broth and Worcestershire sauce; bring to a simmer. Season with salt and pepper, to taste.
Add meatballs. Reduce the heat to a gentle simmer after the meatballs come to a boil. Cook partially covered for 10-15 minutes or until meatballs are cooked through, stirring occasionally. Cook time will depend on the type and size of meatballs. See note below.
Off heat, whisk in sour cream, and then add the parsley. Taste the sauce before serving and add more seasoning if needed. Serve over cooked egg noodles. 
---
Notes
Meatballs: You can make this recipe with plain homemade or store-bought turkey, chicken, or beef meatballs. Avoid meatballs with any type of heavy seasonings, such as Italian-style. If using beef, feel free to use beef broth for the sauce. Cook time will depend on the type and size of the meatballs. If using store-bought meatballs, check the package for cooking instructions before adding them to the sauce. I found that 10-15 minutes of cooking time for golf-size meatballs is all you need for the meatballs to be cooked through and that applies to both frozen and fresh. If using cooked meatballs, they will only need to be warmed through. Adjust the time accordingly.
Sour Cream: Plain Greek yogurt can be used instead.
Noodles: Traditionally stroganoff is served over egg noodles but you can also use any other type of pasta or even rice or mashed potatoes for serving.
Leftovers: Refrigerate meatballs and noodles separately for up to 4 days. 
Nutrition
Serving Size: 2 meatballs with sauce and 1 1/2 cups cooked egg noodles
Calories: 421
Sugar: 4.5 g
Sodium: 1007 mg
Fat: 27.5 g
Carbohydrates: 28.4 g
Protein: 16.9 g
Cholesterol: 92.5 mg
Keywords: creamy meatballs, comfort food, family friendly