Cauliflower Tabbouleh
Cauliflower Tabbouleh salad is a delicious Middle Eastern dish that is light and lemony. It's the perfect low-carb summer salad made with cauliflower rice instead of bulgar.
What is Cauliflower Tabbouleh? 
Rice cauliflower tabbouleh is a fantastic low-carb dish that tastes like the Mediterranean with every bite. It's the perfect side dish for grilled chicken, shrimp, or steak or can be eaten on its own without any added protein as a vegetarian dish.
This tabbouleh salad is easy to make and can be prepped in under 15 minutes before it needs to chill for 30 minutes in the refrigerator. Get this salad going before starting on the main course, and they will be ready simultaneously.
Where Does the Word Tabbouleh Come From? 
The national food of Lebanon, 'tabbouleh,' comes from the Arabic word 'taabil,' meaning 'seasoning or spice.' This vegan dish is popular all over the world and is served with hearty grains instead of cauliflower rice.
This recipe exchanges the bulgar for cauliflower rice to make a low-carb version that is still perfect for vegetarians and vegans alike.
Tips for Making Cauliflower Tabbouleh 
Here are some tips and tricks to help you make a foolproof cauliflower tabbouleh salad every time.
Let the salad sit for 30 minutes in the refrigerator before serving. This allows the dressing to coat the vegetables and infuse them with flavor.
If making your own riced cauliflower, use a food processor to pulse the cauliflower chunks into medium size "rice" pieces. Make sure not to pulse too much, otherwise, the cauliflower will release too much liquid.
Feel free to swap out the vegetables and herbs depending on what you like. Try mint, red onions, shallots, lettuce, or avocados.
If you like to keep the salad more traditional, substitute the cauliflower with cooked grains like bulgar, farro, or even quinoa.
For added texture and flavor, add toppings like crumbled feta cheese or pomegranate seeds right before serving.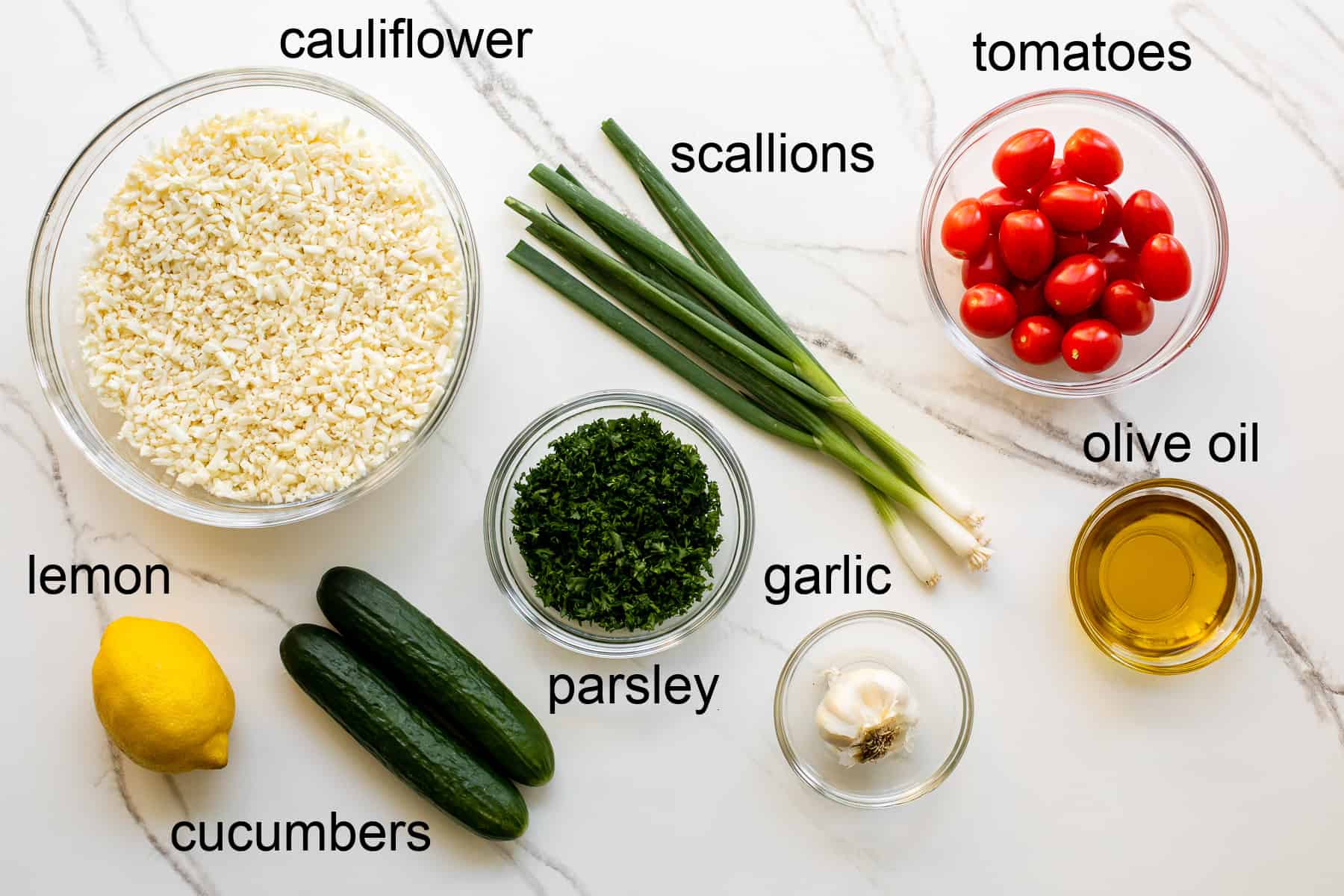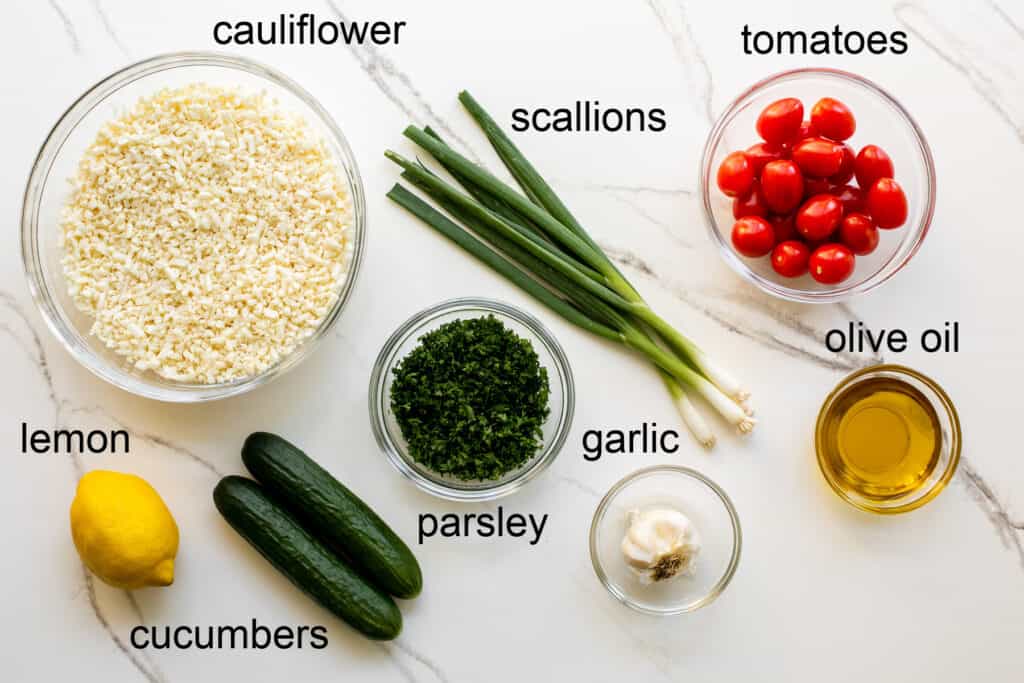 Ingredients
Here are the ingredients for this salad recipe. You can easily change or adapt the ingredient to fit your dietary needs or preferences.
Cauliflower: It's best to use fresh riced cauliflower for this recipe. Either purchase a head of cauliflower and rice it yourself or pick up a bag of riced cauliflower in the produce section. I do not recommend using frozen riced cauliflower.
Parsley: Fresh parsley add brightness. Make sure to finely chop the parsley.
Scallions: Scallions are mild tasting and make a perfect addition to this salad.
Tomatoes: You can dice large tomatoes or use smaller cherry tomatoes.
Cucumbers: Add texture and crunch. Persian cucumbers or English cucumbers are best to use.
Olive oil, lemon juice, and garlic: This trio makes a simple dressing for tabbouleh. Fresh lemon juice adds brightness and garlic adds another layer of flavor and also balances the other flavors.
Salt and pepper: Salt enhances the flavors of the other ingredients. Freshly cracked black pepper is potent and perfect for this dish.
How to Make Cauliflower Tabbouleh 
One of the best things about this dish is how easy it is to make. Here are the brief steps, but you can find a more detailed description in the recipe card.
Rice the cauliflower using a food processor. Alternatively, use riced cauliflower from the store. Dice the other vegetables and combine them in a large bowl.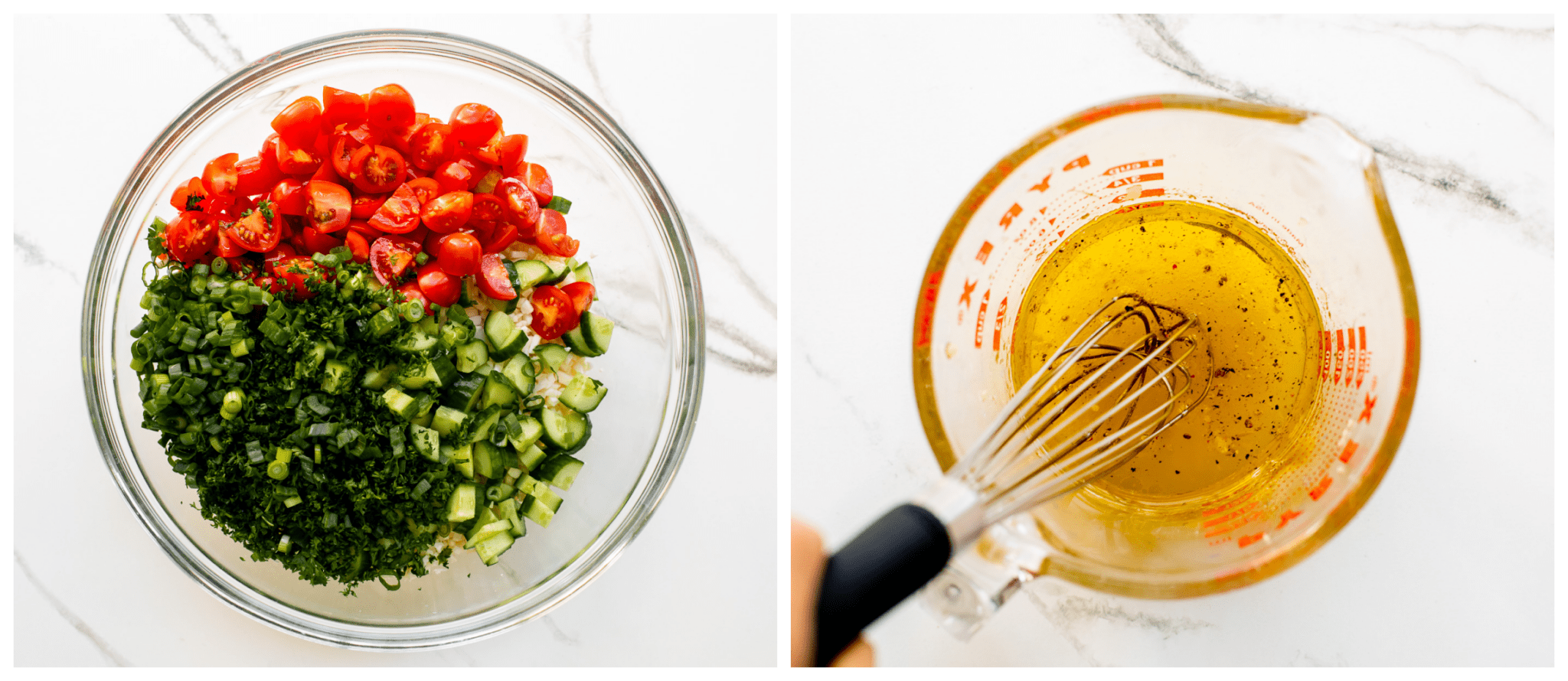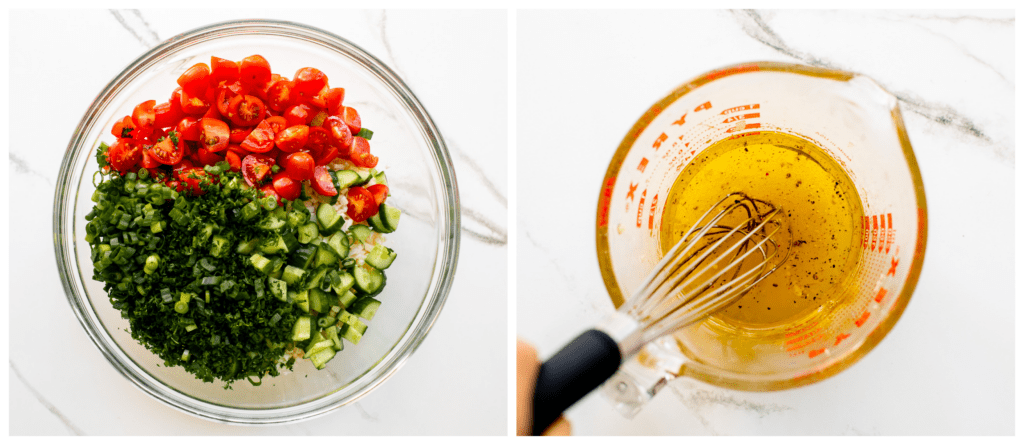 What Else Can You Add to Tabbouleh? 
This recipe is very adaptable to your tastes and preferences. You can remove ingredients you don't like and add ones you do like.
In addition to the ingredients in this recipe, you can add bell peppers, cilantro, pomegranate seeds, or chickpeas.
How Do You Keep Tabbouleh From Getting Soggy? 
Tabbouleh can become soggy from too much liquid. One way to avoid that is to make sure to only use fresh riced cauliflower and not frozen.
If ricing cauliflower yourself, use a food processor with a grater blade to blitz the cauliflower into small pieces.
Lastly, you can transfer the cauliflower rice to a large paper towel and squeeze to remove any remaining moisture.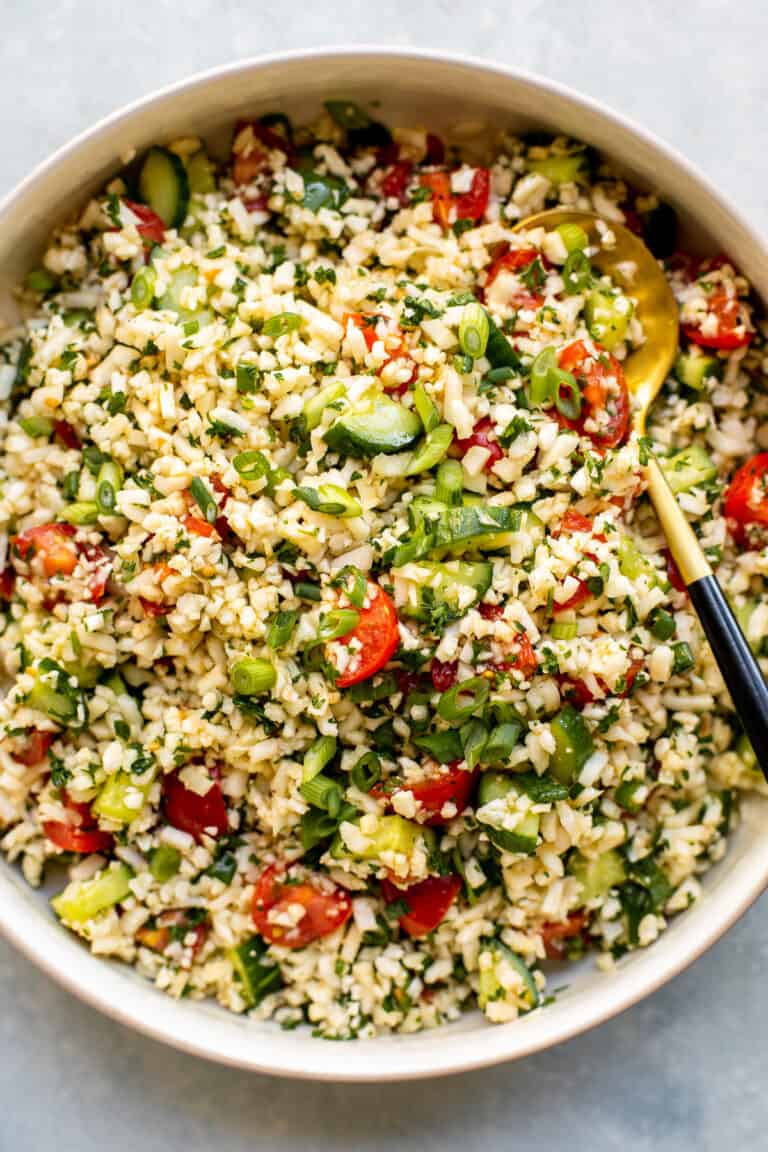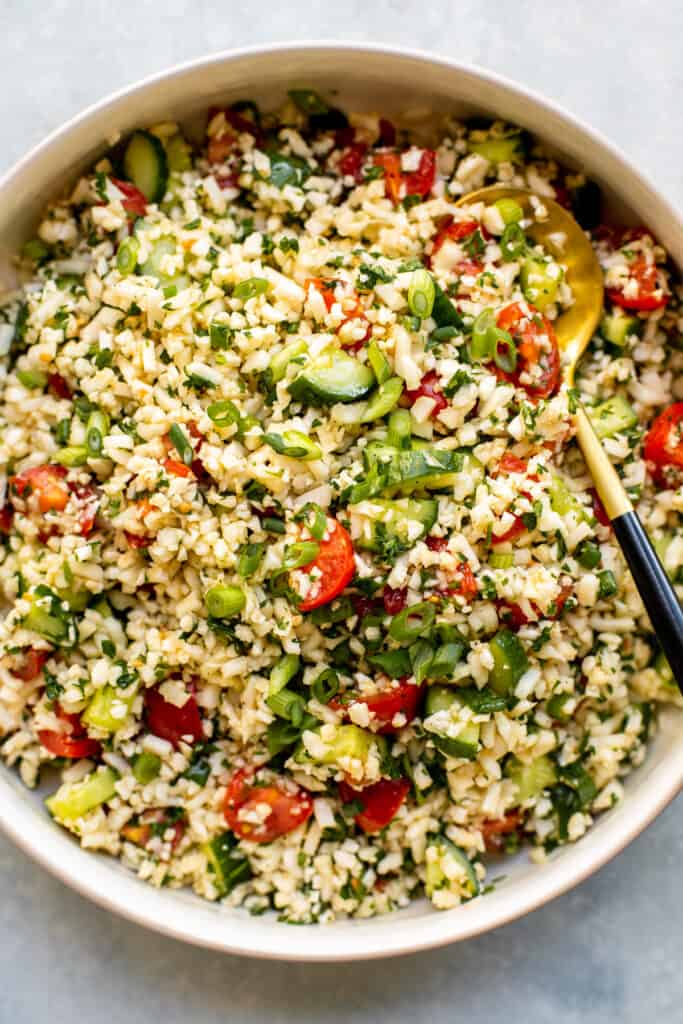 How to Serve 
This salad can be eaten on its own, or you can pair it with another dish, such as:
How to Store
Keep any leftover tabbouleh in an airtight container in the refrigerator for up to four days. Before serving it again, you may want to toss it with some freshly chopped parsley or feta cheese.
I do not recommend freezing this salad.
Frequently Asked Questions
Do I need to cook the cauliflower?  
No, you don't need to cook the cauliflower for this salad to work. It tastes great with raw cauliflower! 
Can you heat up tabbouleh?
No, this salad is meant to be served chilled or at room temperature.
What's traditional tabbouleh made of? 
While this recipe uses cauliflower rice, traditional tabbouleh uses cracked bulgar wheat. It also includes a large amount of parsley, diced cucumbers, tomatoes, garlic, and olive oil dressing. 
How are you supposed to eat tabouli?
Tabouli (or tabbouleh) is usually served chilled or at room temperature with pita bread, hummus, falafel, or pita chips. 
Love tabbouleh salad? Try this version made with quinoa – Quinoa Tabbouleh Salad.
Print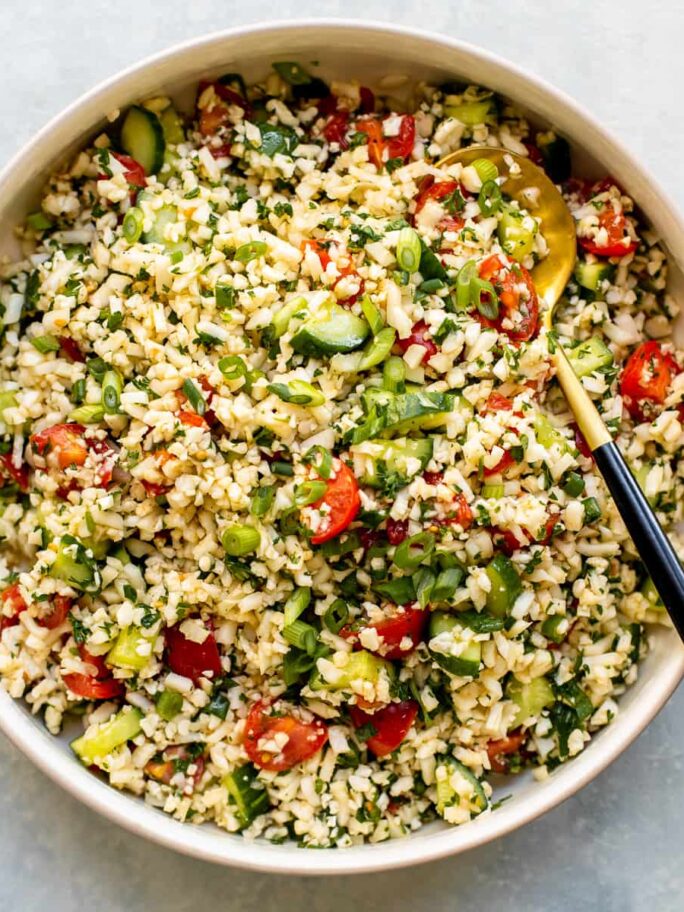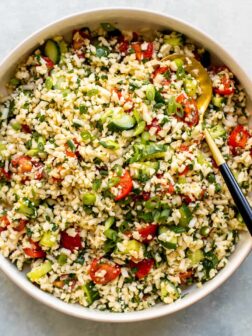 Cauliflower Tabbouleh
Author: Katya
Prep Time: 20 mins
Total Time: 20 mins
Yield: 6-8 1x
Category: Salad
Method: Chopped
Cuisine: Middle Eastern
---
Description
Cauliflower Tabbouleh salad is a delicious Middle Eastern dish that is light and lemony. It's the perfect low-carb summer salad made with cauliflower rice instead of bulgar.
---
16 oz. riced cauliflower, about 5 cups
1 cup finely chopped parsley
4 green onions, sliced
2 cups halved grape or cherry tomatoes
1 cup chopped cucumber
1/3 cup extra-virgin olive oil
3 Tbsp. fresh lemon juice
1 garlic clove, pressed or grated on microplane
Kosher salt and fresh black pepper
---
Instructions
In a large bowl, combine the cauliflower, parsley, scallions, tomatoes, and cucumbers.
Whisk together the olive oil, lemon juice, and garlic. Season with salt and pepper to taste. Pour the dressing over the vegetables and toss until combined.
Cover and refrigerate at least 30 minutes before serving.
---
Notes
Cauliflower: This recipe works best with fresh riced cauliflower. I do not recommend using frozen cauliflower as it will retain too much water.
Leftovers: Store leftovers in an airtight container for up to 4 days.
Nutrition
Serving Size: 1 cup
Calories: 111
Sugar: 2.8 g
Sodium: 27 mg
Fat: 9.7 g
Carbohydrates: 6.6 g
Protein: 2 g
Cholesterol: 0 mg
Keywords: low carb, picnic, summer
Recipe originally published June 2015.
You May Also Like…