Vegetarian Marsala
Vegetarian marsala is all about the veggies and minus the meat! It's packed with ton of flavor thanks to the Marsala wine, garlic, shallots, mushrooms, spinach, and tomatoes. Perfect meatless meal to serve over protein-packed quinoa or nutty brown rice.
For all my veggie loving friends this one is for you! Vegetrian marsala is all about the veggies and minus the chicken, which is a traditional way to make this dish. However, I'm skipping the chicken and loading up on all the veggies today.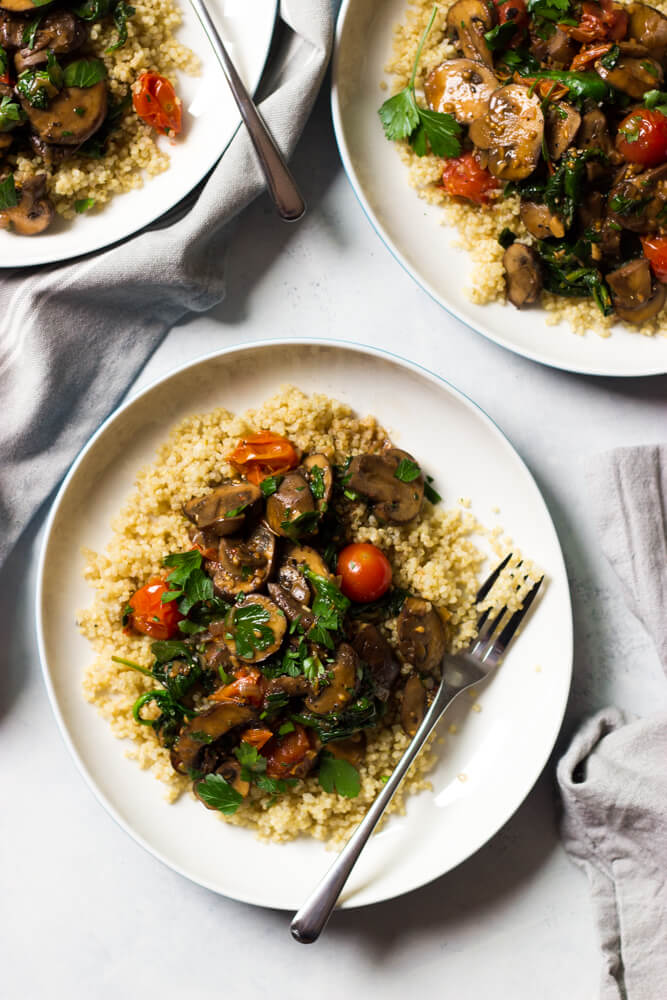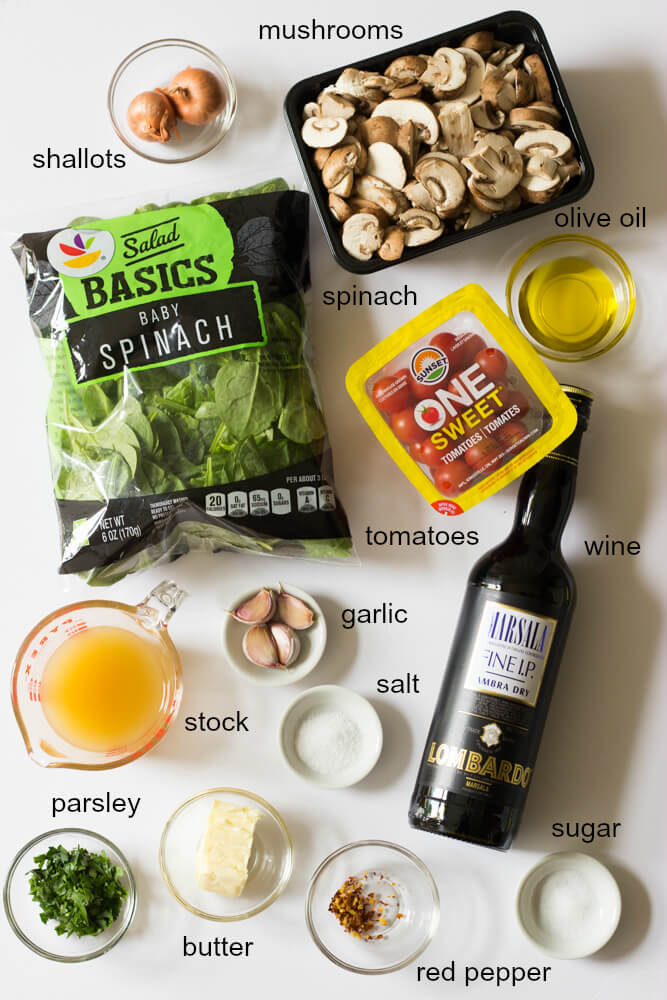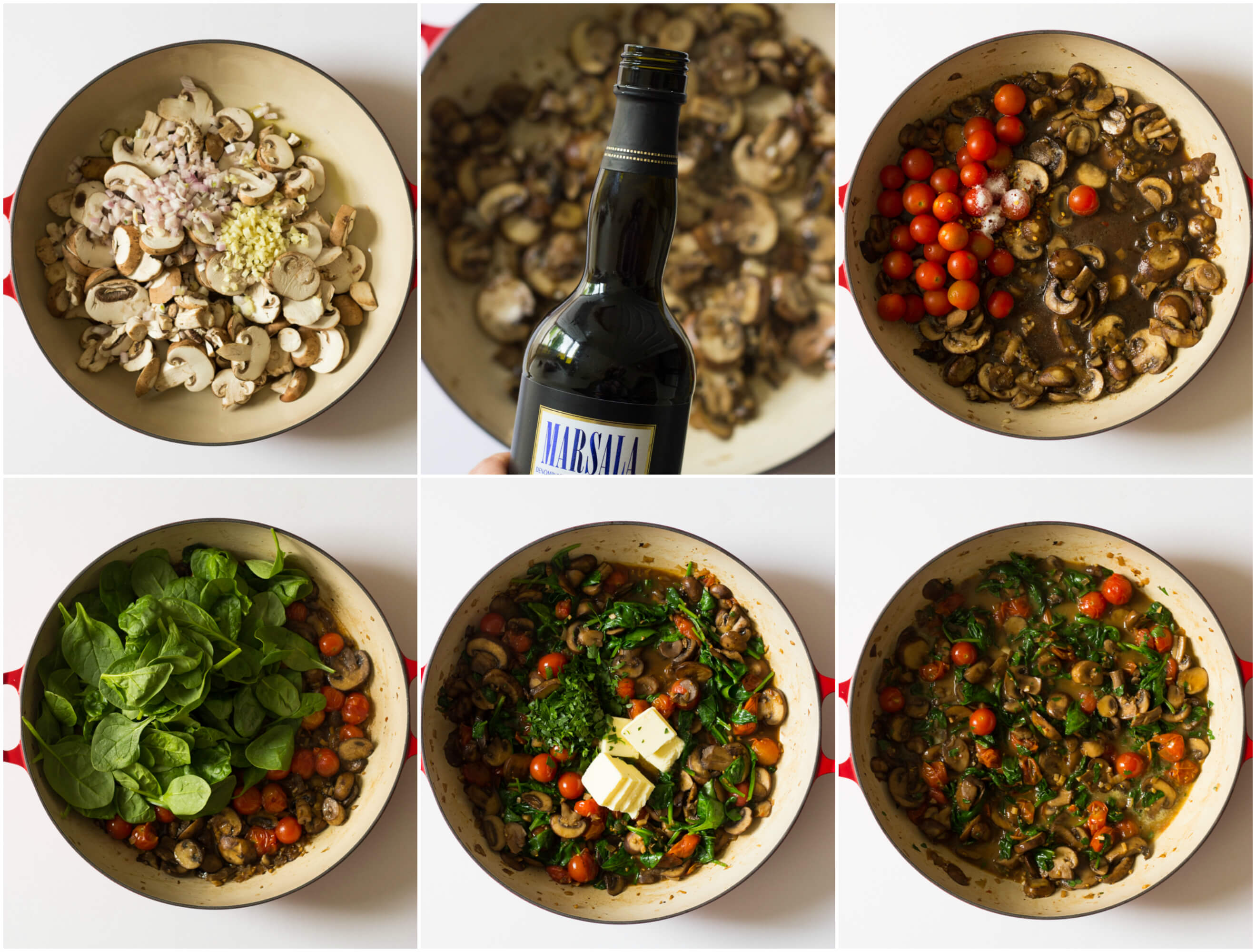 This vegetarian marsala is super flavorful, thanks to the rich Marsala wine, shallots, garlic, mushrooms, spinach, and tomatoes. It comes together fairly easy. Just give yourself some time for the sauce to cook down. You want it rich and velvety, which requires a little bit of simmering. But I promise it will all be worth it at the end! It's super delicious over cooked quinoa or any type of rice.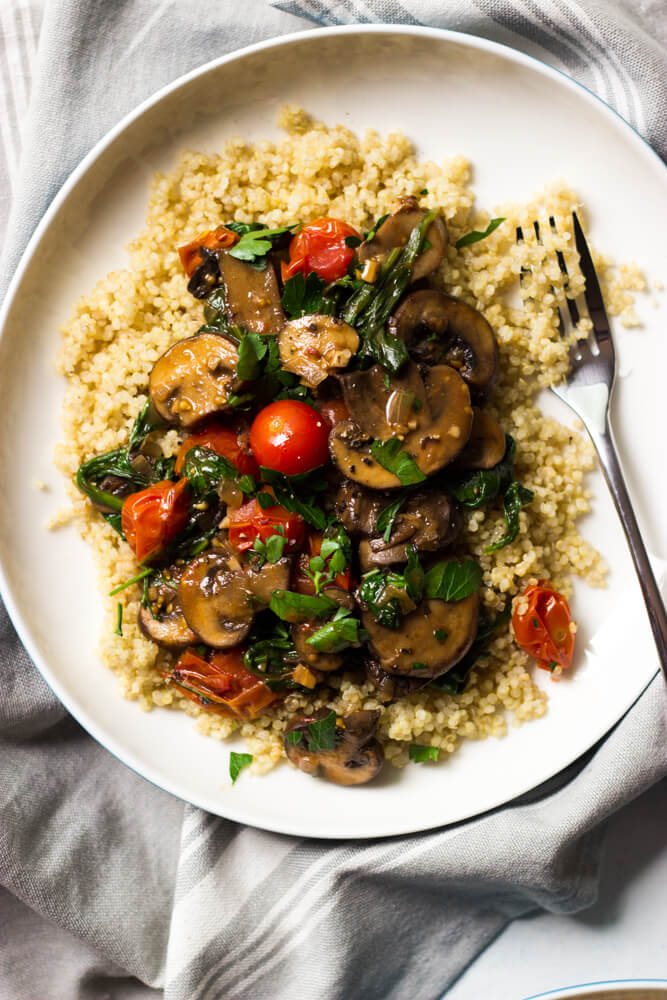 Print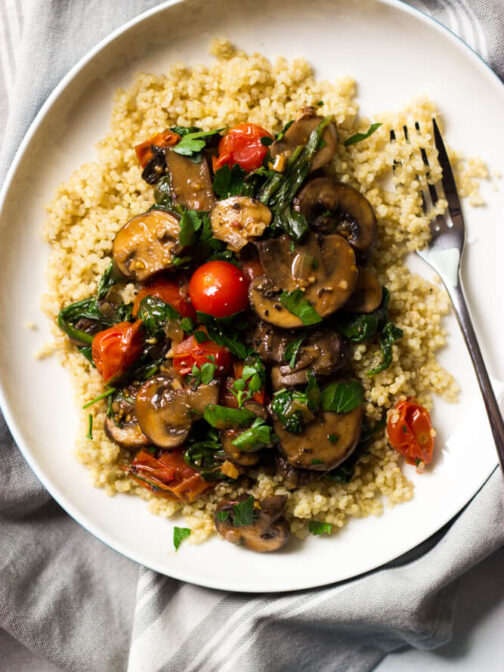 Vegetarian Marsala
Author: Katya
Prep Time: 10 mins
Cook Time: 45 mins
Total Time: 55 mins
Yield: 4 1x
---
3 Tbsp. olive oil
2 shallots, finely chopped
4 garlic cloves, finely chopped
1 pound sliced baby bella mushrooms (or white mushrooms)
1/2 cup dry Marsala wine (the real stuff not "cooking" Marsala)
1 pint cherry tomatoes
1/2 cup chicken stock or vegetable broth
1 tsp. kosher salt, plus more to taste
1/4 tsp. red pepper flakes
1/4 tsp. granulated sugar
1 (6 oz.) bag baby spinach
4 Tbsp. unsalted butter, sliced
1/4 cup fresh chopped parsley
fresh ground black pepper, to taste
cooked quinoa, for serving
---
Instructions
Heat oil in a large sauté pan over medium heat. Add shallots, garlic, mushrooms, and sauté for 8-12 minutes, stirring occasionally, until moisture has evaporated and golden brown.
Pour the Marsala wine in the pan and boil down for a few minutes to cook out the alcohol and reduce the liquid slightly.
Add tomatoes, stock, salt, red pepper flakes, sugar, and black pepper, to taste. Simmer the mixture, uncovered, for 15-17 minutes until the tomatoes break down and release their juices and some of the liquid has slightly reduced.
Stir in the spinach and cook for a few minutes until it cooks down.
Remove the pan from the heat and stir in the butter and parsley. Taste for salt and pepper. Serve over cooked quinoa.
---