Strawberry Shortcake Cake
Strawberry shortcake cake is a cool and refreshing dessert made with fresh strawberries and topped with whipped cream. This easy homemade cake is perfect for warm weather get-togethers or summer holiday parties.
What is Strawberry Shortcake Cake?
This strawberry shortcake cake is a delicious spin on the classic individual-sized shortcakes usually made during the summer months with sweet strawberries.
Our version of this favorite dessert is simple and incredibly easy to make, just like icebox cake. Made as a one-layer cake with juicy ripe strawberries, bright lemon flavor, and homemade whipped topping — it's a dessert perfect for any occasion!
It's best served the same day it's assembled. The whipped topping can be spread all over the cake or dolloped individually over each slice.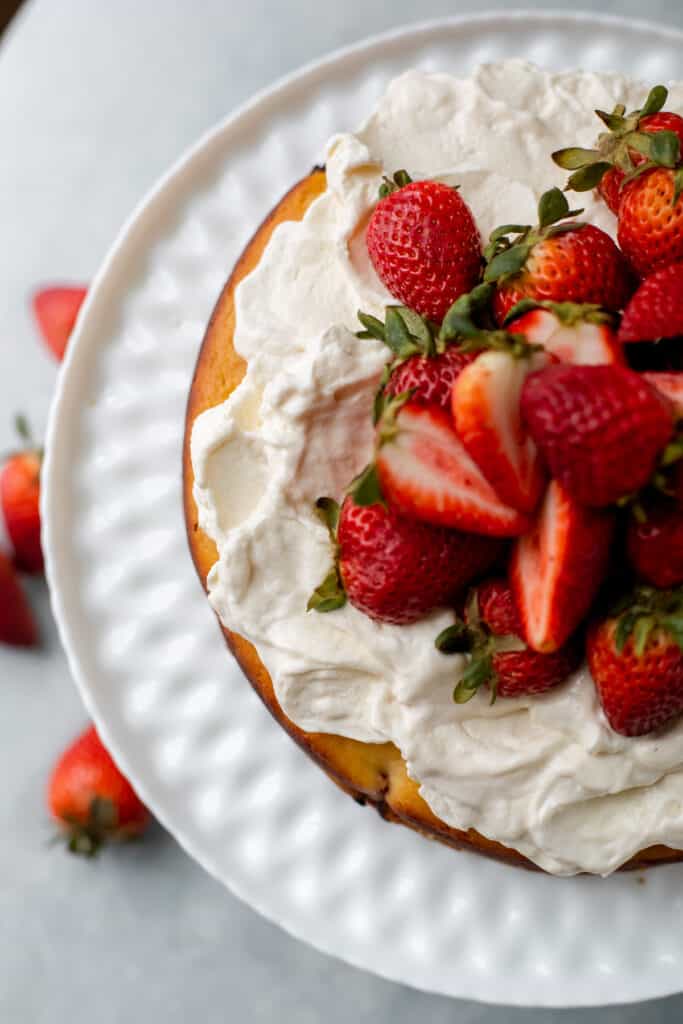 How to make sure your cake isn't mushy
It's possible that your cake will become mushy if there's too much moisture in the cake. Strawberries contain a lot of water which is released when they're baked. This in turn can add too much liquid to your cake.
To prevent this from happening, simply wash the strawberries and then pat them dry with a few sheets of paper towels before chopping and adding them to the batter. This will help cut down on the moisture and make sure the cake isn't mushy.
Ingredients
Eggs: Fresh, large eggs are best for this recipe.
Sugar: I love using cane sugar but granulated sugar works just as well.
Greek yogurt: Yogurt adds the perfect moisture to the cake and makes it lighter.
Avocado oil: Any neutral oil will work well. Try refined coconut oil.
Vanilla extract: Buy pure vanilla extract from the store or make your own at home.
Lemon juice: Fresh lemon juice squeezed from a lemon is more potent than bottled lemon juice.
Flour: All-purpose flour or cake flour is perfect for this recipe.
Baking soda: Baking soda makes the cake rise. Be sure yours is still good and not expired before using it.
Salt: Salt enhances the flavors of the cake.
Lemon zest: Lemons and strawberries are a wonderful match. They complement each other nicely in this cake.
Fresh strawberries: Be sure you use in-season, ripe strawberries since it's the star of the dish. You'll need strawberries for the batter and extra for garnish.
Heavy whipping cream: You can find heavy whipping cream in the dairy section of the grocery store.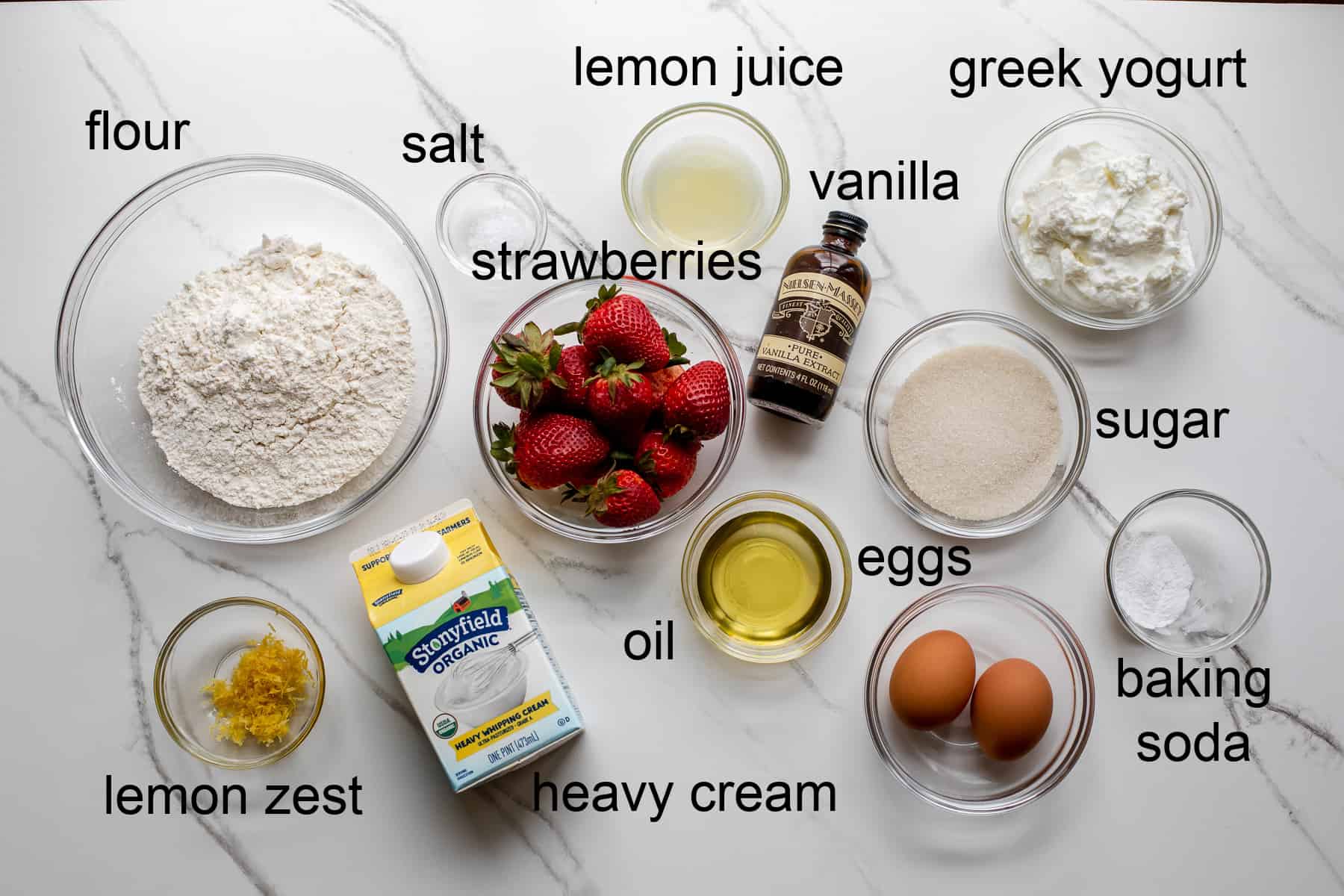 How to make a strawberry shortcake cake
Beat the eggs and sugar until light in color. Add yogurt, oil, vanilla, and lemon juice.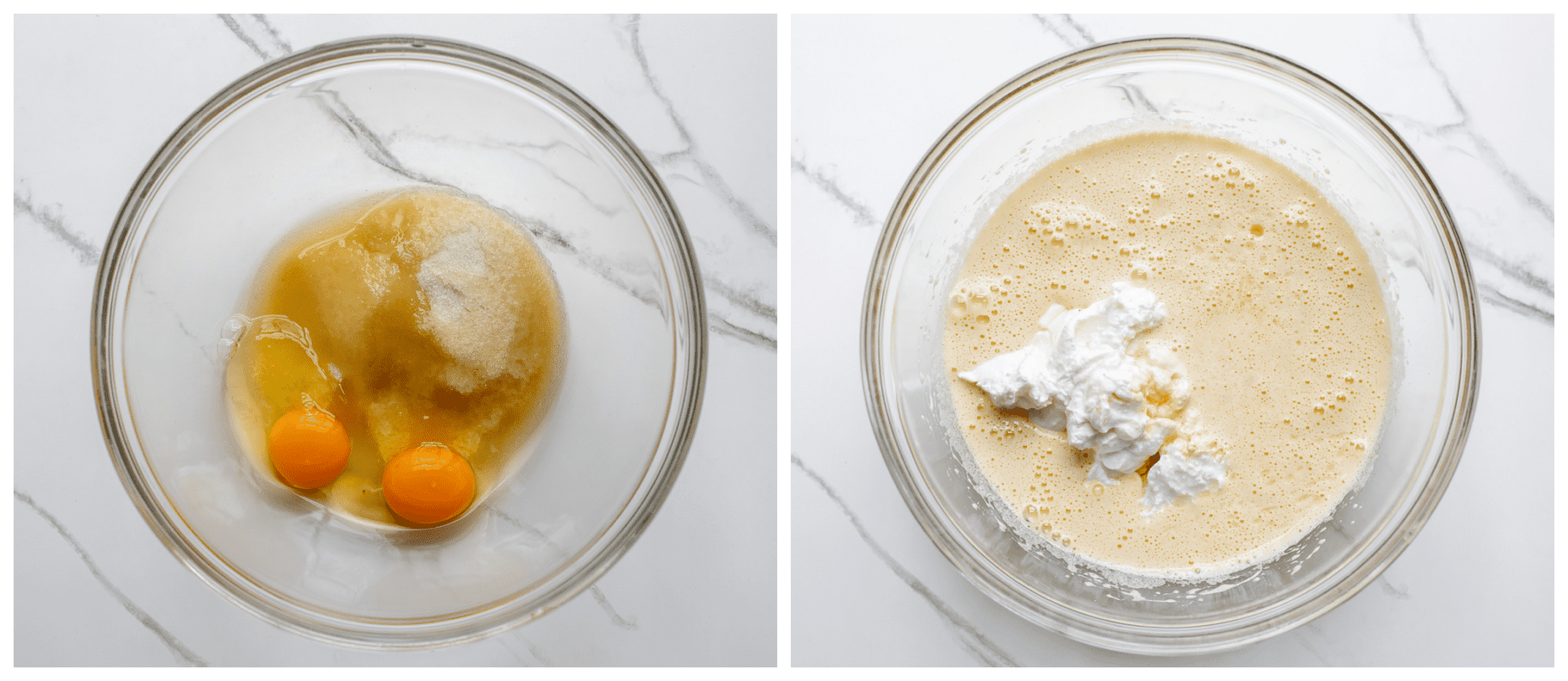 Whisk the flour, baking soda, and salt together in another bowl.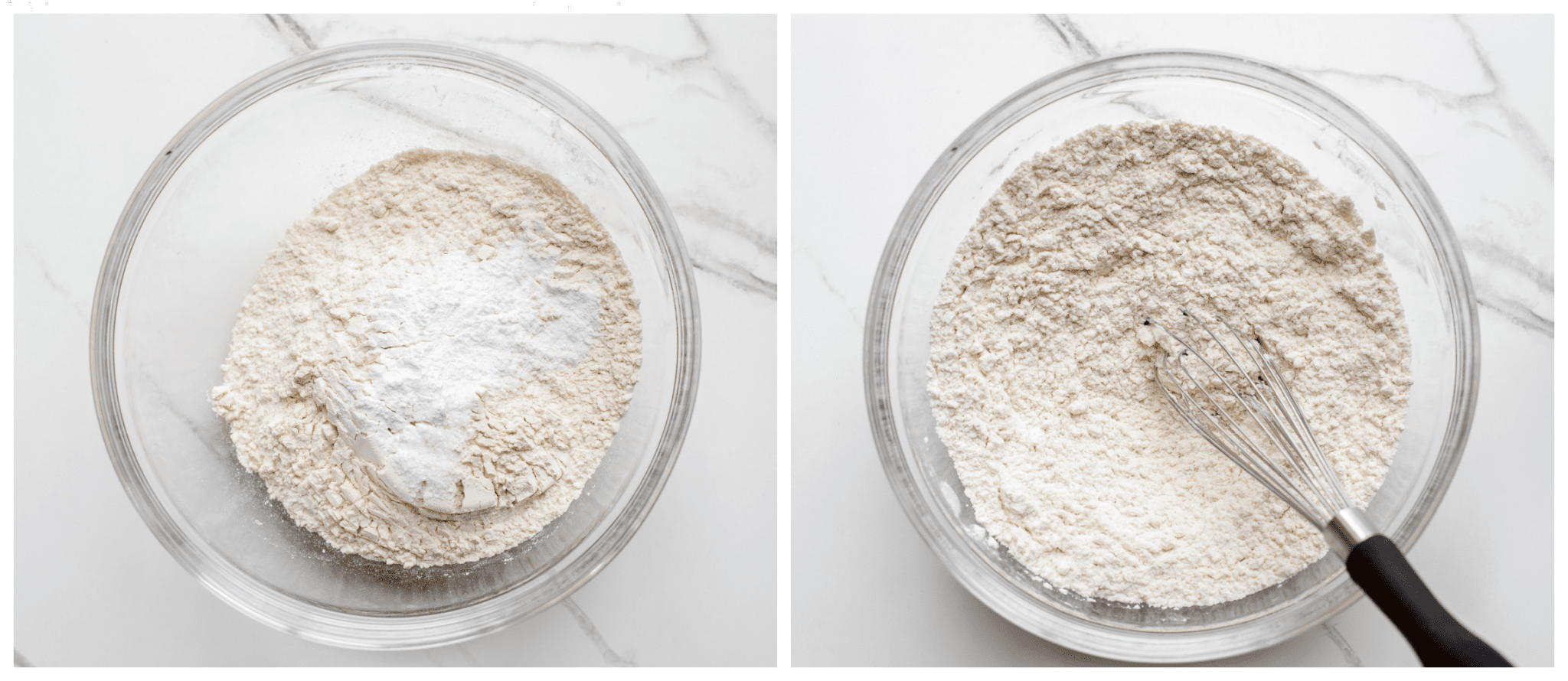 Slowly pour in the dry ingredients while mixing the wet ingredients.
Stir in the lemon zest and strawberries with a wooden spoon.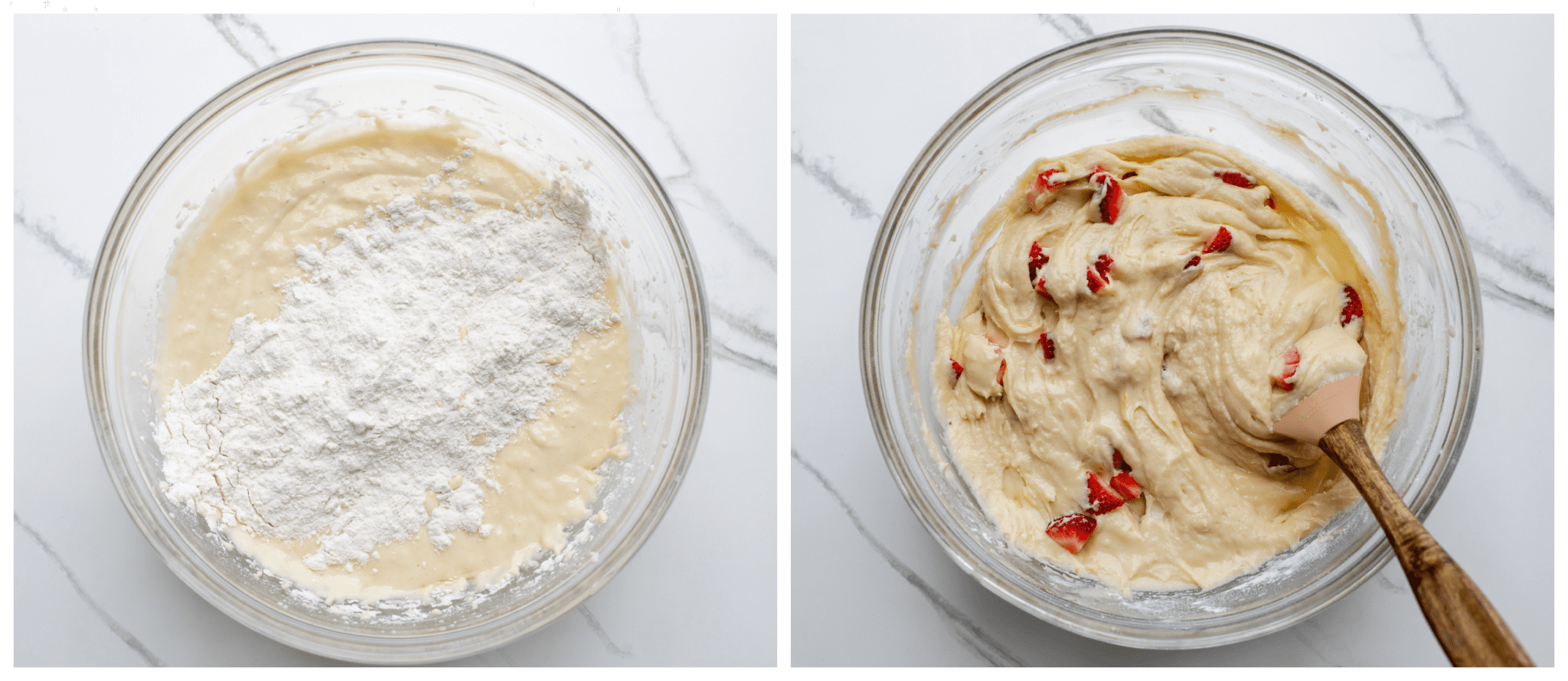 Pour the batter into a greased and floured baking pan and bake. Cool completely.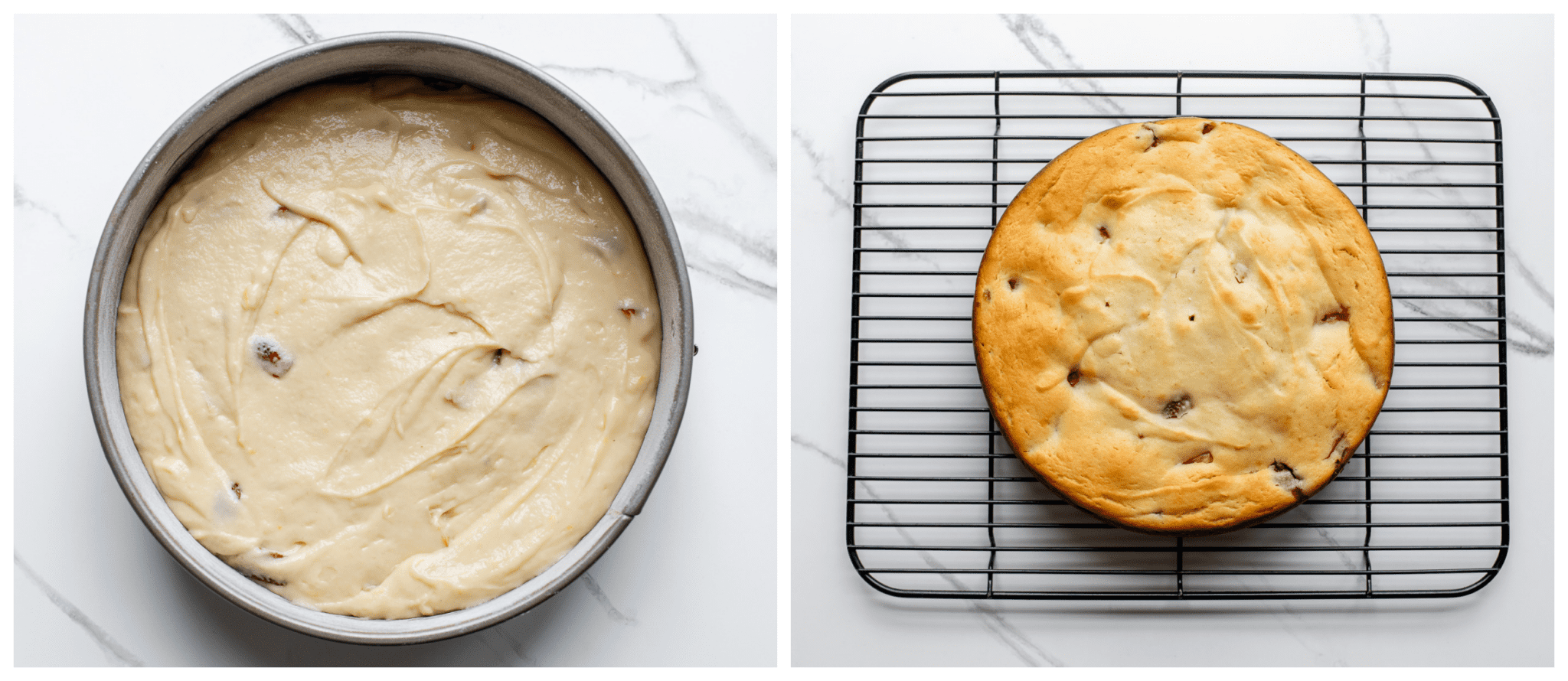 To make the whipped topping, beat the cream and sugar until thick and fluffy. Top the cake with whipped cream and strawberries.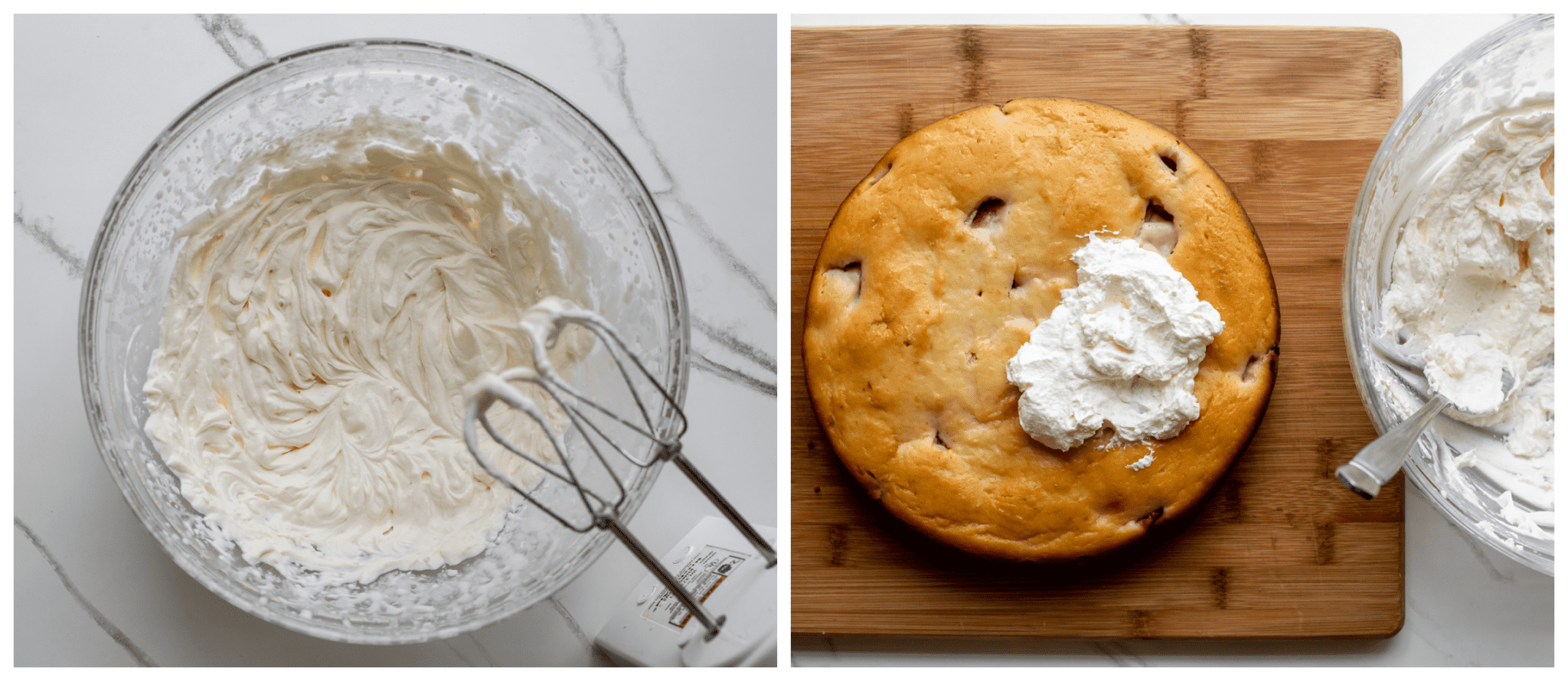 Tips for Making a Fluffy Cake
The ingredients in this strawberry shortcake cake are precisely measured to make sure the cake is fluffy. You can also do a few things to ensure it's not dense.
Don't overmix the cake batter.
Use the exact measurements of each ingredient.
Do not substitute ingredients unless stated.
Pat dry the strawberries after washing and before chopping to remove excess moisture.
Make sure to use baking soda and not baking powder. Not the same and works differently.
Can I make this strawberry shortcake cake more than one layer?
One layer is easier to make, but if you want to stack this cake high, you can certainly do so. Grease and flour two or more cake pans and double the batter recipe.
Allow the cake to cool before removing them from the pans, and then layer them on top of each other with whipped cream and sliced strawberries spread in between each one.
What types of frosting can I use on this cake?
This strawberry cake is topped with whipped cream made with heavy whipping cream and sugar until stiff peaks form.
You can also use whipped topping from the store or make your own cream cheese frosting or even leftover cream cheese fruit dip would work. Any of these options will taste amazing!
What other types of cake can I use for this recipe?
This recipe is made with white cake; however, you can change the style depending on what you're in the mood for or the type of celebration. Here are some options you can top with whipped cream and strawberries:
Angel food cake
Pound cake
Sheet cake
Poke cake
Bundt cake
Sponge cake
Trifle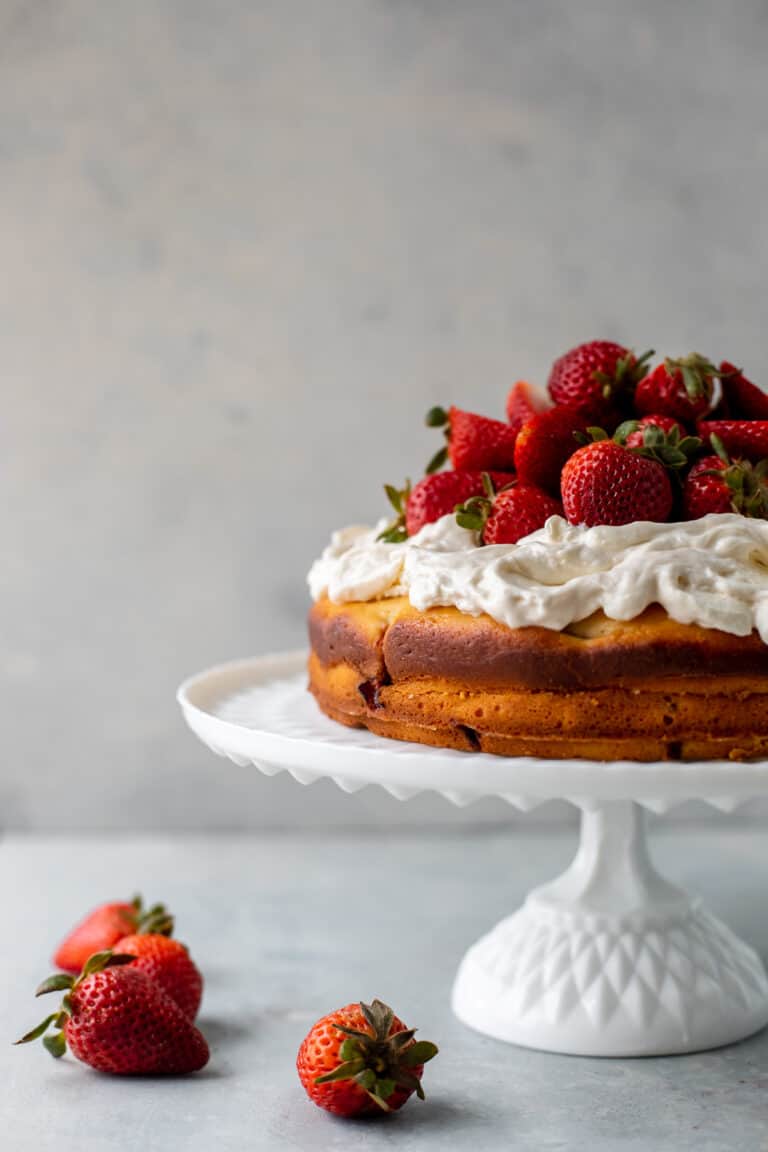 Storing Cake
To store the cake after it's made, place it in an airtight container and keep it in the fridge for up to three days. The longer you keep it in the refrigerator, the more it will dry out. You can also let it come to room temperature before eating a slice if you'd like.
Frequently Asked Questions
Can I freeze the strawberry shortcake cake?
You can freeze the cake layers before you've assembled the entire cake. Wrap them in plastic wrap and aluminum foil and keep them in the freezer for up to three months. To thaw, allow them to sit on the counter at room temperature for a couple of hours or in the refrigerator overnight. 
Can you make this cake into cupcakes?
You can definitely make this cake into cupcakes. Line a muffin tin with cupcake liners and pour the batter two-thirds of the way to the top. Bake at 350 F for 15 – 25 minutes. Allow them to cool before putting on the whipped cream frosting. 
How far in advance can you make this strawberry cake?
You can bake the cake, cut the strawberries, and make the whipped cream one day in advance before assembling the cake. This will ensure it's fresh when it's served. Store each prepped item in an airtight container in the refrigerator.  
Can I substitute Greek yogurt with sour cream?
Yes, if you don't have Greek yogurt on hand, sour cream is a great alternative. 
More Summer Desserts
Print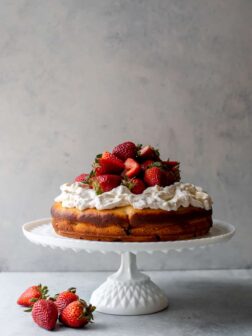 Strawberry Shortcake Cake
Author: Katya
Prep Time: 30 mins
Cook Time: 55 min
Total Time: 1 hour 25 minutes
Yield: 8 1x
Category: Dessert
Method: Baking
Cuisine: American
---
Description
Strawberry shortcake cake is a cool and refreshing dessert made with fresh strawberries and topped with whipped cream. This easy homemade cake is perfect for warm weather get-togethers or summer holiday parties.
---
2 large eggs
1 cup cane sugar
1 1/2 cups plain Greek yogurt
1/2 cup avocado oil or other neutral oil
1 tsp. vanilla extract
2 Tbsp. fresh lemon juice
2 cups + 1 tbsp. all-purpose flour, spoon & leveled
1/2 tsp. baking soda
1/4 tsp. kosher salt
Zest 1 lemon, about 2 teaspoons
1 cup chopped fresh strawberries
Topping
1 cup heavy whipping cream
2 Tbsp. cane sugar
Fresh strawberries, for garnish
---
Instructions
Preheat the oven to 375F. Butter and flour 9-inch springform pan and set aside.
In a large bowl with an electric mixer, beat eggs and sugar on high until light in color and thick, about 2 minutes.
Add yogurt, oil, vanilla, and lemon juice. Beat on low until well combined.
In a separate bowl, whisk together 2 cups of flour, baking soda, and salt. Add the flour mixture to the wet ingredients in thirds, beating after each addition on low. In the last addition add lemon zest. Batter will be thick.
Toss the chopped strawberries with 1 tablespoon flour and fold into the batter. 
Transfer the batter into the prepared pan and bake 40-55 minutes or until a toothpick inserted in center comes out clean. Cool in pan for 10 minutes before removing to a wire rack to cool completely.
Topping
Using a hand mixer, beat the heavy cream with sugar on medium-high speed until stiff peaks form. Do not whip much more beyond this point or the whipped cream will separate.
Spread the whipped topping over cooled cake. Arrange strawberries over the top. Serve immediately.
---
Notes
Greek yogurt: Sour cream can be used instead. Do not use "light" sour cream.
Avocado oil: Any other neutral oil will work in this recipe. 
Strawberries: Make sure to pat dry the strawberries after washing to remove excess moisture.
Recipe originally published June 2015.
Nutrition
Serving Size: 1 slice
Calories: 465
Sugar: 30.8 g
Sodium: 158.8 mg
Fat: 23.3 g
Carbohydrates: 55.3 g
Protein: 10.2 g
Cholesterol: 70.4 mg
Keywords: strawberry cake, strawberry shortcake, strawberry shortcake cake
You May Also Like…