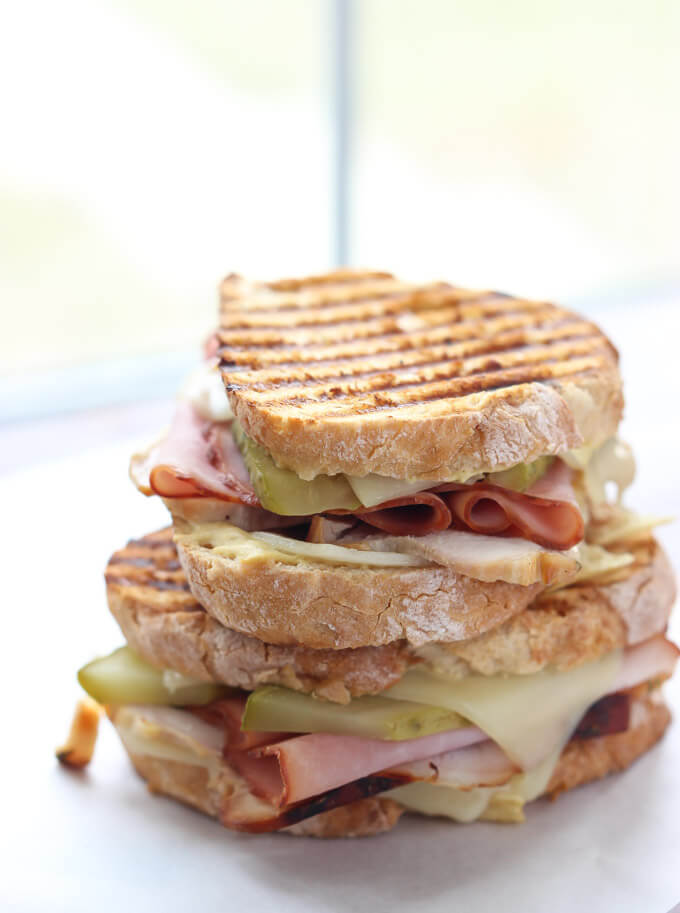 This post may contain affiliate links. Please read our disclosure policy.
Hi guys! Thanksgiving is here or more like Thanks-eating? I'm super excited because it's a short week and a long weekend. My kiddo is off school for couple days and that means this mama can sleep in couple days. We'll be traveling to Ohio to spend Thanksgiving with my "east coast family." There's six of us and two of my siblings (plus my mama) live on the west coast and the rest of us live on the east coast. Since the family is so big and spread out, we usually get together with my east coast family for Thanksgiving and take turns to host. So this year my oldest sister is hosting and we're all crashing at her house. It's chaotic usually as there's more kids than adults, loud, packed and a constant go but I love it! Brings back childhood memories when we all lived at home and our house was a big, fun, LOVING mess.
Today it's all about those leftovers that we all love and hate. Love because you have food for the next week and hate well you have SAME food for the next week. If you're like my hubby, he can only do leftovers next day and that's it. While I can eat pretty much anything, anytime if I'm hungry.
My favorite way to use up leftover meat is by either making a sandwich or salad out of it. And we all know, leftover Thanksgiving turkey is the king of all leftovers. The cyber world of foodies is overflowing with leftover Thanksgiving recipes right about now. Everything from bakes, pies, soups, salads, and sandwiches. And as simple as a sandwich sounds but that's my favorite way to use up leftover turkey meat. It's easy, simple, and cheap.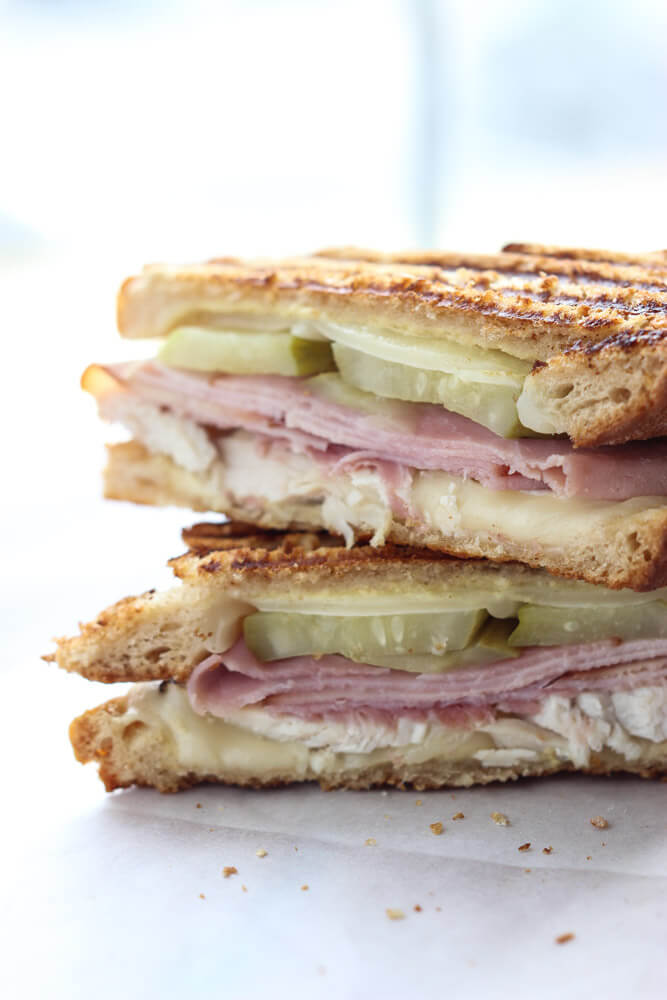 My hubby is known for making sandwiches out of whole bunch of nothing, pretty much any leftovers in our fridge and normally those type of sandwiches come out to be the BEST! Turkey Cuban Sandwich is a combination of a whole lotta nothing, well maybe not nothing but I used all the ingredients I had on hand and the result, well result, was zero leftovers that's for sure. See, cuban sandwich is my hubbys ALL time favorite type of sandwich, so between recipe testing and shooting, we had these two days in a row and I think I might've just made his week.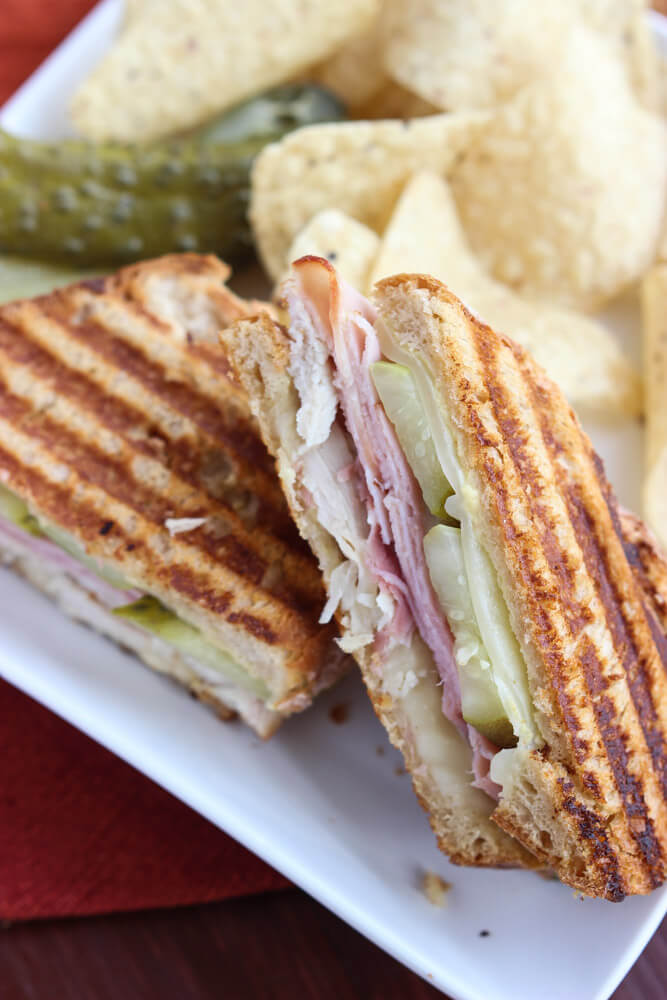 If you can make a grilled cheese you can make this, that's how easy it is, and you don't need a fancy panini press. Prior to owning one, I used a hot skillet and something heavy enough to press down my sandwich.
If you google Cuban Sandwich you will find different variations but the Cuban sandwich I know is: crusty bread, mustard, pork, ham, swiss, and pickles. So instead of pork, I used leftover turkey meat and combined it will ham, swiss, pickles, mustard and crusty Italian bread. Result was gooey, toasty hot sandwich. Even my 6 year old, who doesn't like pickles gave this one a try!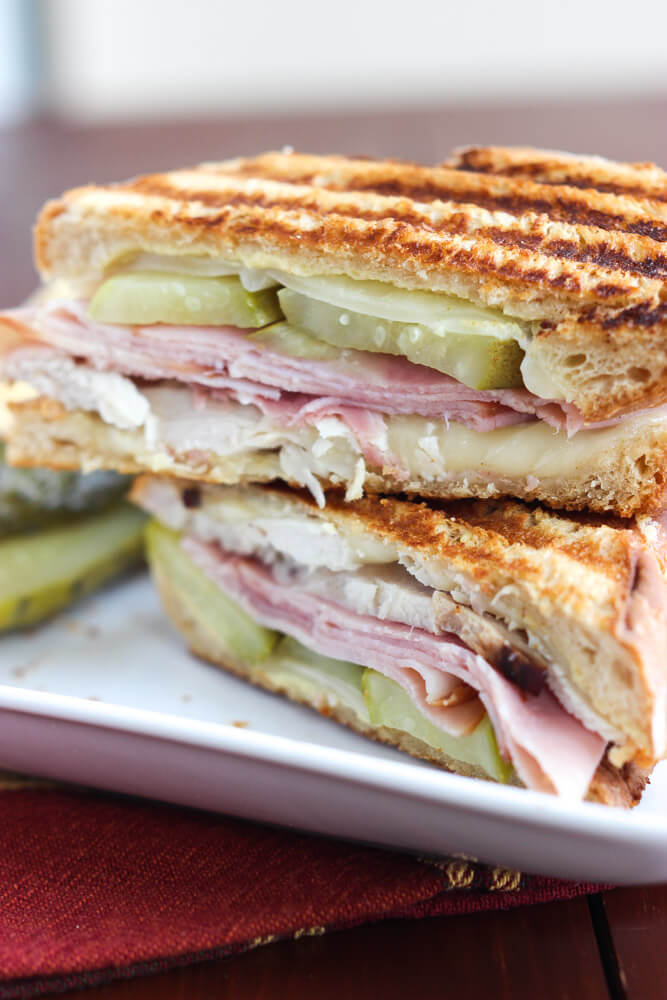 Happy Thanks-eating my friends! Thank you for visiting my blog, commenting, and sharing. Over the last year, my little hobby made me realize more so than ever how much I love my kitchen. My kitchen is small, beat up, and can use a little update but every day I am grateful because every day I get to get up, go downstairs and cook something amazing and sometimes not so amazing (I've had my share of fails). I pick up my son from school, my hubby comes home from work and we all sit around our old outdated table eating food that I made. And that's why I love my kitchen because my kitchen represents so much more than the materialistic things that are in it but memories, my small little family, love, happiness, and laughter that comes with just opening the fridge every morning and deciding to make a meal. It's my little place where I feel most at home and I'm thankful every day that I have the opportunity and means to buy fresh food and cook meals that I can share with my family and also virtually with every single one of you. So, thank you for all your sweet comments and feedback. And that's what I'm grateful for today. And my dog ….for being the best little crumb catcher ever 🙂 XoXo-KK
Print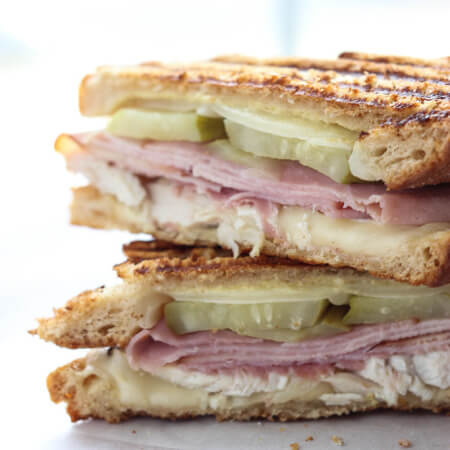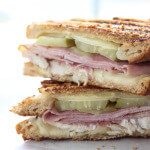 Turkey Cuban Sandwich
Prep Time:

12 mins

Cook Time:

5 mins

Total Time:

17 mins

Yield:

2

1

x
---
4

slices of crusty bread (I used Pane Italian)

4

slices of swiss cheese

2

slices leftover turkey meat

4

slices of ham (I used

two

slices for each sandwich)

2

pickles, sliced lengthwise
Dijon mustard
Butter, at room temperature
---
Instructions
Preheat a panini sandwich press.
Spread all bread slices on one side with Dijon mustard. Top a slice of bread with swiss cheese, turkey meat, ham, pickles, and second slice of swiss cheese; top with second slice of bread, Dijon side down. Repeat to make a second sandwich.
Spread outside sides of bread with butter and toast in a panini press.
Slice in half and serve.
---