Grapefruit Avocado Salad
Grapefruit Avocado Salad is a tangy, creamy dish made with grapefruit, avocado chunks, kale, Parmesan cheese, and toasted pumpkin seeds tossed in a simple vinaigrette.
Grapefruit Season: While you can usually buy grapefruit year-round, it tends to be in peak season from November through May.
What is Grapefruit Avocado Salad?
Avocado grapefruit salad is a delicious salad of tart grapefruit paired with smooth avocado and crunchy pumpkin seeds and topped with shaved parmesan cheese.
The vinaigrette is wonderfully balanced with grapefruit juice, honey, and Dijon mustard. When these two food combinations are mixed together, you're left with a salad you won't be able to say 'no' to!
It's perfect for a healthy lunch or as a side dish to go with your main meal. This hearty salad is great any time of year. And if you can't get enough of avocado, serve this salad with our avocado toast recipe.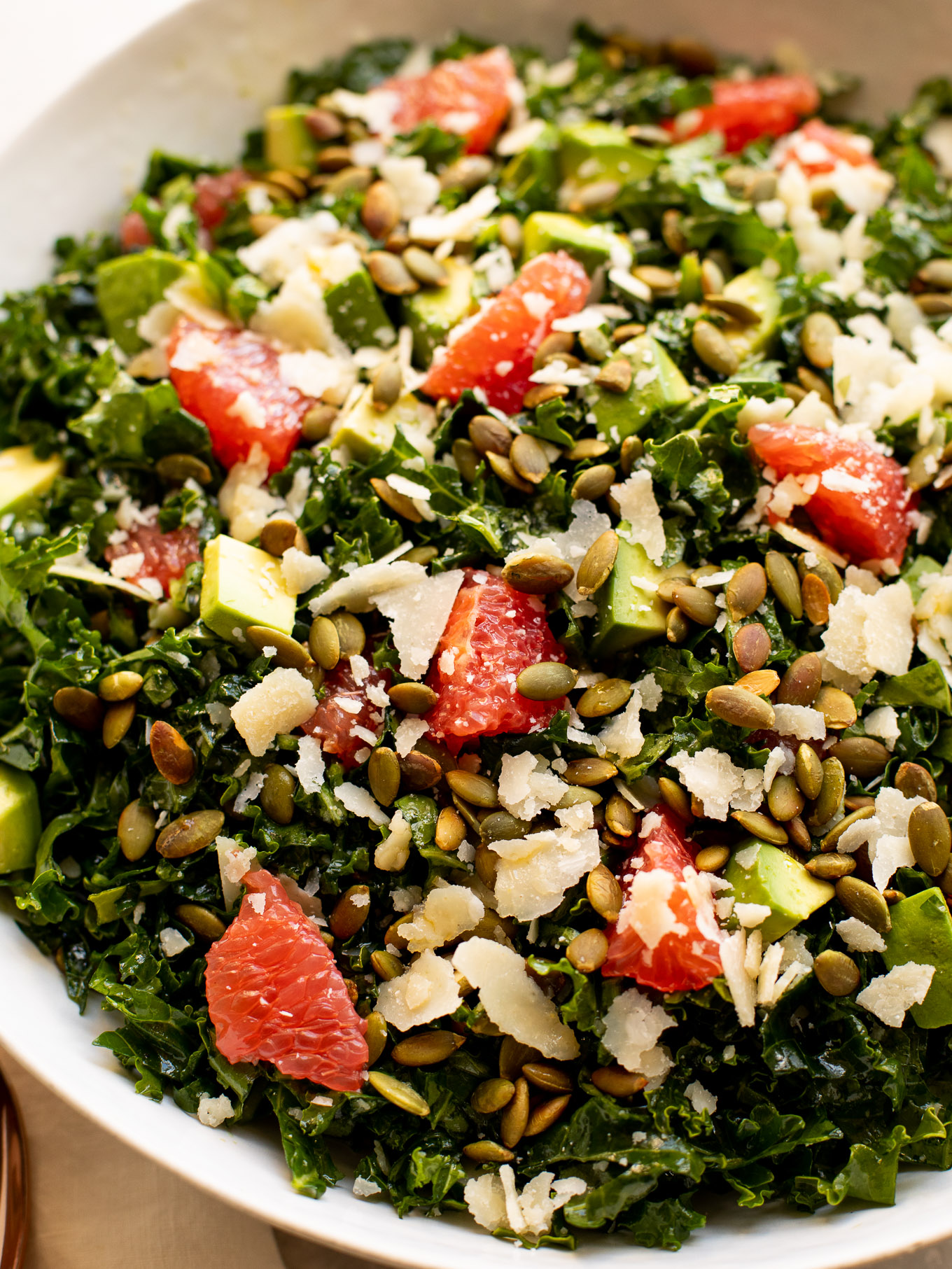 How to Segment a Grapefruit
Cutting grapefruit may seem tricky to get those beautiful grapefruit segments, but it's actually very easy!
Using a sharp knife, slice off about half-inch or more from both ends of the grapefruit, exposing the fruit.
Stand the grapefruit up so the flesh is exposed, and with your knife cut away the peel from the grapefruit following the contour of the grapefruit and the white pith. Keep cutting away the peel until the grapefruit is completely peeled.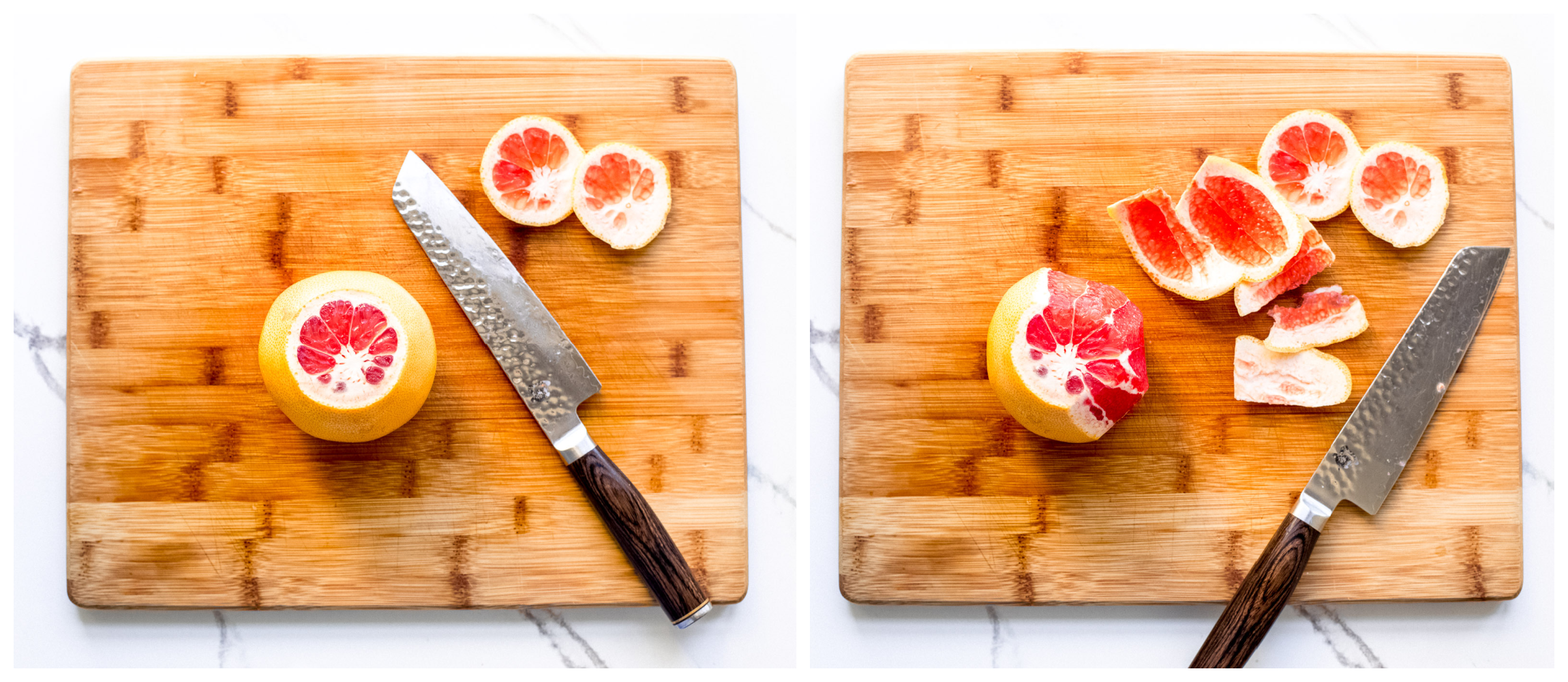 Holding the peeled grapefruit in your hand, look for the white lines (called membranes) between each segment. With a small pairing knife, cut alongside those lines that separate the grapefruit segments, and remove the segments by either cutting the segments away from the membranes or gently pulling the segment out.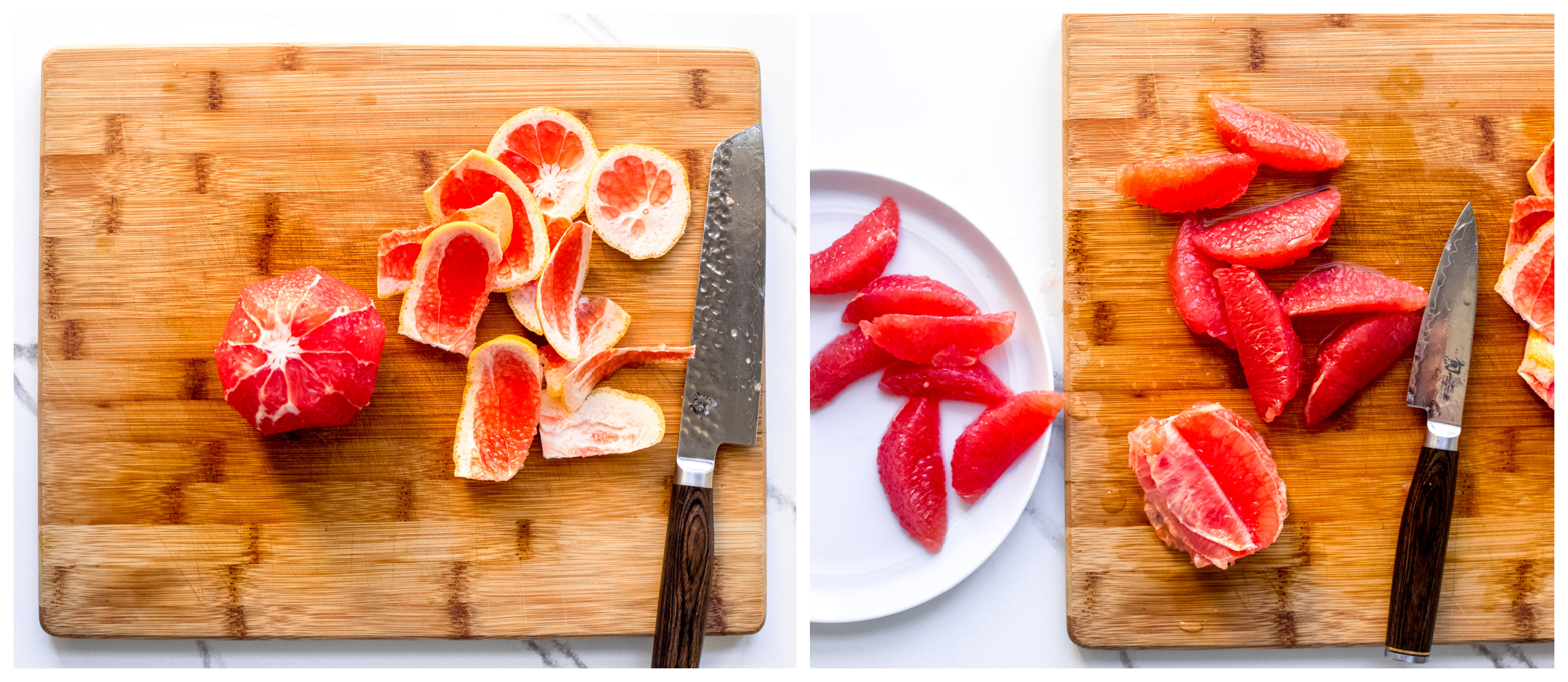 Repeat around the grapefruit until you've cut out all of the segments.
Prep Tip: Place a small bowl underneath the grapefruit when removing the segments to catch excess juice to use later in the salad vinaigrette.
Ingredients
These simple ingredients can be found in your local grocery store.
Kale – You can use curly or Lacinato kale for this recipe.
Avocado – A ripe avocado makes this salad deliciously creamy.
Grapefruit – Cut the grapefruit into segments avoiding the white pith which is bitter.
Parmesan cheese – Freshly grated or shaved parmesan is a delicious addition.
Pumpkin seeds – Toast the pumpkin seeds if you have the time for another dimension of flavor.
Grapefruit juice – Use some of the juice from the grapefruit for the vinaigrette.
Olive oil – A little olive oil helps suspend the dressing and hold it together.
Honey – This is the perfect sweetener to balance the bitterness and tartness of the grapefruit.
Dijon mustard – Mustard adds flavor and is the perfect emulsifier for the dressing.
Kosher salt and fresh black pepper – Add salt and pepper to enhance the flavor of the vinaigrette.
Shopping Tip: When picking out grapefruit, look for fine-textured, brightly colored skin. Fruit should be firm, yet spring back to the touch. The heavier, the juicier the fruit will be.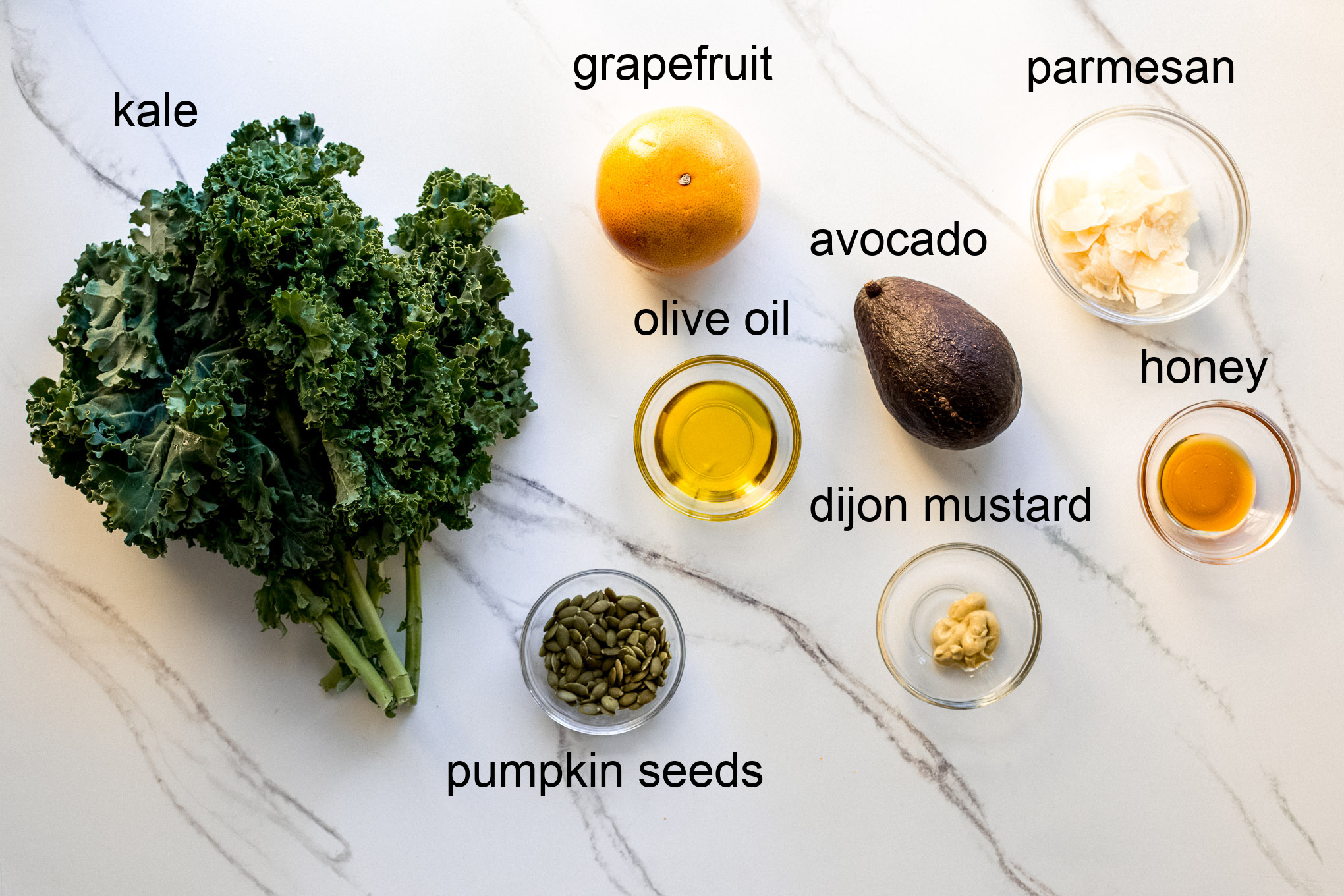 How to Make Grapefruit Avocado Salad
Grapefruit avocado salad is an easy dish that you can throw together in just a few minutes. Here are the steps to make it with the full description in the recipe card below.
Whisk together the vinaigrette ingredients.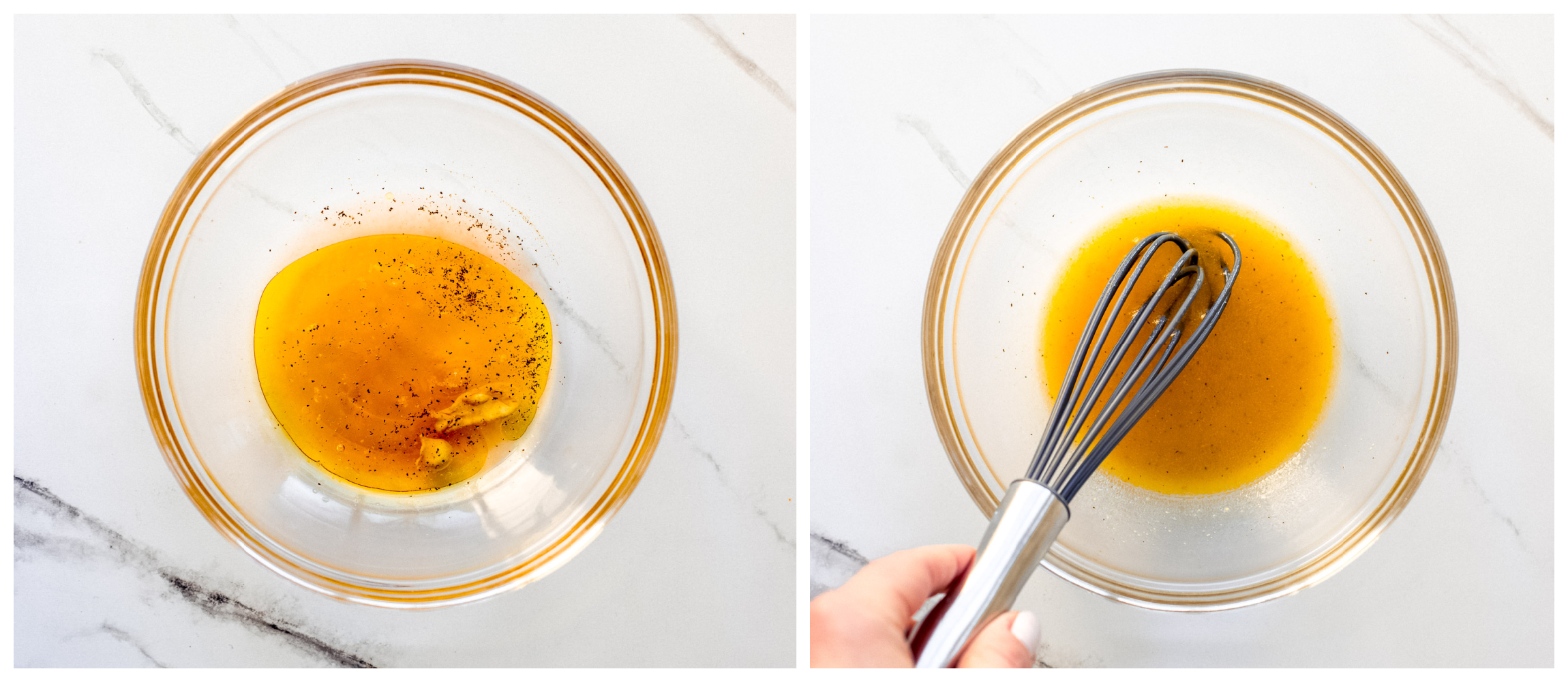 Toss the kale with half of the salad vinaigrette in a large bowl and set it aside for 10 minutes to soften.
Add the avocado, grapefruit, Parmesan cheese, and pumpkin seeds to the salad.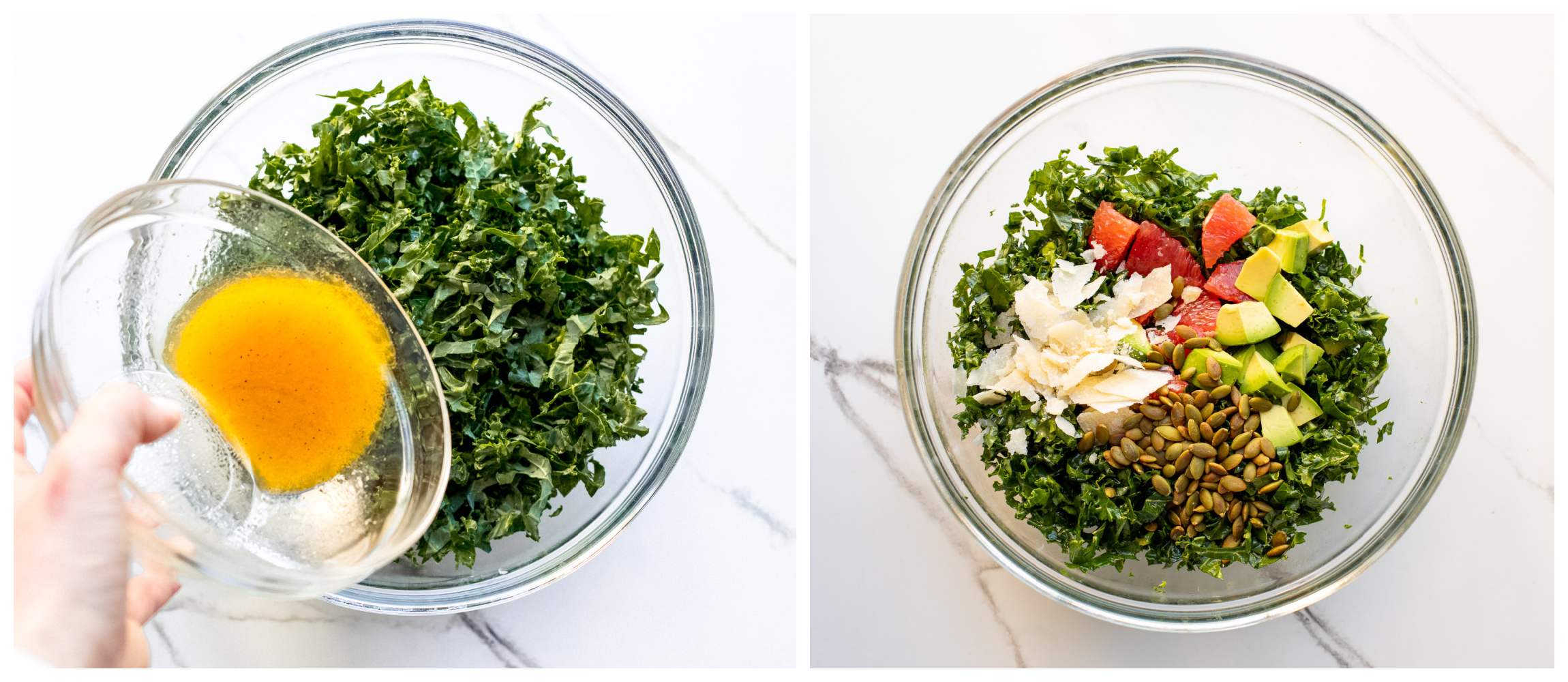 Drizzle with the remaining vinaigrette and toss to combine. Serve and enjoy!
Recipe Tips
This salad is a great way to eat a healthy meal any day of the week. Here are some tips and tricks to help you make this delicious dish.
Massage the kale. Massage the kale with your hands to help it break down and let the salad sit with the vinaigrette for 10 minutes for the flavors to combine.
Taste for salt. Add a pinch of salt and fresh pepper to taste in the vinaigrette and taste after adding a little at a time.
Toast the pumpkin seeds. Toast the pumpkin seeds in the oven or air fryer to make them extra crunchy and flavorful. Optional: for even more flavor, sprinkle the pumpkin seeds with a little kosher salt and drizzle with a little olive oil before toasting them.
Easily cut up an avocado. Slice the avocado in half, remove the seed, cut the avocado into sections, and scoop out with a spoon.
Variations
This simple recipe is easy to change based on your personal tastes. Here are some options to get you started.
Nuts. Substitute the seeds for nuts like pine nuts, sliced almonds, or walnuts.
Greens. Use other kinds of dark leafy greens in place of the kale like collard greens, mustard greens, swiss chard, romaine, spinach, or arugula.
Sweetener. Use maple syrup in place of the honey.
Fruit. Cut up and use blood oranges or strawberries in the salad as well.
Vinaigrette. Add in other citrus fruit juice like fresh lime juice, orange juice, or lemon juice.
Add-ins. Add sliced red onions to this salad recipe.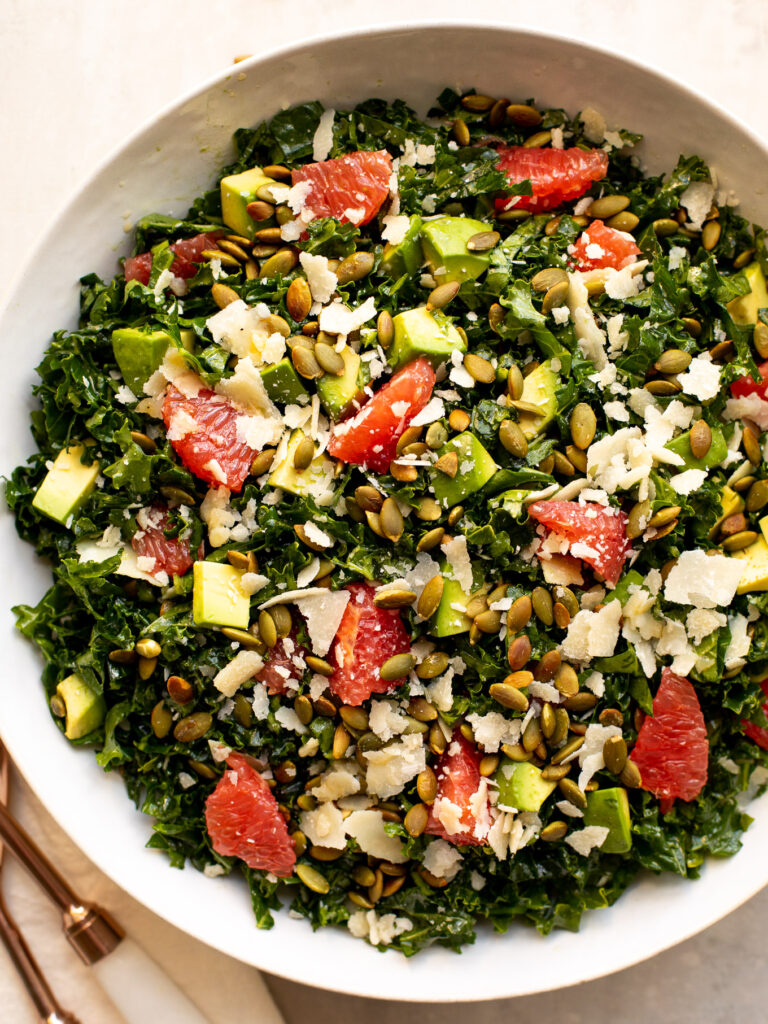 Storing Tips
Keep the salad in an airtight container in the refrigerator for up to three days. The avocado slices may darken slightly over time, but it's still good to eat. Kale is sturdy and a great option for leftovers, unlike softer types of lettuce.
You can make this salad up to one day ahead of time if you want to take it with you to a party or dinner with friends. Wait to cut the avocado and add it right before serving.
FAQs
Does grapefruit avocado salad have lettuce in it? 
This salad does include kale which provides vitamin C and is a delicious leafy green. You can substitute other types of lettuce if you'd like.
What type of grapefruit is best for this salad?
You can use red grapefruit or pink grapefruit for this recipe. The great thing about grapefruit is that once it gets to the grocery store, it's most likely already ripe, so there's no need to wait for it to ripen once you get home.
How to tell when an avocado is ripe?
You can easily tell when the avocado is ripe and ready to eat when the skin is mostly black with mottled dark green. It will be soft under slight pressure from your fingertips as well. If it feels mushy or there are soft spots in the flesh, then it's overripe and will have black spots on the inside.
More Kale Salad Recipes
Print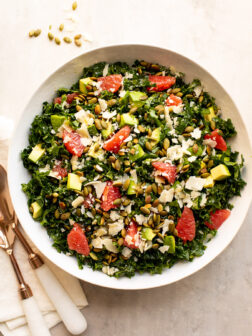 Grapefruit Avocado Salad
Author: Katya
Prep Time: 20 mins
Total Time: 20 mins
Yield: 4 1x
Category: Salad
Method: Chop
Cuisine: American
---
Description
Grapefruit Avocado Salad is a tangy, creamy dish made with grapefruit, avocado chunks, kale, Parmesan cheese, and toasted pumpkin seeds tossed in a simple vinaigrette.
---
5 oz. chopped kale, leafy parts only, no stems, about 8 cups
1 large avocado, cut into chunks
1 grapefruit, peeled and segmented
1/2 cup shaved Parmesan cheese, plus more to taste
1/2 cup toasted pumpkin seeds or pine nuts
Dijon Grapefruit Vinaigrette
2 Tbsp. freshly squeezed grapefruit juice
2 Tbsp. extra-virgin olive oil
1 tsp. honey
1/4 tsp. Dijon mustard
Kosher salt and fresh black pepper
---
Instructions
Whisk together the vinaigrette ingredients. Set aside.
In a large bowl, toss the kale with half of the salad vinaigrette. Use your hands or a pair of tongs to massage the vinaigrette into the kale. Set aside for 10 minutes to soften.
Peel and cut the avocado into chunks and segment the grapefruit. Leave grapefruit segments whole or cut in half.
Add the avocado, grapefruit, Parmesan cheese, and pumpkin seeds to the salad. Drizzle with the remaining vinaigrette and toss to combine. Taste the salad and add more Parmesan cheese and salt if needed. 
---
Notes
Grapefruit: You will need a total of one grapefruit for this recipe. Juice some of it for the vinaigrette and use the rest for the salad. 
Nutrition
Serving Size: 1/4 salad
Calories: 323
Sugar: 4.3 g
Sodium: 184.5 mg
Fat: 25.7 g
Carbohydrates: 16.9 g
Protein: 12.1 g
Cholesterol: 7.2 mg
Keywords: winter, citrus, kale
Recipe originally published February 2016, but has since been retested and updated with a revised version.
You May Also Like…