Cilantro Vinaigrette
Refreshing Cilantro Vinaigrette with fresh cilantro, lime juice, and cumin. It's so good over salads, bowls, chicken, fish, or roasted veggies.
Recipe Review: "I make this all the time! It's delicious and fresh. I use it on salads, roasted vegetables, buddha bowls, chicken – you name it. Thanks!" ~Wendy ★★★★★
Add a zing to your meals with this Cilantro Vinaigrette! It's an easy-to-make dressing that packs a punch with its fresh, herbaceous, and citrusy flavors and warm cumin notes.
Perfect for spring and summer, this dressing is versatile enough to pair with any salad or meal, from grilled chicken tenders to roasted veggies. Try it with my spring-inspired Salmon Avocado Salad.
Why You'll Love this Recipe
A vinaigrette is incredibly easy and convenient. It allows you to create a dressing that perfectly complements any meal with just a few basic ingredients. Plus, you can make extra to enjoy your delicious creation throughout the week, saving you time and effort in the kitchen.
Fresh and flavorful. The combination of cilantro, garlic, and lime juice creates a bright and zesty taste that pairs well with a variety of dishes. You can also adjust the seasonings and ingredients to suit your tastes.
Versatile recipe. Cilantro lime vinaigrette can be used in a variety of ways, including as a salad dressing, marinade, or dipping sauce.
Better than storebought. By making your own herb vinaigrette at home, you can control the ingredients and avoid the preservatives and additives that are often found in store-bought dressings.
Easy to make. Cilantro lime vinaigrette recipe is quick and easy to make with just a few simple ingredients, making it a great option for busy weeknights or last-minute meals.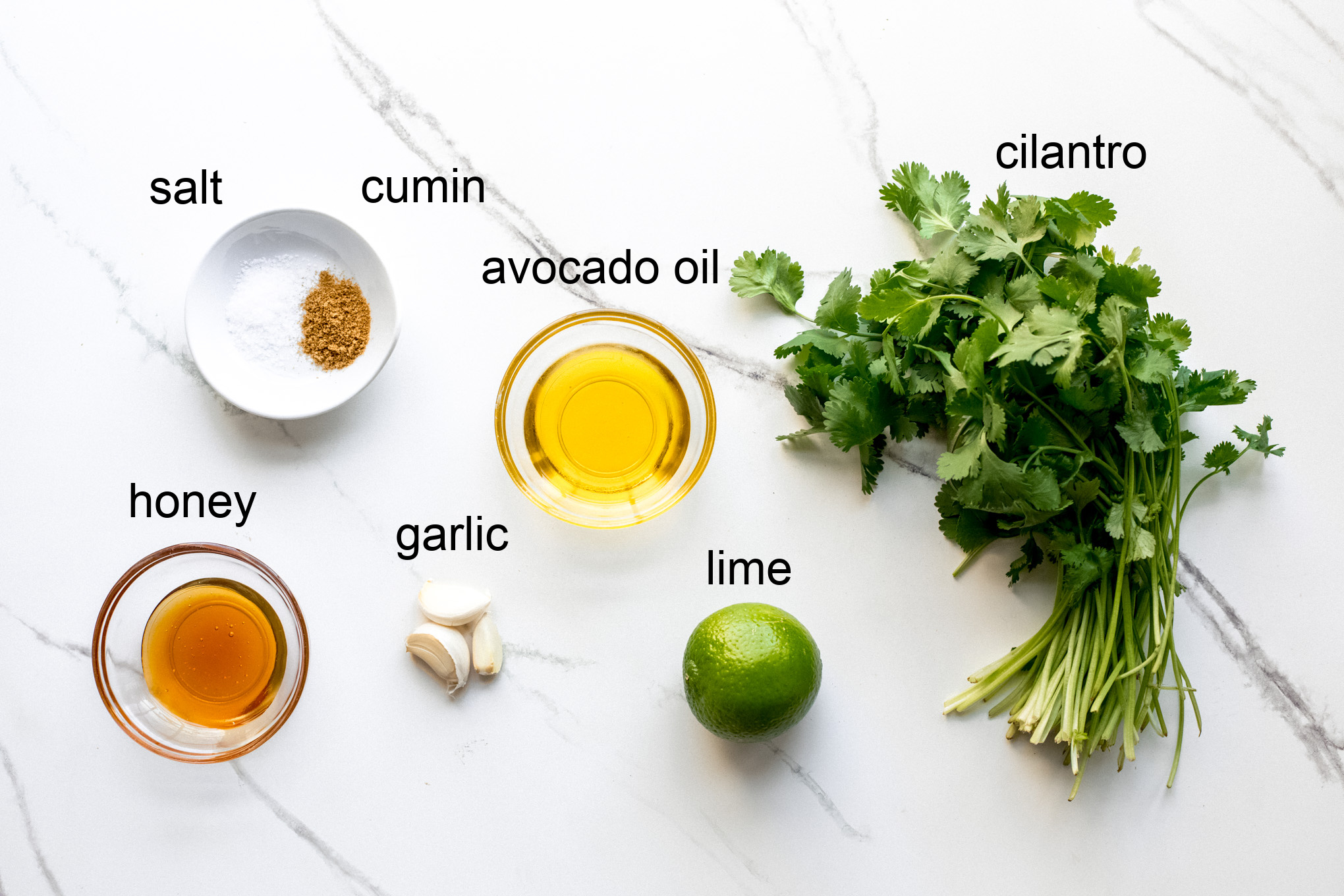 Ingredients
The key to an excellent lime cilantro vinaigrette is using fresh, high-quality ingredients. Here's what you'll need:
Cilantro: Fresh cilantro will provide the best flavor and aroma to your vinaigrette. Wash and dry the leaves and remove any tough stems to eliminate any bitterness.
Garlic: Fresh garlic is best.
Oil: Use a neutral oil such as avocado.
Lime juice: Adds a zesty pop to your dressing and provides a natural acidity that helps balance out the richness of the oil.
Cumin: It has a warm and earthy flavor that pairs well with the fresh and zesty taste of cilantro.
Honey: Adds a touch of sweetness and balances the acidity of the lime juice.
Salt: To enhance the flavor of the other ingredients.
See the recipe card for quantities.
How to Make Cilantro Vinaigrette
With just a few simple steps, a handful of ingredients, and your machine of choice, you can have a delicious and tangy dressing in minutes.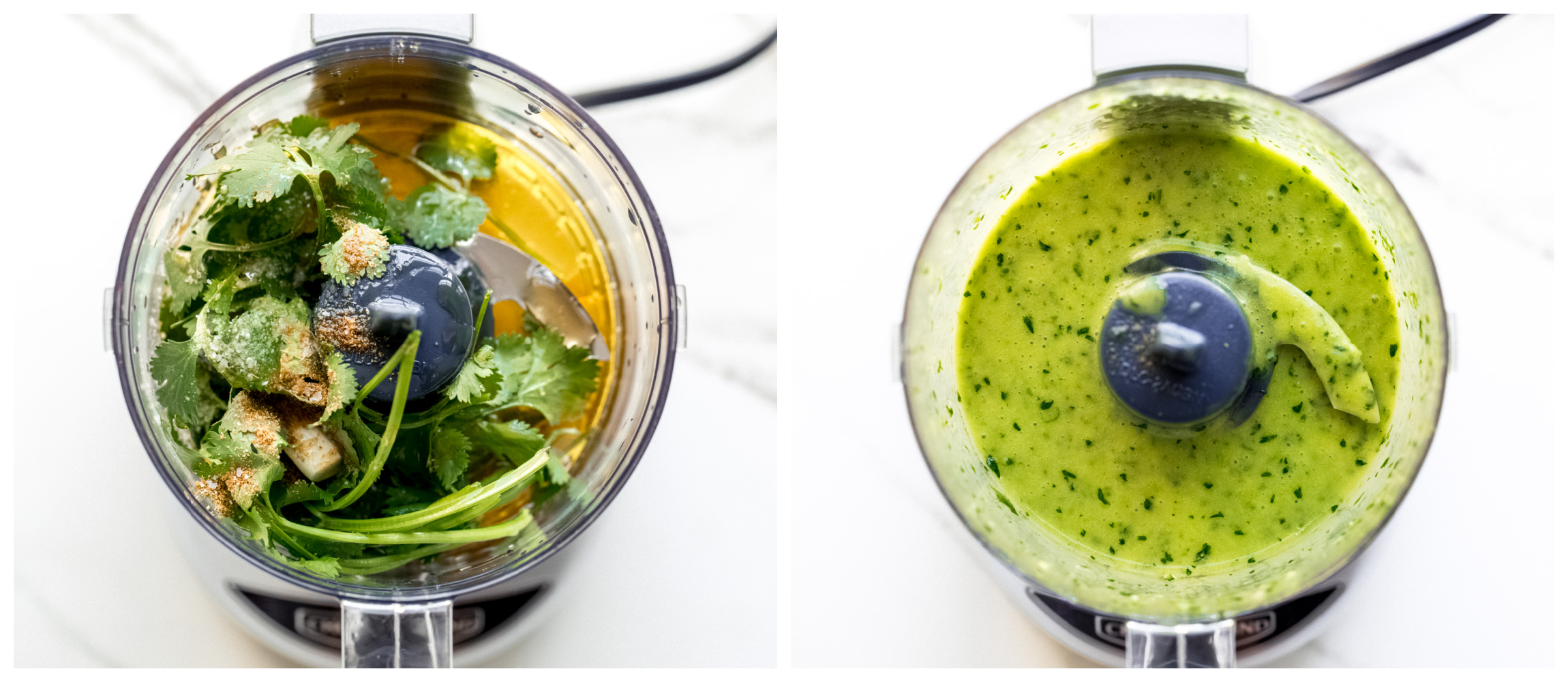 Pulse, scraping down the sides as needed until the dressing is smooth.
Recipe Variations
It's incredibly easy to change up this recipe based on what you're craving. While this version of the vinaigrette is delicious as is, you can easily make it creamy or spicy with the addition of just one ingredient.
Make it creamy: Add 1/2 cup plain whole milk Greek yogurt to the food processor with the rest of the ingredients. It's a delicious creamy twist, similar to our easy cilantro lime cream.
Make it spicy: Add 1/4 teaspoon or more of red chili flakes. It also tastes wonderful with fresh jalapeno.
Tasting and Adjusting Vinaigrette
By tasting your dressing before adding it to your salad or dish, you can ensure that it has the perfect balance of flavors that complement your ingredients. Here are a few tips:
Dip a piece of lettuce into the vinaigrette to taste it and adjust where needed.
Adjust the seasoning in small increments and taste again after each addition to avoid over-seasoning.
If the dressing is too sour, neutralize it with oil instead of adding salt. Adding salt will only make it saltier, so be cautious with the amount you add.
If the vinaigrette needs more flavor, try adding more seasoning or a touch of honey for sweetness.
Incorporate other flavorings into your vinaigrette, such as mustard, lemon juice, or soy sauce.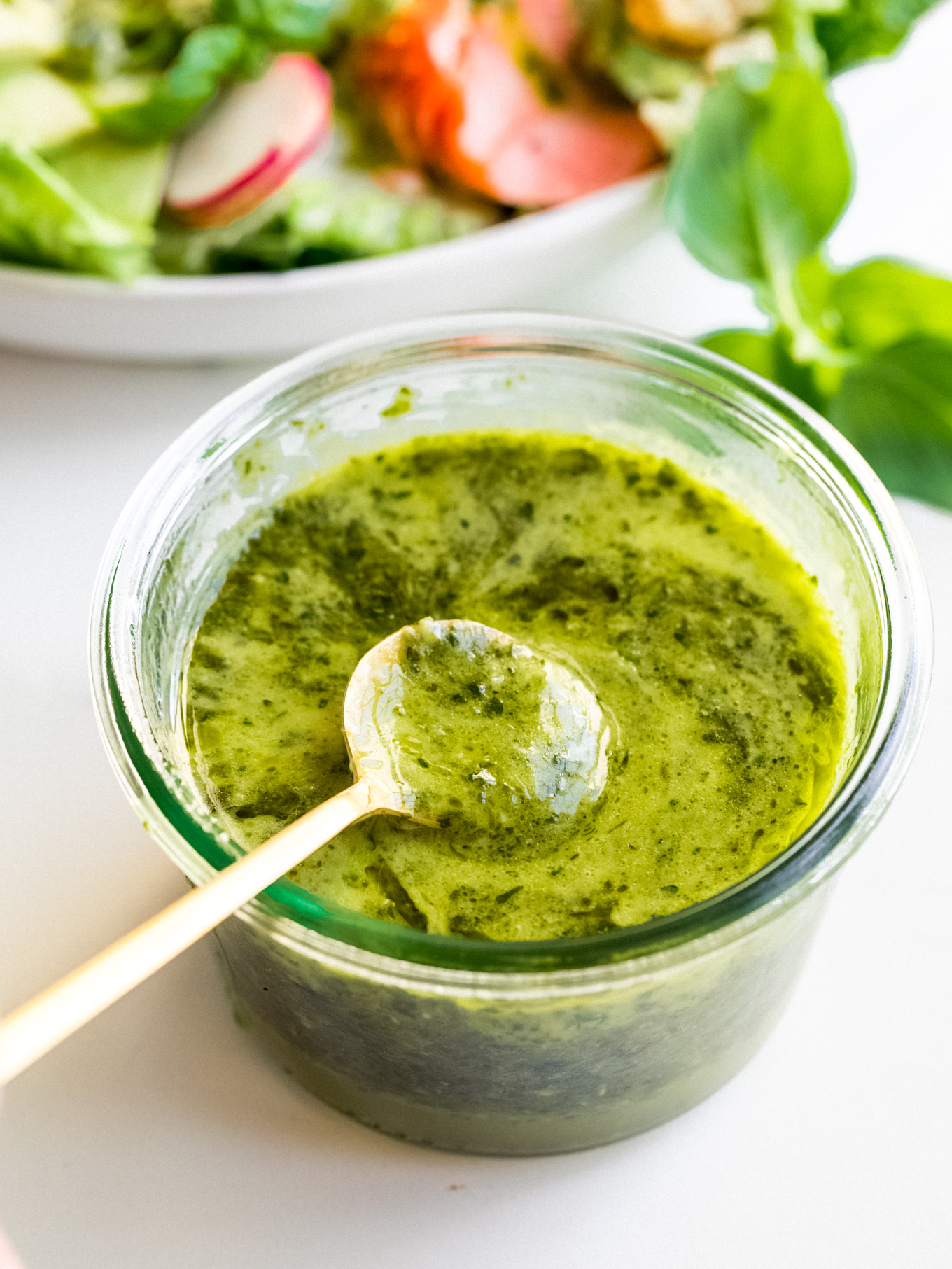 Ways to Serve
Cilantro vinaigrette is incredibly versatile and can be used in a variety of ways. Here are a few ideas:
How to Store
To store, transfer the vinaigrette to an airtight container such as a glass jar or a plastic container with a tight-fitting lid. Store in the refrigerator for up to 5 days, and give it a good shake before using it as the ingredients may settle over time.
Frequently Asked Questions
Can I use olive oil in this recipe?
While olive oil is a popular choice for vinaigrettes, it's not recommended for cilantro vinaigrette. Olive oil can give the dressing a bitter taste, so it's best to use a neutral-tasting oil like avocado.
How long will this vinaigrette keep?
Cilantro vinaigrette can be stored in an airtight container in the fridge for up to about one week. Shake well before using.
Can I freeze this vinaigrette?
It is not recommended to freeze this vinaigrette as it won't have the same consistency when thawed.

More Salad Dressing Recipes
Print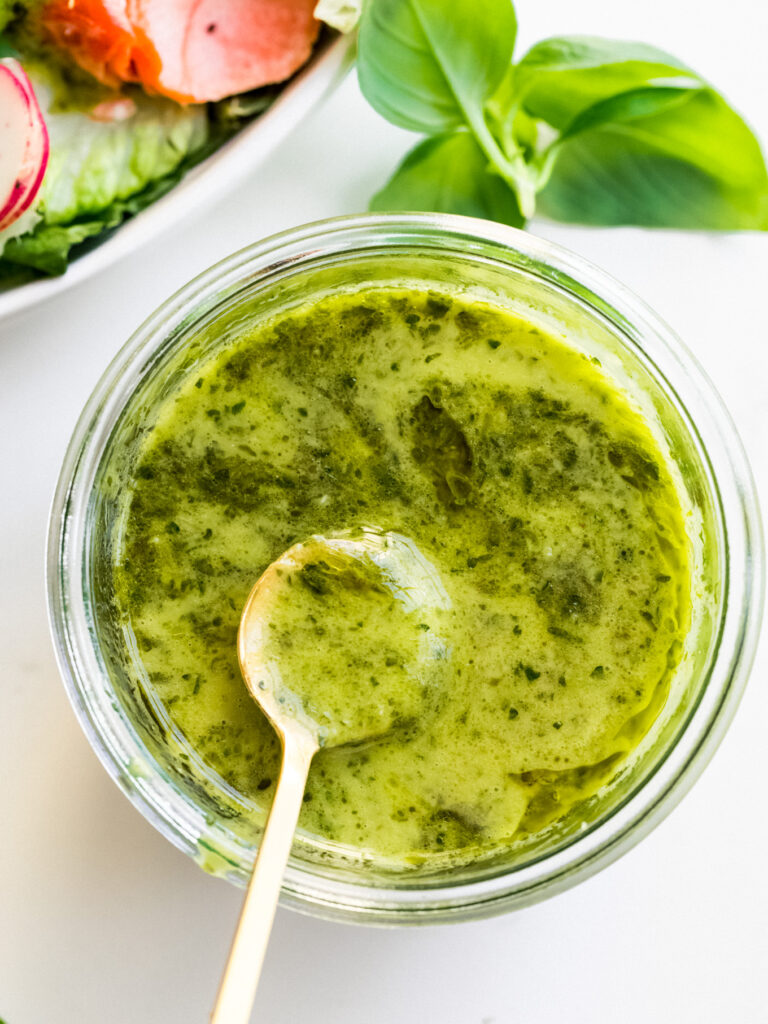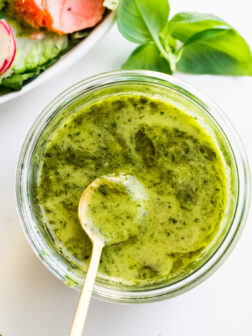 Cilantro Vinaigrette Recipe
Author: Katya
Prep Time: 5 mins
Total Time: 5 mins
Yield: 6 1x
Category: Salad
Method: Blend
Cuisine: American
---
Description
Refreshing cilantro vinaigrette with fresh cilantro, lime juice, and cumin. It's so good over a salad or as a dip.
---
Yields: 3/4 cup
2 cups packed cilantro leaves
1 garlic clove
1/2 cup avocado oil or other neutral-tasting oil
2 Tbsp. fresh lime juice
1/4 tsp. ground cumin
1 tsp. honey
3/4 tsp. kosher salt
---
Instructions
Combine all the ingredients in a bowl of a food processor. Pulse until smooth, scraping down the sides as needed. Serve immediately or store covered in the refrigerator for up to 5 days.
To Make it Creamy: Add 1/2 cup plain whole-milk Greek yogurt.
To Make it Spicy: Add 1/4 teaspoon or more of red chili flakes.
---
Notes
Leftovers: Store the vinaigrette in an airtight container for up to 5 days. It will slightly thicken when chilled. Shake well before serving.
Nutrition
Serving Size: 2 Tablespoons
Calories: 168
Sugar: 1.1 g
Sodium: 157.8 mg
Fat: 18.2 g
Carbohydrates: 1.8 g
Protein: 0.2 g
Cholesterol: 0 mg
Keywords: salad, fresh, summer,
Recipe originally published July 2015, but has since been retested and rewritten.
You May Also Like…