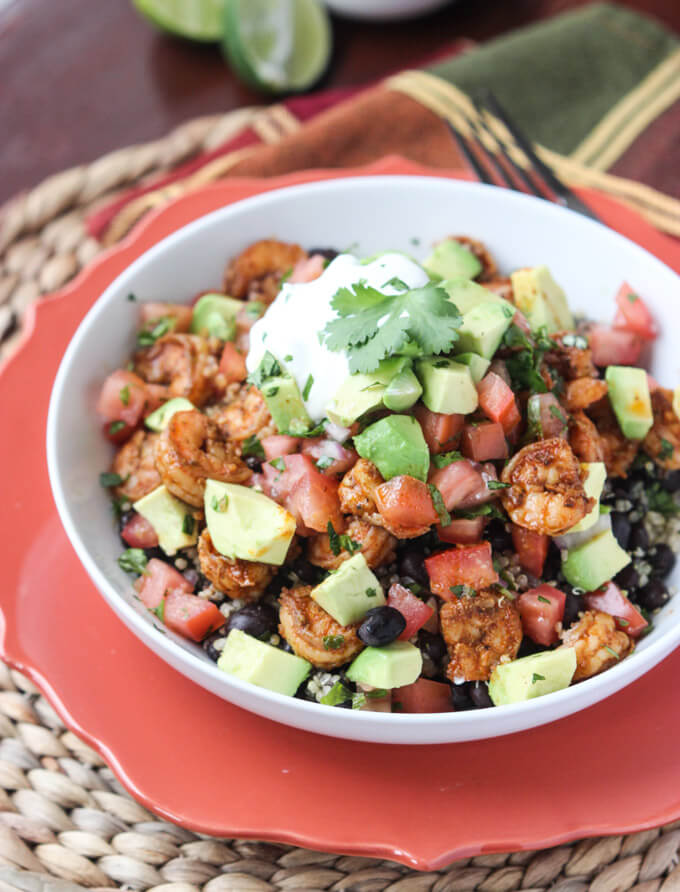 This post may contain affiliate links. Please read our disclosure policy.
I've had this burrito bowl playing in my head for weeks now. We have an amazing local Mexican place that is known for delicious authentic Mexican food and guacamole bar in front of your table -yum! (which BTW I can live off of!). Usually, I'm a fajita person. Chicken or shrimp is my pick but the other day I went for a burrito bowl and it was absolutely divine! Citrusy rice loaded with refried beans, grilled chicken, fresh salsa, guacamole, sour cream, shredded cheese and tortilla strips. It was definitely loaded and I definitely didn't leave any leftovers!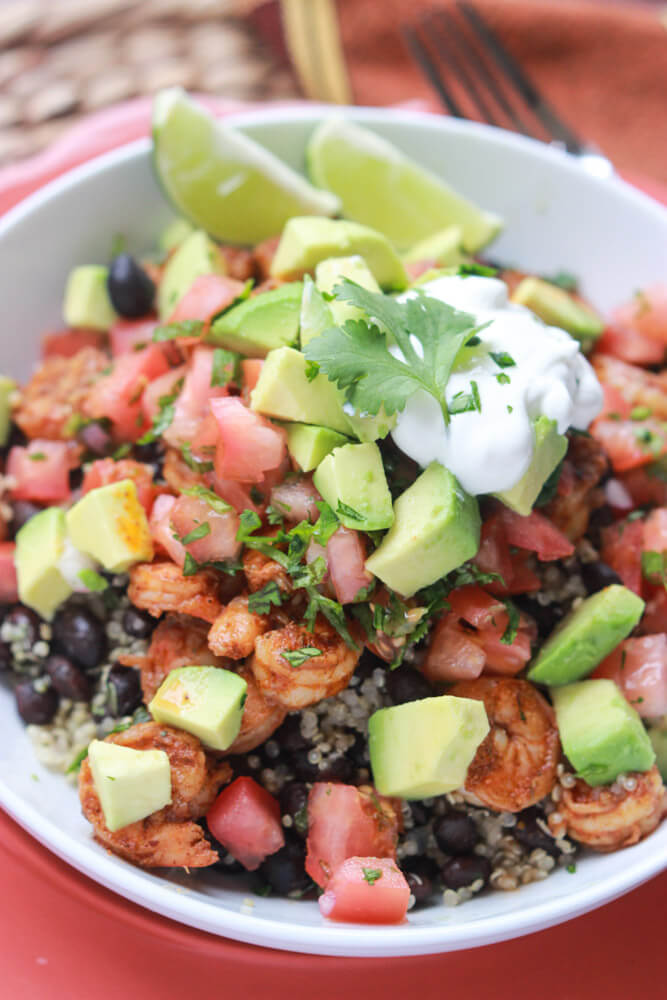 Since then, I've been dying for another bowl and what's a better way than to make my own version at home with half the calories (I'm guessing?!) and clean ingredients but with all the amazing taste!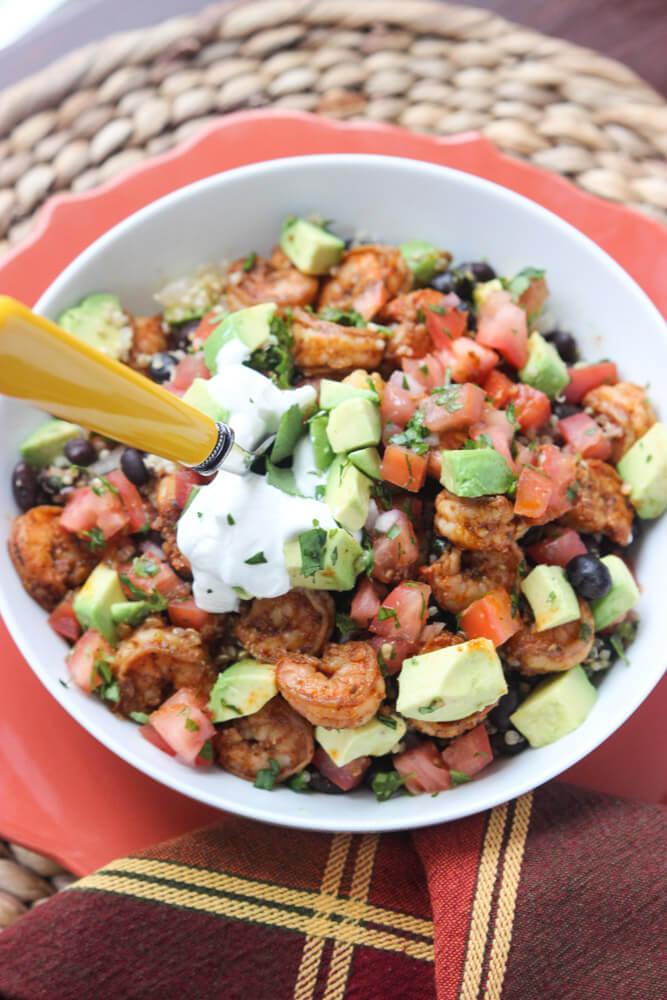 Instead of rice, I went with quinoa seasoned with fresh lime juice and cilantro. Quinoa is much lighter and healthier than white rice and is a good source of protein. Instead of refried beans, I added black beans that I lightly heated in a skillet with some sautéed onions. I normally try to cook my own beans when I have time but man do they take forever! So when I'm on a time crunch or for better words feeling lazy, I try to buy organic canned beans. I found that organic don't have any extra junk vs. conventional ones and the price difference is very minimal.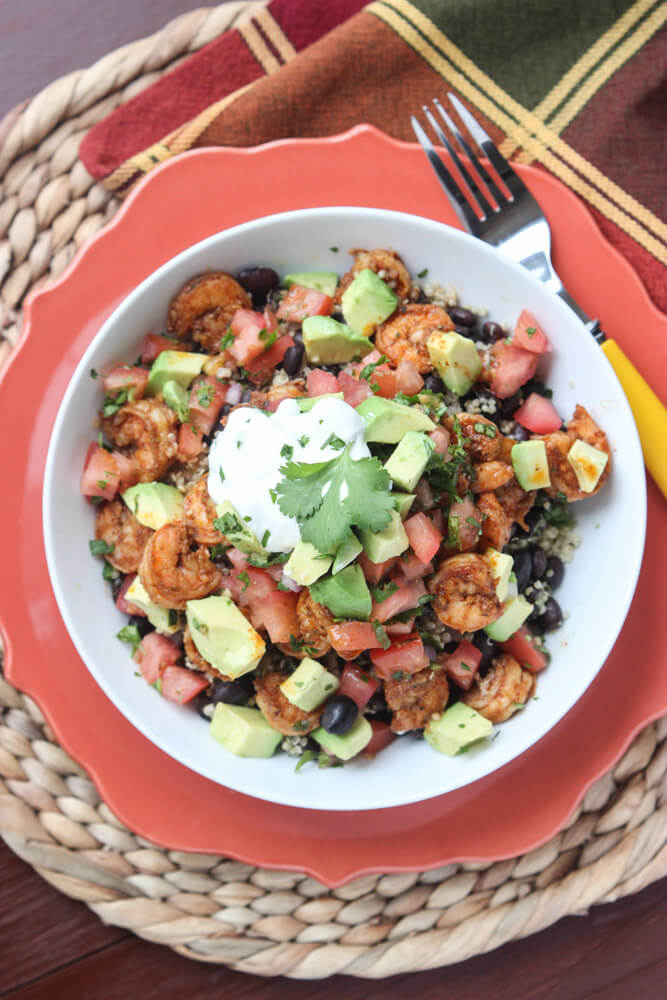 We eat so much darn chicken in this house so I opted for shrimp but you can use chicken if shrimp is not your thing. The rub works nicely for both chicken and shrimp and is packed with some of my favorite spices. Hello chili powder! I added dried minced onions to the rub, which I don't use often enough but it added such an unexpected little zing to the shrimp. I sautéed the shrimp in a skillet for about 2-3 minutes on each side. If using chicken, you will definitely require longer cooking time.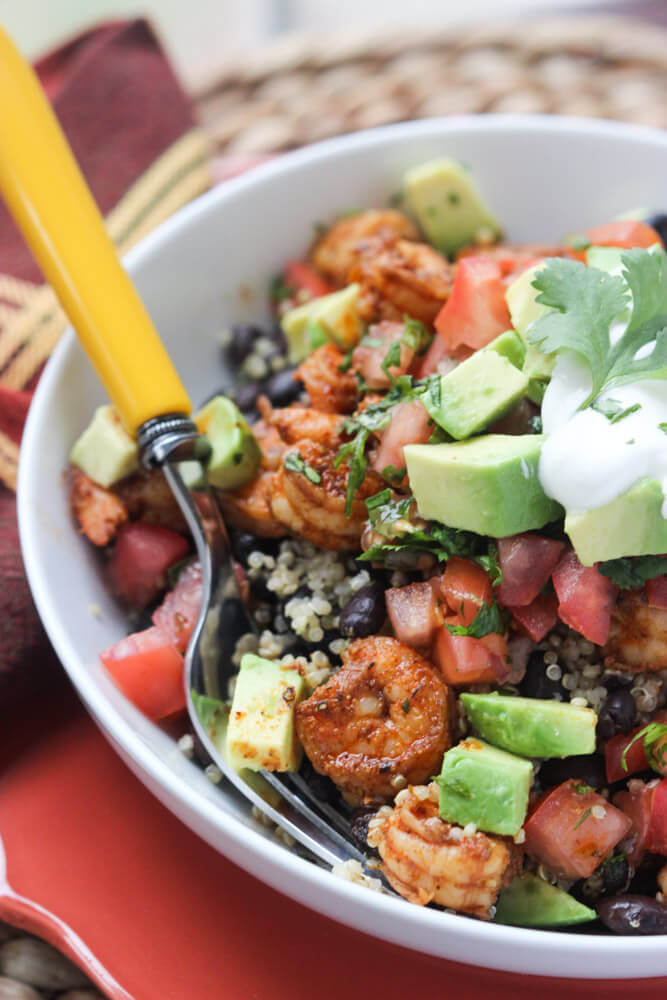 The rest is throwing together the fresh salsa and chopping up the avocado and whatever other toppings you like. For the salsa, you can add jalapeno if you want a little heat. I normally go for spicy but this time around I did not just because the shrimp are so well seasoned and add enough flavor to the dish.
Recipe yields about 2 (hefty) bowls for you and your favorite foodie. You can double up the recipe easily and have yourself a feast if you like. Enjoy!
Print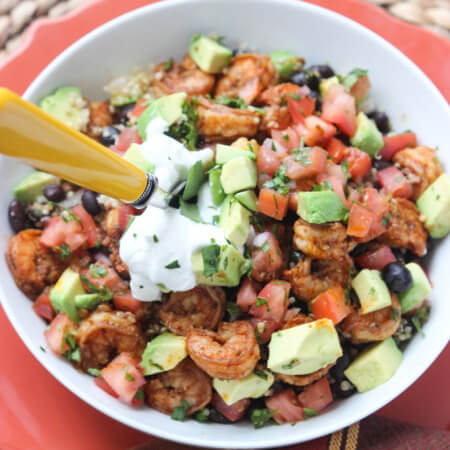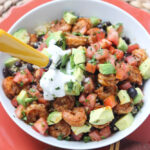 Shrimp and Cilantro-Lime Quinoa Burrito Bowl
Prep Time:

20 mins

Cook Time:

25 mins

Total Time:

45 mins

Yield:

2

-3

1

x
---
Quinoa
1/2

cup

quinoa

1

cup

water

1

bay leaf

2 tsp

. fresh lime juice

2 tsp

. chopped cilantro

2 tsp

. olive oil

1/3

cup

chopped onion

1

(15.5 oz) can black beans, drained and rinsed
salt and pepper
Shrimp
1

lb

. (51-60) shrimp, peeled and deveined

1 tsp

. chili powder

1/2 tsp

. garlic powder

1/2 tsp

. dried minced onions

1/2 tsp

. ground cumin

1/4 tsp

. dried oregano

1/4 tsp

. black pepper

3 tsp

. olive oil, divided
Toppings
1

medium/large tomato, chopped

1 Tbsp

. red onion, finely chopped
fresh cilantro, chopped

1

avocado, chopped
additional toppings (optional): guacamole, corn, chopped lettuce, green onions, tortilla chips, shredded cheese, sour cream, hot sauce
---
Instructions
Quinoa
Rinse quinoa under cold water until water runs clear. Place quinoa, water, and bay leaf in a medium saucepan. Bring to a boil, reduce to a simmer, partially cover and cook until liquid is absorbed, about 12-15 minutes. Discard the bay leaf. Stir in lime juice and cilantro.
In a medium skillet, heat the olive oil and add the chopped onion; saute the onion until translucent, about 3 minutes. Add black beans and cook for about 1 minute or until heated through, stirring constantly. Stir the black beans into the quinoa mixture. Season with salt and pepper; set aside.
Shrimp
In a bowl combine all the spices with 2 teaspoons of olive oil; toss in the shrimp coating evenly.
In a large skillet, heat the remaining 1 teaspoon of olive oil and add the shrimp; cook 2-3 minutes on medium heat on each side or until opaque.
Toppings
Combine the chopped tomato with red onion and cilantro (add as much of cilantro as you like). Season with salt and pepper.
To assemble: layer quinoa, shrimp, chopped tomato salsa, avocado and any other additional toppings to your liking in a bowl. Serve immediately.
---
Notes
Recipe yields about 2 substantial portions. You can split it into 3 smaller portions or double up the ingredients and make it into 4-6 servings.