Salmon Avocado Salad
Salmon Avocado Salad with roasted salmon, creamy avocado, and crisp vegetables, tossed in a fresh cilantro vinaigrette. If you want lunch and dinner all in one then this salad will satisfy just that!
What is Salmon Avocado Salad?
Salmon Avocado Salad is a simple but flavorful dish made with fresh salmon, romaine lettuce, vegetables, and fresh herbs, and drizzled with a creamy cilantro salad dressing.
This healthy salmon recipe can be eaten for a light lunch or as part of a hearty dinner with healthy sides of garlic bread and sweet potato wedges.
What Type of Salmon to Buy
When picking out which type of salmon to buy at the store, you may feel overwhelmed by all of the options. Should you buy wild or farmed? Fresh or frozen? Here is a breakdown to guide you in the right direction.
Wild vs. Farmed
Wild Alaskan salmon is caught in the ocean, processed, and sold to stores. Farmed salmon are raised in man-made lakes, caught in nets when they are mature enough, processed, and sold to stores.
Depending on your budget and the availability of salmon in your area, either option will taste delicious in salad recipes.
Fresh vs. Frozen
It's best to only buy fresh fish from the seafood counter at the grocery store if you live in a state where salmon are caught. If you live in one of these states, be sure to ask the people behind the counter when the fish was caught. They should be caught within 24 hours if you're buying them fresh.
Buying frozen fish is often the best choice if you don't live where you can buy fresh fish. They taste great because they are flash-frozen while still fresh. You need to thaw them in the refrigerator overnight, and you'll have perfect salmon for your salad.
Buying Tip: Look for salmon filets that are bright and saturated in color. Choose filets that are glossy and firm to the touch. Salmon should smell slightly briny or like the ocean but never "fishy."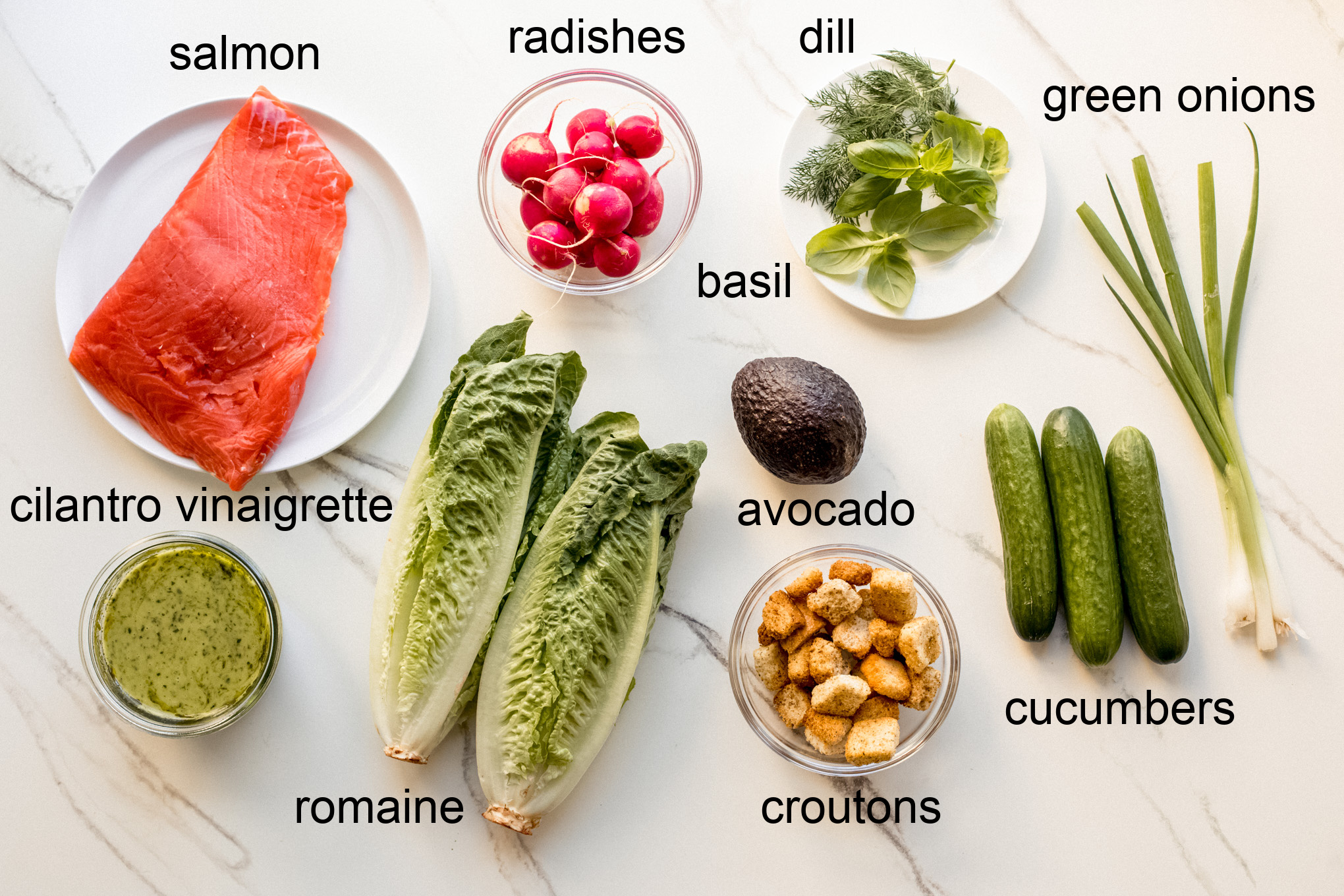 Ingredients
This salmon salad recipe is incredibly easy to make and has amazing flavor. Here are the ingredients you'll need to make it.
Salmon: You'll also need olive oil, salt, and pepper to roast the salmon. I like to add a squeeze of fresh lemon juice over the salmon but that's optional.
Romaine lettuce: To save on prep time, feel free to use pre-chopped romaine lettuce.
Radishes: Radishes are crisp and zesty and add delicious flavor to the salad.
Cucumber: Persian cucumbers are thin-skinned and extra crunchy.
Avocado: Avocado adds a rich and creamy flavor.
Croutons: To save on prep time, use store-bought croutons or feel free to make your own.
Green onions: Green parts of the green onions are going to be milder tasting than the white parts.
Fresh dill and basil: I do not recommend using dried herbs as they don't taste the same.
Cilantro Vinaigrette: Delicious bright and fresh vinaigrette to finish off the salad.
How to Tell When Your Avocado is Ripe
This salad is made with avocado, so it's important to ensure the avocado you use is ripe before cutting into it.
Check the skin. You can do this by examining the color of the skin. It should be slightly more brown than green, but not black.
Gently squeeze it. Gently squeeze the avocado with the palm of your hand. You should feel a slight give, but there shouldn't be any mushy spots.
Check the stem. Remove the stem from the top of the avocado and check to see what color it is. It will be green when it's ripe and ready to use.
How to Make Salmon Avocado Salad
This healthy recipe can be made in only two steps. Here are brief instructions on how to put it together.
Cook the salmon: Pat the salmon dry, drizzle with olive oil, sprinkle with salt and pepper, and bake with the skin side down until just cooked through.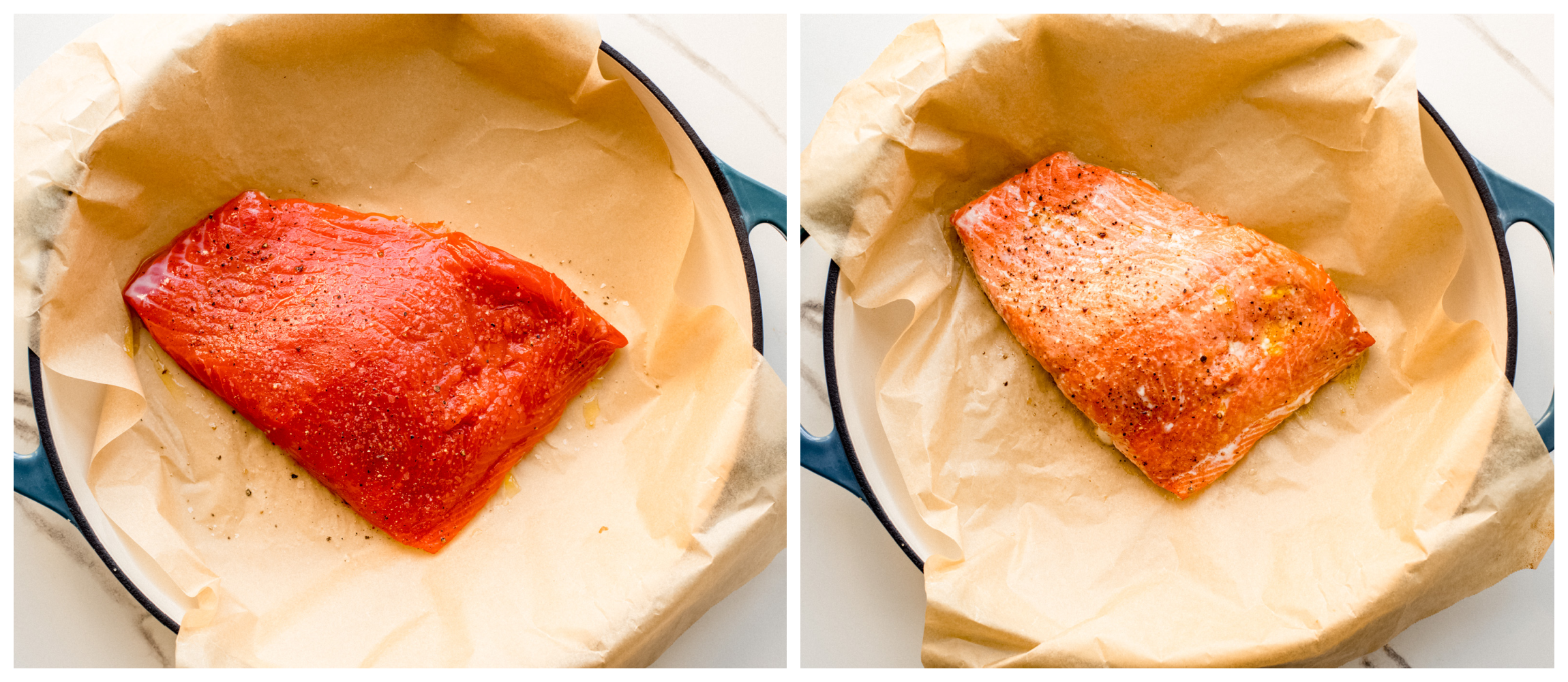 Make the salad: Chop the lettuce, vegetables, and herbs. Lay the lettuce in a large bowl or platter, and top with the salmon, herbs, veggies, and drizzle with the cilantro salad dressing.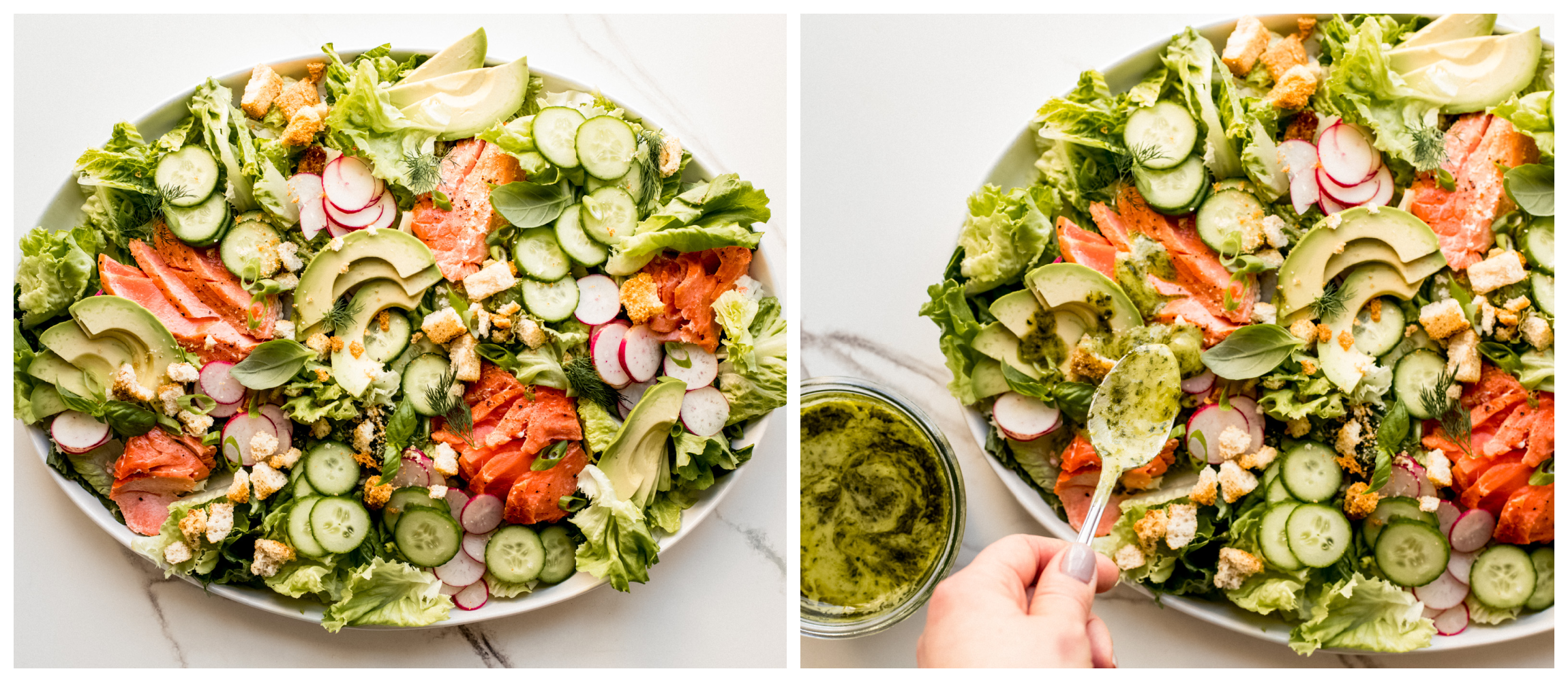 Expert Tips
Here are some tips to help you make the best avocado salmon salad:
Dry the salmon before baking. Pat the salmon dry before seasoning and baking to prevent it from being watery.
Add dressing right before serving. Toss the salad with the dressing before setting the salmon on top. Or serve the dressing alongside the salad for everyone to serve themselves.
Don't forget to season! Even though the salad dressing is seasoned, you still need to season the salad. After assembling, I like to add a light sprinkle of salt and pepper over the salad before adding the dressing.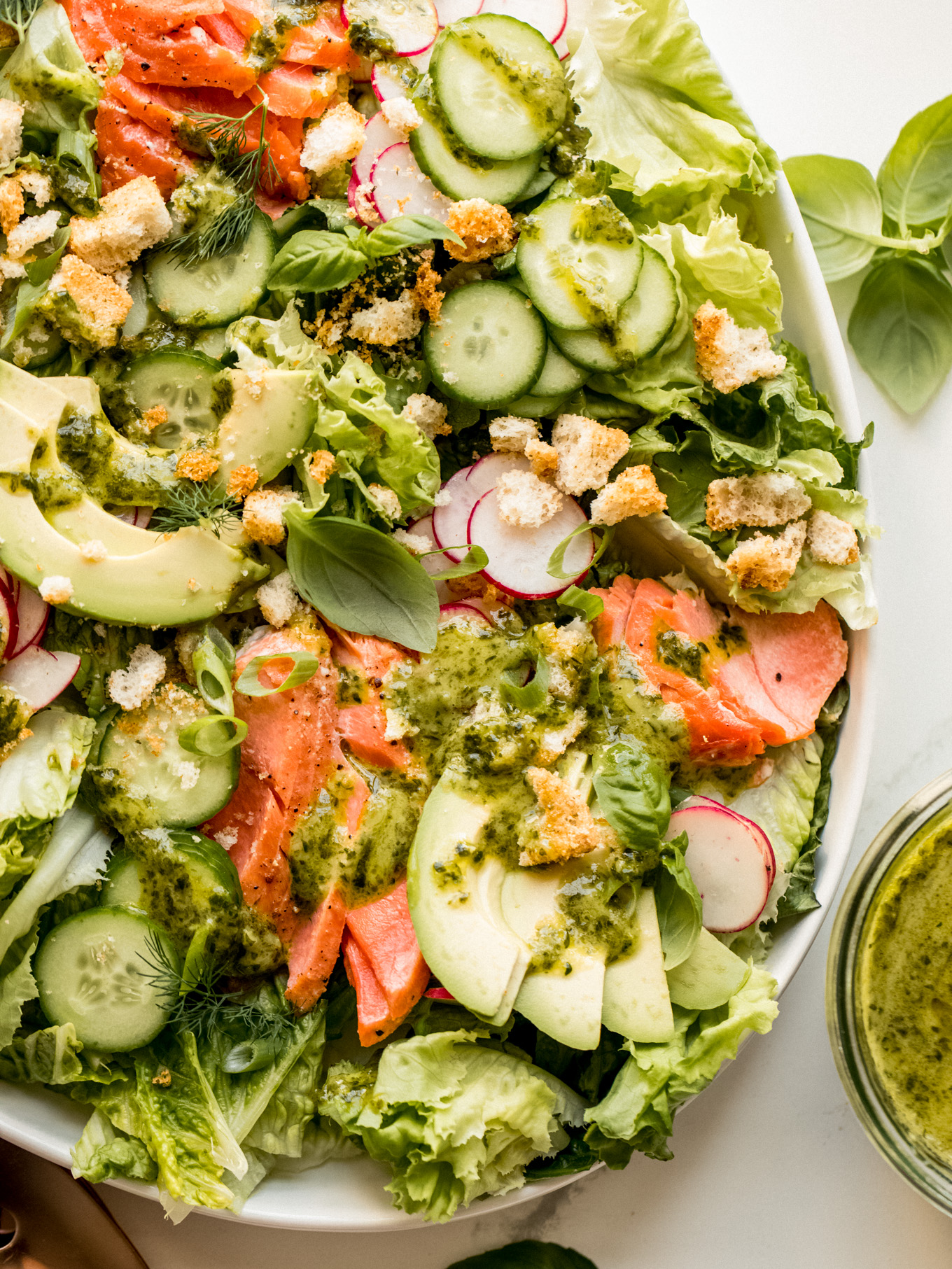 Variations
This salmon salad is a great way to eat a healthy dinner. You can easily change the ingredients or how it's served to make it exactly how you like. Here are some ideas for you to try:
Make it into a sandwich by placing the salmon on toasted sourdough bread slices and piling it with lettuce.
Turn it into a salmon and vegetable grain bowl or lettuce wrap.
Use shrimp or crab instead of salmon.
Add mangoes, papaya, strawberries, or blueberries to the salad.
Use arugula or spinach instead of romaine lettuce.
Add hard-boiled eggs.
Make it into a Mediterranean salad by adding feta cheese, cherry tomatoes, and kalamata olives.
Other Types of Salad Dressings
This salmon salad recipe uses a cilantro dressing, but you can swap this out with ingredients like olive oil and lemon juice, sesame oil, lime juice, dijon mustard, garlic powder, red chili flakes, or balsamic vinegar.
You can also drizzle other creamy dressings on top of the salad, like mango dressing, homemade buttermilk ranch dressing, honey apple cider dressing, or balsamic vinaigrette dressing.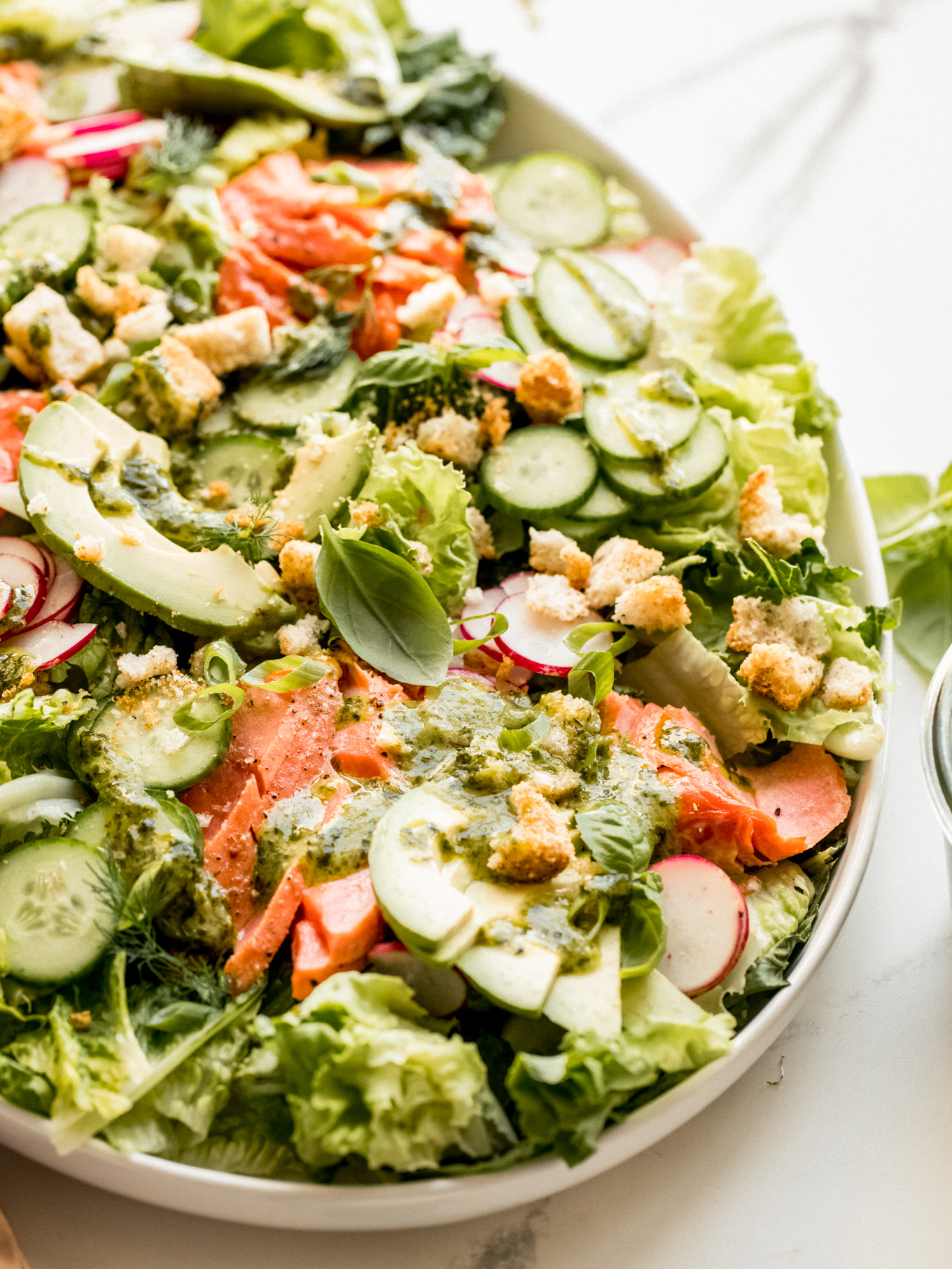 FAQs
Can I use canned salmon in avocado salad? 
You can use canned salmon instead of fresh salmon. Look for canned salmon that is wild, skinless, and boneless.
Why is my salmon too dry?
If your salmon fillets are too dry, it's most likely because they were overcooked. Cook time will depend on the thickness of the salmon.
What's the best way to store leftover salmon salad?
The best way to store leftover salmon salad is to try to keep the salmon and other ingredients separate. Put them in airtight containers in the refrigerator for up to three days.

You can freeze extra salmon by wrapping it in plastic wrap and putting it in a zip-top bag in the freezer for up to three months. It's not a good idea to freeze the other ingredients.
More Salad Recipes
Print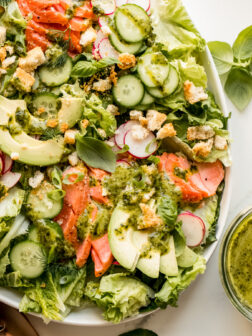 Salmon Avocado Salad Recipe
Author: Katya
Prep Time: 15 mins
Cook Time: 15 mins
Total Time: 30 mins
Yield: 4-6 1x
Category: Salad
Method: Baked
Cuisine: American
---
Description
Spring inspired salad with roasted salmon, creamy avocado, and crisp vegetables, tossed in fresh cilantro vinaigrette. If you want lunch and dinner all in one then this salad will satisfy just that!
---
Salmon
1 lb. salmon fillet, with or without skin
Olive oil
Kosher salt and fresh ground black pepper
Fresh lemon, optional
Salad
2–3 heads romaine lettuce, about 8 cups chopped
5 radishes, thinly sliced
2 Persian cucumbers or 1/2 seedless cucumber, thinly sliced
1 large ripe avocado, sliced or chopped
1/2 – 1 cup croutons
2 green onions, sliced
Fresh chopped dill, to taste
Fresh chopped basil, to taste
---
Instructions
Salmon
Preheat the oven to 425F. Line a sheet pan with parchment paper.
Pat the salmon dry with a paper towel. Drizzle with olive oil, just enough to coat, and season with salt and pepper, to taste.
Bake for 10-12 minutes or until cooked through and easily flaked. Cooking time will vary on the thickness of the salmon. Remove the salmon from the oven and give it a nice squeeze of fresh lemon juice, optional. Lightly flake with a fork into bite-size chunks and set aside to slightly cool.
Salad
In a large serving bowl or platter, add romaine, radishes, cucumbers, avocado, croutons, and green onions. Top with the flaked salmon, dill, and basil. Serve with Cilantro Vinaigrette drizzled on top.
---
Nutrition
Serving Size:
Calories: 333
Sugar: 2.9 g
Sodium: 161.5 mg
Fat: 19 g
Carbohydrates: 15.6 g
Protein: 29 g
Cholesterol: 58.3 mg
Keywords: dinner salad, fresh, healthy, seafood
Recipe originally published March 2016.
You May Also Like…