Baked Fish in Foil
Baked fish in foil a top of green beans, zucchini, and tomatoes served with the most delicious chimichurri sauce. This weeknight dinner is simple, healthy, and insanely delicious! 
Summer is all about simple and light meals and this baked fish in foil with vegetables is probably a definition of a perfect summer meal.
It's made with farmers' market veggies such as green beans, zucchini, and tomatoes. The fish is baked atop the veggies with little butter and lemon, then served with insanely flavorful chimichurri sauce.
Chimichurri sauce is simply a green sauce made up of fresh herbs, spices, and olive oil. It's slightly spicy but at the same time creamy and fresh. It goes absolutely delicious with mild white fish.
Ingredients
For this baked fish with vegetables, you'll need the following ingredients:
Vegetables – green beans, zucchini, and grape tomatoes
Shallots – shallots are delicate and sweet tasting than an onion
Garlic – for best flavor, use fresh garlic
Olive oil – avocado oil can be used instead
Flaky white fish – cod, halibut, tilapia
Butter – for flavor!
Lemon – to brighten up the dish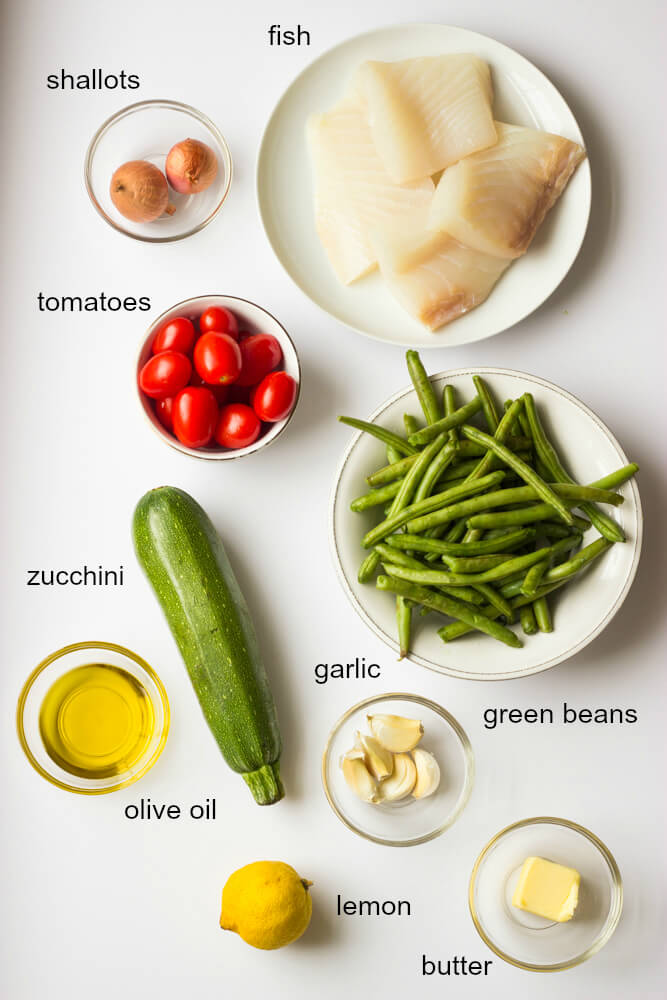 Best Fish for Baking
The best fish for baking is a mild-flavored fish that cooks quickly and seasons well, such as flaky white fish. For this recipe I used cod but you can also use tilapia, halibut, bass, grouper, haddock, or snapper.
Why Wrap Fish in Foil?
Baking fish in foil allows the flavors to meld together and ensures that the fish does not dry out. It's also a great way to create a delicious, mess-free meal in no time with hardly any clean-up!
Trying to avoid foil? No problem! Try these parchment cooking bags.
How to Make Baked Fish in Foil
Prepare the veggies: In boiling water, blanch green beans and then drain over a colander. Set aside. In a bowl, toss the zucchini, tomatoes, shallots, garlic, and olive oil.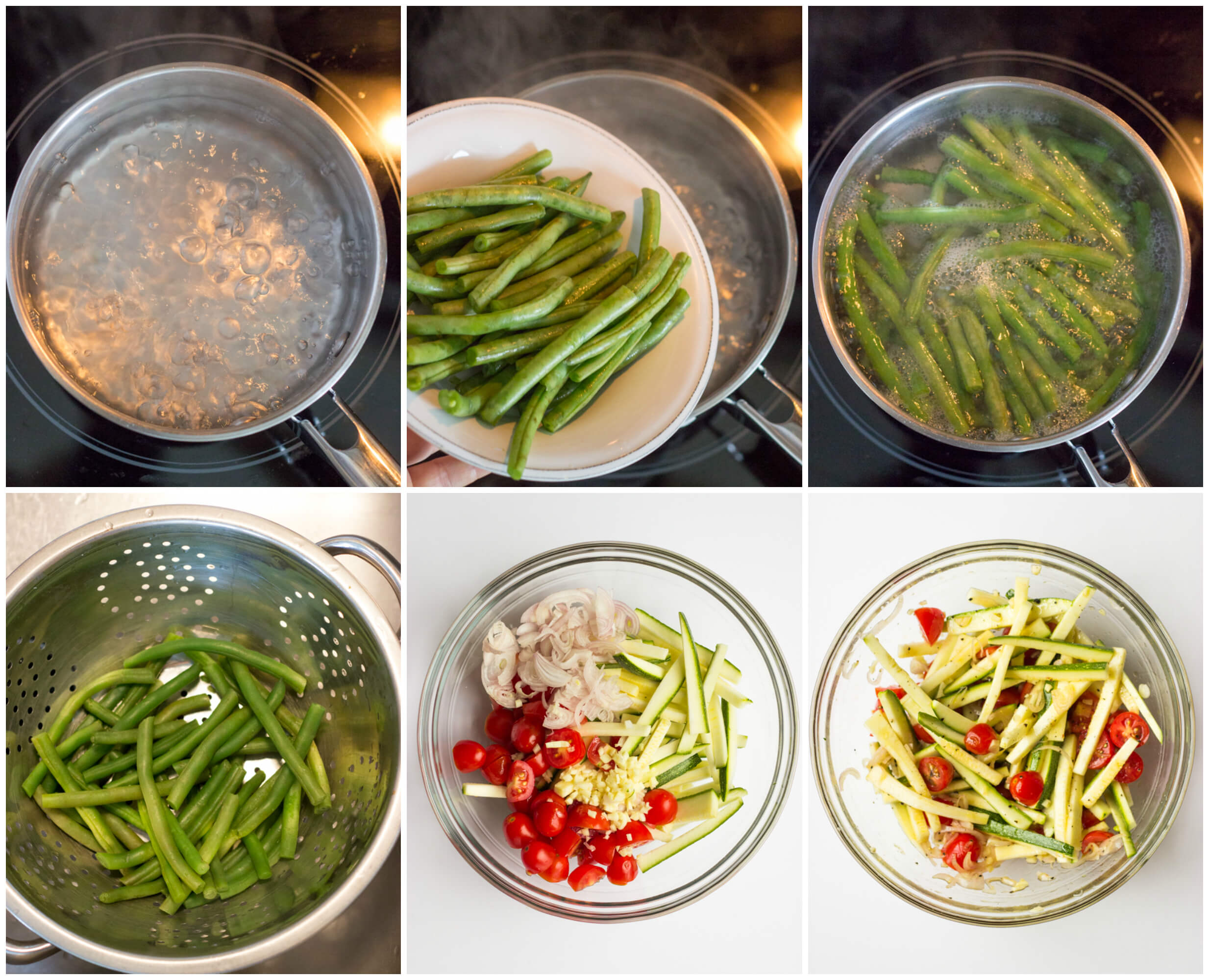 Assemble & bake: Arrange foil on work surface and add green beans to the center of the foil, then veggies, cod, butter, and lemon. Season with salt and pepper. Seal the foil packets and place on a baking sheet. Bake for about 20 minutes at 400F or until tender.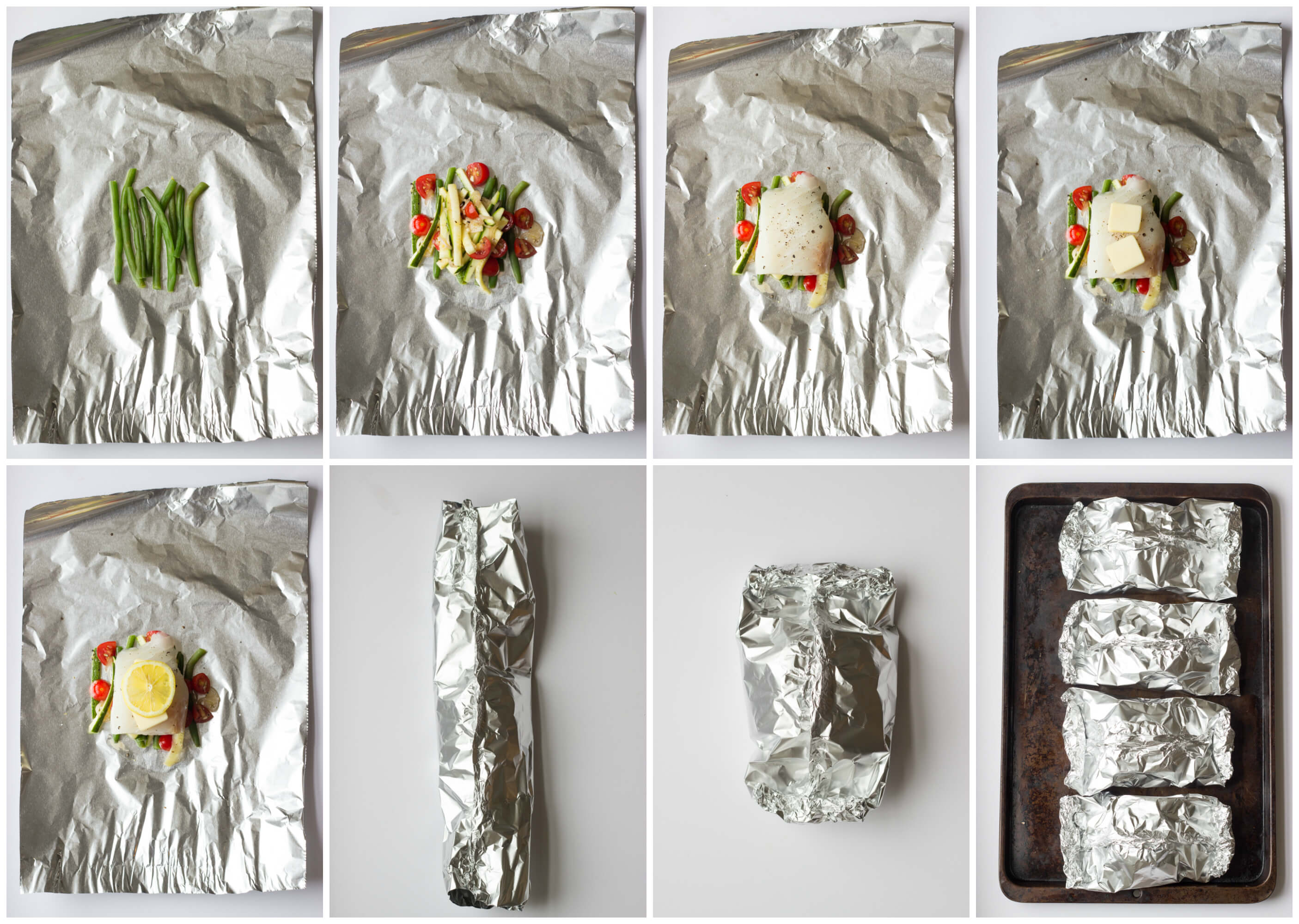 Recipe Tips & Notes
Here are some tips to help you make the best-baked fish in foil.
Tent the foil. Tent the foil to let the steam build up to cook the fish and vegetables.
Use other seafood. You can easily swap out the piece of fish for another fish, such as salmon, trout, sea bass, or other mild-flavored fish. If the selection of fish isn't great at your supermarket or you just want to try something new, you can try shrimp, crab, and scallops.
Serve with yummy sauce! This recipe uses homemade chimichurri sauce that's easy to make in just a few minutes. You can keep it even simpler with a quick sauce made with olive oil, lemon juice, garlic, and balsamic vinegar. Pour sauce over the fish for added flavor.  
Carefully open packets. Be careful opening the packets as the escaping steam will be hot! 
Other Veggies to Add 
You can add other vegetables to these foil parcels too. Any veggies you add should be sliced thin or be able to cook quickly, so everything is done at the same time.
Some great options include asparagus, peas, corn, mushrooms, red peppers, or eggplant.  
Cooking methods 
This fresh fish in foil recipe is cooked in the oven, but there are other ways you can cook the packets.
Grill: If you like grilling, this is the dish for you! Wrap the fish and veggies in the foil, roll up the edges, turn on one side of the grill, and set the fish on the opposite side. It's best to cook them over indirect heat, so they don't cook too quickly.
Campfire: One of the best dinners to eat when camping is fish wrapped in foil. If you like to fish, this is the perfect way to cook a whole fish after coming in from a day on the lake.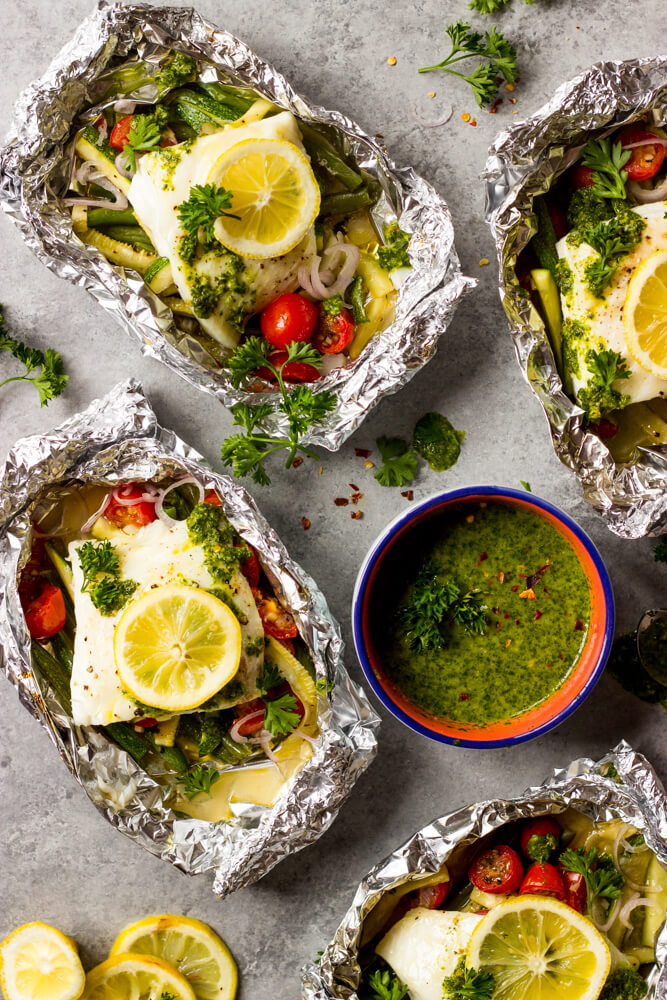 How to serve
These baked fish packets are great to serve on their own because they contain a whole meal inside the foil. However, if you want to serve them with side dishes, you can easily pair them with some.
Other light side dishes include zucchini and corn fritters, corn salad with lime dressing, a fruit platter, or coconut lime rice.
How to store 
Refrigerate: Store leftover fish and veggies in an airtight container in the fridge for up to three days.   
Reheat: You can gently reheat the fish in the microwave or in a pan on the stove. If you have leftover veggies, you can heat those up as well, or you can serve the fish on top of a salad or grain bowl.
FAQs
What temperature should fish cook to?
Fish fillets don't need to cook to a specific temperature or even cook all the way through. However, the optimal temperature is 145 degrees Fahrenheit. 
Can you wrap fish in parchment paper instead of foil? 
Yes, you can wrap fish in parchment paper rather than foil if you're baking it in the oven and not cooking it over a campfire or on a grill. 
How tightly should I wrap fish in foil? 
When cooking fish in foil, you want to tent the foil and not wrap it too tightly. This will allow the air to become steam which cooks the fish.
More Fish Recipes
Print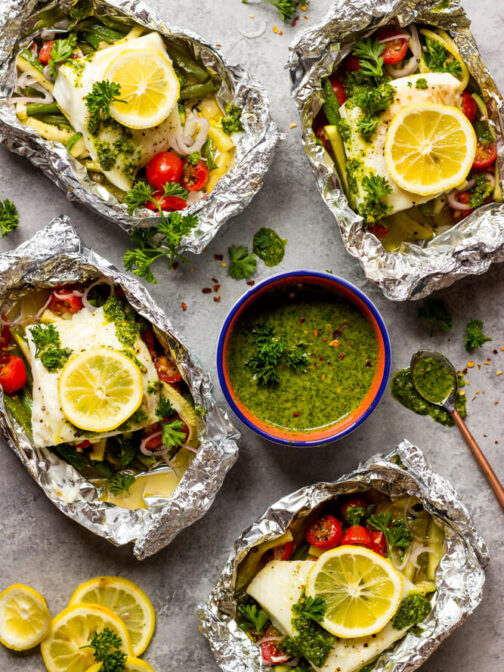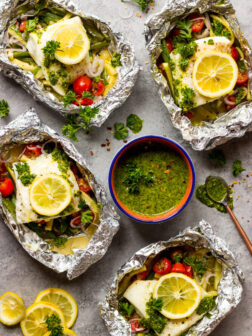 Baked Fish in Foil
Author: Katya
Prep Time: 15 mins
Cook Time: 25 mins
Total Time: 40 mins
Yield: 4 1x
Category: Main
Method: Baked
Cuisine: American
---
Description
Baked white fish a top of green beans, zucchini, and tomatoes served with the most delicious chimichurri sauce. This weeknight dinner is simple, healthy, and insanely delicious! 
---
8 oz. fresh green beans, ends trimmed
1 medium zucchini, cut into matchsticks, about 8 ounces
6 oz. grape tomatoes, halved
2 small shallots, thinly sliced
2 cloves garlic, minced
2 Tbsp. extra-virgin olive oil
4 (4 – 6 oz. each) white fish fillets, such as halibut, cod, tilapia
4 Tbsp. butter, cut into 8 slices
1 lemon, thinly sliced
Kosher salt and fresh black pepper
To Serve
---
Instructions
Preheat the oven to 400 degrees F.
Bring a small saucepan of water to a boil over high heat. When water comes to a rolling boil, add greens beans and boil for 3 minutes. Immediately drain over a colander and set aside.
In a medium bowl, toss together the zucchini, tomatoes, shallots, garlic, and olive oil. Season with salt and pepper, to taste.
Arrange four 12X17-inch pieces of heavy-duty foil on work surface. Divide the green beans evenly in the center of each foil, followed by the zucchini mixture. Place one fish fillet in center of each. Sprinkle fish with salt and pepper. Top with two slices of butter and 1-2 slices lemon.
Seal the foil packets, starting with long ends and then crimping the short ends so no steam escapes. Place on a large baking sheet and bake for 18-21 minutes. Around 20 minutes you want to check the fish for doneness. It should flake easily. Be careful opening the packets as the escaping steam is HOT!
Serve immediately with chimichurri sauce.
---
Nutrition
Serving Size: 1 fillet with vegetables
Calories: 359
Sugar: 3.7 g
Sodium: 771.2 mg
Fat: 27.6 g
Carbohydrates: 9.9 g
Protein: 20.4 g
Cholesterol: 54.5 mg
Keywords: seafood, summer, seasonal, easy
You May Also Like…