Roasted Sweet Potato Wedges
These roasted sweet potato wedges are deliciously crispy on the outside and creamy on the inside. Served with a creamy avocado sauce.
What are Roasted Sweet Potato Wedges?
Roasted Sweet Potato Wedges are tossed in a trio of spices and served with an avocado yogurt dipping sauce. Just like our Old Bay fries, they are the perfect side dish for lunch or dinner alongside lemon garlic chicken kebabs and are great for serving to kids as an after-school snack.
The trick to crispy sweet potato wedges is to spread them out in an even layer with enough room so that they don't touch. That way there's enough room for steam to escape and the potatoes to roast.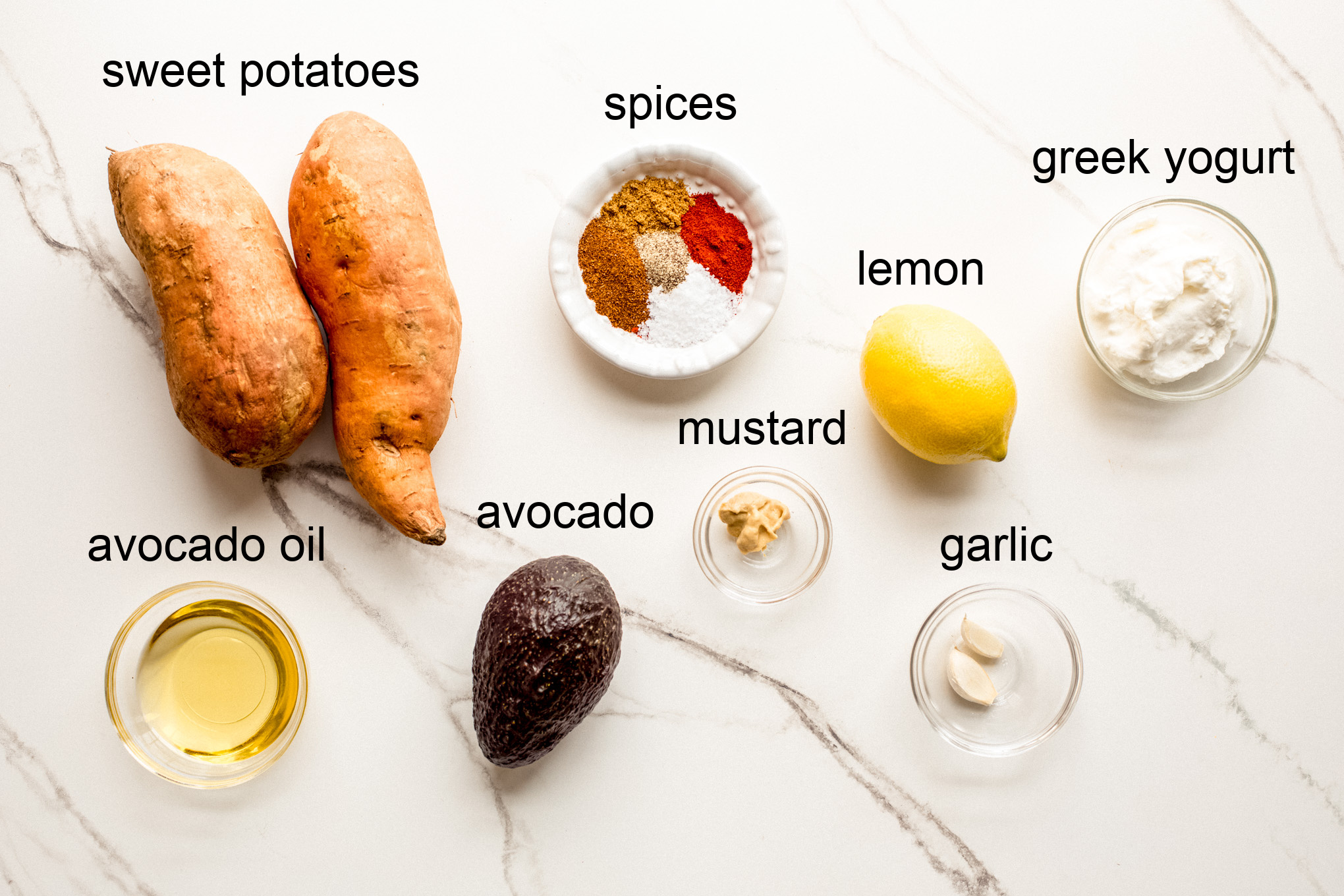 Ingredients
The ingredients for this healthy side dish are easy to find at your local grocery store.
Sweet potatoes – Scrubbed and cut into wedges.
Avocado oil – Tossing the potatoes in oil helps the seasonings stick.
Smoked paprika – Make sure your seasonings are fresh and bought within one year.
Chili powder – A little chili powder adds wonderful flavor.
Cumin – For nutty warmth flavor.
Salt – Kosher salt enhances the other ingredients.
Black pepper – Freshly cracked pepper is best.
Avocado – Fresh, ripe avocado makes a creamy sauce.
Garlic – Fresh garlic adds a bright pop of flavor.
Dijon mustard – It adds a slight tang to the sauce.
Lemon juice – A squeeze of fresh lemon juice balances the other flavors in the sauce.
Plain Greek yogurt – Make sure to buy plain yogurt.
Expert Tips
Use these tips to make these potato wedges your new favorite side dish.
Use fresh sweet potatoes. When buying potatoes, look for ones that have smooth skin and are free of soft spots, bruises, cracks, or signs of sprouting.
Dry well. After scrubbing the potatoes clean, make sure to pat them dry with a clean towel to get rid of any excess moisture. Feel free to peel the potatoes or leave skin on.
Cut into similar size. Use a sharp knife to cut sweet potatoes into uniform wedges so they cook evenly. Each wedge should be about 3/4-inch to 1-inch wide.
Coat the potatoes thoroughly with oil and spices. You can use olive oil or avocado oil. Drizzle oil over potato wedges and toss with your hands, rubbing the oil into the wedges to make sure they are well coated. Then sprinkle spices and use your hands to rub the spices into the wedges. You want every single piece well coated.
Don't crowd the pan. Use a large-rimmed baking sheet for roasting, lined with parchment paper for easy clean up. Spread the wedges in an even layer with space in between so the potatoes can cook and get crispy. If you crowd and overlap the potatoes, they will steam and get mushy.
How to Make Roasted Sweet Potato Wedges
The steps to make roasted sweet potatoes are easy. Give yourself enough time to prep the potatoes well before roasting.
In a large bowl, toss the sweet potato wedges with avocado oil. In a separate bowl, whisk together the spices.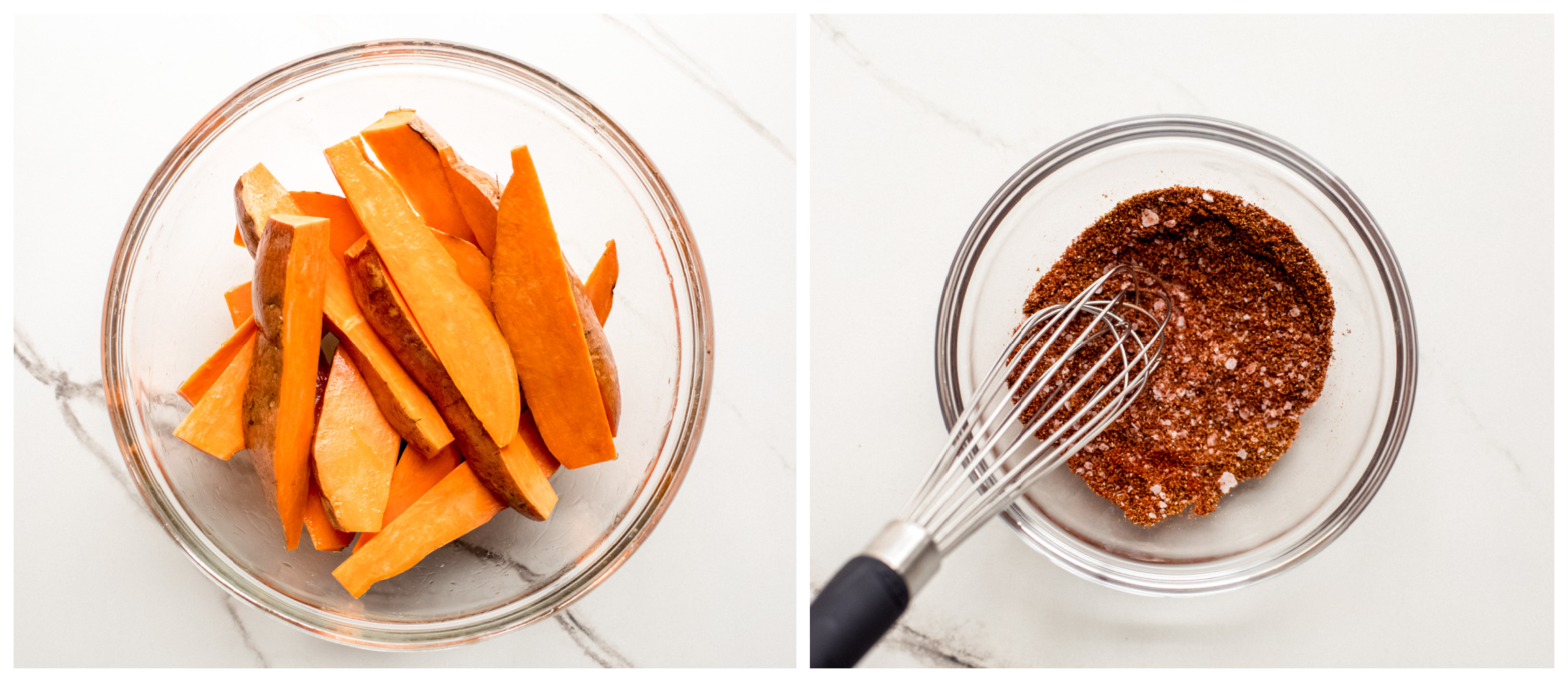 Add spice mixture to the potato wedges and toss around to evenly coat.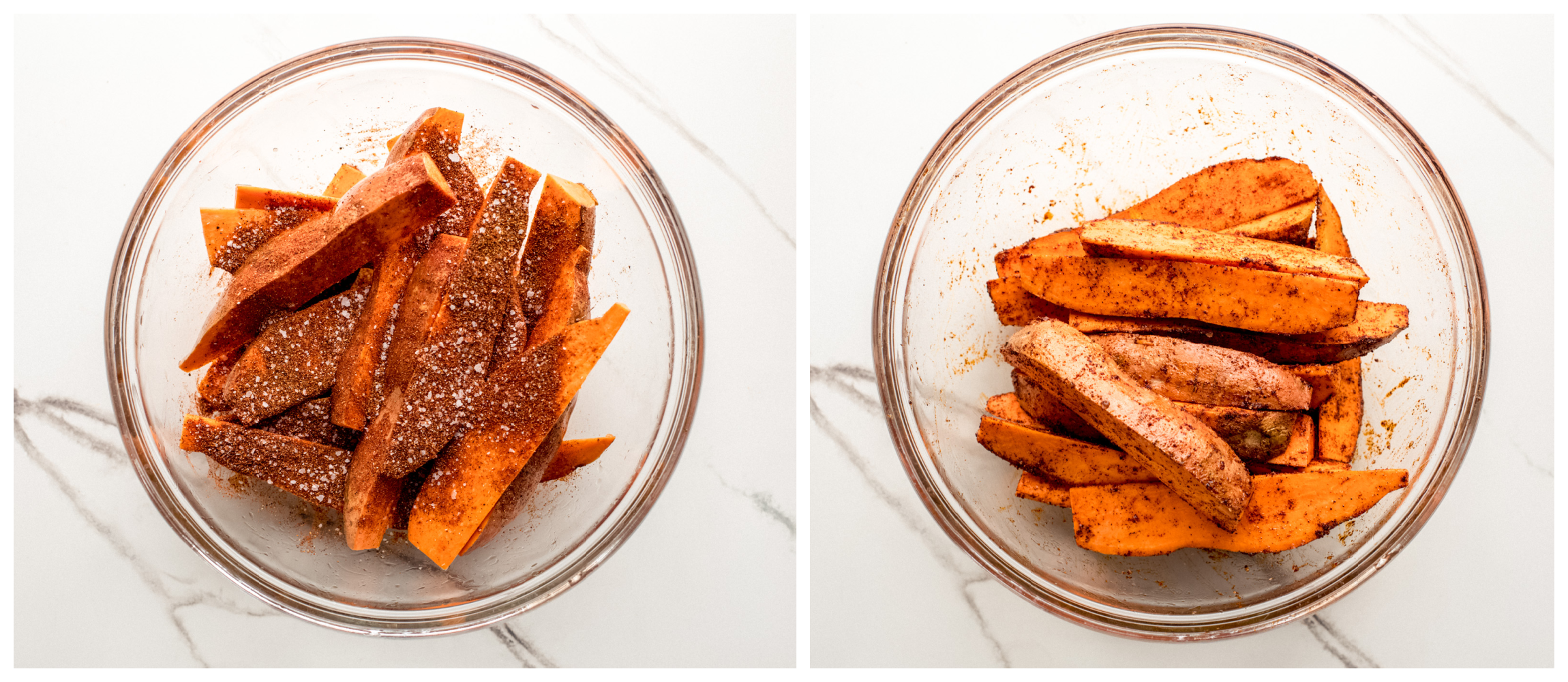 Arrange potato wedges on a parchment-lined baking sheet. Bake at 450 degrees F for 20 minutes. Then flip and continue roasting for 5-8 minutes more.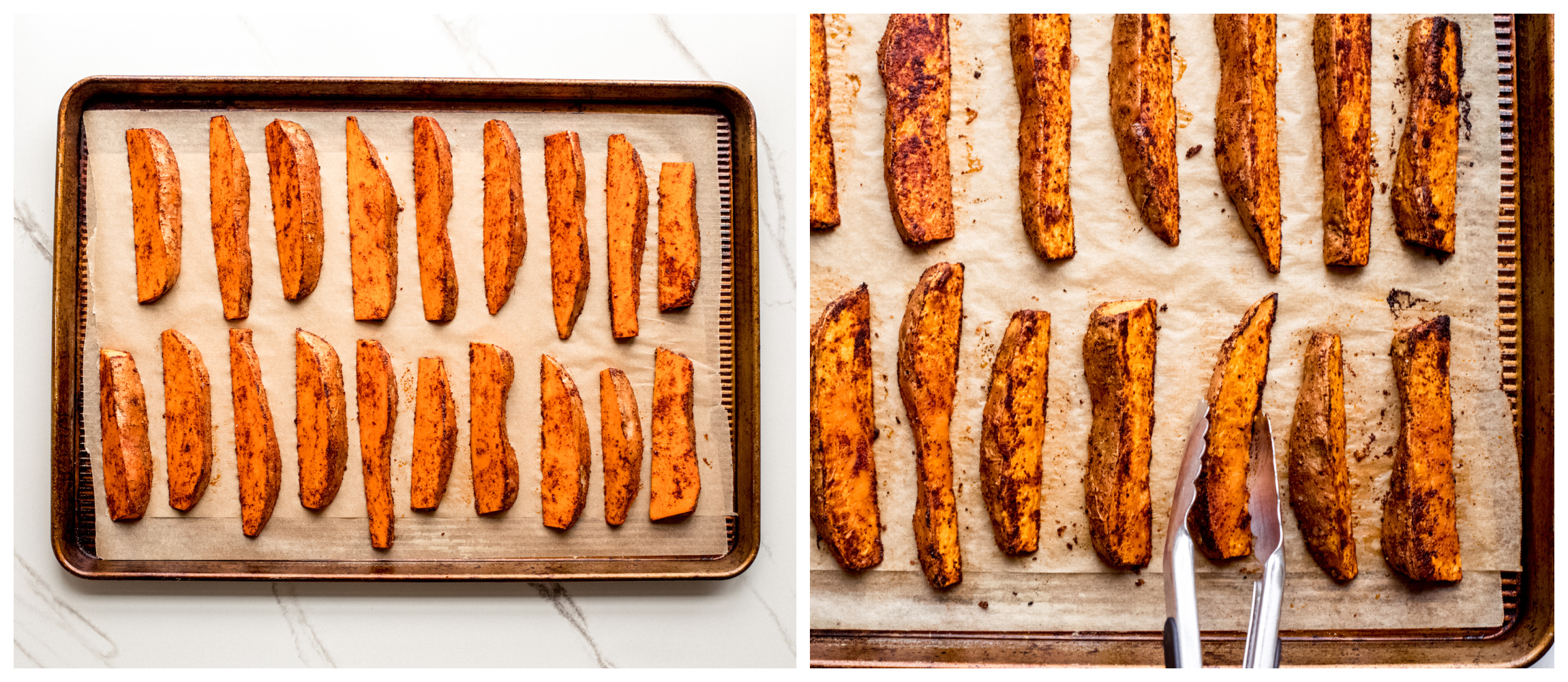 How to Make the Avocado Sauce
While the sweet potatoes are roasting, prepare the avocado sauce. You'll need a food-processor for this step.
Combine all the ingredients for the sauce in a food processor, and puree until smooth. Add salt and pepper to your taste for seasoning.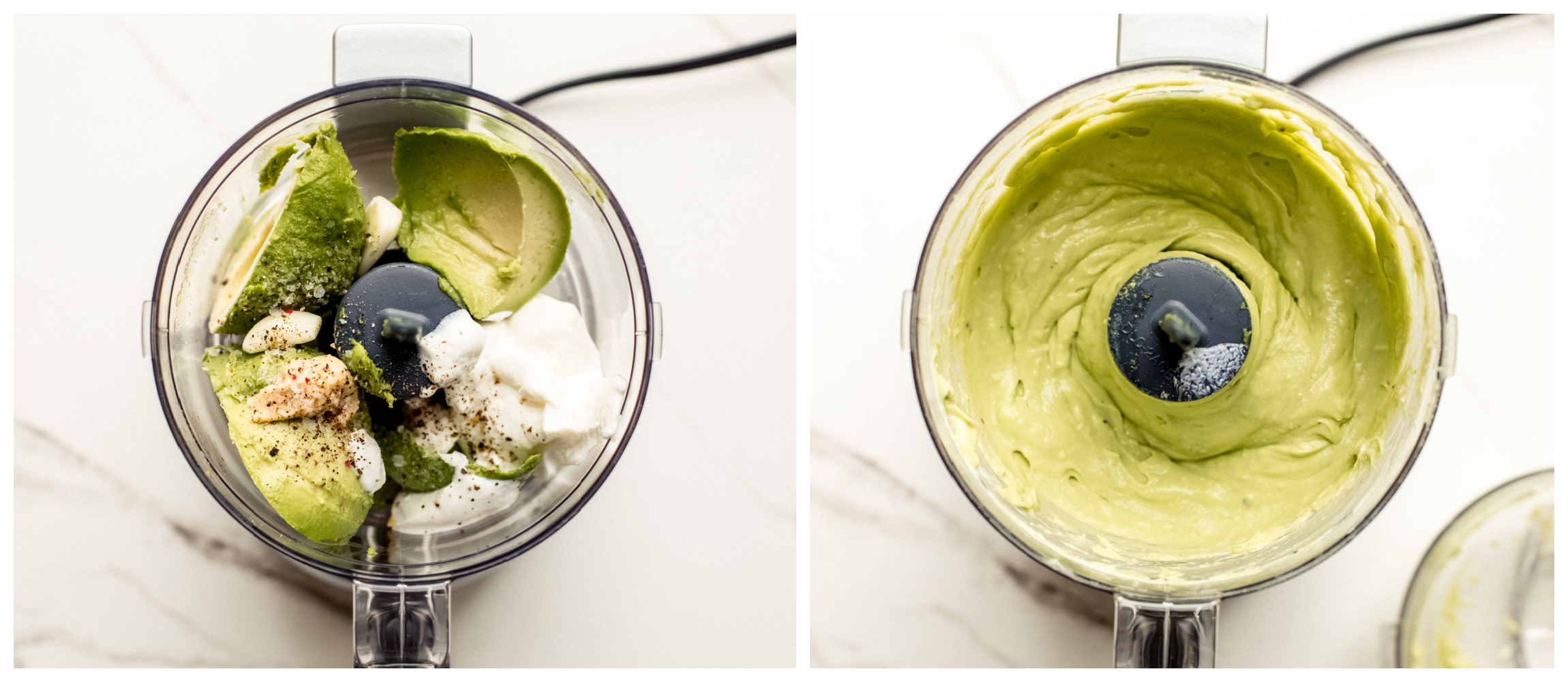 You can save any leftover sauce in a covered container for up to 1-2 days.
Variations
This simple side dish is easy to adjust based on what you like best. Here are some options to get you started.
Switch up the potatoes. Use russet potatoes instead of sweet potatoes.
Try another spice combo. Try using Italian seasoning instead of the chili powder combination. Or Everything bagel seasoning.
Make them spicy. Make these spicy wedges by adding cayenne powder to the seasoning.
Add cheese. Top with shredded parmesan cheese for another layer of flavor.
Try another dipping sauce. Use a honey mustard sauce, Cilantro Lime Crema, Buttermilk Ranch, or Tzatziki Yogurt Sauce in place of the avocado yogurt sauce.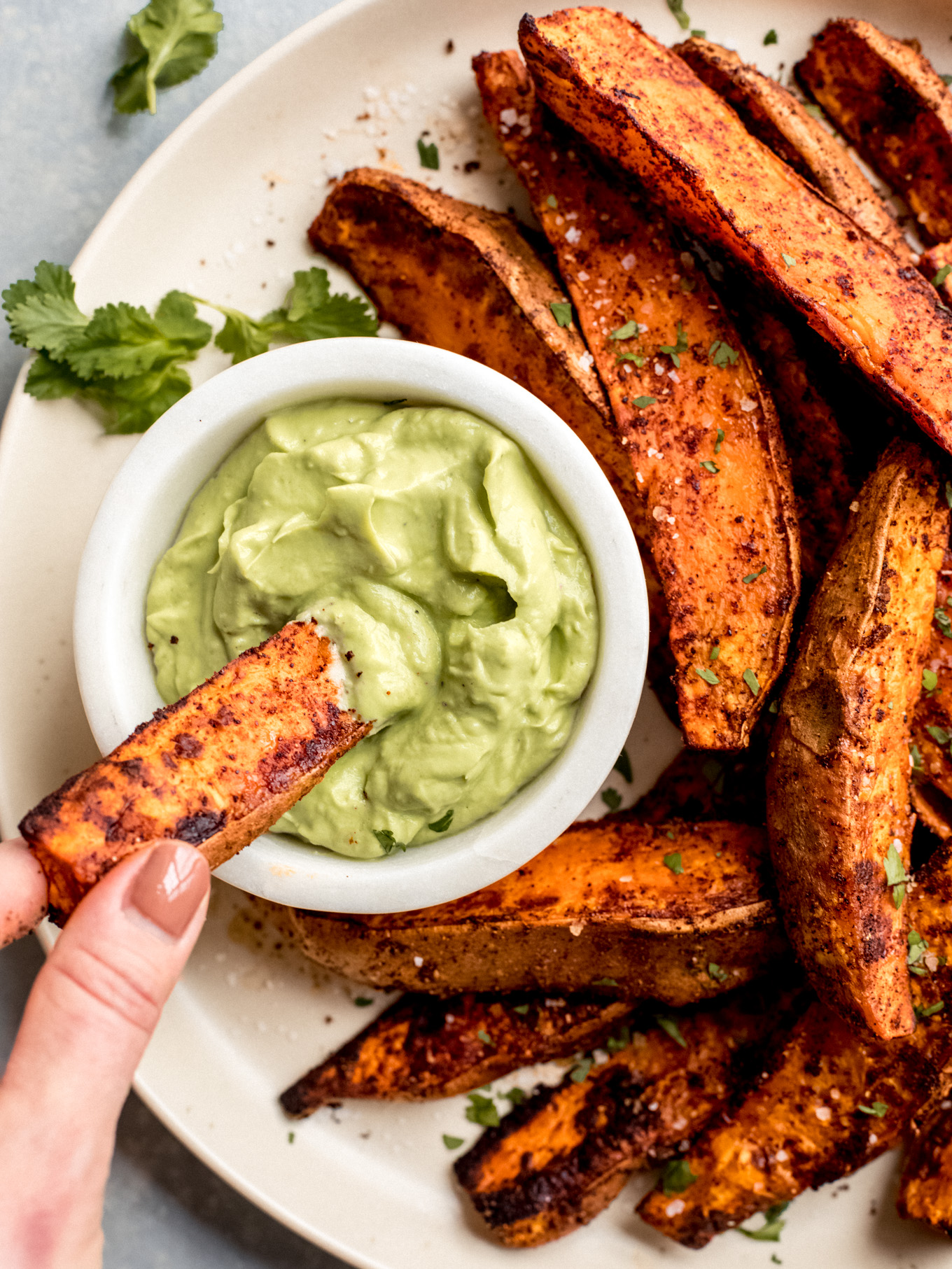 Storing Tips
Refrigerate: Store leftover potato wedges in an airtight container in the refrigerator for up to five days.
Reheat: The best way to reheat crispy wedges is to put them back in the oven at 350F or an air fryer.
Freeze: You can freeze these potato wedges for later either cooked or uncooked.
To freeze them, follow the directions and right before cooking, place them on a baking sheet in an even layer and put the tray in the freezer for 30 minutes. Remove the potato wedges and put them in freezer bags until you're ready to cook them.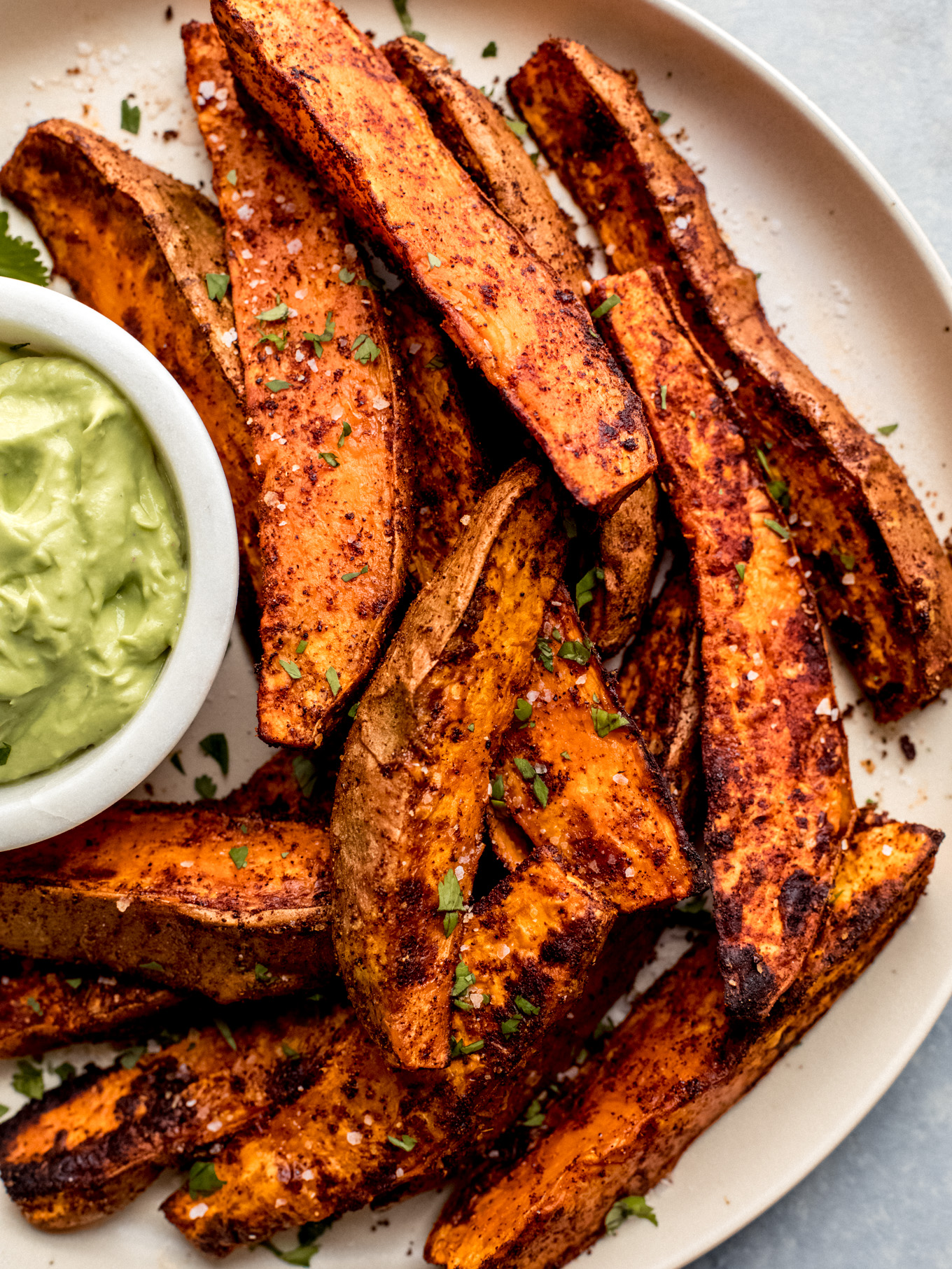 FAQs
What is the best type of potatoes to make roasted potato wedges?
This recipe uses sweet potatoes, but you can use russet potatoes if you'd like.
Why are my potato wedges sticking to the pan?
To ensure potatoes do not stick to the pan, make sure to line it with parchment paper. Aluminum foil can also be used, just make sure to coat it with a non-stick spray first.
Why are my sweet potatoes wedges not crispy?
The main reason for soggy potatoes is overcrowding the pan. Arrange potatoes in a single layer so they are not touching. Other reasons could also be not tossing in enough oil, not roasting at a high enough heat, or using old potatoes.
Should sweet potatoes be soaked before roasting?
If you like, you can soak sweet potato wedges in cold water before roasting but it's not necessary.
Should I peel sweet potatoes before baking?
That's totally a personal preference. We like to keep the skin on for extra texture.
More Sweet Potato Recipes
Print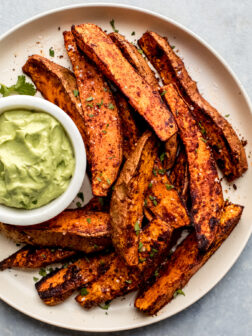 Roasted Sweet Potato Wedges
Author: Katya
Prep Time: 15 mins
Cook Time: 30 mins
Total Time: 45 minutes
Yield: 4 1x
Category: Appetizer
Method: Roasted
Cuisine: American
---
Description
These roasted sweet potato wedges are deliciously crispy on the outside and creamy on the inside. Served with a creamy avocado sauce.
---
2 lbs. sweet potatoes, scrubbed, pat dried, and skin on
2 Tbsp. avocado oil or olive oil
1 1/2 tsp. smoked paprika
1 1/2 tsp. chili powder
1/2 tsp. ground cumin
1 tsp. kosher salt
1/4 tsp. black pepper
Avocado Sauce
1 large ripe avocado
2 garlic cloves
1/2 tsp. Dijon mustard
1–2 Tbsp. fresh lemon juice, plus more to taste
1/4 cup plain Greek yogurt
Pinch red pepper flakes, optional
Kosher salt and black pepper
---
Instructions
Preheat the oven to 450 degrees F. Place the rack in the center of the oven. Line a large baking sheet with parchment paper and set aside.
Prepare the sweet potatoes by cutting each potato in half lengthwise. Cut each half into 3-4 long spears. You should have a total of 6-8 wedges per potato. Make sure to cut each spear into even size, about 1-inch wide so they bake evenly.
Add the potato wedges to a large bowl. Drizzle oil over potatoes and toss with your hands, rubbing the oil into the wedges to make sure they are well coated. You can also do this right on the sheet pan.
In a small bowl, whisk the smoked paprika, chili powder, cumin, salt, and pepper. Sprinkle over the potatoes and toss with your hands, making sure each potato wedge is well coated.
Arrange the potatoes in a single layer on the prepared baking sheet, making sure they are not touching. If they are too crowded, the potatoes will steam instead of roast. Use two baking sheets if needed.
Bake for 20 minutes, undisturbed. Then flip gently with a spatula or a pair of tongs and bake for another 5-8 minutes or until crisp and browned around the edges, and tender, but not mushy. If you're roasting two sheets at the same time, switch the racks halfway through the cooking time so the potatoes cook evenly.
If you like, broil the potatoes for a few minutes, until they are extra crisped around the edges. Remove from the oven and sprinkle with flaky salt. Enjoy immediately with avocado sauce.
Avocado Sauce
Add all ingredients to a bowl of a food processor. Pulse until smooth, scraping down the sides as needed. Taste for salt and acidity before serving. Store covered in a refrigerator for 1-2 days.
---
Notes
Sweet Potatoes: When shopping for sweet potatoes, look for ones that have smooth skin and are free of soft spots, bruises, cracks, or signs of sprouting. 
Leftovers: Store leftover potato wedges in an airtight container for up to 5 days. Reheat in the oven at 350 degrees F.
Nutrition
Serving Size: 4 wedges with dip
Calories: 341
Sugar: 10.6 g
Sodium: 490.3 mg
Fat: 13.6 g
Carbohydrates: 51.2 g
Protein: 6.3 g
Cholesterol: 2.3 mg
Keywords: sweet potatoes, wedges, baked
Recipe was originally published January 2016, it has since been re-tested, modified, and updated.
You May Also Like…