Chopped Kale Salad
Chopped kale salad with peanut chili vinaigrette is an easy chilled salad that can be served as a side or the main meal.
Keep it vegetarian, or add crispy chicken bites for extra protein. 
What is Chopped Kale Salad?
This chopped kale salad recipe is exactly what you need to make for dinner tonight! You can chop up the ingredients, whisk the salad dressing together, and have it on the table in under 30 minutes.
It's made with leafy Tuscan kale, crunchy veggies, and the most delicious peanut chili vinaigrette. There's so much texture, flavor, and a little heat.
Quickly prep this salad a day in advance and keep it in the fridge until you're ready to serve. Allowing it to chill is perfectly fine for this particular salad, and you'll be ahead of schedule. This is definitely a win!
Ingredients
The ingredients for this salad are easy to find at your local grocery store and come together to make an excellent salad with the best spicy dressing.
Peanut-Chili Vinaigrette:
Peanut butter
Red pepper flakes
Honey
Soy sauce
Rice vinegar
Sesame oil
Lime juice
Fresh ginger
Garlic
Salad:
Kale
Carrots
Sweet peppers
Edamame
Cilantro
Cashews
Green onions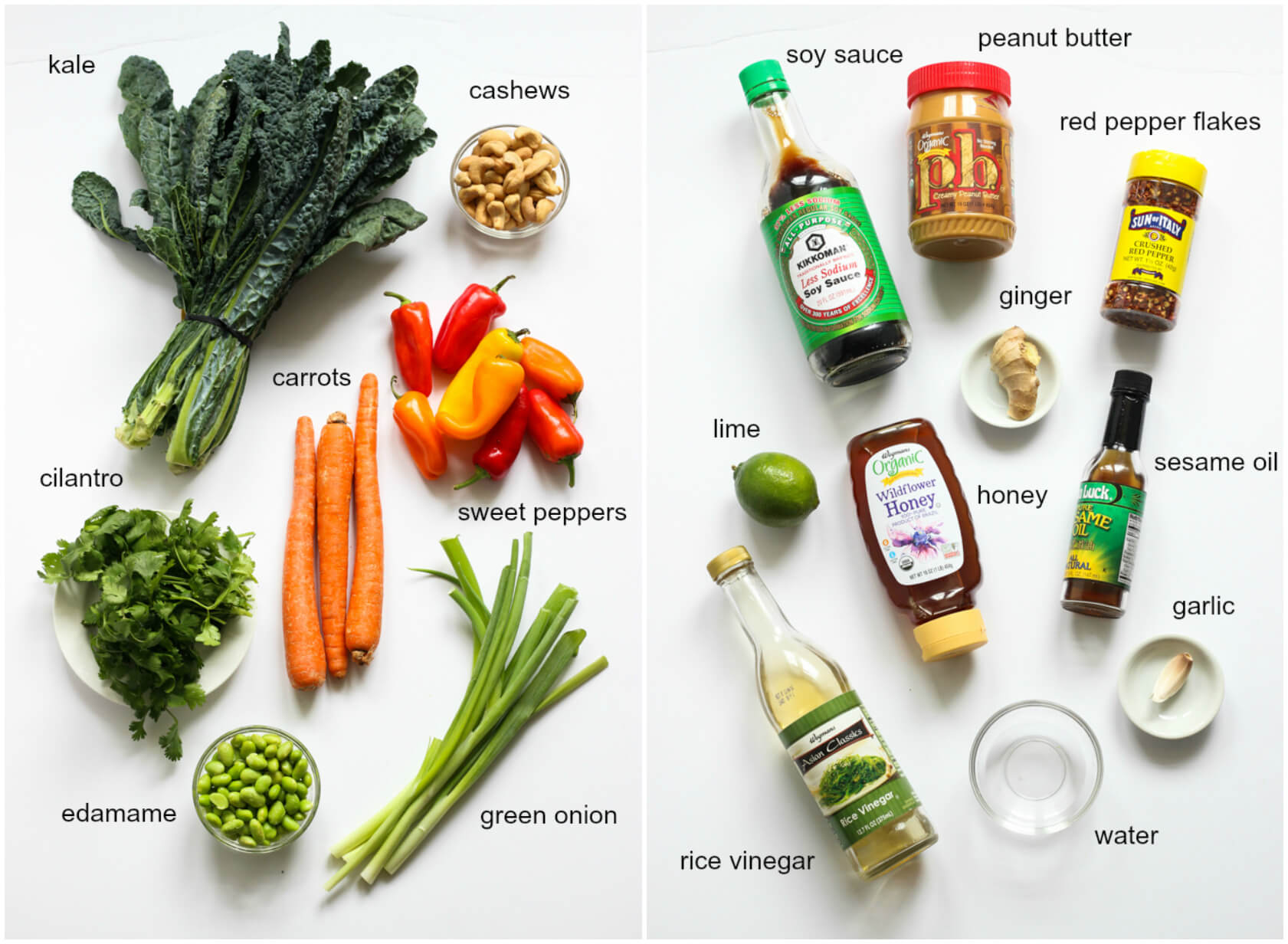 How to Make Chopped Kale Salad
Make the salad dressing: Whisk together the ingredients for the salad dressing and put it in the fridge to allow the flavors to combine.
Chop the salad: Chop the ingredients for the salad and put them in a large serving bowl.
Assemble the salad: Pour the dressing over the salad and put it back in the fridge for 10 minutes for the kale to soften and the dressing to get soaked up by the vegetables.
Recipe Tips and Variations
This salad is tasty served as a side dish or as a main vegetarian meal. Here are some ideas and ingredients to add or substitute in this kale salad.
Add protein. Grilled salmon or chicken. Leave a little salad dressing on the side to pour over protein if you choose to add some.
Make a grain bowl. Try serving this salad over cooked farro, quinoa, or rice.
Swap or add more veggies. Broccoli, cucumbers, or avocado.
Try different cheese. Feta cheese or Parmesan cheese would be tasty additions to this salad.
Don't like cashews? Try peanuts, sliced almonds, sesame seeds, or toasted breadcrumbs for added crunch.
Add something sweet! Dried cranberries, roasted sweet potatoes, mango, or pears.
Spiciness. Try Sriracha instead of chili flakes or leave out the red pepper flakes altogether if you want the dressing less spicy.
Try different lettuce. Romaine, spinach, or cabbage such as white, red, or napa.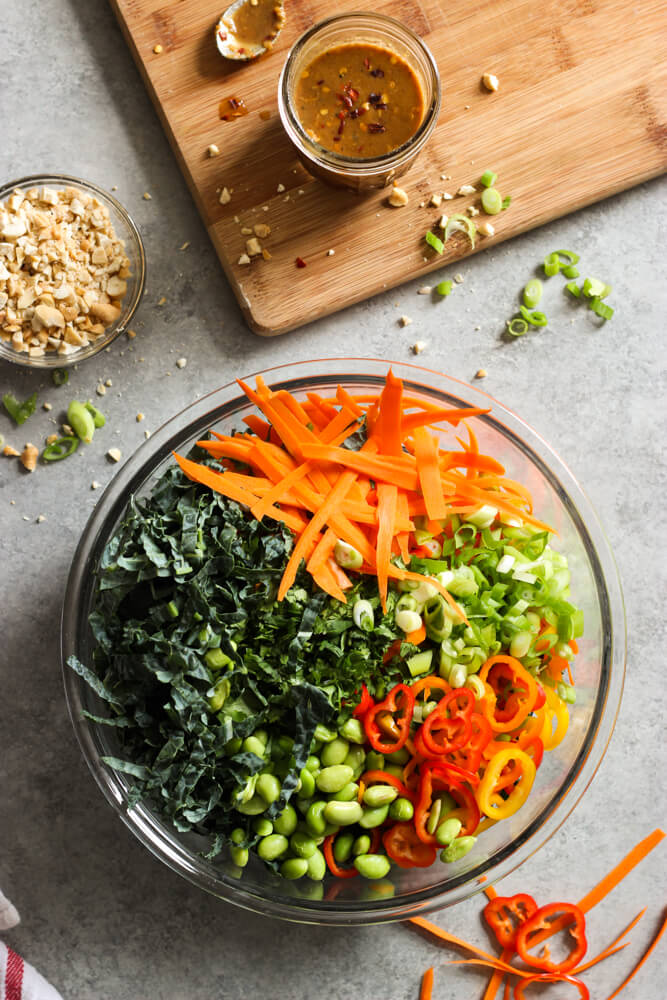 Other Dressings to Try
This peanut chili vinaigrette is creamy, spicy, and delicious, but if you'd like to try using a different dressing here are some ingredients you can combine to make one:
Apple cider vinegar
Lemon juice or zest
Garlic
Shallots
Balsamic vinegar
Maple syrup
Dijon mustard
Red wine vinegar
Honey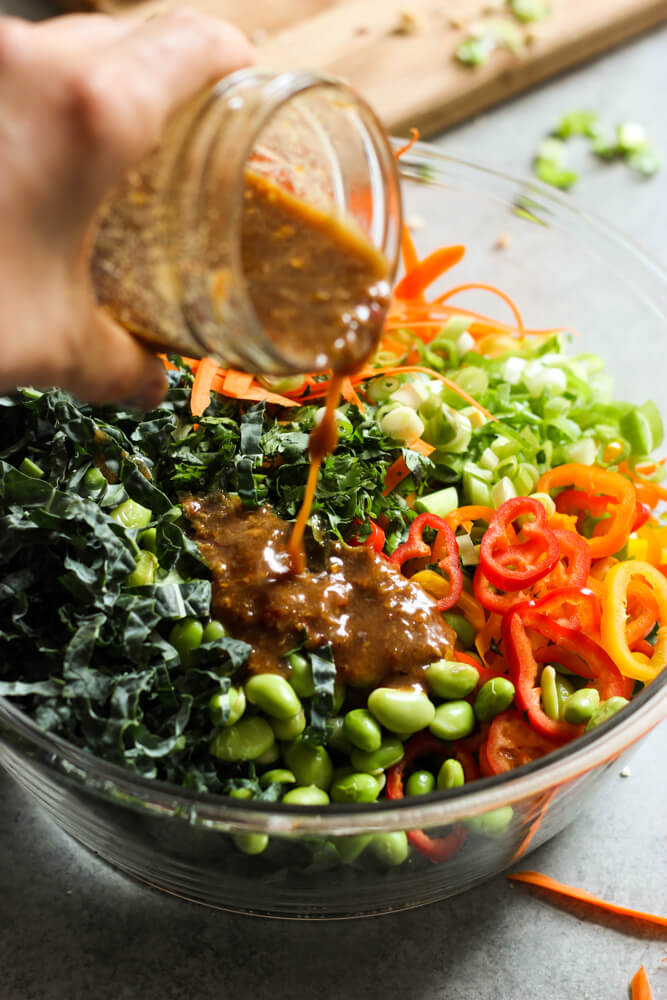 How to Store
Store leftover kale salad in an airtight container in the refrigerator for up to 2 days.
To prolong the life of this salad, store the salad and dressing separately until ready to serve.
How to Serve
This chopped kale salad serves well as a side salad alongside any of these main dishes: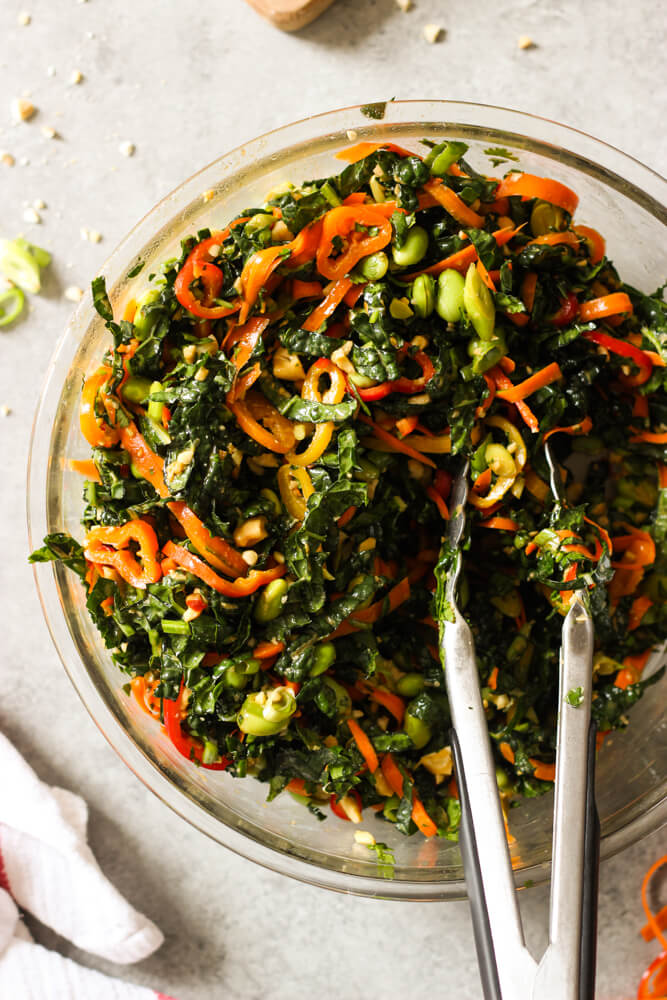 FAQs
Can you eat kale raw in a salad?
Yes, you can definitely eat raw kale! This dark green leafy vegetable is excellent for your health and delicious in salads. 
How do you cut kale for a salad?
The best way to prep kale for salad is to wash each leaf and cut out most of the tough stems. Slice the leaves vertically, and then chop horizontally. You may want to cut some of the larger pieces down a bit more before putting them in the salad.   
Can you freeze leftover kale salad?
It's not a good idea to freeze kale since the leaves don't retain water very well and become soggy when thawed. 
More Salad Recipes
Print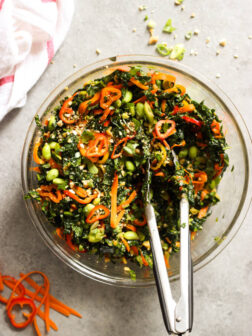 Chopped Kale Salad
Author: Katya
Prep Time: 15 mins
Total Time: 15 mins
Yield: 6 1x
Category: Salad
Method: Chop
Cuisine: Thai
---
Description
Thai inspired chopped kale salad with edamame, sweet peppers, and cashews. It's tossed in the most flavor packed peanut-chili vinaigrette and comes together in minutes! Makes the perfect side or top it with chicken for a complete meal.
---
Peanut-Chili Vinaigrette
4 tsp. creamy peanut butter
1 tsp. red pepper flakes
2 Tbsp. honey
4 Tbsp. soy sauce
2 Tbsp. water
4 tsp. rice vinegar
1/2 tsp. sesame oil
1 tsp. fresh lime juice
1 tsp. fresh ginger, grated
2 garlic cloves, pressed or grated
Salad
6 cups Tuscan kale cut into thin ribbons
3 medium carrots, peeled and cut into ribbons using a vegetable peeler
5–6 sweet peppers, cored and thinly sliced
1 cup shelled edamame, cooked and completely cooled
4–5 scallions, sliced
1 cup fresh chopped cilantro
1/2 cup roasted cashews, finely chopped
Kosher salt and fresh ground black pepper, to taste
---
Instructions
Start by making the salad vinaigrette by whisking all ingredients together until combined. Set aside while preparing the veggies.
Then combine the salad ingredients in a large bowl. Drizzle with vinaigrette and toss thoroughly to combine. You want to make sure the veggies are really coated in the vinaigrette. Taste for salt and pepper.
Chill the salad for 10-15 minutes before serving. It helps break down some of the toughness of the kale leaves.
---
Notes
Spiciness: Red pepper flakes add a spicy kick to this salad, so if you want less spicy, use less or leave out altogether.
Kale: Tuscan kale is also known as Lacinato kale. It's perfect for raw salads like this as it's not as tough as curly kale. Make sure to de-stem the kale before slicing.
Leftovers: After you toss the salad with the vinaigrette, it should be good in the fridge for about 2 days. If you want to prolong the life of this salad, keep salad and vinaigrette stored separately, and toss just before serving.
Nutrition
Serving Size:
Calories: 195
Sugar: 10.5 g
Sodium: 720 mg
Fat: 10.2 g
Carbohydrates: 20.7 g
Protein: 9.2 g
Cholesterol: 0 mg
Keywords: dinner salad, asian, green salad, healthy
Recipe originally published September 2016.