Cilantro Lime Crema
Cilantro Lime Crema is the perfect sauce for Mexican tex-mex meals, on top of tacos, in salads, burritos, or as a dip for roasted veggies. This cream sauce is made with cilantro, fresh lime juice, garlic, and sour cream. There are so many great uses for it that you'll love!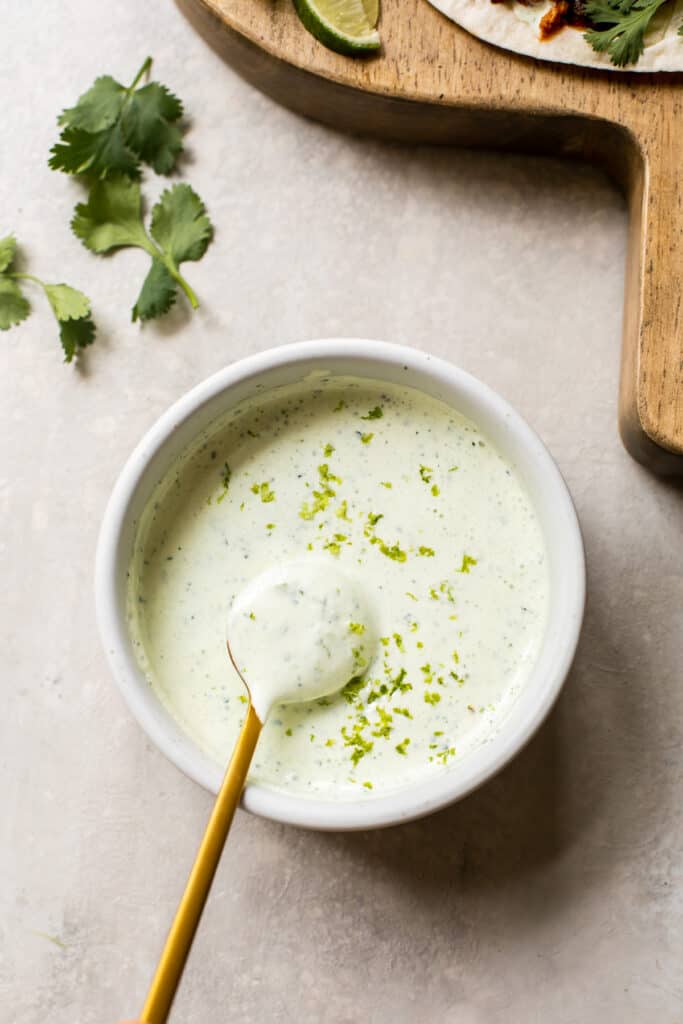 What is Cilantro Lime Crema?
This delicious lime crema recipe is a version of Mexican crema but even better than what you find at grocery stores! It's made from scratch with fresh ingredients, so it tastes better than any store-bought version. 
It's quick and easy to make with ingredients you probably already have in your pantry or refrigerator.
This tasty sauce will be your next go-to for Mexican dinner nights!
Why You Should Make This Sauce at Home
There are versions of cilantro lime crema that you can buy from the store, but making it at home is so much better for many reasons.
Quality ingredients: When you can choose your own ingredients, it's often healthier than the premade version.
Control: You get to control what goes into it.
No waste: You can make as much or as little as you want without worrying about wasting a whole bunch.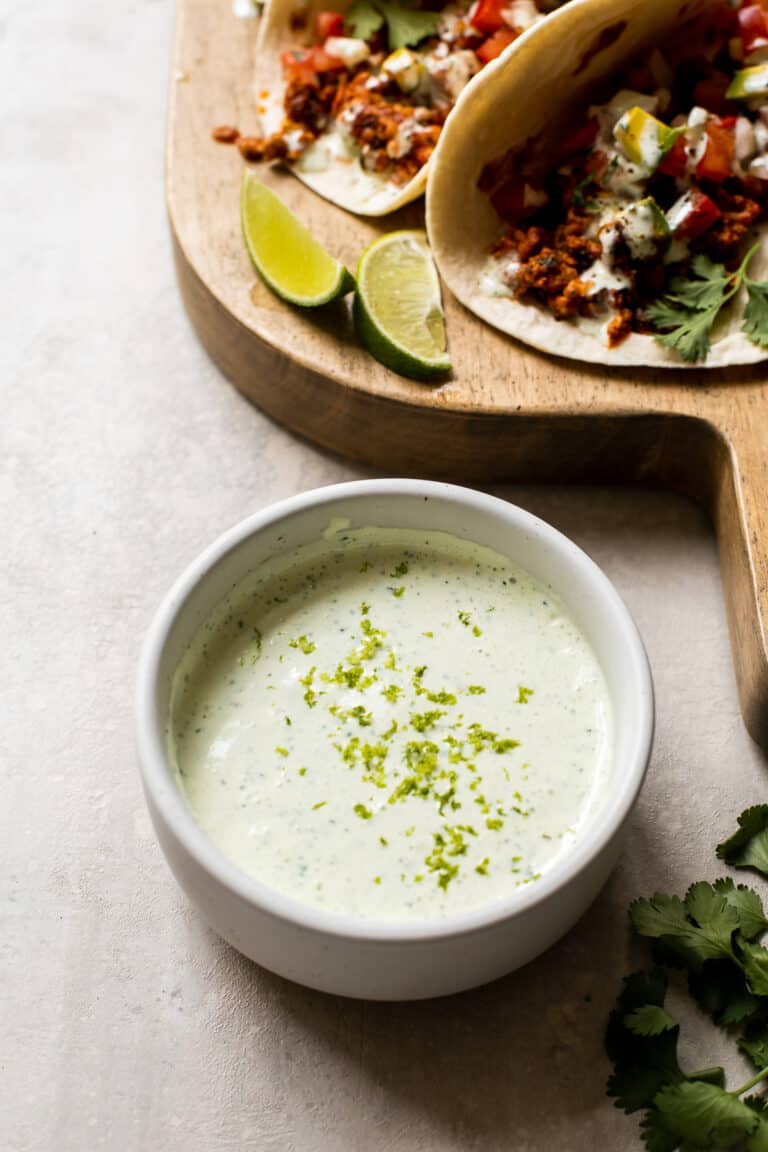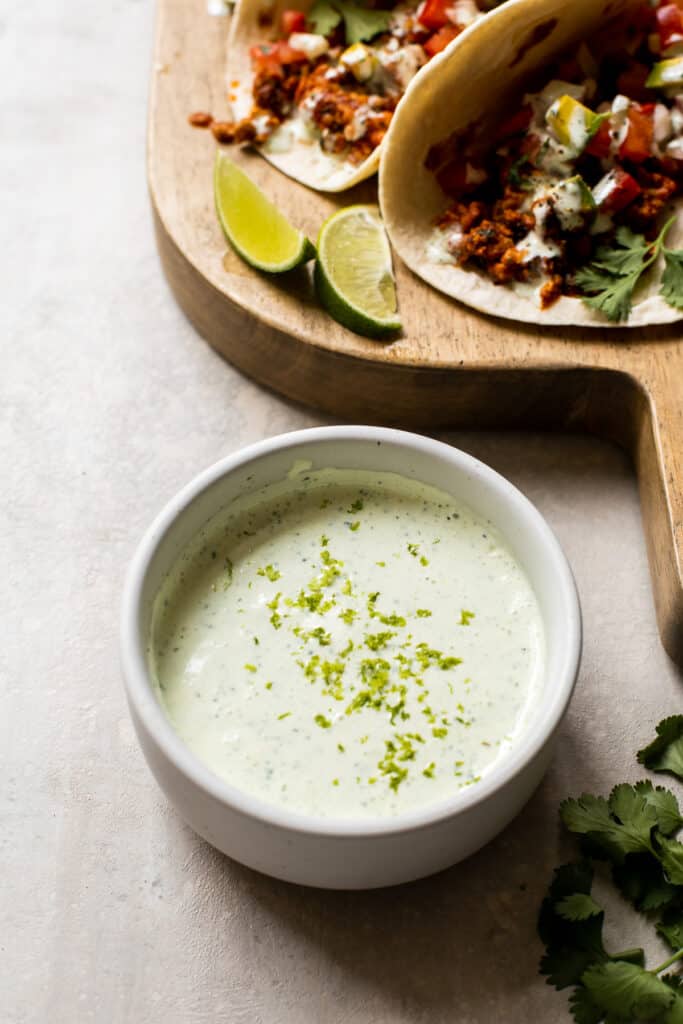 Methods to Make Cilantro Crema
There are four different ways to make this cream sauce. They all work well and make it even easier to make this sauce even if you don't have the right tools.
Mix by hand
Chop the ingredients very finely and stir them together in a bowl. The sauce will be rustic and a little chunky, which is sometimes exactly what the dish needs.
Pulse everything together in a food processor to make it smooth enough to squirt through a squeeze bottle. This is a great way to make your food presentation beautiful.
If you don't have a food processor, you can use a blender. This works just as well and gets the sauce nice and smooth.
Using a mortar and pestle grinds the ingredients together rather than cutting them up. Grinding releases their flavors more fully and will make this sauce much more flavorful.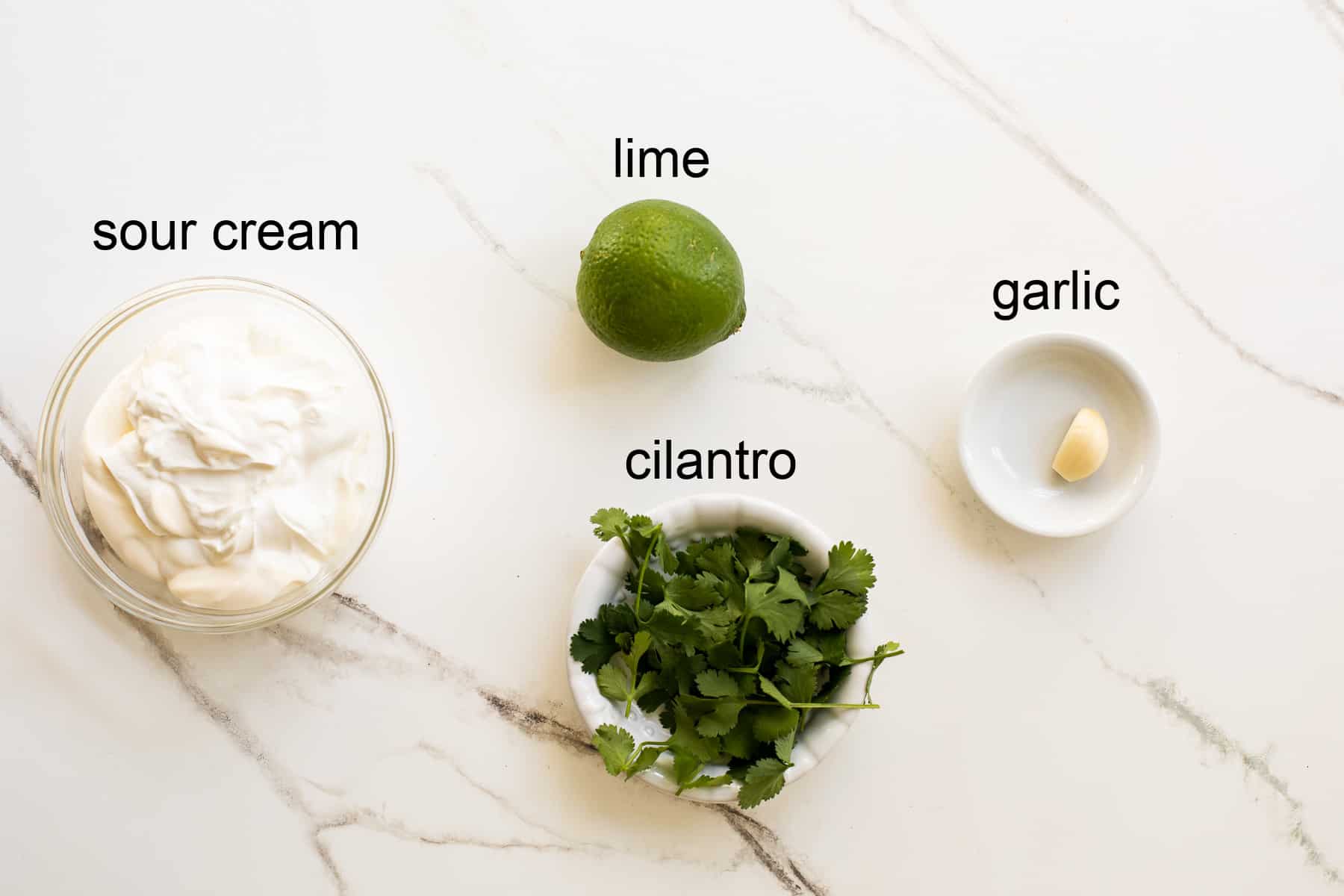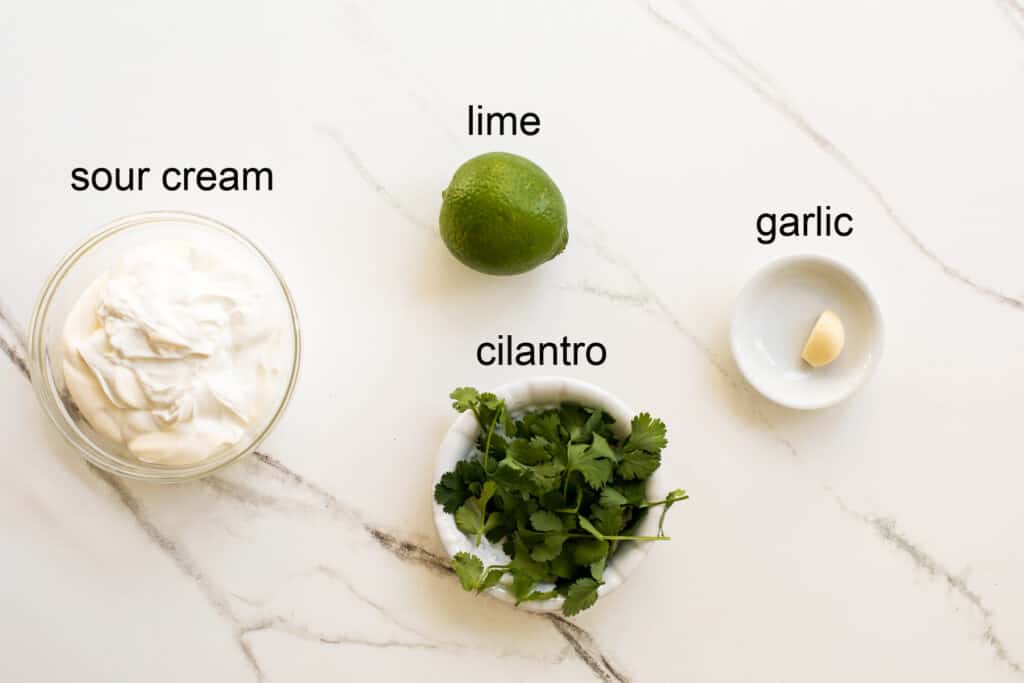 Ingredients
There are only seven ingredients in this recipe, and they are all easily found at your local grocery store.
Sour cream: Full-fat sour cream works best for this recipe because it's thicker than the low-fat versions.
Lime juice and zest: Fresh lime juice is a zesty addition to this cream sauce.
Cilantro: Chopped cilantro makes it bright, fresh, and beautiful!
Garlic: Make sure the garlic is fresh and smells strong when peeled.
Kosher salt and fresh black pepper: Salt and pepper for seasoning.
After combining these ingredients, taste the lime crema and adjust the seasonings to make sure the flavors balance together nicely.
How Can I Make It Spicy?
Spicy sauce is incredibly tasty on top of burritos, fish tacos, and salads. You can easily make it spicy by adding jalapenos or cayenne pepper to the blender. 
Be sure to taste a small piece of the jalapeno before adding it to the sauce. Jalapenos can range from torturously spicy to not spicy at all. You don't want to make the sauce inedible by adding too much jalapeno making it too hot to eat.
Tips and Notes
Here are some tips and variations to make this cilantro crema even more delicious!
Let it rest. Let the sauce sit in the fridge for 15-30 minutes before serving to allow the flavors to blend together.
Sub sour cream. Replace the sour cream with Mexican crema or a mixture of sour cream and mayonnaise or plain Greek yogurt and mayonnaise.
Make it creamer. Add an avocado to the blender to make the sauce creamier.
Thin it out. As the sauce sits in the fridge, it thickens, so you can add a little water or milk to help thin it out if needed.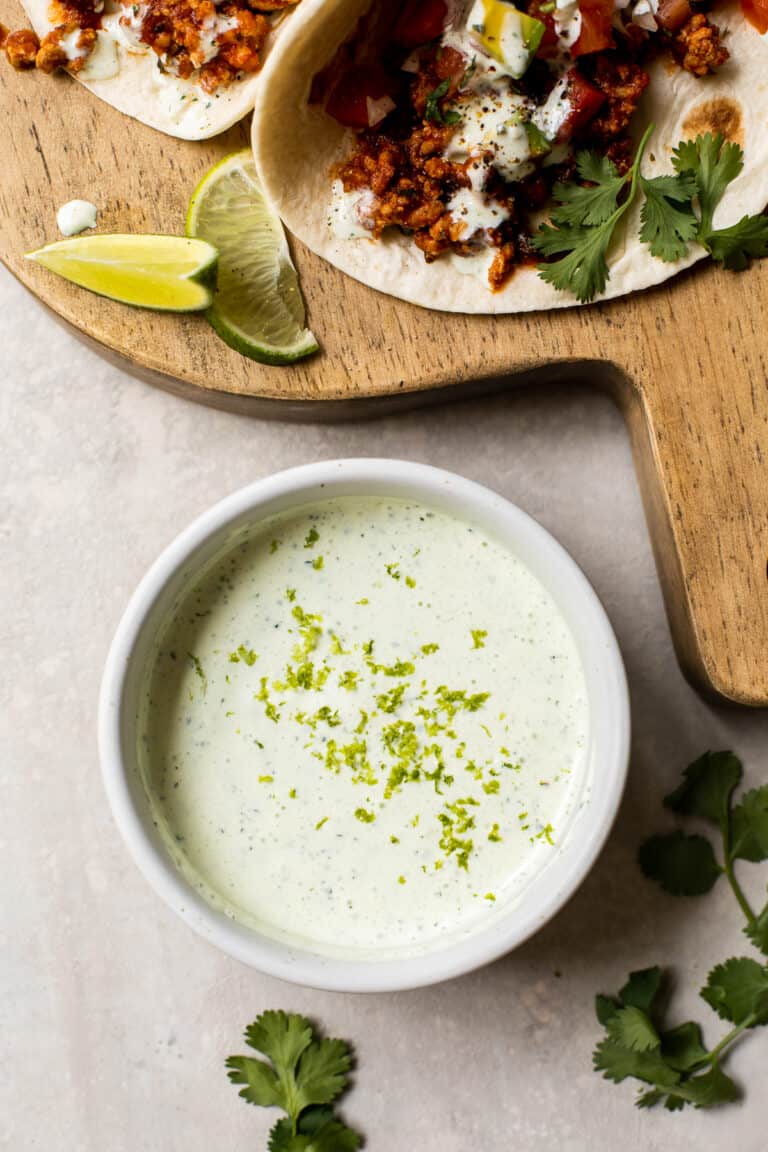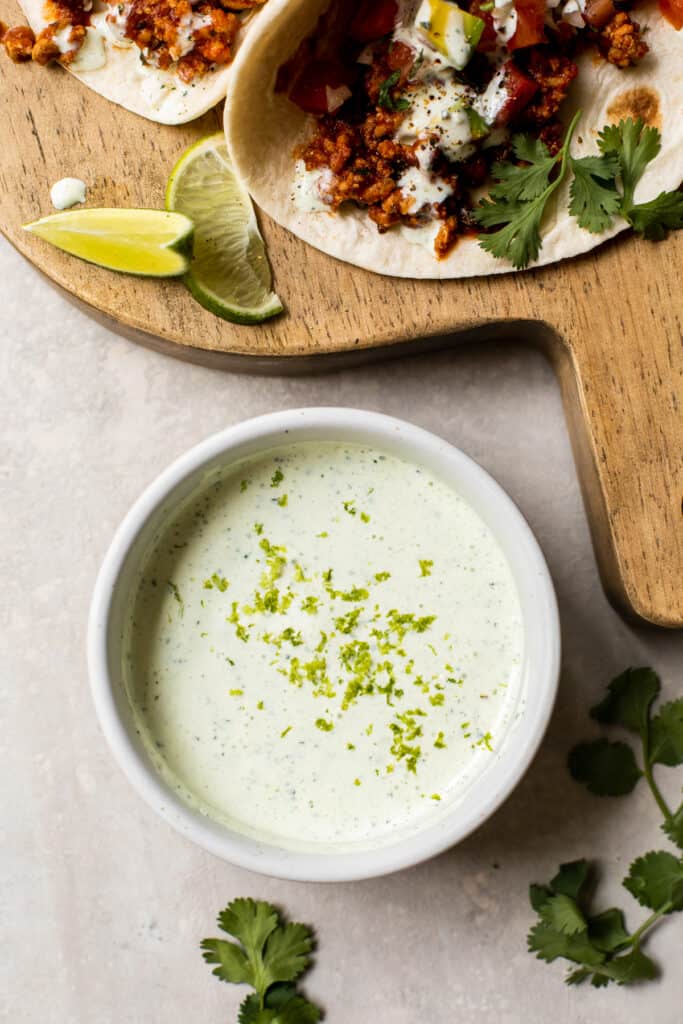 How to Serve
There are many different dishes you can use this tangy cilantro lime crema with. Here are some of the best choices: 
How to Store
Refrigerate: You can keep this creamy sauce in the refrigerator in an airtight container for up to three days. Add a splash of lime juice right before serving to freshen it up.
Freeze: It's not a good idea to freeze this sauce since the texture just isn't the same when it's thawed. It's so easy to make that whipping up a fresh batch when you need isn't hard at all.
FAQs
How can I make cilantro lime crema vegan? 
You can easily make this sauce vegan by substituting the sour cream for a dairy-free sour cream. The rest of the ingredients are all plants or spices. 
How do you make Mexican crema taste better?
If your crema is a little bland, add more salt and pepper until they are subtle but balance the other flavors. You may also need to add more of the other ingredients like lime juice, garlic, or cilantro.
How do you make cilantro lime crema with Greek yogurt?
You can easily substitute sour cream with Greek yogurt if you'd like. Greek yogurt is very tangy so you may need to add a small amount of sweetener to balance out the tanginess.
Love delicious sauces? Try our Mango Dressing as a sauce for a spicy and tropical taste!
Print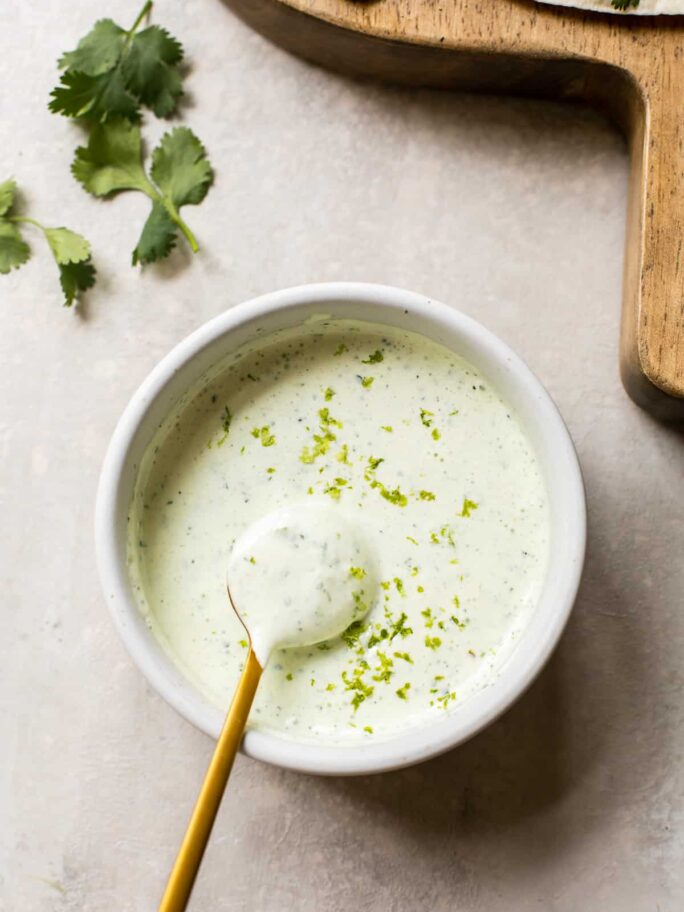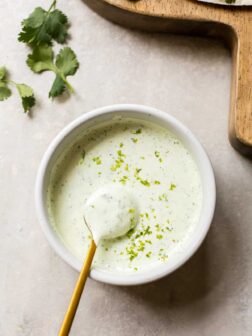 Cilantro Lime Crema Recipe
Author: Katya
Prep Time: 10 min
Total Time: 10 minutes
Yield: 8 1x
Category: Sauce
Method: Blend
Cuisine: Mexican
---
Description
Cilantro lime crema is made with chopped fresh cilantro, fresh lime juice, garlic, and sour cream. There are so many great uses for it that you'll love!      
---
1 cup good-quality sour cream
2 tsp. fresh lime juice
Zest 1 lime
3 Tbsp. chopped cilantro
1 garlic clove
Kosher salt and black pepper
---
Instructions
To a food-processor, add sour cream, lime juice, lime zest, cilantro, and garlic. Season with salt and pepper to taste.
Pulse until smooth, scraping down the sides as needed. Alternatively, in a bowl whisk together the sour cream, lime juice, and lime zest. Add finely chopped cilantro and minced garlic.
Taste for acidity and salt. If the sauce is too sour, dilute it with a splash of olive oil. If the sauce is too thick, thin out with little milk.  
---
Notes
Sour Cream: Full-fat sour cream works best for this recipe. I do not recommend using lite sour cream.
Leftovers: Keep stored in an airtight container for up to 3 days. Whisk before serving.
Nutrition
Serving Size: 2 tablespoons
Calories: 58
Sugar: 1 g
Sodium: 9.2 mg
Fat: 5.6 g
Carbohydrates: 1.7 g
Protein: 0.7 g
Cholesterol: 17 mg
Keywords: sauce, dip, crema
You May Also Like…