Lemon Sausage Pasta
This creamy lemon sausage pasta recipe is a delicious meal perfect for any day of the week, whether you're in a rush or want to enjoy a relaxing dinner at home.
If you're looking for a tasty, fuss-free meal, you'll love this Lemon Sausage Pasta!
It's easy to make, just like our cajun pasta with sausage, and uses only a few simple ingredients to create a creamy pasta sauce to toss with spaghetti noodles, sausage, spinach, lemon, cream, butter, and Parmesan.
It's a great meal to serve alongside a Brussels sprouts Caesar salad or roasted broccoli with bacon.
Reasons to Love this Recipe
Quick and easy pasta recipe. One of the great things about this lemon sausage pasta is that you can cook the meat and sauce ingredients in a single pan (not counting the pasta pot). Additionally, you can make the most of the starchy pasta water by using it as a key ingredient in your sauce.
Bursting with flavor. This sausage pasta has some great flavors, from the tanginess of the lemon combined with the savory taste of sausage and the earthy flavor of spinach, making for the perfect combination. The taste is so well-balanced and delicious!
Simple recipes are the best!  Just like pasta with spinach and tomatoes, it's made with just a few simple ingredients and is an affordable and accessible meal option that anyone can enjoy, no matter their budget.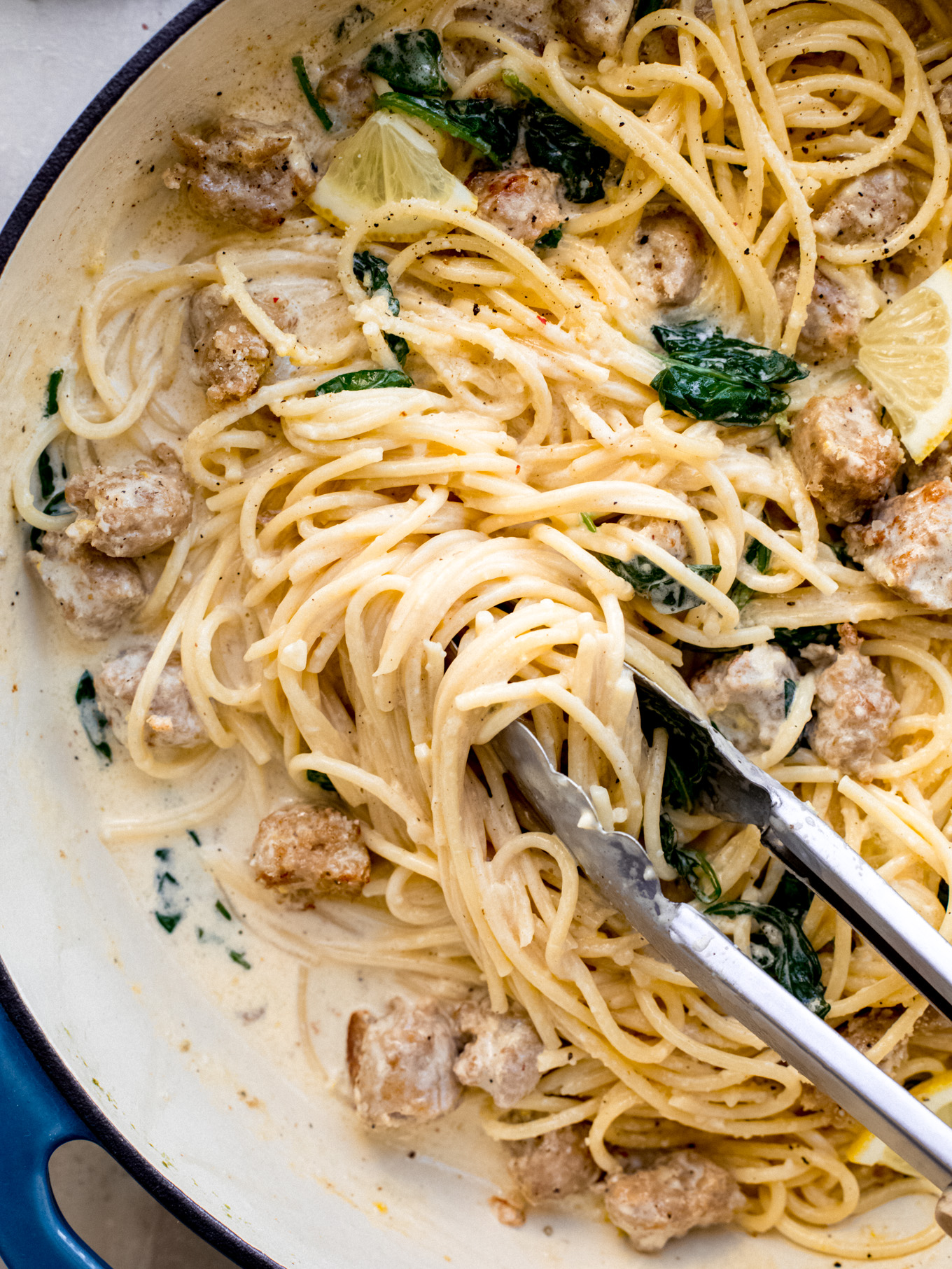 Ingredients + Substitutions
Pork sausage spaghetti with creamy lemon sauce and fresh spinach adds just a few more ingredients to make one tasty pasta dish!
Sausage: Instead of using regular pork sausage, you could use chicken or turkey sausage or even a vegetarian sausage alternative.
Pasta: Feel free to use a different type of pasta if you prefer. Penne, fusilli, or farfalle would all work well in this recipe.
Lemon: You'll need the zest from one lemon or a tablespoon.
Spinach: If you don't have spinach, use kale or Swiss chard instead.
Butter: Butter is so great for adding extra flavor! If you want something a little lighter, you can always use oil.
Cream + Parmesan: When you mix them, they create this fantastic creamy and cheesy sauce that clings to the pasta, giving it a delicious depth of flavor.
Seasonings: Salt and pepper.
See the recipe card for quantities.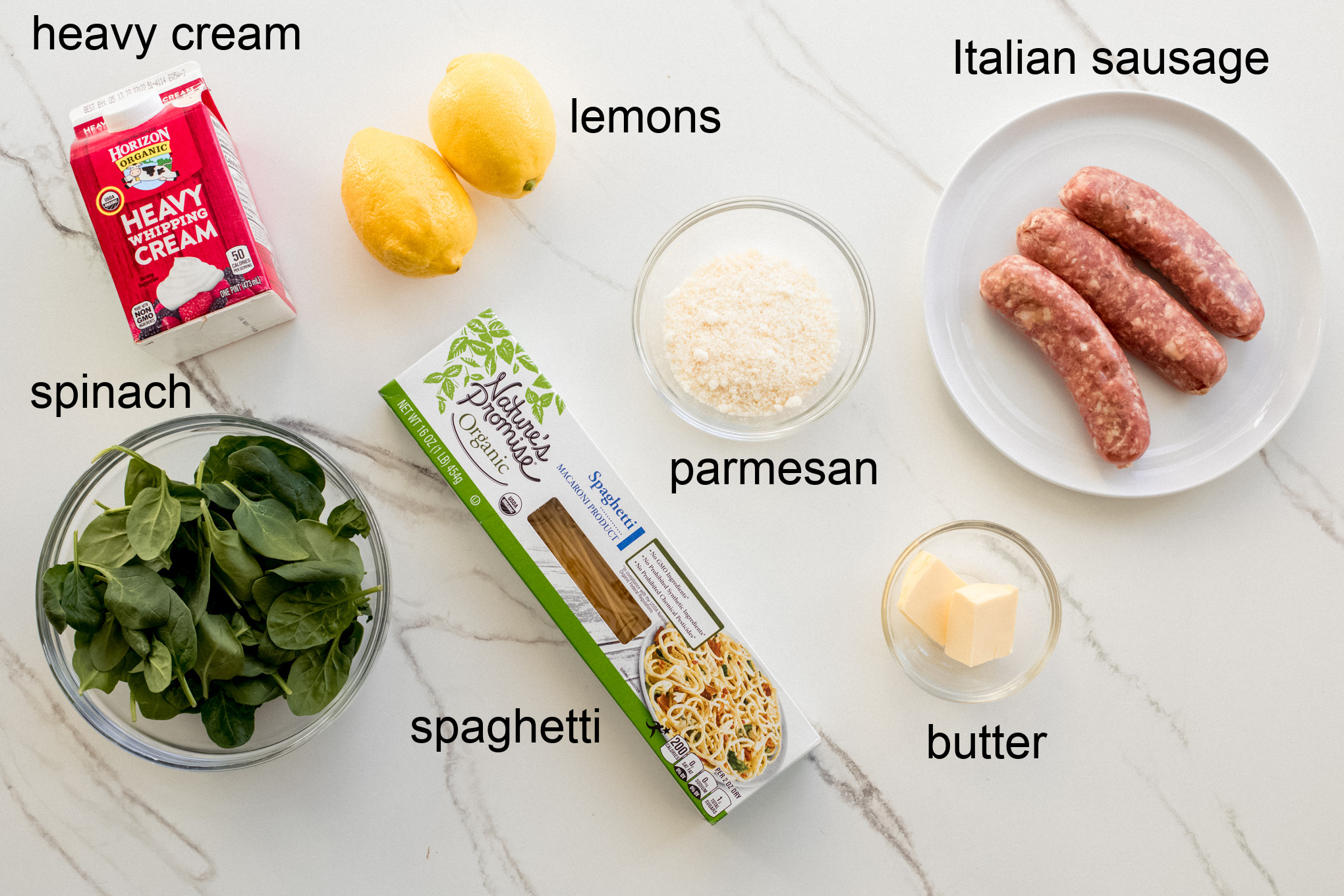 How to Make Lemon Pasta with Ground Sausage
Making a savory lemony sausage pasta only requires a few simple steps, from making the pasta to creating a deliciously luscious sauce and tossing them together before topping it with cheese.
Start by cooking the spaghetti according to the package instructions. Remember to reserve 1/2 cup of pasta water before draining the spaghetti.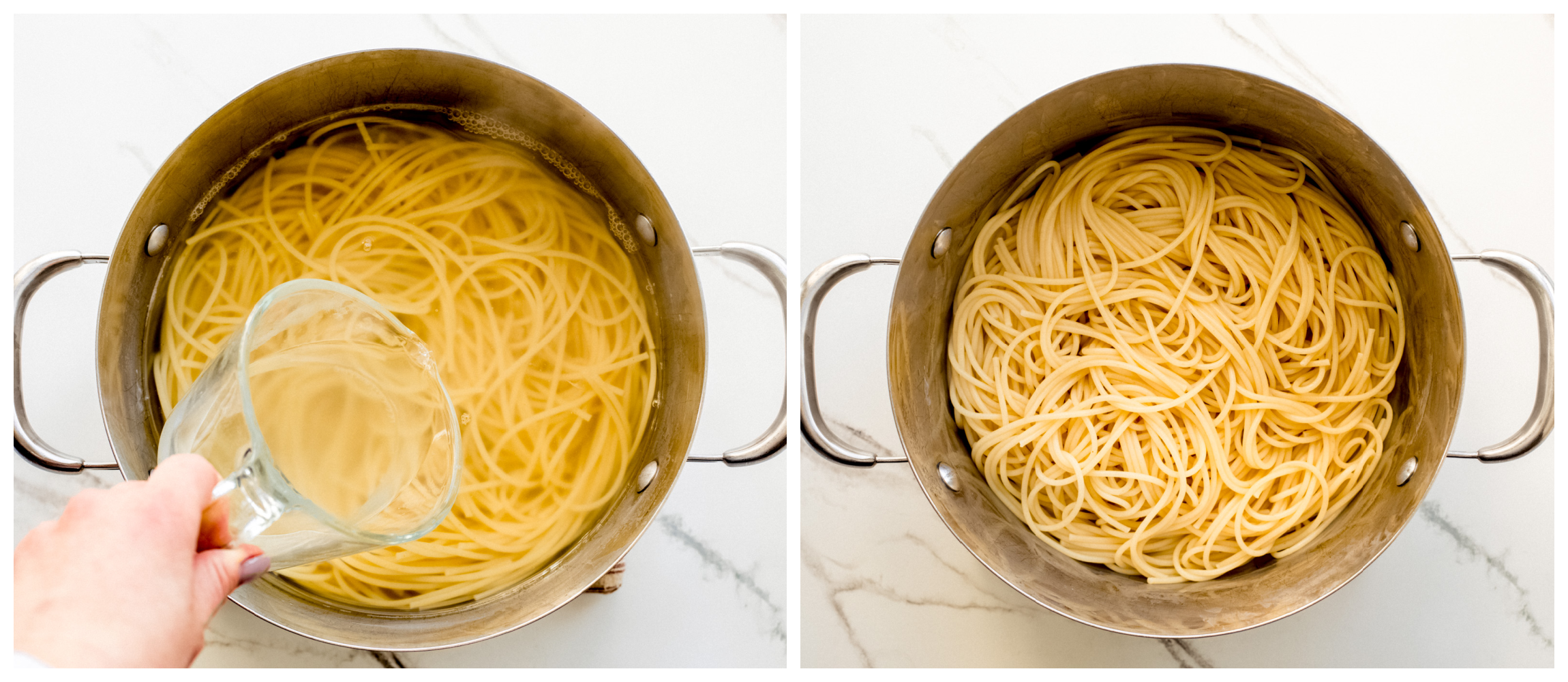 Next, melt butter in a large saute pan. Remove the sausage from its casing, and cook it by stirring and crumbling it until it's no longer pink and lightly browned. Stir in cream and reserved pasta water.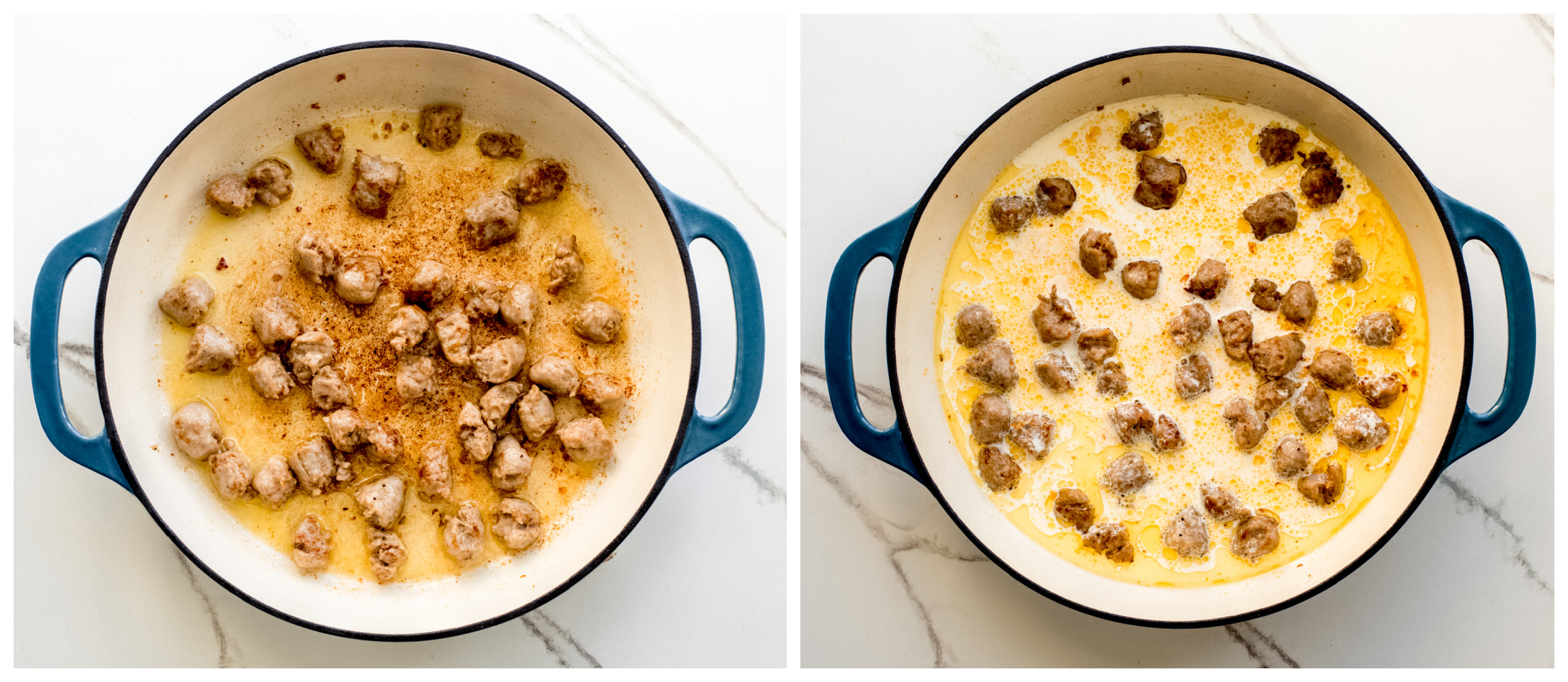 Add spinach and lemon zest, cooking until it wilts. After that, add the cooked spaghetti to the pan and toss everything together. Finish with freshly grated Parmesan cheese on top.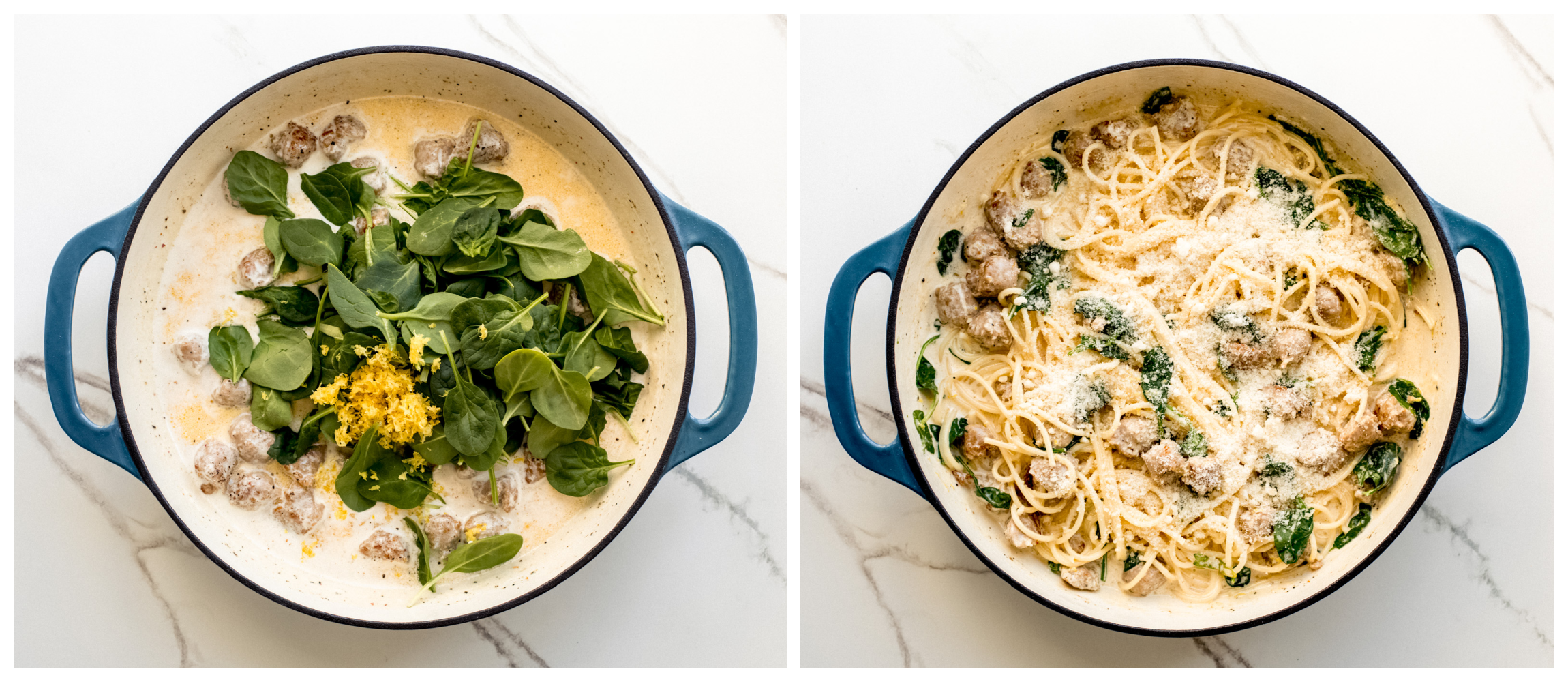 Recipe Tips
Here are some tips to help you perfect your recipe and make your cooking experience more enjoyable!
Cook the pasta al dente. Make sure to cook it until it's al dente, meaning it's cooked but still slightly firm. Overcooked pasta can become mushy and ruin the texture of the dish.
Don't skimp on the lemon zest. The lemon zest adds a bright, citrusy flavor to the dish. Make sure to use a good amount to bring out the lemon flavor.
Add the spinach at the end. To prevent the spinach from becoming overcooked and wilted, add it at the end and let it wilt in the dish's heat.
Variations
If you're a fan of lemony sausage pasta with spinach and want to mix things up, here are some variations to add variety and excitement to your meal!
Make it spicy. Swap out the mild sausage for a spicy variety if you like a little heat. Add red pepper flakes or sliced jalapenos for an extra kick.
Lemon and herb. Add some fresh herbs to the dish, such as basil, thyme, or oregano, along with the lemon zest and juice for an extra layer of flavor.
Add some nuts. For added texture, try tossing some toasted pine nuts or slivered almonds into the dish before serving. They add a nice crunch and a nutty flavor to the pasta.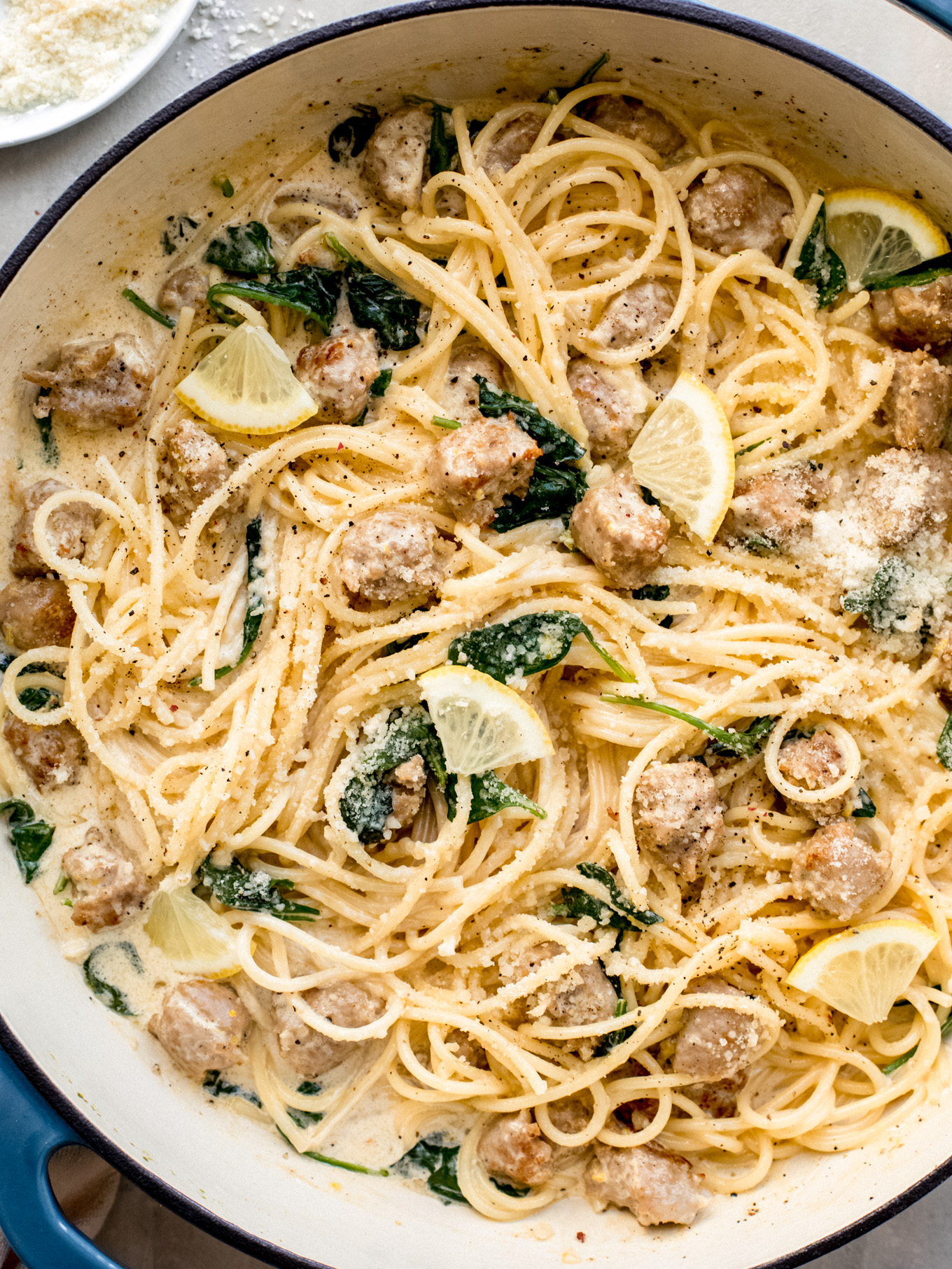 Storing Leftovers
To store leftover creamy spinach and sausage pasta, let it cool to room temperature and transfer it to an airtight container in the refrigerator for up to 3-4 days.
When reheating, add a splash of water or broth to the pasta to help loosen up the sauce, as it may thicken and absorb into the pasta. Heat on the stovetop or in the microwave until heated through.
Frequently Asked Questions
Can I use different pasta?
Yes, you can make this recipe with any pasta you prefer. If you use a hollow pasta like penne, it may soak up more of the sauce, so thin it out with more pasta water and cream if needed.
What can I use instead of spinach?
If you want to switch up the greens, try using kale, swiss chard, or other leafy greens. Spinach cooks much faster, so cook the greens until tender.
Can I use any sausage?
Yes! This recipe uses a mild ground Italian sausage. Alternatively, you can use another pork sausage with different spices and heat levels or swap for chicken sausage. Ground turkey or beef would also work well, but you will want to add some spices because they aren't seasoned like sausage.
More Pasta Dinner Recipes
Print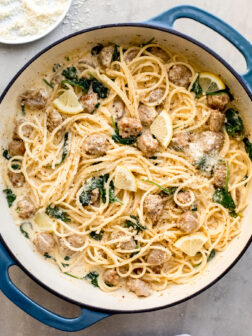 Lemon Sausage Pasta
Author: Katya
Prep Time: 10 mins
Cook Time: 20 mins
Total Time: 30 mins
Yield: 4-6 1x
Category: Main
Method: Stovetop
Cuisine: Italian
---
Description
Creamy lemon sausage pasta with spinach is a 30-minute meal that comes together in a cinch! Made with only a handful of ingredients.
---
8 oz. dry spaghetti
2 Tbsp. butter
10 oz. mild or hot Italian sausage, about 3 links, removed from casing
1 cup heavy cream
1/2 cup reserved pasta water
4 cups baby spinach leaves, packed
1 Tbsp. fresh lemon zest
1/4 cup freshly grated Parmesan cheese
Kosher salt and fresh ground black pepper
---
Instructions
Cook spaghetti in salted water according to package directions. Before draining, reserve 1/2 cup of pasta water.
While the spaghetti is cooking, melt butter in a large saute pan over medium heat. Add sausage and cook, stirring and crumbling until no longer pink and lightly browned, about 8-10 minutes.
To the pan, add heavy cream and 1/3 cup of reserved pasta water. Bring to a simmer and let it slightly thicken for about 1-2 minutes.
Stir in spinach and lemon zest and cook just until wilted.
Add cooked spaghetti and stir to coat with sauce. Stir in Parmesan cheese. Taste and season with salt and pepper. If needed, stir in the rest of the reserved pasta water. Serve immediately.
---
Notes
Pasta: I like spaghetti in this recipe but any other type of pasta, such as penne, fusilli, or farfalle would all work. 
Spinach: Kale or Swiss chard is another great option. You can also add in arugula at the end.
Add-Ins: Feel free to add in any of the following for more flavor: 1 Tbsp. fresh lemon juice, 1/4 tsp. red pepper flakes, 2 minced garlic cloves, 1/2 tsp. dried oregano or Italian seasoning.
Leftovers: Refrigerate leftovers in an airtight container for up to 3-4 days. When reheating, add in a splash of liquid, such as water, cream, or broth to loosen up the sauce.
Nutrition
Serving Size:
Calories: 355
Sugar: 2.2 g
Sodium: 282.2 mg
Fat: 24.5 g
Carbohydrates: 26.7 g
Protein: 10.2 g
Cholesterol: 63.8 mg
Keywords: easy, pasta, creamy
Recipe originally published September 2015.
You May Also Like…