Chopped Greek Salad
Chopped Greek Salad is a delicious vegetable-filled dish with chickpeas, cucumbers, red onions, and red bell peppers. It's topped with a tangy vinaigrette and is perfectly served as a side with dinner.
Best Greek Salad
This chopped Greek salad recipe is a quick and easy side dish or main course. It's easily adaptable to fit the veggies that you already have on hand and is perfect for packing for on-the-go lunches.
Homemade Greek chopped salad is all about the dressing. Inspired by our Greek Salad Dressing. It's a tart salad dressing filled with bold flavors that keep you filling up your bowl over and over again.
This vegetarian dish is an incredible option for people of all kinds of dietary preferences because it's so versatile. Swap out or add more veggies to suit your taste.
What is the Difference Between Greek Salad and Green Salad?
Greek salad is filled with diced vegetables like cucumbers, tomatoes, red onions, olives and always has oregano. It's then covered with a tangy red wine vinegar vinaigrette and tossed together.
Green salad is made mainly with chopped romaine lettuce and then tossed with other vegetables, seeds, nuts, fruit, onions, cheese, or bacon. It's topped with either a creamy dressing or vinaigrette, depending on the style of salad you go with.
What Kind of Dressing Goes with Greek Salad?
The best kind of salad dressing for Greek salad is a combination of fat and acid. This is usually olive oil and red wine vinegar, but it can also be balsamic vinegar, lemon juice, or avocado oil.
Once you have decided on the fat and acid, you can choose what to add. Salt, pepper, finely diced shallots, oregano, thyme, or rosemary are great options.
Whisk this all together and then pour it over the vegetables.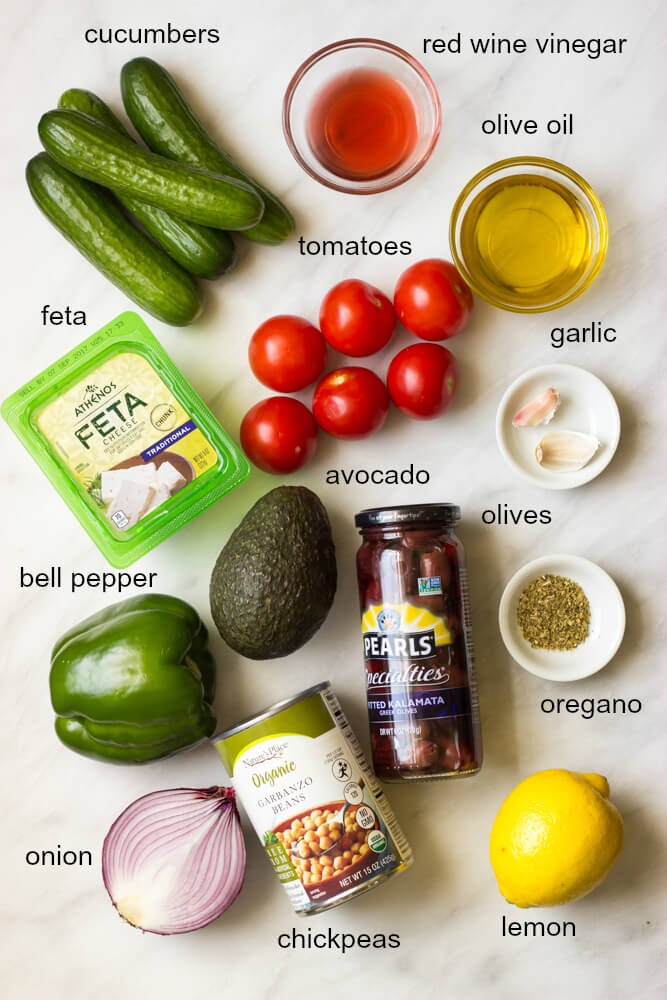 Ingredients
Here are the ingredients for this from-scratch salad. You can easily switch out ingredients in this list if you want to try something different.
Since this salad is centered around vegetables, be sure to get the best quality ingredients you can find so they can really shine.
For the Salad:
Cucumbers: Persian cucumbers taste the best in this recipe.
Tomatoes: Campari tomatoes are bigger than grape tomatoes but smaller than plum tomatoes. They are sweet and perfect in this dish.
Green bell pepper: Feel free to use red, yellow, or orange peppers instead.
Avocado: Creamy avocado is the perfect addition to this crunchy salad.
Red onion: Finely dice the red onions, so you don't get any big pieces in your bites.
Kalamata olives: You can buy olives that are already pitted to save time.
Chickpeas: Drain and rinse the chickpeas before adding them to the salad.
Feta: Use a block of fresh feta for the best flavor.
For the Dressing:
Olive oil: Extra virgin olive oil is classic and works the best in this recipe.
Red wine vinegar: Vinegar adds acidity and brightens up the dressing.
Lemon juice: A little lemon juice complements the other flavors.
Garlic: Finely chop, mince, or grate the garlic, so you don't get any large pieces.
Oregano: Fresh oregano is best, but you can substitute dried if you need it.
Feta: Use a block of feta if possible. It's going to taste the best.
Salt and black pepper: Salt enhances the other flavors, and freshly ground black pepper adds a bit of spice.
How to Make Chopped Greek Salad
This gluten-free salad is incredibly easy to make, and you can have it ready to go in under 15 minutes.
Whisk the dressing ingredients in a bowl.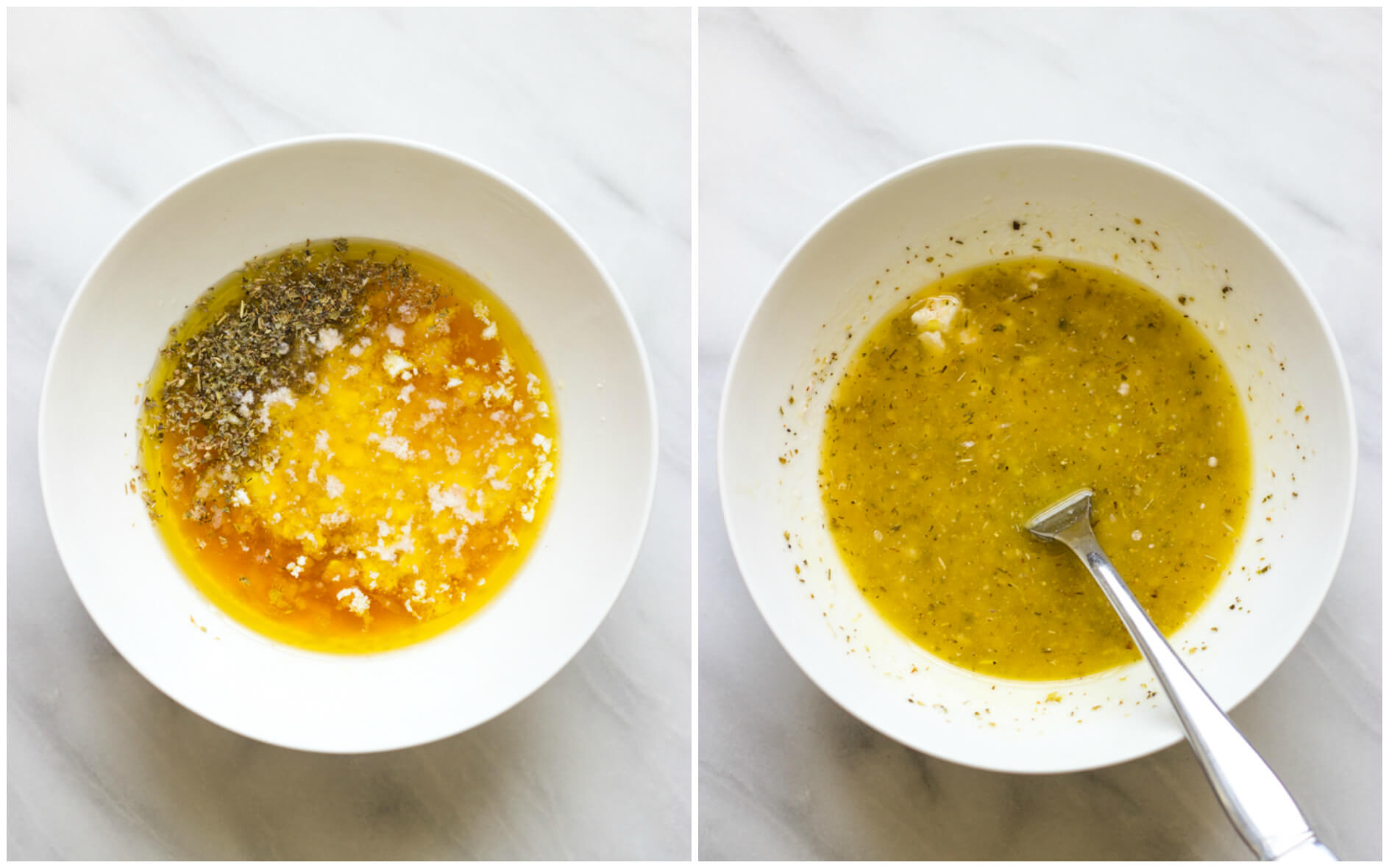 Chop the vegetables and add them all to a large bowl. Pour the dressing over the salad. Toss and serve immediately.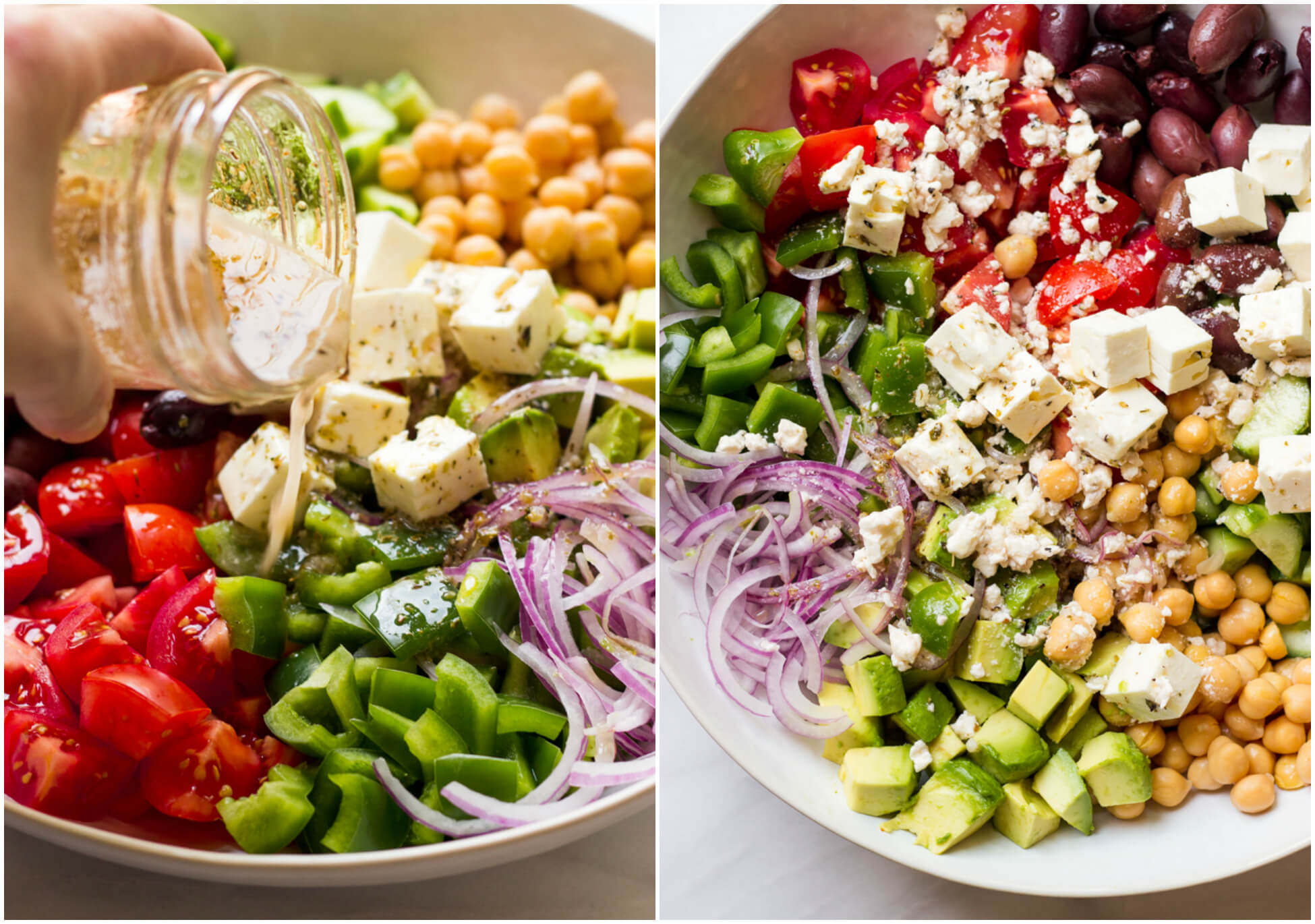 How Long Will Greek Salad Last in the Fridge?
If you have any leftover salad, you can keep it in the refrigerator in an airtight container for up to three days.
After this, the vegetables will get soggy. It will still taste good, but the texture won't be the same.
It's also not a great idea to freeze this salad for later. The vegetables won't thaw with the same crispness that it has when the salad is fresh.
Serving Suggestions
You can make this salad the main dish or serve it as a side dish. Some meals that you can serve this Greek salad with are: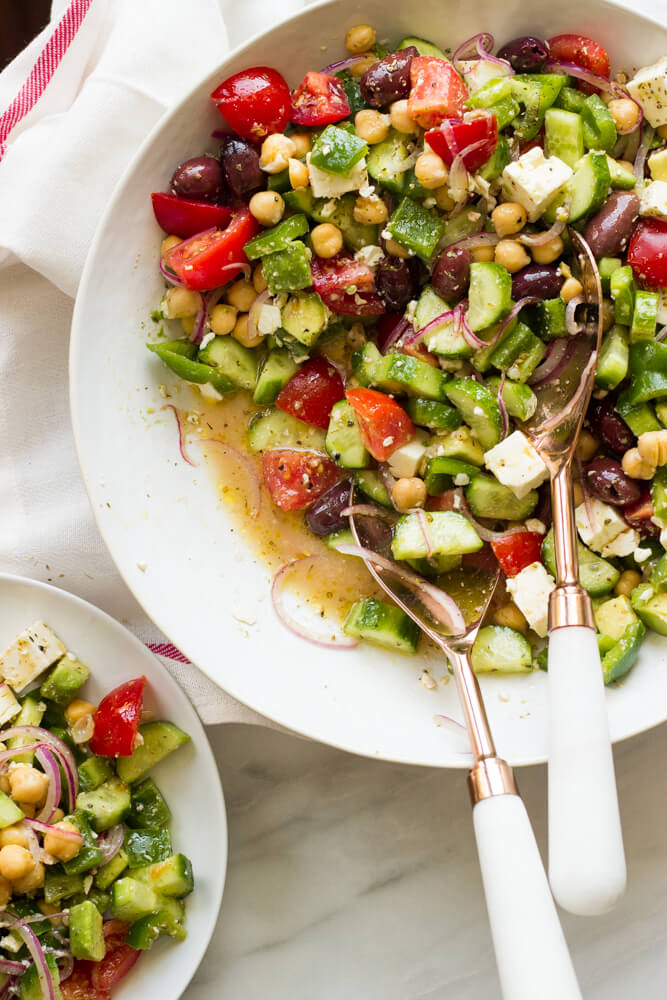 The Best Way to Meal Prep Greek Salad
Now, if you want to make this salad ahead of time and save it for later, there's an effortless way to do this.
Simply chop the vegetables and put them into a container in the fridge. Then whisk the dressing together and store it in its own container in the refrigerator.
When you're ready to eat the salad, whisk the dressing again since it will separate, and then pour it over however much salad you want to eat.
Tips for Making Greek Salad
Here are some tips for making the best Greek salad:
Use fresh feta cheese from a block rather than pre-crumbled feta. It's fresh and better tasting.
Be sure to chop your vegetables into similar size so each bite is consistent. That way you get a little bit of everything in each bite.
Make sure your olive oil and red wine vinegar is fresh and not expired. You can typically use these about one year from the date you opened the bottles.
Video: How to Make Chopped Greek Salad
Love Greek Salad? Try these other variations:
Print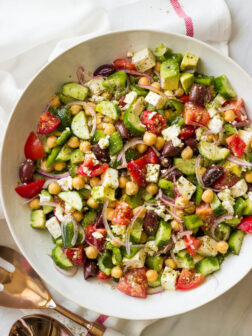 Chopped Greek Salad
Author: Katya
Prep Time: 15 mins
Total Time: 15 mins
Yield: 6 1x
Category: Salad
Method: Chop
Cuisine: Greek
---
Description
Chopped Greek salad with avocado just has to be the best salad in my book! I mean there's nothing not to love.
---
4 Persian cucumbers or 1 seedless, chopped
6 Campari tomatoes, chopped or quartered
1 green bell pepper, seeded and chopped
1 avocado, chopped
1/2 cup red onion, thinly sliced
1/2 cup pitted Kalamata olives
1 (15 oz.) can chickpeas, drained and rinsed
8 oz. feta chunk, preferably in brine, divided (see note)
Vinaigrette
1/4 cup extra-virgin olive oil
2 Tbsp. red wine vinegar
1 lemon, juiced
2 garlic cloves, minced or pressed
1 tsp. dried oregano
1/3 cup crumbled feta (see note)
Kosher salt and black pepper, to taste
---
Instructions
In a large salad bowl, combine all salad ingredients.
For the vinaigrette, in a small bowl whisk together all ingredients. Season with salt and pepper, to taste.
Pour the vinaigrette over the salad and gently toss to combine. Taste for salt and pepper. Serve immediately.
---
Notes
Tomatoes: Campari tomatoes are juicy, sweet, and are larger than a cherry tomato but smaller than a plum tomato.
Feta: You're going to crumble 1/3 cup feta from the 8 oz. chunk to use in the vinaigrette and then dice the rest to use in the salad.
Nutrition
Serving Size:
Calories: 387
Sugar: 6.9 g
Sodium: 724.9 mg
Fat: 28.2 g
Carbohydrates: 24.8 g
Protein: 12.9 g
Cholesterol: 41.1 mg
Keywords: easy, chopped, authentic, Greek, fresh, healthy
Recipe originally published April 2017.
You May Also Like…