Quinoa Salad with Feta
Simple, yet flavorful quinoa salad with feta, edamame, spinach, and fresh herbs, tossed in a zesty lemon ginger dressing. It's a delicious side or turn it into a healthy lunch by adding your favorite protein.
Jump to:
This quinoa salad with feta is fluffy, chewy, and full of fresh vegetables. It's tossed in a bright citrus ginger dressing. The feta adds another level of flavor in contrast with the quinoa, spinach, and dressing.
This is an affordable and delicious recipe, just like our Mediterranean bean salad, that makes for a zesty summer salad. Switch up some of the add-ins with seasonal veggies for an endless array of possible quinoa salad recipe ideas.
If you love cold quinoa salad recipes then this Easy Quinoa Salad is another one to try. These salads made with quinoa are perfect for meal prep, lunch boxes, and a great side for cookouts.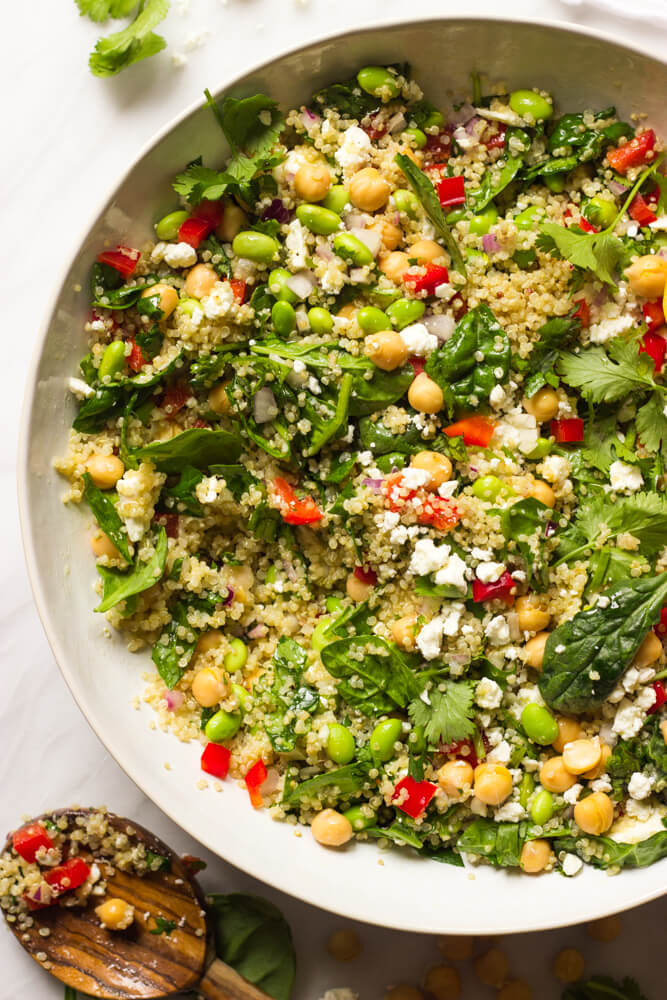 Reasons to Love Quinoa Salad with Feta
Easy – This recipe only requires the simplest of steps for such a tasty salad.
Fresh – Made with spinach, cilantro, edamame, red onions, bell peppers, and feta then tossed in a citrus dressing, this quinoa chickpea salad is full of fresh bright flavors.
Texture – The best part of this quinoa salad with feta cheese is the texture! The quinoa is soft, fluffy, with a slight chewiness and is mixed with buttery garbanzo beans and crunchy vegetables.
Flavor – One of my favorite dressings is a combo of lemon juice and olive oil. This summer quinoa salad also has ginger that adds aromatics and makes for a very bright, flavorful dressing. Plus, the red onions and other ingredients all add to the layers of flavors that you can taste in this cold salad with quinoa recipe.
Ingredients
This is the best quinoa salad recipe that is loaded with fresh veggies for a cool, crunchy, soft side dish with a simple but flavorful dressing.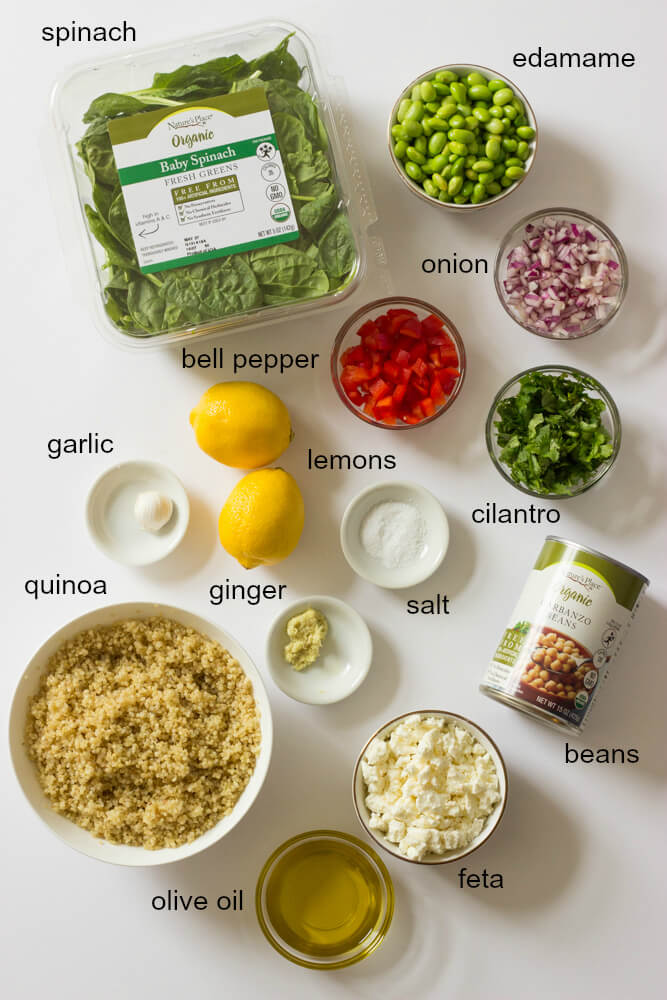 Quinoa – this is a great recipe to use up leftover quinoa
Edamame – cooked and cooled
Spinach – fresh baby spinach
Red bell pepper – use any color bell pepper, but red pepper is a bit milder and sweeter than a green bell pepper
Red onion – this is a bolder flavor that compliments the dressing and chewy quinoa with its crunchy, pungent taste
Garbanzo beans – or chickpeas add a buttery, nutty flavor to the quinoa salad
Cilantro – this has a strong tangy citrus flavor – substitute for parsley if preferred
Feta cheese – the star of the recipe, feta is rich and tangy and adds creaminess to each bite
Dressing – the dressing for this zesty quinoa salad is a light vinaigrette using extra virgin olive oil, lemon, garlic, ginger, salt and pepper
See the recipe card for quantities.
Variations
There are no limits to the possible variation of ingredients in this quinoa salad with spinach and feta recipe. Here are a few ways to change up this salad.
Quinoa Salad with Blue Cheese – Make a few quick swaps of ingredients for a simple variation to this quinoa salad. Bleu cheese for feta, kale instead of spinach, and pine nuts instead of garbanzo beans.
Rice Salad with Feta – If you want to try this salad but don't have quinoa, or simply not a fan of it, try switching the quinoa for brown rice.
Summer Squash Quinoa Salad – Follow the recipe but use summer squash, fresh or cooked, instead of edamame.
How to Make Quinoa Salad with Feta
This is a simple quinoa salad loaded with freshly chopped vegetables and feta cheese all tossed in a bright, zingy lemon ginger dressing. Cook, chop, and dress the salad, that's it!
Prepare the salad ingredients: Chop veggies, cook and cool quinoa and edamame, and drain chickpeas.
Make the dressing: In a small bowl, whisk the dressing ingredients well and set them aside.
Combine together: To a large bowl, add the salad ingredients. Pour the dressing over and toss well to combine. Cover the salad bowl and chill for 20-30 minutes before serving.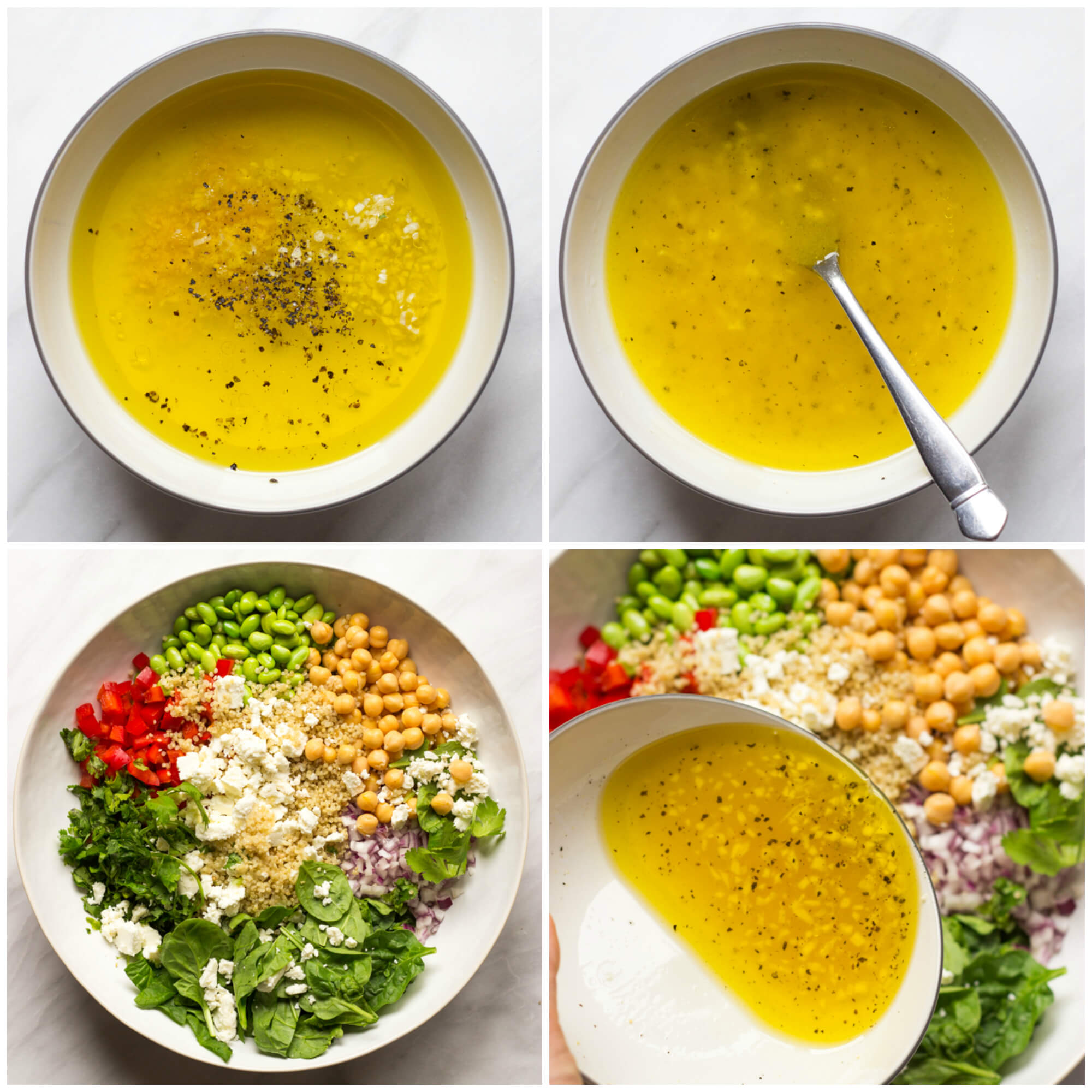 Recipe Tips & Notes
Make this easy quinoa salad right the first time with a few tips for preparing the quinoa and storing the salad.
Measure the cooked quinoa. I recommend this step even when measuring the dry ingredients. Measuring the quinoa after it is cooked will be more accurate for recipes.
Quickly cool quinoa. The best method for cooling quinoa is to spread it on a lined baking sheet and place it in the refrigerator or freezer for a few minutes.
Fix overcooked quinoa. Is your quinoa mushy and overcooked? Try spreading the quinoa on a baking sheet and placing it in a preheated 300-degree oven for 8-10 minutes. This should help dry up the water-logged quinoa.
Cool quinoa before mixing. Hot quinoa will absorb all the dressing and leave you will a dry quinoa salad. Instead, allow the quinoa to cool before tossing in the vinaigrette.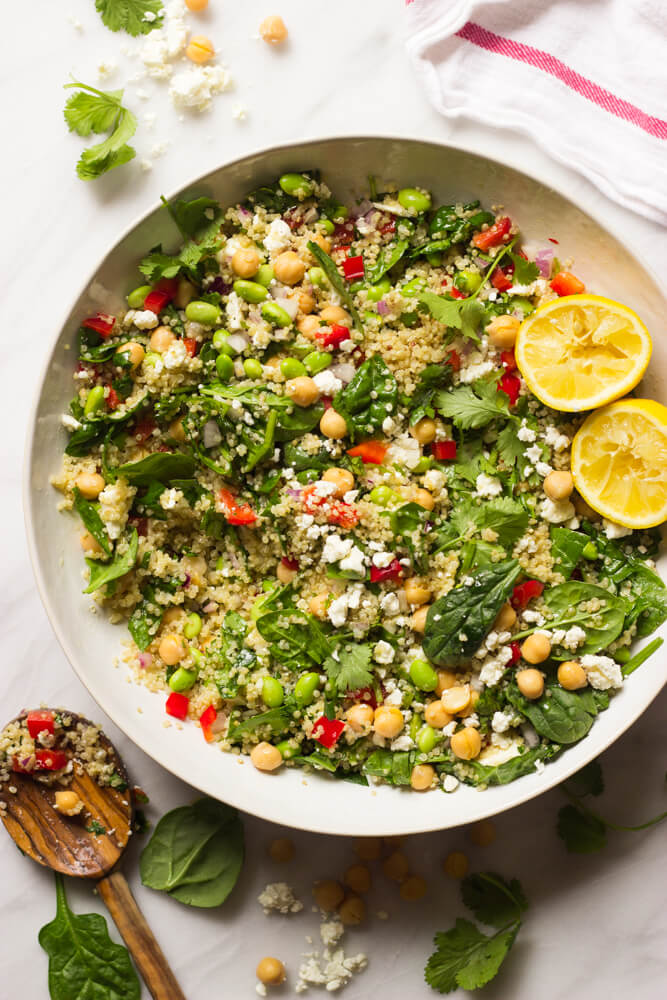 How to Serve
This is a versatile recipe that can be served as a side dish, or you can pair it with your protein of choice, such as Lemon Pepper Chicken or Garlic Shrimp for a wholesome meal.
If serving salad as a side dish, try these entrees:
Storing Leftover Quinoa Feta Salad
Leftovers: Store leftovers in an air-tight container for up to 3-5 days in the refrigerator. If making ahead of time, mix all the ingredients together, minus a portion of the dressing. When ready to serve, toss in the remaining dressing for freshness.
To meal prep: Divide the recipe into individual servings in meal prep containers and pair with protein, fresh fruit, and nuts.
To freeze: Freeze undressed quinoa in an air-tight freezer-safe bag or container. I don't recommend freezing salad with dressing.
Recipe FAQs
How long does quinoa feta salad last in the fridge?
Quinoa feta salad will last in the fridge for up to 3-5 days when stored in an airtight container.
Is quinoa feta salad high in calories?
This quinoa feta salad has approximately 345 calories in a 1-cup serving.
Does quinoa need to be rinsed before cooking?
There's no need to rinse quinoa for this recipe unless you're sensitive to saponin, which is quinoa's natural coating that can cause a bitter or soapy taste. Also, boxed quinoa is often pre-rinsed.
More Quinoa Salad Recipes
Print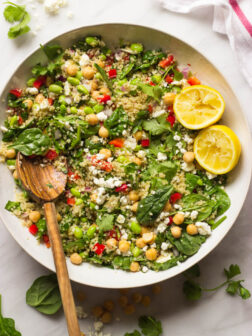 Quinoa Feta Salad
Author: Katya
Prep Time: 20 mins
Total Time: 20 mins
Yield: 8 1x
Category: Salad
Method: Chop
Cuisine: Asian
---
Description
Simple, yet flavorful quinoa salad with edamame, spinach, fresh herbs, and feta cheese, tossed in a zesty lemon ginger dressing. 
---
3 cups cooked quinoa*, cooled
8 oz. cooked edamame
4 cups baby spinach, lightly packed and roughly chopped
1/2 cup red bell pepper, chopped
1/2 cup red onion, finely chopped
1 (15 oz.) can garbanzo beans, drained and rinsed
1/2 cup fresh chopped cilantro
1 cup crumbed feta cheese
Dressing
1/2 cup extra-virgin olive oil
1/3 cup fresh lemon juice (approx 2 lemons)
1 garlic clove, minced
1 tsp. grated fresh ginger
1 1/2 tsp. kosher salt
Black pepper, to taste
---
Instructions
In a small bowl or jar with a lid, whisk all the dressing ingredients together until combined.
For the salad, combine all ingredients in a large bowl. Pour the dressing over the salad and toss until blended. Cover the salad and chill for 20-30 minutes before serving.
---
Notes
Quinoa: 1 cup dry quinoa = about 3 cups cooked quinoa. I recommend measuring out cooked quinoa for accuracy. To cool the quinoa quickly – transfer to a bowl and place in the freezer and toss occasionally until cooled. Do not use hot quinoa or it will soak up a lot of the dressing and the salad will be dry.
Leftovers: Refrigerate leftover salad in an airtight container for up to 3 days.
Nutrition
Serving Size: 1 cup
Calories: 345
Sugar: 3 g
Sodium: 783.3 mg
Fat: 21.9 g
Carbohydrates: 27.9 g
Protein: 12.3 g
Cholesterol: 16.7 mg
Keywords: side, meal prep, meatless
Recipe was originally published February 2018