Chicken Gyros
Super flavorful chicken gyros, marinated in my go to 4-ingredient marinade, and grilled until tender juicy. Served with warm pita, simple cucumber tomato salad, and creamy tzatziki sauce.
Chicken Gyro Recipe
Make these chicken gyros next time you're firing up the grill. They are 100% family-approved and come together fairly quickly. The trick is to prep your salad and tzatziki sauce while the chicken marinates.
The chicken is quickly marinated in the most flavorful marinade and then grilled until tender and juicy. It's served with cool cucumber tomato salad in warm naan bread, and a drizzle of zesty tzatziki sauce.
It's a meal that will wow anyone. Not to mention leftovers make the yummiest deconstructed gyro salad.
Ingredients
Here are the ingredients for these quick and easy Greek chicken gyros.
Chicken
Chicken thighs
Extra virgin olive oil
Lemon juice and lemon zest
Garlic
Oregano
Salad
Cucumber
Tomatoes
Red onion
Fresh parsley
Olive oil
Lemon juice
Tzatziki Sauce
Greek yogurt
Cucumber
Garlic
Fresh dill
Lemon juice
Olive oil
Serve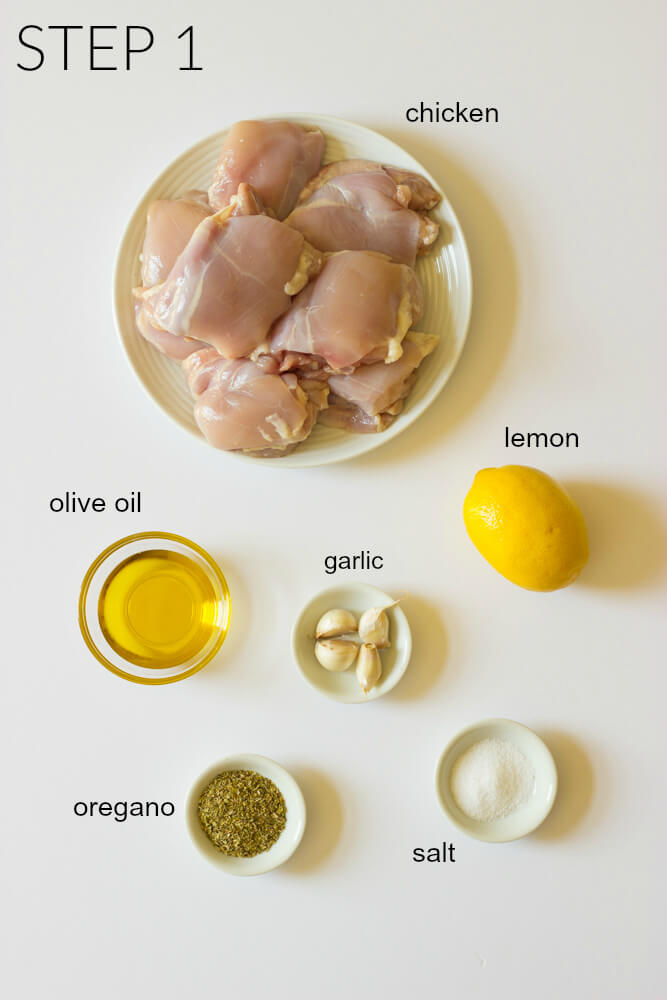 Gyro Seasoning
The chicken gyro seasoning is very simple in this recipe. It's basically the chicken marinade that makes up most of the flavor. Fresh lemon juice, olive oil, garlic, and dried oregano.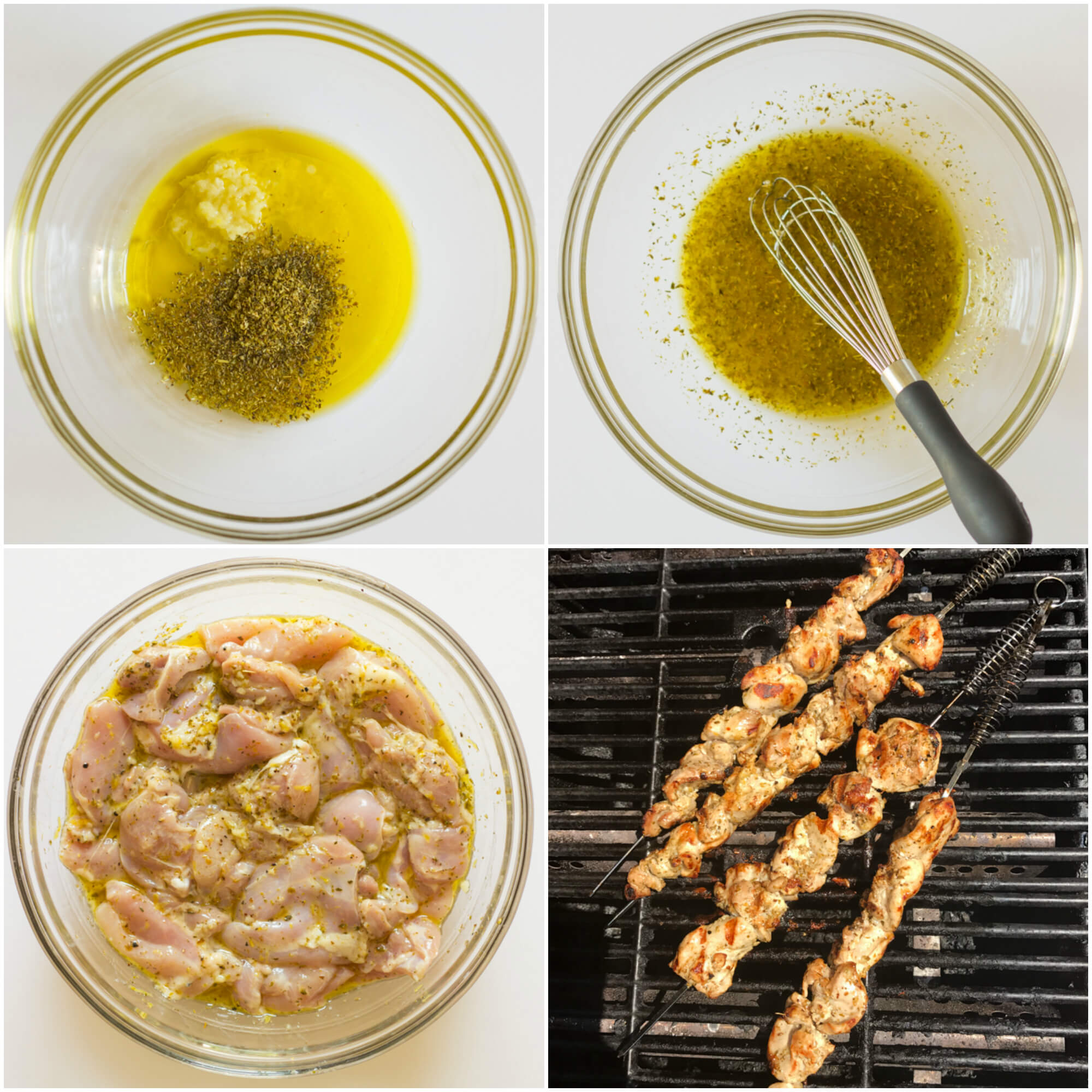 How to Make Chicken Gyros
First, you'll want to make the chicken marinade by whisking together the olive oil, lemon juice, garlic, and oregano. Marinade the chicken for about 30 minutes before grilling.
Next, prepare the cucumber tomato salad by chopping and combining all of the ingredients in a bowl.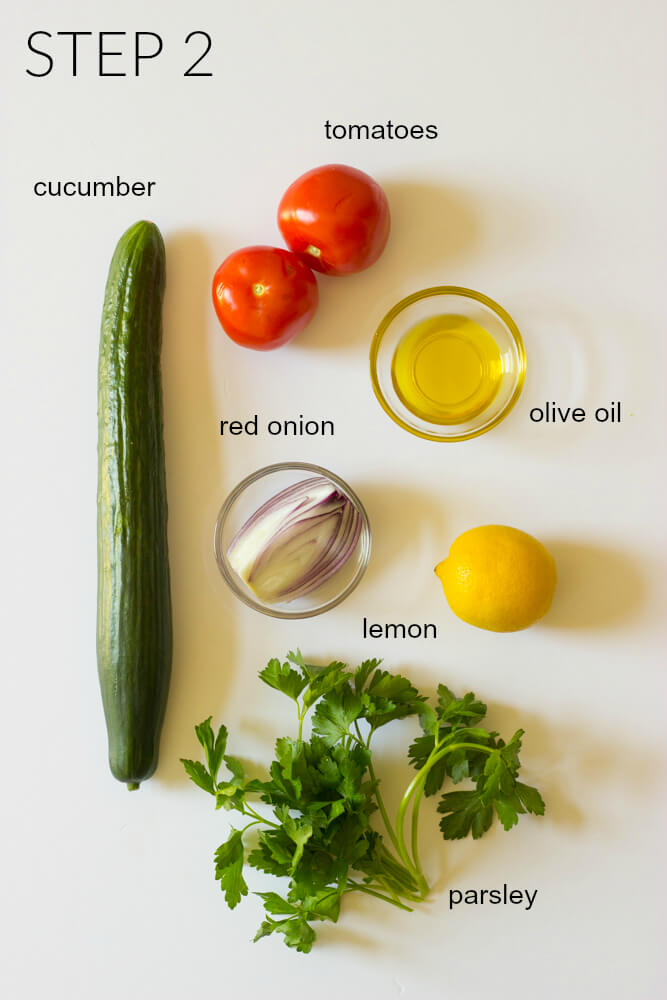 Also, make the tzatziki sauce by combining the ingredients in a bowl. Refrigerate before serving.
Lastly, remove the chicken from the marinade and grill it on a hot grill. Serve with salad and tzatziki sauce in warm naan bread.
Tips for Making Greek Gyro Recipe
Do not let the chicken marinate for longer than 30 minutes, otherwise, the lemon juice will break down the chicken and it will become tough when cooked.
Use the best quality chicken thighs. You want all the fat and flavor.
The trick to really smooth tzatziki sauce is to really strain the cucumbers of their juices before mixing in with the yogurt. That way it will stay super creamy instead of watered down.
If you have leftovers, make a deconstructed gyro salad the next day.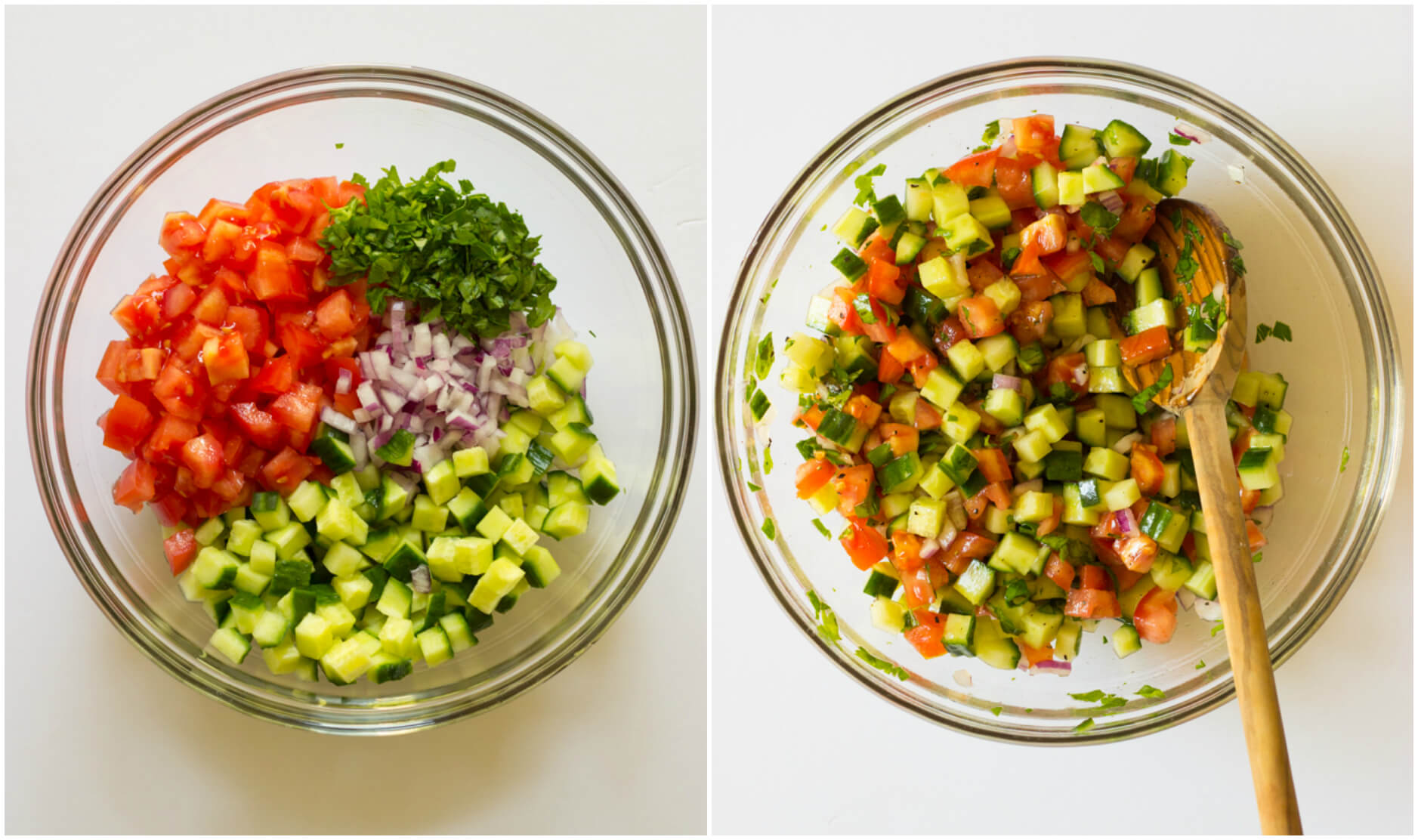 What other types of protein can I use?
You can use other kinds of meat besides chicken in this dish. Some of the most common are lamb, beef, chicken breasts, or pork. Each of these meats is a delicious option for gyros.
Marinate the one you choose and grill it on skewers or bake in the oven on a baking sheet.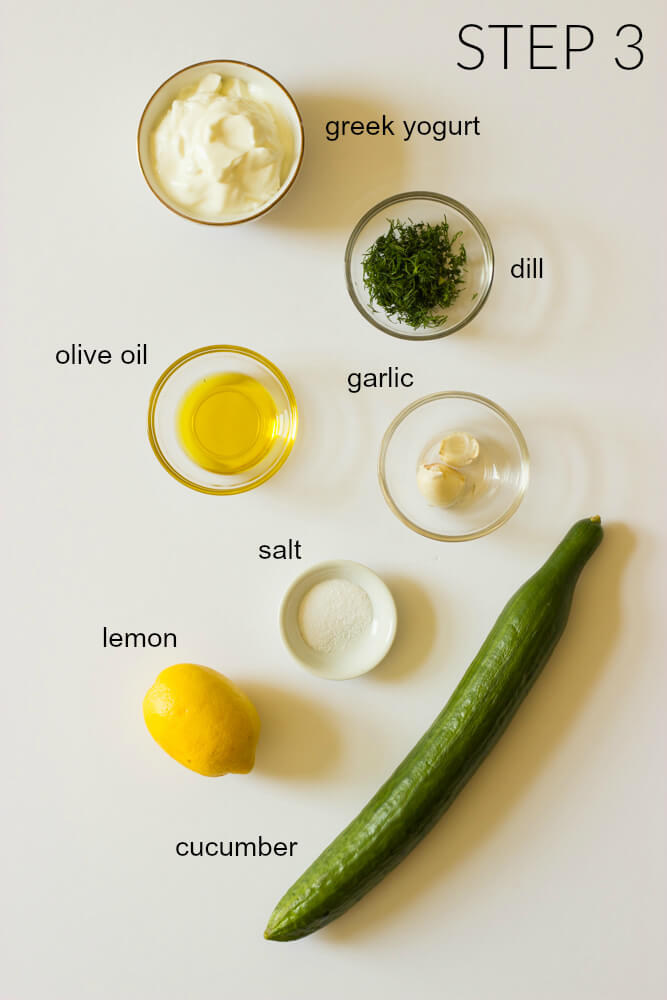 How to meal prep chicken gyros
Greek chicken gyros are the perfect meal to make in advance for dinner later in the week. Since there are three different parts to this recipe, you can make and keep them all separate until you're ready to eat.
Prep the chicken and combine it with the marinade. Cook as directed and then keep stored in an airtight container for up to three days.
Chop the ingredients for the salad and put them in an airtight container in the fridge for up to three days.
Combine the ingredients for the tzatziki and keep it in a container in the fridge for up to five days.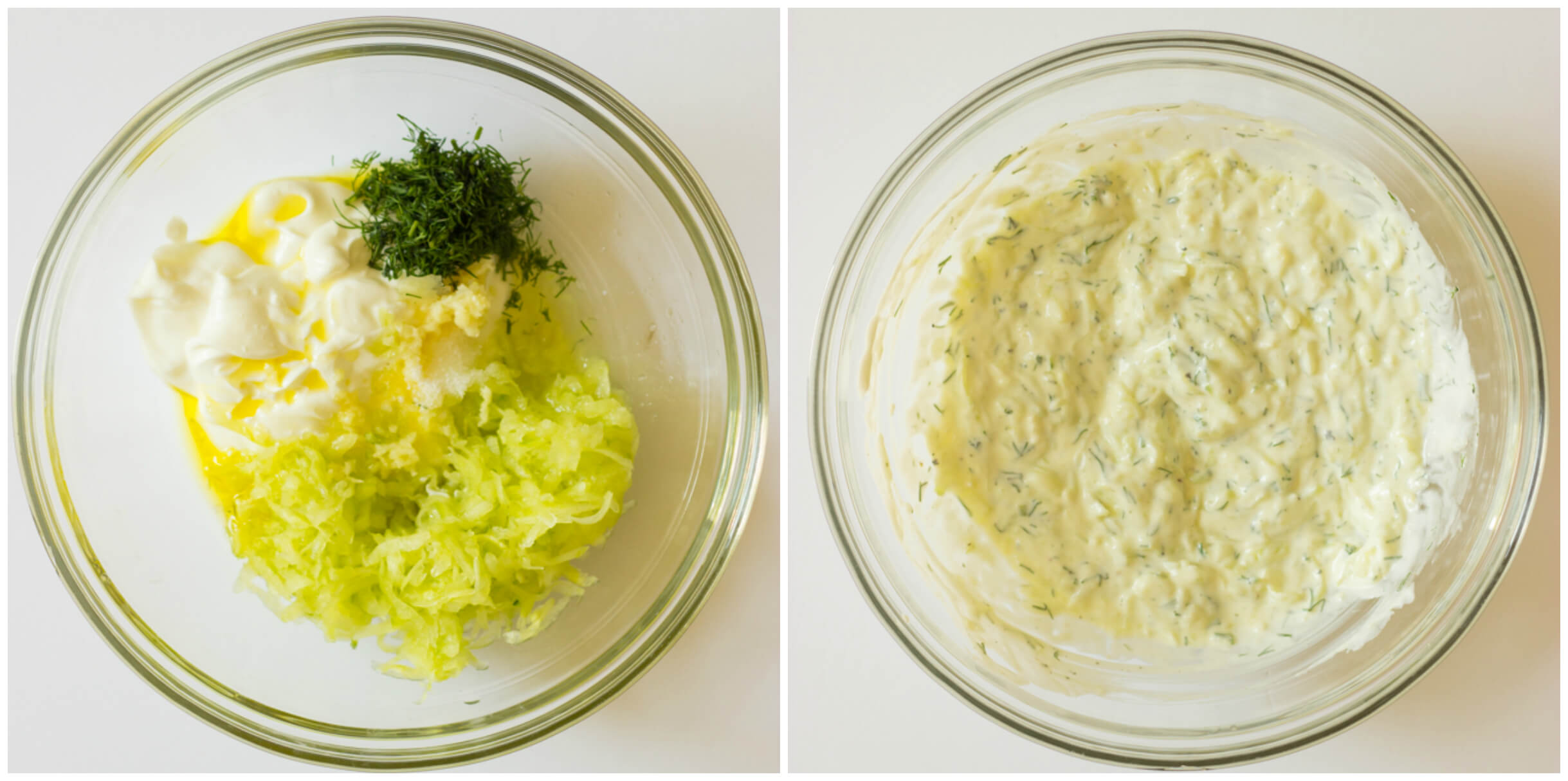 What goes well with chicken gyros?
Some great side options include:
Don't forget dessert!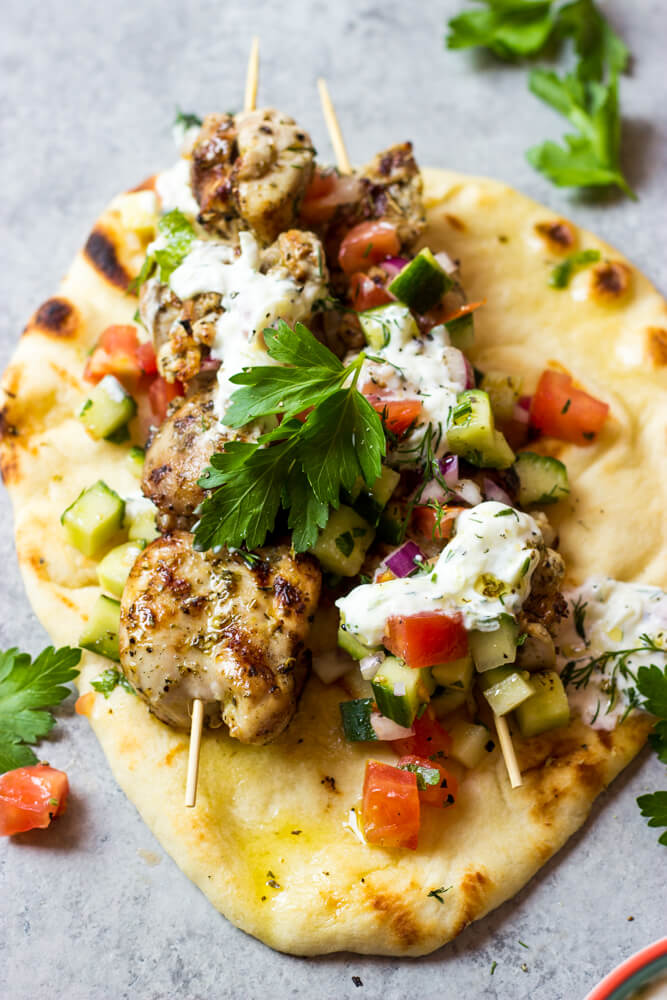 How to store
Refrigerator: Store each of the components of this dish in separate containers in the fridge for up to three to five days. Reheat the chicken in a microwave or stovetop and serve with cold salad and tzatziki sauce.
Freezer: You can freeze the cooked chicken in a large freezer bag for up to three months. I do not recommend freezing the salad or tzatziki sauce.
FAQs
What kind of bread is used for a gyro?
The best bread for gyros is pita bread or naan. You want it big enough to serve the chicken, salad, and tzatziki wrapped.
How is gyro pronounced?
This word is not native English, so you may not be sure how it's pronounced. It's pretty easy actually: "YEE-roh." You may even hear it sound like "hero."
What's the difference between chicken souvlaki and chicken gyro?
Traditional Greek dishes are typically made differently than we make them in our homes. Here are the authentic ways to make these dishes.
Souvlaki is marinated chicken grilled on a skewer and served on a skewer in a pita.
Gyros are made by stacking meat on a vertical skewer and cooking it in a rotisserie. 
Video: How to Make Chicken Gyros
Print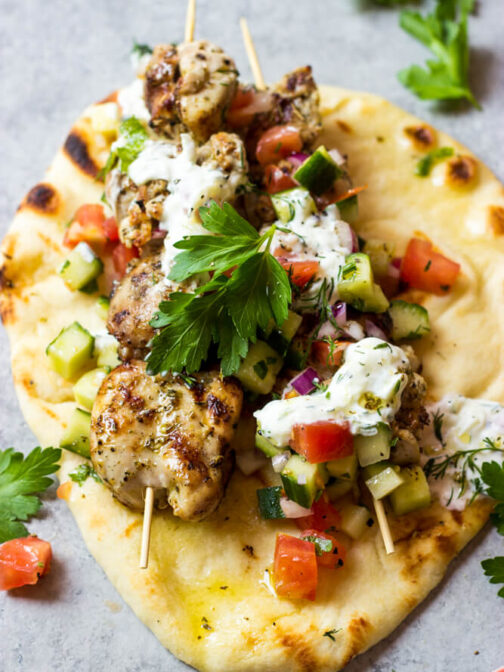 Chicken Gyros
Author: Katya
Prep Time: 20 mins
Cook Time: 15 mins
Total Time: 35 mins
Yield: 4-6 1x
Category: Dinner
Method: Grilling
Cuisine: Greek
---
Description
Chicken gyros marinated in a 4-ingredient marinade, grilled, and served with cucumber salad and tzatziki sauce. The best chicken gyro recipe out there!
---
Chicken
2 pounds boneless, skinless, chicken thighs, cut into 2-inch chunks
1/4 cup olive oil
1 lemon, juiced + zested (about 1/4 cup juice)
4 cloves garlic, pressed
1 Tbsp. dried oregano
1 1/2 tsp. kosher salt
black pepper, to taste
Salad
1 English cucumber, diced
2–3 tomatoes on the vine, diced
1/4 cup finely chopped red onion
2 Tbsp. finely chopped fresh parsley
2 Tbsp. olive oil
1 Tbsp. fresh lemon juice
kosher salt and black pepper, to taste
Tzatziki Sauce
1 cup full fat plain Greek yogurt
1 English cucumber, peeled, grated, and strained really well of juices
1–2 cloves garlic, pressed
3 tsp. finely chopped fresh dill
2 Tbsp. fresh lemon juice
3 tsp. olive oil
1/2 tsp. kosher salt
black pepper, to taste
to serve, pita or naan bread, warmed
---
Instructions
Chicken
In a large bowl, combine olive oil, lemon juice, zest, garlic, oregano, and salt. Season with black pepper, to taste. Add chicken to the bowl tossing to coat evenly and let marinate for 30 minutes at room temperature. (note: while the chicken marinates prepare the salad and tzatziki sauce).
Thread the chicken onto skewers. Lightly grease the grilling surface and grill the skewers in a hot grill for about 3 minutes per each of the 4 sides or until fully cooked through.
Remove chicken from the skewers and serve in warmed pita or naan bread with salad and tzatziki sauce.
Salad
In a medium bowl, combine all ingredients. If not serving immediately, cover and refrigerate.
Tzatziki Sauce
In a medium bowl, combine all ingredients. If not serving immediately, cover and refrigerate.
---
Notes
Recipe originally published May 2017
Nutrition
Serving Size: 1 gyro with salad and tzatziki
Calories: 540
Sugar: 6 g
Sodium: 972.7 mg
Fat: 24 g
Carbohydrates: 45.9 g
Protein: 40 g
Cholesterol: 144.5 mg
Keywords: summer, grill, juicy, Greek
Nutrition does not include the pita or naan bread