Adobo Chicken Tacos
Adobo chicken tacos are a quick and easy meal with a spicy and smoky flavor. They are made with ground chicken, chipotle peppers in adobo sauce, lime juice, and Mexican seasonings.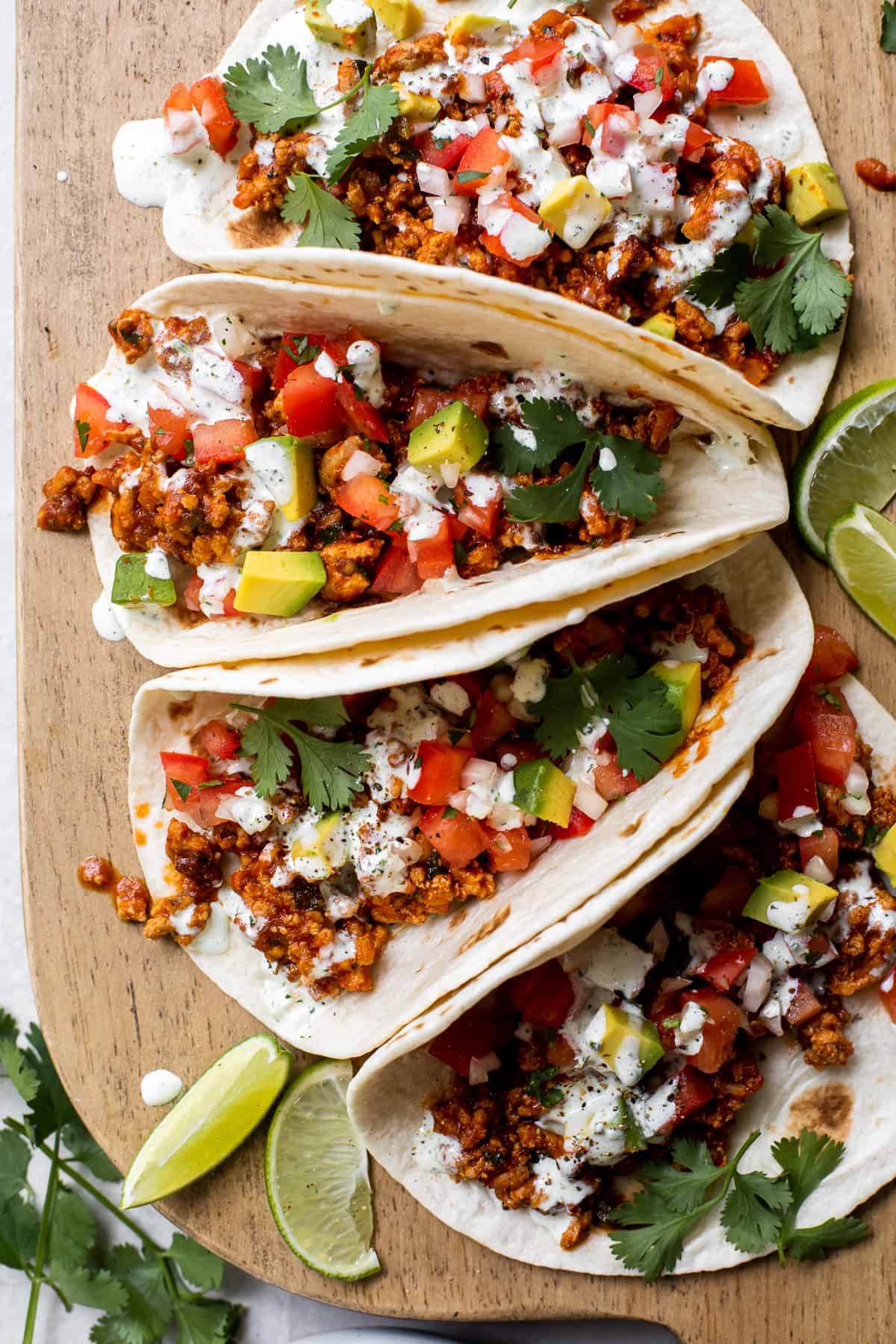 What are Adobo Chicken Tacos? 
This chicken taco recipe is an easy weeknight meal that features the smoky flavors of chipotle sauce with a refreshing lime juice counterbalance.
Topped with your favorite ingredients, including fresh salsa, diced avocado, and sour cream. This is definitely a dish your whole family will love.
These tacos pair well with many other tex-mex side dishes and are ready to eat in under an hour.
Ingredients
Avocado oil: You can use any neutral oil that you'd like here.
Ground chicken: You should be able to find ground chicken in the meat section of the grocery store. If you can't find it, you can use diced chicken breasts or thighs instead.
Red onion: Shallots or white onion can be used instead.
Cumin: Cumin powder come from the seed of a plant and is commonly used in Mexican food.
Chili powder: Chili powder combines different ground peppers combined into one bottle.
Dried oregano: Dried oregano works well with the other seasonings in this dish.
Garlic: Make sure the garlic is fresh and not dried out after peeling it.
Tomato sauce: Canned tomato sauce adds rich tomato flavor to the dish.
Chipotle peppers: Canned chipotle peppers in adobo sauce has a wonderful smoky flavor that brings this dish to life.
Water or Chicken broth: Use the best chicken broth you can find at the store or make it at home for the best flavor. Water works great here too.
Lime juice: Fresh lime juice works best in this recipe.
Cilantro: Cilantro adds bright color and flavor.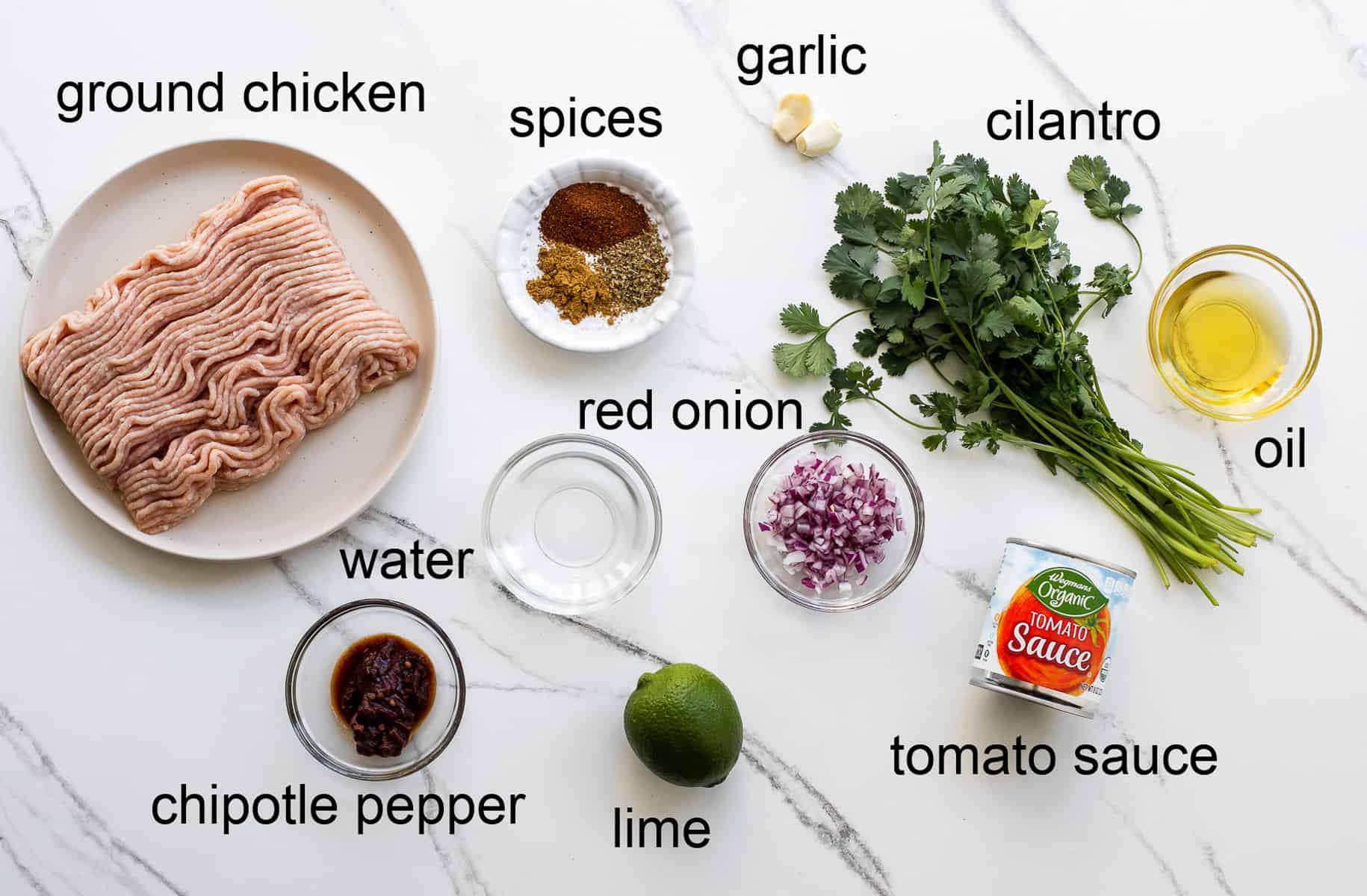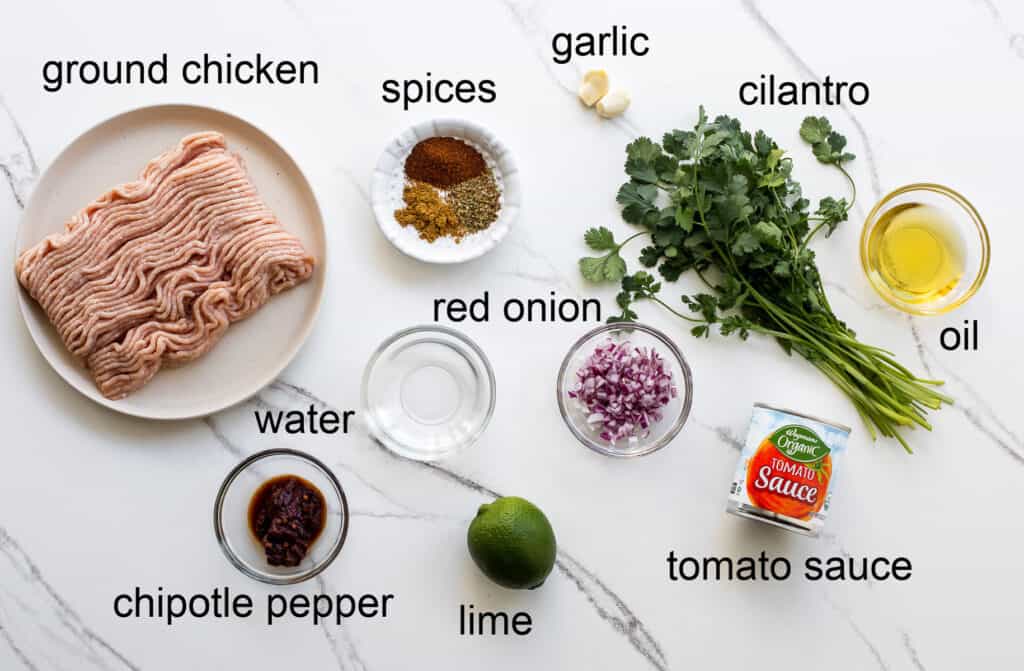 Using Chicken Thighs or Breast
This recipe calls for ground chicken which is perfect for making each bite consistent and delicious. However, you can easily swap out the ground chicken for chicken thighs or breasts.
To substitute chicken thighs or breasts for ground chicken, simply dice the chicken into bite-size pieces and follow the recipe as written.
Taco Toppings
The great thing about these tacos is that the toppings are easily customizable. Here are some excellent options to top your adobo chicken tacos. 
Flour tortillas: You can use flour or corn tortillas for this recipe.  
Salsa: Make fresh salsa at home or buy your favorite brand from the store.  
Avocados: Be sure your avocados are ripe before cutting into them by checking if the stem can be easily removed from the top, and you can still see a little green underneath.  
Sour cream or Crema: Fresh sour cream is best for adding a cool tanginess to your chipotle chicken tacos.  
Pickled red onions: Homemade or store-bought.
Fresh jalapenos: Thinly slice the jalapenos before serving.
Queso fresco: It's a great mild Mexican crumbled cheese.
Creamy slaw: Creamy slaw pairs so well with these spicy tacos.
Lime slices: Cut them into wedges or slices for serving.
Radishes: Thinly slice the radishes for a crunchy addition.  
Should I Warm the Tortillas First? 
It's a good idea to warm up your tortillas before using them for these tacos. You have two options for this.
The first is to place a stack of tortillas between two damp paper towels on a plate and microwave in 30-second increments until they are hot all the way through. This is the fastest way to heat them up but doesn't give them any extra flavor.
The second way is to heat a pan on the stove, add a little oil, and toast the tortillas on each side. Once they're slightly browned, put them in a tortilla warmer until you're ready to use them.
To Serve
While you can eat these chicken tacos by themselves, you can pair them with a tasty side dish. Here are a few side dishes that would make these tacos into a complete meal.
To Store
If you have leftover chicken, it's easy to save it to eat for lunch or dinner for the next three days.
Refrigerate: Keep it in an airtight container in the refrigerator, and when you're ready to eat, heat it in the microwave. Compile a new taco with a tortilla and any toppings you have saved. 
Freezing: You can also freeze it in a plastic bag or container for up to three months. When you're ready to eat, heat it in 30-second increments in the microwave until it reaches 165°F. Stir a couple of times while microwaving, so it gets hot all the way through.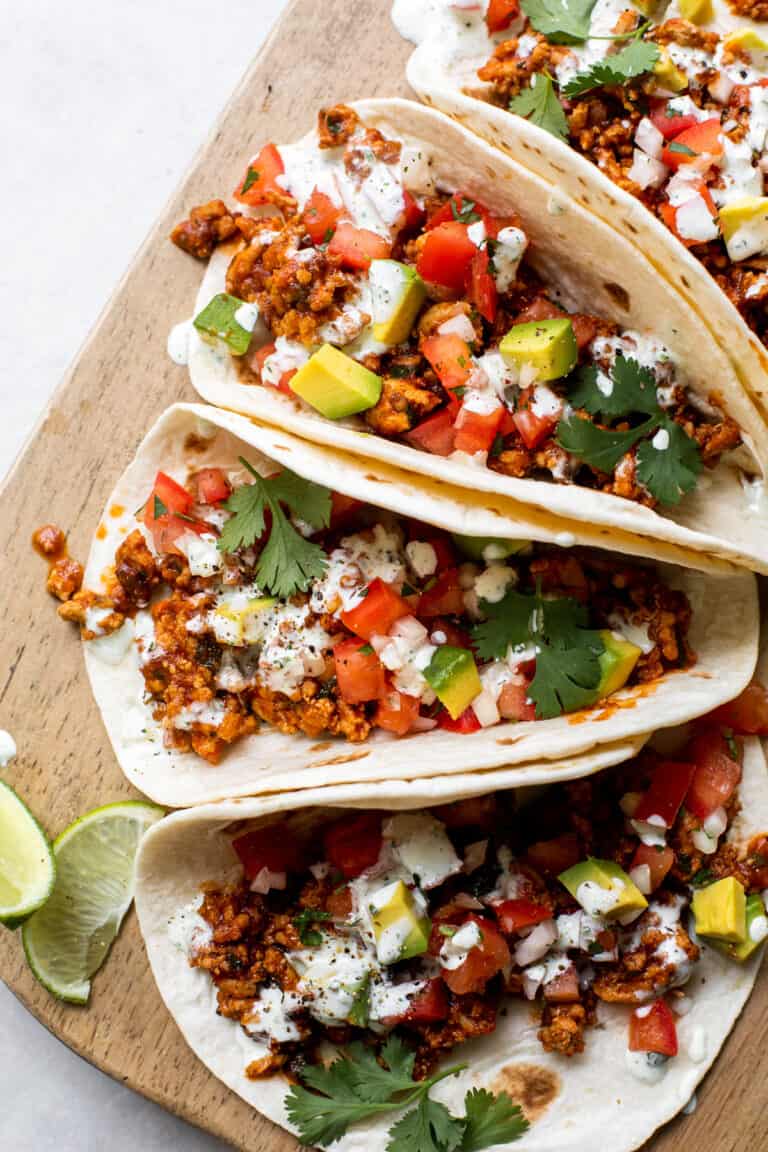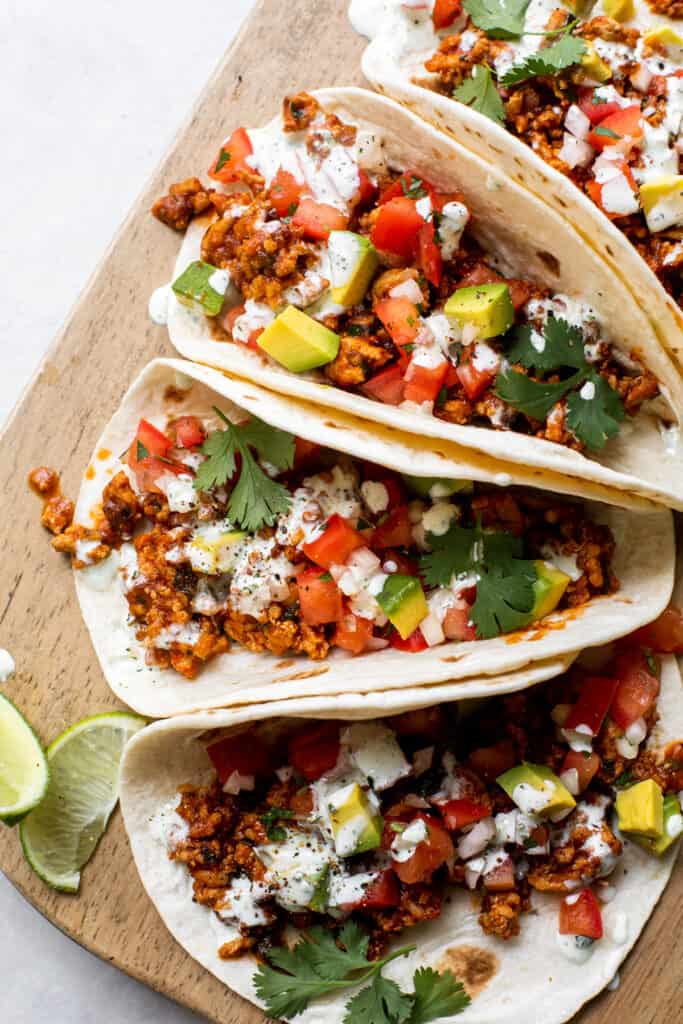 Frequently Asked Questions
Which tortillas should I use?
This recipe uses flour tortillas, but you can use corn tortillas if you prefer. The key with corn tortillas is to toast them slightly so they don't fall apart when making them into tacos. 
How can I keep the tortillas warm? 
Tacos are best when the tortillas are warm. To keep them this way, you can use a tortilla warmer with a lid or put them in a bowl and cover it with a towel over the top. This will keep the heat in and the tortillas warm until you're ready to use them.   
What types of cheese can I add to these chicken tacos?
If you want to add cheese to these tacos, there are a few options to choose from. These Mexican-inspired tacos would do well with Mexican cheese like queso fresco, crema Mexicana, cotija, or a basic shredded cheddar blend. 
More Tex-Mex Recipes
Print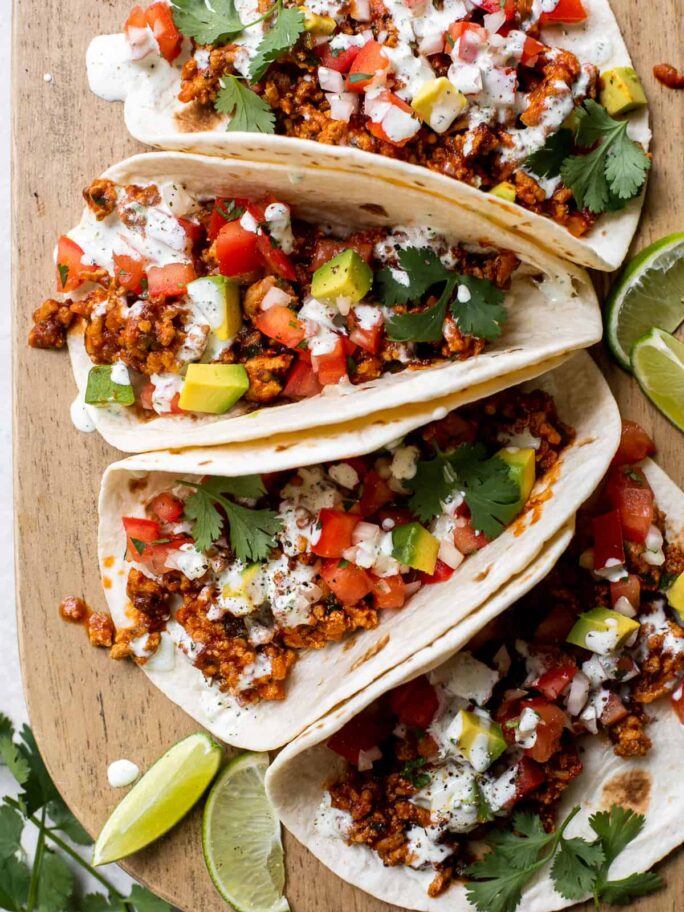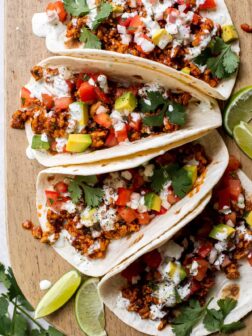 Adobo Chicken Tacos
Author: Katya
Prep Time: 15 min
Cook Time: 20 min
Total Time: 35 minutes
Yield: 6 1x
Category: Main
Method: Saute
Cuisine: Tex-Mex
---
Description
Chipotle chicken tacos are a quick and easy meal with a spicy and smoky flavor. They are made with ground chicken, chipotle peppers in adobo sauce, lime juice, and Mexican seasonings. 
---
2 Tbsp. avocado oil
1 lb. ground chicken
1/4 cup diced red onion
1/2 tsp. ground cumin
1 tsp. chili powder
1/2 tsp. dried oregano
2 cloves garlic, minced
8 oz. can tomato sauce
1 chipotle pepper in adobo sauce + 1 Tbsp. sauce, pepper finely chopped until paste like consistency
1/4 cup water or chicken broth
1/2 lime, juiced, about 1 Tbsp.
1/4 cup chopped cilantro
To Serve
---
Instructions
In a large non-stick skillet, heat oil over medium high heat. Add chicken and onions. Cook for about 3-5 minutes or until no longer pink, while breaking up the meat with a spoon.
Stir in cumin, chili powder, oregano, and garlic. Season with salt and pepper to taste. Cook until fragrant, about 30 seconds, while constantly stirring.
Add tomato sauce, chipotle pepper + sauce, and water. Reduce the heat to a gentle simmer and cook for 5-7 minutes, partially closed, or until slightly reduced and thickened. Off heat, stir in lime juice and cilantro.
Serve the meat mixture inside a flour tortilla, topped with salsa, avocado, and sour cream.
---
Notes
Leftovers: Taco filling will keep in the fridge for up to 3 days or in the freezer for up to 3 months.
Nutrition
Serving Size: 2 tacos
Calories: 469
Sugar: 2.2 g
Sodium: 1018.1 mg
Fat: 17.1 g
Carbohydrates: 55.9 g
Protein: 22.8 g
Cholesterol: 64.4 mg
Keywords: easy, ground chicken, spicy
You May Also Like…