Quinoa Salad with Avocado
Quinoa salad with avocado is an easy lunch or dinner any day of the week. Tossed with a zesty dressing and stored in the fridge, it's the perfect meal prep recipe.
What is Quinoa Salad?
We love vegetarian quinoa salads, everything from quinoa feta salad to tabbouleh with quinoa — it's an excellent choice for a quick and healthy meal. It's prepped in 15 minutes and then sits in the fridge for 20 more minutes while the ingredients get to know each other and mellow out together. 
Made with tomatoes, avocados, spinach, red onions, cilantro, and basil and can be combined with a protein of your choice, or try our easy quinoa salad with chicken!
Just like our avocado toast recipe, it's a great salad to pack for lunches, picnics, or make it part of your meal prep routine. It stores well in the fridge for up to five days.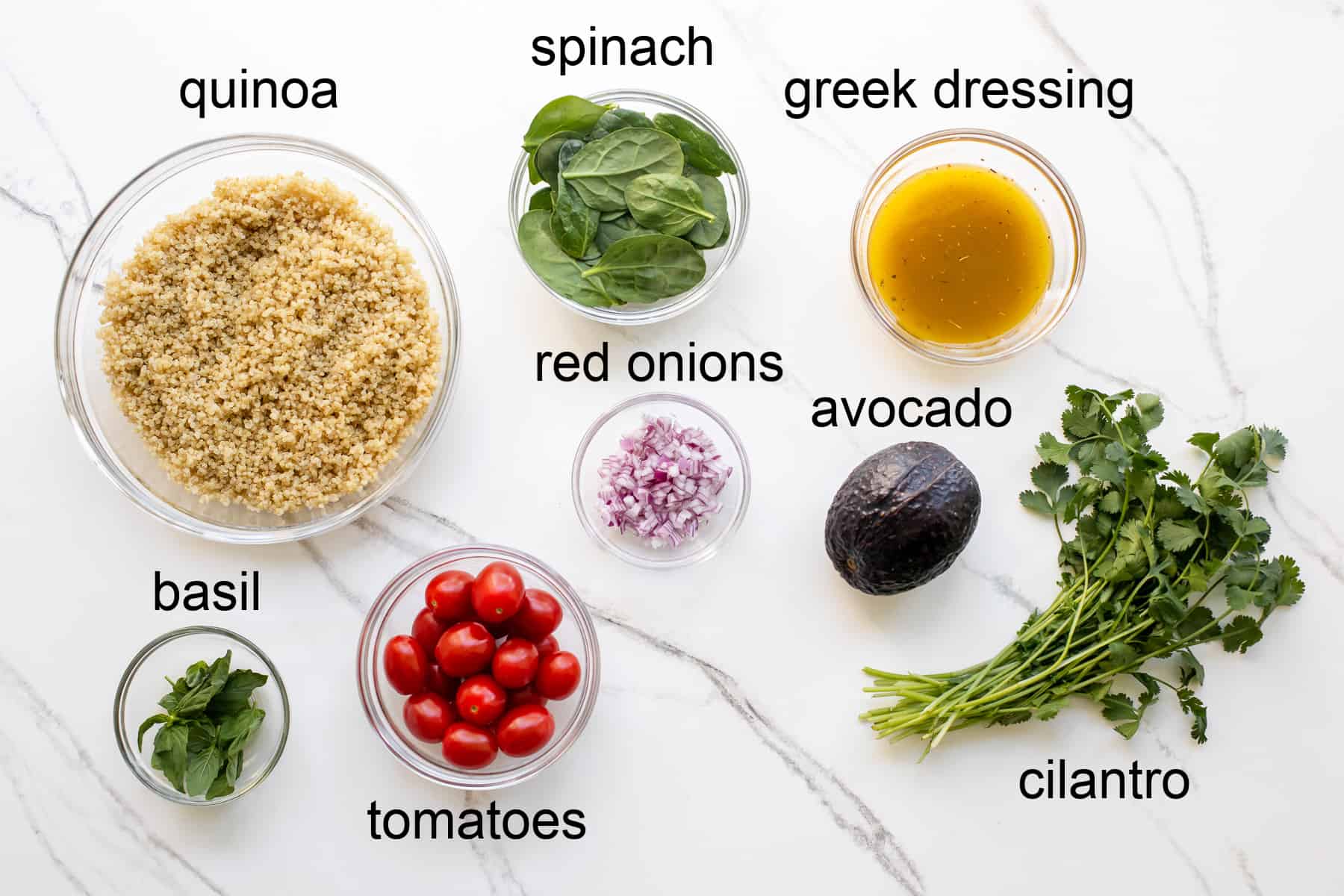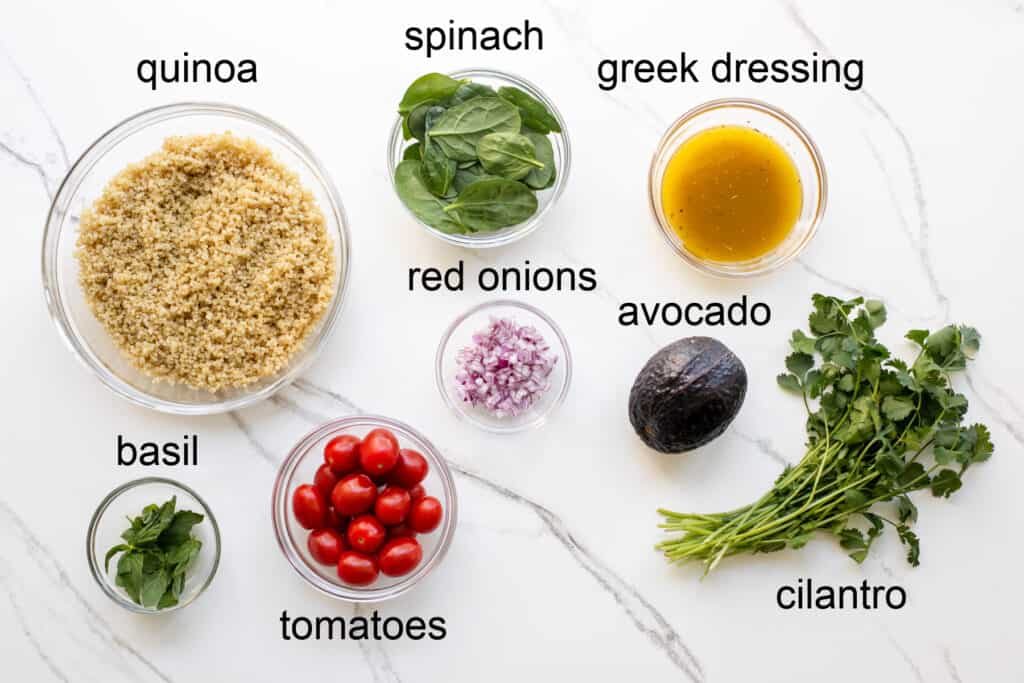 Ingredients
Here are the ingredients for this delicious quinoa salad recipe.
Quinoa: You can buy dry or cooked quinoa to use in this salad.
Spinach: Baby spinach works best, but you can use full-grown organic spinach.
Grape tomatoes: You can use cherry tomatoes instead if you can't find grape tomatoes.
Avocados: Ripe avocados are black and slightly green under the stem.
Red onions: Finely dice the red onions, so you don't get a big chunk in your salad.
Cilantro: Fresh cilantro makes the salad bright and beautiful.
Basil: A little fresh basil is spicy and refreshing.
Greek Salad Dressing: It's the perfect combo of fresh and zesty.
How to Make Quinoa Salad with Avocado
This healthy quinoa salad is incredibly easy to make and comes together for lunch or dinner all week long.
Cook the quinoa in a pot according to the package directions. Set aside to cool. Alternatively, cook the quinoa the day before.
Prepare the dressing, if not already done so.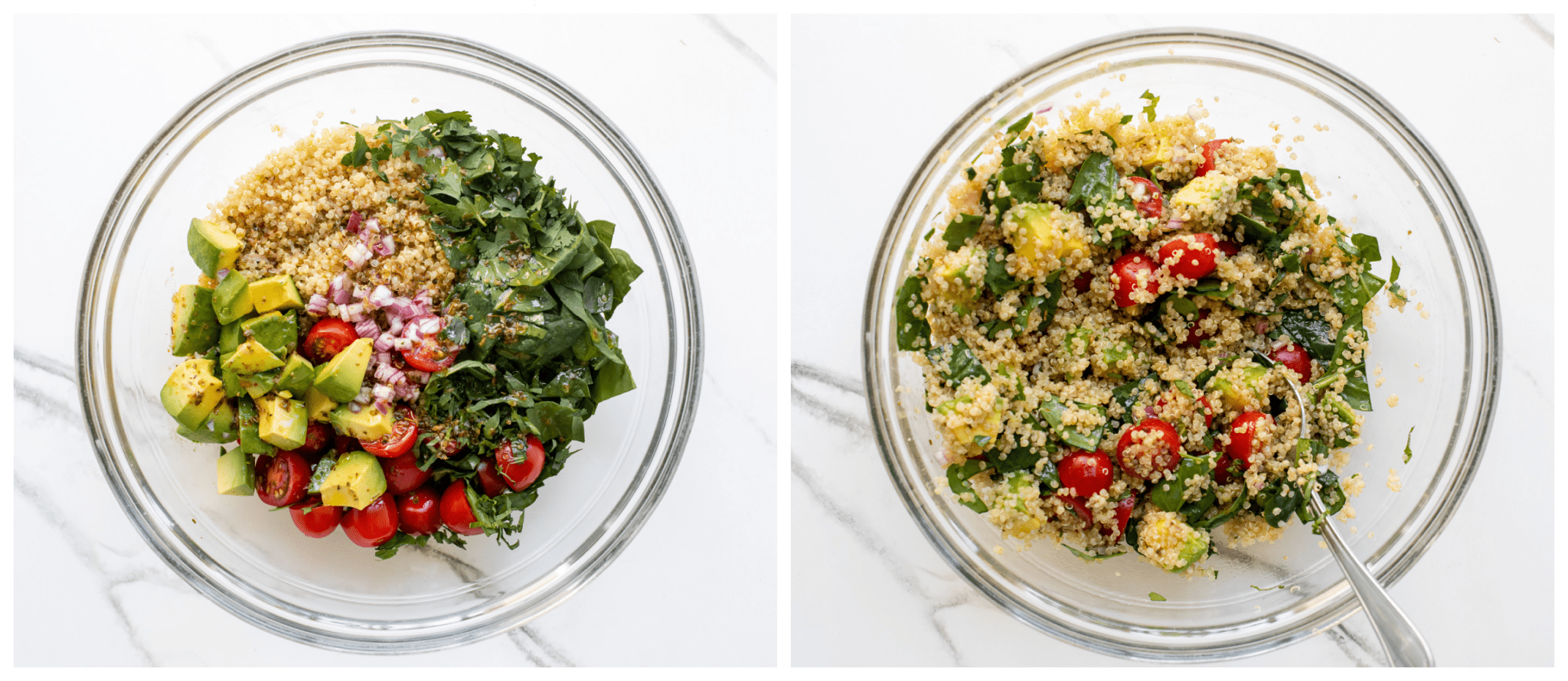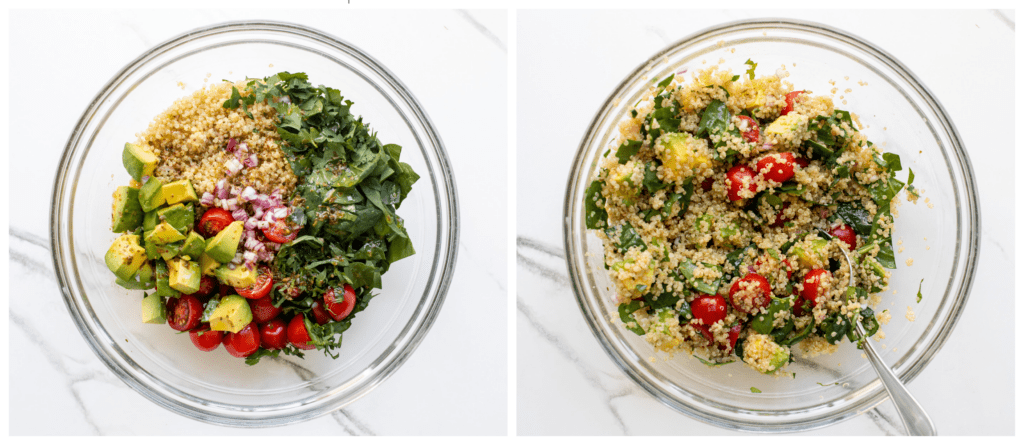 Chop the vegetables and toss with the quinoa and dressing in a large bowl.
Cover and refrigerate for 20 minutes.
Optional Add-Ins
This salad is very easy to customize with other veggies, fresh herbs, or the addition of nuts. Some options, include:
cucumbers
carrots
bell peppers
pine nuts
pumpkin seeds
walnuts
blueberries
cranberries
strawberries
roasted red peppers
fresh herbs, like parsley, dill, mint, or tarragon
chickpeas or black beans
What Type of Protein Can I Add?
While this salad is vegetarian, you can add protein if you'd like to make this into a fuller meal for lunch or dinner.
Grilled garlic shrimp, roasted bone-in chicken breast, grilled chicken tenders, or maple mustard salmon are all great options.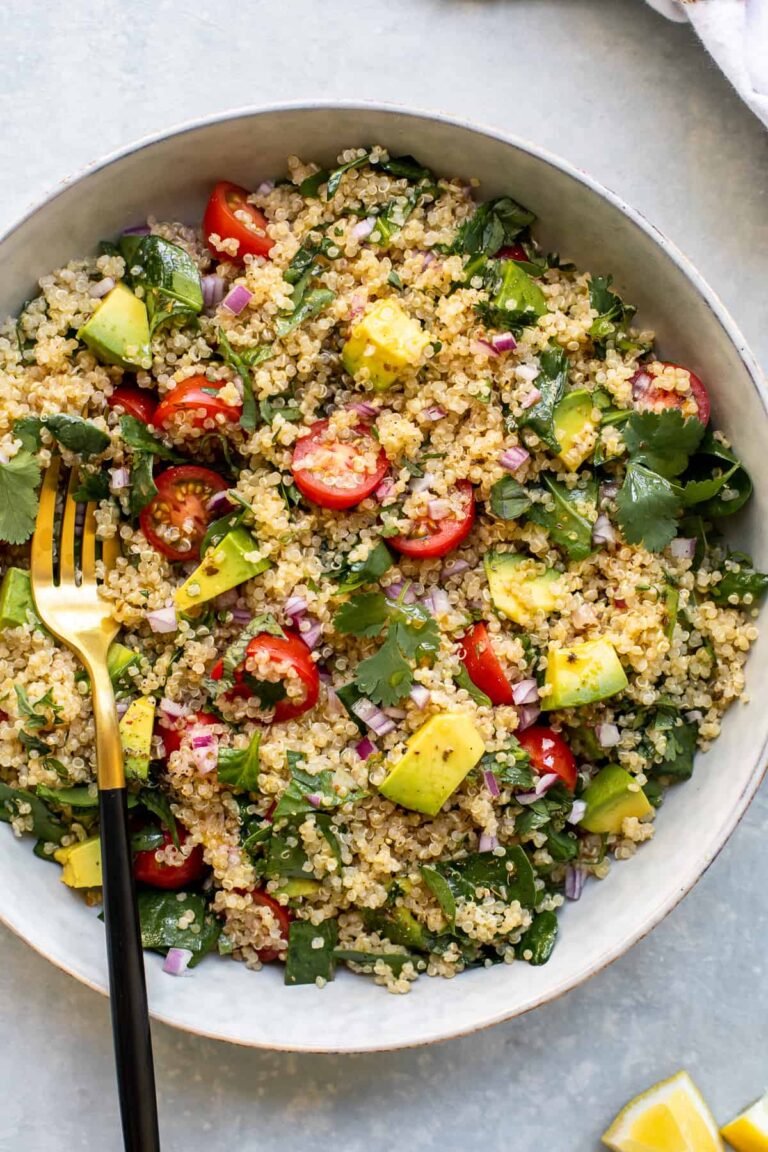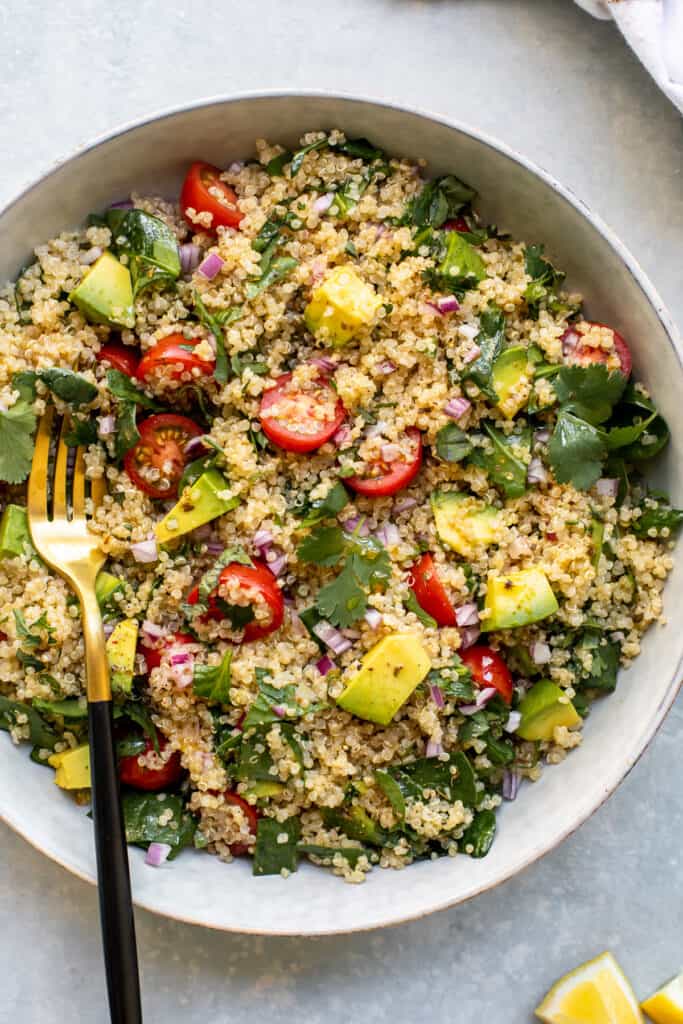 How to Serve
This Mediterranean-inspired quinoa salad is the perfect side dish. It goes well with other sides and main dishes. Try these other delicious options:
How to Store
Store leftover homemade tomato and avocado quinoa salad in an airtight container in the refrigerator for up to five days.
This salad doesn't freeze well with the added spinach, tomatoes, and avocados. However, if you'd like to make this salad in advance, this is an option. Simply add in the avocado right before serving so they don't turn brown.
Frequently Asked Questions
Should I serve this salad warm?
You can serve this salad either at room temperature or cold. It tastes the best after the salad had time to chill in the refrigerator for at least 20 minutes, to allow all the flavors to meld together.
Can I use a different grain with this salad?
While quinoa is what this recipe calls for, you can substitute a different grain if you like one better. Some good choices are barley, brown rice, or farro.  
Can I add cheese to the cooked quinoa salad?
Salty, crumbly cheese is an excellent topping option for this salad. Try feta cheese, goat cheese, queso fresco, or fresh mozzarella.
Can I use leftover quinoa for this salad? 
If you made quinoa for another dish or meal prep at the beginning of the week, you can use it in this salad. It's drier and soaks up the dressing even better.  
Love quinoa salads? Try Chicken Quinoa Salad or Quinoa Salad with Shrimp.
Print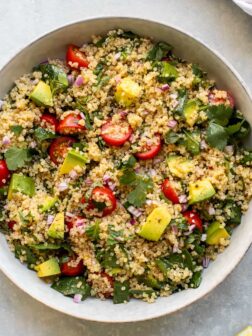 Quinoa Salad with Avocado
Author: Katya
Prep Time: 15 mins
Total Time: 15 mins
Yield: 4-5 1x
Category: Salad
Method: Chop
Cuisine: American
---
Description
Quinoa salad with avocado is an easy lunch or dinner any day of the week. Tossed with a zesty dressing and stored in the fridge, it's the perfect meal prep recipe. 
---
3 cups cooked quinoa, cooled
1 cup roughly chopped fresh spinach
1 cup halved grape tomatoes
1 large avocado, pitted and chopped
1–2 Tbsp. finely chopped red onion
1/4 cup chopped fresh cilantro
2 Tbsp. fresh chopped basil
1/2 cup Greek Salad Dressing
---
Instructions
In a large bowl, toss all ingredients with the dressing. Taste and add more salt and pepper if needed. 
Cover and chill the salad in the refrigerator for at least 20 minutes before serving. If making the salad ahead, leave the avocado out and add it just before serving.
---
Notes
Leftovers: Store leftovers in the fridge for up to 5 days.
Nutrition
Serving Size: 1 cup
Calories: 364
Sugar: 5.2 g
Sodium: 17.9 mg
Fat: 22.8 g
Carbohydrates: 37.1 g
Protein: 8 g
Cholesterol: 0 mg
Keywords: healthy, vegetables, light, vegetarian