Chipotle Guacamole Recipe
The secret Chipotle Guacamole Recipe – we've all tried to replicate it and failed miserably. But guess what? The secret's out! You can now whip up a batch of your own scrumptious Chipotle-style guacamole right in the comfort of your own kitchen.
Background
Did you know that Chipotle's executive chef spilled the beans on their top-secret guacamole recipe a few years back? Yup, that's right! He posted a video on Chipotle's official Instagram account, and now we can all make our own version of this tasty treat at home.
The recipe is refreshingly simple, made with only six ingredients and free of extra frills such as garlic, tomatoes, or lemon juice – sometimes seen in fake versions of the recipe.
What sets this guac apart, however, is the method of preparation. The secret is to use a large metal whisk to get that perfect guacamole texture – creamy with a few delicious chunks throughout.
If you're a guac lover, you won't want to miss trying this recipe at home. It's perfect for adding to burrito bowls, tacos, or serving as a dip for chips. And forget that store-bought ready-made guacamole altogether – this recipe is just too simple and too good to pass up.
What You Need
Tools
As you know already, the secret weapon here is a big metal whisk. Use this to get that perfect texture – a mix of creamy with the occasional chunk. Here's a quick list of all the equipment you need: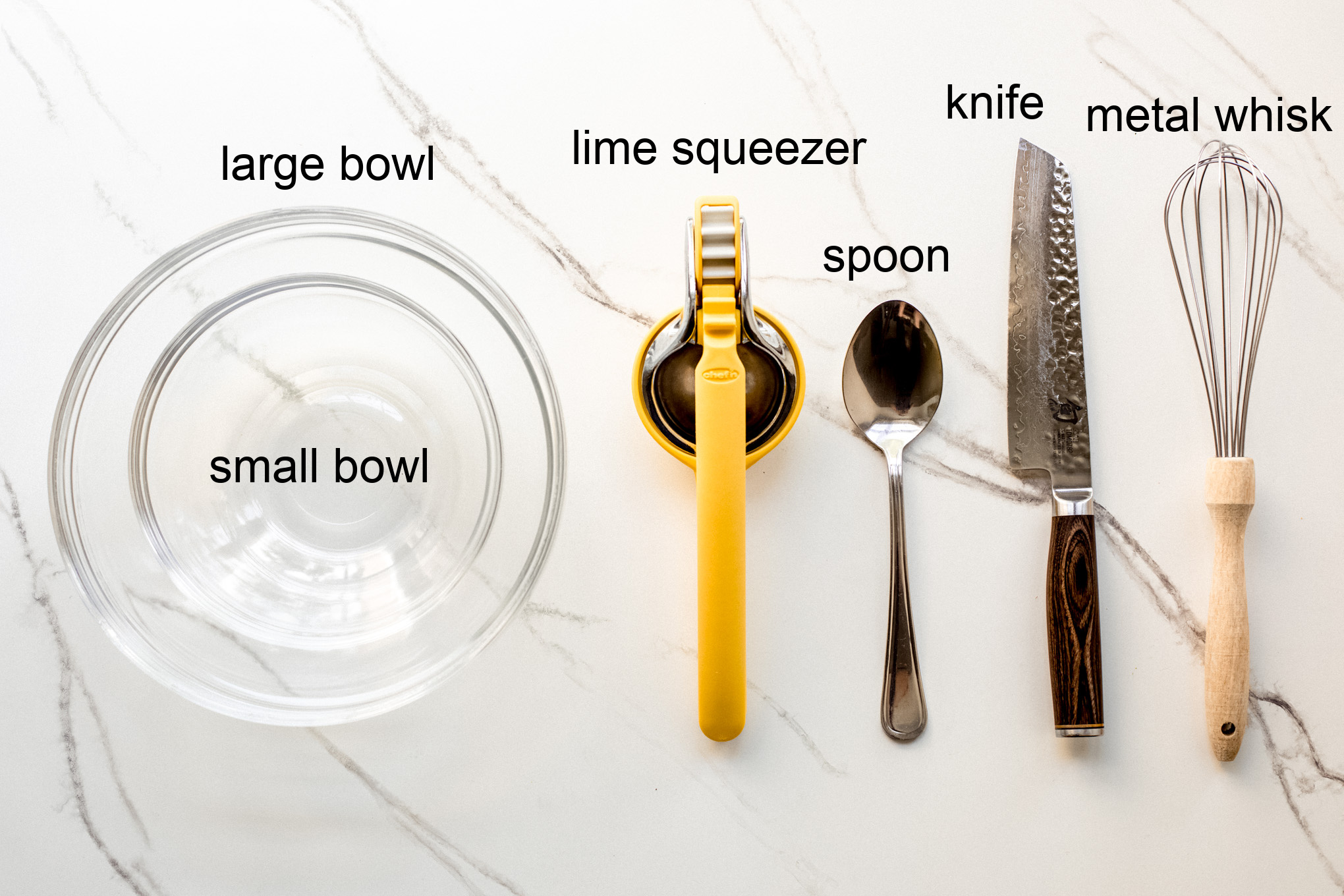 Ingredients
Want to make your very own Chipotle Guacamole? These six ingredients are all you need:
Large ripe avocados: The star of the show, they provide the creamy base and that slightly nutty flavor we all love. Be sure to read the shopping tips below to pick up the best ones.
Red onion: Adds some zing and zest to the mix that goes well with the richness of the avocados.
Jalapeno: Brings a bit of spice to the guac to balance out the smoothness of the avocados.
Cilantro: This herb adds a pop of freshness that brings your avocados to the next level.
Lime juice: Citrus juice makes it all come together – it adds a tangy zing and helps keep the guac looking fresh and green.
Kosher salt: Just a pinch of this magic powder brings out all the other flavors and makes the guac taste even more delicious.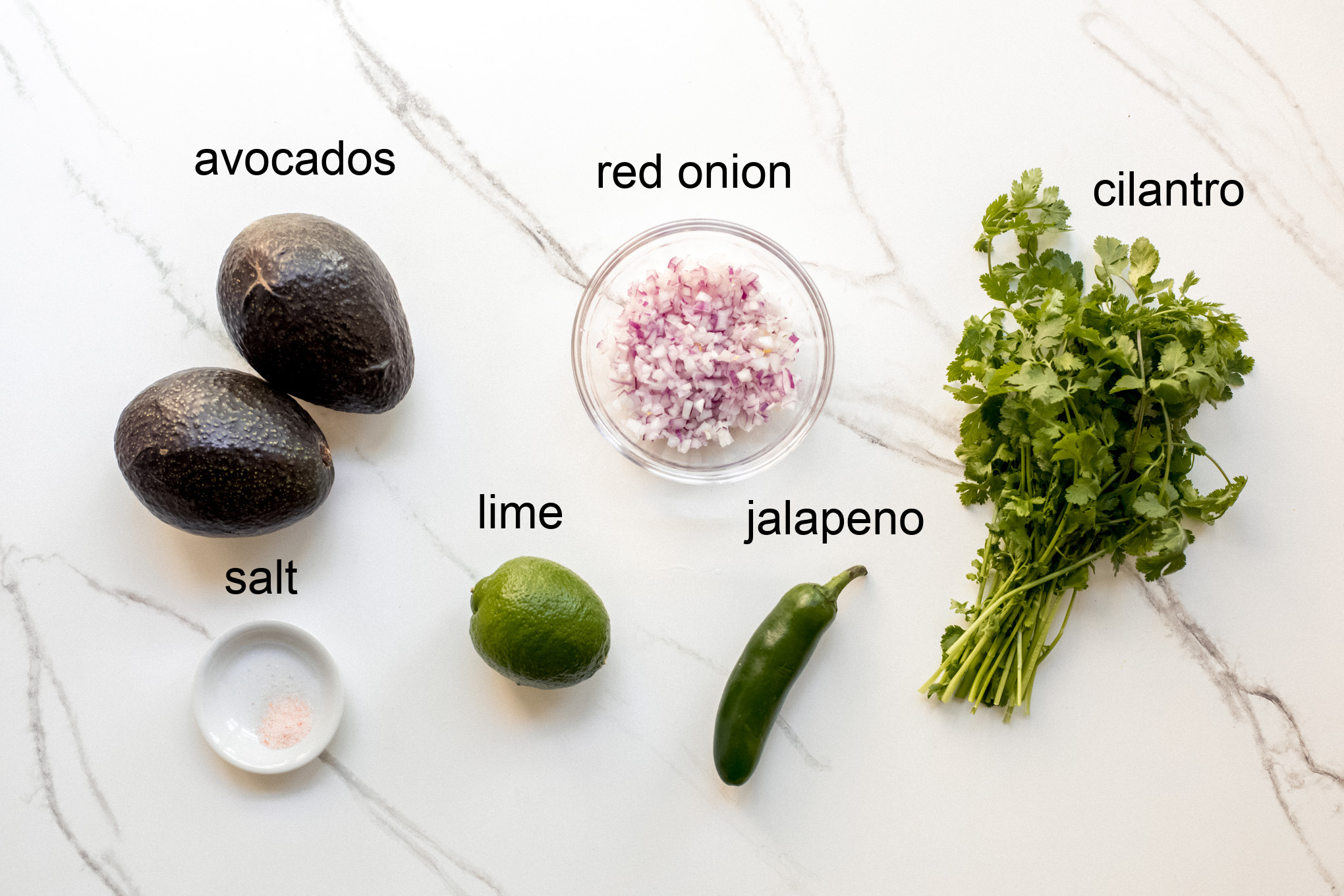 How to Make Chipotle Guacamole
Here's a quick overview of the Chipotle Guac recipe. Follow these simple steps, and you'll be indulging in your own creamy guacamole in no time. Look at the recipe card further below if you need more help.
Cut avocados in half, remove the pit, and scoop the flesh into a large bowl.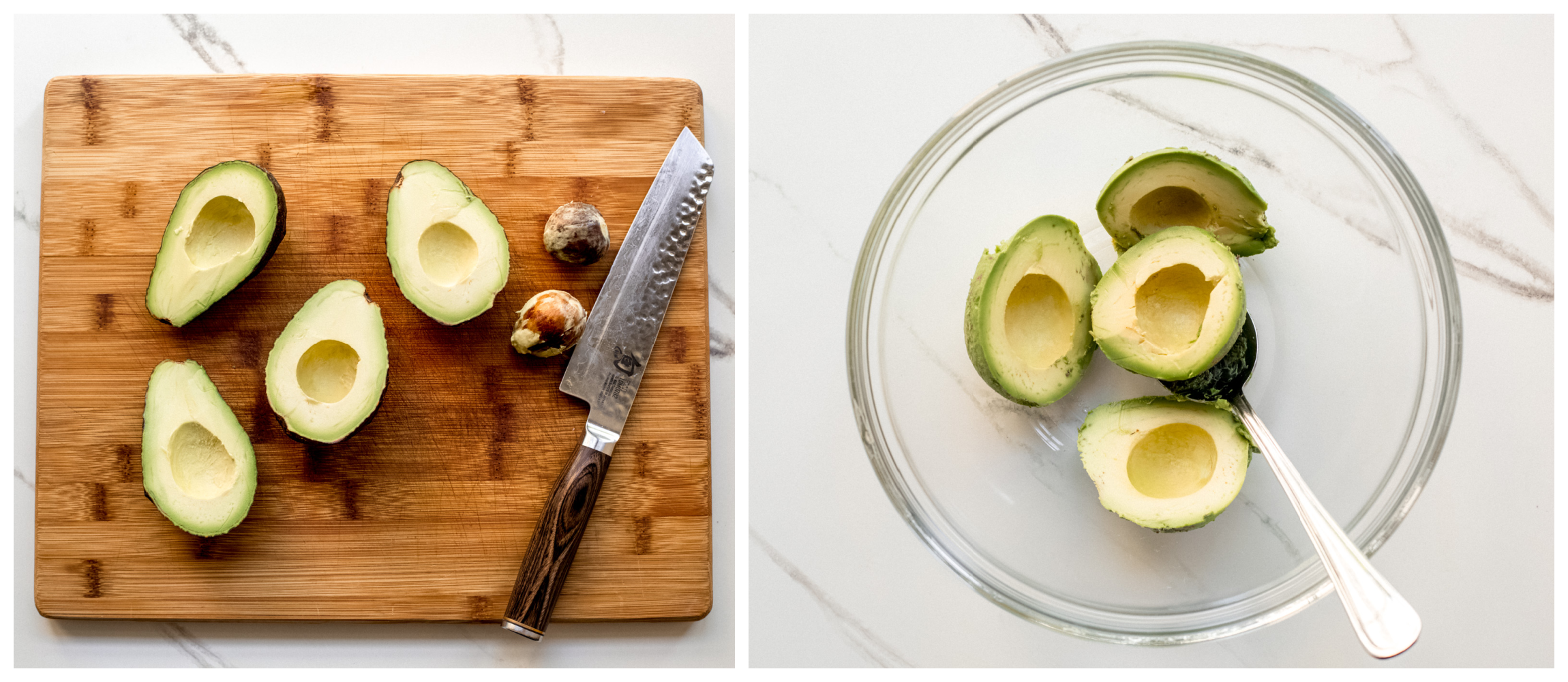 Mash the avocados with a large metal whisk until creamy with some chunky bits. Add salt.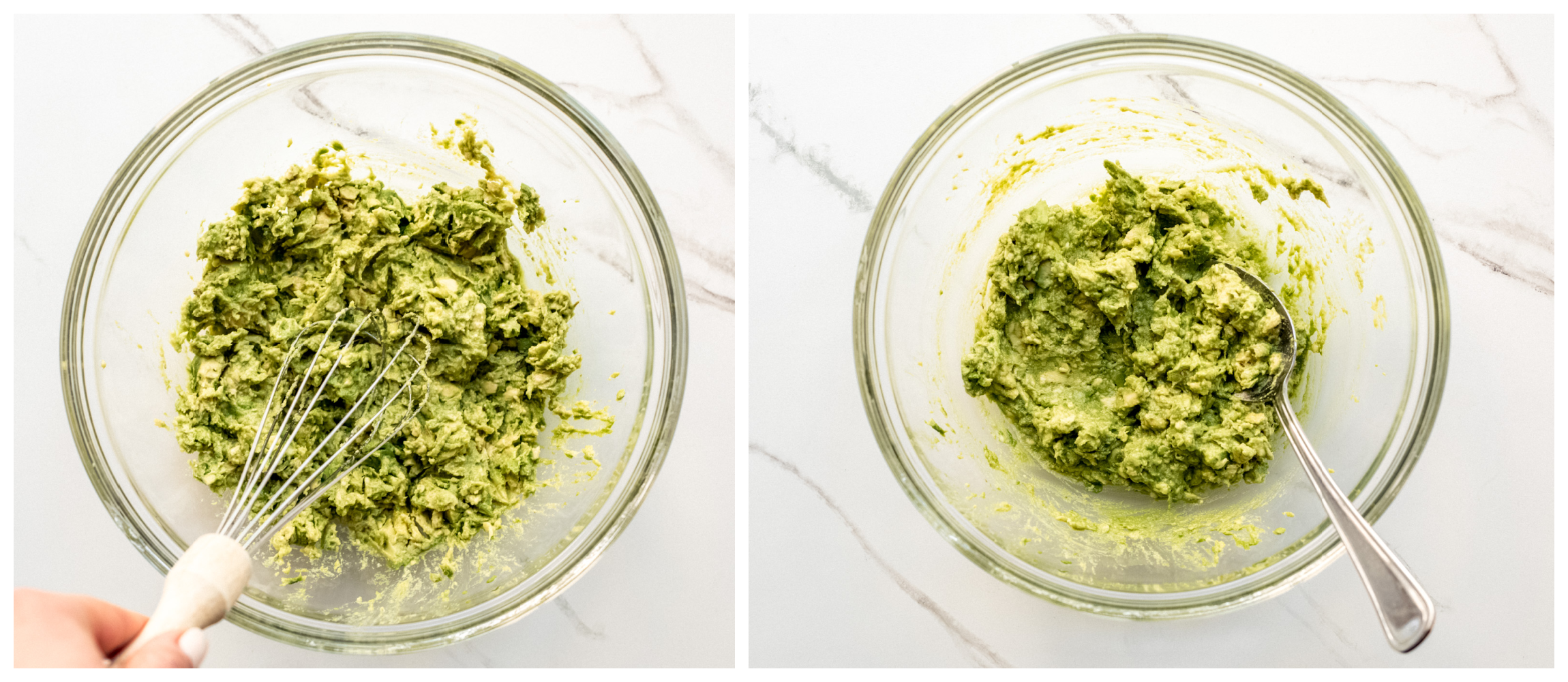 Mix onions, jalapeno, cilantro, and lime juice in a separate bowl.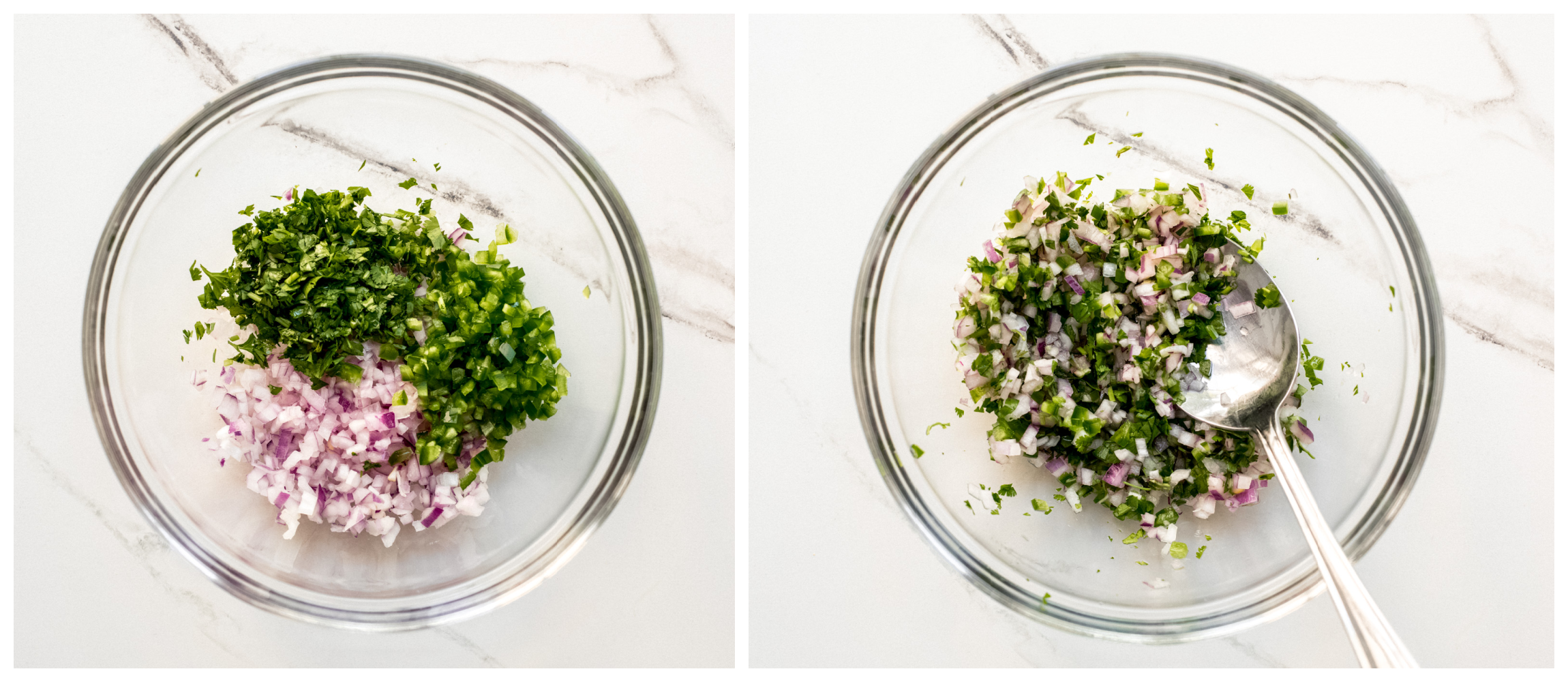 Gently fold the onion mixture into the mashed avocados. Don't overmix.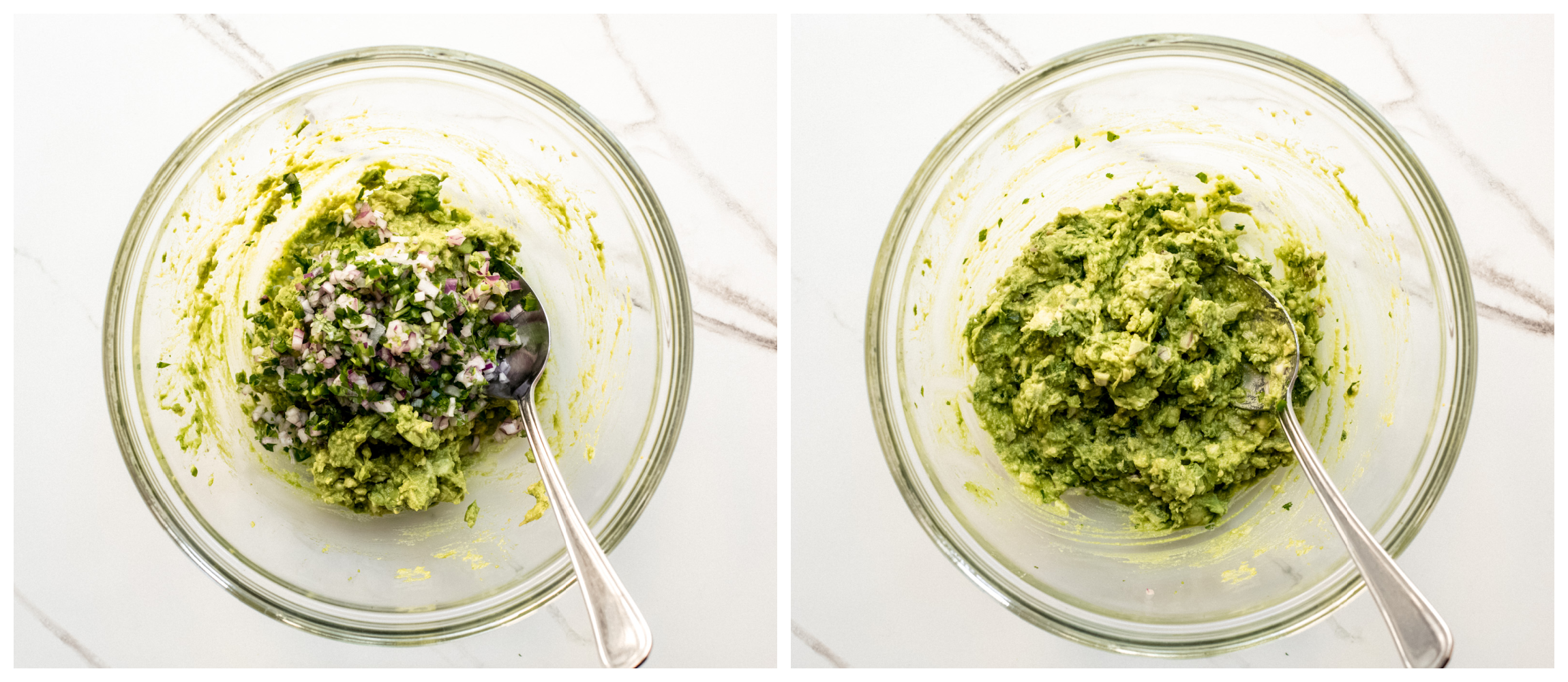 Taste and adjust for salt and lime juice before serving. Enjoy!
Expert Avocado Tips
Avocados can be a bit tricky to handle. They have a small window of ripeness, so it's easy to get caught off guard with avocados that are either too hard or too soft. But don't worry. With these expert avocado tips, you'll always have the perfect guacamole avocados.
Shopping
When you're picking out your avocados, look for ones that are just a little squishy to the touch but not too soft. The skin should be dark and free from any bumps or bruises.
Always give them a gentle squeeze – if they give a little, you're good to go. If you've bought slightly unripe avocados, don't worry, we can speed up the ripening process – keep reading below.
Storing
To keep your avocados nice and fresh, store them at room temperature until they're ready to eat. Once they're ripe, pop them in the fridge to make them last a little longer.
If you only use half an avocado, keep the pit in the other half and wrap it up tight in some plastic wrap.
Ripening
Avocados will naturally ripen at room temperature, but if you're short on time, you can speed up the process. Just stick them in a paper bag with a ripe banana or apple – These fruits give off a gas that'll help your avocados ripen faster.
And if you're in a real hurry, you can even nuke them in the microwave for a few seconds. Just don't overdo it, or you'll have a totally different style of guacamole that you might not like!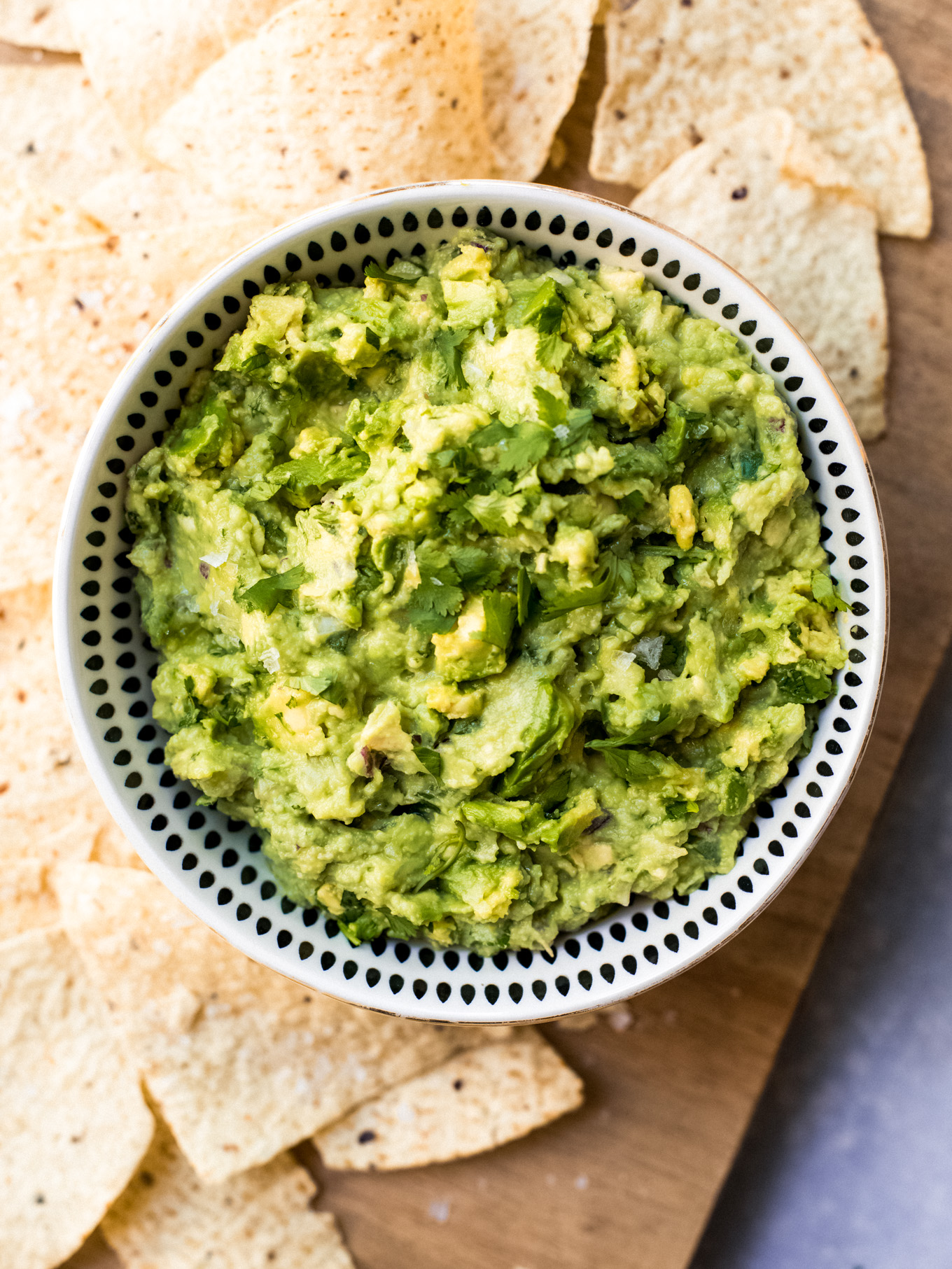 How to Store Guacamole
So you made a big batch of delicious guacamole, and now you're wondering how to store it – you don't want it going brown! No worries, just follow these steps to keep it fresher for longer:
Squeeze a little lime or lemon juice all over the top of the guacamole. This will stop it from oxidizing as quickly and turning brown.
Put your guacamole in an airtight container. Even better is to cover it with plastic wrap so the plastic is directly touching the surface of the guacamole. Less air gap means less oxidizing.
Pop it in the fridge and enjoy it within 2-3 days. Guacamole is best when fresh, so don't let it sit around too long!
After a day or two, if you do notice a brown layer on top of your guacamole, just scoop it off. The nice green guacamole goodness underneath should still be good to go.
How to Serve
Guacamole is a jack-of-all-trades kind of food – there are endless possibilities for how to serve it up! To get your creative juices flowing, here are some of the best ways to serve guacamole:
Frequently Asked Questions
Can I freeze guacamole?
Yes, freezing guacamole is fine! Just pop it in an airtight container and make sure to leave some room at the top for it to expand. 

When you're ready to eat it, let it thaw in the fridge and give it a good stir before serving.

Keep in mind that the texture might not be quite the same as fresh, so it's better as a base for dips or in recipes rather than serving it as is.
Can I use unripe avocados for guacamole?
Oh no, unripe avocados just won't cut it for guacamole. They're too hard and lack that creamy texture we all love. 

So, wait until they're nice and ripe before using them. To speed up the process, pop them in a brown paper bag with an apple or banana.

Is guacamole healthy? 
Heck yeah, guacamole is super healthy! Avocados are packed with healthy fats and nutrients like fiber, potassium, and vitamin C.

Just remember to keep the salt in check and watch your portions.
More Dip Recipes
Print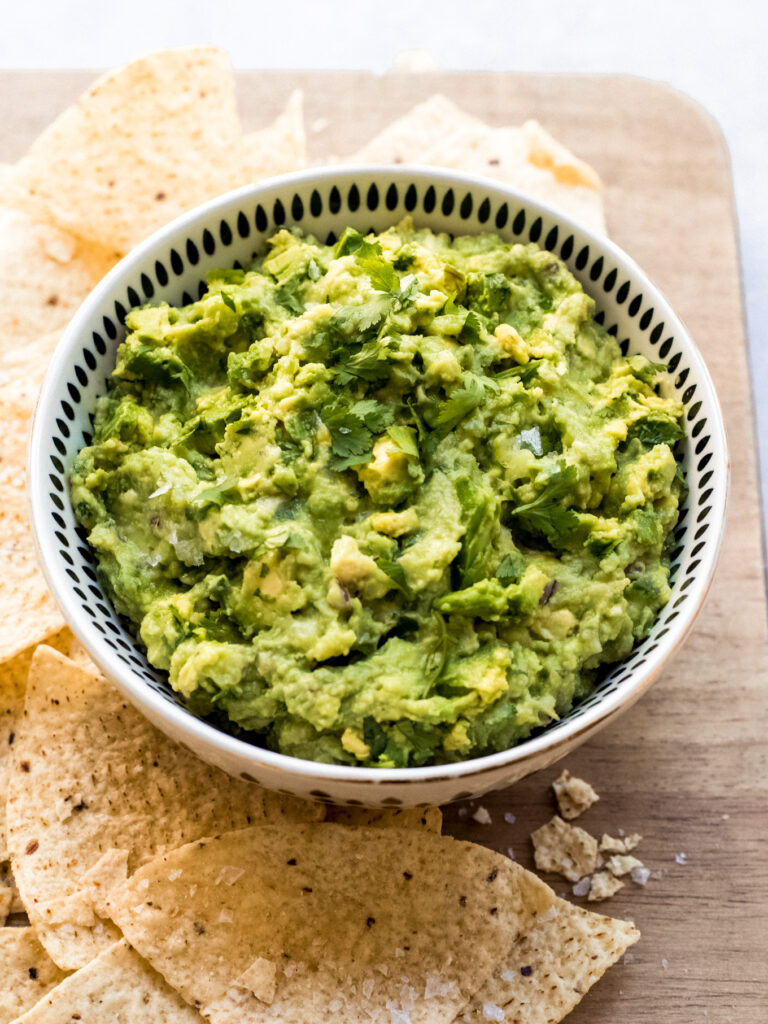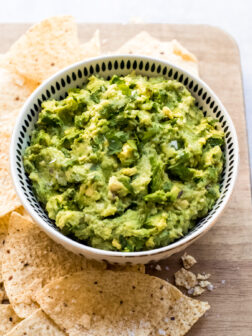 Chipotle Guacamole
Author: Katya
Prep Time: 15 min
Total Time: 15 minutes
Yield: 4 1x
Category: Appetizer
Method: No-Cook
Cuisine: Mexican
---
Description
The secret Chipotle Guacamole Recipe – we've all tried to replicate it and failed miserably. But guess what? The secret's out! You can now whip up a batch of your own scrumptious Chipotle-style guacamole right in the comfort of your own kitchen.
---
2 large ripe avocados
1/4 tsp. salt
1/4 cup red onion, finely chopped
1/2 jalapeno, finely chopped
2 Tbsp. fresh cilantro, finely chopped with stems
2 tsp. fresh lime juice
Tools
Two mixing bowls
Large wooden or metal spoon
Knife
---
Instructions
Cut avocados in half lengthwise. Remove the pit from the avocado and discard. Remove the avocado from the skin and place the avocado flesh into a large bowl.
Using a large metal whisk, mash the avocados until half of the texture is creamy and half chunky. You want the chunks no more than 1/2-1 inch. Stir in salt with a spoon.
In a separate bowl, mix onions, jalapeno, and cilantro. Add lime to the mixture, and with a spoon fold into the mashed avocados. Do not mash. Taste for salt and acidity, and add more as needed. At this point, you can serve the guacamole right away or chill covered for 15-20 minutes. I personally think it tastes better after it's been chilled.
---
Notes
Original Recipe: I kept the recipe as close to the original as possible. Make sure to taste the guacamole before and after chilling and if needed add more salt and lime juice.
Storing Guacamole: See post for tips on storing leftover guacamole.
Nutrition
Serving Size: 1/4 cup
Calories: 122
Sugar: 1.1 g
Sodium: 151.8 mg
Fat: 10.5 g
Carbohydrates: 7.8 g
Protein: 1.6 g
Cholesterol: 0 mg
Keywords: guacamole, chipotle, copycat
You May Also Like…