Danish Pancakes
A delicious breakfast dish that's a staple in Denmark – Danish Pancakes! These buttery puff-ball pancakes are a breakfast classic in many Danish homes and are quick and easy to make, customizable, and incredibly delicious.
Love decadent breakfast recipes? Try fruit toast, brioche french toast, or blueberry ricotta pancakes.
What are Danish Pancakes?
Danish pancakes, also known as æbleskiver, are a traditional Danish treat, usually during the month of December around Christmas time. These little balls of joy are traditionally made with buttermilk and are crispy on the outside and light and fluffy on the inside.
To make them, you'll need a special æbleskiver pan with round wells. The batter is pretty similar to regular pancake batter, but it's extra rich and creamy thanks to the eggs, butter, and milk.
Danish ball pancakes were originally made with small pieces of apples inside but the recipe has since been adapted to include a variety of different fillings or no filling at all.
Ingredients
You can easily find all the main ingredients for Danish pancake balls at your local grocery store.
All-purpose flour: The foundation for the perfect pancake texture.
Baking powder: The magic ingredient that makes these pancakes fluffy and light.
Kosher salt: Balances out the sweetness and adds a little something-something to the flavor.
Cane or granulated sugar: Sweetens the pancakes and helps to create a crispy, golden crust.
Eggs: The glue that holds everything together while also adding some moisture and richness.
Milk: Adds moisture and richness to the pancakes, making them tender and soft.
Unsalted butter: Adds an extra layer of richness and flavor.
Fruit preserves: Adds natural sweetness and a burst of fruit flavor.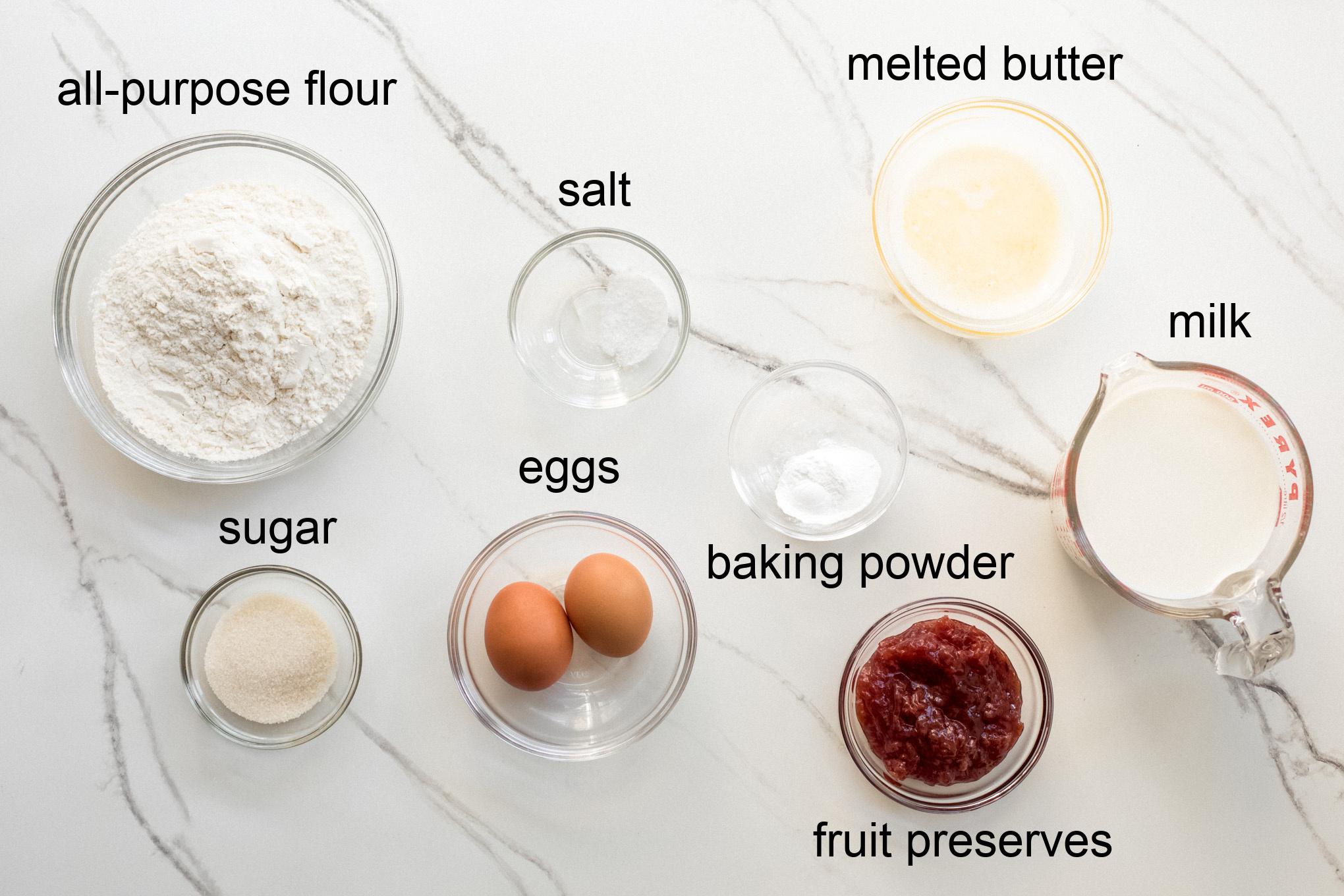 How to Make Danish Pancakes Recipe
Making these mouth-watering æbleskiver Danish pancakes is a breeze! Follow these easy steps to whip up a batch in no time. Check out the recipe card below for more detailed instructions.
Special Tools
Before getting started with the recipe, here are a few tools that you will need to make this recipe:
Danish pancakes pan – also known as æbleskiver pan. This pan can be purchased at local kitchen stores or Amazon. I found my pan at William-Sonoma.
Pastry brush – you'll need a pastry brush for brushing melted butter into the round wells of the pan before adding in the batter. You can also use a non-stick spray. It works just as well.
Sharp tool for turning – such as a wooden skewer or chopstick.
Instructions
In a large bowl, mix together the flour, baking powder, salt, and sugar.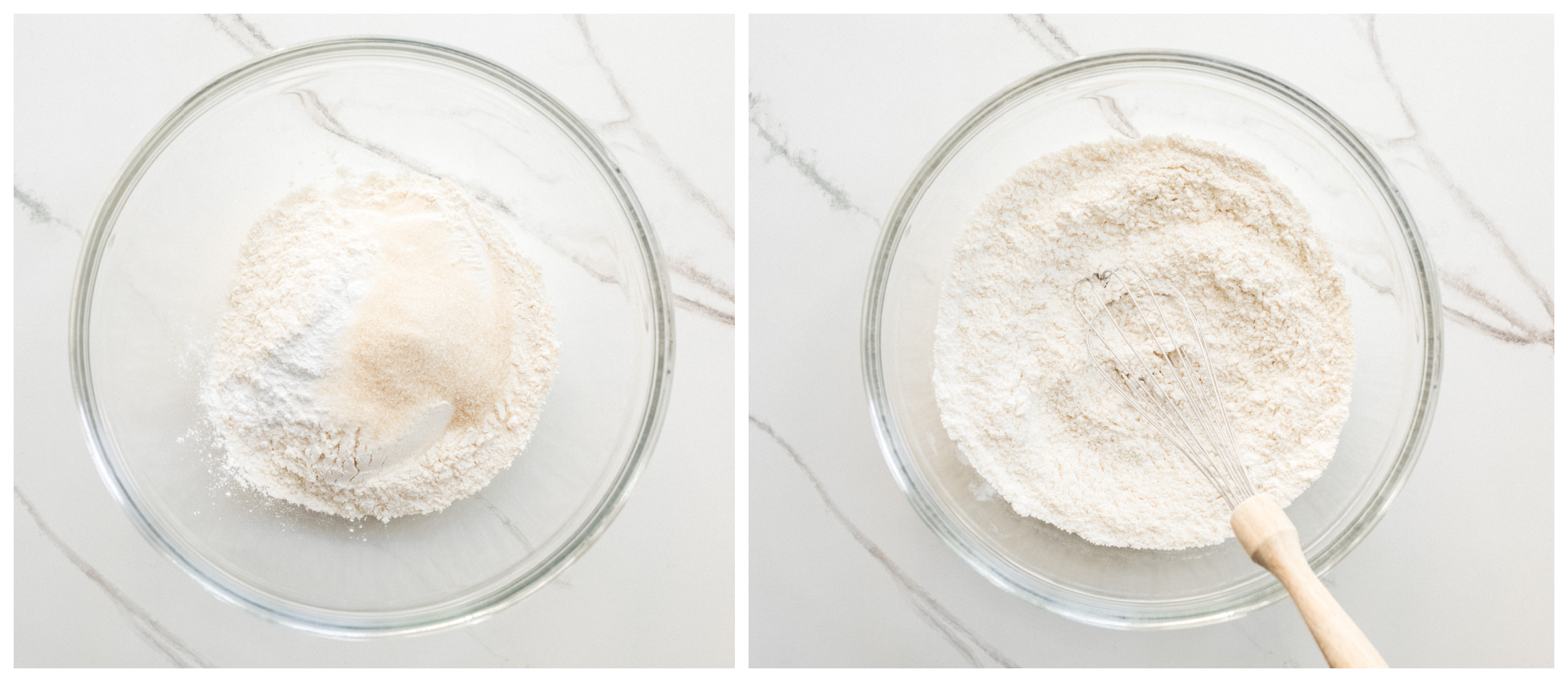 In a separate bowl, whisk the egg yolks and then add the milk and butter to make a yolk mixture.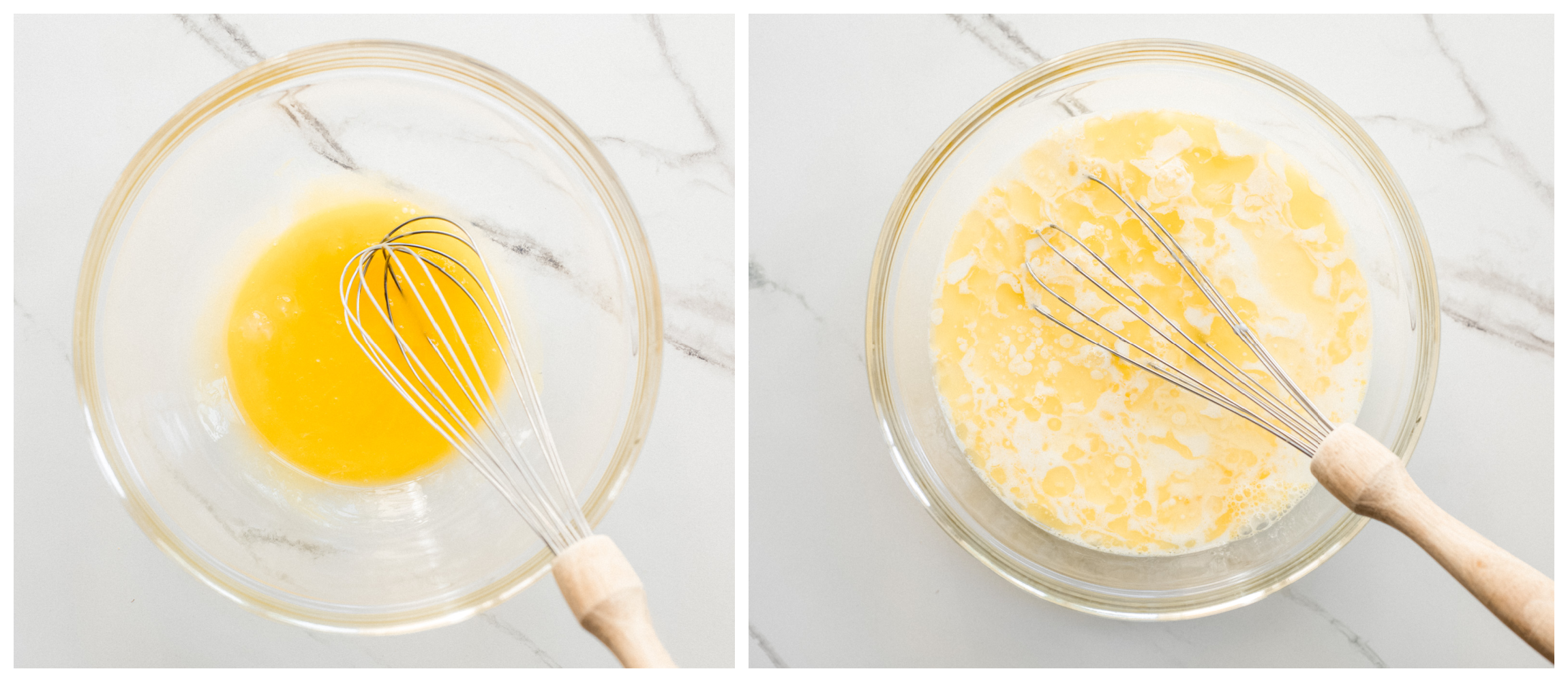 Whisk this mixture into the dry ingredients.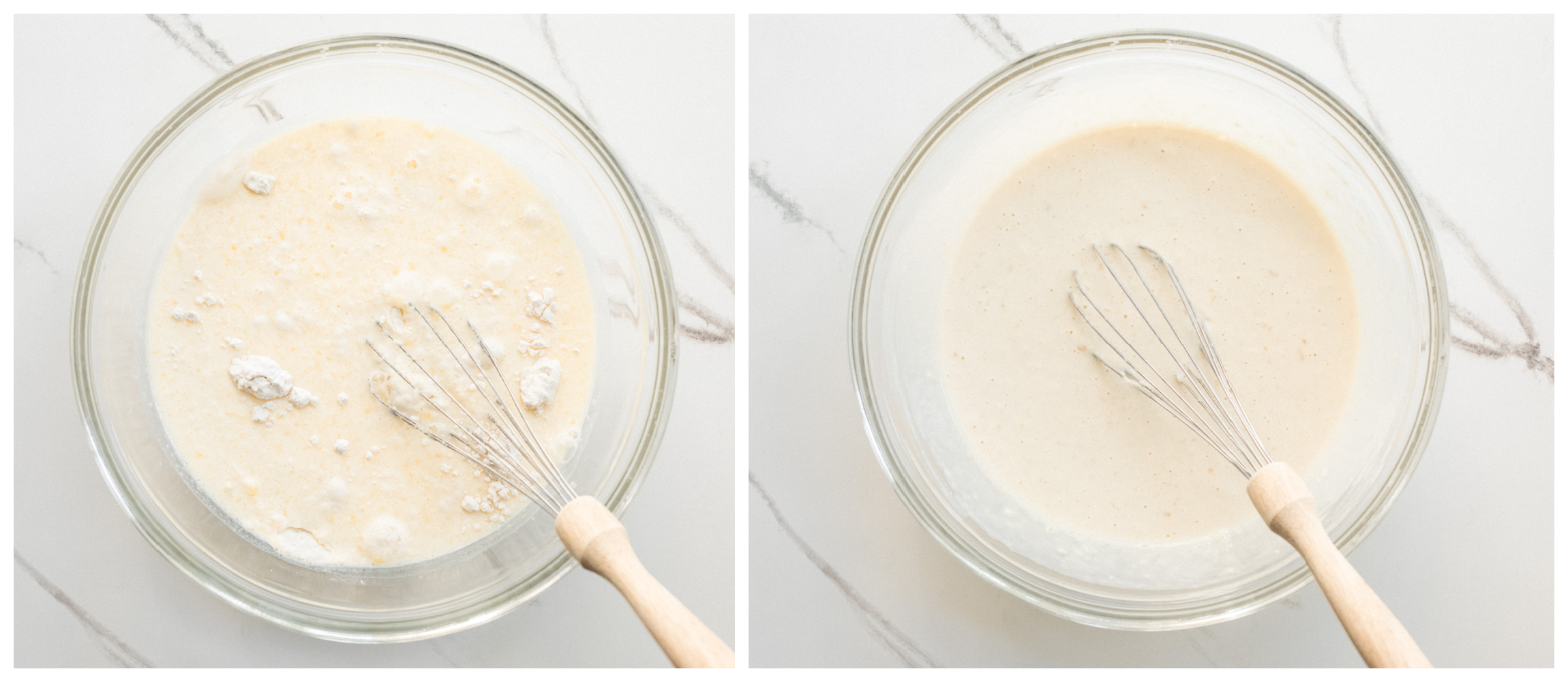 Grab another bowl and beat the egg whites until they form medium-stiff peaks.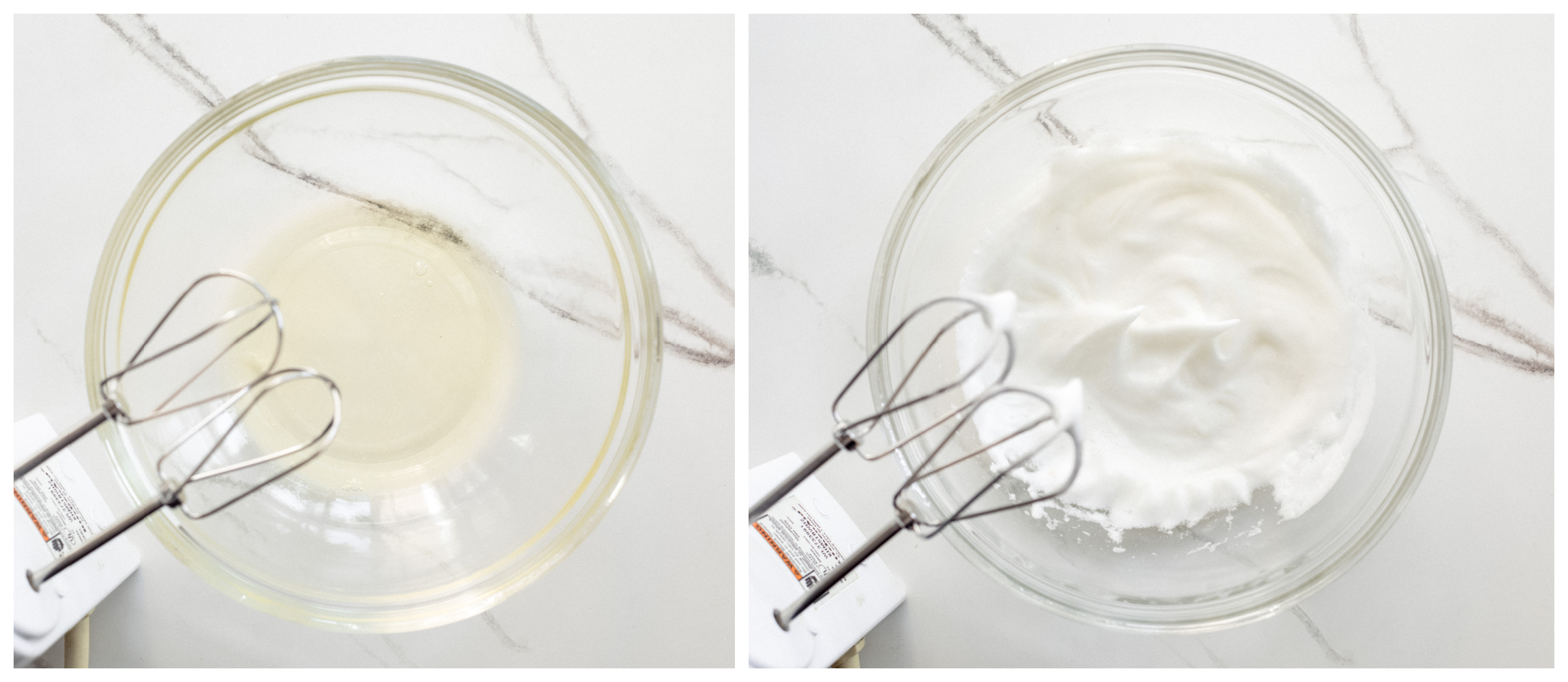 Afterward, gently fold into the batter with a rubber spatula.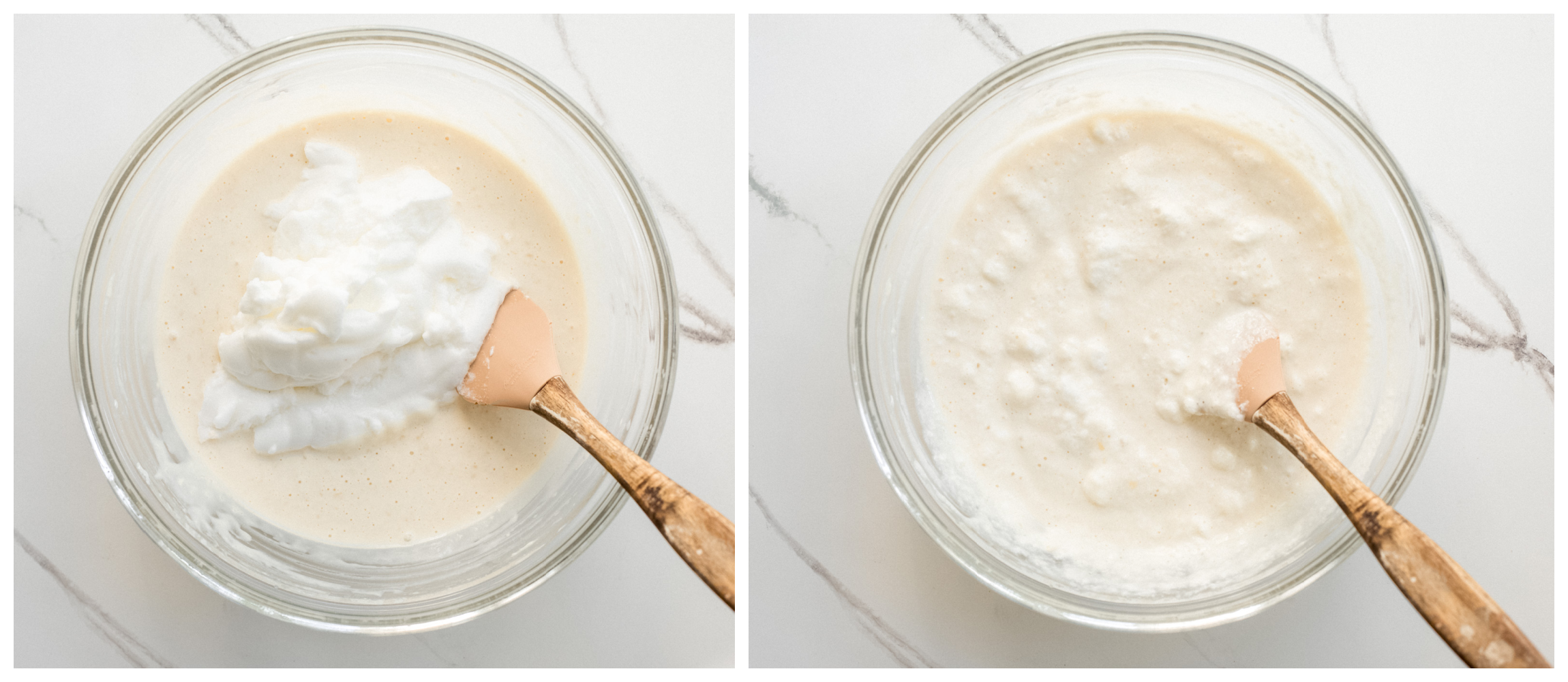 Heat your ebelskiver pan over medium heat and coat it lightly with cooking spray.
Spoon 1 tablespoon of batter into each well of the pan, then add 1 teaspoon of fruit preserves and top off with more batter. Cook until the bottoms are golden brown and the edges are set.
Use 2 wooden skewers to flip each pancake. Cook for another 2-3 minutes until they're golden and crispy.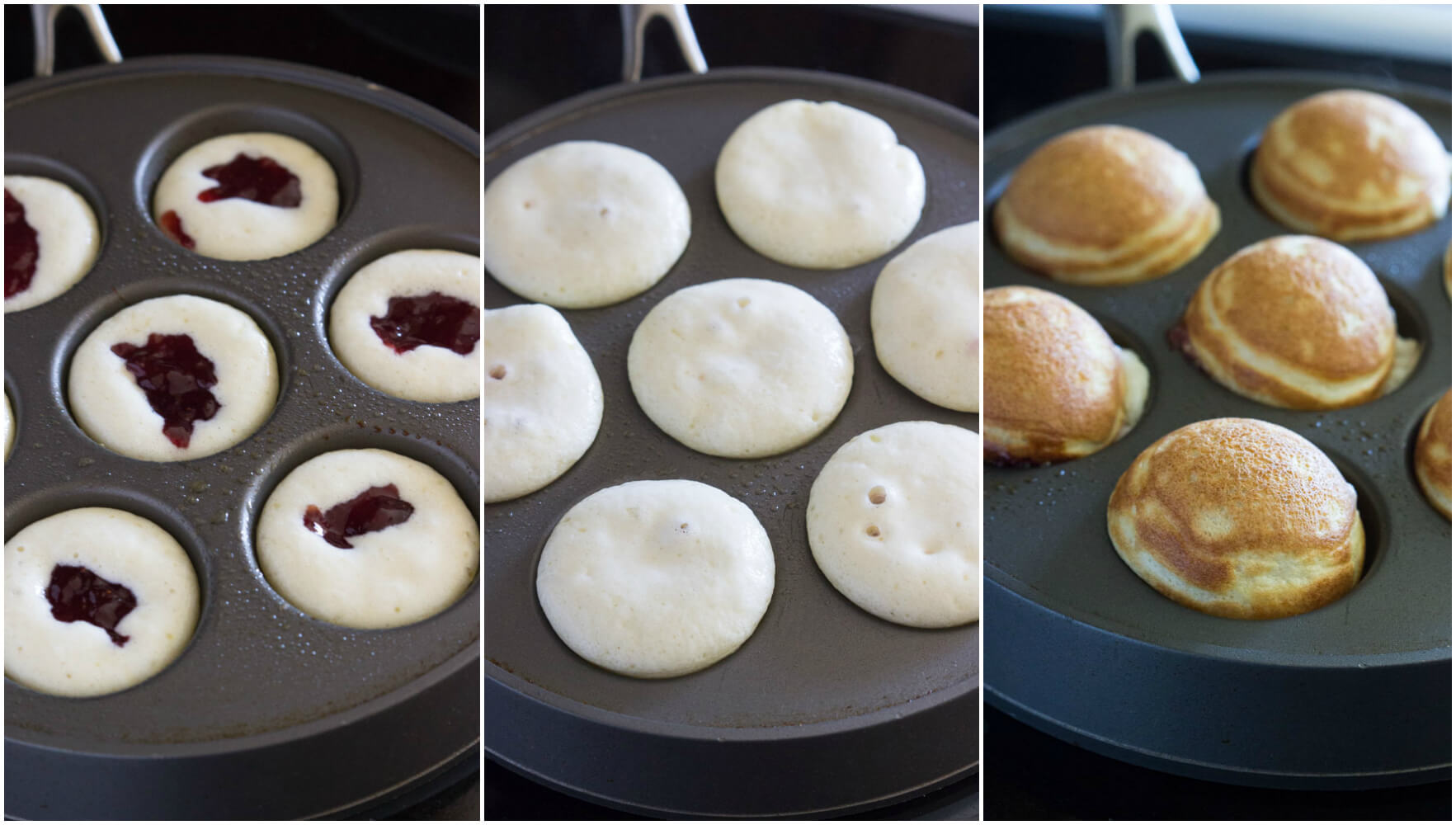 Variations
Let's spice things up a bit! Here are some fun and easy variations to add your personal touch to your Danish pancake balls recipe:
Go nuts: Stir in 1/4 cup chopped nuts like walnuts or pecans into the batter for added crunch and flavor.
Fruity goodness: Swap out the fruit preserves with fresh fruit like strawberries, blueberries, or peaches for a more natural flavor.
Get cheesy: Fill your pancakes with your favorite cheese, like cheddar or even goat cheese, for a savory twist.
Spice it up: Add a pinch of cinnamon, nutmeg, or ginger to the batter for a warm and cozy flavor.
Add chocolate: Add chocolate chips or a dollop of Nutella as a filling.
Expert Tips
Let's get those Danish pancakes just right with these expert tips:
Prep your pan: Make sure your ebelskiver pan is properly heated and lightly coated with cooking spray or melted butter before adding the batter. This stops sticking and helps your pancakes cook nice and evenly.
Gentle folding: When adding the beaten egg whites to the batter, use a rubber spatula to gently fold them in. Don't stir vigorously, or you'll lose the air that keeps the batter light and fluffy.
Don't overfill: Be sure to only fill each well of the ebelskiver pan about 2/3 full. If you overfill, the batter might spill over, and you'll have a hard time flipping the pancakes.
Cool before toppings: To prevent your toppings from melting or becoming too runny, wait for the pancakes to cool slightly.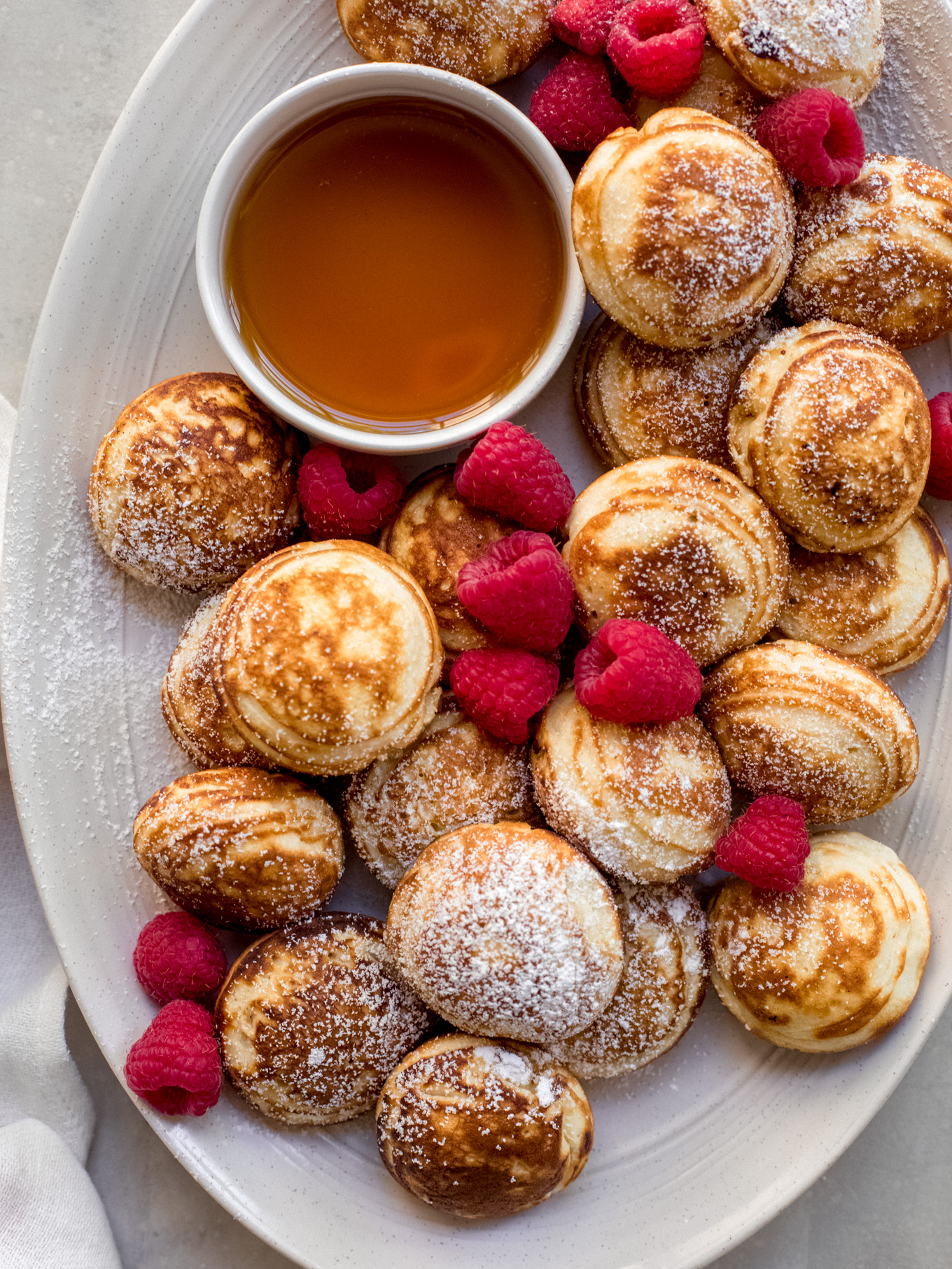 How to Serve
When it comes to serving Danish pancakes, the options are endless. The classic approach is to sprinkle them with powdered sugar and pour maple syrup on top.
If you're looking for something a bit fancier, try topping them with a dollop of whipped cream and fresh berries. For the ultimate indulgence, you could even add chocolate chips or chocolate drizzle.
These pancakes also make a delicious addition to any brunch, alongside asparagus frittata, bagels and smoked salmon spread, and our green power smoothie.
Storing Tips
On the shelf: Danish pancakes are best enjoyed fresh. Keep them warm in a preheated 275F oven as you're cooking them.
Refrigerate: Store your pancakes in the refrigerator for up to 5 days. Use an airtight container or use plastic wrap so they don't dry out.
Freeze: They can be frozen for up to 2 months. Allow them to cool completely, then place them in an airtight container or freezer bag. To reheat, thaw them overnight in the refrigerator or microwave them for a few seconds.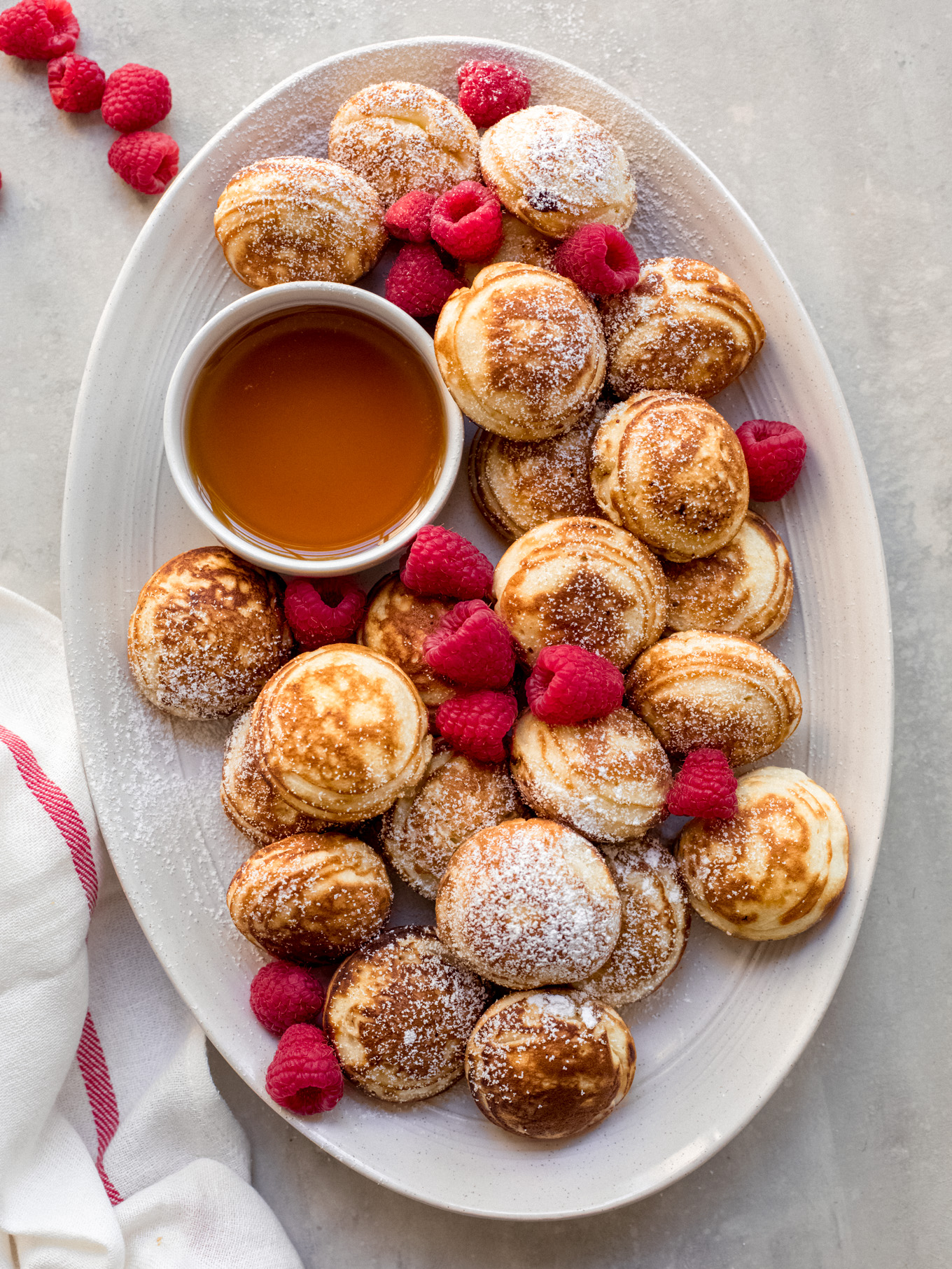 FAQs
What flour can you use to make Danish pancakes?
When it comes to making Danish pancakes, you want to use all-purpose flour. It's the most common flour used in baking and the best option for this type of recipe. It gives the perfect balance of protein and gluten for a light and fluffy texture.

Using a different type of flour, like whole wheat or cake flour, will make your pancakes too dense, so stick to all-purpose flour for the best results!
Why are my pancakes doughy in the middle?
If your pancakes are coming out doughy in the middle, it's likely you're not cooking them long enough or at a high enough temperature. 

Make sure your pan is hot before adding the batter, and give the pancakes enough time to cook on one side before you flip them. 

Another possible reason is you're adding too much batter, so the center doesn't cook properly. Try using less batter for each pancake and see if that helps.
Can I make Danish pancakes without an ebelskiver pan?
Yes, you can still make Danish pancakes without an ebelskiver pan. You can use a regular non-stick pan or a cast iron skillet to make mini pancakes or silver dollar pancakes. 

The method will be slightly different as you won't be able to make the traditional round shape, but the taste will still be delicious.
Can I make Danish pancakes ahead of time?
Yes, you can make Danish pancakes ahead of time and reheat them when you're ready to serve. To reheat, simply place the pancakes in a single layer on a baking sheet and heat in a preheated oven at 350°F for 5-7 minutes.

You can also reheat them in the microwave for 20-30 seconds. Keep in mind that reheating may make the pancakes slightly less crispy, but they will still taste great.
More Pancake Recipes
Print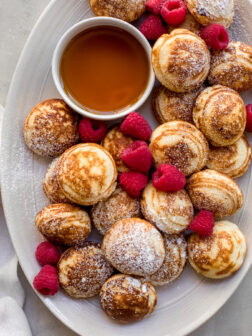 Danish Pancakes Recipe
Author: Katya
Prep Time: 20 mins
Cook Time: 45 mins
Total Time: 1 hour 5 mins
Yield: 35–40 pancakes 1x
Category: Breakfast
Method: Stovetop
Cuisine: Danish
---
Description
Pillowy soft Danish ball pancakes filled with fruit preserves.
---
2 cups all-purpose flour
1 3/4 tsp. baking powder
1/2 tsp. kosher salt
2 Tbsp. cane or granulated sugar
2 large eggs, yolks and whites separated
2 cups whole milk
4 Tbsp. unsalted butter, melted and lightly cooled
1 1/2 tsp. pure vanilla extract, optional
Fruit preserves, for filling
Maple syrup, and powdered sugar, for serving
Tools
---
Instructions
In a large bowl, whisk together the flour, baking powder, salt, and sugar.
In a separate bowl, lightly whisk the egg yolks, then whisk in milk, melted butter, and vanilla if using. Whisk the yolk mixture into the flour mixture until combined. Some lumps are okay.
Add egg whites to a mixing bowl, and beat with an electric mixer on high speed until medium-stiff peaks form, or when peaks are just stiff enough to stand up firmly but with a slight curl at the tip. It should take about 2 or so minutes. Using a rubber spatula, gently stir the whites into the batter.
Heat the pancake pan over medium heat and coat lightly with cooking spray. You can also brush the pan with melted butter.
Spoon 1 tablespoon of batter into each well, followed by 1 teaspoon of fruit preserves in the center of each pancake, and top with an additional 1 tablespoon of batter. Cook until the bottoms are golden brown and the edges are somewhat set. Using 2 wooden skewers, flip the pancakes over and cook until golden brown all around and cooked through.
Transfer to a plate and repeat with the remaining batter. If you like, keep the pancakes warm in the oven. Preheat the oven to 275F and line a baking sheet with parchment paper. Transfer cooked pancakes to the pan and keep warm in the oven as you cook the next batch.
Serve with powdered sugar and maple syrup.
---
Notes
Filling: Feel free to use any flavor of fruit preserves or jam. These are also great with Nutella for a filling or no filling at all!
Leftovers: These pancakes taste the best when served fresh. Leftovers will keep well in the fridge for up to 3-5 days but when reheated they won't have the same crispy texture on the outside.
Nutrition
Serving Size: 4 pancakes
Calories: 227
Sugar: 11.7 g
Sodium: 172.4 mg
Fat: 6.8 g
Carbohydrates: 34.4 g
Protein: 6.9 g
Cholesterol: 87.6 mg
Keywords: strawberry, pancakes, breakfast
Recipe originally published April 2015 but since been updated with more information.
You May Also Like…