Cucumber Roll Ups
Cucumber Rolls Ups with creamy avocado hummus, honey ham, provolone cheese, cilantro, and baby spinach. These roll-ups have protein and make a nutritious snack or light meal.
Cucumber Roll Ups: Great Party Food
Once you try these Cucumber Roll Ups, you won't be able to get enough – I swear, you'll be addicted! Loaded with creamy avocado hummus, honey ham, provolone cheese, cilantro, and baby spinach – they're an easy appetizer or snack, with everything you could ask for: crunchiness, creaminess, and lots of protein.
They're basically a veggie sandwich minus the bread – these light and veggie-loaded meals are my jam. Putting them together is pretty easy too – it's almost like making sushi rolls but with veg instead of rice. Just slice your cucumbers super thin, then roll everything up nice and tight.
They're just the perfect appetizer for any occasion, whether it's a chill hangout with your buds or a fancy schmancy cocktail party. Not only do they look impressive, but they taste delicious too and are sure to be a hit with your guests.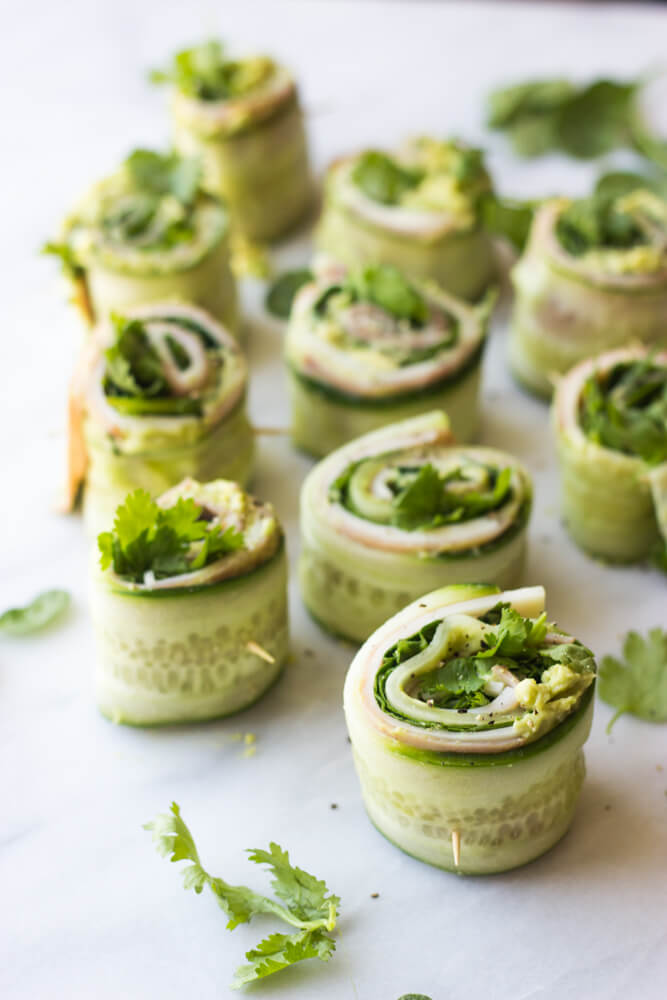 Ingredients
You should be able to find everything you need to make these cucumber rolls in your local grocery store:
Cucumber: As a low-carb alternative to bread, thin-sliced cucumber works well as a "wrapper" while providing a nice, refreshing flavor.
Honey-cured ham: Makes these roll ups sweet and savory at the same time, and is a great source of protein.
Provolone cheese: So creamy and flavorful, and pairs perfectly with the ham.
Baby spinach leaves: Adds leafy goodness to the roll ups, and the slightly peppery taste is a nice contrast to the sweetness of the ham and cucumber.
Fresh cilantro: Fragrant and bright, it adds a zing that ties all the flavors together. Plus, it's packed with antioxidants and vitamins.
Hummus: The base of the spread. It's got that tangy and nutty flavor we all love, and is also packed with protein and fiber.
Avocado: Provides a creamy and rich texture that makes the hummus extra luscious and satisfying.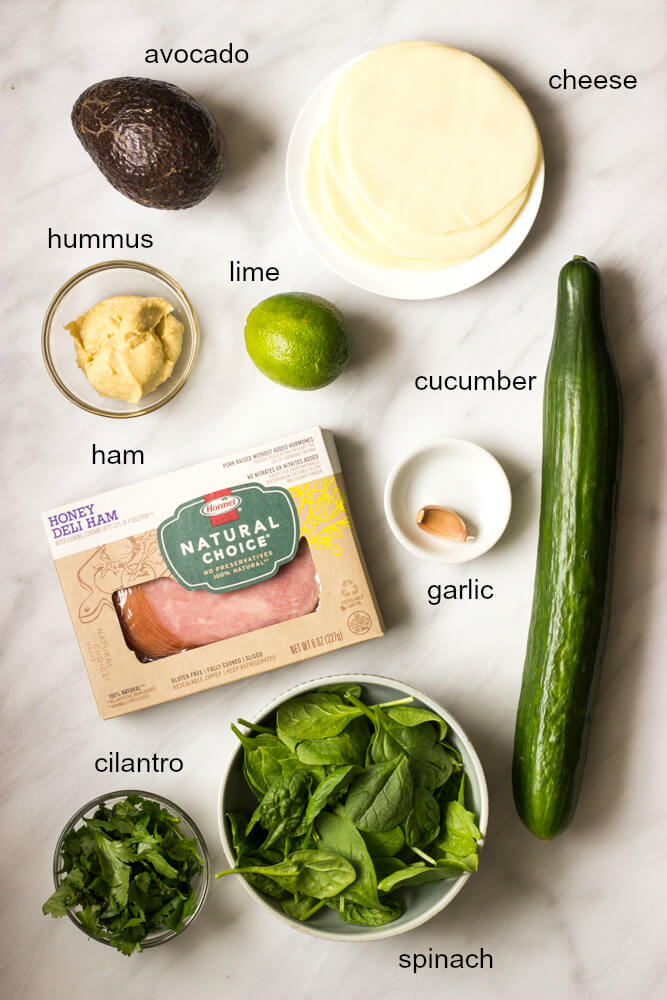 How to Make
Creating these scrumptious, healthy cucumber appetizers is a breeze! Simply follow these quick steps. For more detailed instructions, look at the recipe card below.
Avocado-Hummus Spread
In a bowl, mash the avocado flesh with a fork. Add the hummus, garlic, and lime juice. Season, then mix well.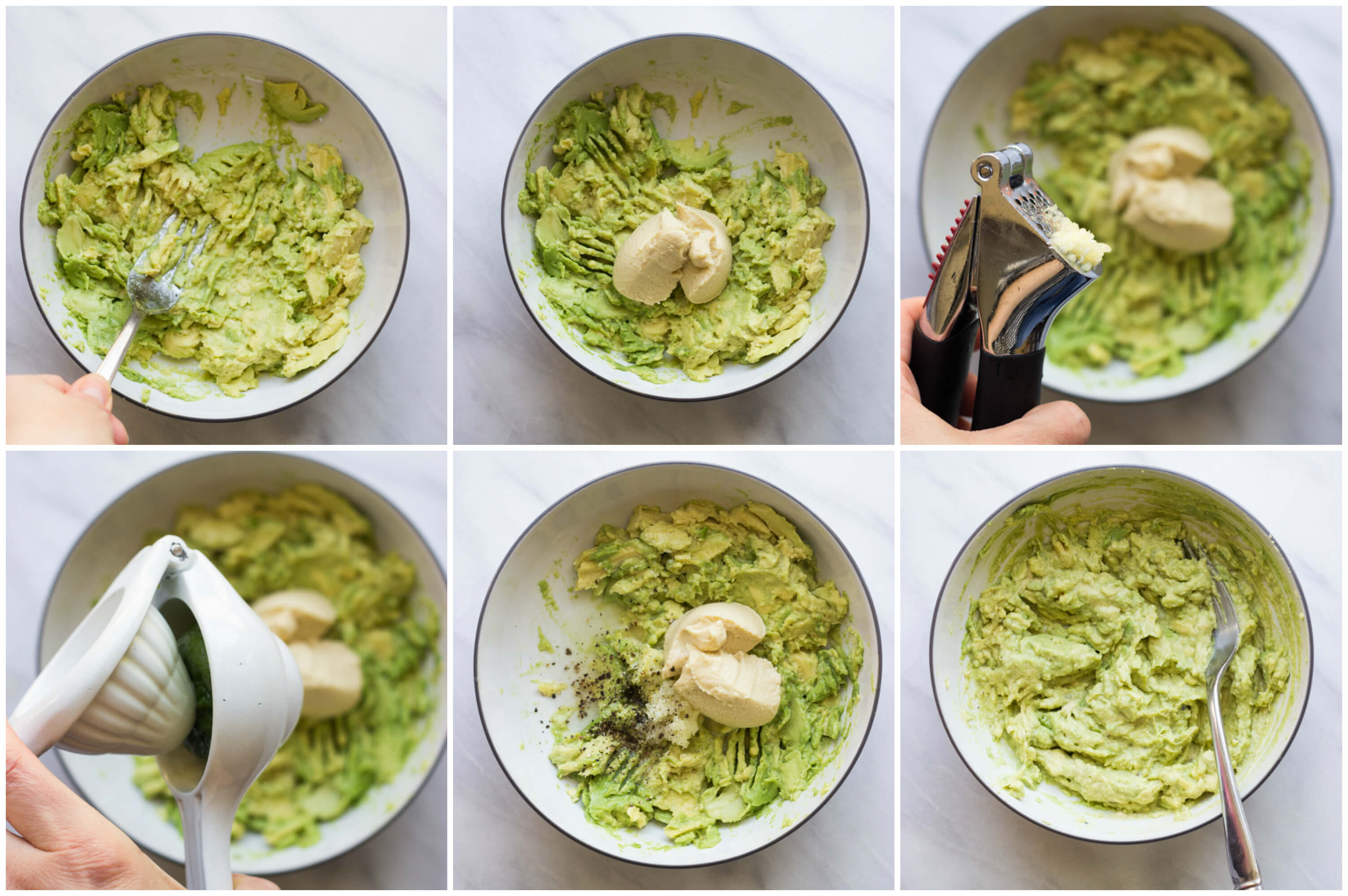 Roll-Ups
Slice the cucumber into thin strips using a mandoline slicer. Arrange the cucumber strips on a flat surface, then spread the avocado-hummus mix on top. Add the ham, cheese, chopped cilantro, and baby spinach before rolling tightly. Cut into portions just before serving.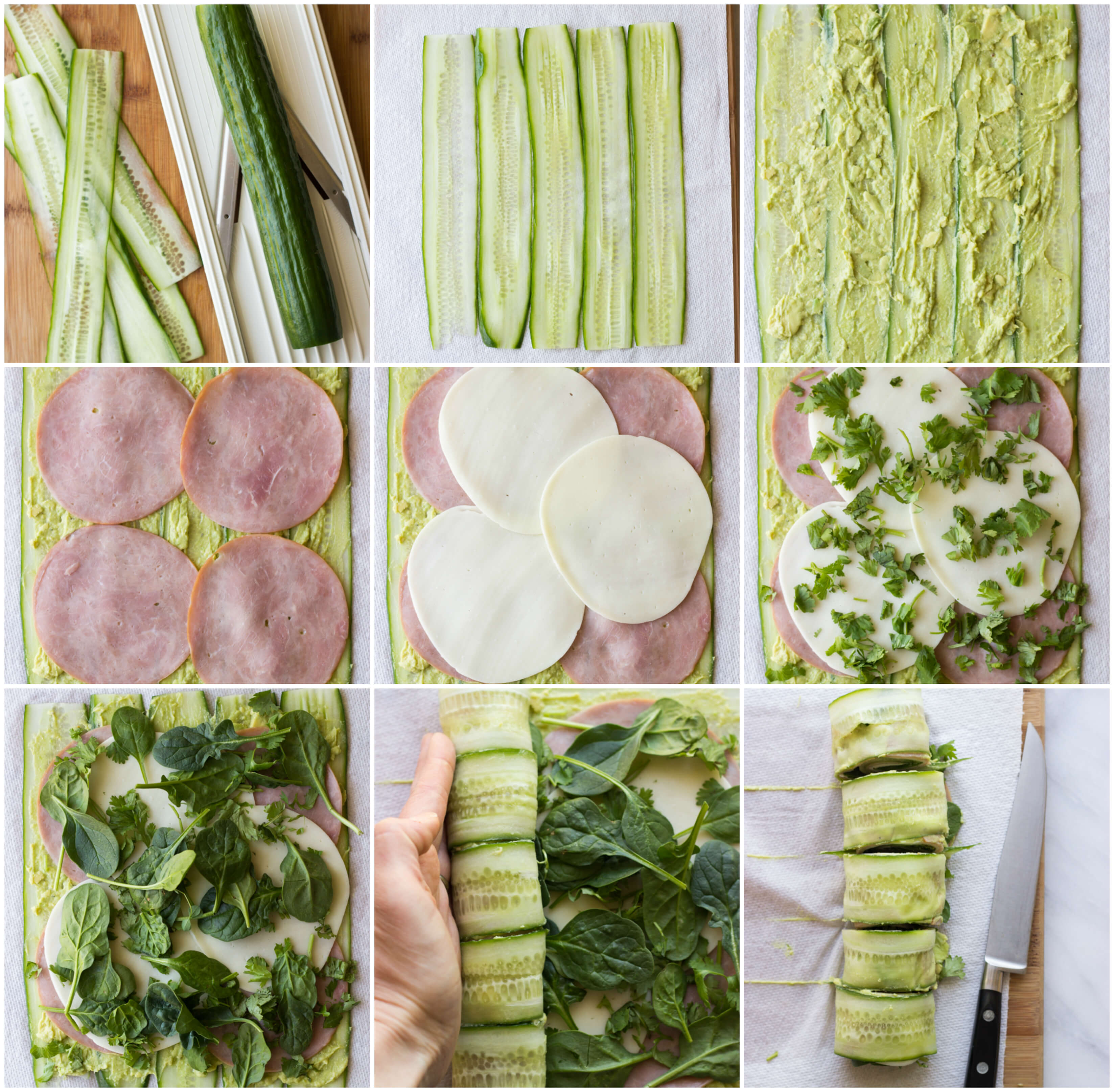 Make This Recipe Your Own
Here are some fun ways you can personalize this cucumber appetizer recipe:
Veggie Delight: Swap out the ham for thinly sliced carrots and bell peppers for a vegetarian meal.
Italian Style: Use thin slices of salami and mozzarella cheese, and add diced tomatoes and fresh basil leaves.
Taco Tuesday: Instead of ham and cheese, use ground beef or turkey cooked with taco seasoning. Add shredded lettuce, diced tomatoes, and a dollop of sour cream.
Greek Twist: Use crumbled feta cheese, sliced kalamata olives, and tzatziki sauce.
BLT Cucumber Roll Ups: Use crispy bacon, lettuce, and diced tomatoes, and top it off with a creamy avocado spread.
Expert Tips
Here are some expert tips to help you bring this cucumber appetizer recipe to the next level:
Hold the toppings: Go light on the toppings; otherwise, your roll-ups will be too big and fall apart.
Nice slices: Use a mandoline slicer to get the perfect cucumber slices – they need to be almost paper thin.
Better to blot: Blot your cucumber slices with a paper towel to get rid of any extra moisture. No one likes a soggy roll-up, am I right?
A cut above: If making ahead of time, don't slice into portions until just before serving – this way, they won't dry out too fast.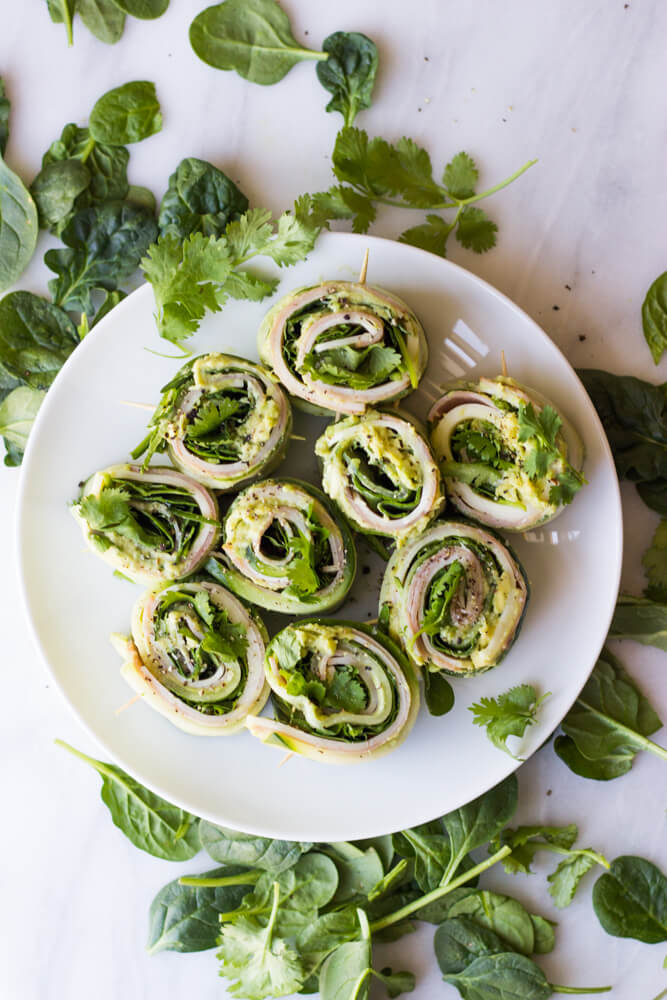 How to Serve
When it comes to serving these ham and cheese cucumber roll ups, you have tons of choices. These tasty bites are delicious all on their own – for both adults and kids. When it comes to the little ones, there are plenty of easy kid snacks you can pair them with.
And not only are they perfect for snacking, but they also make an awesome appetizer for just about any gathering. You can prepare them a few hours before serving. Just make sure you double or triple the recipe – you don't want anyone to miss out on these delicious bites!
Turn these roll-ups into a complete meal by serving them with a mandarin salad or San Marzano tomato soup. For more veggies, add some crunchy carrot sticks or juicy cherry tomatoes. If you've got a sweet tooth, adding a fruit platter with berries or sliced melon is the perfect finishing touch.
FAQs
Do I need a mandoline slicer?
If you don't have a mandoline slicer, you can use a vegetable peeler or a sharp knife to slice the cucumber into thin strips. Whatever method you use, the key is to carefully slice the cucumber as thinly as possible without tearing the slices, so they'll roll up nice and easily.
Can I make them ahead of time?
Absolutely! These cucumber roll-ups are a perfect make-ahead appetizer. You can prepare them a few hours before serving – just keep them in the fridge in an airtight container until you're ready to serve.

Just remember to wait until the last minute to slice the rolls into small portions.

What is the best cucumber to use?
You can use any type of cucumber for making cucumber roll ups, but English cucumbers work best. They're longer with a smaller seed area, making them easier to slice and roll.
More Snacks Ideas
Print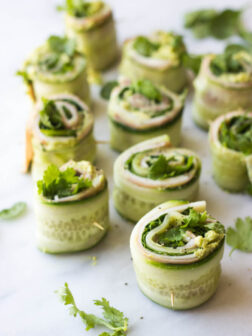 Cucumber Roll Ups Recipe
Author: Katya
Prep Time: 30 mins
Cook Time: 30 mins
Total Time: 1 hour
Yield: 4-5 1x
Category: Snack
Method: No-Cook
Cuisine: American
---
Description
Cucumber rolls ups with creamy avocado-hummus, honey ham, provolone cheese, cilantro, and baby spinach. These roll ups have protein and make a nutritious snack or light meal.
---
Avocado-Hummus Spread
1 ripe avocado, pitted
2 Tbsp. plain hummus
1 garlic clove, pressed
2 tsp. fresh lime juice
Kosher salt and fresh black pepper, to taste
Roll-Ups
1–2 seedless cucumbers, ends removed
6–8 slices honey deli ham
6 slices deli provolone cheese
Fresh chopped cilantro
Fresh baby spinach leaves
---
Instructions
Avocado-Hummus Spread
In a small bowl, mash the avocado flesh with a fork. To the avocado, add hummus, garlic, and lime juice. Season with salt and pepper, to taste. Mix until well blended.
Roll-Ups
With a mandoline slicer*, slice the cucumber into thin strips. I was able to get about 10 strips out of one medium size cucumber. The first couple or so strips were too small to use so I tossed those for a salad. You may have a little less or more strips depending on the size of the cucumber.
Place 5 cucumber strips next to each other, on a paper-lined flat surface, such as a cutting board, and using a clean paper towel, blot some of the moisture on top.
Spread 2-3 tablespoons of the avocado hummus evenly over the slices. Then add 3-4 slices of ham, 3 slices of provolone cheese, a light layer of cilantro leaves, and a light layer of baby spinach.
Starting at one end, tightly roll all of the cucumber slices into one long "sushi" roll.
Using a sharp knife, cut the roll into individual servings. Secure with a toothpick and place on a serving platter. Repeat with the remaining cucumber strips.
These are best when served the same day. I was able to get about 10 roll-ups out of one cucumber.
---
Notes
Slicing Cucumbers: The best way to achieve thin cucumber slices is to use a mandoline slicer instead of a vegetable peeler. But depending on the size of your vegetable peeler you may be able to use it. 
Leftovers: These roll-ups are best served immediately. Cucumbers will release moisture the longer they sit.
Nutrition
Serving Size:
Calories: 304
Sugar: 1.2 g
Sodium: 1090.7 mg
Fat: 19.5 g
Carbohydrates: 7.6 g
Protein: 26 g
Cholesterol: 76.4 mg
Keywords: snack, roll ups, kid friendly
You May Also Like…