Chia Seed Pudding with Yogurt
Overnight chia seed pudding made with wholesome ingredients and no refined sugar. Thick, creamy, and perfect healthy snack! Made with 6 simple ingredients, one bowl, and a whisk.
This chia seed pudding with yogurt is a nourishing recipe made with 6 simple ingredients.
Relish in an overnight chia seed pudding ready to go in the morning for a quick grab-and-go breakfast, or enjoy it as a midday snack for a boost of energy to get you through the day.
Chia yogurt pudding is a thick, creamy, and perfect healthy snack mixed in one bowl in just minutes.
Reasons to Love This Recipe
Easy to make. Add the ingredients to a bowl and whisk together before covering and storing in the fridge overnight. That's it!

Best creamy texture. Chia seed pudding is already creamy, but the addition of thick Greek yogurt takes the consistency to another level with its velvety pudding and pops of chia seeds throughout.

Superfood-supercharged. Chia seeds contain nutrients like omega-3s, calcium, potassium, and magnesium. Not to mention they are full of fiber and protein!

Versatile for toppings. Once you've created this creamy pudding of yogurt and plump gelatinous chia seeds, you'll have the perfect dish for toppings. Fresh berries, crunchy nuts, extracts, and so much more.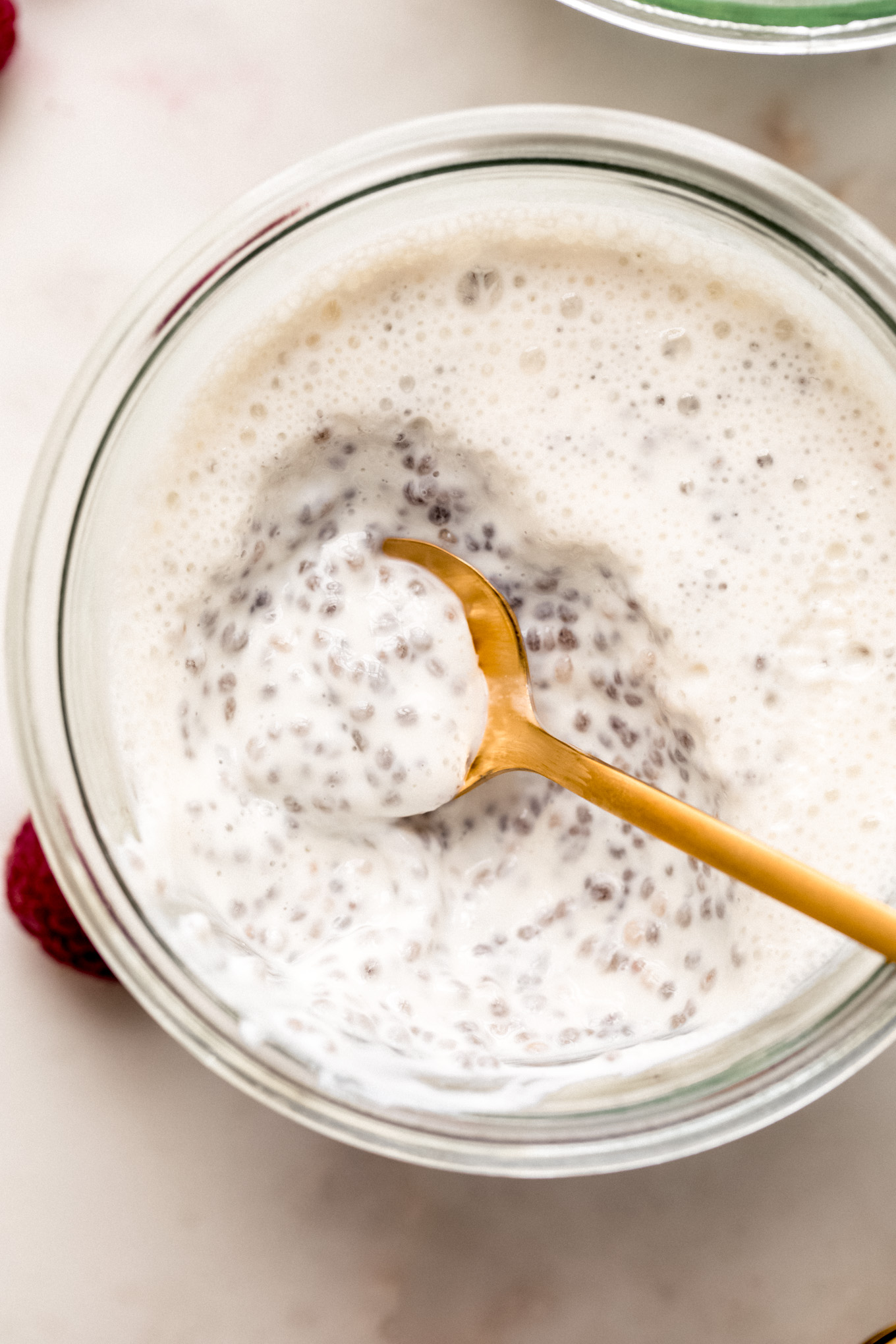 Ingredients
Milk: Regular whole milk is what I use for chia pudding, but any milk will do.
Yogurt: Plain Greek whole milk yogurt for the best thick and creamy pudding. You can use other types of yogurt, but the consistency will differ, as Greek yogurt is the thickest you can get.
Chia seeds: I like a ratio of chia seeds to be around ¼ cup for every 2 cups of milk/yogurt.
Maple syrup: Just enough to add a little sweetness or substitute with honey.
Vanilla: This is wonderfully aromatic and adds a little vanilla flavor to the pudding.
Salt: Just a pinch to help balance the sweet and creamy ingredients.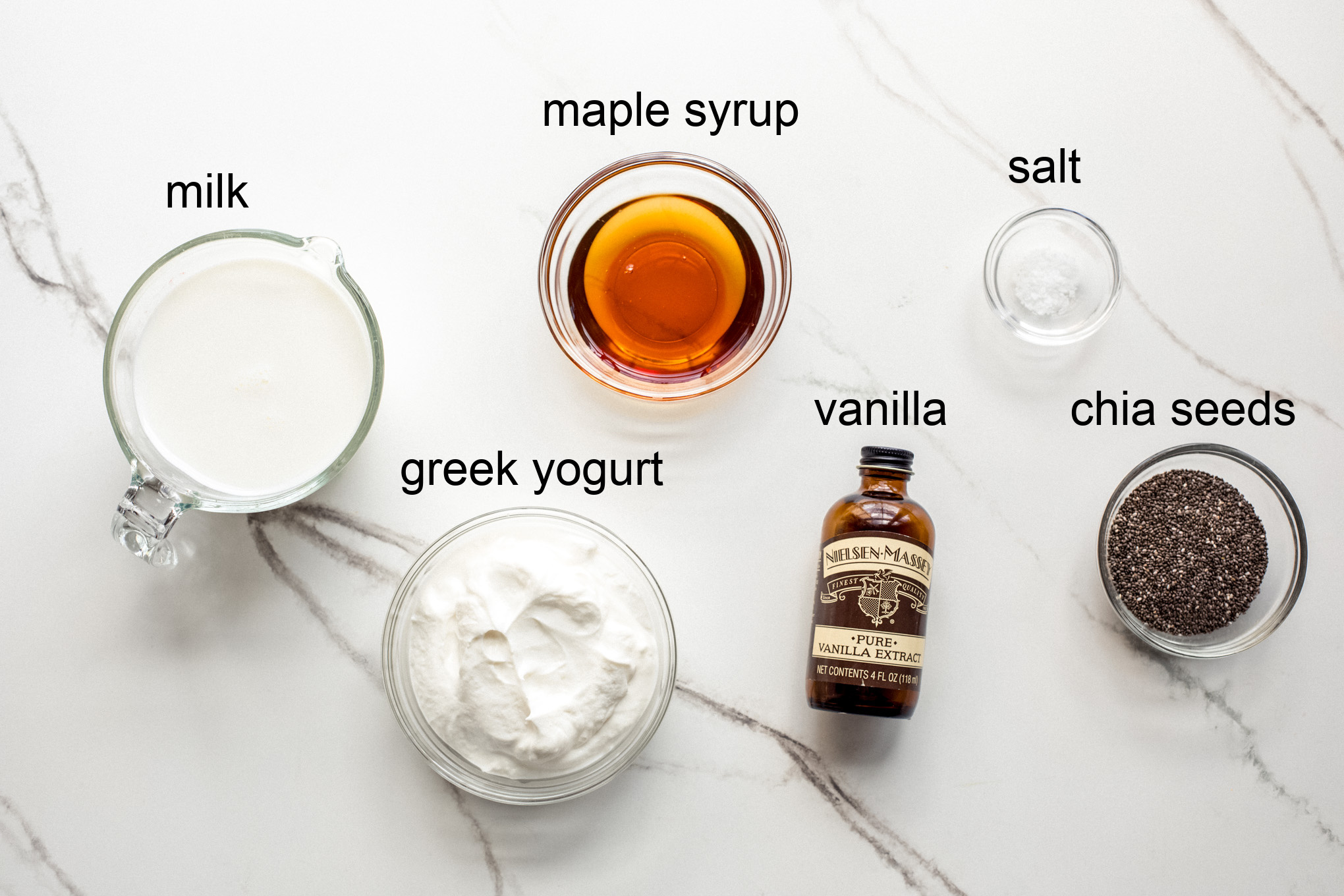 Topping Ideas
Chia pudding with yogurt is a delicious, no-fuss way to have a quick breakfast or snack when you want something cold and sweet. There are so many ways to add your favorite toppings to this pudding. Here are a few of our favorites:
How to Make Chia Seed Pudding with Yogurt
Step 1: Add the milk, Greek yogurt, maple syrup, vanilla, and salt to a bowl, whisking together until smooth.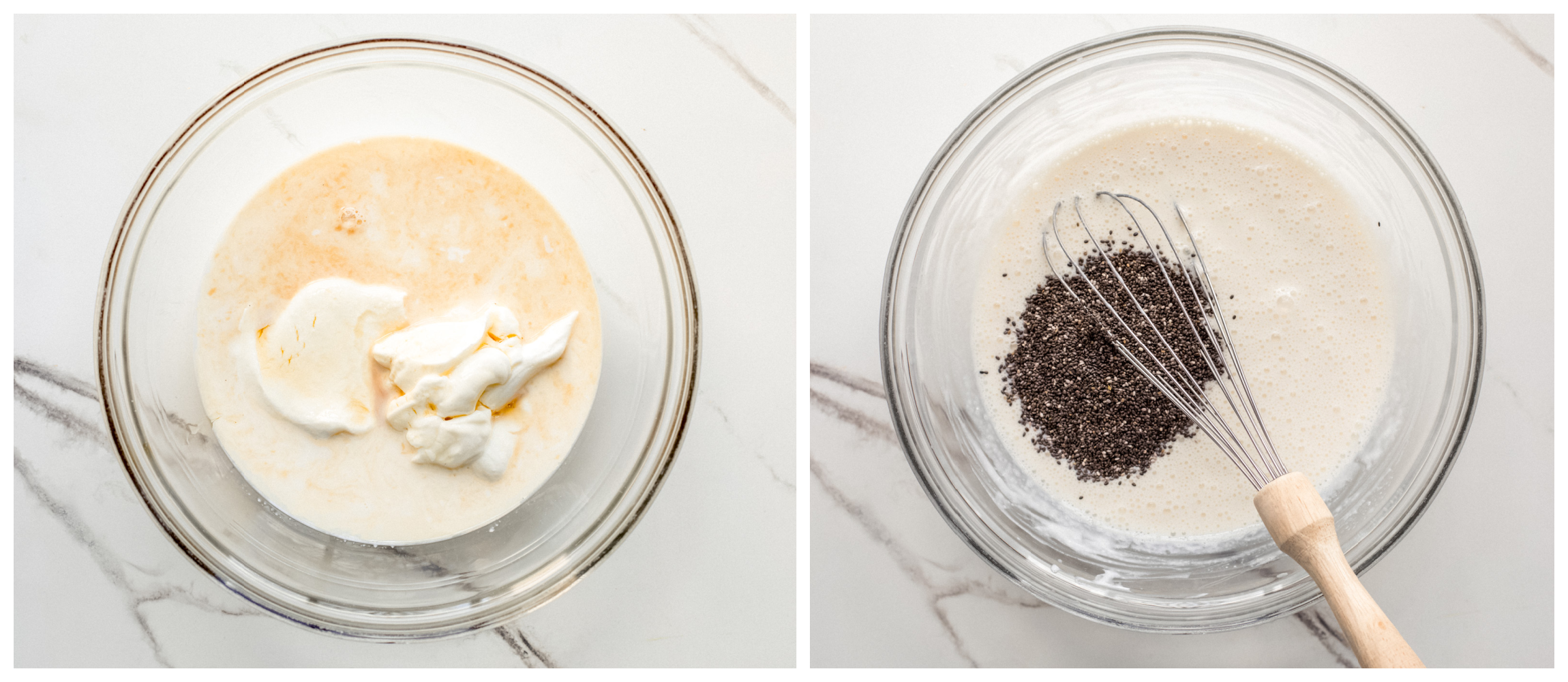 Step 2: Sprinkle in the chia seeds and whisk again to combine.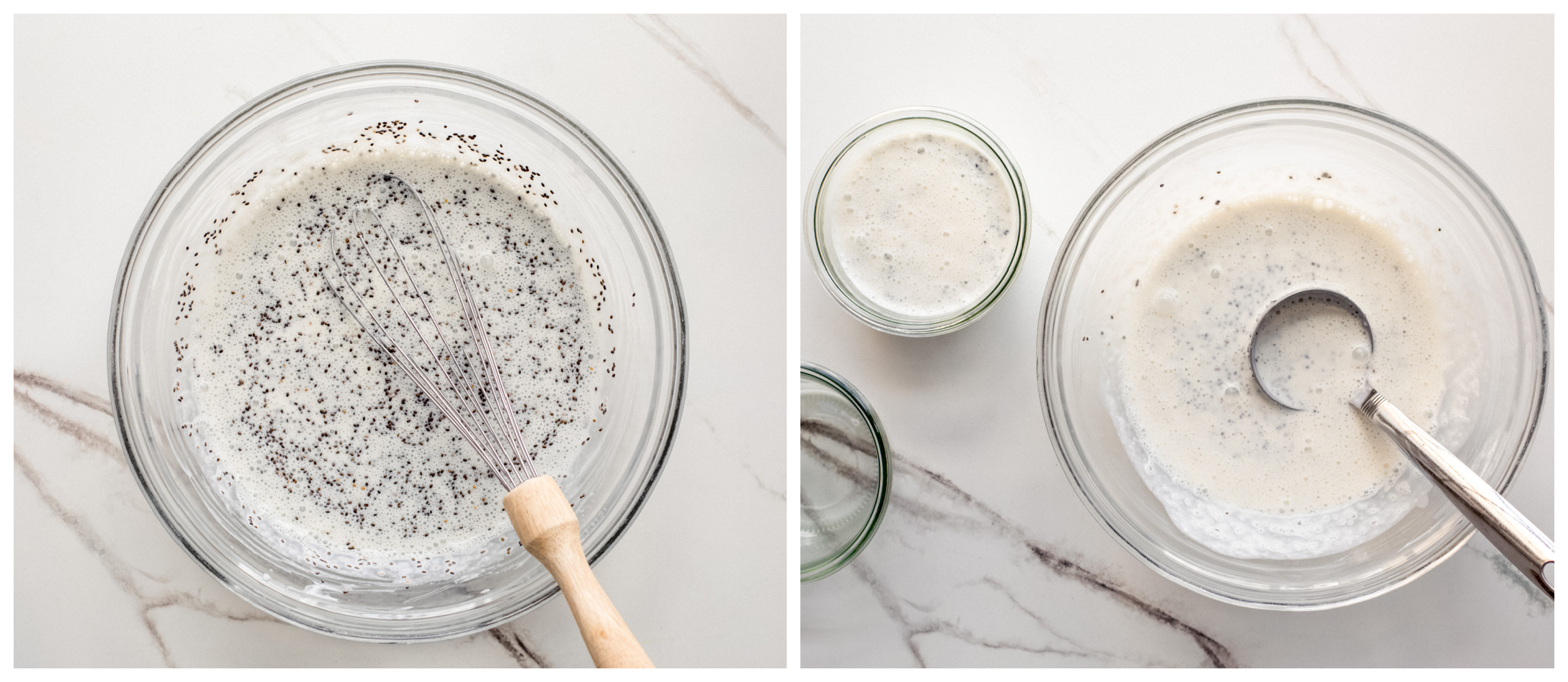 Step 3: Transfer the mixture into individual jars with a lid. Refrigerate overnight.
Recipe Tips
Make sure to stir it well before storing it. Chia seeds tend to clump together, so I do two rounds of vigorous whisking before covering and storing them in the fridge. After the first mix, wait about 10 minutes and give the pudding mixture another whirl. After chilling, stir it one more time to mix in any chia seeds that settle overnight before dividing it into portions.
Let it chill overnight. You can enjoy chia pudding within two hours after refrigerating, but for the best results, let it rest overnight. This will fully develop the chia seeds into plump little beads and set them up nicely.
Load on the toppings. Chia yogurt pudding is the perfect base to load up with topping. Fresh fruit, nuts, granola, you name it! This pudding is ideal for topping, and you really can't go wrong!
Try it for dessert. Sure, you can keep the toppings fresh and healthy or go a little more decadent with a spoonful of nut butter or chocolate chips with some sweet cream.
How Long Does Chia Seed Pudding Last?
Store Greek yogurt chia pudding in the fridge for 5-7 days without toppings. Toppings last longer when stored separately and added fresh when ready to eat.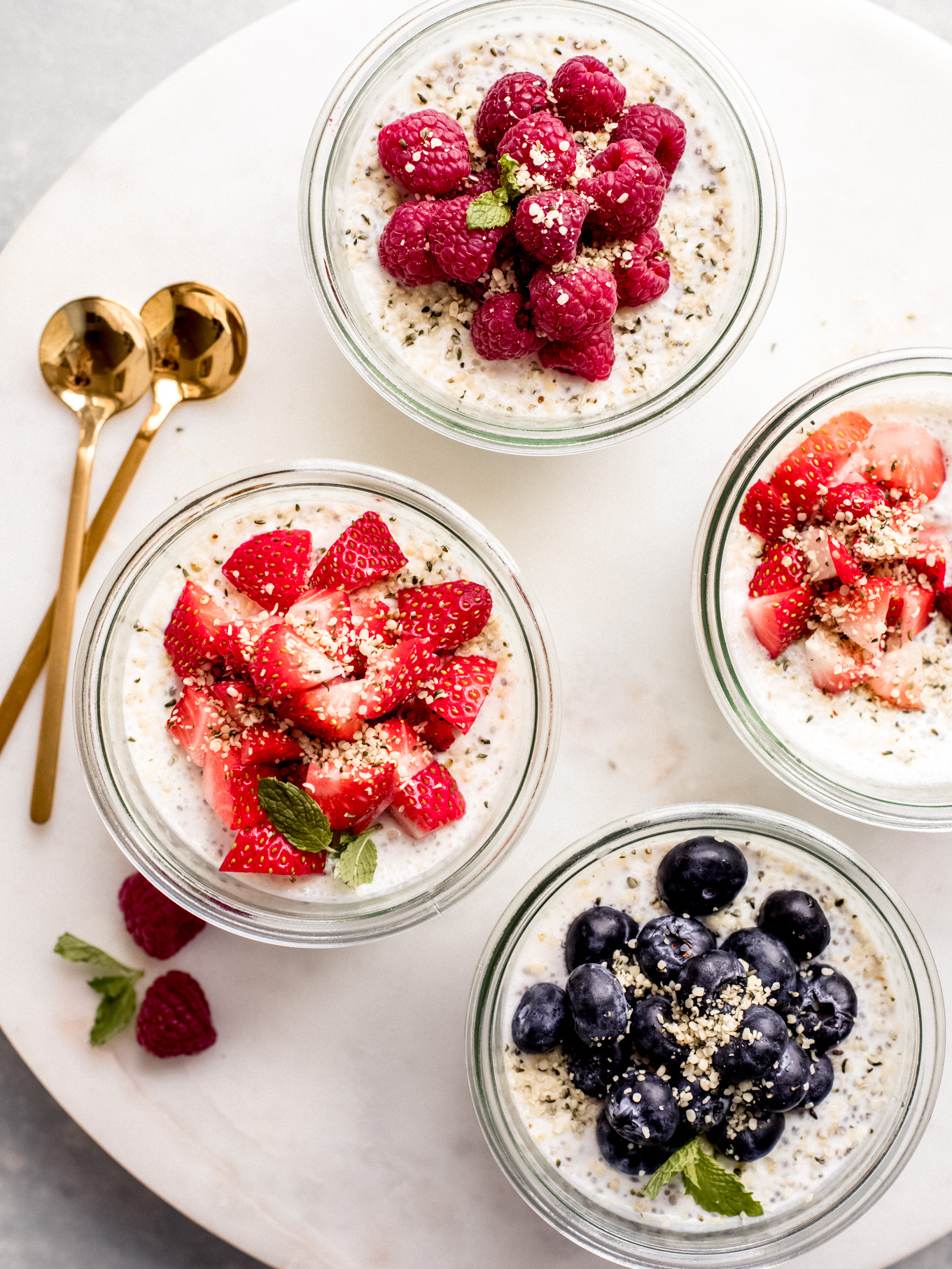 FAQs
What color chia seeds do you use for chia pudding?
Black or white chia seeds will work well for chia pudding, and both contain similar health benefits. Either way, avoid brown chia seeds as they lack most of the superfood goodness the others offer.
What do chia seeds taste like in yogurt pudding?
Chia seeds plump up and have a mild flavor but mostly take on the flavor of whatever they're added to. For this pudding, they will soak in the vanilla yogurt and extract to highlight the sweet aromatic vanilla taste.
Why didn't my chia seeds plump up into a pudding consistency?
Your chia seeds may be expired! Check the date and freshness. They won't mix as well as fresh chia seeds and won't expand as much. 
More Recipes with Chia Seeds
Print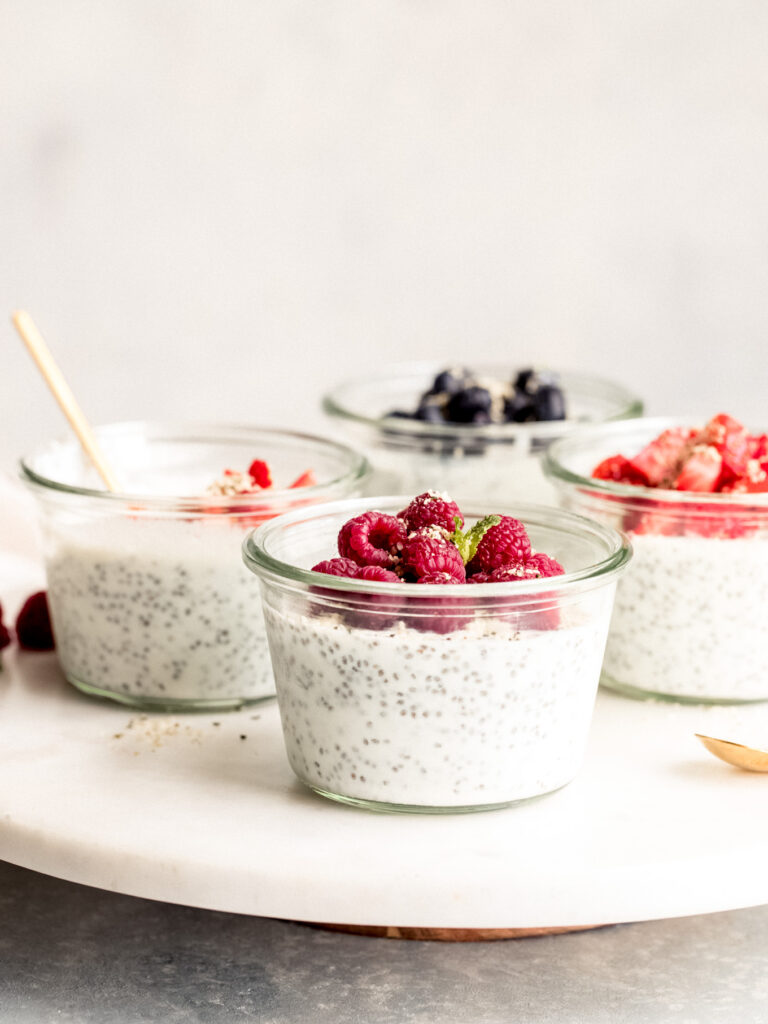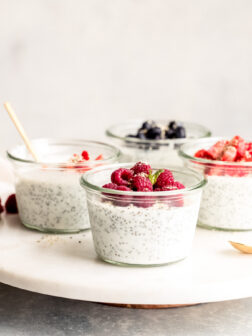 Chia Seed Pudding with Yogurt
Author: Katya
Prep Time: 10 mins
Total Time: 10 mins
Yield: 4 1x
Category: Breakfast
Method: No-Cook
Cuisine: American
---
Description
Overnight chia seed pudding made with wholesome ingredients and no refined sugar. Thick, creamy, and perfect healthy snack! Made with 6 simple ingredients, one bowl, and a whisk.
---
3/4 cup whole milk
1 cup plain Greek yogurt, preferably whole milk
2 Tbsp. pure maple syrup
1 tsp. vanilla extract
Pinch of fine sea salt, about 1/8 tsp.
1/4 cup chia seeds
To serve, fresh berries, granola, toasted coconut flakes, or sliced almonds
---
Instructions
Add all ingredients except chia seeds to a medium bowl and whisk vigorously to combine. Then, whisk in the chia seeds.
Cover the bowl with plastic wrap and refrigerate overnight. Or transfer between individual-size serving jars. 
In the morning, give the pudding a good whisk to evenly distribute the chia seeds that have settled on the bottom. Serve chilled with toppings of choice. Makes 2 (1 cup) portions or 4 (1/2 cup) portions.
---
Notes
Maple syrup: Feel free to add an extra tablespoon of maple syrup if you prefer chia pudding on a sweeter side. Honey can be used as well.
Make it dairy free: Use your favorite plant-based milk and dairy-free yogurt. Add an extra tablespoon of chia seeds if making it dairy-free.
Storing: Chia pudding can be enjoyed the same day it is made. It's ready when the mixture is no longer liquidy but thick and creamy, usually after 1-2 hours of chill time. Store leftovers without any toppings covered in the fridge for up to 5 days.
Nutrition
Serving Size: 1/2 cup
Calories: 179
Sugar: 15.6 g
Sodium: 48.5 mg
Fat: 5.6 g
Carbohydrates: 22.3 g
Protein: 10.1 g
Cholesterol: 6.8 mg
Keywords: chia pudding, make ahead, breakfast
Recipe originally published March 2016, but updated to include new information.
You May Also Like…