Rosemary Garlic Potatoes
Learn how to make extra-crispy roasted rosemary garlic potatoes! These require no extra steps – simply a sheet pan and the ingredients.  
Serve them alongside our breakfast casserole with bacon.
These roasted potatoes make a great side dish for a wide variety of meals, such as breakfast and main entrées.
Side Dish that Everyone Loves!
A side dish that everyone loves! These garlic and rosemary potatoes are perfectly crunchy on the outside with a soft and velvety inside, similar to scalloped potatoes.
You'll love these potatoes, alongside our Asian green beans as a side dish for holidays like Thanksgiving or Christmas but they're also simple enough to put together for an easy weeknight dinner to serve alongside a roasted lemon rosemary chicken.
The best part — these potatoes require no par-boiling or complicated steps. Just a handful of simple ingredients and a sheet pan.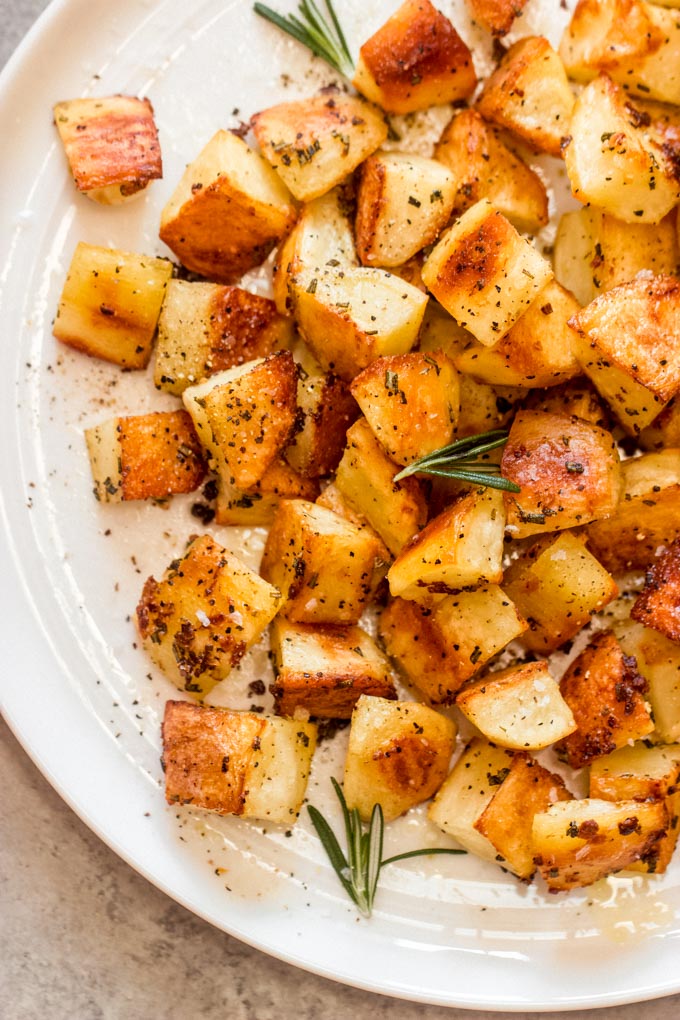 Ingredients for Rosemary Garlic Potatoes
Potatoes: I like Russet potatoes as they are easy to find at just about any supermarket. Plus Russet potatoes produce crisper crusts and fluffier centers. Yukon Golds work just as good but they are just less crispy.
Garlic: Nothing beats fresh garlic. For best flavor, peel, and mince the garlic yourself. Avoid using pre-minced garlic or garlic powder.
Rosemary: I try to use fresh herbs whenever possible and just like garlic, fresh rosemary is the way to go. However, dried spices are very convenient and if you must, you can use 1 teaspoon of dried rosemary instead.
Oil: Olive oil or avocado oil is great for roasting potatoes. I use both interchangeably.
Kosher salt and fresh black pepper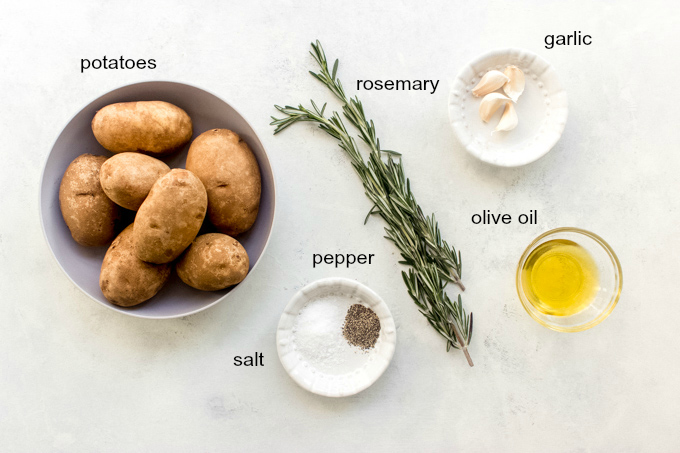 How to Make Rosemary Garlic Potatoes
Roasted potatoes are easy to make and delicious if you know these basic tips and tricks.
Step 1: Peel and pat dry.
Whether you use Russet potatoes or Yukon Golds, peel the potatoes and rinse under cold water. If you like extra texture, leave the skin on. Just make sure to scrub potatoes clean under running water. Pat dry with a few sheets of paper towels before slicing.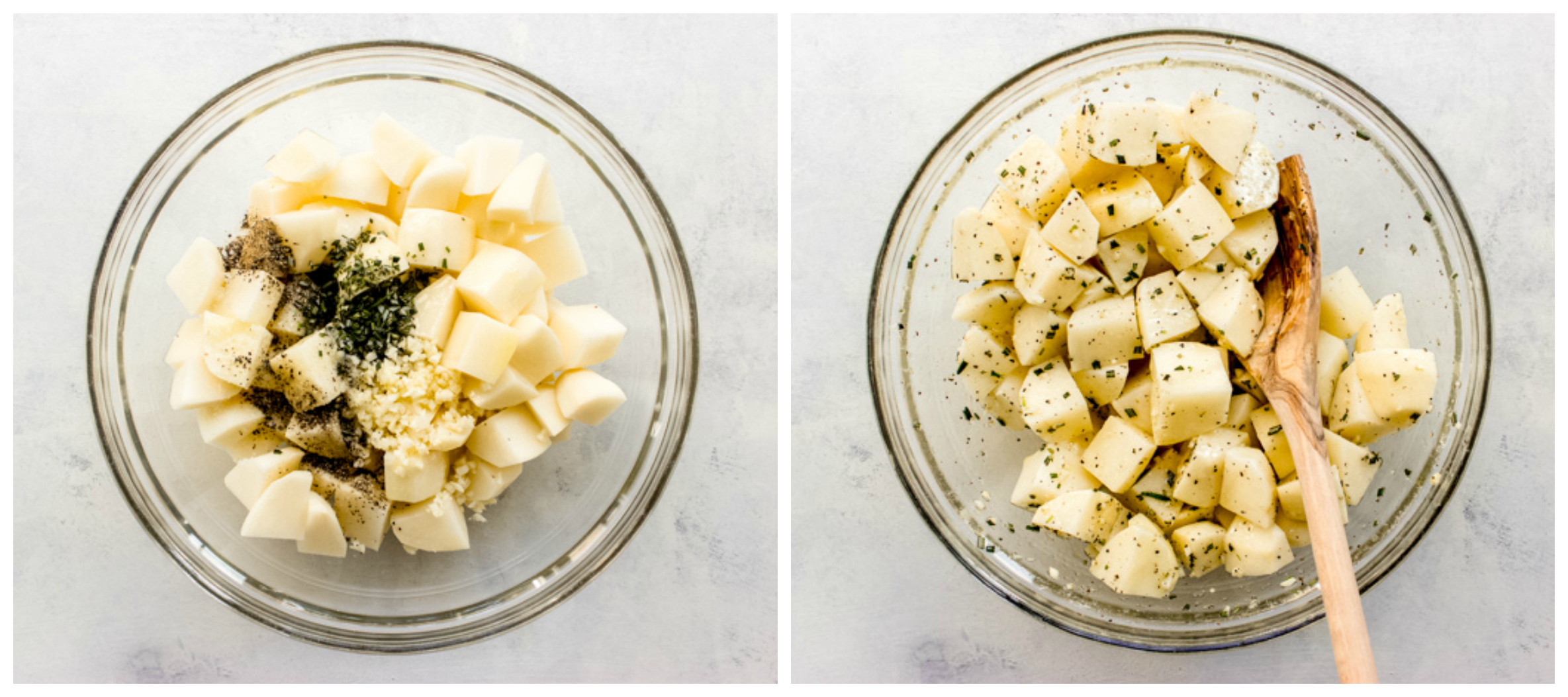 Step 2: Cut into cubes and toss with oil.
Cut the potatoes into roughly one-inch cubes. You want them close to the same size so they roast evenly. Add to a large mixing bowl with the garlic, rosemary, salt, pepper, and olive oil. Using a spoon or a pair of tongs, thoroughly toss around until evenly coated.
Step 3: Don't overcrowd the pan.
Just like all vegetables, potatoes need breathing room on the pan so they can brown and crisp up. Make sure you're not overcrowding them. Meaning they're not on top of each other but instead spread in one layer with some space around.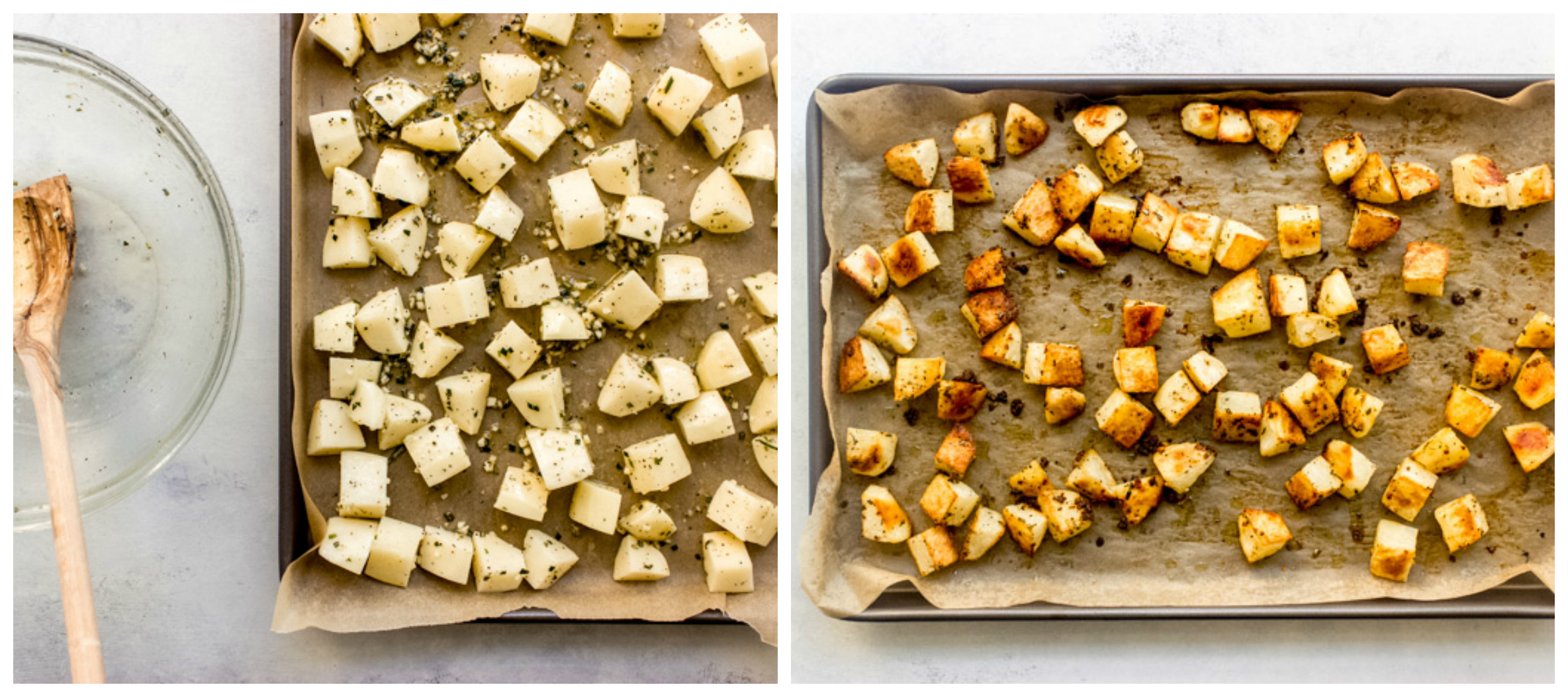 Tip: If you make roasted potatoes (or any other kind of roasted vegetables) regularly, I recommend a half sheet-pan or a larger pan for roasting.
You'll want to roast the potatoes at 400 F for about 45-50 minutes, turning and shaking them a few times during cooking to ensure even browning. A pair of tongs work great for this step.
Making in Advance and Leftovers
Roasted potatoes are best enjoyed immediately. Just like fries, they're perfectly crunchy and crispy right when they come out of the oven. Leftovers do keep refrigerated for up to 4 days but they will not taste the same when reheated.
If you're looking to prepare potatoes in advance you can peel them, place them into a bowl, and cover with cold water. Refrigerate covered for up to 24 hours. On the day of roasting, simply drain the potatoes, pat dry with a few sheets of paper towels, and slice into cubes.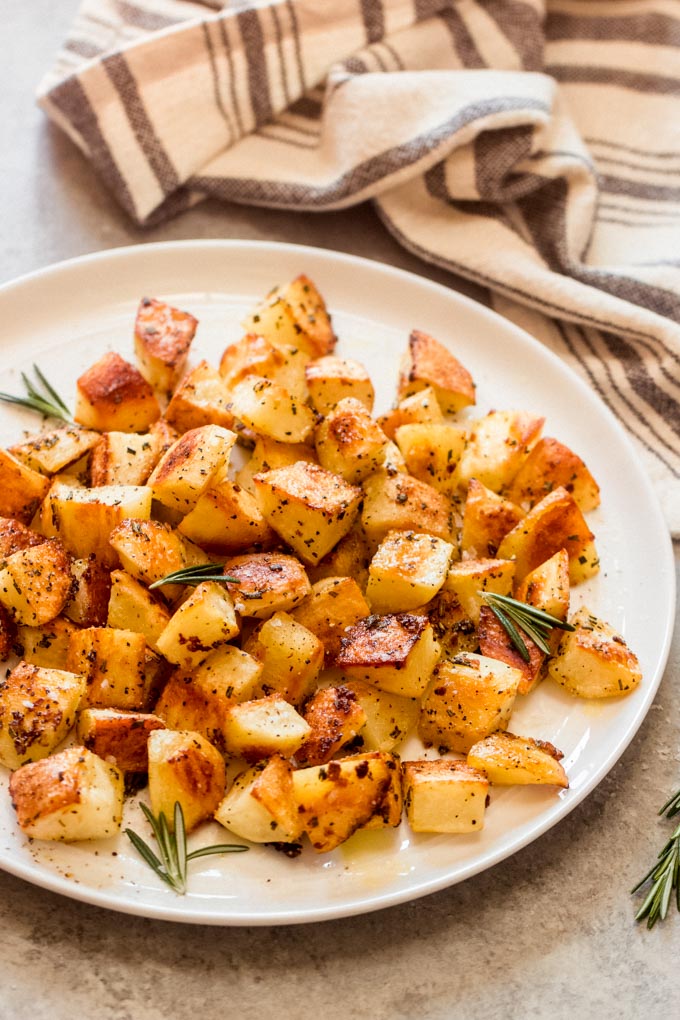 Serving Suggestions
Garlic and rosemary potatoes make a great side dish for a wide variety of meals. They're an especially good option for quick stovetop dinners. Put your potatoes in the oven before you get started on the rest, and they'll be done around the time your entrée is finished.
Serve roasted potatoes as a side dish for these meals:
More Roasted Vegetable Side Dishes
Print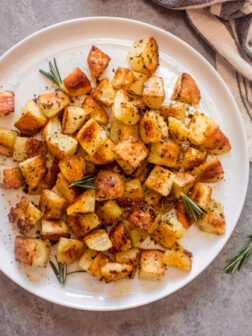 Rosemary Garlic Potatoes
Author: Katya
Prep Time: 15 mins
Cook Time: 45 mins
Total Time: 1 hour
Yield: 4 1x
Category: Side
Method: Roasted
Cuisine: American
---
Description
Rosemary garlic potatoes make for one delicious side. They are creamy on the inside and crispy on the outside.
---
2 lbs. russet or Yukon Gold potatoes, peeled and cut into 1-inch cubes
1 Tbsp. fresh minced garlic, about 3–4 cloves
1 Tbsp. fresh minced rosemary
1 1/4 tsp. kosher salt
1/2 tsp. fresh black pepper
3 Tbsp. olive oil
---
Instructions
Preheat the oven to 400 degrees F. Line a half-sheet pan with parchment paper and set aside.
In a large bowl, combine the potatoes, garlic, rosemary, salt, pepper, and olive oil. Toss until the potatoes are well coated.
Transfer the potatoes to a sheet pan and spread out into one layer. Do not overcrowd. Roast for 45-50 minutes or until crisp and tender. Toss around a few times during cooking in order to ensure even browning. Allow to cool slightly and serve immediately.
---
Notes
Potatoes: Russet potatoes will produce crisper crusts and fluffier centers. Yukon Golds will be slightly less crisp and have creamier centers.
Leftovers: Roasted potatoes taste the best immediately out of the oven. They do keep in the fridge for about 4 days but will not be crispy when reheated.
Substitutions: See post for all substitutions.
Note: This recipe is all about technique. See post for detailed tips and tricks to making this recipe a success.
Nutrition
Serving Size: 1/4 potatoes
Calories: 277
Sugar: 1.4 g
Sodium: 399.9 mg
Fat: 10.8 g
Carbohydrates: 42.7 g
Protein: 5.1 g
Cholesterol: 0 mg
Keywords: crispy potatoes, easy side, holiday side
You May Also Like…