Asparagus Frittata
This Asparagus Frittata recipe is a great addition to your brunch repertoire! You'll find this classic Italian dish easy to make and packed with nutritious ingredients.
Serve it alongside our Chicken Apple Sausage for a complete meal.
Love frittatas? Try our leftover pasta frittata that transforms leftovers into a next-day meal!
What is Asparagus Frittata?
Asparagus frittata is an Italian dish that combines eggs, cheese, and leeks, asparagus. Its texture is similar to a quiche or a fluffy omelet. Not only is it easy to make, but it's also a filling meal that's great for breakfast paired with fruit toast, lunch, or dinner.
The asparagus and leeks give the dish a distinct flavor and are also packed with nutrients like fiber, vitamins, and antioxidants. The eggs are a great source of protein and healthy fats, so you'll feel full and satisfied throughout the day.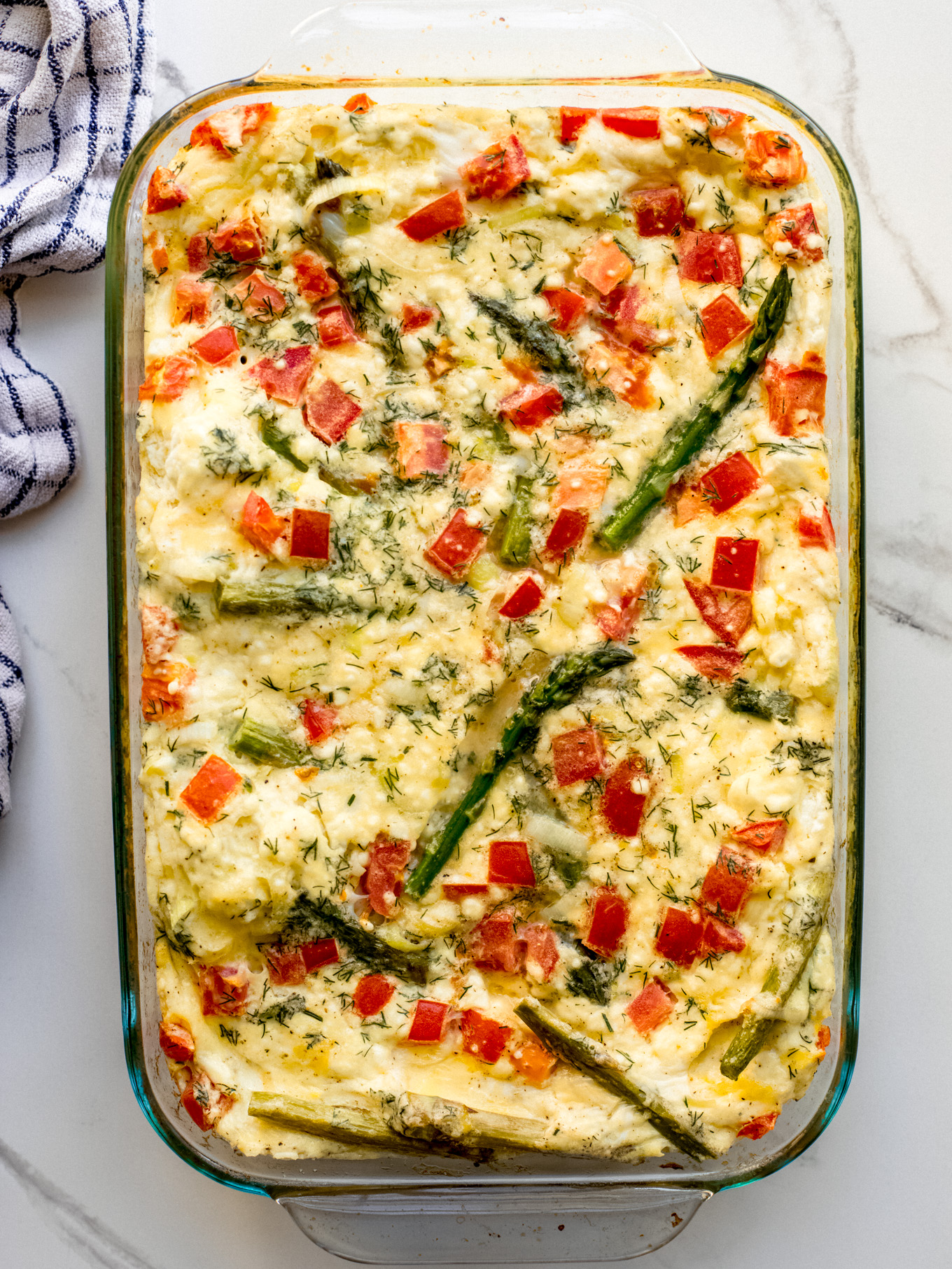 Ingredients
You'll find the main ingredients for baked asparagus frittata at your local grocery store.
Asparagus: Adds a unique crunch and subtle, earthy flavor to the frittata. Also full of fiber and vitamins.
Leeks: Mildly flavored similar to an onion. Leeks provide a delicious oniony flavor without being too overpowering.
Tomato: Use Roma tomato for its tangy taste and firm texture.
Eggs: Eggs form the base of the dish, giving a fluffy and light texture
Half-and-half: A mixture of half whole milk and half cream. Gives a creamy texture.
Dill: A herb that enhances the overall taste of the frittata and adds a refreshing aroma.
Goat cheese: Adds tanginess and creaminess, complementing the asparagus and dill.
Butter: Used for sautéing the asparagus and leeks, the butter gives it a rich and indulgent flavor.
Kosher salt: Brings out the flavors of all the ingredients and helps bring out the natural sweetness of asparagus.
Black pepper: Adds a bit of heat and warmth to the dish.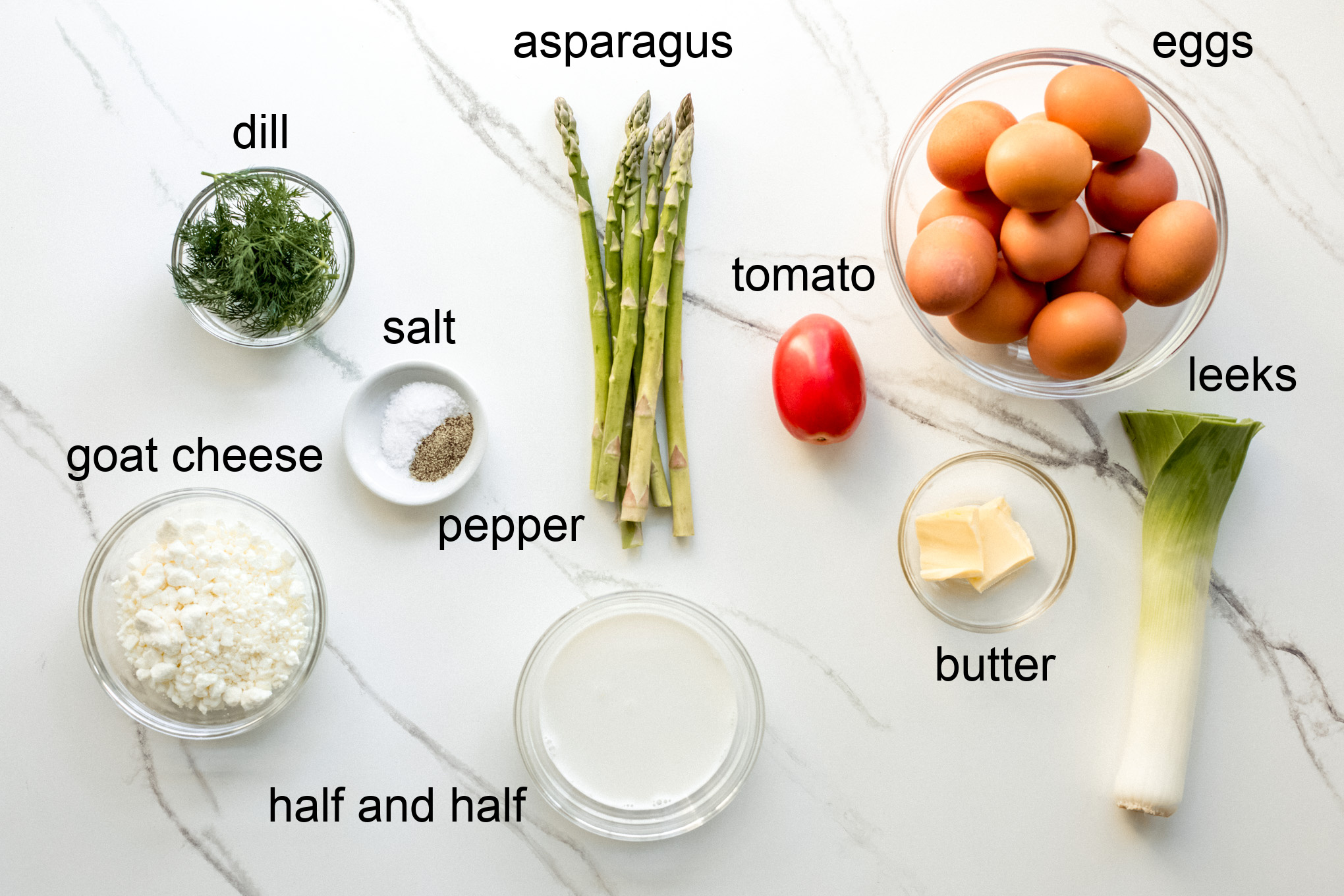 How to Make Asparagus Frittata
You'll find this asparagus frittata recipe easy to make by following these quick steps. See the recipe card below for more details.
Melt butter in a skillet over medium heat. Add asparagus and cook until crisp-tender. Remove and add leeks, and cook until tender.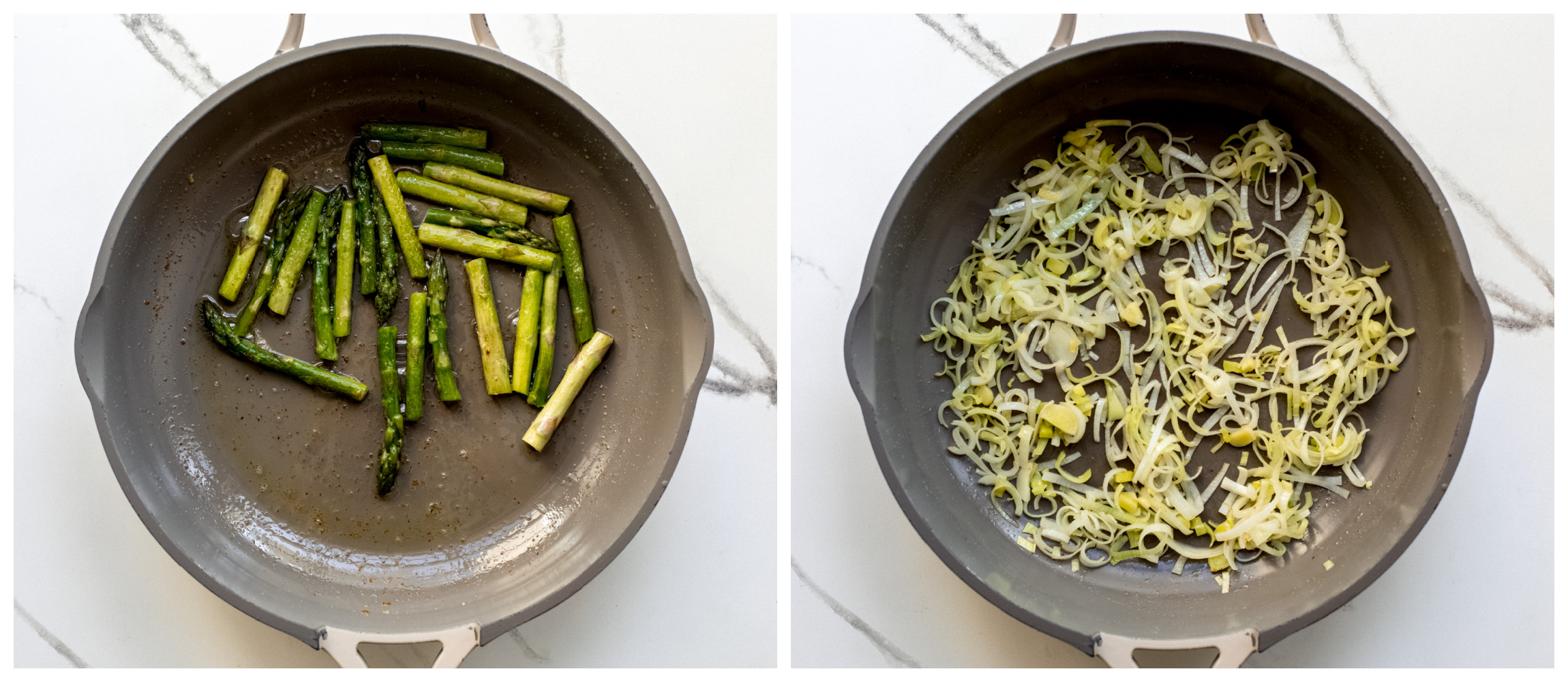 Whisk eggs, half-and-half, dill, salt, and pepper in a large bowl.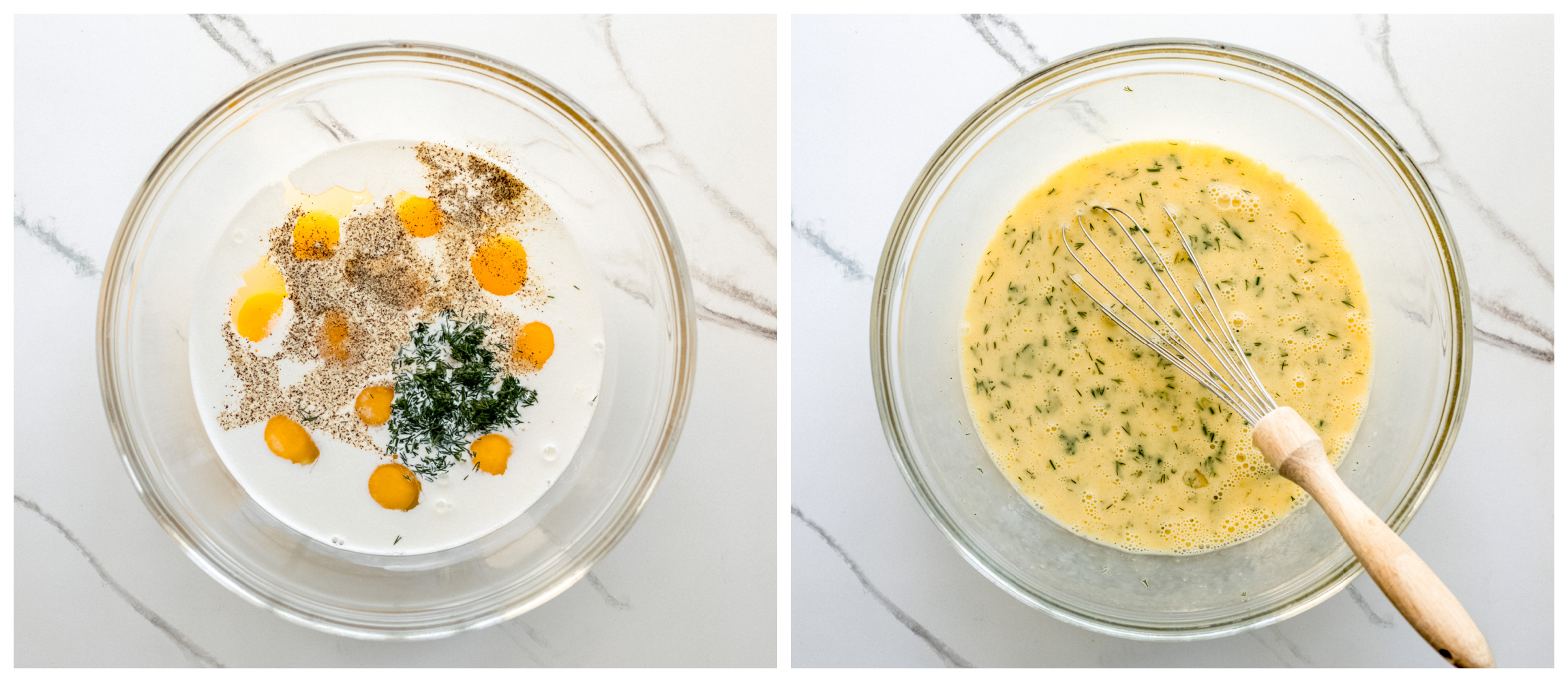 To a greased dish, add asparagus, leeks, and diced tomatoes. Pour egg mixture over and sprinkle with goat cheese.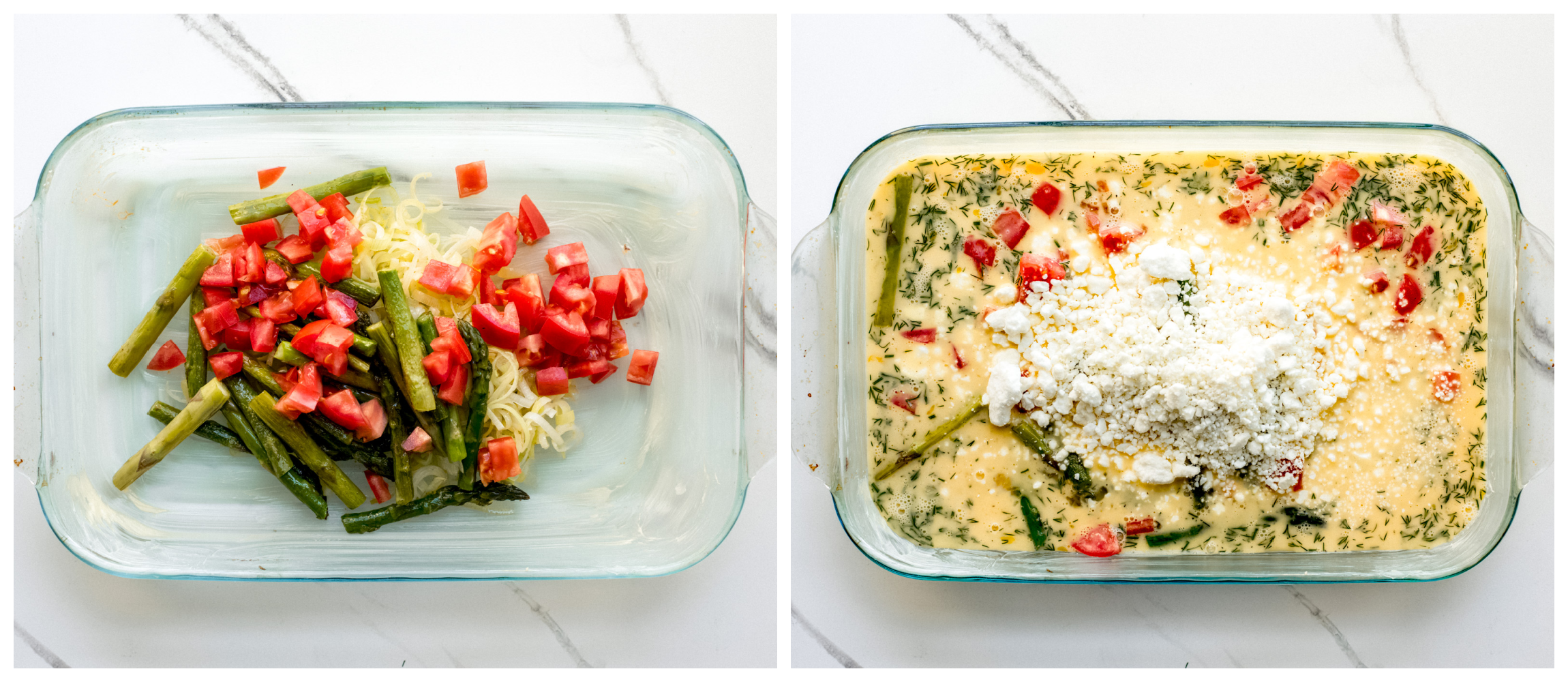 With a wooden spoon stir the mixture to evenly distribute the vegetables and goat cheese. Bake at 350 degrees F for 20-25 minutes until puffed and cooked through.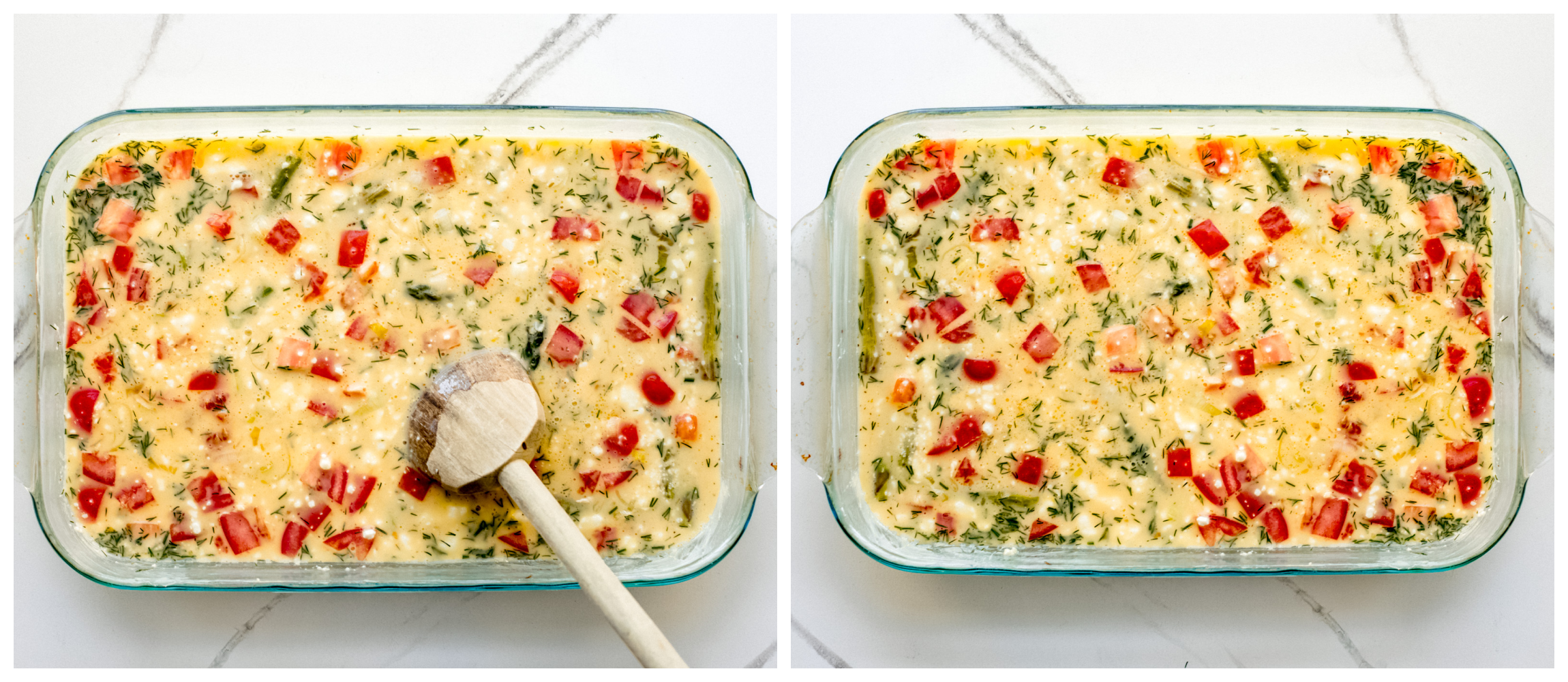 Expert Tips
Here are five expert tips for making foolproof frittata every single time:
Perfectly cooked: The asparagus should be cooked until it is just crisp-tender, so it still has some crunch.
Fresh is best: Fresh asparagus is key to a delicious frittata. Look for firm stalks with tightly closed tips.
Grease the baking dish: Use butter for greasing the baking dish. It works better than the non-stick spray, so there's no sticking when you remove the frittata from the dish.
Let it rest: Allow the frittata to cool for a few minutes before slicing so it holds its shape and doesn't fall apart.
Mix it up: Feel free to try different cheeses, herbs, or vegetables to find your favorite flavor combination
Variations
Let's take your frittata recipe to the next level! Here are some fun and easy ways to add your own personal touch:
Cheese please: Experiment with different types of cheese, such as cheddar, feta, or mozzarella.
More veggies: Don't limit yourself to just asparagus. Try adding other veggies like zucchini, bell peppers, or spinach for a colorful and even more nutritious meal.
Meat lover: For a heartier option, add some cooked bacon, sausage, or ham to the mixture.
Spice it up: Add a little kick to your frittata by tossing in some red pepper flakes, chili powder, or hot sauce.
Fresh herbs: Mix things up with fresh herbs like parsley, basil, or thyme for an aromatic and flavorful dish.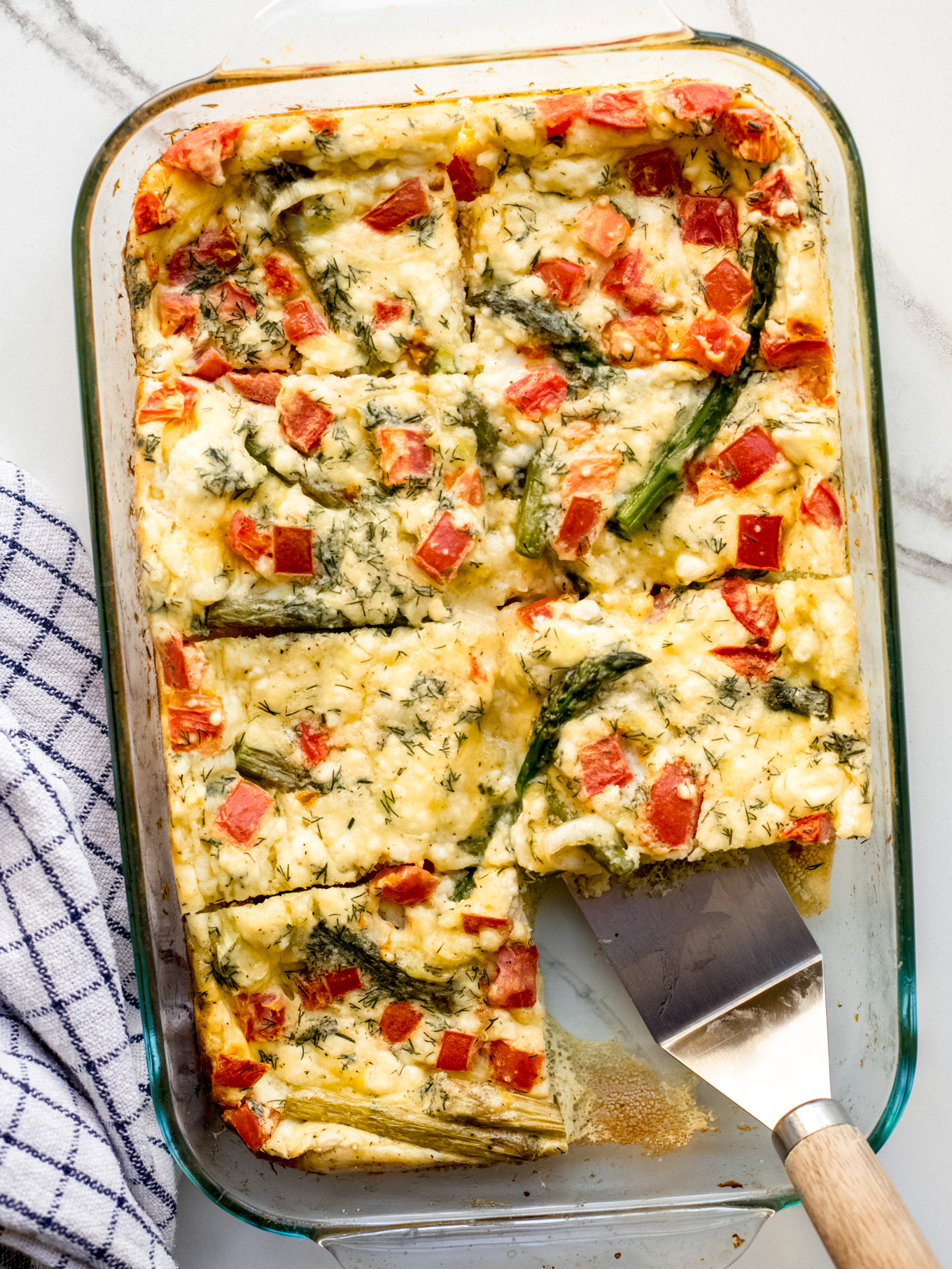 How to Serve
Asparagus frittata is a very versatile dish, so it can be served in many ways. For breakfast, it goes great with a side of avocado toast, a fresh fruit platter, and a green power smoothie.
As for lunch or dinner, it pairs nicely with a quinoa salad with feta and some sourdough garlic bread.
Frittata can be served hot or cold. You can serve it straight out of the oven while it's still hot, or store it in the refrigerator to enjoy later. Any leftovers can easily be reheated in the oven or microwave.
Storing Tips
On the counter: Don't leave asparagus frittata on the counter for longer than two hours. If you have leftovers, put them in the fridge.
Refrigerate: Store any leftover frittata in an airtight container in the refrigerator for up to four days. When you're ready to eat, simply reheat it in the oven or microwave.
Freeze: You can also freeze asparagus frittata for up to two months. Let it cool completely before wrapping tightly in plastic wrap. Thaw in the refrigerator before reheating.
FAQs
Can I make my own half-and-half?
Yes, you can make your own half-and-half by combining equal parts whole milk and cream. This mixture will have a fat content lower than heavy cream but still higher than whole milk, so it'll still be nice and creamy. 

Keep in mind your frittata will lose its creaminess if you use low-fat milk, so be sure to use whole milk.
Can't I just bake the frittata in the pan?
Yes, you can absolutely bake the asparagus frittata in the same pan you cooked the vegetables in. However, make sure your pan is oven-safe.

Removing the frittata from the pan can be a bit tricky, so you'll want to grease it well beforehand with butter. 
Why is the underside of my frittata too brown?
If the underside of your frittata is too brown, it's likely due to the heat being too high when you cooked it. This can cause the eggs to overcook, becoming tough and overdone. 

Next time, try lowering the heat and cooking it for a longer time to achieve a nice golden-brown color. Keep an eye on the frittata while it's cooking to make sure it's not burning.
More Breakfast Recipes
Print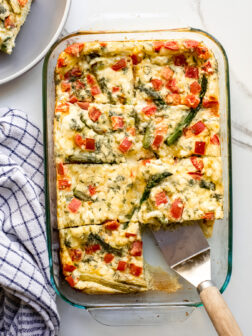 Asparagus Frittata Recipe
Author: Katya
Prep Time: 15 min
Cook Time: 35 min
Total Time: 50 minutes
Yield: 8 1x
Category: Breakfast
Method: Baked
Cuisine: Italian
---
Description
You'll find this classic Italian dish easy to make and packed with nutritious ingredients. With its fluffy eggs, tender asparagus, and melty cheese, it's sure to be a hit with your family and friends.
---
2 Tbsp. butter, plus extra for greasing
6 fresh asparagus spears, trimmed and cut into 1 1/2 inch pieces
1 leek, leaves cut off, and white and light green parts cut into half moons, about 1 1/4 cup
1 small firm Roma tomato, diced
12 large eggs
1/2 cup half and half
1 Tbsp. fresh chopped dill
1 tsp. kosher salt
1/2 tsp. black pepper
3/4 cup crumbled goat cheese
---
Instructions
Preheat the oven to 350 degrees F. Grease a 9X13 baking dish with butter. Frittata can also be baked in different size dish. See notes for suggestions.
In a large skillet, melt butter over medium heat. Add asparagus and cook for about 4-5 minutes, stirring, until crisp and tender. Remove the asparagus with a pair of tongs to the prepared baking dish.
To the same skillet, add leeks and cook until tender, about 3 minutes, stirring occasionally. Transfer the leeks to the baking dish, add diced tomatoes, and set the dish aside.
In a large bowl, whisk together the eggs, half and half, dill, salt, and pepper.
Pour the egg mixture over the vegetables. Add goat cheese. Gently stir with a wooden spoon to evenly distribute. 
Bake for 20-25 minutes or until the edges are puffed and appear cooked, and the center of the frittata jiggles just a bit. Remove the frittata from the oven and place it on a cooling rack to cool. Slice with a sharp knife, and serve.
---
Notes
Half and half: Heavy cream or whole milk can be used instead. Lower-fat milk is not recommended as your frittata will be less creamy.
Different size baking dish: You can bake the frittata in a 12-inch skillet or the same skillet that you would cook the vegetables in. Just make sure it's oven-safe. It will require about 20-23 minutes of baking. You can also bake the frittata in a 11 X 7.5 inch dish. It will require about 25-30 minutes of baking. Keep in mind the smaller the baking dish the longer it will require to bake.
Leftovers: Store leftover frittata in an airtight container for up to 4 days in the refrigerator or freeze for up to 2 months.
Nutrition
Serving Size: 1/8
Calories: 190
Sugar: 1.7 g
Sodium: 344.9 mg
Fat: 13.3 g
Carbohydrates: 4.3 g
Protein: 13 g
Cholesterol: 293.9 mg
Keywords: frittata, eggs, spring
You May Also Like…