Pancakes with Syrup
Nothing says "weekend" like homemade fluffy and light buttermilk pancakes with cherry syrup for breakfast! Easy to whip up with most ingredients on hand.
These are the BEST buttermilk pancakes made with homemade cherry syrup! These pancakes are full of rich flavor, light, and fluffy for the most delicious breakfast with an easy cherry syrup made from frozen fruit.
The family will love your from-scratch-made buttermilk pancakes that they'll likely become a weekend tradition for breakfast. Stack them high and get creative with your favorite add-ins.
For another family favorite breakfast, these Blender Crepes are so easy to make and have the best buttery sweet taste to them.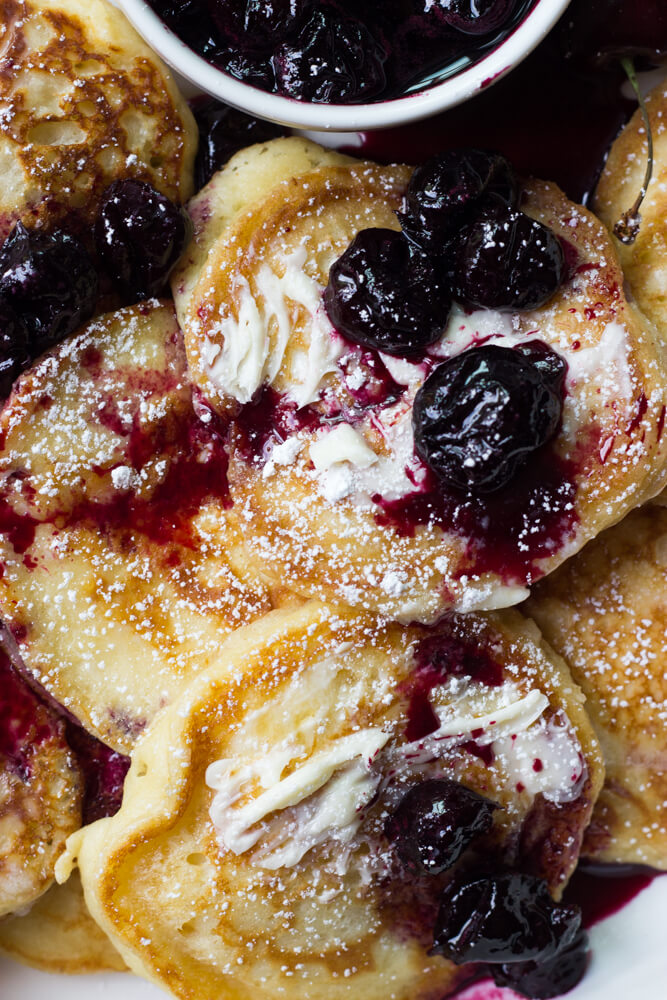 Reasons to love this Pancake with Syrup Recipe
Light and Fluffy Pancakes – These homemade buttermilk pancakes cook up with the best texture for soaking in the cherry syrup.
Easy – Pancakes are a go to recipe because they are so easy to make, kids and family will love them! The syrup made from frozen cherries can simmer on the back burner while you flip pancakes.
Cherry syrup – Making your own syrup or fruit compote is so easy to do. Use fresh or frozen berries and simmer on the stovetop with sugar until thick like syrup. 
Ingredients
These easy buttermilk pancakes made from scratch with a simple cherry syrup use just a few basic pantry items to give you the most amazing fluffy pancakes.
Pancakes
All-purpose flour – for best results, spoon flour into the measuring cup instead of dipping it into the bag, and then level it off.
Baking powder – make sure to use baking powder and not baking soda. They do not work the same.
Salt – I like using kosher salt but sea salt works great too.
Sugar – cane sugar or granulated sugar can be used.
Buttermilk – see notes below on how to make your own buttermilk if you don't have any available.
Egg – you'll need one large egg for this recipe.
Unsalted butter – melted butter adds flavor and so much richness to these pancakes.
Cherry Syrup
Frozen cherries – Use fresh cherries instead if you like. Add a pinch of salt to the mix if using fresh.
Sugar – granulated or cane sugar works great.
Water – you'll need a little water to get the syrup going.
See the recipe card for quantities.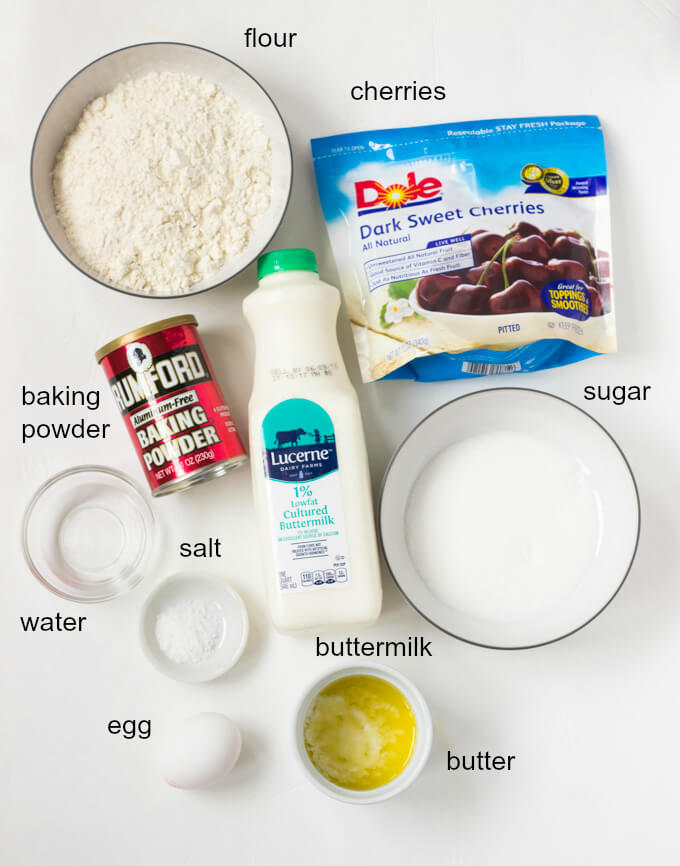 How to Make Pancakes with Syrup
Mixing the ingredients together is the first step to perfect buttermilk pancakes. Give yourself the extra time to allow the batter to rest before cooking.
Cherry syrup – Bring the cherries, sugar, and water to a boil in a small saucepan. Reduce and simmer uncovered until the cherries have reduced by more than half. It will thicken while it cools.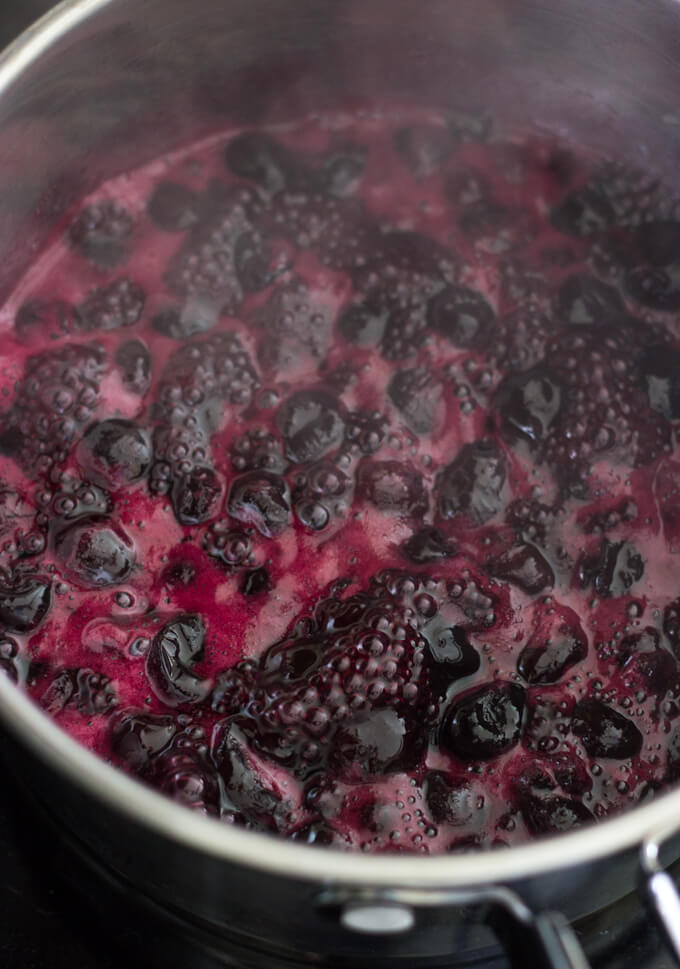 Buttermilk pancakes – Whisk together dry ingredients in a medium bowl. In a separate bowl, combine the wet ingredients. Add the wet into the dry ingredients, whisking just until combined.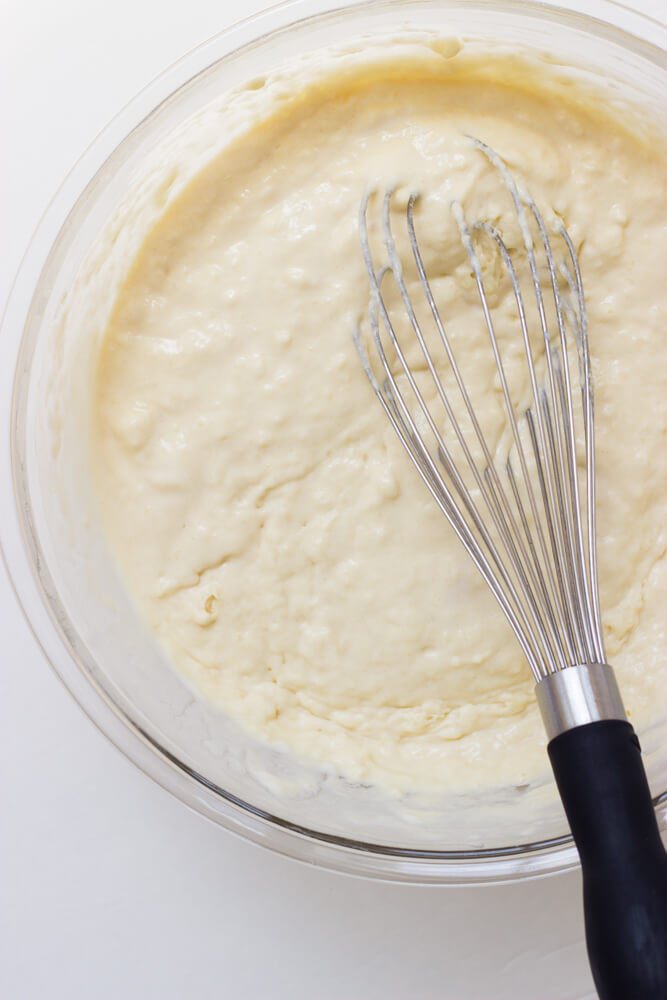 To a hot oiled skillet, pour 2 tablespoons of batter for each pancake and cook, flipping halfway through. 
Remove from the skillet and serve with warm cherry syrup.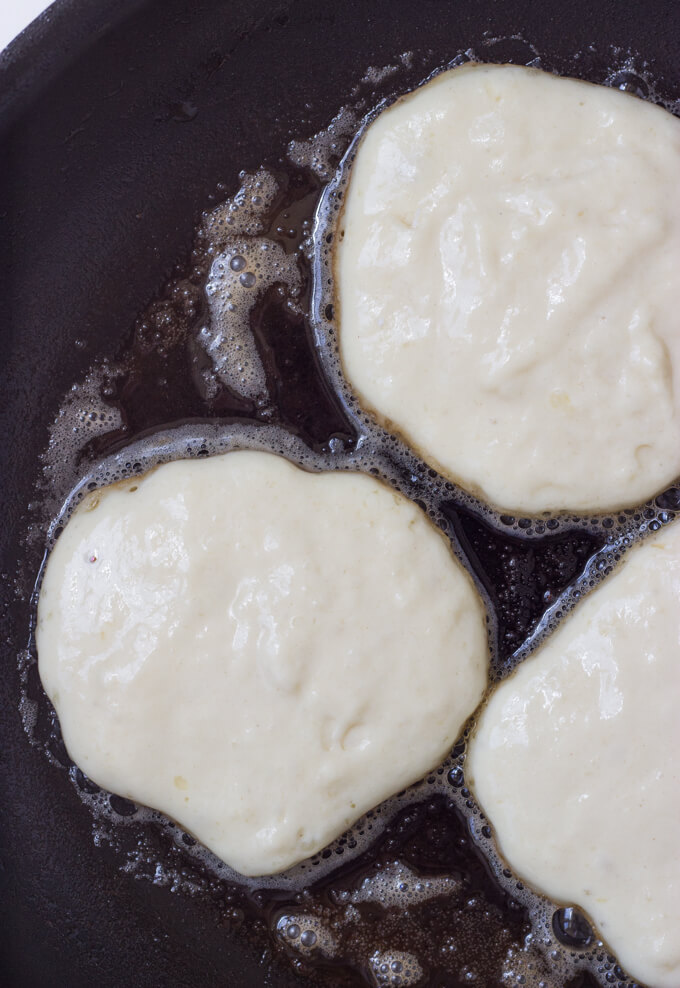 Recipe Tips
Fruit syrup made from cherries over the most tender, light buttermilk pancakes is a no-frills recipe, but we want to make sure you get the most pleasing results. Here are a few tips for the best buttermilk pancake recipe and cherry compote for pancakes.
Let the batter rest – Should buttermilk pancake batter rest before cooking? Yes! Let the batter rest for about 10 to 30 minutes before cooking. This will allow the flour to fully absorb into the batter and result in light and fluffy buttermilk pancakes.
Prepare ahead of time – Prepare the dry pancake mix the night before. The next morning, prepare your wet ingredients and combine them with the dry for a quick and easy breakfast.
Make extra syrup – Because we cook the cherries with sugar you can make a large batch and save for the next time you want pancakes or use on top of ice cream! The syrup has a decent shelf life when stored in the refrigerator. (up to two weeks)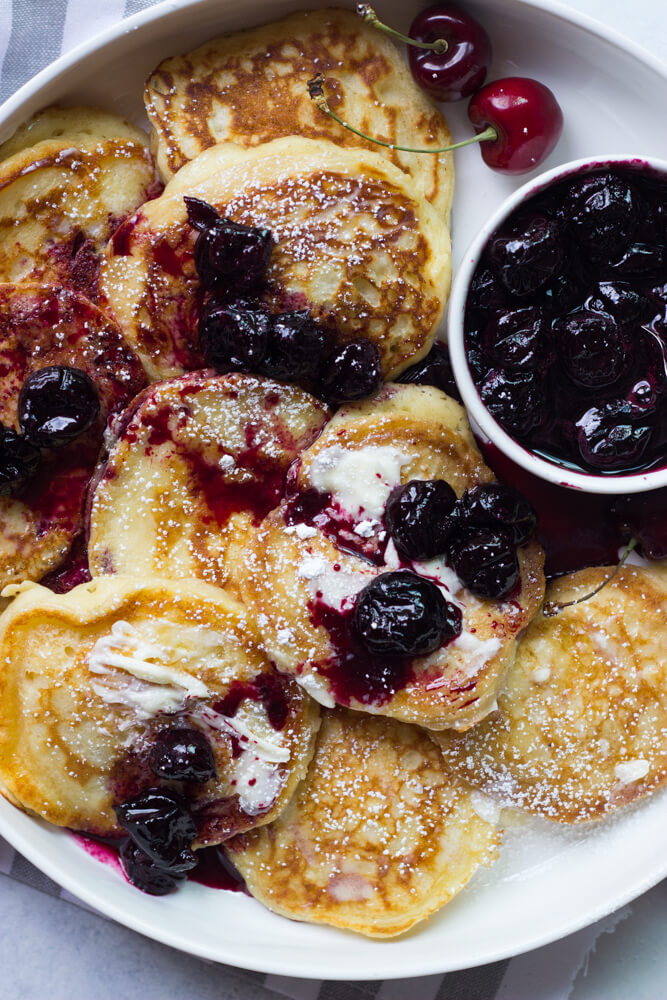 Substitutions
This recipe was developed with certain ingredients to give you the best fluffy buttermilk pancake recipe. There are not many changes I would make but you can switch up a few ingredients if in a pinch.
Buttermilk – If you don't have buttermilk on hand, you can make your own by adding a teaspoon of lemon juice or white vinegar to regular milk. Let it sit for about 10 minutes. It won't be as thick as regular buttermilk but will give you the tangy flavor.
Fruit syrup – Instead of frozen cherries, use another frozen fruit for a variety of syrup flavors. You can combine them to create your own kinds, like a peach-mango or cherry-berry syrup.
Flour – I have not tried this recipe with a flour substitution. 
Variations
Start your morning with buttermilk pancakes made from scratch and topped with a sweet cherry syrup. But don't let this recipe hold you back from some marvelous creation you may come up with. Here are a few ideas to make these buttermilk pancakes your own tasty flavor creation.
Add ins – This buttermilk pancake recipe is perfect for adding in different ingredients like chocolate chips, sliced bananas, nuts, or whatever you like.
Chocolate pancakes – Add ¼ cup cocoa powder to the dry mix and 2 teaspoons dry espresso for a richer flavor.
Toppings – Top this homemade buttermilk pancake recipe with peaches, fresh cherries, or another favorite fruit and fresh made whipped cream. 
These cinnamon apple pancakes are full of Fall flavors and warming spices. You'll love the variation of this buttermilk pancakes with syrup recipe to make a seasonal breakfast recipe.
Storage
Store leftovers in an air-tight container for up to 2 days in the refrigerator.
Freezing – Cook pancakes and place on them a parchment-lined baking sheet in a single layer. Place the baking sheet in the freezer. Once frozen, transfer the pancakes to a freezer-safe bag and freeze for up to 3 months. Defrost in the refrigerator overnight and reheat when ready to serve.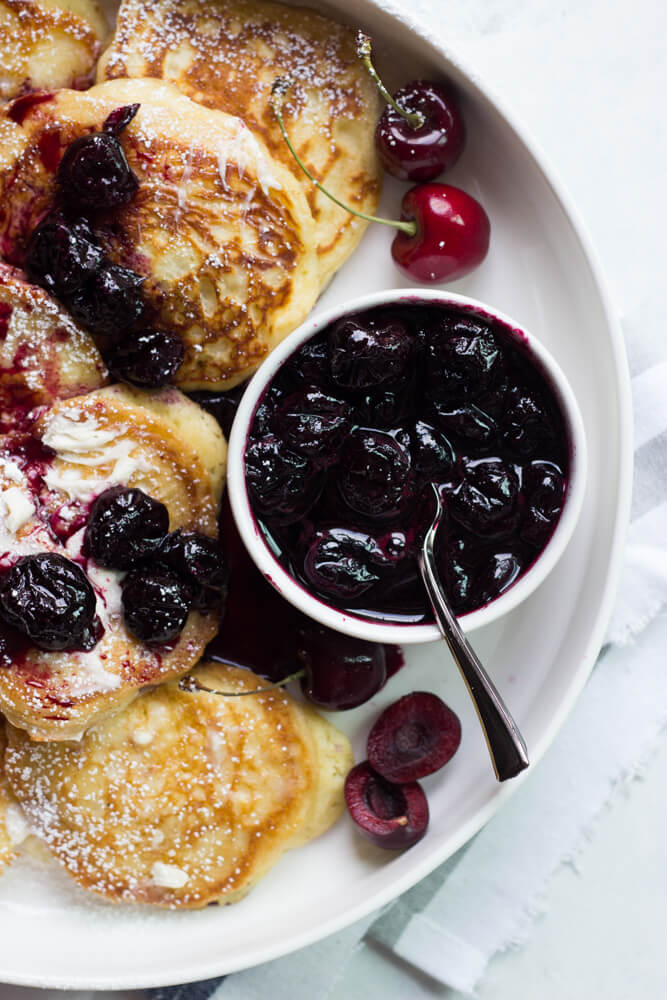 Frequently Asked Questions
What can I use instead of buttermilk?
To replace buttermilk in pancakes, use a combination of sour cream or greek yogurt watered down with milk or water. Once you have the consistency of buttermilk, you can usually replace it 1 for 1 in a recipe. Regular yogurt does not need to be watered down.
What does buttermilk do to pancakes?
Buttermilks acidity works together with the baking powder to deliver a beautiful rise to the pancakes. Buttermilk will result in the fluffiest pancakes that have the best texture and height.
Why are my pancakes flat and not fluffy?
If you have a flat pancake then the batter may be too wet. Spoon in more flour and lightly combine. Make sure not to overmix. If you overmix, the pancake will be chewy instead of fluffy.
Can I add fruit or chocolate chips to buttermilk pancakes?
Load those pancakes up with all the additions you want! If you have a sturdy thick batter, it should hold up to adding chocolate chips and nuts.

When adding fruit, place the fruit into the batter AFTER you have them on the griddle. Then flip so the fruit cooks into the pancake. This will help keep the batter thick and not take on the additional water from the fruit.
More Breakfast Recipes
Print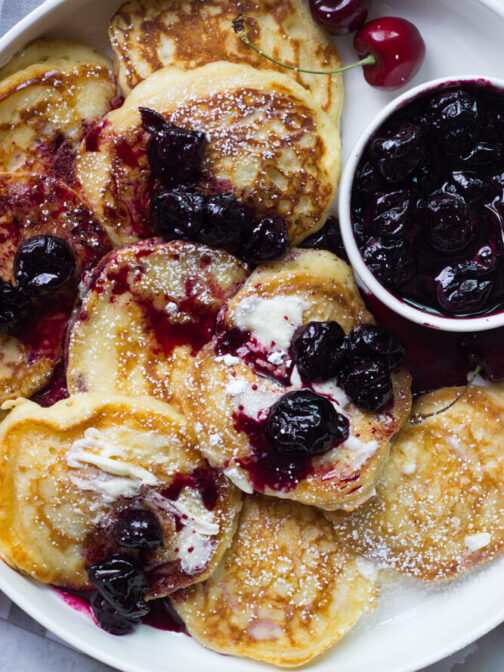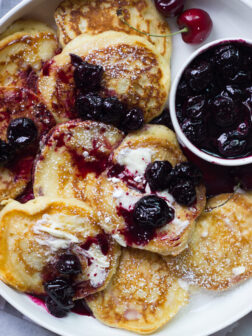 Pancakes with Syrup
Author: Katya
Prep Time: 10 mins
Cook Time: 20 mins
Total Time: 30 mins
Yield: 4-6 1x
Category: Breakfast
Method: Pan Fry
Cuisine: American
---
Description
Nothing says "weekend" like homemade fluffy and light buttermilk pancakes with cherry syrup for breakfast! Easy to whip up with most ingredients on hand.
---
1 1/2 cups all-purpose flour
2 tsp. baking powder
1/4 tsp. kosher salt
1 Tbsp. cane sugar
1 1/2 cups buttermilk
1 large egg
3 Tbsp. unsalted butter, melted
Cherry Syrup
12 oz. bag frozen cherries, do not thaw
1/3 cup cane sugar
1 Tbsp. water
---
Instructions
To make the syrup: In a small saucepan, bring cherries, sugar, and water to a boil over high heat. Reduce heat to medium-low and simmer, uncovered, for 15-20 minutes or until the cherries cook down and the mixture begins to slightly resemble syrup like consistency. It will further thicken as it cools.
To make the pancakes: For the pancakes, in a medium bowl, whisk together the flour, baking powder, salt, and sugar.
In another bowl, whisk together the buttermilk, egg, and butter. Add the wet ingredients to the flour mixture and whisk just until combined. Do not overmix. Batter will be thick and lumpy. 
Heat a large non-stick skillet over medium heat. Coat the pan with cooking spray or butter and when hot, spoon batter by 2 tablespoons. You should be able to fit 3-4 pancakes in a large skillet.
Cook for about 2 minutes per side or until golden brown. Reduce heat if pancakes begin to brown too quickly. Usually, first batch will require higher heat than subsequent batches. Remove to a platter and repeat with the remaining batter.
Serve warm with syrup. Recipe makes about 15 pancakes.
---
Notes
Cherries: Fresh pitted cherries can be used of frozen.
Flour: I have not tried a substitute for all-purpose flour.
Recipe originally published June 2016
Nutrition
Serving Size: 3 pancakes, plus suryp
Calories: 305
Sugar: 23.5 g
Sodium: 177.8 mg
Fat: 9 g
Carbohydrates: 50.7 g
Protein: 6.9 g
Cholesterol: 53 mg
Keywords: kid friendly, weekend, easy