Egg White Scramble for Two
Light, fluffy and healthy breakfast for two. This Egg White Scramble is loaded with leafy spinach, sweet tomatoes and a generous amount of avocado. Not to mention, it's easy and so quick to make!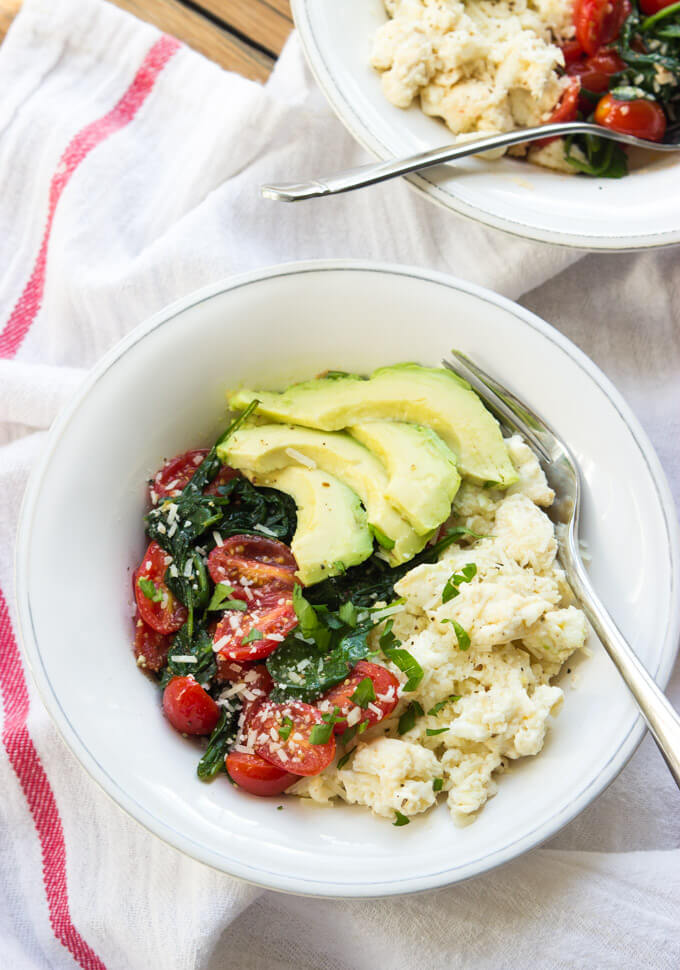 It's been wayyyy tooo long since I've shared a breakfast recipe on here. Truth is, I literally eat same thing for breakfast almost every single day. This. Yes, this. It's staring right at you 🙂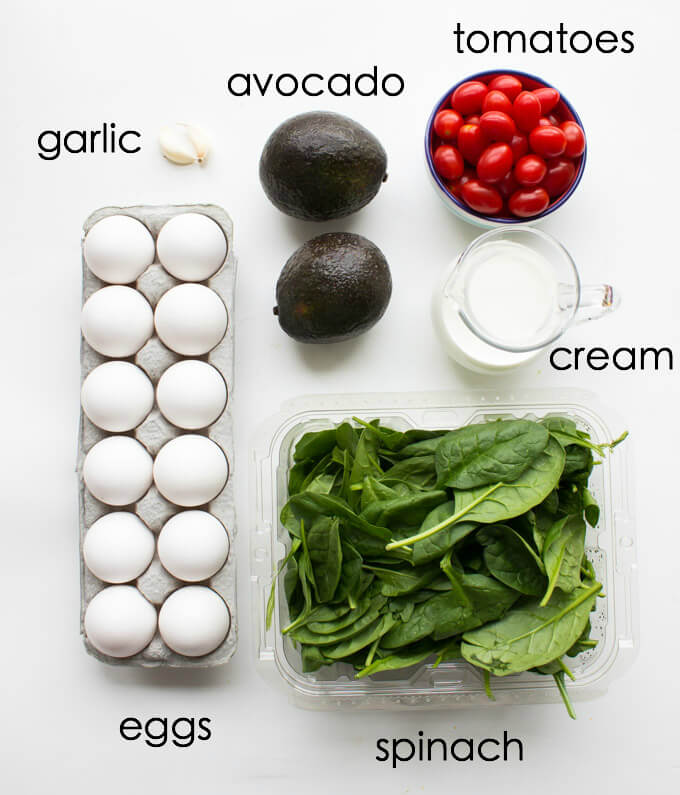 This egg white scramble is my go to breakfast. I've been an egg whites only lover for a really long time and now I got my hubby hooked on it. We have breakfast together almost every single morning. He usually cooks while I drink my coffee and catch up with you guys on my blog. It's become an every day routine that I look forward to every single day. We eat our eggs and talk about our kids of course.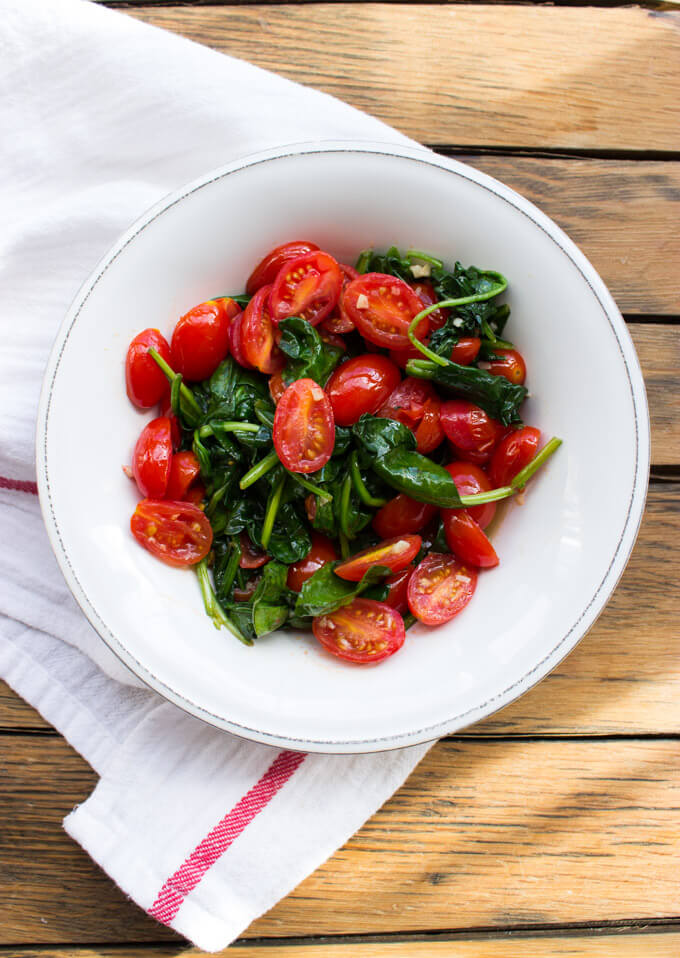 Anyone can pull this breakfast off and you can technically have a breakfast for one because it's so darn good! You start off with cooking the garlic with spinach and tomatoes. Then you cook the egg whites. Then you serve the two with sprinkle of cheese, plenty of avocado, and fresh chopped parsley. It's really that simple but it's fresh, light, and so filling at the same time. Not to mention it literally takes seconds to make. So you can have yourself a healthy breakfast every single day of the week (for one or two!).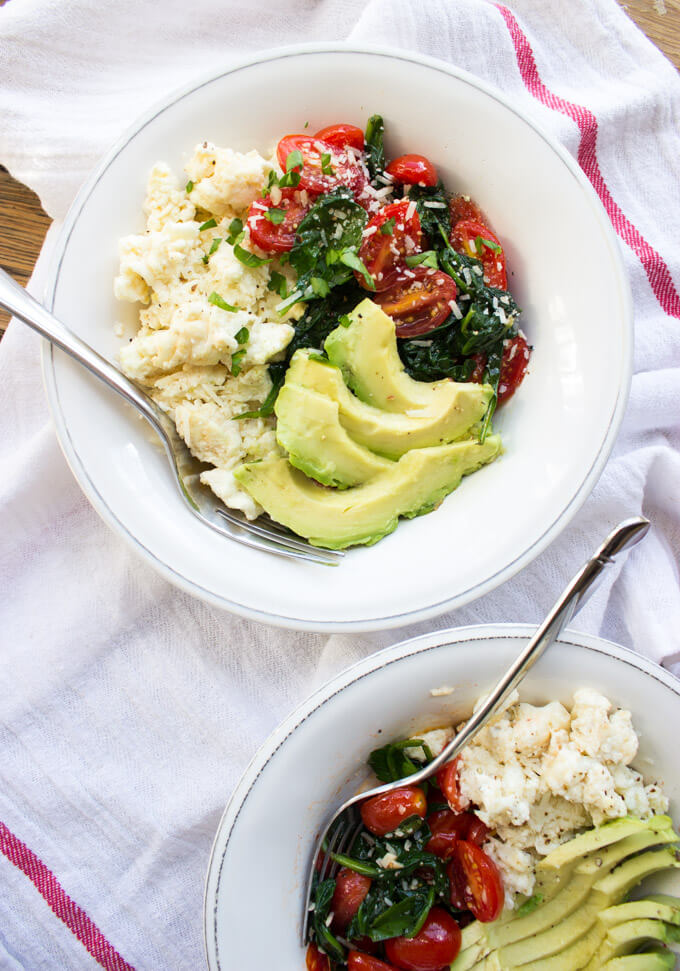 Print Egg White Scramble for Two
Prep Time: 10 mins
Cook Time: 7 mins
Total Time: 17 mins
Yield: 2 1x
---
6 egg whites
1/4 cup cream (light or heavy)
1 Tbsp. olive oil
1–2 garlic cloves, minced
1 cup grape tomatoes, halved
2 cups packed fresh baby spinach
avocado, sliced
freshly grated Parmesan cheese (optional)
fresh chopped parsley (optional)
salt + fresh ground black pepper
---
Instructions
In a medium bowl combine egg whites with cream. Season with salt and pepper. Whisk together until well mixed.
In a medium non-stick skillet, heat olive oil over medium heat. Add garlic and cook, stirring constantly, for 30 seconds or until fragrant. Add tomatoes and spinach; cook and stir just until spinach is wilted. Remove from skillet to a plate.
Pour egg whites into the skillet and cook without stirring until mixture begins to set around the edges. Using a spatula, gently stir the eggs, forming large soft curds. Continue cooking until egg whites are cooked through but still glossy and moist. Remove from heat.
Serve immediately with spinach + tomatoes, sliced avocado, sprinkle of cheese and sprinkle of herbs.
---