Cajun Cream Sauce
If you're craving something flavorful and spicy, this Cajun Cream Sauce recipe is just what you need! It's easy to make and has the best smooth and velvety texture. The bold cajun flavors will bring your dishes to life, whether you're cooking pasta, seafood, chicken, or veggies. 
What is Cajun Seasoning?
Cajun seasoning is a spice blend that originated in Louisiana, USA, and is a staple in Cajun and Creole cuisine. It typically includes a mix of herbs, spices, and peppers, giving it a distinct flavor profile.
The ingredients in Cajun seasoning can vary depending on the recipe or brand but usually includes paprika, garlic powder, onion powder, cayenne pepper, black pepper, and thyme to give your meals a bold and spicy flavor.
Plus, it's perfect for seasoning meat, seafood, and veggies. Cajun seasoning is a staple in gumbo, jambalaya, red beans, and rice. Give it a try, and bring some heat to your cooking!
Why I Love This Recipe
The best cajun spice – Whether you prefer a mild or spicy kick, this creamy cajun sauce recipe delivers the perfect balance of flavor and heat.
Ready in no time – Add a deliciously rich and spicy sauce to your weeknight dinner in no time! There are only a few simple steps, perfect for last-minute meal ideas. Then, you can serve it over pasta or pair it with other entrees and sides.
Just a few simple ingredients – While it has a few different spices, this sauce uses everyday ingredients, most of which are kitchen staples.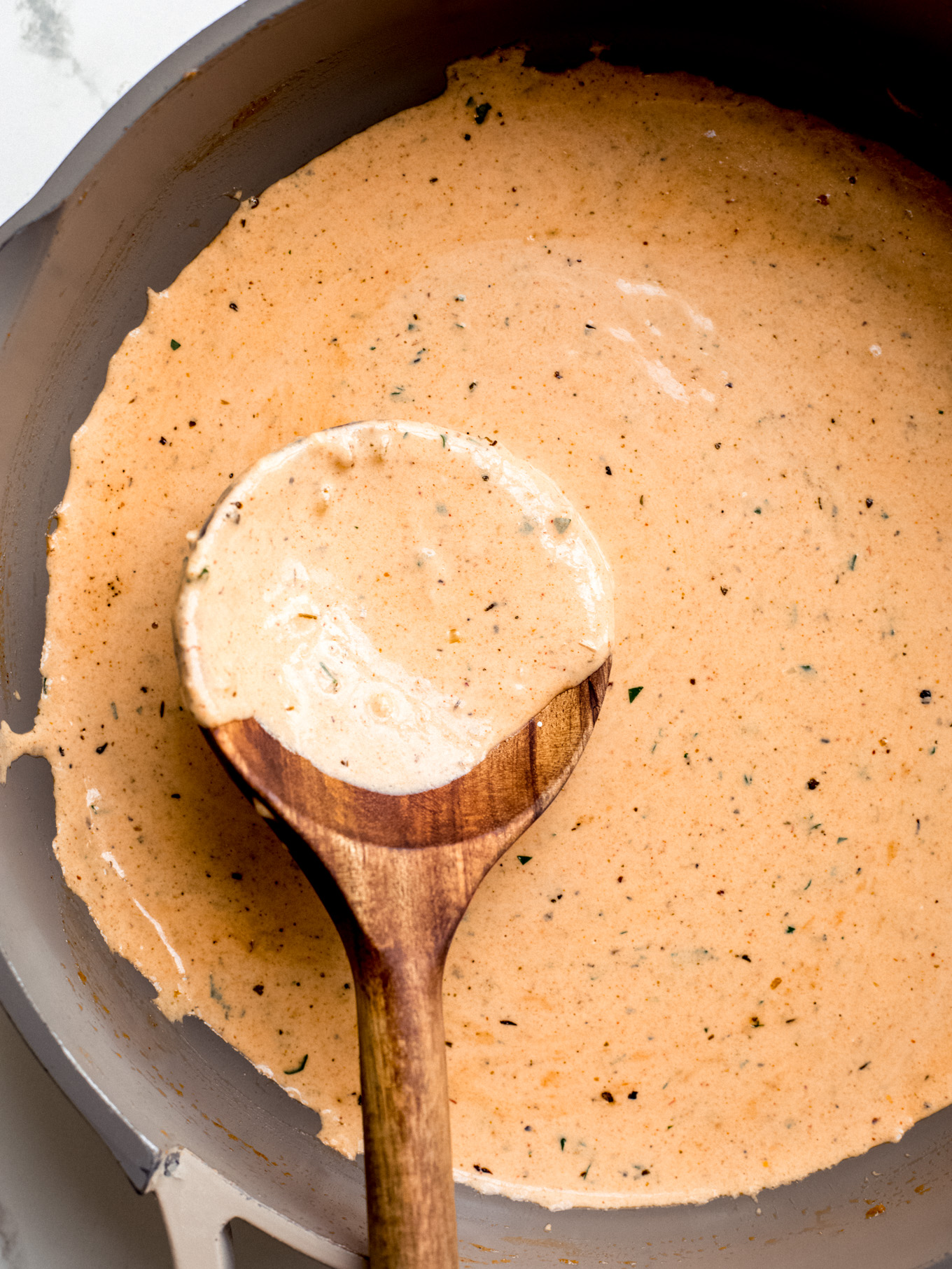 Ways to Serve It
This cream sauce is versatile and can be used for more than just pasta. Here are a few of my favorite ways to rich and creamy spicy white sauce:
Pasta: Toss this spicy cream sauce with your favorite pasta, such as linguine or fettuccine, and top with freshly grated Parmesan cheese and chopped parsley.

Seafood: Drizzle the sauce over grilled or baked shrimp, scallops, or fish fillets, and serve with steamed vegetables and jalapeno rice to soak in all the creamy goodness.

Chicken: Spoon the sauce over grilled or baked chicken breasts, legs, or wings, and serve with rice or roasted rosemary garlic potatoes.

Vegetables: Use the sauce as a dip or topping for roasted or grilled vegetables, such as asparagus, broccoli, or Brussels sprouts.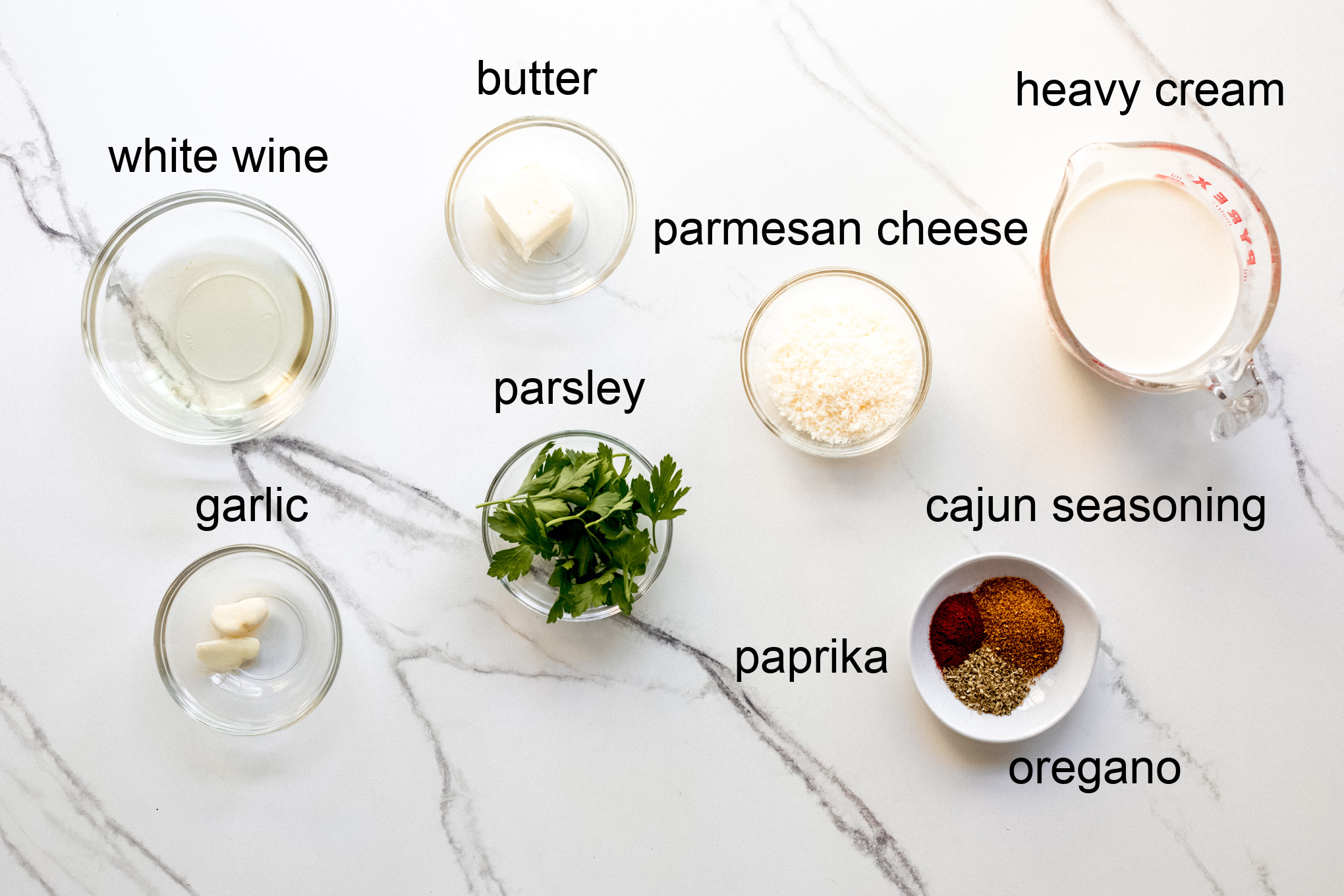 Ingredients
The ingredients used in this cajun cream sauce recipe are the key to its delicious and bold flavor.
Butter: adds richness and flavor to the sauce, used for sauteeing the garlic.
Garlic cloves: gives the sauce a deliciously fragrant and savory taste.
White wine: adds depth of flavor and acidity to the sauce, lifting any bits of garlic from the bottom of the pan.
Cajun seasoning: provides the signature cajun flavor and heat to the sauce.
Other spices: sweet paprika and dried oregano, both provide more flavor.
Heavy cream: adds richness and creaminess to the sauce.
Parmesan cheese: adds a nutty and salty flavor to the sauce.
Fresh parsley: adds a fresh herbaceous flavor and brightens the dish.
See the recipe card for quantities.
How to Make Cajun Cream Sauce
This sauce with cajun seasoning and heavy cream is easy to make and will be a quick recipe ready in under 30 minutes. You can whip it up last while making the rest of your meal.
Saute the minced garlic over medium heat with butter until fragrant. Deglaze with wine.
Add the cajun seasoning, and the other spices, and cook for a minute or two.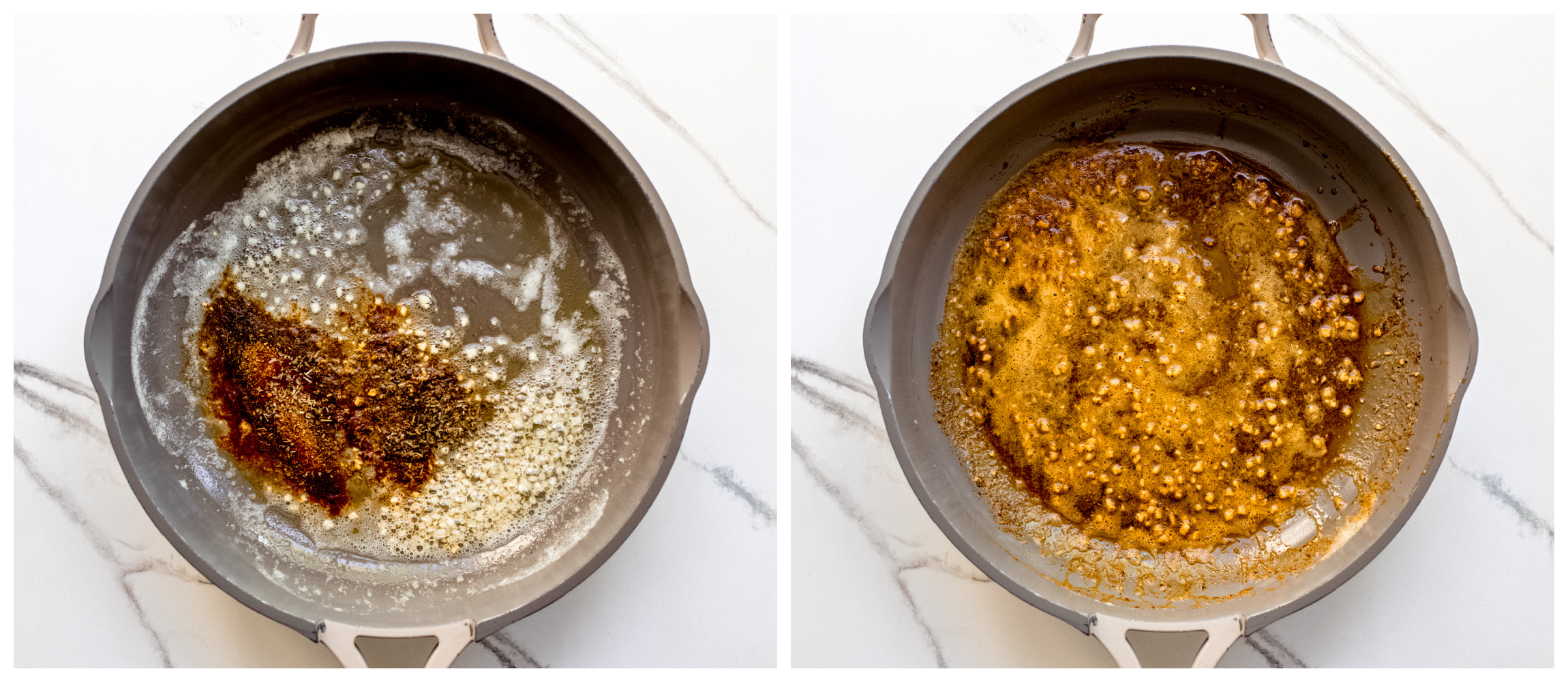 Add the cream and simmer until thickened; finish with the parmesan cheese and parsley right before serving.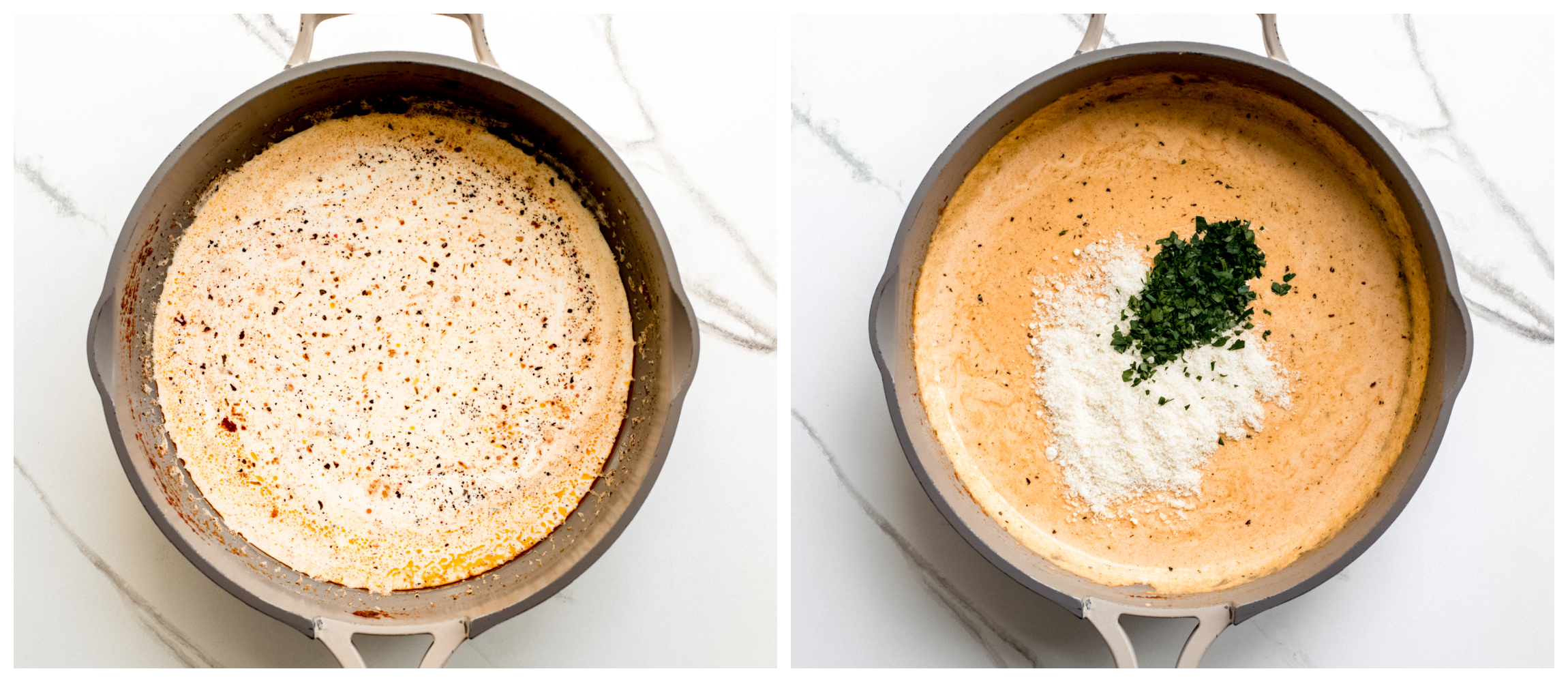 This quick and easy cajun creamy sauce makes enough for 8 ounces of dry pasta and can easily be doubled to serve more.  
Recipe Tips + Substitutions
These helpful tips will not only ensure that your sauce turns out perfectly every time, but they'll also help you elevate the sauce's flavor and texture.
Scale your heat. Add more or less cajun seasoning to control how spicy it is. If you like an extra hot creamy sauce, add a pinch of crushed red pepper flakes.
Alcohol-free. The wine adds a fantastic flavor but is only sometimes an option. Luckily chicken broth is a great substitute to pick up all the flavors when deglazing the pan and adding flavor.
Substitute the cheese. Instead of Parmesan, you can try it with Romano or Asiago cheese.
Thin out if needed. Add a splash of chicken broth or pasta water to the sauce if it's a little thicker than you like.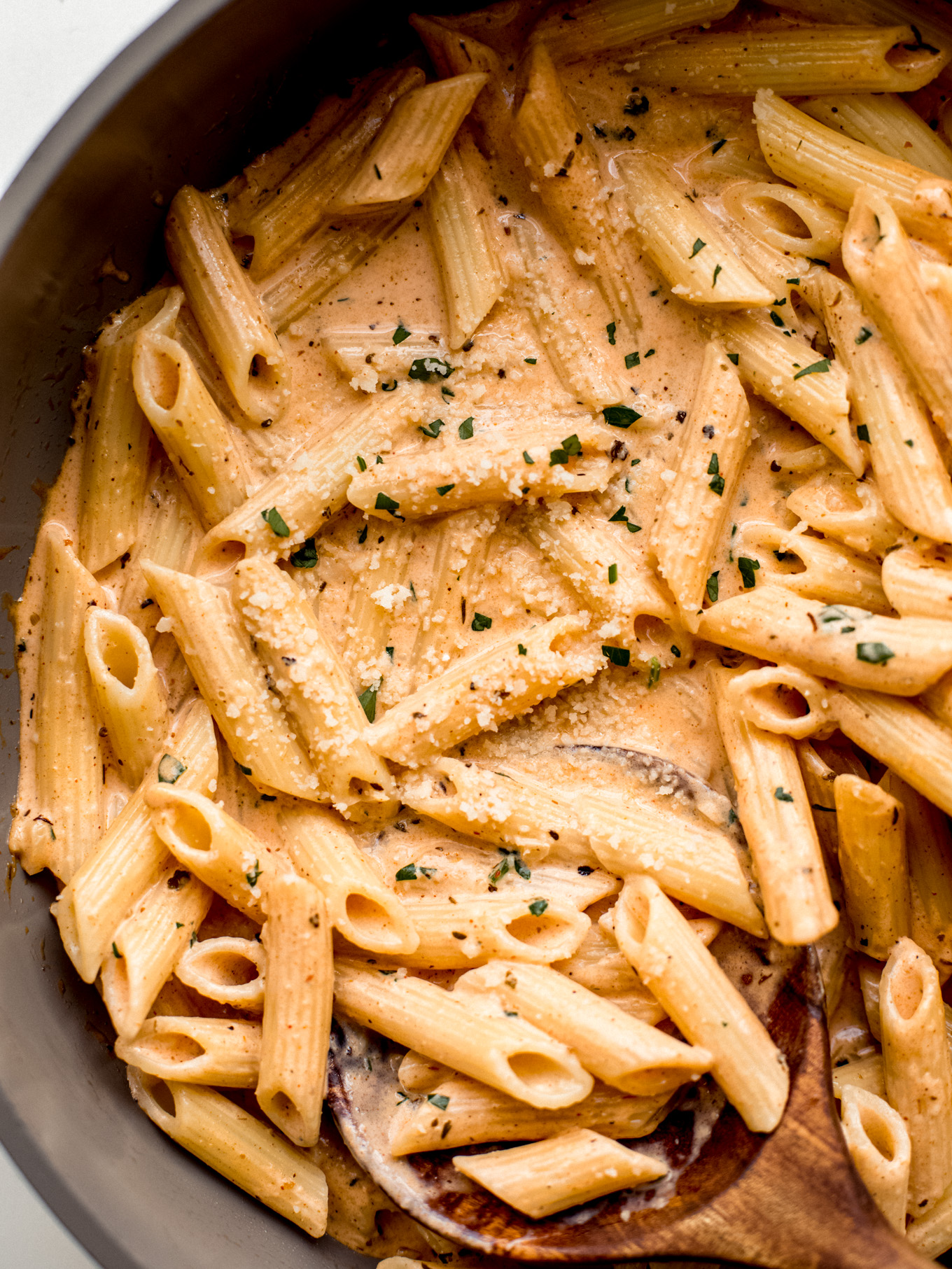 Storing Leftovers
To store this creamy sauce, transfer it to an airtight container and refrigerate it. The sauce will keep in the refrigerator for up to 5 days. Before storing, make sure the sauce has cooled down to room temperature.
When reheating, gently warm the sauce in a saucepan over low heat, occasionally stirring until heated. If needed add a splash of liquid, such as broth or white wine to loosen up the sauce.
Avoid freezing this sauce, as the cream in the sauce may separate and affect the sauce's texture when thawed.
More Sauce Recipes
Frequently Asked Questions
Can I use milk instead of heavy cream?
While using milk instead of heavy cream will result in a lighter sauce, it will be less rich and creamy. If you use milk, adjust the recipe accordingly and cook the sauce a little longer to help it thicken. Add flour to thicken.
Can I make cajun cream sauce dairy free?
To make cajun cream sauce vegan, you can substitute the heavy cream with a plant-based alternative, such as full-fat coconut milk. Also, skip the Parmesan cheese. If you want the same nutty flavor the cheese adds, try using nutritional yeast.
How can I make the cajun cream sauce less spicy?
Adjust the amount of cajun seasoning you use. Start with a smaller amount and gradually add more to taste. You can also add more heavy cream to help mellow out the spiciness.
Print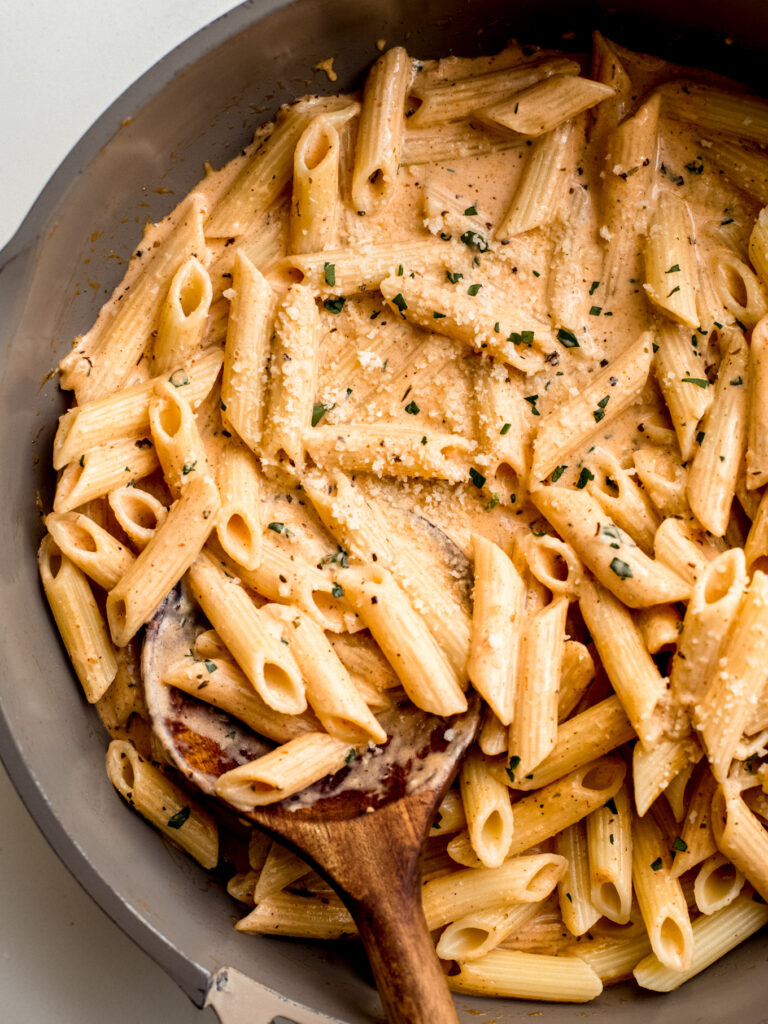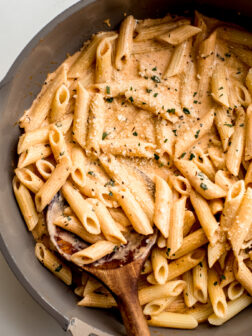 Cajun Cream Sauce Recipe
Author: Katya
Prep Time: 10 min
Cook Time: 15 min
Total Time: 25 minutes
Yield: 4 1x
Category: Main
Method: Stovetop
Cuisine: American
---
Description
If you're craving something flavorful and spicy, this Cajun Cream Sauce is easy to make and has the best smooth and velvety texture. The bold cajun flavors will bring your dishes to life, whether you're cooking pasta, seafood, chicken, or veggies. 
---
2 Tbsp. butter
2 garlic cloves, minced
1/4 cup dry white wine
1 1/2 tsp. Cajun seasoning
1/2 tsp. sweet paprika
1/2 tsp. dried oregano
1 cup heavy whipping cream
1/4 cup grated Parmesan cheese
1–2 Tbsp. fresh minced parsley
1 Tbsp. fresh lemon juice, optional
---
Instructions
In a large non-stick skillet, melt butter over medium heat. Add garlic and cook until fragrant, about 30 seconds.
Add wine and cook until reduced by half, about 2 minutes.
Stir in Cajun seasoning, paprika, and oregano. Cook, stirring, until fragrant, about 30 seconds. 
Add cream and bring to a simmer. Let it simmer for about 2 minutes or until slightly thickened. Whisk in Parmesan cheese and parsley. Season with salt and pepper to taste. If desired, add lemon juice.
This recipe makes enough sauce for 8 ounces of dry pasta. Use your favorite pasta and toss it immediately after cooking. Add 1/4 cup of reserved pasta water to help the sauce bind better with the pasta.
---
Notes
White wine: Wine gives the sauce a fruity/sweet flavor. You can use chicken broth instead but the sauce will taste slightly different.
Cajun seasoning: This sauce has a bite to it but it's not overly spicy. Add more seasoning if you like it spicier as every brand of Cajun seasoning will taste slightly different. If possible, use no salt or a low-salt variety so you can control the amount of salt.
Heavy cream: Heavy cream and heavy whipping cream are essentially the same thing—they both have over 36% milk fat. Do not use half and half or milk as the sauce won't thicken properly.
Leftovers: Store leftover sauce in an airtight container for up to 5 days.
Nutrition
Serving Size: 1/4 cup
Calories: 189
Sugar: 1 g
Sodium: 966.7 mg
Fat: 18 g
Carbohydrates: 2.1 g
Protein: 3 g
Cholesterol: 52.8 mg
Keywords: cajun sauce, pasta sauce, spicy sauce
You May Also Like…