Ina Garten Scalloped Potatoes
If you're looking for the ultimate comfort food, these Ina Garten Scalloped Potatoes are just for you. This dish is creamy, cheesy, and absolutely irresistible. With its simple yet flavorful recipe, it's perfect for any occasion.
What are Ina Garten Scalloped Potatoes?
Scalloped potatoes are thinly sliced potatoes, layered in a casserole dish, and baked in a cream sauce, usually with cheese and other savory ingredients.
In Ina Garten's version of this classic dish, the potatoes are combined with caramelized onions and fennel, which add a slight sweetness to the dish, and topped with nutty Gruyere cheese, which adds an extra layer of flavor and richness.
The best part? Despite its luxurious taste, this dish is surprisingly easy to make, meaning you'll have a comforting meal on the table in no time.
Love Ina Garten's recipes? We do too! Try this roasted tomato soup or turkey lasagna.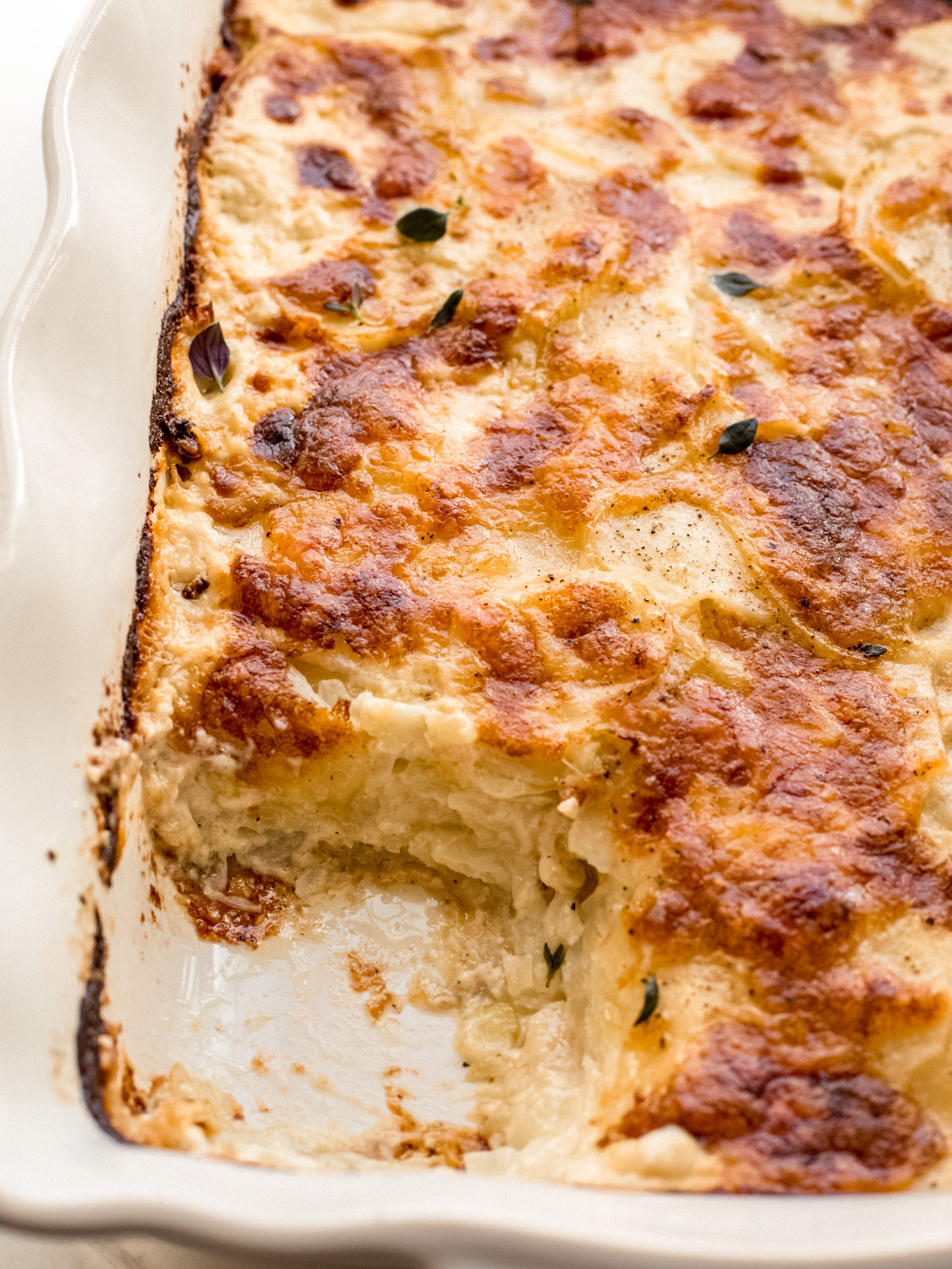 Ingredients
You'll find all the main ingredients for Ina Garten's scalloped potato recipe at your nearby grocery store.
Russet potatoes: Starchy and hold up perfectly to the creamy sauce.
Heavy cream: This rich ingredient gives our scalloped potatoes that luxurious texture we can't get enough of.
Gruyere cheese: Brings a nutty and slightly sweet flavor while adding a beautiful golden brown crust.
Yellow onion: Adds a subtle sweetness and depth of flavor to the creamy sauce.
Fennel bulbs: Gives a hint of licorice flavor that will wow your taste buds.
Butter: Butter makes everything better, and our scalloped potatoes are no exception! It enhances the richness and creaminess of the dish.
Olive oil: Sizzle up those onions with some olive oil for an extra layer of flavor.
Kosher salt: Essential for bringing out all the amazing flavors.
Black pepper: Add a little kick with some black pepper – the subtle heat and depth of flavor will take these potatoes to the next level.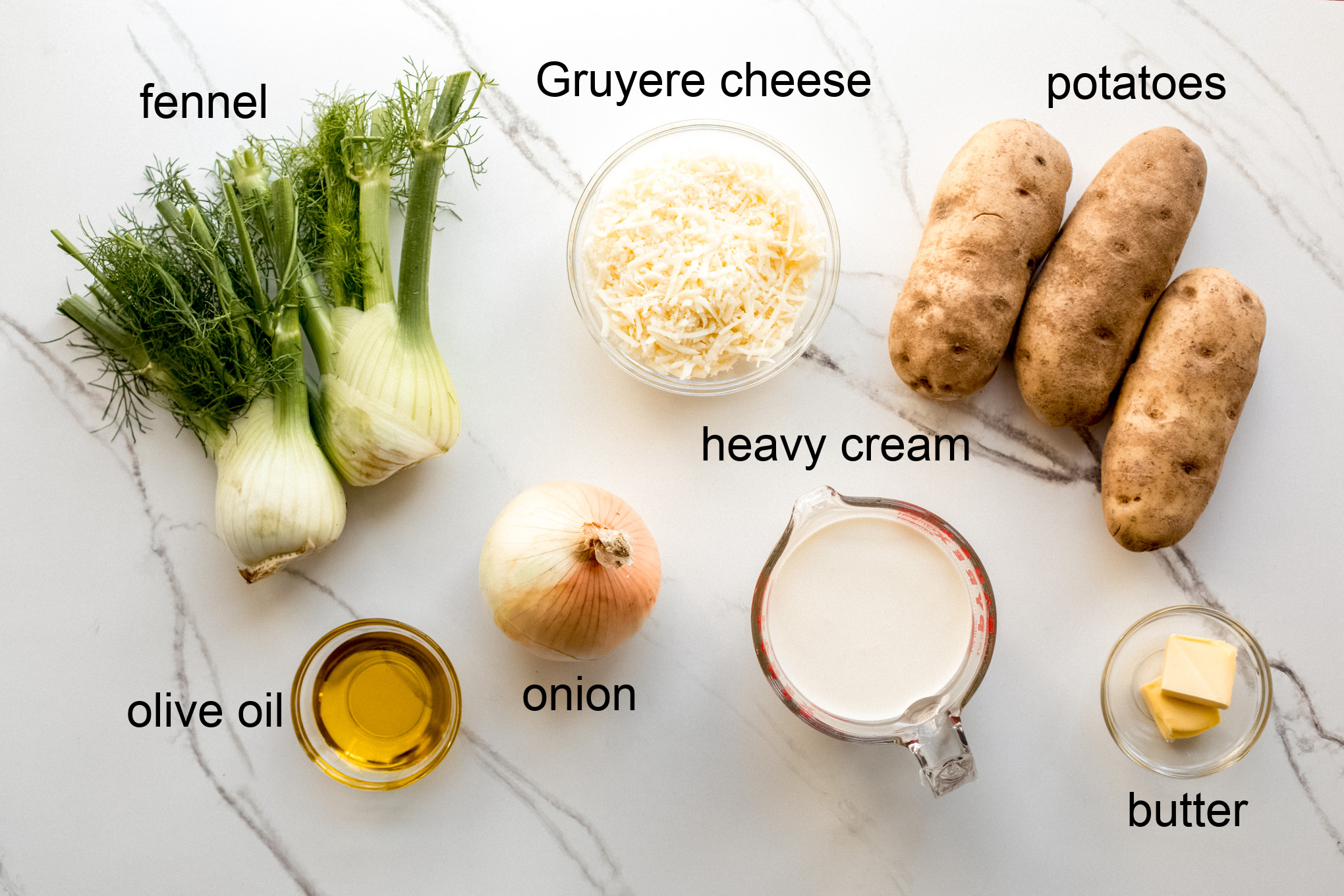 How to Make Ina Garten Scalloped Potatoes
Making Ina Garten's recipe for scalloped potatoes is easy! Just follow these simple steps. The recipe card below gives more detailed instructions.
Prepare the fennel by slicing off the stalk and cutting the bulbs in half lengthwise.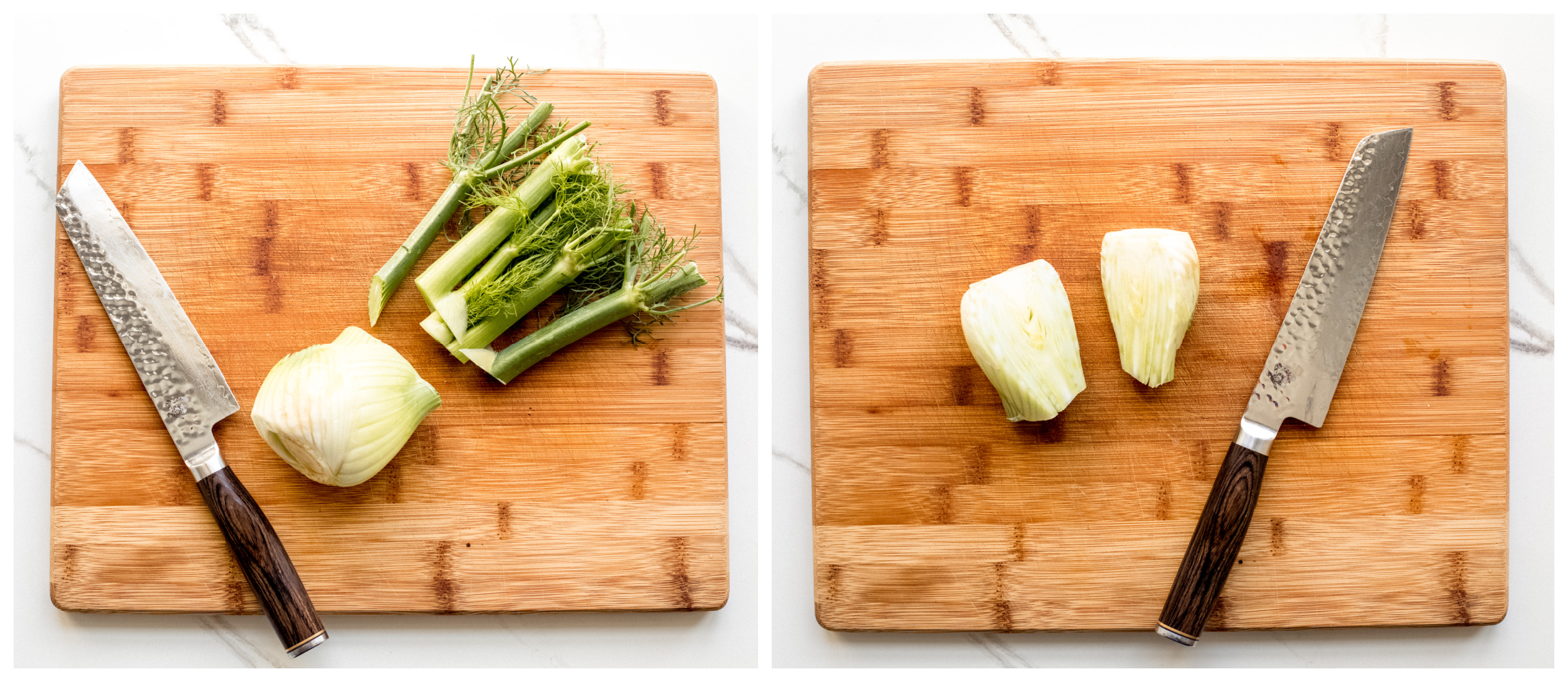 Remove the cores and thinly slice crosswise.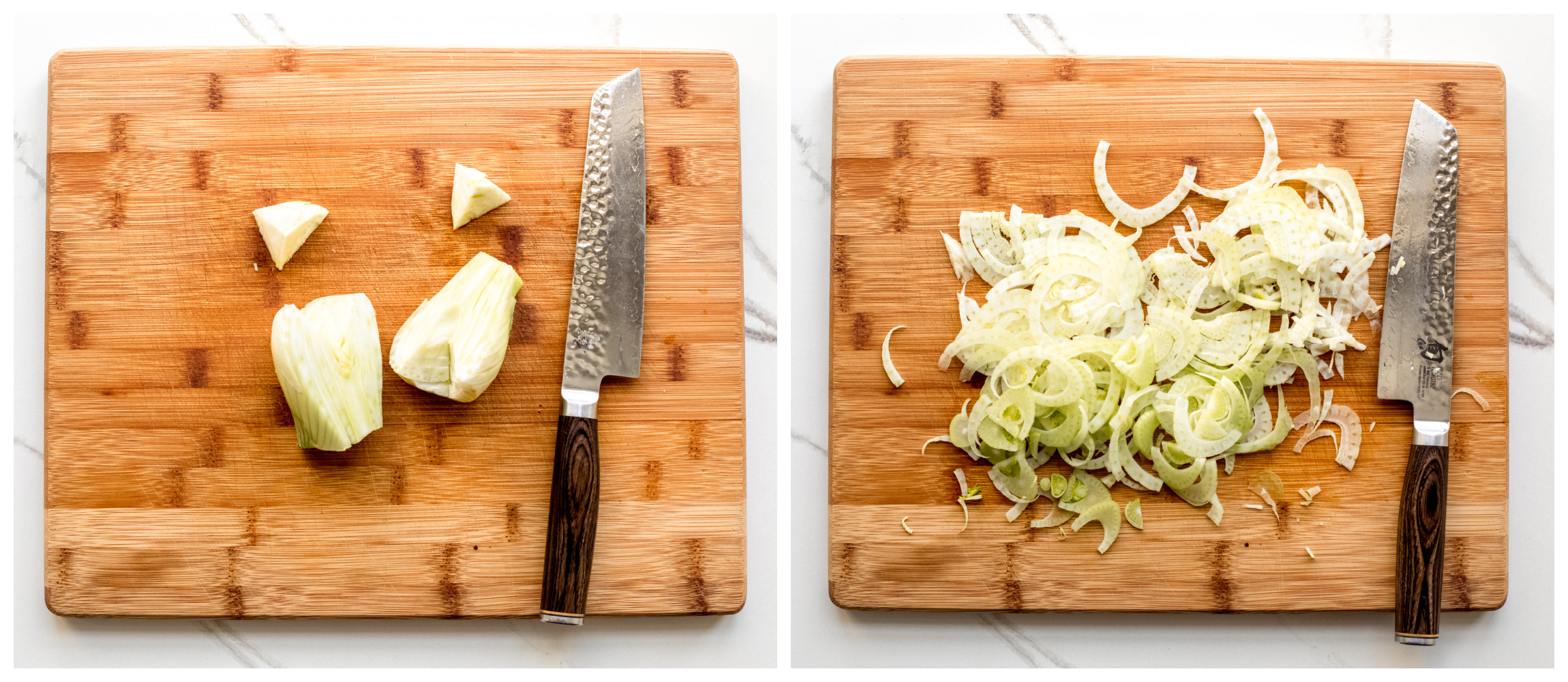 Saute the fennel and onion in olive oil and butter on medium heat for about 15 minutes or until tender.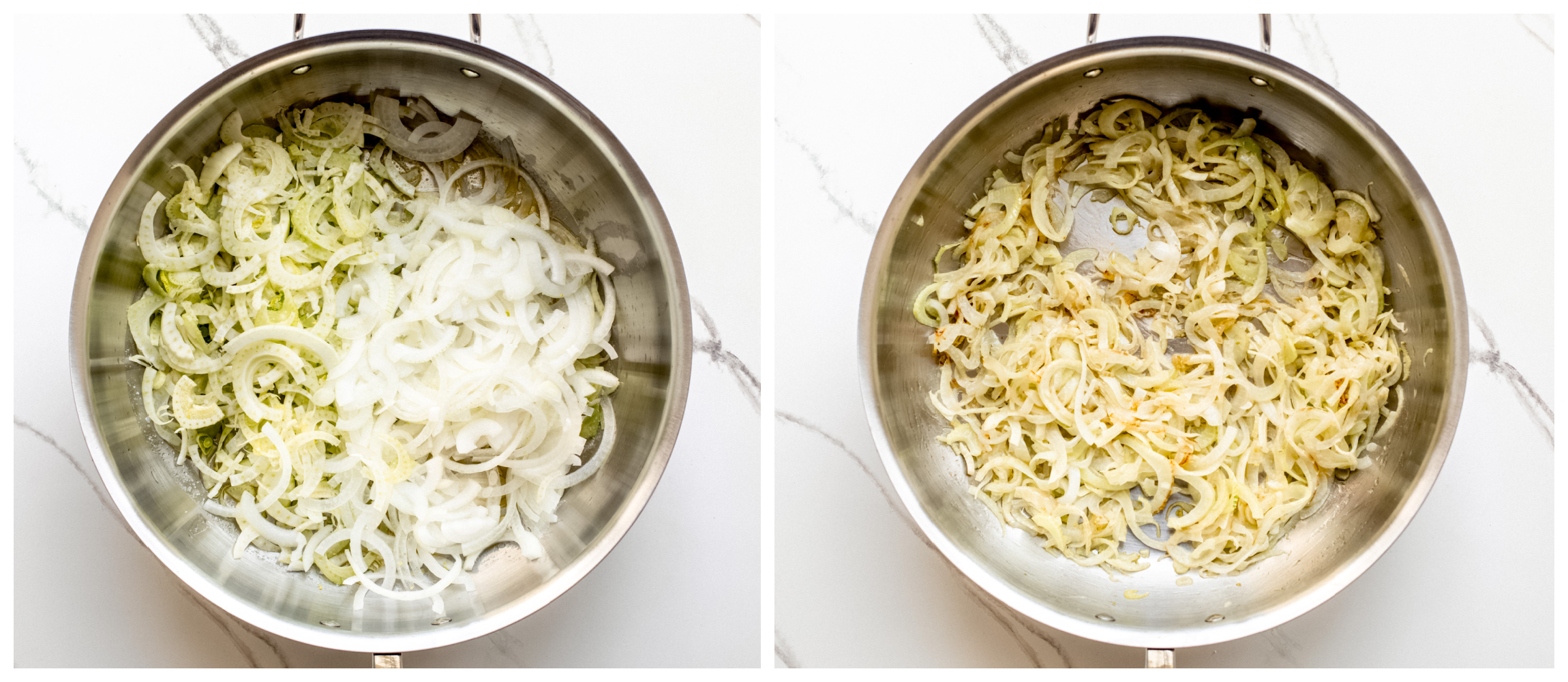 Slice the potatoes on a mandoline slicer and add to a large bowl. Add 2 cups cream, 2 cups Gruyere, salt, and pepper, and mix together.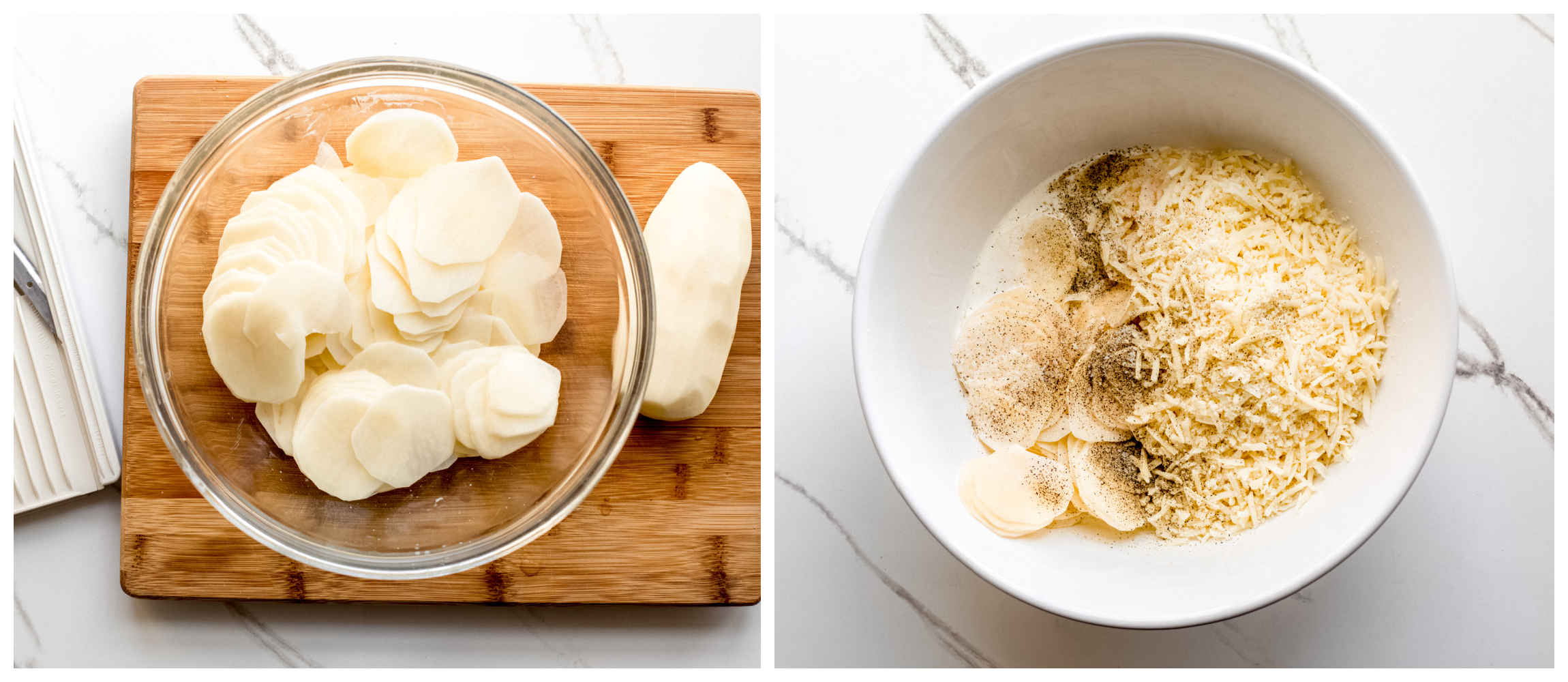 Add sauteed fennel and onion to the potato mixture and mix well. Add the potato mixture into a greased 9X13 baking dish, pressing down to flatten with a wooden spoon.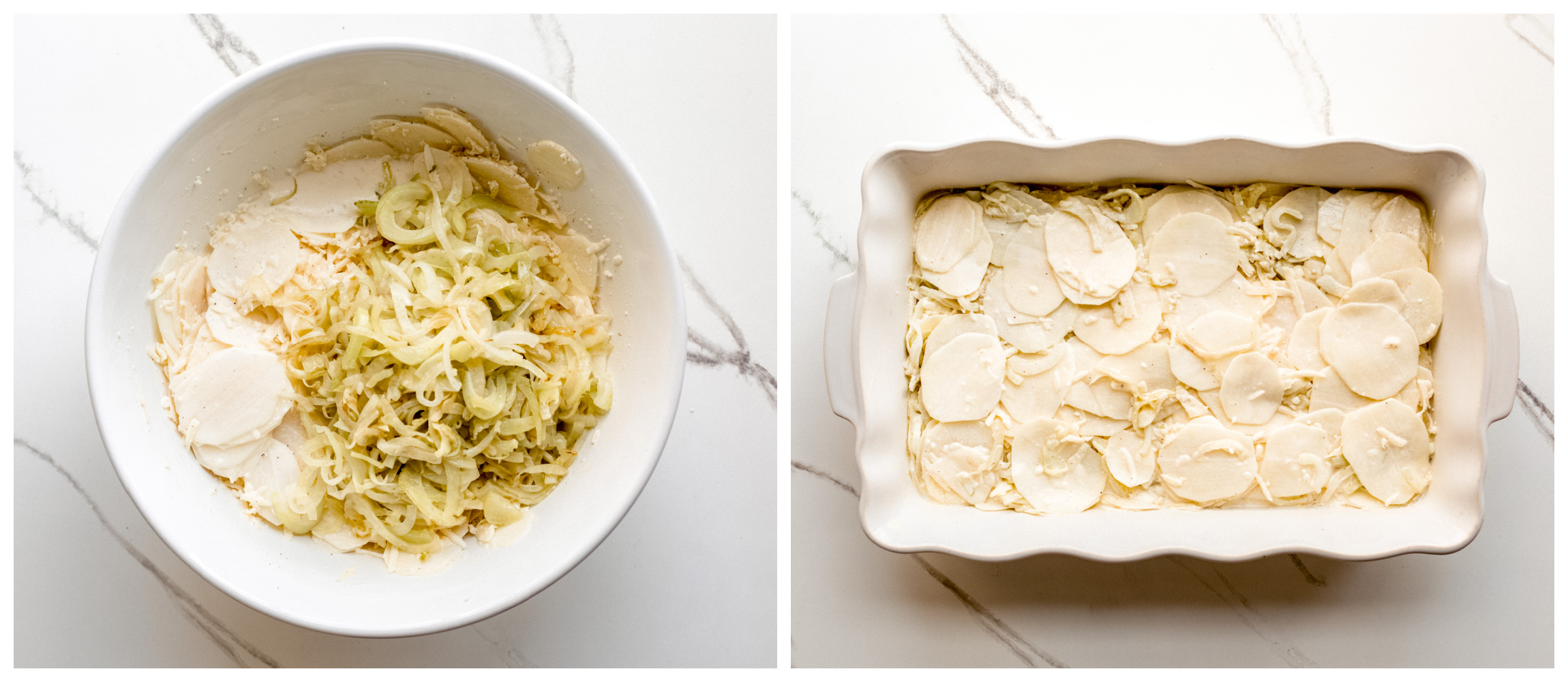 Mix together the remaining cheese with cream and sprinkle over the potatoes. If desired, add black pepper. Bake at 350°F for 1 ½ hours, or until the top is browned and bubbly.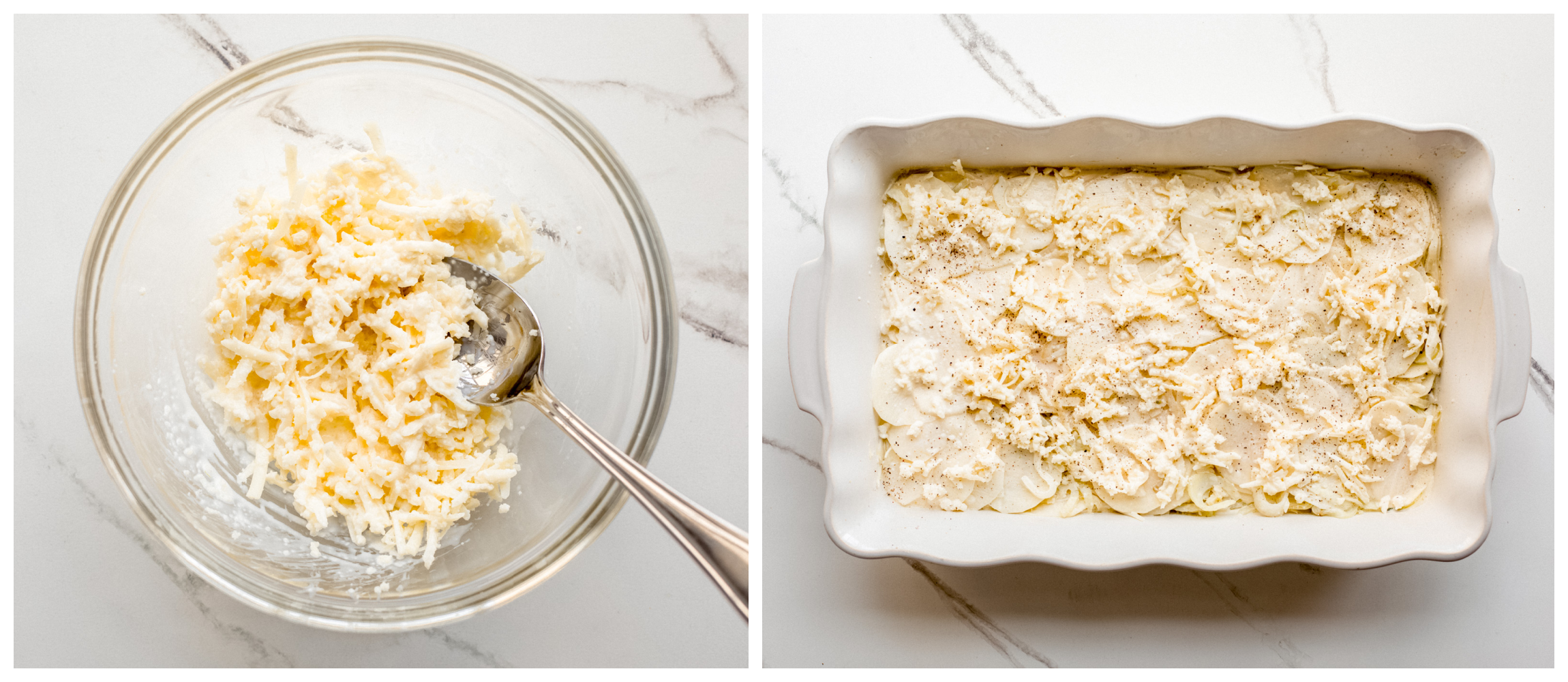 Expert Tips
Want to make the perfect batch of potato fennel gratin recipe? Check out these expert tips:
Slice it thin, slice it right: The secret to perfect scalloped potatoes is to slice them thinly and evenly. The thinner they are, the faster they'll cook. We recommend using a mandoline slicer for perfectly even slices.
Weigh the potatoes: The recipe calls for 2 pounds of russet potatoes, which equals to be about 3 medium potatoes. Depending on the size of your potatoes, you may require more or fewer potatoes.
Go for herbs: Want to elevate your scalloped potatoes? Add some fresh herbs like thyme, rosemary, or chives. They'll add a delicious pop of flavor and color!
Patience is a virtue: Once your scalloped potatoes are done, don't rush to serve them. Let them rest for 10-15 minutes to allow the sauce to thicken and flavors to develop.
Don't be afraid of the browning: The finished dish will be deep brown color on top and sides. It will not burn but instead, you'll have perfectly tender and creamy potatoes underneath that beautiful golden deep crust.
How to Serve
These scalloped potatoes are perfect as a side dish to complement roasted meats like whole roasted chicken or roasted bone-in turkey breast. The creamy texture of the potatoes pairs perfectly with the rich flavors of these meats.
You can also try this dish as the main course for a vegetarian meal. Simply add some green vegetables, such as charred broccoli or roasted asparagus with lemon, and a fresh house salad on the side, and you have a complete and satisfying meal.
The dish is also ideal for potlucks or holiday gatherings, where it is sure to be a crowd-pleaser.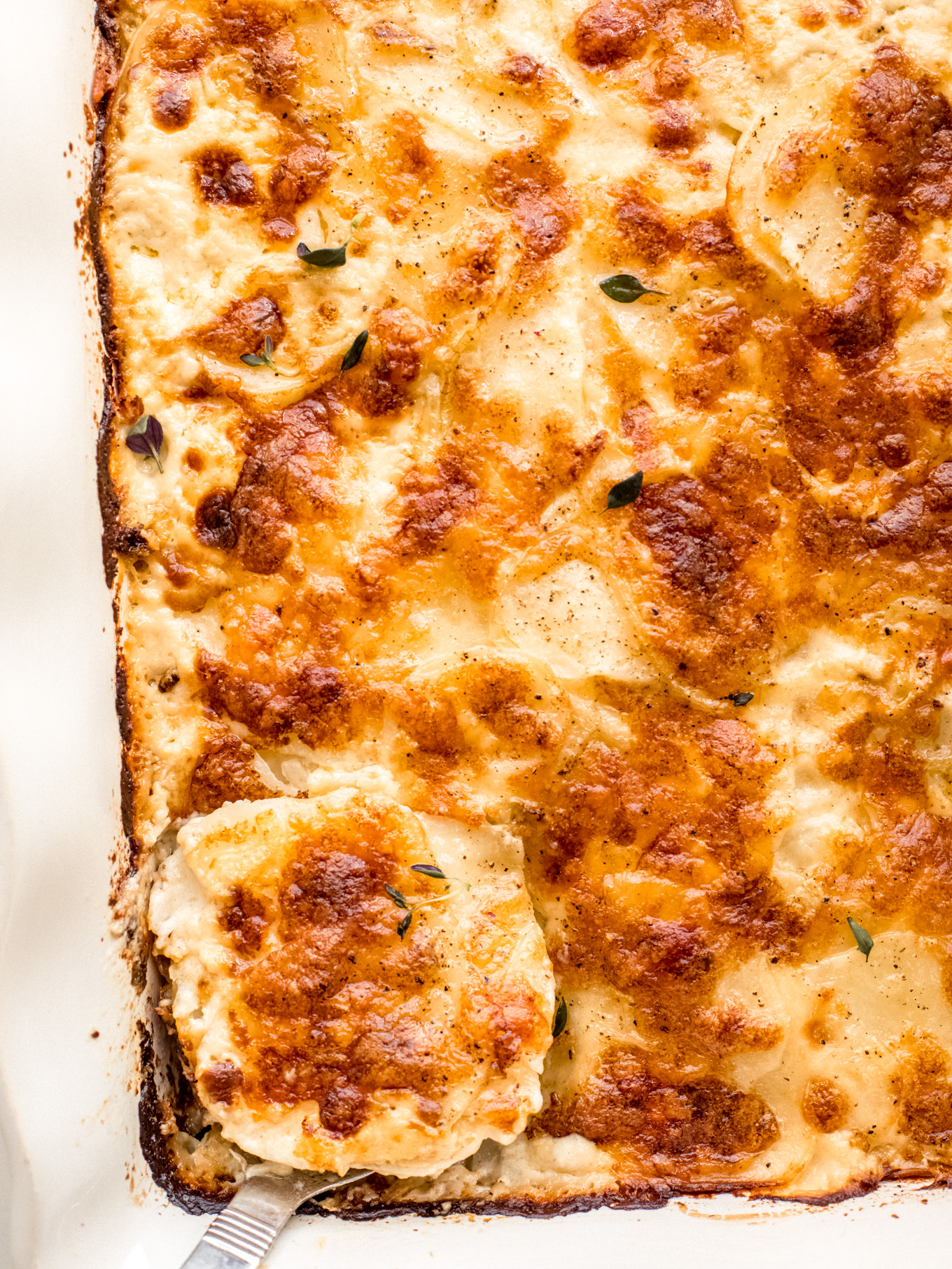 Storing Tips
On the counter: Scalloped potatoes shouldn't be stored at room temperature for more than two hours. If you have leftovers, get them in the fridge as soon as possible.
Refrigerate: To keep your potatoes fresh for longer, store them in an airtight container in the fridge for up to three days. When you're ready to eat, simply reheat them in the oven or microwave.
Freeze: Your scalloped potatoes can be frozen for up to two months. To freeze, place the cooled potatoes in an airtight container. To eat, thaw them in the refrigerator overnight and reheat them until warmed through. Freezing can affect the texture of the potatoes, so expect them to be slightly softer than before.
Frequently Asked Questions
Can I slice potatoes for scalloped potatoes ahead of time?
Yes. Peel the potatoes and keep them submerged in a bowl of water in the refrigerator for up to 1 day.
Can I prepare this dish in advance?
Yes! You can assemble the dish earlier in the day, cover it, and refrigerate it until ready to bake. You may need to add a few extra minutes to the cooking time.
How to tell when scalloped potatoes are done?
Scalloped potatoes are done when you can easily pierce them with a sharp knife.
Can I use a different type of cheese in scalloped potatoes?
Definitely! While Gruyere is the classic choice, you can experiment with different types of cheese to find your favorite. Some other great options include cheddar, Parmesan, or even a combination of different cheeses. Just be sure to use cheese that melts well.
Print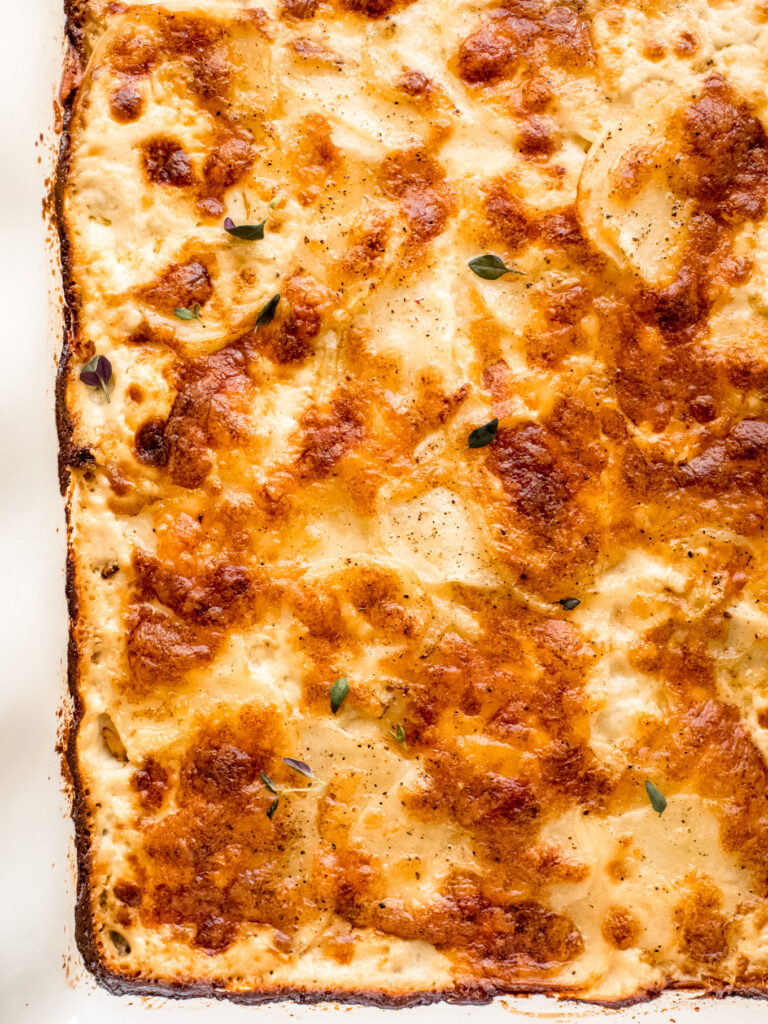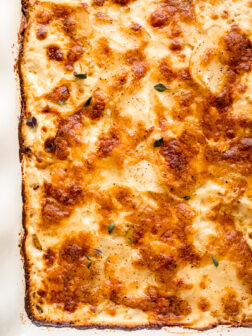 Ina Garten Scalloped Potatoes Recipe
Author: Katya
Prep Time: 25 min
Cook Time: 1 hour 45 min
Total Time: 2 hours 10 minutes
Yield: 10–12 1x
Category: Side
Method: Baked
Cuisine: American
---
Description
If you're looking for the ultimate comfort food, these scalloped potatoes from Ina Garten are just for you. This dish is creamy, cheesy, and absolutely irresistible. With its simple yet flavorful recipe, it's perfect for any occasion.
---
2 small fennel bulbs
1 medium yellow onion, thinly sliced, about 3 cups
2 Tbsp. olive oil
2 Tbsp. butter
2 lbs. Russet potatoes, peeled and sliced with mandoline, 1/8 to 1/16-inch thick
2 cups + 2 tbsp. heavy cream
2 1/2 cups freshly grated Gruyere cheese
1 tsp. kosher salt, plus extra for sauteeing veggies
1/2 tsp. black pepper, plus extra to taste
Fresh chopped herbs, for garnish, optional
---
Instructions
Preheat the oven to 350 degrees F. Butter a 9X13 baking dish and set aside.
Using a sharp chef's knife, cut off the stalk from the fennel. Cut the fennel bulb in half lengthwise. If needed remove any tough or brown outer layers. Cut out the cores and thinly slice the bulbs crosswise, into half circles, making approximately 4 cups of sliced fennel.
Heat olive oil and butter in a large skillet over medium heat. Add fennel and onion with a couple of pinches of salt, and saute for 13-15 minutes, or until tender, stirring occasionally.
In a large bowl, mix the sliced potatoes with 2 cups of cream, 2 cups of Gruyere, salt, and pepper. Add the sauteed fennel and onion. Mix well with a big wooden spoon.
Pour the potatoes into the prepared baking dish. Pressing down to make them flat. Combine the remaining 2 tablespoons of cream and 1/2 cup of Gruyere and sprinkle on top. Optional, sprinkle more black pepper over the top.
Bake, uncovered, for 1 1/2 hours, or until the potatoes are very tender and the top is deep brown and bubbly. Allow to rest for about 10 minutes before serving. Feel free to garnish with fresh chopped herbs.
---
Notes
Leftovers: Keep covered and refrigerate for up to 3 days.
Make Ahead: You can assemble the potatoes earlier in the day, cover, and refrigerate until ready to bake. You may need to add a few extra minutes to the cooking time. Don't worry if the potatoes are a little discolored, you won't notice it once the potatoes are cooked.
Nutrition
Serving Size:
Calories: 299
Sugar: 3.4 g
Sodium: 318.3 mg
Fat: 20.5 g
Carbohydrates: 19.2 g
Protein: 11 g
Cholesterol: 57.9 mg
Keywords: scalloped potatoes, Easter, side dish
Recipe adapted from "The Barefoot Contessa Cookbook" with slight changes.