Avocado Toast
Avocado toast — a classic. Learn all the tips and tricks on how to make the best avocado toast, including topping ideas.
Avocado Toast Recipe
Avocado toast is a classic these days. It's simple and delicious and best of all, it's super easy to make.
It's full of healthy, unsaturated fats, packed with fiber, and it's an effortless breakfast or snack. Avocado toast can also be enjoyed for lunch or dinner as a side to a protein-packed salad or a hearty bowl of soup.
The topping possibilities are endless too!
What is Avocado Toast?
Avocado toast is a type of open sandwich consisting of toast with mashed avocado, salt, and black pepper. You can enjoy it as simple as that or add your favorite toppings.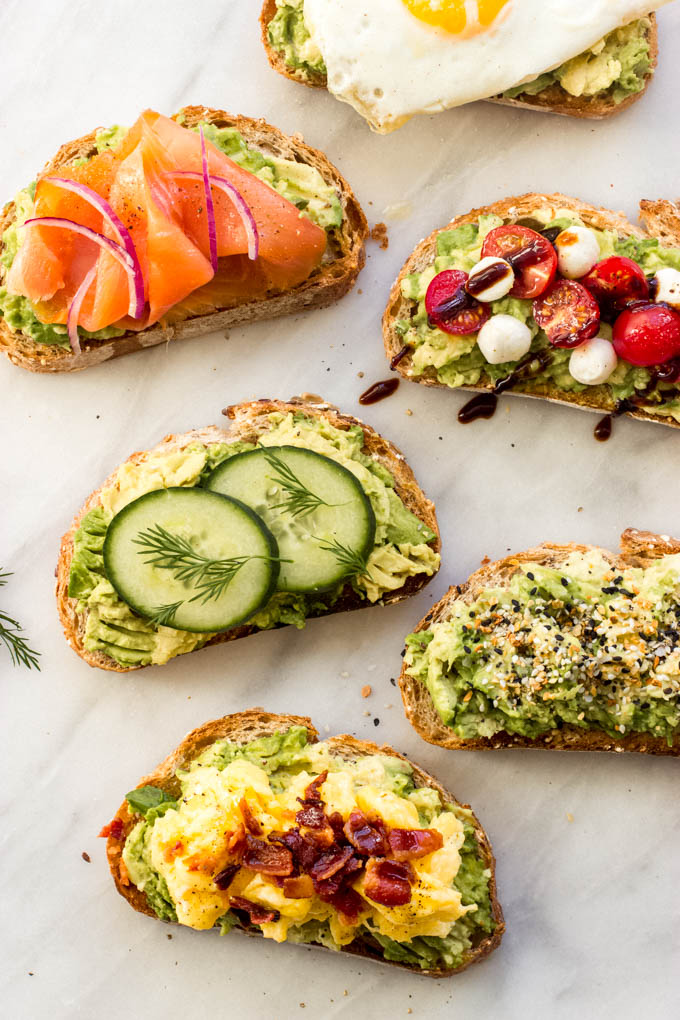 Building an Avocado Toast
Choosing the bread – denser, moister whole-grain bread works the best for avocado toast. You'll want thick sliced bread that can withstand heat when toasted.
Buying the avocado – choose an avocado that's a little bit firm with dark green skin. When you bring it home keep it out on the counter so it can fully ripen.
Salt – a good flaky salt is a must for avocado toast. It enhances the flavor and adds texture. I love David's Kosher Salt.
Toppings – when it comes to avocado toast toppings the possibilities are truly endless. You can keep it traditional or add a topping of your choice.
Avocado Toast Toppings
Here are six topping combinations to try:
Smoked salmon and red onions
Fried egg – sunny side up
Cucumbers and dill
Scrambled egg and bacon
Tomato, mozzarella, and balsamic glaze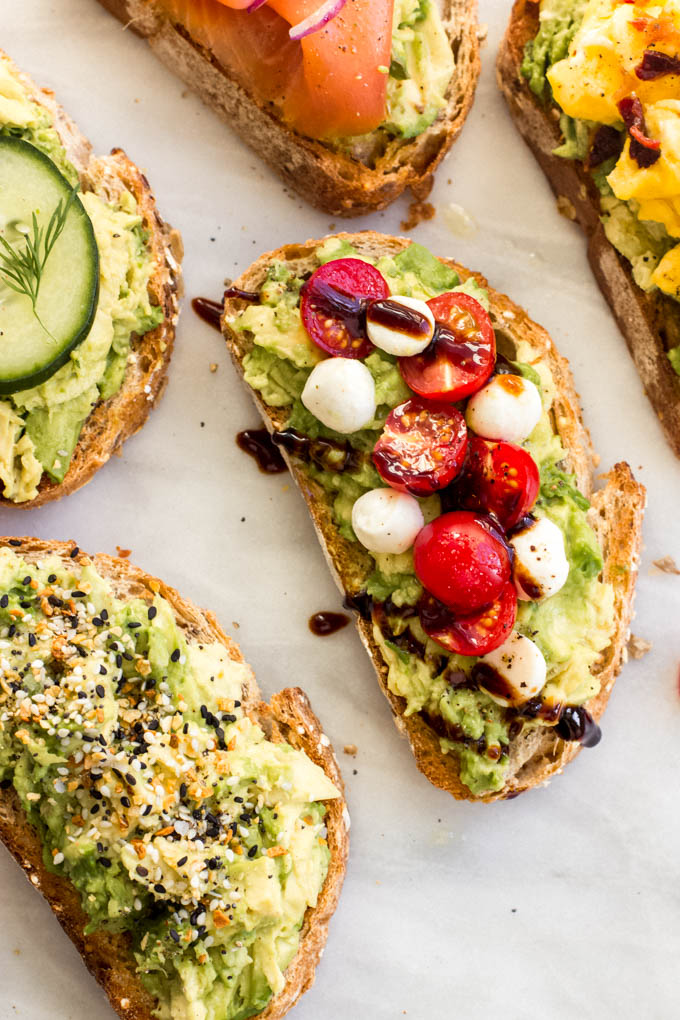 How to Make Avocado Toast
Toast the bread: Toast the bread in a toaster or in a 350 F oven for about 10 minutes depending on the thickness of the bread. Flip halfway. You want the bread golden brown and crisp.
Mash the avocado: Cut an avocado in half and remove the pit. With a big spoon, scoop out the avocado flesh on top of the toast and mash with a fork until desired consistency. Add a pinch of salt. You can also mash the avocado separately in a bowl.
Add the toppings: Top the avocado with desired toppings. Add more salt and pepper, to taste.
Notes and Tips
A faster way to ripen avocado is to place it in a brown paper bag with a banana. Otherwise, leave the avocado on your counter to ripen. Store ripened avocado in the refrigerator.
Avocado toast is best enjoyed immediately.
Looking for more avocado toast variations? Try avocado toast with red chili flakes, avocado toast with sliced tomato, and basil pesto, avocado toast with arugula, red onions, and fried egg, or avocado toast with goat cheese and fresh herbs.
And if you are left with fully ripened avocados try Avocado Tuna Salad, Baked Potato Fries with Avocado Dip, or Mango Guacamole.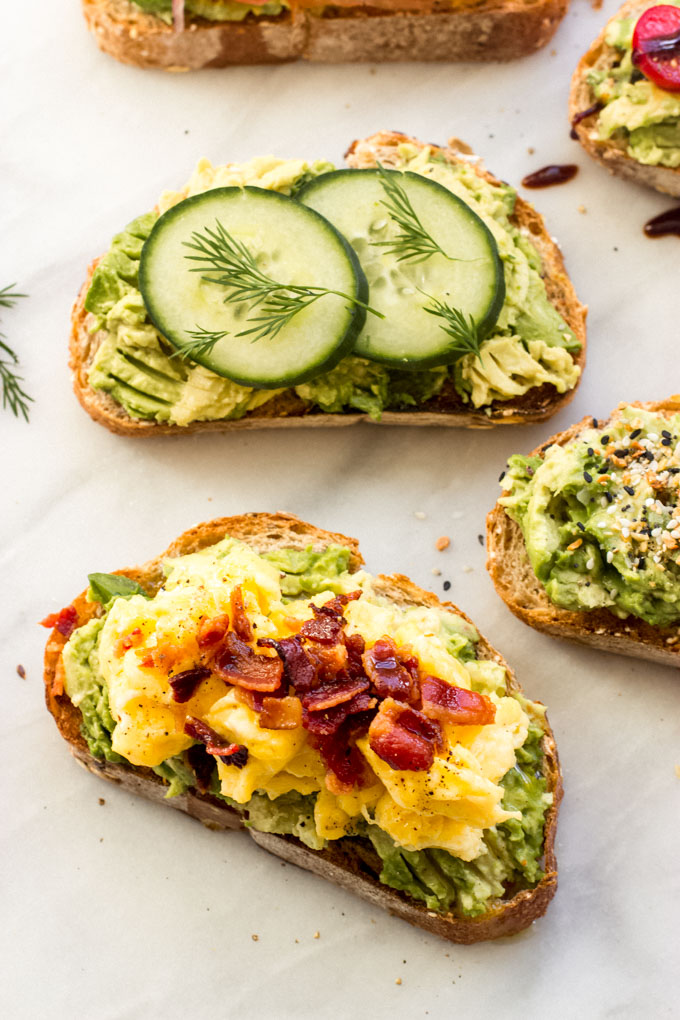 Ways to Serve Avocado Toast
There's no doubt that avocado toast makes a great breakfast toast paired with a healthy green smoothie. But it's also a great item to add to your brunch menu or to serve at lunchtime.
For Brunch: For your next brunch, set up an avocado toast bar where everyone can customize their own toast. Simply set up a variety of toppings in bowls or plates. Toast the bread slices and serve the avocado sliced. That way everyone can mash the avocado onto their toast and add toppings of choice. Serve the avocado toast with our Pasta Frittata, Ham and Egg Muffins, or Salmon Yogurt Spread.
For Lunch: For lunch, try serving avocado toast alongside a soup or a salad for a hearty meal. Keep the avocado toast traditional or add toppings of choice. Our Zucchini Corn Chowder or Broccoli Cheddar Soup serves well with avocado toast. For the salad, try Heirloom Tomato Salad or Thai Chicken Salad.
Video: How to Make Avocado Toast
Print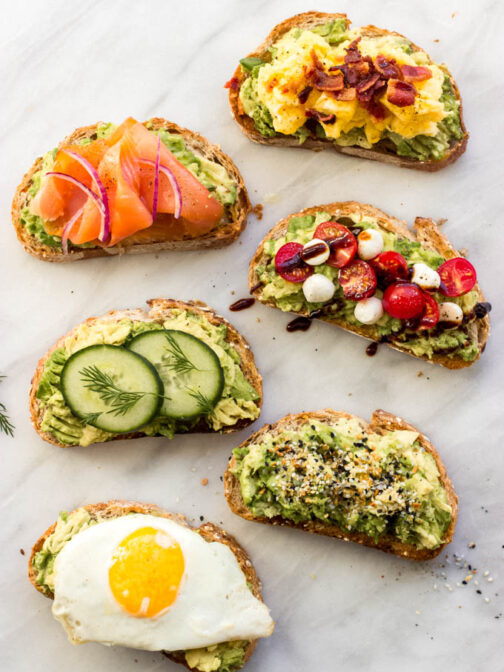 Avocado Toast
Author: Katya
Prep Time: 10 mins
Total Time: 10 mins
Yield: 1 1x
Category: Breakfast
Method: No-Cook
Cuisine: American
---
Description
Learn how to make the best avocado toast 6 different ways. All the tips and tricks you need to master this favorite toast!
---
Avocado Toast with Smoked Salmon 
1 slice bread (grainy thick type of bread works the best), toasted
1/2 ripe avocado
1–2 slices of smoked salmon
Thinly sliced red onions
Flaky salt and fresh black pepper
Avocado Toast with Fried Egg
1 slice bread, toasted
1/2 ripe avocado
1 fried egg, sunny side up
Avocado Toast with Cucumbers and Dill
1 slice bread, toasted
1/2 ripe avocado
Thinly sliced cucumbers
Fresh dill
Avocado Toast with Scrambled Egg and Bacon
1 slice bread, toasted
1/2 ripe avocado
1–2 eggs, scrambled
1–2 pieces cooked bacon, crumbled
Avocado Toast with Everything Seasoning
1 slice bread, toasted
1/2 ripe avocado
Avocado Toast with Tomato and Mozzarella
1 slice bread, toasted
1/2 ripe avocado
Grape or cherry tomatoes, halved
Small mozzarella balls (bocconcini), halved
Olive oil
---
Instructions
For each toast, scoop out the avocado flesh on top of the toast and mash with a fork until desired consistency. Add a pinch of salt. Add toppings of choice. Add more salt and pepper if desired and serve immediately.
---
Notes
Nutritional information is for traditional toast without any toppings.
Nutrition
Serving Size: 1 toast
Calories: 189
Sugar: 1.9 g
Sodium: 105.3 mg
Fat: 11.7 g
Carbohydrates: 18.7 g
Protein: 5.1 g
Cholesterol: 0 mg
Keywords: avocado, toast, quick, easy