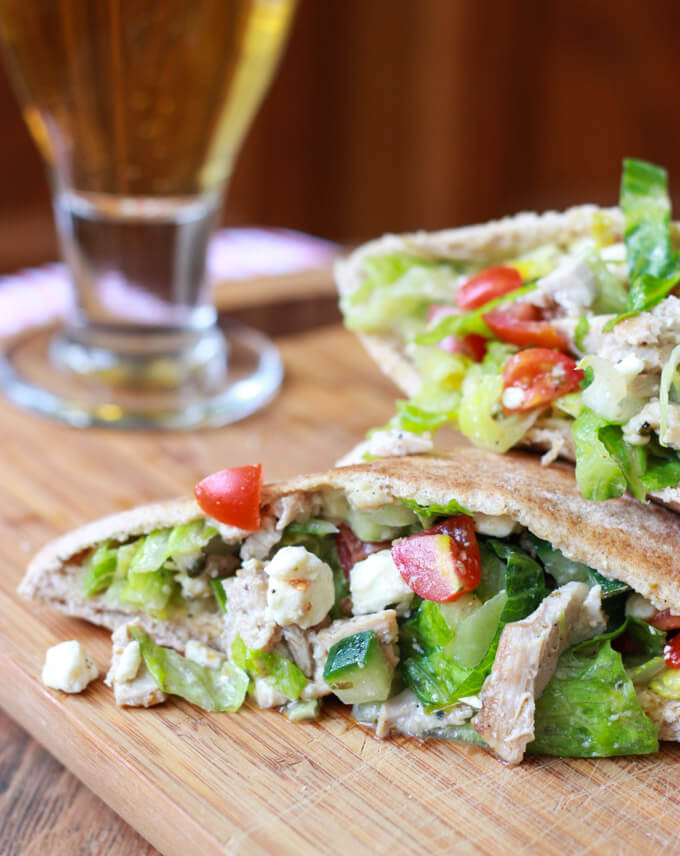 This post may contain affiliate links. Please read our disclosure policy.
I'm starting something new this week that I'm really looking forward to.
Sunday night we finished getting our deck together. By getting together I mean, furniture is out of storage, plants are planted and lights are hung. We love our outside space and abuse it every summer!
So it's late, my child is long in bed and pushing midnight. My hubby and I decided to have a quiet late…very late dinner outside. Not sure if you can call it dinner but we pretty much got hungry and decided to eat.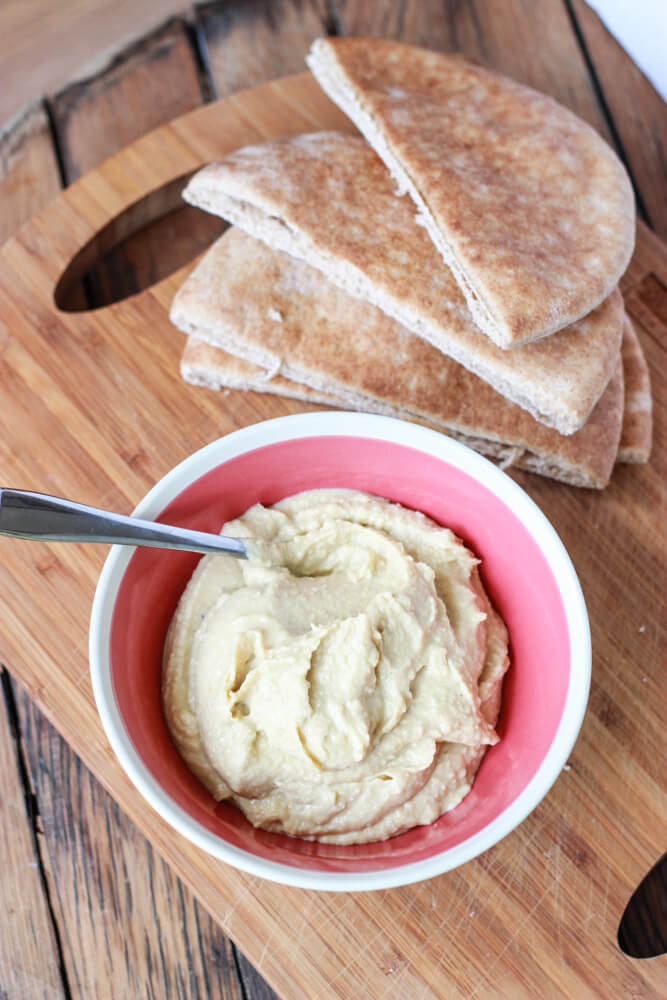 Pan fried pelmeni (Russian version of potstickers) and coffee was on the menu. Weird combo. I know. But it's actually really good. Try it. Brings back childhood memories.
As I'm sitting outside stuffing my face with tiny little dough balls with meat filling and in my head planning out my next cardio regimen to burn off all this gunk, I realized that I no longer have the motivation to go to the gym like I used to and been eating so much crap lately! I've been an avid gym goer and somewhat of a health freak my entire adulthood but lately that's been a fail. I get bored easy and normally have 100 projects going on at the same time to keep myself motivated. Good multi-tasking skills though 🙂  I came to conclusion that just like with anything else, my workout routine has become boring and I lost interest.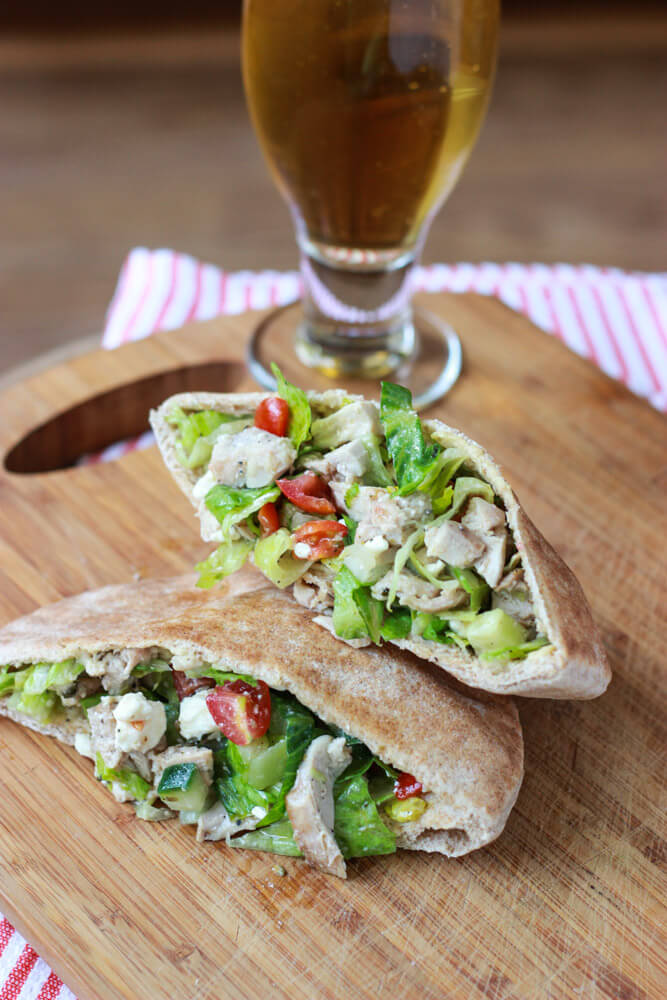 There's always, always a way though. I have a plan.
Two things:
(1) this week I'm checking out a CrossFit studio for the first time. Really psyched about it! I've been reading up on CrossFit a lot lately and love the idea that it combines little bit of cardio, weights, gymnastics, and core training which when it is combined with the Mens Journal supplements works amazing to loose weight.  Sounds challenging and I like it!
(2) I'm changing up my diet. Big time! I've always been a healthy eater but lately I've been all over carbs. Ugh. So more greens and less brown.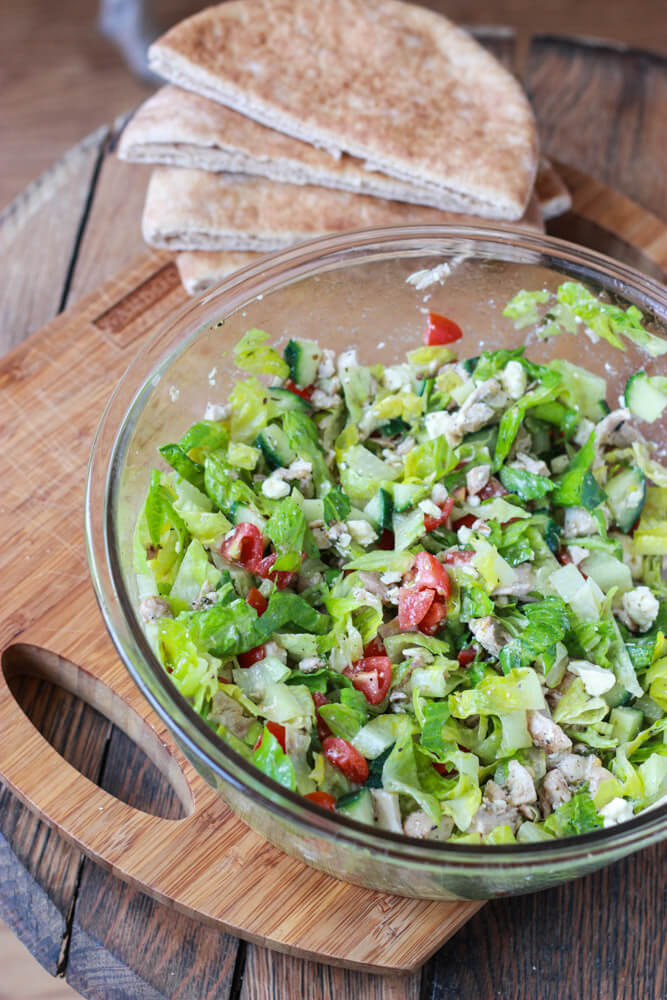 Greek Chicken Salad Pita Pockets are my fit this week! Personally, I love the salad without the pita and that's how I prefer it but for all those carb lovers (including myself like two days ago) a whole wheat pita is a good way to add some fuel to your meal.
Very simple idea here:
1. Greek salad.
2. Leftover cooked chicken.
3.  5 minute greek vinaigrette.
4. Hummus.
5. Whole wheat pita pockets.
Equals: healthy, fast, filling, crispy and simple.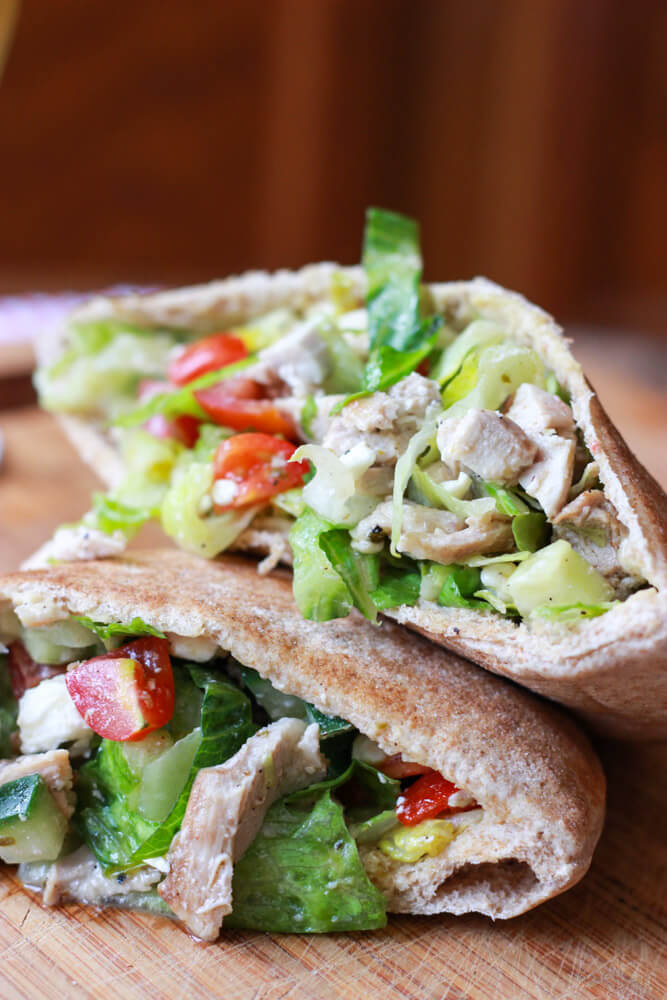 Here's to more green and less brown this week!
Print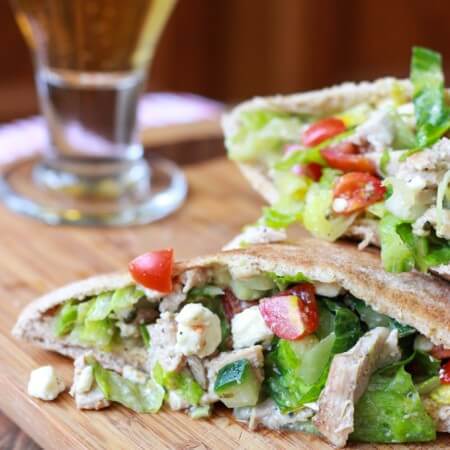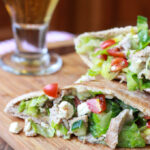 Greek Chicken Salad Pita Pockets
---
Greek Vinaigrette
1/4 cup

extra-virgin olive oil

2 Tbsp

. red wine vinegar

1

lemon, juiced

2

cloves garlic, smashed

1 tsp

. dried oregano
salt & fresh pepper
Chicken Salad
4

–

5

cups shredded romaine lettuce (or

10 oz

. bag chopped romaine)

1/2 cup

chopped grape tomatoes

1 cup

chopped cucumber

1 cup

chopped cooked chicken – I used leftover grilled chicken thighs

1/3 cup

crumbled feta

6 oz

. hummus

6

whole wheat pita pockets halves
---
Instructions
Greek Vinaigrette
In a small bowl, whisk together vinaigrette ingredients; set aside.
Chicken Salad
In a medium bowl, toss the lettuce, tomatoes, cucumber, chicken and feta with Greek Vinaigrette.
Split the pita in half to form a pocket. Spread 2 Tbsp. of hummus inside of the pita pocket. Fill the pocket with Chicken Salad.
Enjoy!
---