Salad Pizza with Balsamic Vinaigrette
Salad Pizza with honey parmesan flatbread baked until golden crisp, then topped with balsamic spring mix, tomatoes, and shaved Parmesan cheese. It's salty, sweet, and full of flavor!
Looking for a quick lunch that hits all the cravings of pizza and salad? This inspired CPK tricolor salad pizza recipe is exactly what you need. Just like our chicken salad pita, this lunch ready in under 15 minutes with minimal prep and tasty results!
This easy salad pizza brings together a flavor combination of fresh spring lettuce mix, zesty dressing, crispy Parmesan-crusted flatbread, and chopped vegetables for a delicious bite.
The freshness of the salad compliments the warm, crispy crust that is infused with honey and toasted Parmesan, a uniquely delicious flavor by itself.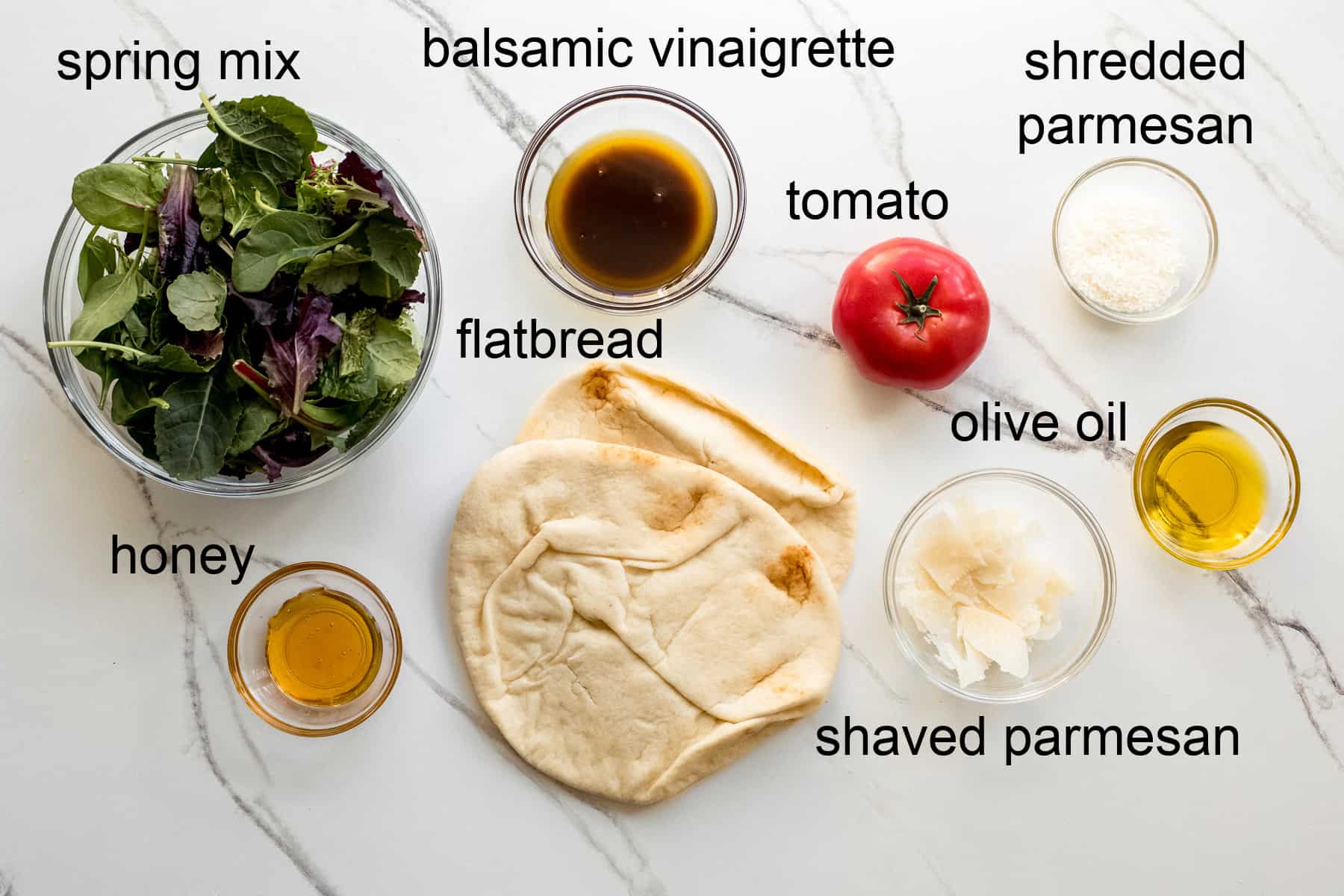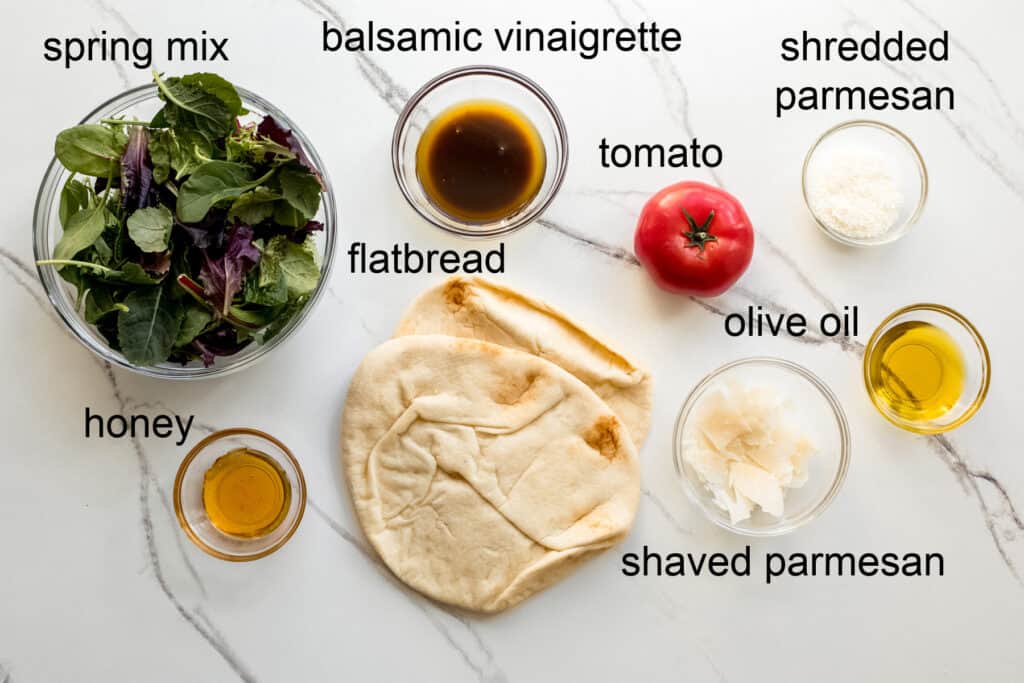 Why I Love this Easy Flatbread Salad Pizza
This salad pizza recipe is simple and has a burst of flavor with the Parmesan, honey, and zesty homemade balsamic vinaigrette. It was inspired by the California Pizza Kitchen which brought this amazing creation to light. These two dishes are great on their own but even better together.
The texture is my favorite part. You get this warm, toasty, cheesy flatbread with a hint of sweetness, and then top it with a bright, tangy salad with fresh-cut tomatoes. It's the perfect combination of salad and carbs.
Crust Options
I love to use store-bought naan bread for the crust of this salad pizza. It makes this lunch recipe quick to make, but you could also use one of these options:
Pita bread
Frozen pizza crust
Make from scratch
Low-carb crust, such as cauliflower
Salad Pizza Toppings
A versatile recipe, this salad pizza can become unique to your palette. Interchange the toppings for a new, fresh spin on a simple lunch recipe. The cheese and spring mix could also be switched out, and the dressing!
The possibilities are endless, but this simple pizza salad recipe is just the thing you need to create these different ideas.
Blackened Chicken Pizza Salad – Mix up ¼ cup mayo with 1 cup shredded mozzarella and spread on flatbread. Top with pieces of blackened chicken and chopped bacon and bake. Then, toss together romaine and iceberg lettuce mix in a tangy caesar dressing, with chopped tomatoes and sliced avocado, served on top. Yum!
Southwest Salad Pizza – Toasted flatbread with Monterey jack cheese topped with lettuce, corn, black beans, crispy tortilla strips, sour cream, salsa, and Chipotle ranch.
Green Goddess Salad Pizza – Herb cream cheese spread on warm flatbread topped with a blend of spinach, basil, and butter lettuce tossed in Green Goddess dressing. Add more fresh veggies like snap peas, cucumbers, and radish.
Some Other Topping Additions and Substitutions
Avocado
Cucumber
Red onions
Bacon
Olives – green or black
Artichoke hearts
Sun-dried tomatoes
Cheeses: Feta, Mozzarella, Cheddar, Blue cheese
Salad: Spring mix with Spinach, Spinach, Butter lettuce, Romaine, shaved Cabbage, Arugula
Be creative and satisfy your cravings with many options to choose from.
How Can I Make this Recipe Even Easier?
Use store-bought dressing.
Use packaged flatbread.
Have prepped vegetables ready to go.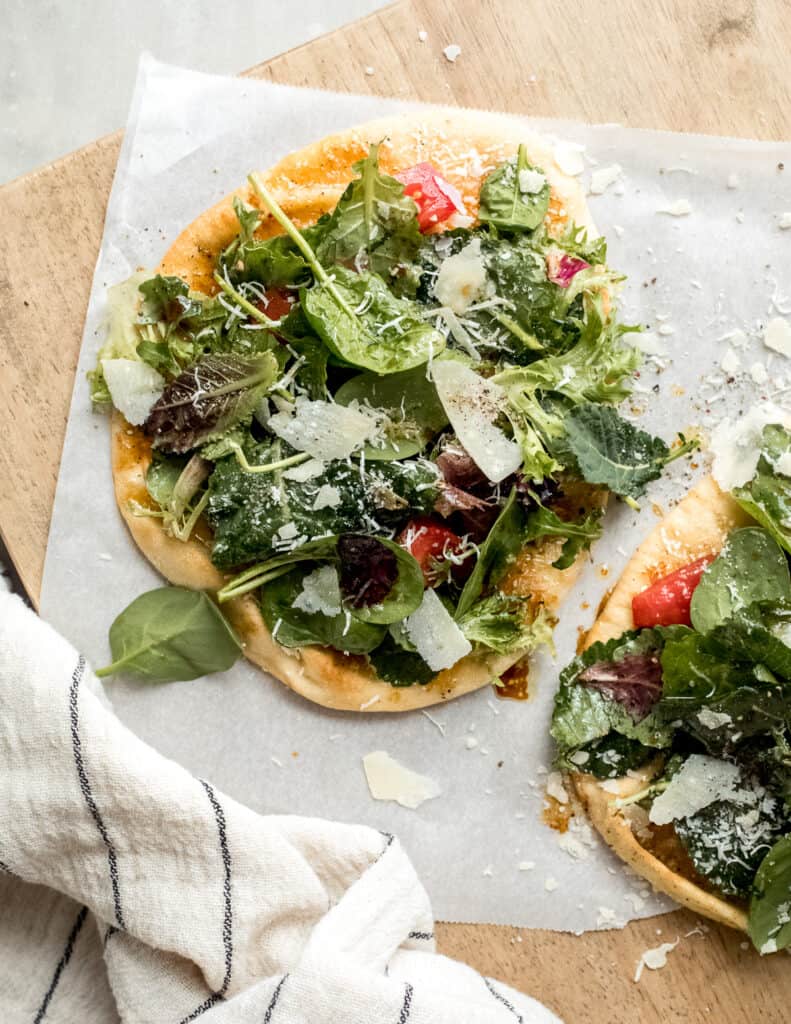 Serve with One of These Sides
More Flatbread Recipes
Print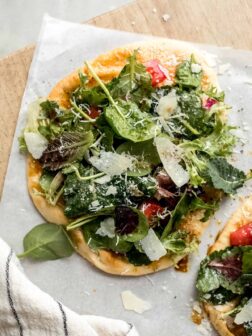 Salad Pizza Recipe
Author: Katya
Prep Time: 15 min
Cook Time: 10 min
Total Time: 25 minutes
Yield: 2-4 1x
Category: Salad
Method: Chopped
Cuisine: American
---
Description
Honey parmesan flatbread baked until golden crisp, then topped with balsamic spring mix, tomatoes, and shaved Parmesan cheese. It's salty, sweet, and full of flavor!
---
Flatbread
2 (8-inch) round flatbreads, such as naan
2 Tbsp. olive oil, divided
2 Tbsp. liquid honey, divided
4 Tbsp. shredded Parmesan cheese, divided
Salad
5 oz. spring mix lettuce
1 large tomato, cut into chunks
1/4 cup Balsamic Vinaigrette Dressing (homemade or store-bought)
1/3 cup shaved Parmesan cheese, plus more to taste
Kosher salt and fresh black pepper
---
Instructions
Flatbread
Preheat the oven to 425 F. Line a large sheet pan with parchment paper.
Brush each flatbread with 1 tablespoon of oil and 1 tablespoon of honey. Season with salt and pepper to taste.
Bake 8-10 minutes or until crisp and golden. Honey will be really liquidy but will harden as the flatbread cools. In the last 3 minutes of baking, add 2 tablespoons of shredded Parmesan cheese over each flatbread.
Remove from the oven and cool completely.
Salad
In a large bowl, toss the spring mix and tomatoes with the vinaigrette. Season with salt and pepper to taste.
To assemble, pile on the salad evenly over each flatbread. Top with shaved Parmesan cheese and more black pepper. Slice and serve immediately.
---
Nutrition
Serving Size: 1/2 naan, plus salad
Calories: 297
Sugar: 12.7 g
Sodium: 603.4 mg
Fat: 13.6 g
Carbohydrates: 37.9 g
Protein: 9.7 g
Cholesterol: 8.4 mg
Keywords: salad pizza, easy, lunch