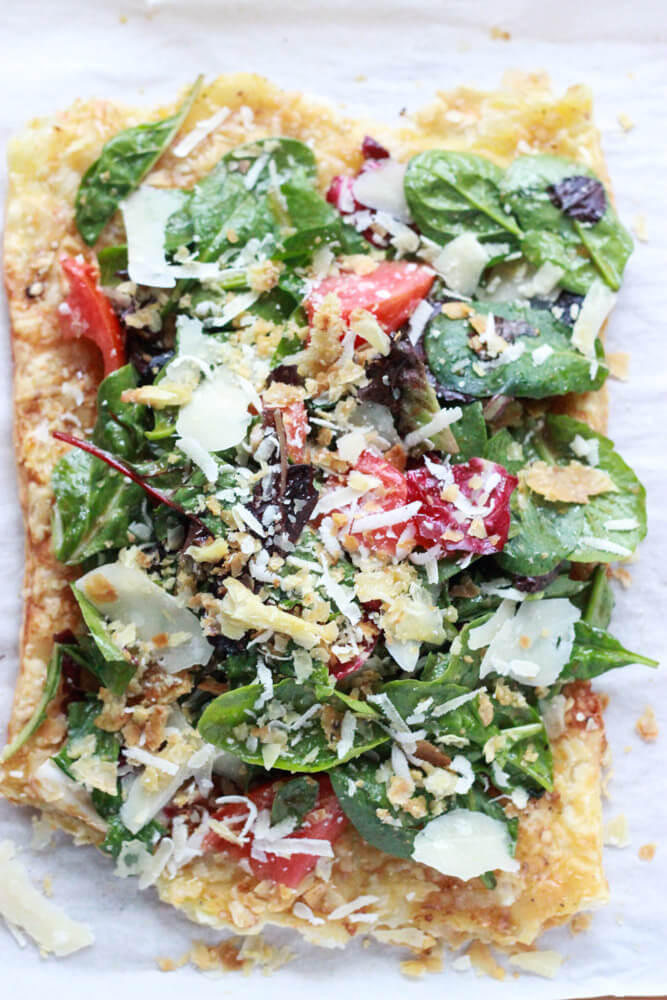 This post may contain affiliate links. Please read our disclosure policy.
Salad + Pizza = one awesome meal!
Tricolore Salad Pizza is the best of two worlds. Whoever thought of the idea is a genius. Simple spring mix salad with tomatoes a top of honey caramelized parmesan pizza crust, drizzled with dijon balsamic vinaigrette and shaved parmesan. Yum, yum and more yum!
I recently fell in love with CPK's Tricolore Salad Pizza. Such a simple idea that is amazingly good!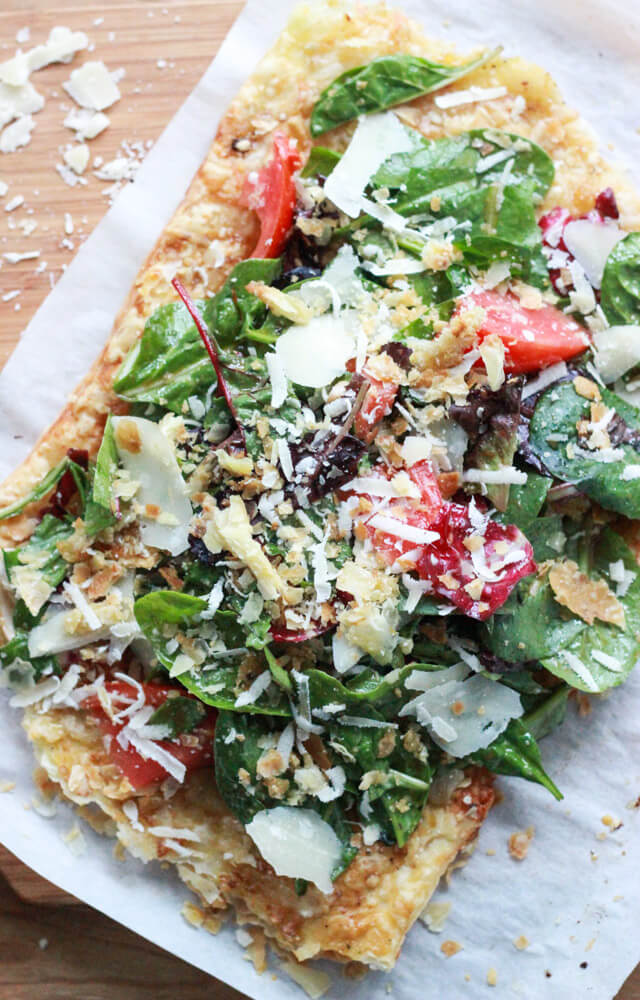 Sweet, caramelized and golden pizza crust, perfectly balanced with dijon balsamic vinaigrette salad. It's all in the pizza crust and I made my version using frozen puff pastry (oh, and mine is not so round:). It's light, crispy and flaky. Smothered in honey, parmesan cheese and baked until golden.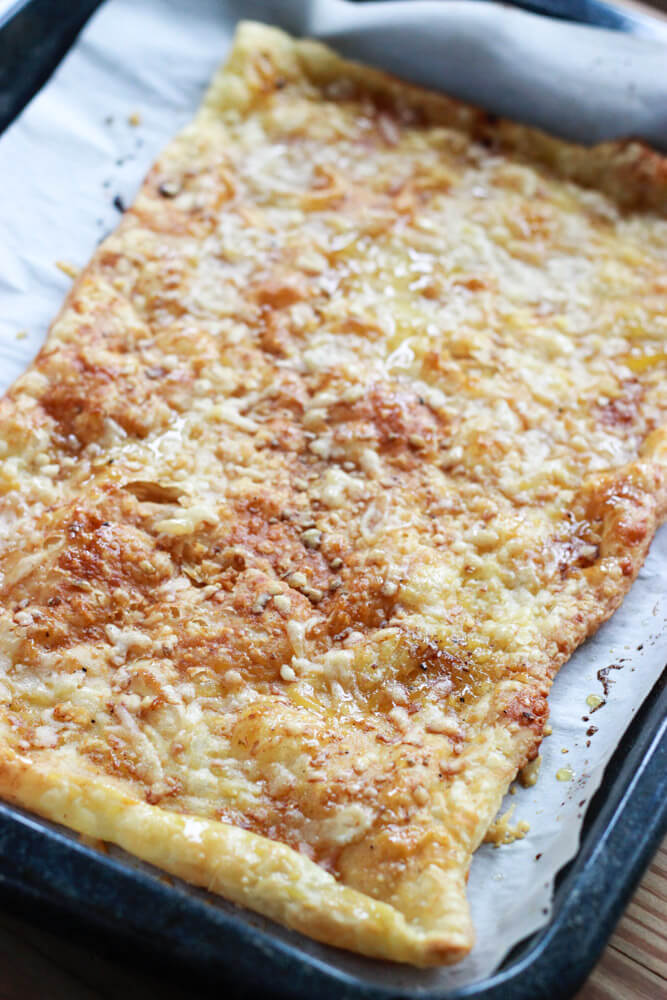 I went beyond the basic and added garlic and lemon juice to the dijon balsamic vinaigrette for a more balanced dressing. Drizzled over spring mix and served a top of the pizza crust. Quick, easy and homemade.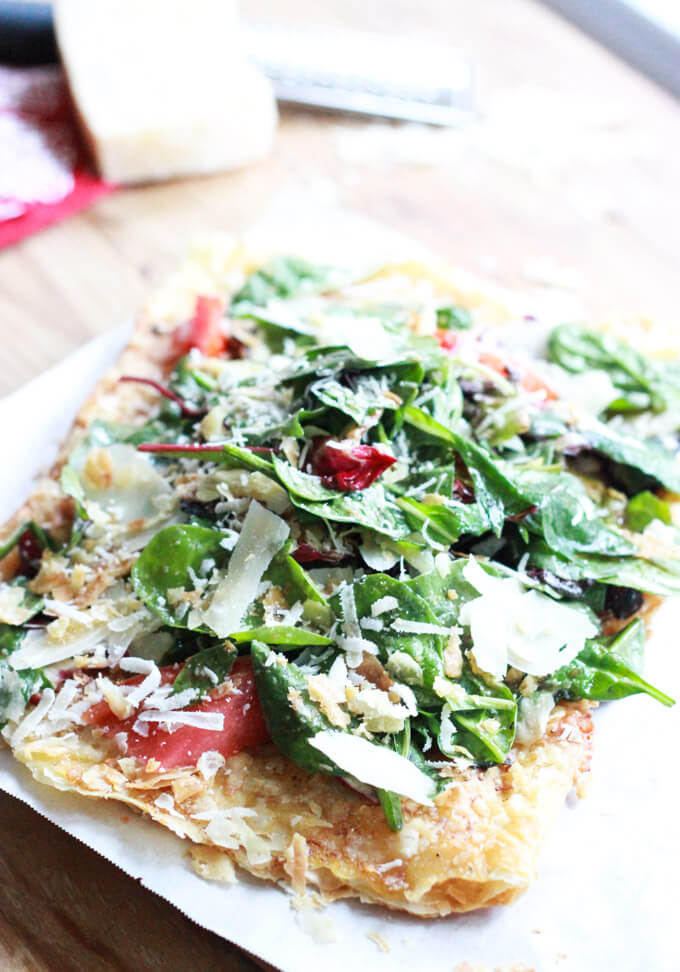 What I love about this recipe is that since it's served cold, you can prepare the pizza crust in advance and serve it later. You can top it with grilled chicken, shrimp, or salmon for a more protein packed meal. I also like to take some pizza crust edges and crush over the salad. Bits of golden brown, crispy crust a top of the salad not only looks pretty but taste pretty…..awesome.
Enjoy!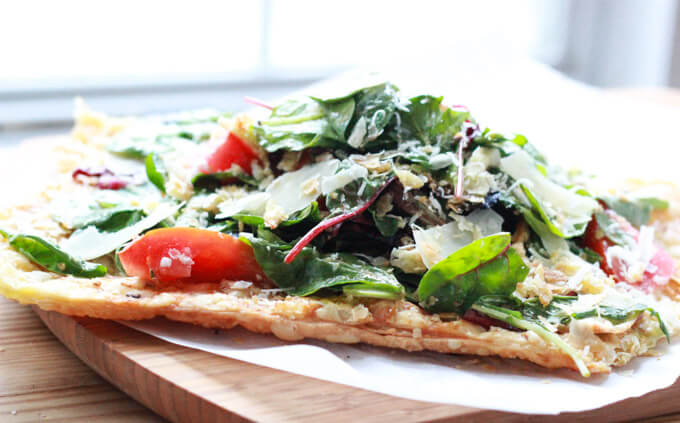 Do you guys have any favorites at CPK?
Print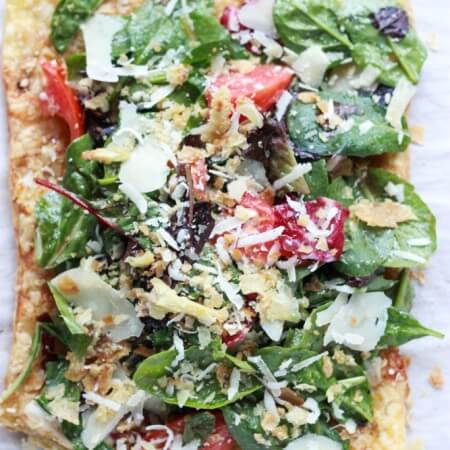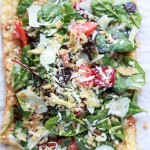 California Pizza Kitchen Tricolore Salad Pizza
Prep Time:

45 mins

Cook Time:

20 mins

Total Time:

1 hour 5 mins

Yield:

2

-

4

1

x
---
Pizza
1

puff pastry sheet, thawed out (I used one Pepperidge Farm Puff Pastry Sheet from the

17.3 oz

/1.1 lbs box)

1/3 cup

olive oil

2 Tbsp

. honey

2/3 cup

grated parmesan cheese, divided
sea salt & fresh ground pepper
Dijon Balsamic Vinaigrette
1/3 cup

extra-virgin olive oil

3 Tbsp

. balsamic vinegar

2 tsp

. Dijon mustard

1

large garlic clove, pressed

1 tsp

. lemon juice
sea salt & fresh ground pepper
Salad
5 oz

. bag spring mix

1

large tomato, cut into chunks

1/3 cup

shaved parmesan cheese
---
Instructions
Pizza
Preheat the oven to 400F.
In a small bowl, whisk together the olive oil and honey. Season with salt and pepper to taste; set aside.
Take one pastry sheet and cut it in half (Note: as mentioned above, I used one Pepperidge Farm Puff Pastry Sheet, which I cut in half to make two pizzas, so if using another brand you may or may not have to cut in half depending on size. There is no perfect portion so use your stomach senses :).
Roll out one pastry half on lightly floured surface 1/4″-inch thick. It does not have to to be perfect. Transfer to parchment lined baking sheet. Brush with the olive oil and honey mixture. Pierce the pastry with a fork to prevent bubbling.
Bake in the oven for 6 minutes. Remove from the oven (if pastry bubbles up, lightly pierce with fork before adding parmesan). Sprinkle with 1/3 cup parmesan cheese and continue baking for additional 4 minutes or until lightly golden. Remove from the oven and brush lightly with additional olive oil and honey mixture; cool completely. (Note: keep an eye on the pastry during the second part of baking as the parmesan cheese burns very easily! Your baking time may vary a bit, depending on the oven).
Follow steps 5-6 to prepare the second half of pastry.
Dijon Balsamic Vinaigrette
Whisk the ingredients in a small bowl; season with salt and pepper to taste.
Salad
In a large bowl, toss the spring mix and tomatoes with vinaigrette.
To assemble: top the pizza crust with salad greens; sprinkle with shaved parmesan (Optional: with hands, break off some of the pizza crust edges and crush over the salad).
Serve immediately.
---