Baked Cod with Panko
Tender baked cod with Panko, lemon butter, and fresh tomato bruschetta. It's such a light and refreshing combo of flavors that comes together quick and easy.
If you're looking for an easy, quick, and fresh way to feast on seafood this summer, well look no further. This baked cod with Panko is smothered in lemon garlic butter, topped with fresh tomato bruschetta, and finished off with a sprinkle of Panko parmesan topping.
It's so flavorful, juicy, and tender. The sweetness of the bruschetta with crunchy Panko parmesan topping over cod is one of the best combinations of flavors. We love it over cooked brown rice or cauliflower rice, for a low-carb option.
How to pick fresh cod at the store
This mild white fish is absolutely perfect when it's fresh from the store and, consequently, the ocean.
There are a couple of ways to make sure you get the freshest fish possible.
If you're in a place where the cod is delivered to the store daily right from the boat, that's the best option.
Talk to the fishmonger and ask when the fish was caught and which they recommend. They know their selection the best and will give you great information.
Look for fish that is bright, moist, and firm, not dried out or tough.
If you're buying a whole cod, the eyes should be clear and not cloudy.
Another great option is to buy a bag of frozen cod fillets. This fish is frozen immediately after being caught and is the best way to get fresh fish if you are in a land-locked state.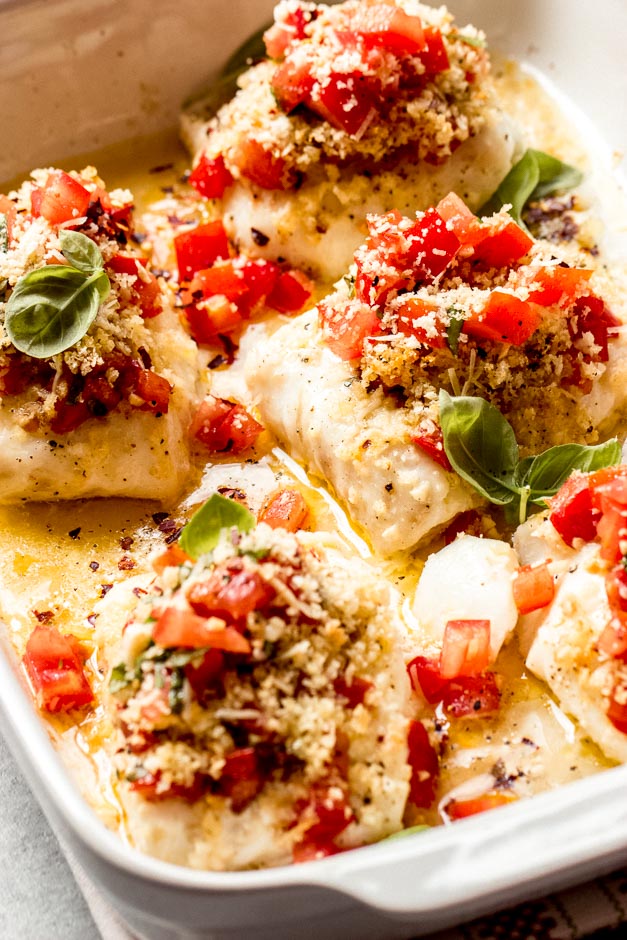 Ingredients
To make this baked cod with panko and bruschetta topping, you'll need:
Fresh cod
Butter
Olive oil
Garlic
Fresh lemon juice
Tomatoes
Fresh basil
Balsamic vinegar
Panko breadcrumbs
Parmesan cheese
Spices – oregano, crushed red pepper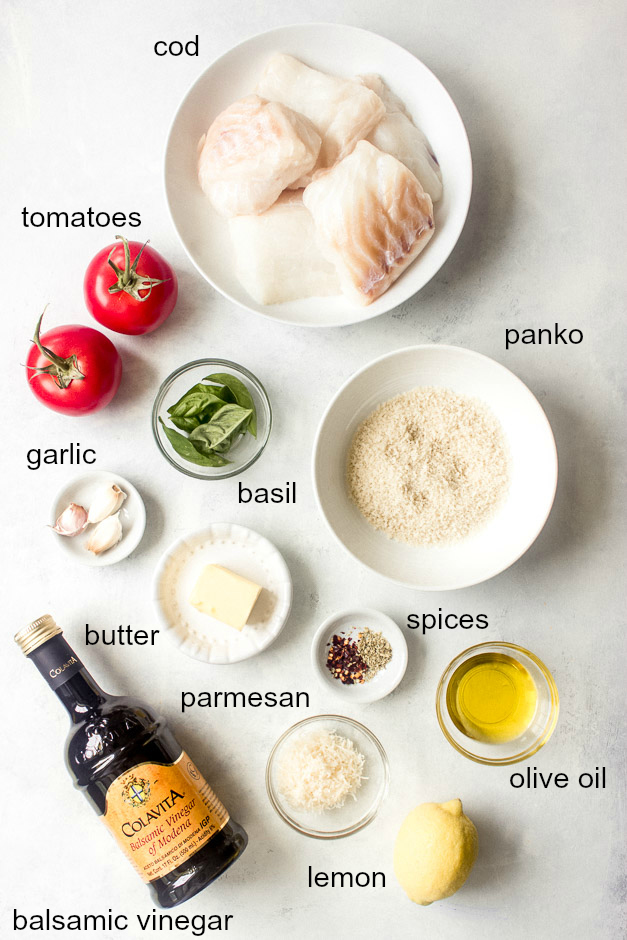 Can I Use Breadcrumbs Instead of Panko?
While Panko and regular breadcrumbs both create a crispy coating, they are different in texture. Panko is light, airy, and delicate in texture and that's what it all comes down to.
For a crunchy topping, I would recommend Panko breadcrumbs. You can find Panko at just about any grocery store where regular breadcrumbs are sold. You can also make your own with just one ingredient!
What is a Good Substitute for Cod?
What I love about cod is that it's mild tasting and fairly easy to find either at your local grocery store or seafood market. However, you can substitute cod for other mild-tasting fish, such as haddock, grouper, or mahi-mahi. Cooking time will vary depending on the thickness of the fish.
How to Make Baked Cod with Panko
There are three basic steps to making baked cod with Panko:
Step 1: Preheat the oven to 425 F. Lightly pat cod with a few sheets of paper towels and place into a casserole dish or parchment-lined baking sheet. Season all over with salt and pepper. Set aside.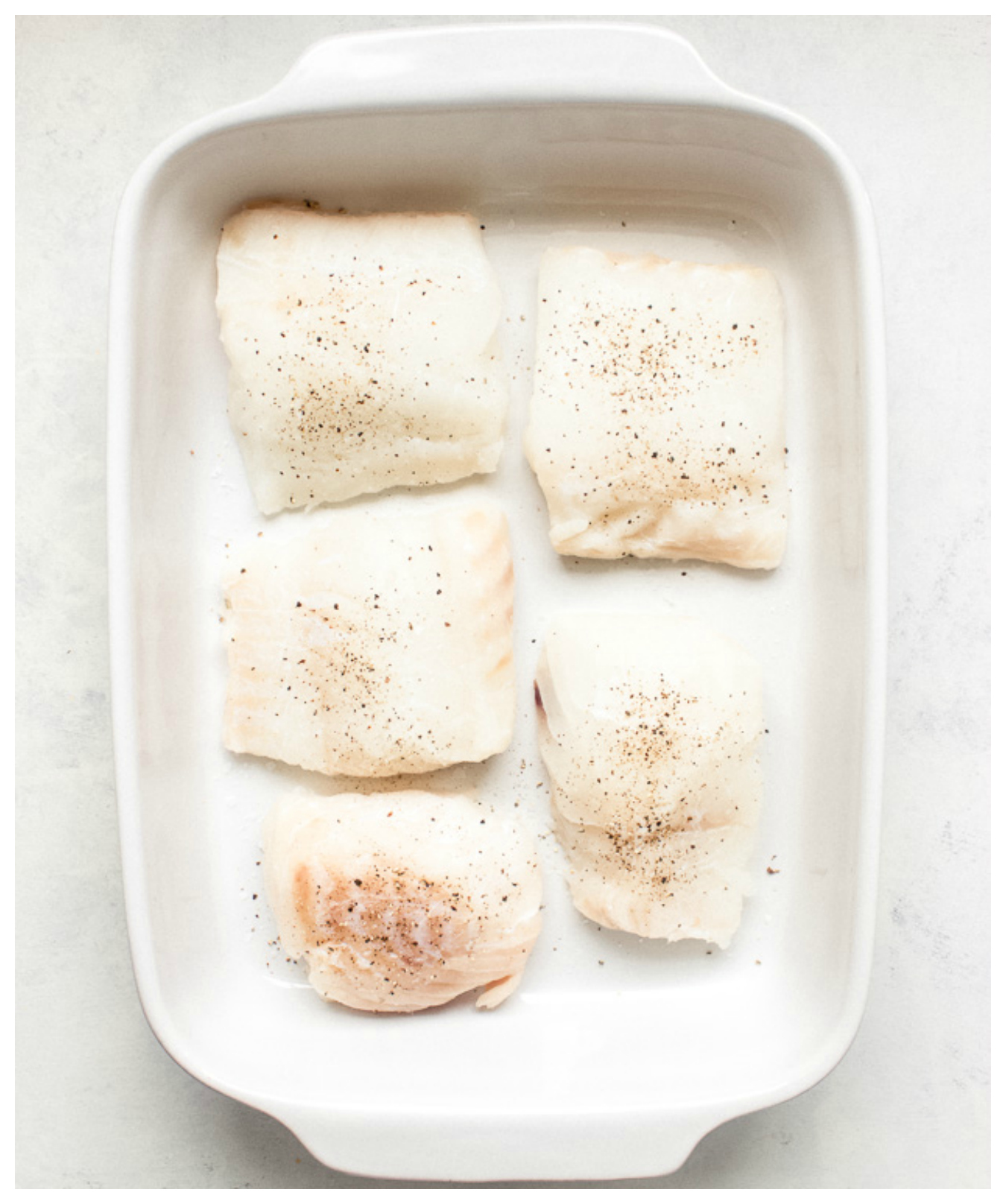 Step 2: Prepare the lemon butter, bruschetta, and crumb topping by mixing ingredients in three separate bowls.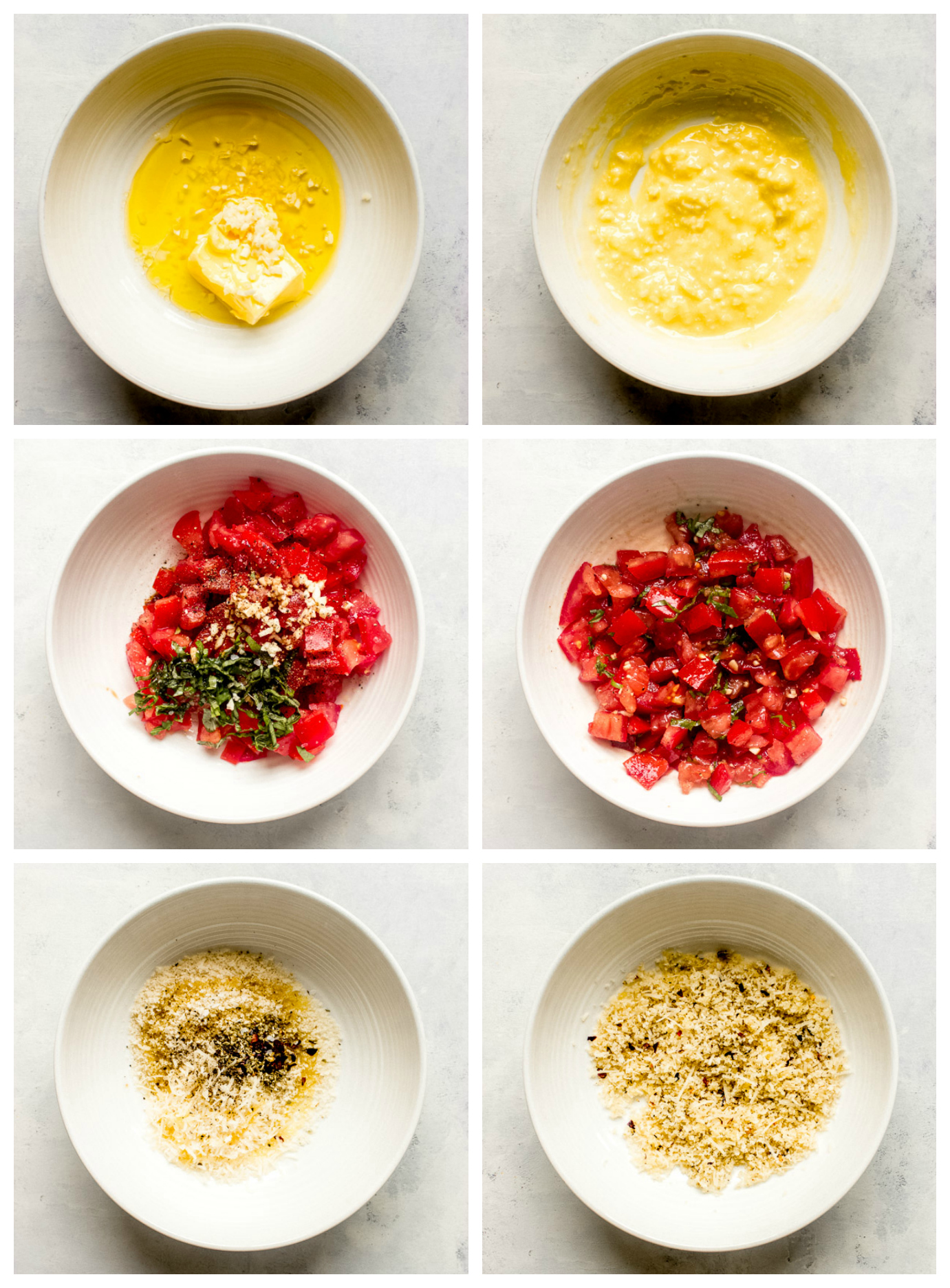 Step 3: Spread the lemon butter over cod, top with bruschetta, and crumb topping. Bake for 15-20 minutes or until the cod is cooked through.
How To Check if Cod is Cooked
First, check the appearance of the cod. It should be opaque throughout. Raw cod has a translucent appearance that turns opaque during cooking. Next, poke the cod with a fork, it should flake easily.
Check the inside to make sure it is opaque and flaky. Keep in mind, that fish continues to cook after you take it out. For best results, remove it from the oven just before it is cooked to your liking.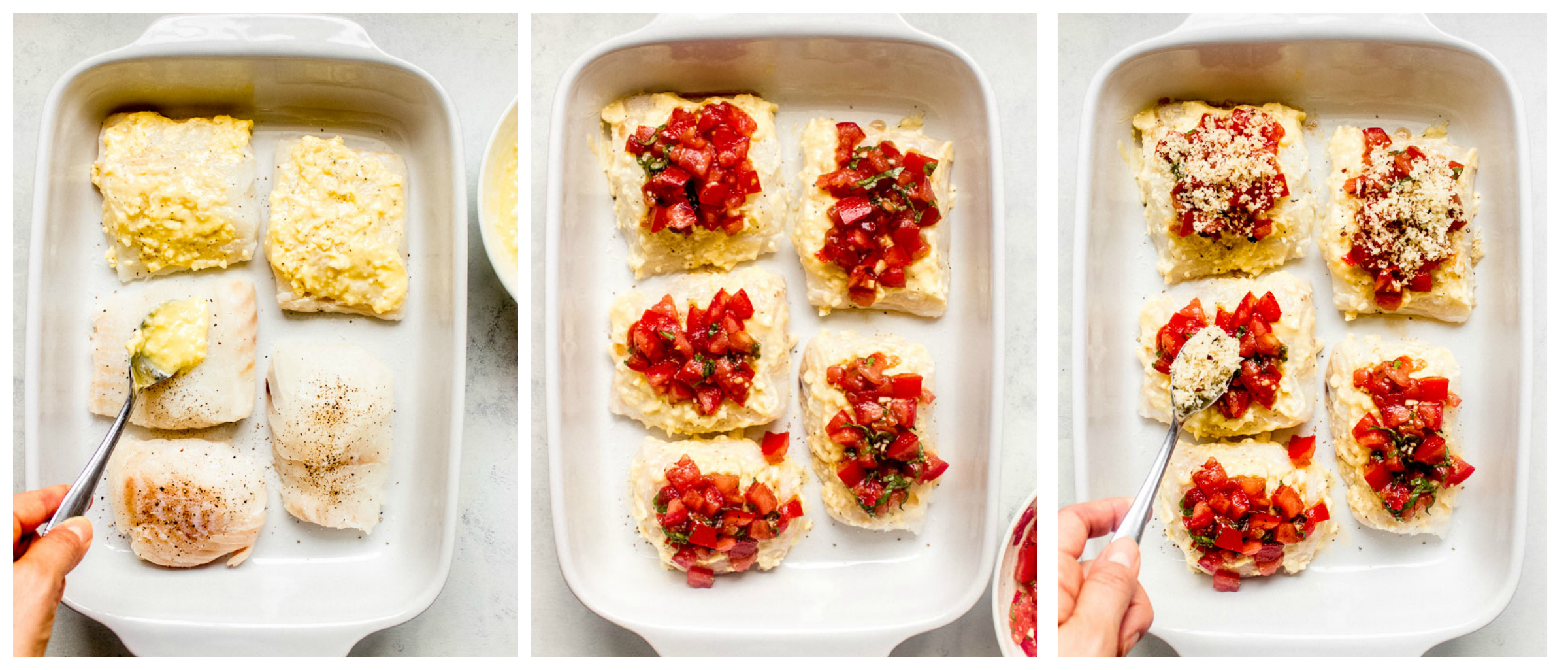 Other topping ideas
While the tomatoes and panko breadcrumb mixture are delicious, you can try other combinations like these:
Leave off the bruschetta and coat the cod in the panko mixture to create a panko crust on the outside of the fish.
Create a mixture of artichokes and kalamata olives to replace the tomatoes.
Brush this mild fish with dijon mustard for even more flavor.
Season the fish with paprika, garlic powder, onion powder, old bay seasoning, or lemon zest.
Use buttery cracker crumbs instead of panko crumbs.
Add fresh chopped herbs such as rosemary, oregano, thyme, dill, parsley, or tarragon.
Recipe Tips & Notes
Here are a few tips and notes to make this the best-baked cod and panko recipe you've ever tasted. It's certainly a dish your whole family will love!
Add fresh herbs. Add fresh basil or fresh parsley after the fish is done cooking. A squeeze of lemon juice over the top will also brighten up the dish.
Bake at high temperature. The golden brown panko breadcrumb topping is one of the highlights of this dish. To ensure it stays crispy and doesn't get soggy while cooking, set the oven to a high temperature (425F) when cooking your fish.
Avoid overbaking! Avoid overbaking the cod, or you'll end up with tough, rubbery, and dry fish. The best way to get a perfectly cooked piece of fish is to use a digital instant-read thermometer. Remove the fish from the oven when it's a few degrees shy of 145 F. It will continue to cook after you take it out of the oven.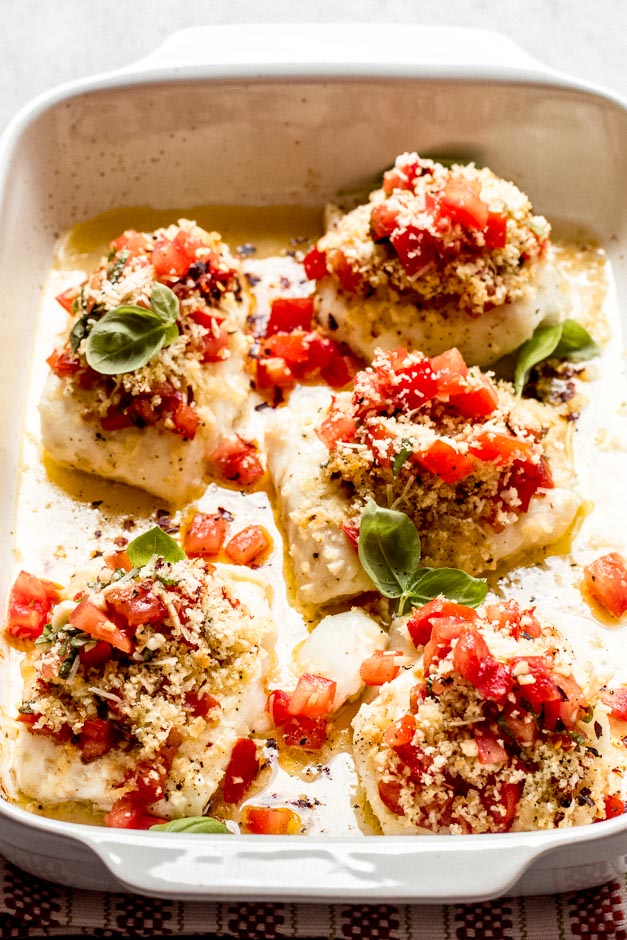 How to serve
You can serve this delicious dinner on its own with some lemon wedges and crusty bread because of the hearty tomato bruschetta.
Another great option is to serve it with side dishes like Coconut Lime Rice, Quinoa Salad with Avocado, Cauliflower Mash or Parmesan Arugula Salad for a light summer meal!
How to store
Store leftover fish fillets in an airtight container in the fridge for up to three days.
To reheat, place the fish on a plate and heat it for a few seconds in the microwave. It doesn't take long to reheat fish, and you don't want it to start cooking again and get rubbery.
Frequently Asked Questions
How long should cod be cooked?
Be sure to take the cod out of the oven when it reaches an internal temperature of 145 degrees F in order to get nice flaky fish. Bake time will depend on the thickness of the cod.
How do you keep cod from drying out?
The main reason fish dries out is because it's been overcooked. The most foolproof way to ensure that your fish is not over- or under-cooked is to use an instant-read cooking thermometer.
Can I use an air fryer to cook cod with panko?
Yes, you can cook this and other fish recipes in the air fryer. It's an excellent way to get a crispy exterior on the fish or your panko breadcrumbs. 
Print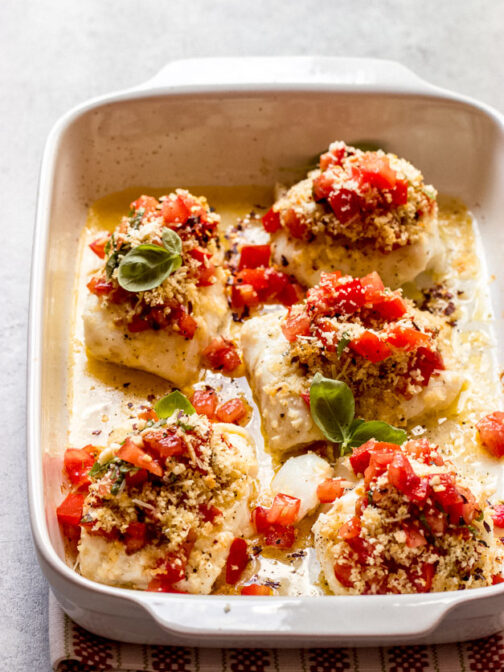 Baked Cod with Panko
Author: Katya
Prep Time: 15 min
Cook Time: 20 min
Total Time: 35 minutes
Yield: 4-6 1x
Category: Main
Method: Baked
Cuisine: Italian
---
Description
Tender baked cod smothered in lemon butter, topped with fresh tomato bruschetta, and crispy Panko. It's an easy and light one pan meal.
---
1 3/4 – 2 lbs. fresh cod, cut into 4-6 (6 – 8 oz.) portions
Kosher salt and fresh black pepper
Lemon Butter
3 Tbsp. butter, softened at room temperature (not melted)
2 Tbsp. olive oil
2 cloves garlic, minced
1 Tbsp. fresh lemon juice
Bruschetta
2 ripe tomatoes on the vine, seeded + chopped
5 large basil leaves, thinly sliced
1 clove garlic, minced
1 Tbsp. olive oil
1 tsp. balsamic vinegar
Crumb Topping
1/4 cup Panko breadcrumbs, unseasoned
2 Tbsp. shredded Parmesan
1/4 tsp. dried oregano
1/4 tsp. crushed red pepper
1 Tbsp. olive oil
---
Instructions
Preheat the oven to 425 degrees F.
Lightly pat dry the cod with a few sheets of paper towels and season all over with salt and pepper, to taste. Place in a casserole dish or parchment-lined baking sheet.
Prepare the toppings: In a small bowl, combine the lemon butter ingredients. In another bowl, combine the bruschetta ingredients, and lastly, in a separate bowl, combine the crumb topping ingredients.
Spoon the butter mixture over each cod fillet, spreading evenly on top and sides. Top with the bruschetta and sprinkle with the crumb topping.
Bake for 15-20 minutes or until the cod is cooked through. Cook time will depend on the thickness of the cod. Cod should be opaque and flake easily with a fork. Undercooked cod resists flaking and is translucent.
---
Notes
Frozen cod: If using frozen cod, make sure to thaw the fish thoroughly and pat dry with a few sheets of paper towels. 
Substitutions: Haddock, grouper, or mahi mahi are all mild-tasting fish that can be used instead.
Breadcrumbs: I do not recommend using regular breadcrumbs. Panko has a very unique airy + crunchy texture.
Serving: We love to serve this cod over cooked brown rice or cauliflower rice for low-carb option.
Nutrition
Serving Size: 1 (6-8 oz.) cod fillet with topping
Calories: 372
Sugar: 1.6 g
Sodium: 373.7 mg
Fat: 16.5 g
Carbohydrates: 6.1 g
Protein: 51.6 g
Cholesterol: 146.9 mg
Keywords: seafood, easy, summer
Recipe originally published June 2019.