Vegan Vodka Sauce
Vegan Vodka Sauce is a delicious vegan version of a classic sauce. It's creamy, peppery, and slightly sweet. It's the perfect comfort food for everyone in your family.
If you love traditional vodka sauce, you don't want to miss this quick version of penne vodka sauce, or our classic vodka sauce recipe.
What is Vegan Vodka Sauce?
This easy vegan vodka sauce recipe is made with whole peeled tomatoes, balsamic vinegar, fresh onions, garlic, basil, coconut milk, and a splash of vodka. You can serve it over regular or gluten-free short pasta. A great option for this is chickpea pasta or vegetable pasta.
Using quality ingredients for this sauce is important since there are only a few ingredients. Each one should shine in its own right for the best-flavored sauce. This dairy-free sauce is an excellent option for a vegan diet!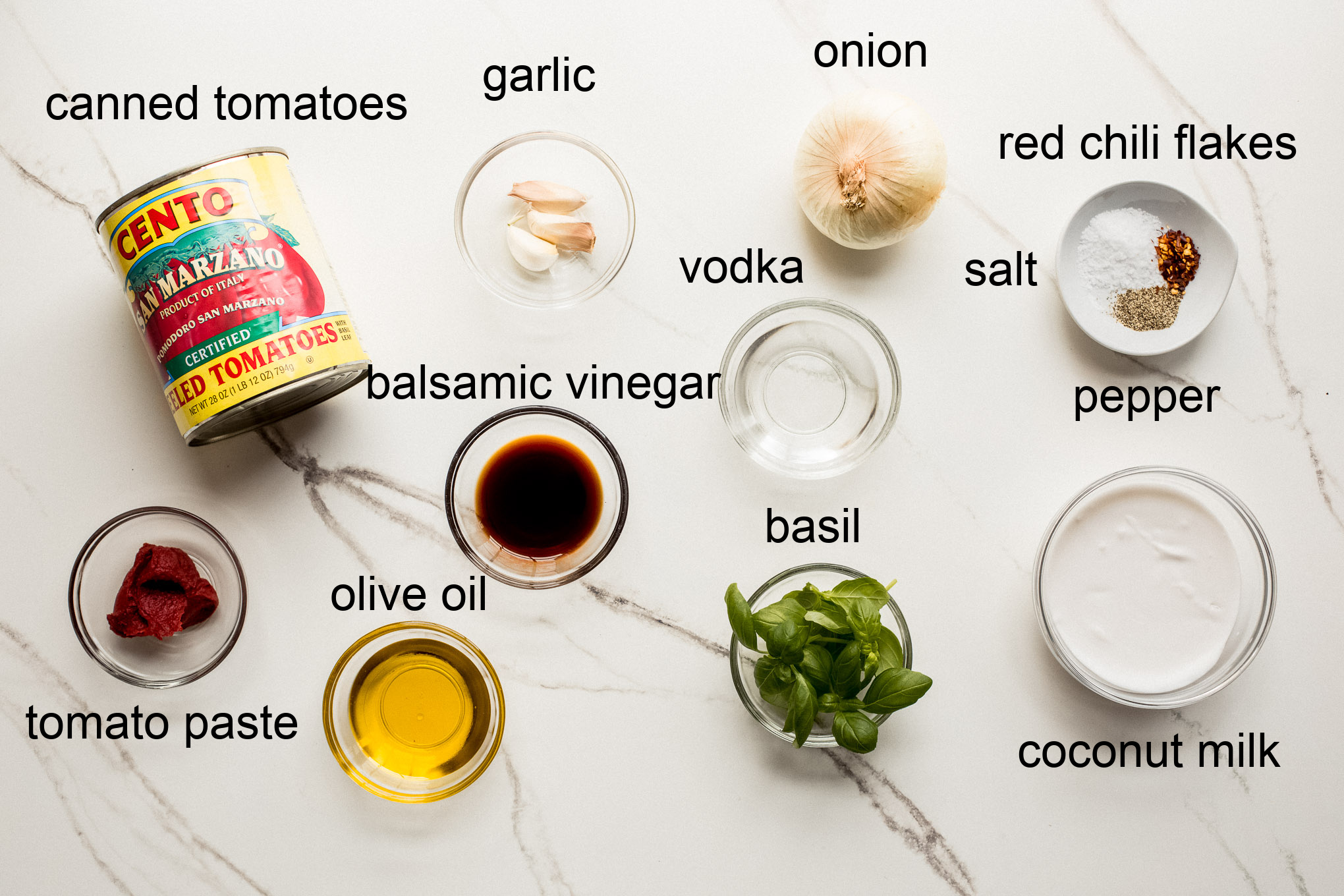 What Makes This Sauce Vegan?
Pasta alla vodka sauce is typically made with heavy cream and sometimes chicken broth. This recipe uses other tasty ingredients which makes it perfect for other diets.
This creamy vegan vodka sauce uses a can of coconut milk instead of heavy cream and omits the chicken broth altogether. Besides coconut milk, there are other options you can use to make this sauce.
Substitute the coconut milk with almond milk, rich cashew cream or milk, oat milk, coconut cream, smooth soy protein, or vegan parmesan cheese.
To add flavor and thicken up the sauce even more, you can pour a little pasta water in to simmer down with the tomatoes.
Ingredients
Here are the simple ingredients to make this creamy vodka sauce you can easily find at the grocery store.
Olive oil – You can use avocado oil or coconut oil instead if you have them available.
Onions – Sweet yellow onions are best since they won't overpower the sauce.
Garlic – Check that your garlic is fresh and hasn't dried out before mincing. When adding it to the skillet, only cook for 30 seconds since it burns quickly.
Red pepper flakes – Add some spice to your dish with red pepper flakes. You can change how much you add to make it extra spicy if you'd like.
Whole peeled tomatoes – If possible, use San Marzano tomatoes. They have the best flavor for making sauces and are great for long-simmering recipes.
Vodka – Your favorite brand of vodka will work great in this recipe.
Tomato paste – Tomato paste adds a more intense tomato flavor. Keep in mind that it burns quickly, so stir constantly after adding it.
Balsamic vinegar – Balsamic vinegar balances the richness of the sauce. Use the best quality you can find at the store.
Kosher salt – Use kosher or sea salt to taste for the best results. Table salt just doesn't have the same flavor as these others.
Black pepper – Freshly ground black pepper is more flavorful than pre-ground. You can grind some at the beginning of the week and put it in a small container if that's easier.
Fresh chopped basil – Basil is a must for this sauce. It's peppery, fresh, and delicious.
Coconut milk – This is a great substitute for heavy cream. You can use other dairy-free options as well.
How to Make Vegan Vodka Sauce
Here are the steps to make this vodka sauce without milk or cream. You can find the full description in the recipe card below.
In a large saute pan, cook the onions, garlic, and red pepper flakes.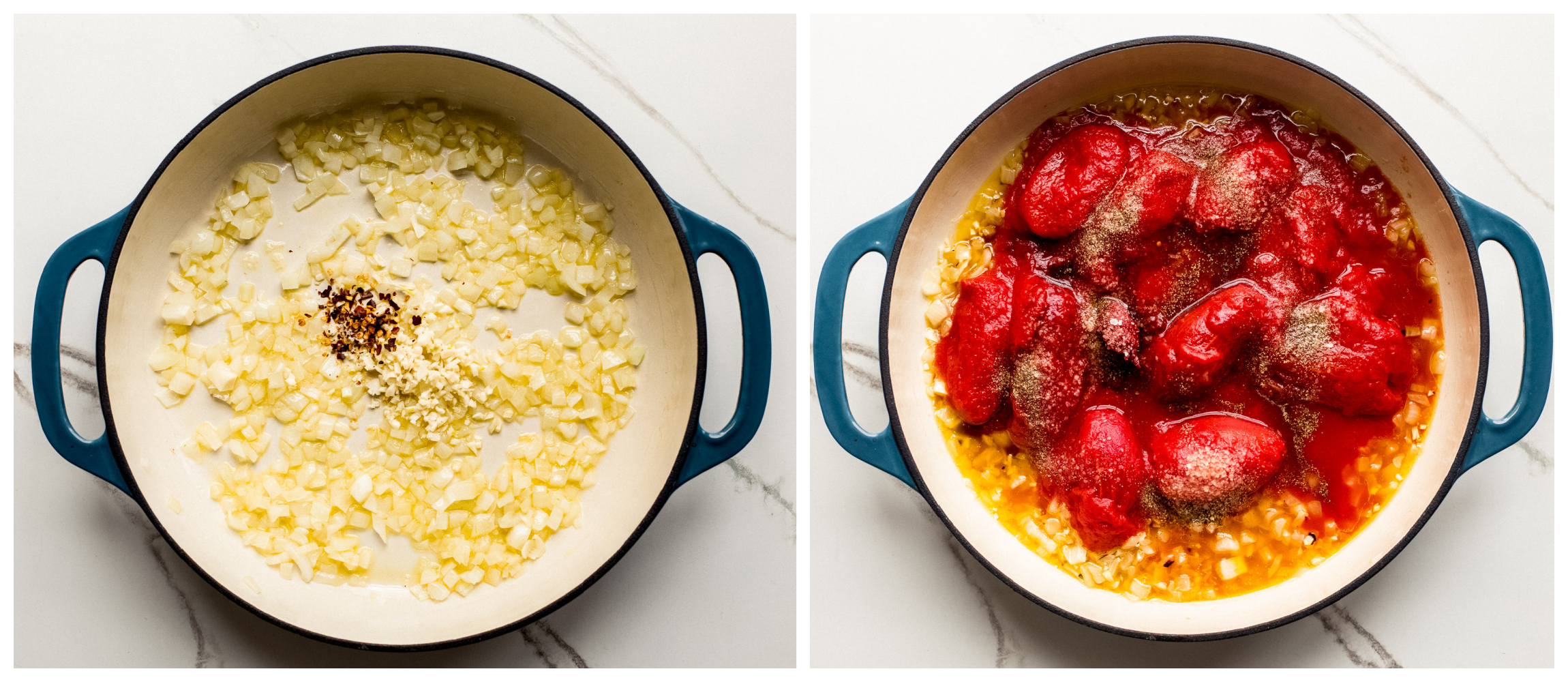 Stir in the tomatoes, vodka, tomato paste, balsamic vinegar, salt, and black pepper, and bring to a simmer. Simmer until reduced and slightly thickened, stirring occasionally.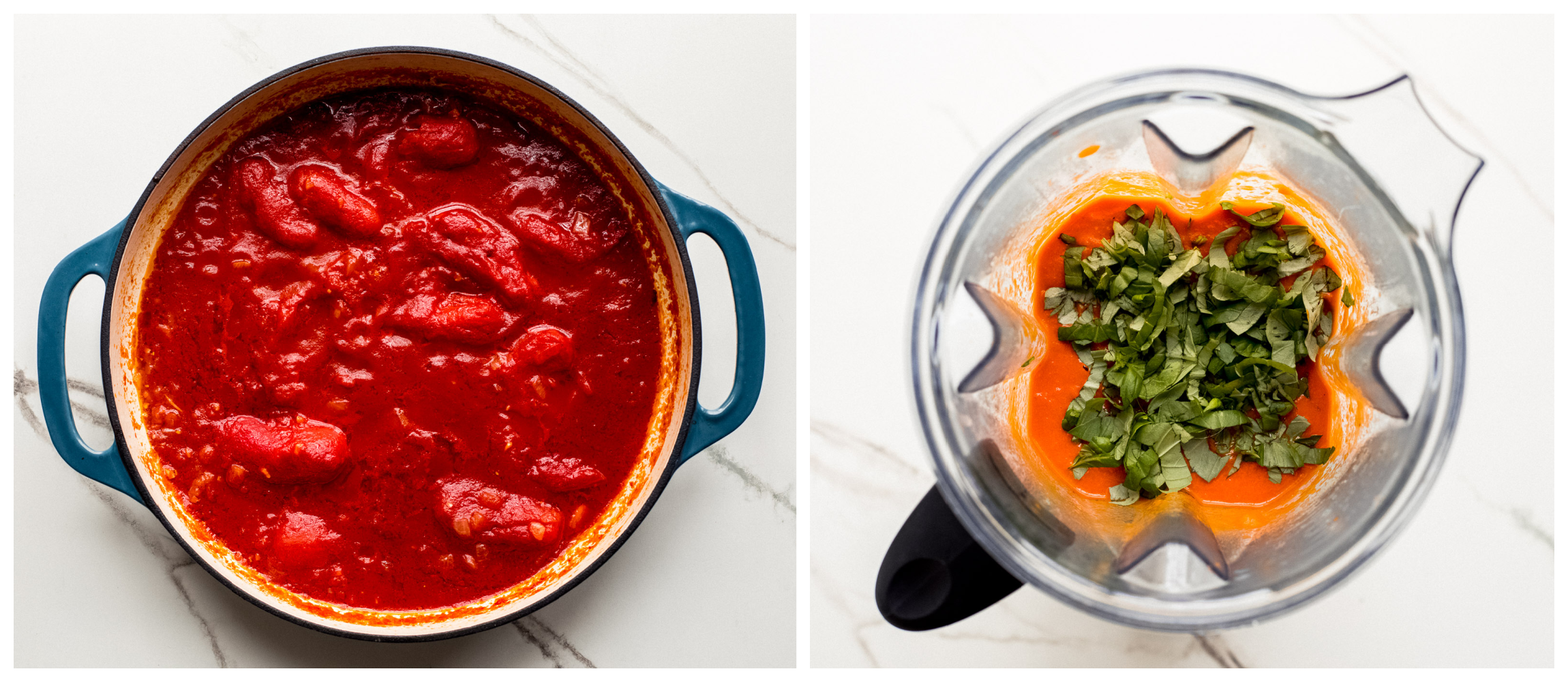 Add the tomato mixture and basil to a blender and puree until smooth. Return to the pan and stir in the coconut milk. Toss with cooked pasta.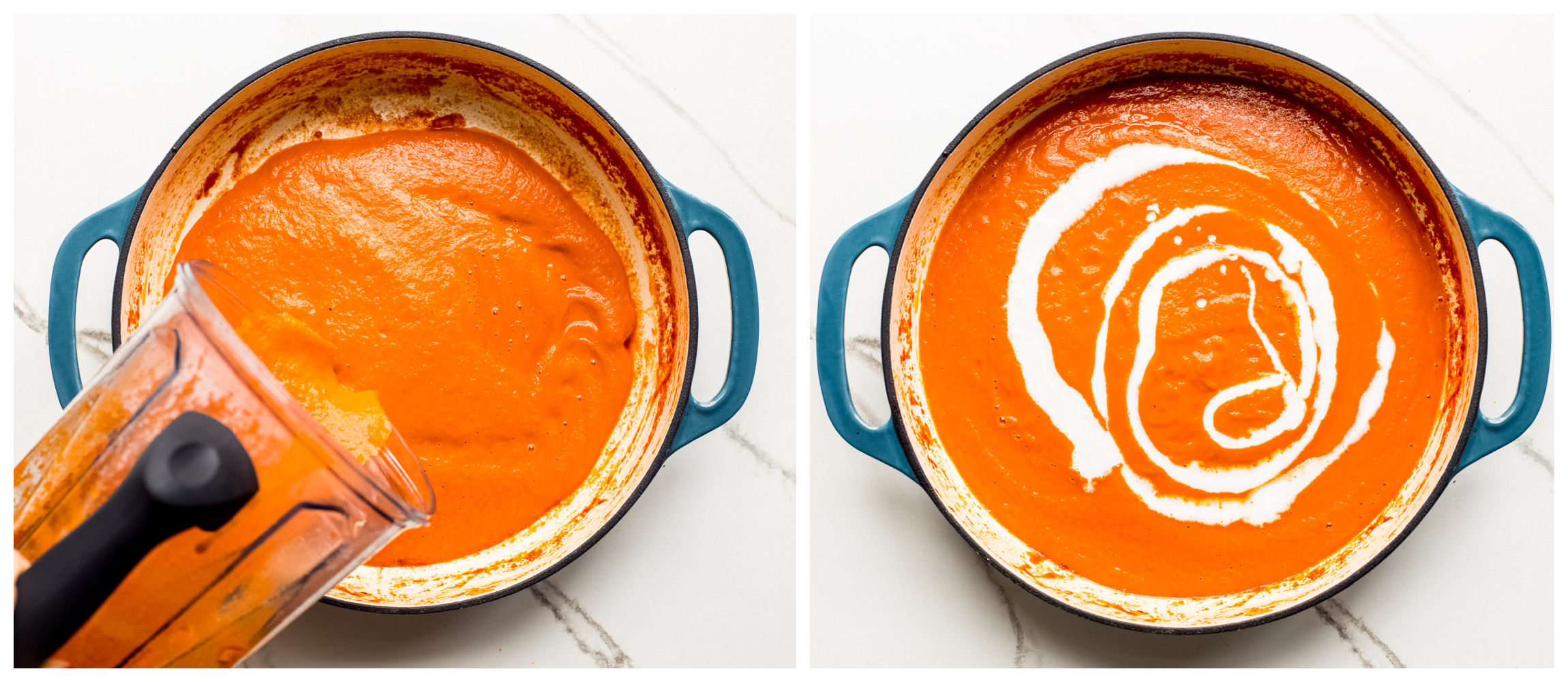 Recipe Tips
Here are some tips and tricks to make this delicious sauce.
Simmer the sauce. Simmering the sauce until it thickens deepens the flavor and thickens the sauce.
No blender? Use an immersion blender rather than pouring the sauce into a standup blender or food processor. This saves time and less cleaning up.
Fresh basil makes a difference. Fresh basil adds wonderful flavor and balance to this dish. I do not recommend using dried basil.
Many uses for sauce. Toss this homemade sauce with your favorite pasta or use it as a base sauce in Ina Garten's turkey lasagna, turkey pesto meatballs, or stuffed shells with sausage.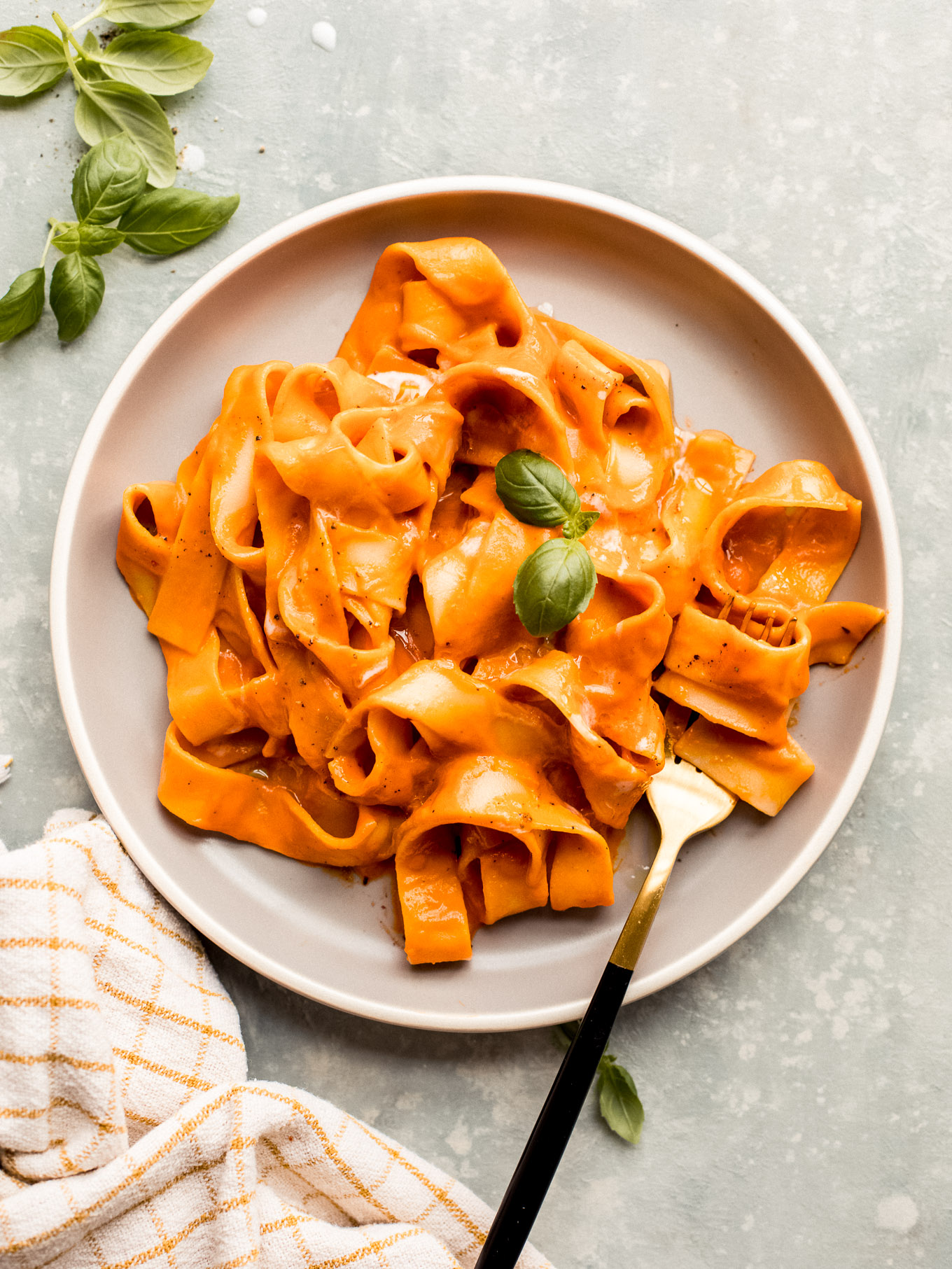 Variations
This vegan vodka pasta sauce is easily adaptable based on your tastes and preferences. Here are some ideas to get you started.
Whole peeled canned tomatoes are best, but you can use ripe Italian tomatoes or crushed tomatoes. Don't use tomato sauce, though.
Add or subtract red chili flakes depending on how spicy you like your sauce.
Substitute vegetable broth for the vodka if you'd rather not include it.
Feel free to add 2 tablespoons of vegan Parmesan cheese or nutritional yeast to the sauce.
Storing Tips
Refrigerate: Store leftover sauce in an airtight container in the refrigerator for up to five days.
Reheat: When you're ready to eat leftover sauce, you can heat it up in a pan on the stove or in a bowl in the microwave.
Freeze: Freeze extra sauce in plastic containers or freezer bags for up to three months. This is a great way to prepare meals in advance and cut down on weeknight cooking time.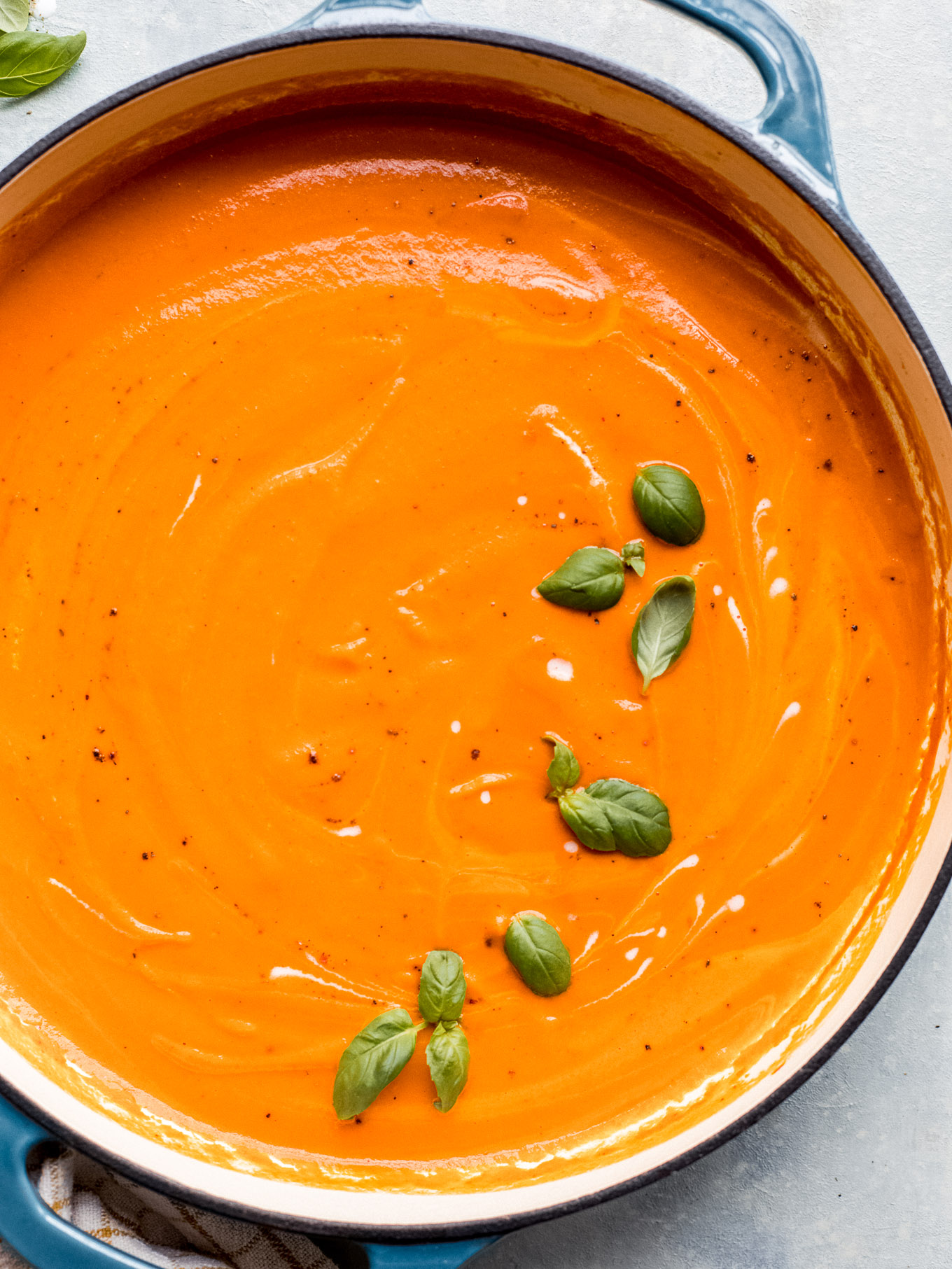 FAQs
What does the vodka do to the sauce?
Vodka enhances the flavor of the sauce. It adds a touch of heat and a slightly sharp bite that helps balance out the sweetness of the tomatoes and the coconut milk.
Can I serve vodka sauce to my family?
The alcohol in vodka cooks off while simmering, so it's safe to serve your family. You can substitute an alcohol-free version or another ingredient altogether if you're serving someone alcohol-free.
Is vodka vegan-friendly? 
Yes, vodka is a great option in this sauce for vegan eaters.
Is vegan vodka sauce gluten-free? 
Yes, this is a gluten-free vodka sauce that is wonderfully flavorful and perfect for the whole family. Be sure to use gluten-free pasta as well.
More Sauce Recipes
Print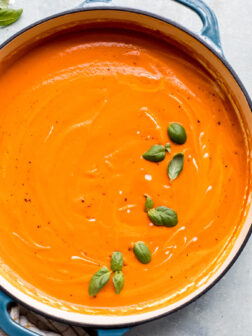 Vegan Vodka Sauce Recipe
Author: Katya
Prep Time: 15 min
Cook Time: 30 min
Total Time: 45 minutes
Yield: 8 1x
Category: Main
Method: Stovetop
Cuisine: Italian
---
Description
Vegan Vodka Sauce is a delicious sauce served over your favorite type of pasta or vegetables. This vegan version of a classic sauce is creamy, peppery, and slightly sweet. 
---
4 Tbsp. olive oil
1 medium sweet onion, chopped, about 1 cup
3 garlic cloves, minced
1/4 tsp. red pepper flakes
1 (28 oz.) can whole peeled tomatoes, preferably San Marzano
1/4 cup vodka
1 Tbsp. tomato paste
1 Tbsp. balsamic vinegar
1 tsp. kosher salt
1/4 tsp. black pepper
1/4 cup fresh chopped basil
3/4 – 1 cup canned coconut milk
---
Instructions
In a large saute pan or deep skillet, heat olive oil over medium heat. Add onions and cook until soft, about 4-5 minutes, stirring occasionally. Add garlic and red pepper flakes and cook until fragrant.
Stir in tomatoes, vodka, tomato paste, balsamic vinegar, salt, and black pepper. Bring to a simmer. Reduce heat to low, and simmer partially covered for 20 minutes or until reduced and slightly thickened, stirring occasionally. 
Add tomato mixture to a blender, or food processor, or use an immersion blender. Add basil and puree until smooth. Return the sauce to the pan and stir in coconut milk. Cook just until heated through. Taste for salt and add more if needed. The sauce should taste creamy, slightly sweet, and peppery. Toss with your favorite pasta and serve immediately.
---
Notes
Vodka: If you prefer to make this sauce without any vodka, simply substitute vodka with equal parts of vegetable broth or water.
Balsamic vinegar: I do not recommend replacing balsamic vinegar with any other type of vinegar. It will not taste the same.
Basil: Use fresh basil for this recipe. Dried basil will not taste the same.
Coconut milk: Coconut milk will yield the creamiest sauce. Cashew milk is another great alternative. You can use other plant-based milk but it will not be as creamy.
Serving: This recipe makes enough sauce for 16 ounces of pasta. Use your favorite pasta and toss immediately after cooking. If needed add some reserved pasta water to help the sauce bind better with the pasta.
Nutrition
Serving Size: 1/8 sauce
Calories: 141
Sugar: 3.3 g
Sodium: 190.4 mg
Fat: 11.6 g
Carbohydrates: 5.7 g
Protein: 1.2 g
Cholesterol: 0 mg
Keywords: vegan, sauce, pasta
Recipe was adapted with changes from our classic version of Vodka Sauce recipe.
You May Also Like…