Balsamic Grilled Chicken
Cheesy balsamic grilled chicken topped with basil pesto, tomato, avocado, and balsamic glaze. This easy summer recipe comes together in under 30 minutes!
In my opinion, nothing says summer food like a balsamic grilled chicken. It's an incredibly easy recipe similar to one pan balsamic chicken or grilled chicken drumsticks to pull together for a weeknight meal or summer entertaining. In fact, it comes together in about 30 minutes ingredients!
It starts with the chicken breast that is seasoned with spices, fresh garlic, and lemon juice. Then it is grilled until juicy and tender, and topped with cheese, fresh basil pesto, avocado, tomato, and balsamic glaze.
Every bite is loaded with delicious fresh pesto flavor, creamy avocado, and sweet glaze. Not to mention all the cheese squished in between. It's seriously so good and so easy!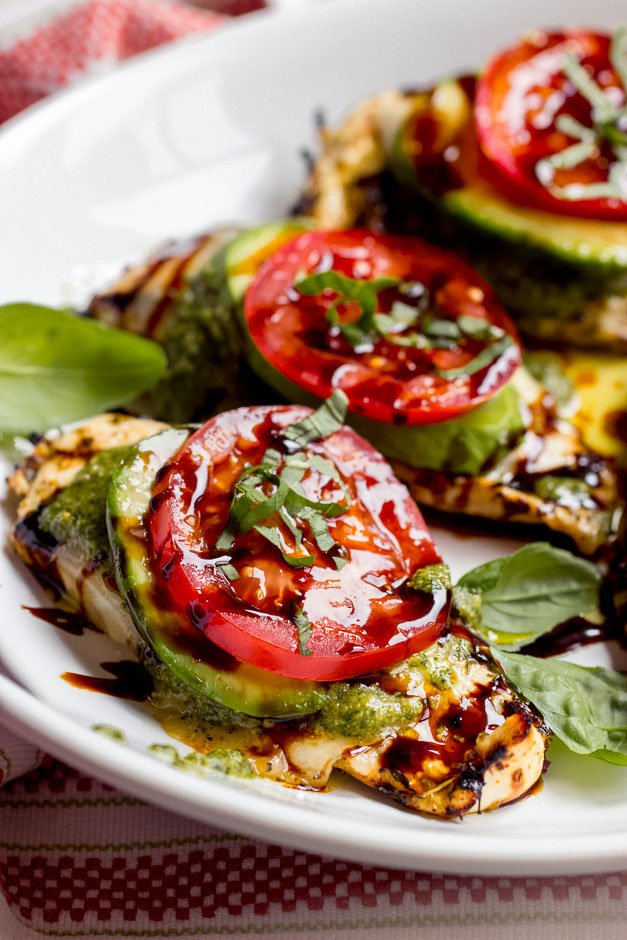 What kind of balsamic should you use?
When picking out balsamic vinegar from the store, you may notice that there are two main types on the shelf; balsamic vinegar and balsamic glaze.
Balsamic vinegar is made with aged grapes and is very low in sugar. It's great to use in marinades, topping for pizzas, or in salad dressings.
Balsamic reduction or glaze is made either by the natural aging process or by reducing the vinegar in a small saucepan with a little added sugar. It's used as a finishing garnish over salads, chicken, appetizers, or vegetables.
Balsamic glaze is sold at most supermarkets these days or you can always make your own, like in our tomato mozzarella salad. It's really easy to do with only two ingredients!
Ingredients
Chicken breast
Olive oil
Spices – Italian seasoning, red chili flakes, salt, and pepper
Garlic
Lemon juice
Honey
Cheddar cheese
Tomatoes
Avocado
Balsamic glaze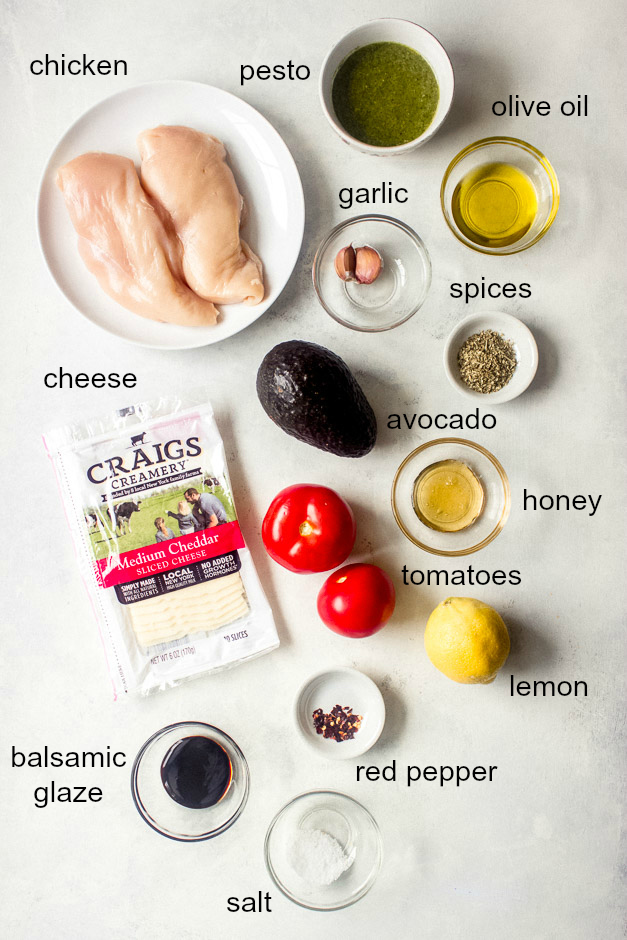 How to make balsamic grilled chicken
Step 1: First slice your chicken breasts in half lengthwise. If needed, pound the chicken to about 1/2-inch thickness.
Step 2: Combine the garlic, lemon, and spice mixture in a bowl. Add the chicken and toss to combine. Let stand for about 10-15 minutes while you preheat the grill.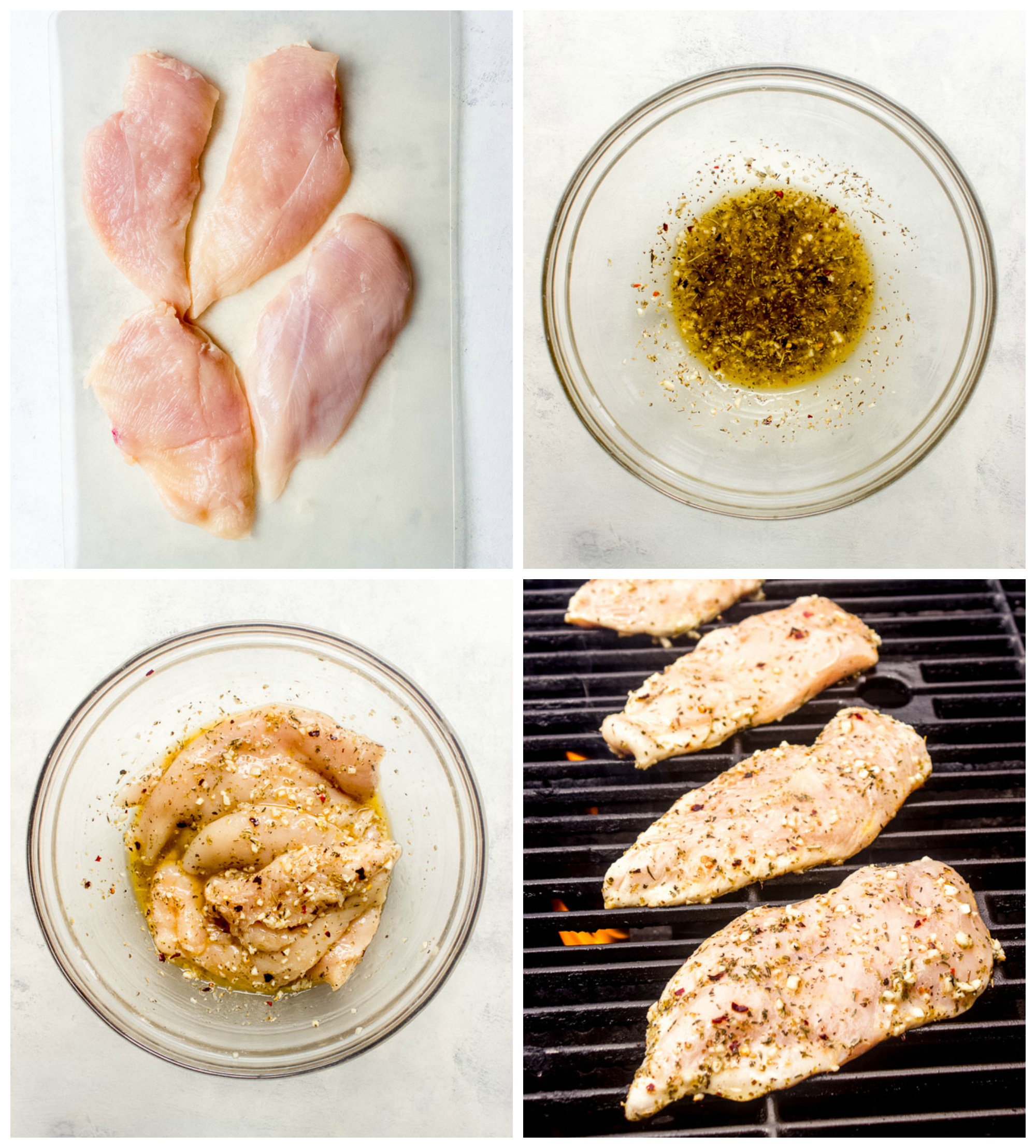 Step 3: Preheat the grill on medium-high heat. Don't forget to clean and oil the grates. Add the chicken and cook for about 2-3 minutes on each side or until cooked through. Add cheddar cheese in the last minute of cooking.
Step 4: Remove the chicken from the grill and top with pesto, avocado, tomato, and balsamic glaze.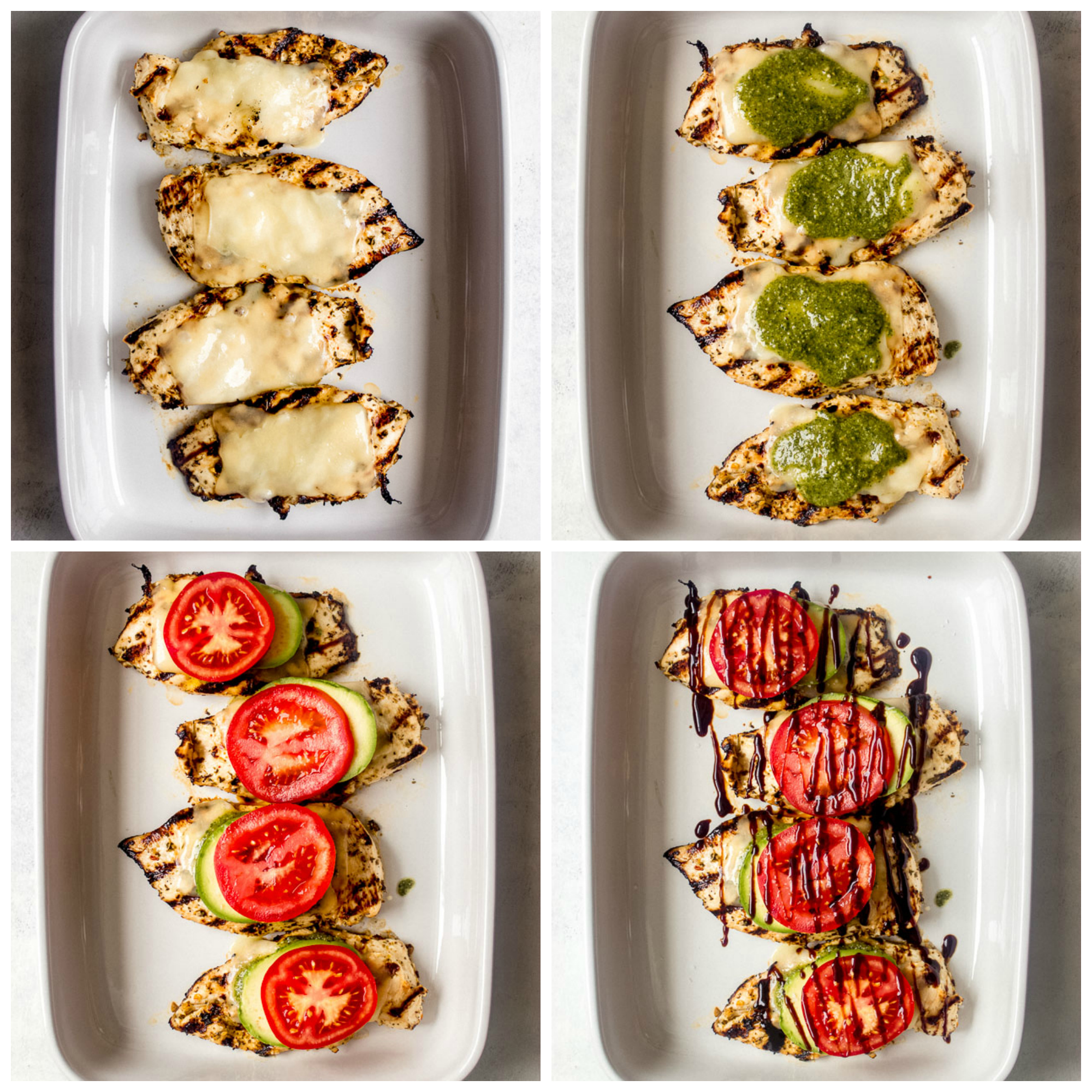 These chicken cutlets grill in about 2-3 minutes per side. Since they are halved lengthwise to about 1/2-inch thickness they do not require as much cooking time as a whole breast would.
I like to grill the cutlets on one side for about 3 minutes then flip to the other side and grill for an additional 2 minutes. Check for doneness and grill for another minute if needed.
Other cooking methods
This balsamic glazed chicken is cooked on the grill, but you can use other cooking methods if you don't have access to a grill. Be sure to check the internal temperature with any of these methods to make sure the chicken reaches 165 degrees F.
Saute: Cook the chicken in a cast iron or stainless steel pan on the stove.
Air fryer: Prep and cook the chicken in your air fryer if you love using this method.
Oven: You can also saute the outside of the chicken and then bake it in the oven. This method makes the chicken juicy with rich flavors.
Recipe tips & variations
This balsamic chicken recipe is flavorful and the perfect meal for dinner any night of the week. Here are some tips and variations to help you make the best dish.
Do not overcook the chicken. These chicken cutlets cook really quickly on the grill. Make sure to use an instant-read cooking thermometer to check for doneness. Chicken is done when it registers at 165 F.
Try different cheese. Try using sliced mozzarella cheese instead of cheddar cheese.
Switch up the pesto. Making pesto from scratch is easy and you can customize it how you like. I love using homemade basil pesto on this chicken recipe but you can also make pesto with parsley, walnuts, pecans, or lemon juice. Or simply use your favorite homemade or store-bought pesto.
Use chicken thighs. No need to halve or pound the chicken thighs. Simply use boneless, skinless chicken thighs and grill for 7-10 minutes per side, or until the chicken is cooked through to 165F.
What goes good with grilled chicken?
Just about anything! This balsamic grilled chicken breast recipe pairs well with fresh salad, grilled veggies, or a starchy side dish. Here are a few options: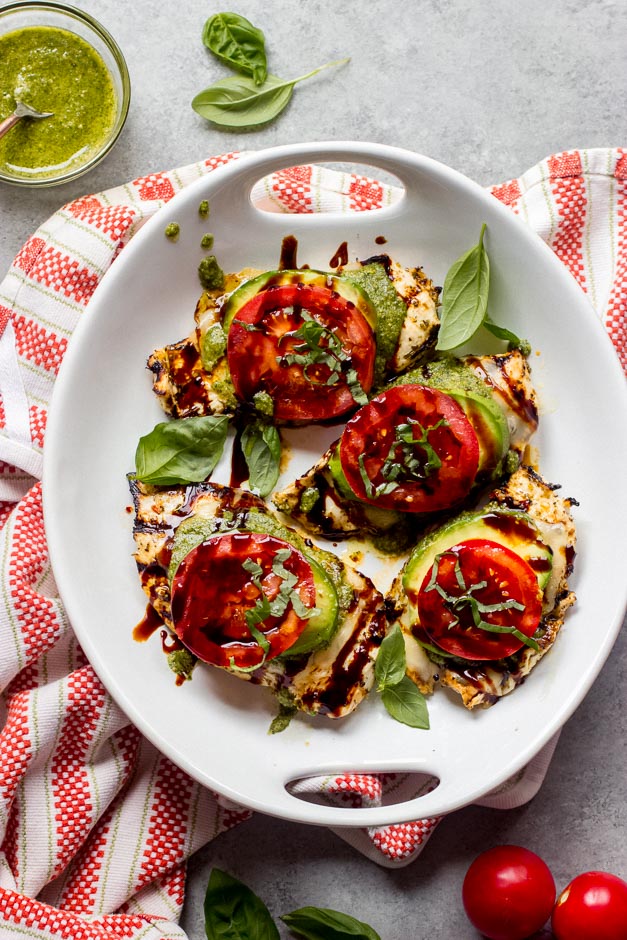 How to meal prep
This balsamic grilled chicken recipe is easy to make ahead and keep in the refrigerator or freeze for later.
To prep it for later in the week, cut the boneless chicken breast into four-ounce sections and pound them until they're even. Keep the chicken in an airtight bag in the fridge. When you're ready to cook dinner, slice the tomatoes and avocados, so they're fresh.
You can freeze the chicken pieces wrapped in plastic wrap in a large resealable bag. Don't try to freeze the avocados or tomatoes since they don't thaw well. You can always slice them fresh and add them after reheating the chicken.
How to store
Refrigerate: Keep any leftover balsamic grilled chicken in an airtight container or zip-top bag in the fridge for up to five days.
Reheat: Reheat any leftover chicken in the microwave separately from the avocados and tomatoes. You can add them back to the chicken after it's reheated. Use the microwave or air fryer to reheat.
FAQs
Should I marinate chicken before grilling? 
You don't need to marinate the chicken first, but it will make the chicken moister if you do.
Can I substitute chicken thighs for chicken breasts? 
Yes, you can use boneless skinless chicken thighs for this recipe if you want.
How long should I let chicken rest before cutting into it?
It's important to let the chicken rest before cutting into it to allow the moisture to reabsorb. How long to wait depends on how big the chicken is. Five minutes is plenty for these smaller cuts.
More grilled chicken recipes
Print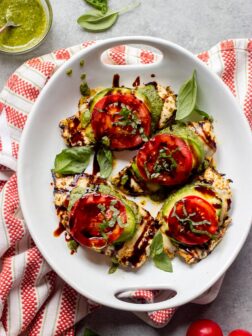 Balsamic Grilled Chicken
Author: Katya
Prep Time: 15 min
Cook Time: 10 min
Total Time: 25 minutes
Yield: 4 1x
Category: Main
Method: Grill
Cuisine: Italian
---
Description
Cheesy balsamic grilled chicken breast topped with pesto, tomato, avocado, and balsamic glaze. It's an easy summer meal that comes together in under 30 minutes! 
---
1 1/4 lbs. boneless, skinless, chicken breasts (about 2 medium breasts)
3 Tbsp. olive oil
2 tsp. Italian seasoning
2 cloves garlic, minced
1 Tbsp. fresh lemon juice
1 tsp. honey
1/4 tsp. red pepper flakes
1 tsp. kosher salt
To Serve:
4 slices cheddar cheese, thinly sliced
1/4 cup fresh basil pesto
1–2 tomatoes on the vine, thinly sliced
1 large ripe avocado, sliced
Balsamic glaze
Kosher salt and fresh black pepper
Fresh basil, thinly sliced, optional
---
Instructions
Slice chicken breasts in half lengthwise to about 1/2-inch thickness. If needed, pound each cutlet between plastic wrap until desired thickness.
In a bowl, whisk together the olive oil, Italian seasoning, garlic, lemon juice, honey, red pepper flakes, and salt. Add chicken to the mixture and toss to combine. Let stand at room temperature for about 10-15 minutes while pre-heating the grill.
Pre-heat the grill on medium high heat. Clean and oil the grates. Add chicken and grill for 2-3 minutes on each side, covered, until cooked through. Thicker parts of the breast may require an additional minute or so. In the last minute of cooking, add the cheese and cook until melted.
Remove the chicken to a platter, top with pesto, slice of avocado, tomato, and drizzle of balsamic glaze. If desired, garnish with fresh basil. I also like to add a light sprinkle of salt over the tomato and avocado, just before serving.
---
Notes
Cheddar cheese: I love using cheddar cheese in this recipe. It's sharp, pungent flavor pairs so well with the sweetness of the balsamic and creaminess of the avocado. But if you like something milder, fresh mozzarella is a great option.
Balsamic Glaze: Balsamic glaze also known as balsamic reduction is sold at most supermarkets. I usually find it in the oil/vinegar aisle.
Nutrition
Serving Size: 1 breast halve with toppings
Calories: 449
Sugar: 2.7 g
Sodium: 833 mg
Fat: 28.9 g
Carbohydrates: 8.3 g
Protein: 39.5 g
Cholesterol: 131.1 mg
Keywords: fresh, summer, in season, easy, grilled chicken
You May Also Like…