Pumpkin Pasta Sauce
Craving a creamy Pumpkin Pasta Sauce? Super quick to make – just combine it with pasta, and it's the perfect easy weeknight dinner.
Love pumpkin recipes? Try our Pumpkin Sausage Pasta, Turkey Pumpkin Chili, Healthy Pumpkin Bread, or Pumpkin Sheet Cake.
Jump to:
Why This Recipe Works
Delicious – The key ingredient, pumpkin, makes this a full meal that's loaded with vitamins and nutrients – perfect for the whole family.
Generous – This recipe produces enough sauce for 12 ounces of dry pasta. Perfect for those family meals, like our Sausage Cacciatore.
Fall Flavors – It's a great cozy and delicious recipe for vegetarian Thanksgiving dinners, making it the perfect dish for fall – just like this Lentil Chili.
Ingredients
All the essentials for our easy Pumpkin Pasta Sauce should be available at your nearest grocery store: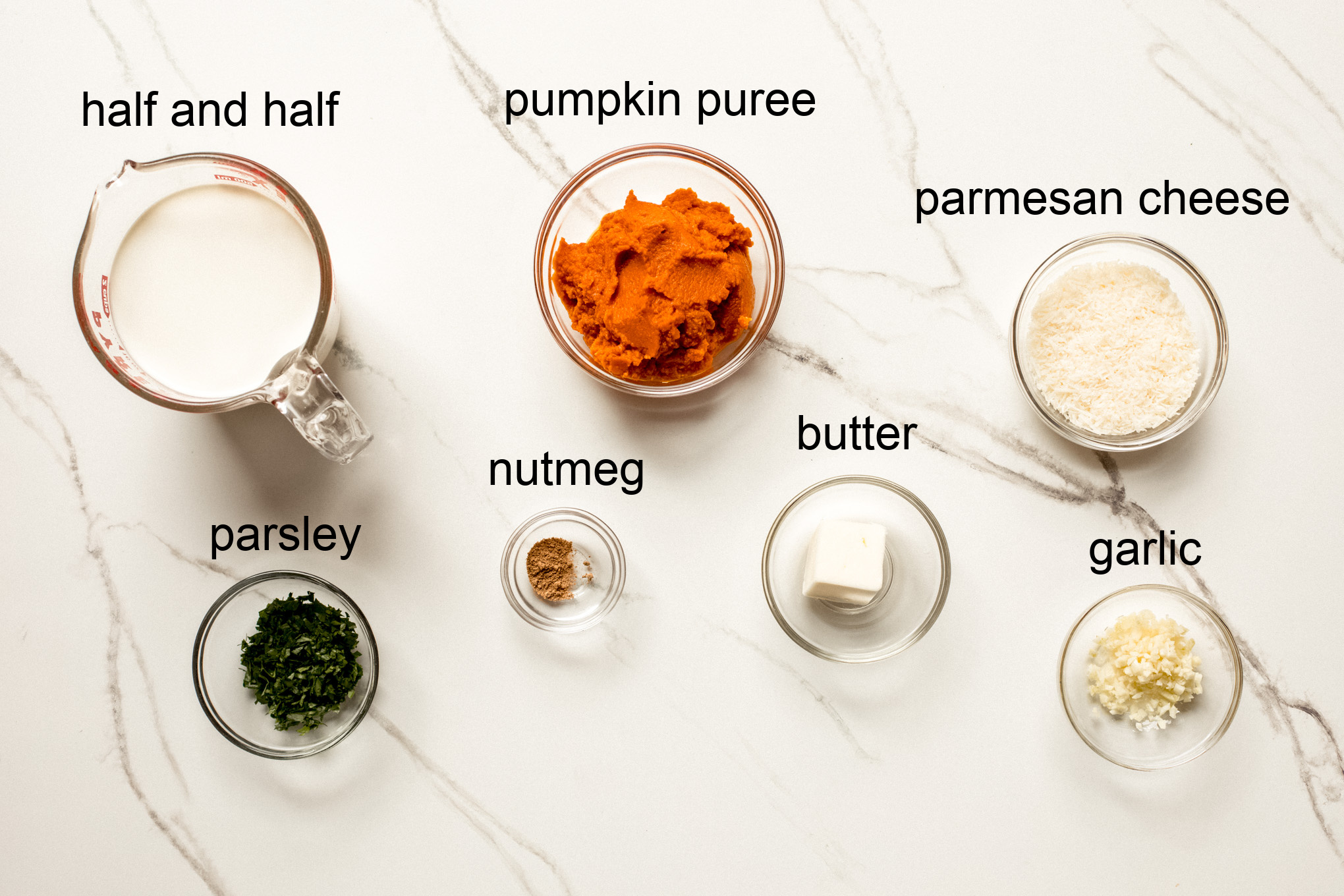 Pumpkin Puree: We use simple canned pumpkin puree and not pumpkin pie filling – it's far too sweet.
Half-and-Half: Brings a nice creaminess. For those craving a richer flavor, whipping cream works, too.
Butter: Helps in sautéing the garlic and brings a rich, buttery undertone to the sauce.
Garlic: Try to use fresh minced garlic cloves for a more robust, aromatic flavor. If you're in a bind, garlic powder is fine.
Parmesan Cheese: Freshly grated Parmesan cheese adds a salty, umami flavor that contrasts nicely with the sweetness of the pumpkin.
Parsley: Use fresh chopped parsley. Dried parsley is fine, though it won't have the same vibrant taste.
Nutmeg: Adds a bit of warmth and depth to the sauce.
See the recipe card for full information on ingredients and quantities.
Additions
Looking to add your own twist to this Pumpkin Pasta Sauce recipe? Check out these suggestions:
Veggies: Bell peppers and mushrooms are great choices. For a nutritious punch, toss in some spinach or kale during the last few minutes of cooking.
Meat: For a heartier meal, throw in some cooked shredded chicken or ground pork.
Cinnamon: Add a pinch for that classic pumpkin spice flavor. It'll make your dish taste like fall in a bowl.
Fresh Sage: Introduce a savory, earthly flavor to add a bit more depth to your sauce.
Spice: If you enjoy a spicy touch, add some red pepper flakes or a hint of cayenne for a bit of heat.
How to Make
Let's get started with this comforting dish! Follow these simple steps to create this creamy pumpkin sauce: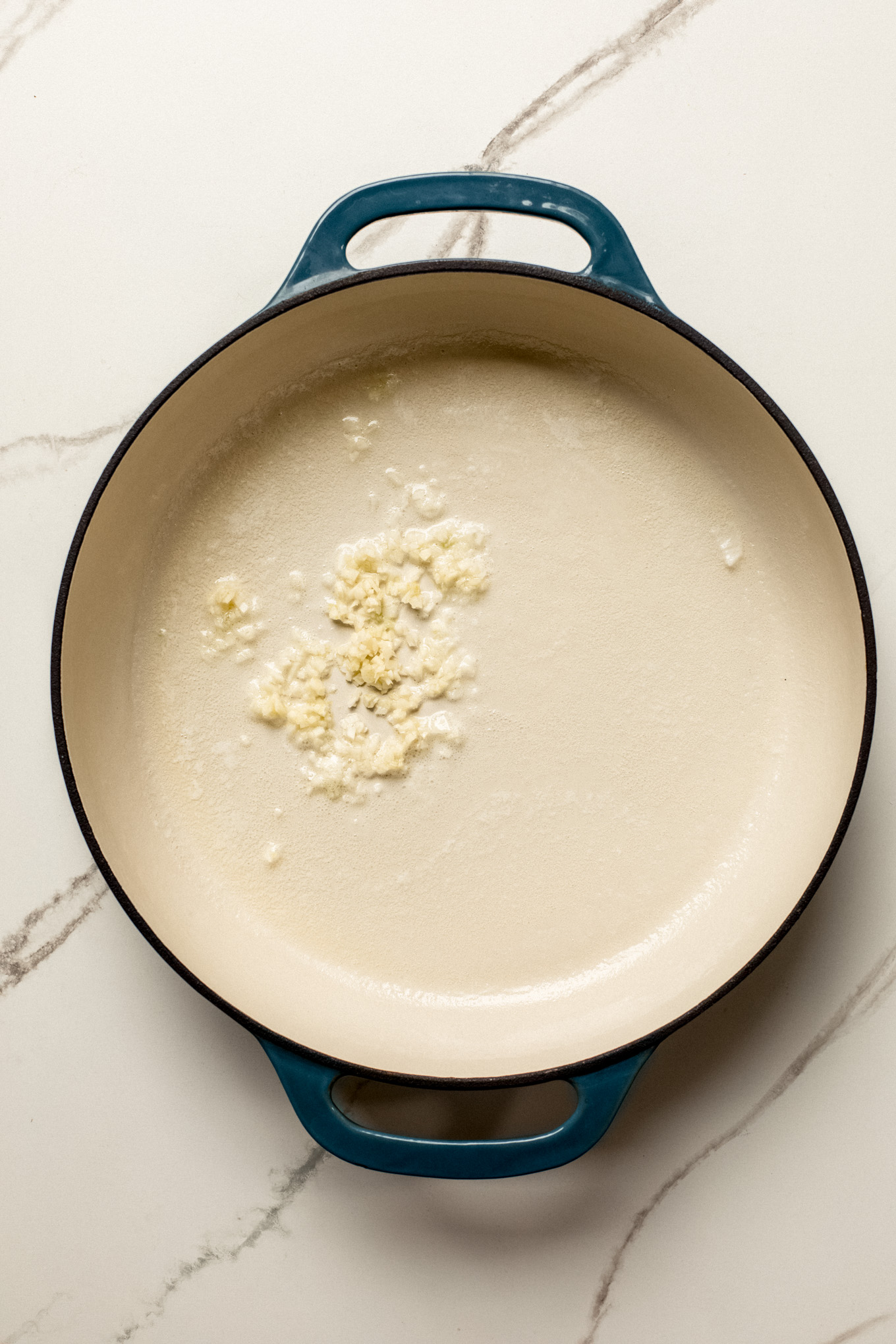 Step 1: Melt the butter in a skillet over medium heat, and sauté the garlic until fragrant.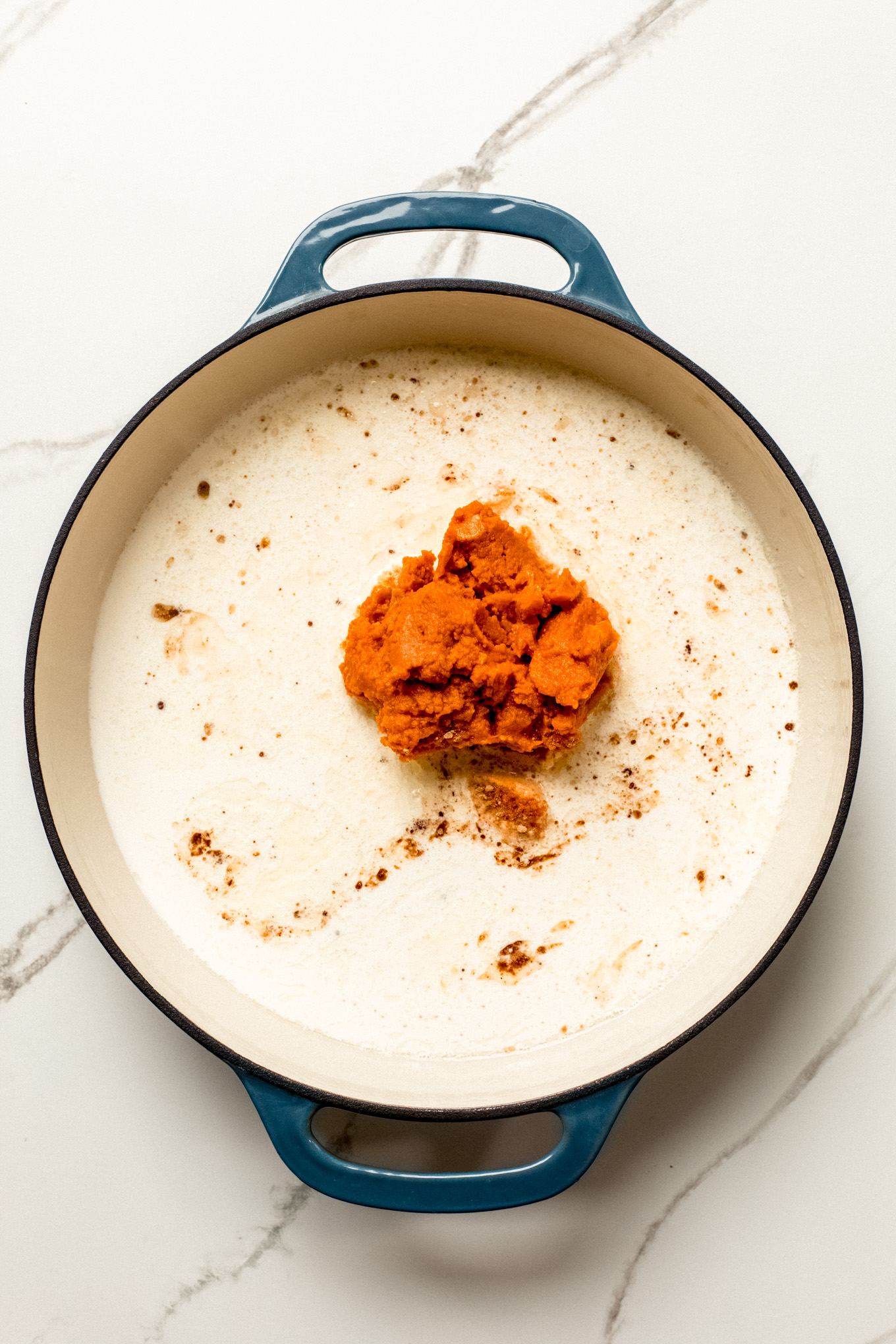 Step 2: Pour in the half-and-half, pumpkin puree, and nutmeg. Season with salt and pepper and gently heat to a simmer.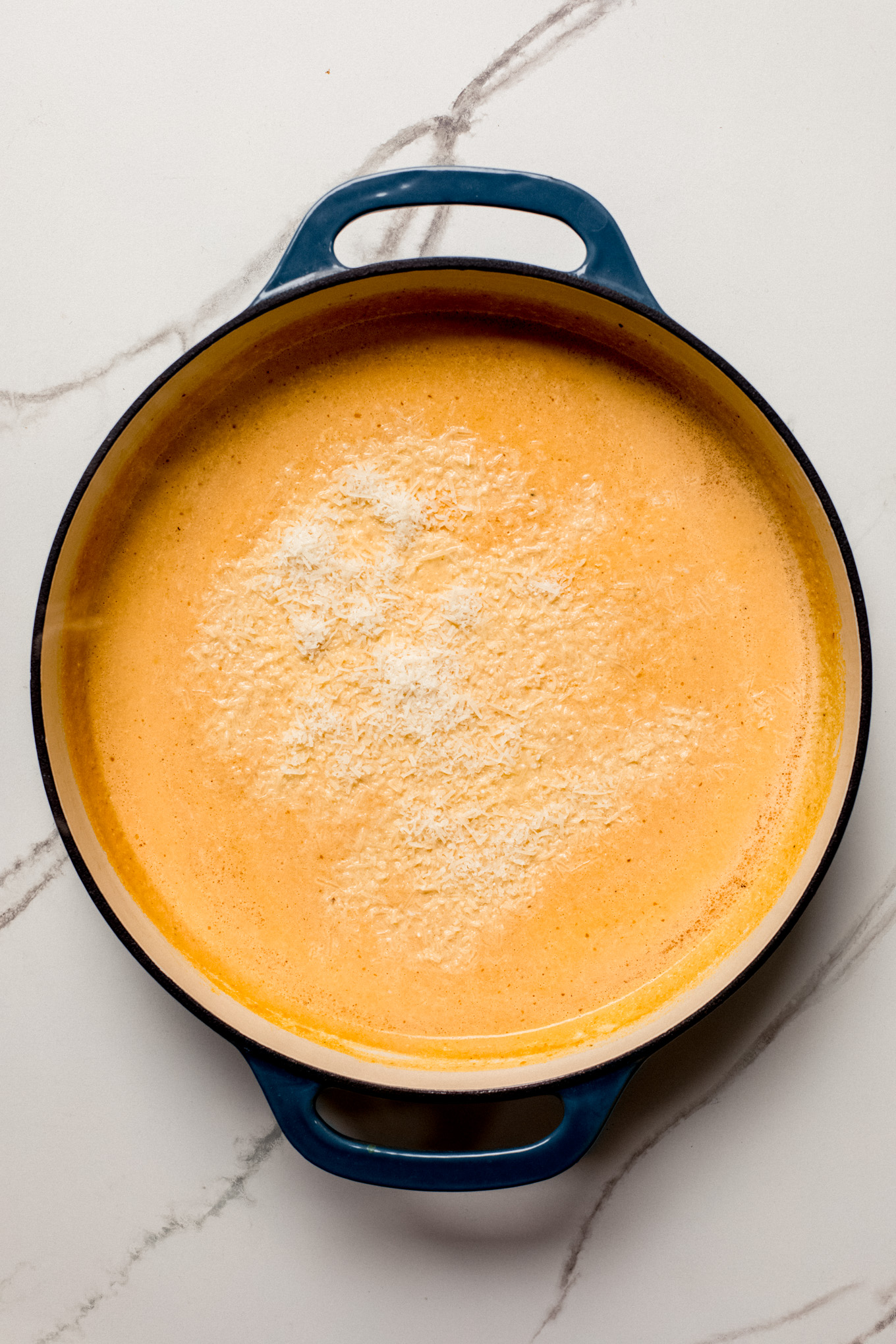 Step 3: Whisk in the Parmesan gradually. Adjust seasoning, if needed.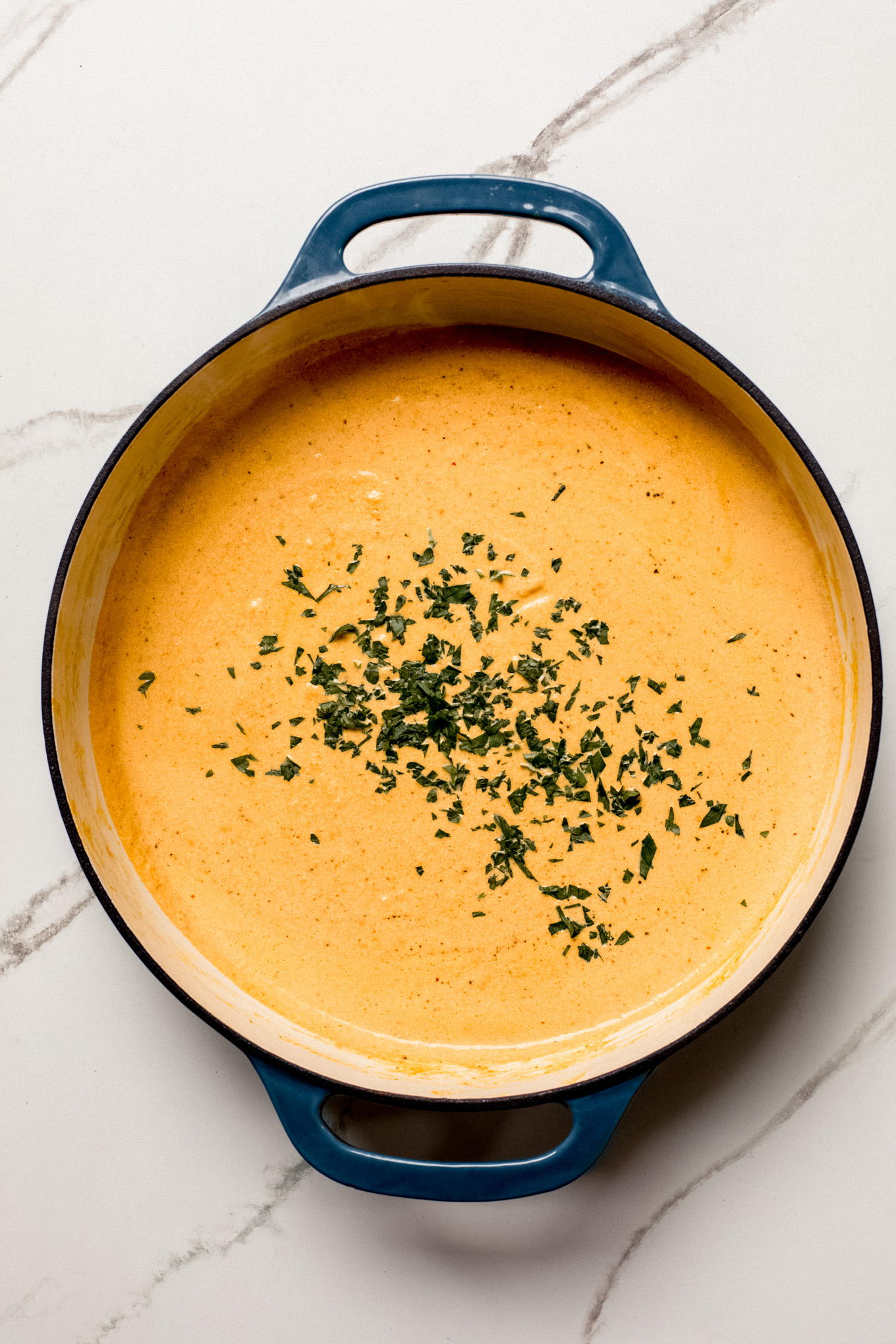 Step 4: Stir in fresh chopped parsley.
Expert Tips
Follow these expert tips for the best Pumpkin Pasta Sauce taste:
Oil Swap: When you're looking to saute the garlic, avocado oil or olive oil are great alternatives to butter.
Smooth Melting: Grate your Parmesan cheese finely so it melts well. A thicker shred can lead to clumpy sauce.
Perfect Pasta: Serving with pasta? Make sure you don't overcook the pasta – nobody likes mushy noodles. Aim for that perfect al dente texture.
Sticky Trick: Reserve a bit of that pasta cooking water to add to the sauce. The starch in the water helps your sauce cling to the pasta.
Garnish Game: Finish with a sprinkle of freshly chopped parsley on top of the dish for a professional finish.
Pasta Pairings
For more of a pumpkin pasta recipe – we've listed our favorite pairings below. And don't forget a bit of cheese popovers or a slice of crusty sourdough garlic bread to soak up any leftover sauce.
Macaroni: Think of this as your beloved Mac and Cheese, but with a satisfying pumpkin twist. Healthier and just as delicious.
Fettuccine: If you're a fan of Fettuccine Alfredo, you'll love this. Imagine that creamy texture but infused with a warm pumpkin flavor.
Penne: A universally loved pasta. The pumpkin sauce clings to penne perfectly, especially if you're fond of dishes like Penne a la Vodka.
Spaghetti: The long, thin strands drenched in pumpkin sauce create a familiar dish. Ideal for those who crave the classics.
Farfalle: With its unique shape, this "bow tie" pasta is sure to be a hit with the kids.
How to Store
We all love a meal that gives us a bit more for later, right? Here's how to store and reheat your scrumptious pumpkin sauce for pasta to keep it tasting fresh and creamy:
Fridge: Store any leftovers in an airtight container. They'll be good to enjoy for about 4-5 days.
Freezer: Although you can freeze pumpkin pasta sauce – it might alter the texture slightly upon thawing. If you do choose to freeze, store in a sealed container for up to 1 month.
Reheat: When you're ready to dive back in, reheat leftovers gently on the stove. Add a splash of milk for the sauce to regain its creaminess.
Recipe FAQs
Can you use homemade pumpkin puree?
Absolutely! To make your own pumpkin puree, simply roast pumpkin slices until soft, then blend them into a smooth puree, and don't forget the seasoning.

Just note that homemade pumpkin puree tends to have a higher water content than canned. To fix this, let the sauce simmer a bit longer to evaporate the extra liquid. You can also thicken it with some pasta water or a touch of cornstarch. 
Can I use dried herbs instead of fresh ones?
Certainly! If you're out of fresh herbs, dried ones can be a lifesaver. However, they have a more concentrated flavor, so use about a third of the recommended amount and adjust to taste.
What meat goes with pumpkin?
The flavor of pumpkin goes well with various meats. We think poultry, such as turkey and chicken, tops the list. Pork is good, too.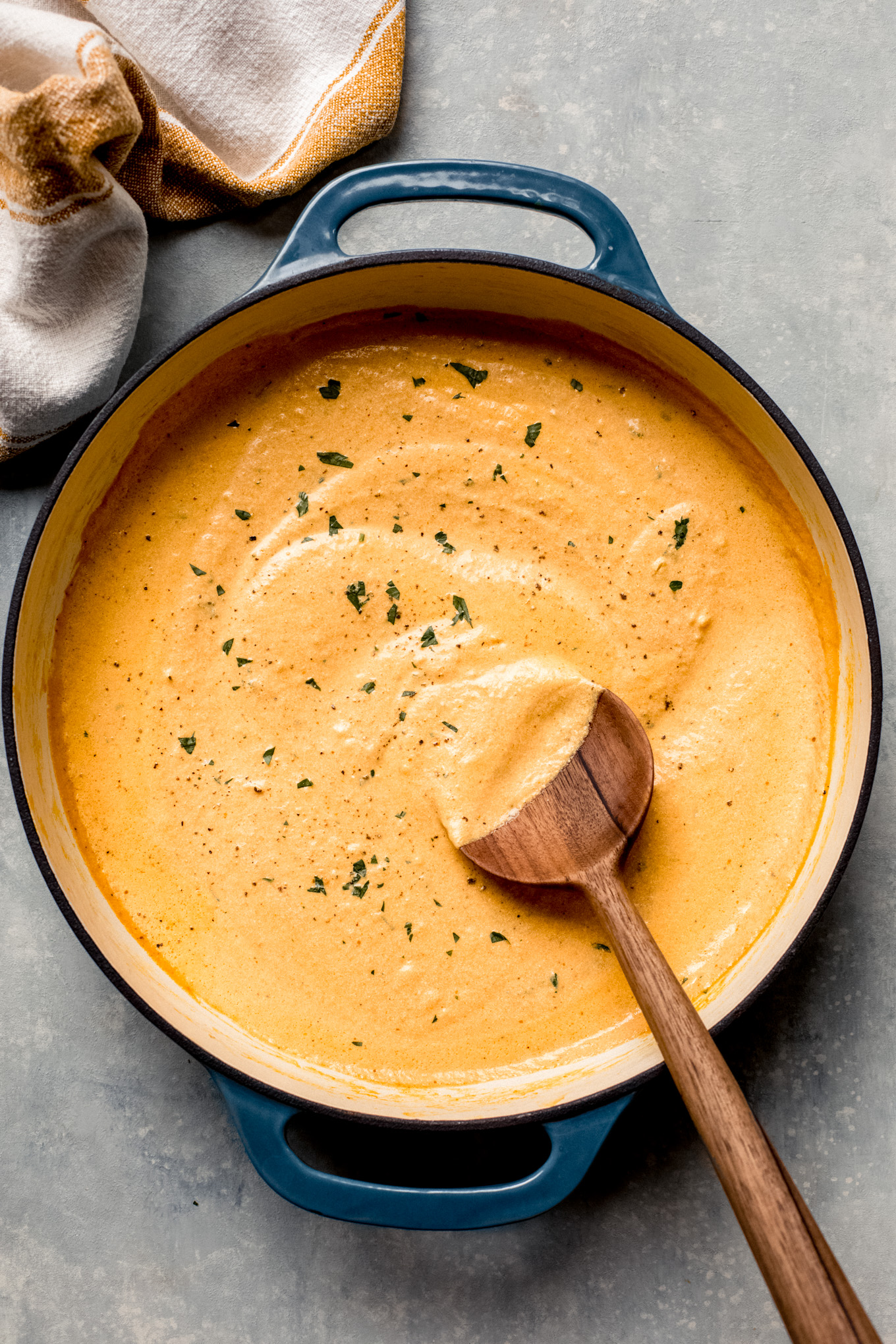 If you try Pumpkin Pasta Sauce, please leave a star rating and let me know how you like the recipe in the comments below.
Print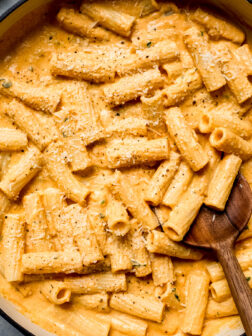 Pumpkin Pasta Sauce
Author: Katya
Prep Time: 10 min
Cook Time: 15 min
Total Time: 25 minutes
Yield: 8 1x
Category: Main
Method: Stovetop
Cuisine: Italian
---
Description
Craving a creamy Pumpkin Pasta Sauce? Super quick to make – just combine it with pasta, and it's the perfect easy weeknight dinner.
---
2 Tbsp. butter
3 garlic cloves, minced
2 cups half-and-half
1 cup canned pumpkin puree
1/4 tsp. ground nutmeg
1/2 cup freshly grated Parmesan cheese
2 Tbsp. fresh chopped parsley
---
Instructions
In a non-stick skillet, melt butter over medium heat. Add garlic and cook until fragrant, about 30 seconds, while stirring constantly.
Add half and half, pumpkin puree, and nutmeg. Season with salt and pepper to taste. Bring to a simmer. Gradually whisk in Parmesan cheese. Taste for salt and pepper. Stir in parsley. Makes enough sauce for 12 ounces dry pasta.
If tossing sauce with pasta, reserve a bit of pasta cooking water to add to the sauce. The starch in the water helps the sauce cling to the pasta. If serving sauce later, let it come to room temperature and then refrigerate in an airtight container for up to 4-5 days.
---
Notes
Parmesan Cheese: For creamy texture, grate the Parmesan cheese finely so it melts well. 
Nutrition
Serving Size: 1/4 cup sauce
Calories: 93
Sugar: 4 g
Sodium: 145.4 mg
Fat: 5.2 g
Carbohydrates: 8.3 g
Protein: 3.9 g
Cholesterol: 14.1 mg
Keywords: pasta sauce, creamy pumpkin sauce, fall