Mandarin Salad
Mandarin Salad is packed with juicy mandarin oranges, crisp lettuce, and crunchy peanuts; all brought together with a tangy homemade dressing.
Add protein to the salad with our crispy chicken bites or baked buffalo chicken tenders.
What is Mandarin Salad?
Mandarin crunch salad is a delicious and refreshing salad perfect for any occasion. It's loaded with crunchy veggies, juicy mandarin oranges, fresh herbs, and crunchy peanuts, all tossed together with a tangy peanut dressing that hits the spot.
The star ingredient is the mandarin oranges. They add the perfect amount of sweetness and juiciness to every bite. And let's not forget about those crunchy veggies and peanuts – they give the salad that satisfying crunch we all crave.
It's a great salad to serve alongside red curry noodle soup or grilled orange chicken.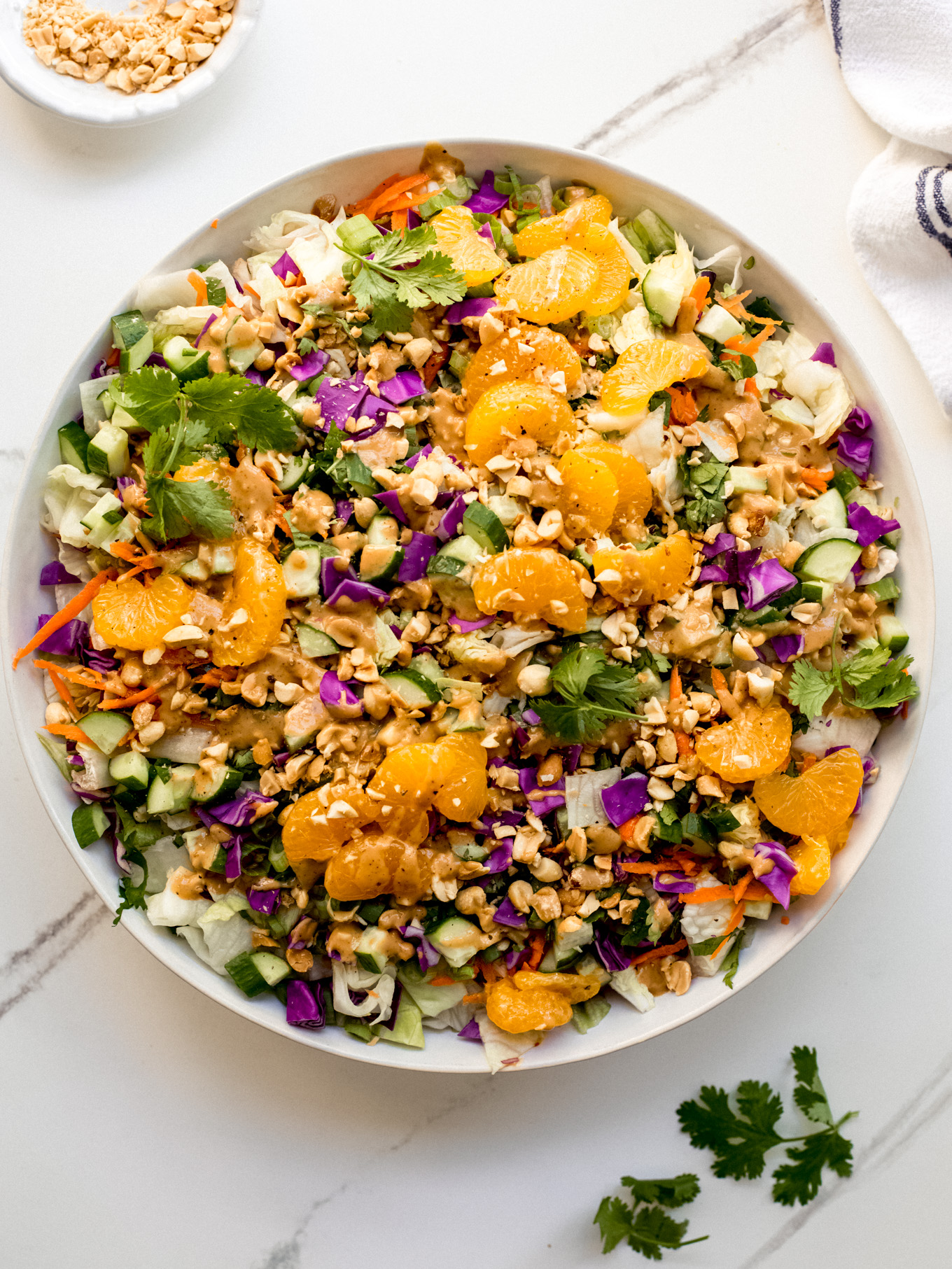 Ingredients
You can easily find all the main ingredients for the mandarin orange salad at your local grocery store.
Iceberg lettuce: This crispy and mild lettuce is the perfect base for the other ingredients in the salad.
Red cabbage: Adds a vibrant color, crunchiness, and slightly sweet flavor.
Carrots: Brings a sweet and earthy flavor to the salad, as well as a satisfying crunch.
Cucumbers: Refreshing and slightly sweet, these crunchy cucumbers pair perfectly with the other ingredients.
Mandarin oranges: Sweet, juicy, and colorful; these oranges are the star of the show.
Cilantro: This fresh herb brings a bright and flavorful punch that compliments the tangy dressing.
Green onions: Adds a mild onion flavor to the salad.
Roasted peanuts: Brings a satisfying crunch with a nutty flavor.
Mandarin salad dressing: Creamy peanut butter, lime juice, soy sauce, honey, ginger, garlic, sesame oil, and red pepper flakes.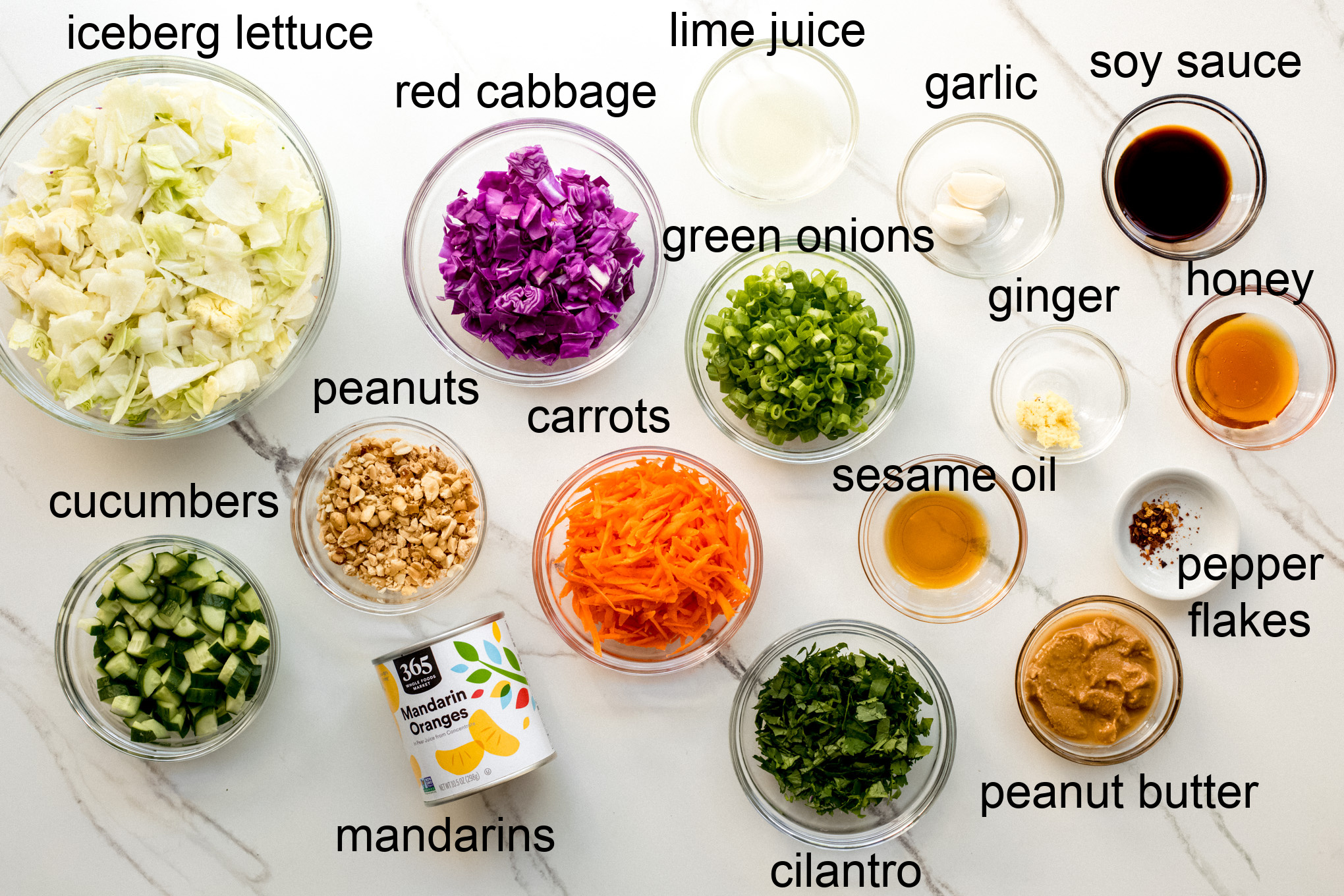 Variations
Looking to mix things up with your Asian salad with mandarin oranges? Here are five tasty variations to try:
Lettuce swap: Instead of using iceberg lettuce, give romaine lettuce or napa cabbage a try.
Veggie overload: Get creative and add more veggies to your salad, like bell peppers, sugar snap peas, or thinly sliced radishes.
Citrus switch: Use different citrus fruits like grapefruit or blood oranges instead of mandarin oranges.
Protein power: Make your salad more filling by adding grilled shrimp, grilled chicken, or shredded chicken.
Go nutless: Can't eat nuts? Try crispy fried onions, toasted coconut flakes, or wonton strips.
How to Make Asian Mandarin Salad Recipe
Preparing mandarin salad is simple! You'll have a mouthwatering bowl of goodness in no time by following these steps. Look at the recipe card below for more detailed instructions.
Whisk together all the ingredients for the dressing.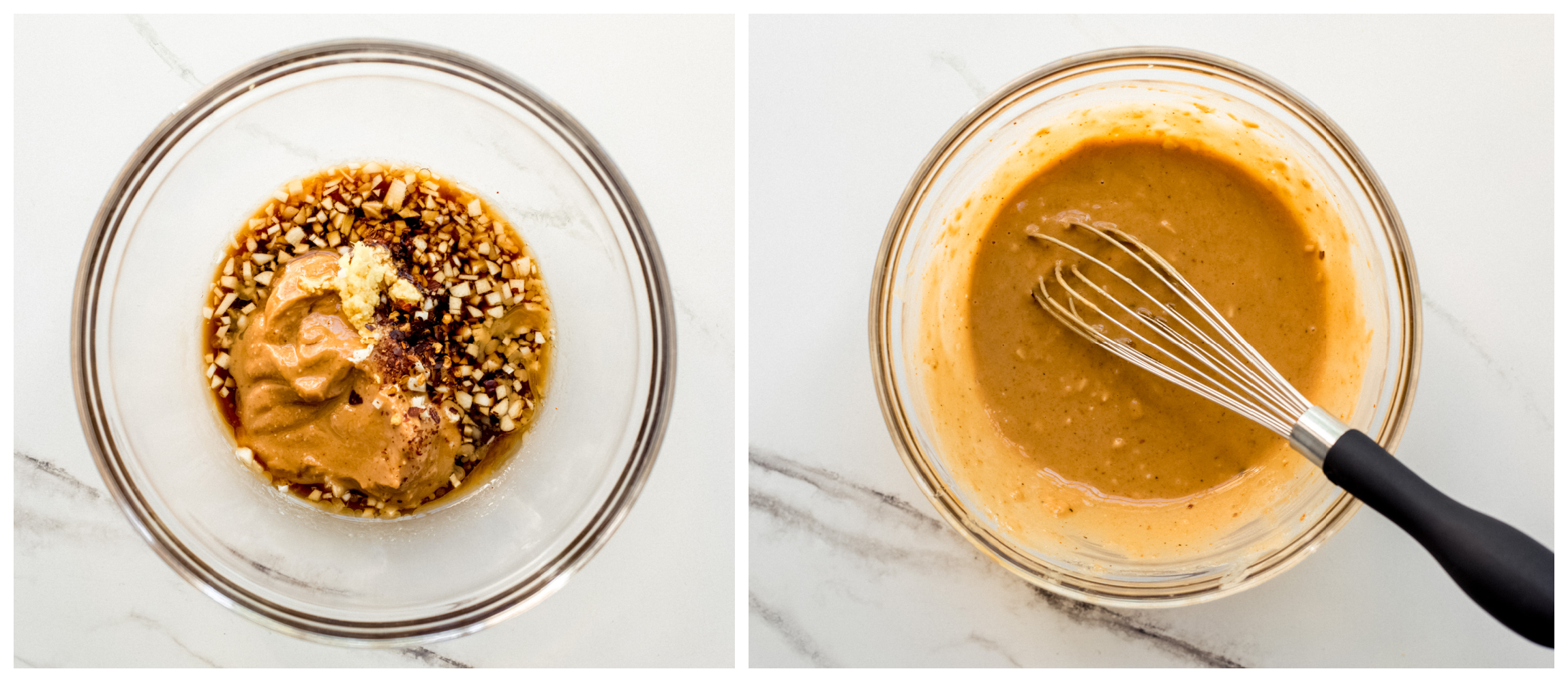 Combine all the salad ingredients together in a large bowl. Add dressing and toss to coat.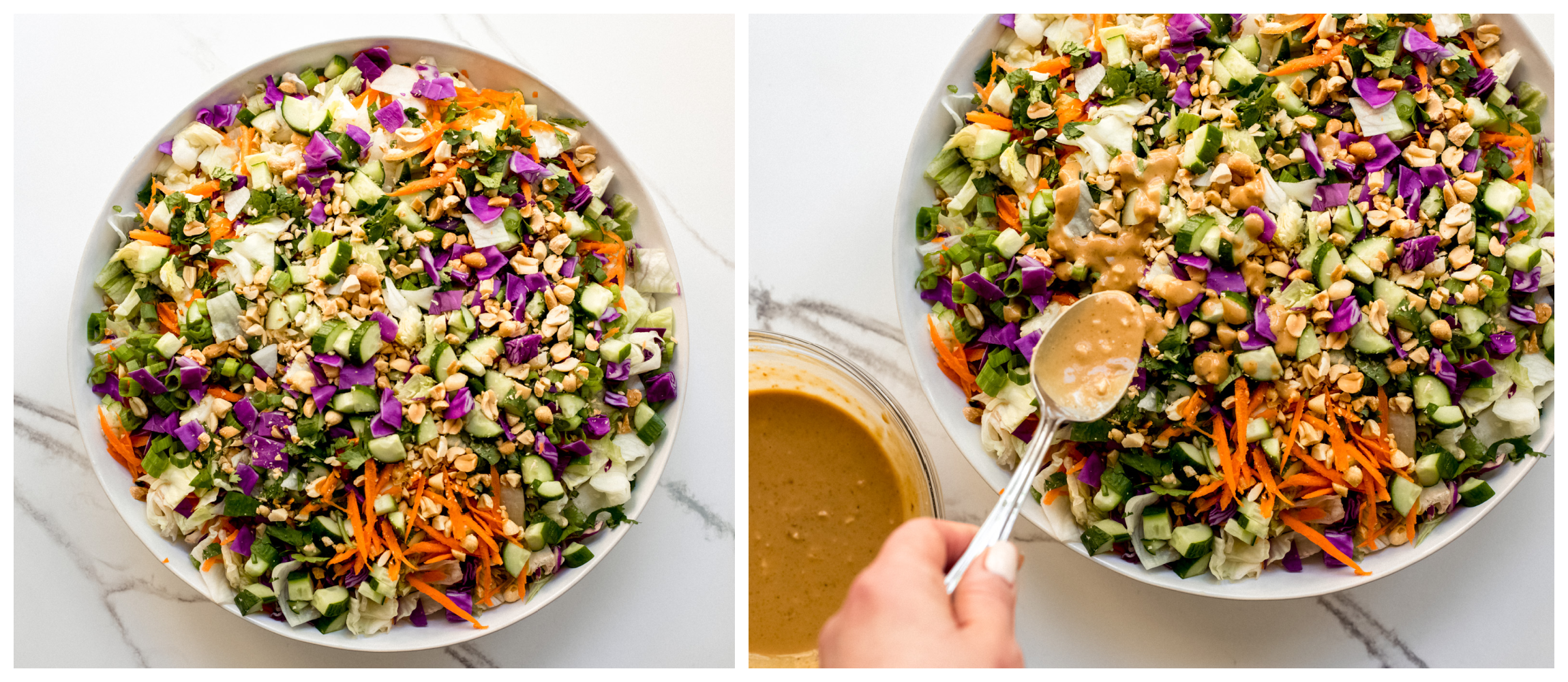 Sprinkle some salt and pepper over the salad to taste. Enjoy!
Expert Tips
Here are some expert tips for making the best crunchy salad:
Fresh is best: Make sure you're using fresh ingredients. It'll give you the best flavor and texture.
Toast 'em up: Toast the peanuts in a dry pan or oven to really bring out the nutty flavor and give them that satisfying crunch we all love.
Make it ahead: Whip up the dressing ahead of time and store it in the fridge until you're ready to serve. This saves time and makes it super easy to dress the salad when you're ready to eat.
Cut it out: Chop all the ingredients to the same size so you can get a mix of everything in each bite.
How to Serve
Mandarin salad recipe is versatile and can be served in many ways. It makes for a great side dish at a potluck or barbecue, or it can be a light and refreshing meal all on its own.
If you're headed to a potluck or barbecue, serve the salad in a big bowl or platter, mix it well, and set out the dressing on the side so guests can add as much or as little as they like. Garnish the salad with some extra cilantro or green onions for a pop of color and flavor.
It serves well alongside these main dishes:
If you're looking for a light and healthy meal, this salad can be served in smaller portions as a starter or main course. Just divide the salad into individual bowls or plates.
Storing Tips
After you toss the salad with the dressing it is best served immediately. The vegetables will become soggy the longer the salad sits in the dressing.
If you know you'll have leftovers or to make ahead, store the tossed salad in an airtight container in the fridge for up to three days. Keep the dressing separate and add it just before serving.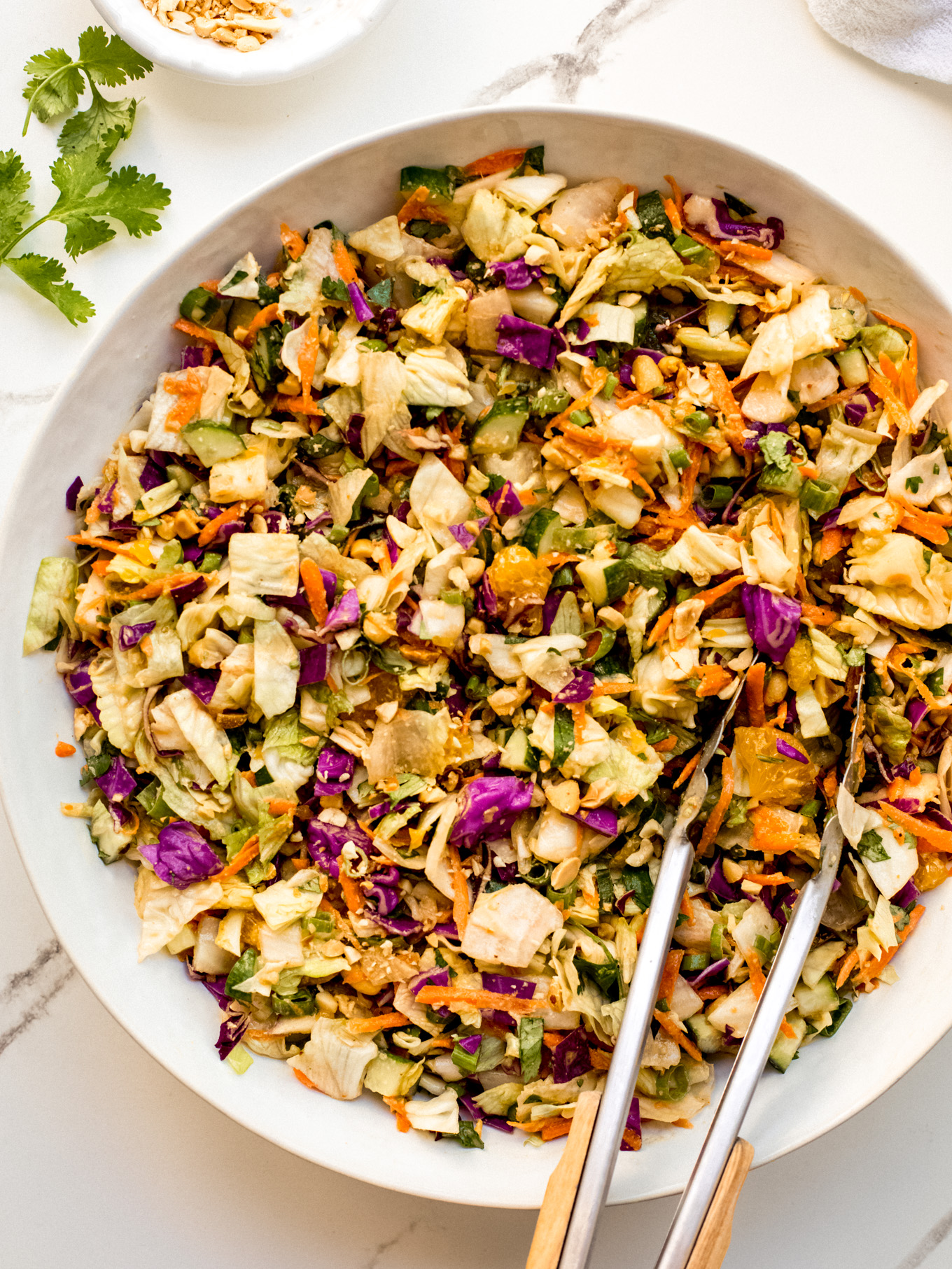 FAQs
Can I make this salad ahead of time?
Absolutely! Store your ingredients in the fridge with the dressing kept separate. When you're ready to serve, simply toss the salad with the dressing, and you're good to go. If you like, you can also quickly toast the peanuts right before serving, so they're nice and crunchy.
Can I make this salad without nuts?
Of course! If you have a nut allergy or simply don't like nuts, you can leave them out or substitute them with something else. Crispy fried onions, toasted coconut flakes, or wonton strips are a great alternative. 

You might also want to change the sesame oil in the dressing. Swap with olive, grapeseed, or even avocado oil. 
Is this salad vegan-friendly?
This salad is not vegan because it has honey. You can make the salad vegan by using maple syrup instead of honey in the dressing.
Can I use bottled salad dressing instead of making my own?
We recommend making the dressing from scratch, but you can use a store-bought dressing if you don't have time. Just remember, different dressings can change the taste of the salad, so choose wisely. To get the best flavor, go for a dressing that matches the salad's ingredients, like a zesty citrus or a spicy ginger dressing.
More Salad Recipes
Print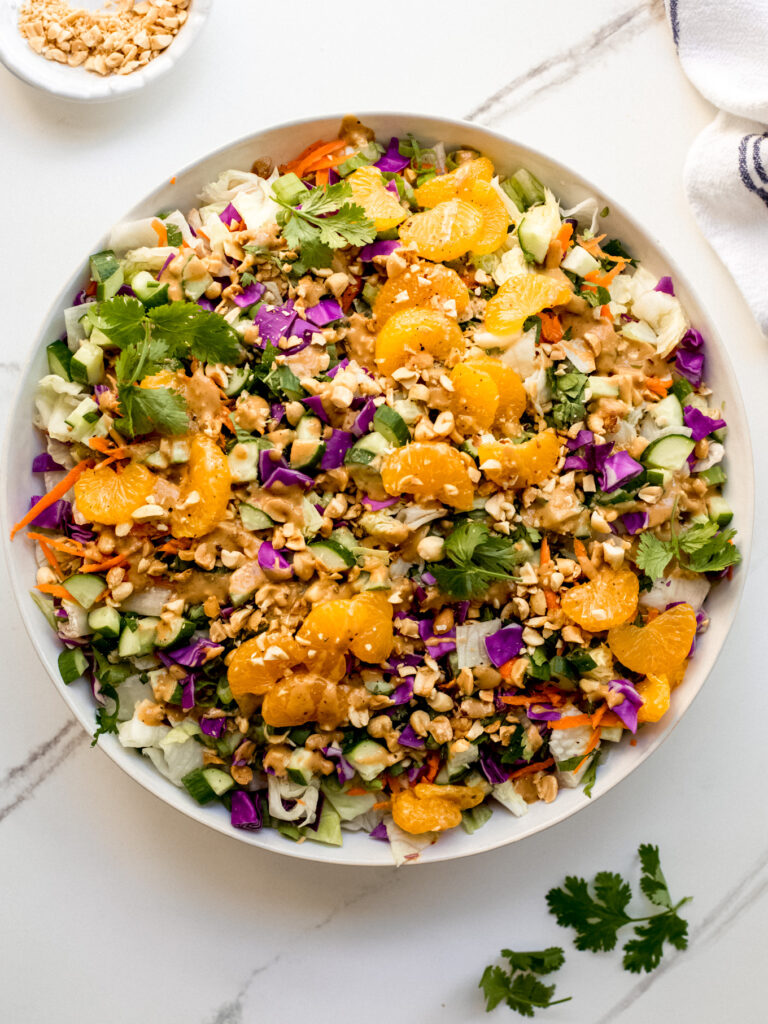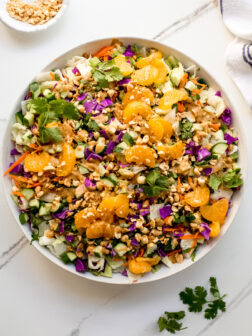 Mandarin Salad Recipe
Author: Katya
Prep Time: 20 mins
Total Time: 20 mins
Yield: 4-6 1x
Category: Salad
Method: Chopped
Cuisine: Asian
---
Description
Mandarin salad with carrots, cucumbers, peanuts, mandarin oranges, and fresh herbs tossed in flavorful peanut dressing. It's a great salad to make ahead.
---
6 cups chopped iceberg lettuce or romaine lettuce
1 cup chopped red cabbage
1 cup shredded carrots, about 1 medium
1 cup chopped English or Persian cucumbers
1 (11 oz.) can mandarin oranges, drained well
1/2 bunch fresh cilantro, chopped, about 1/2 cup
1 bunch green onions, sliced
1/2 cup roasted peanuts, roughly chopped
Dressing
1/4 cup creamy peanut butter
1 Tbsp. fresh lime juice
2 Tbsp. low-sodium soy sauce
2 tsp. honey
1 tsp. grated ginger
2 garlic cloves, minced
1/2 tsp. sesame oil
1/4 tsp. red pepper flakes, plus more to taste
2–4 Tbsp. water
---
Instructions
In a large deep salad bowl, combine the salad ingredients and set aside.
Dressing
Whisk together the dressing ingredients, adding water as needed to thin out the dressing until desired consistency. Season with salt and pepper to taste.
Taste the dressing and feel free to add in more honey or lime juice or flavorings, such as garlic, red pepper flakes, or sesame oil. Toss salad with the dressing and serve immediately. This recipe makes 4 bigger size portions or 6 smaller side salads.
---
Notes
Substitutions: Feel free to use sliced almonds or wonton strips instead of peanuts. 
Make it vegan: Swap out the honey for maple syrup.
Optional add-ins: Get creative and add more veggies to your salad, like bell peppers, sugar snap peas, or thinly sliced radishes.
Leftovers: Only toss the amount of salad with the dressing that you know you will eat. Store the rest of the salad and dressing separately in a closed container for up to 3 days. 
Nutrition
Serving Size:
Calories: 239
Sugar: 22.4 g
Sodium: 38.5 mg
Fat: 12 g
Carbohydrates: 32.7 g
Protein: 5.2 g
Cholesterol: 0 mg
Keywords: chinese, side, easy
Recipe originally published January 2015 but since been retested and updated.