Avocado Toast Salad
All the flavors of an avocado toast just in a salad! This Avocado Toast Salad combines crisp romaine lettuce, tomatoes, avocado, and buttery croutons in olive oil and balsamic glaze dressing.
Avocado Toast Salad just has to be the next best thing after an actual avocado toast! It's so simple but insanely flavorful with your basic avocado toast must-haves. Toasty croutons, avocado, tomatoes, and balsamic glaze.
Why I Love This Recipe
It's a delicious twist on the popular classic. Enjoy all the same amazing flavors but in a heartier and more refreshing meal with crisp and crunchy lettuce and a tangy balsamic glaze.
Completely customizable. If you're a fan of avocado toast, then you know there are many different ways to enjoy it. You can customize it with various toppings and dressings, top it with grilled chicken tenders or grilled garlic shrimp for a protein boost, or sprinkle nuts or seeds for an added crunch.
Easy to make. This chopped salad is a quick and easy meal that requires minimal prep time. Simply toast some bread, chop some lettuce and avocado, and drizzle on your desired toppings and dressing.
Super nutritious. Avocado toast gained popularity due to its rich fiber content, abundant nutrients, and healthy fats. This exciting new salad recipe provides a complete meal with added textures and flavors.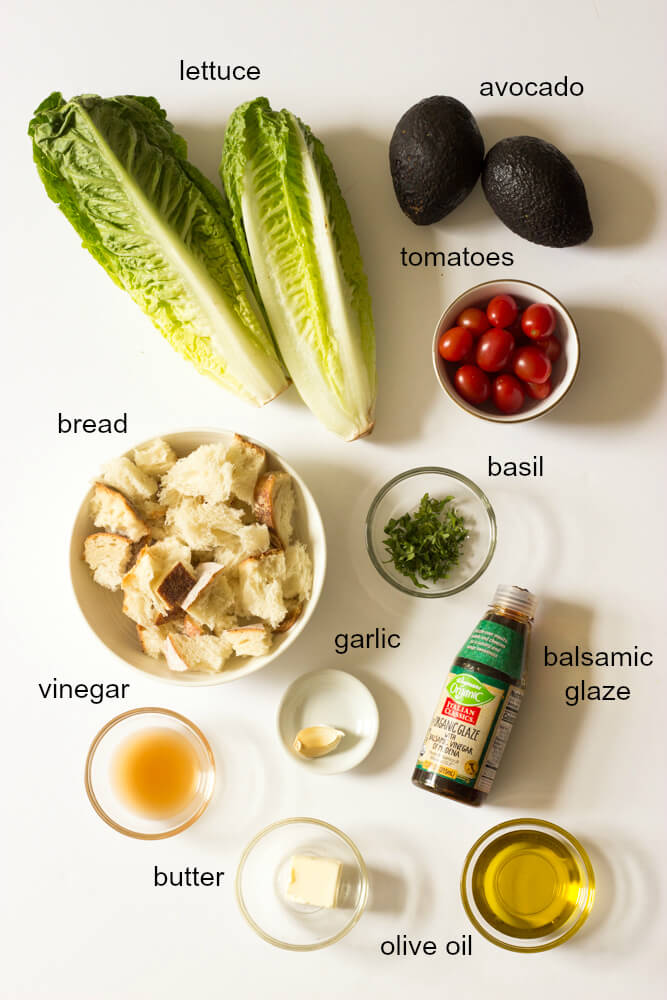 Ingredients + Substitutions
I use just a handful of basic ingredients to make my avocado salad with crispy homemade croutons.
Bakery-style bread + butter: Sure, you could buy premade croutons, but making them from your favorite bread will set it apart. It only takes about 15 minutes to toast them up, and the croutons will be deliciously warm and crunchy with your fresh salad.
Dressing ingredients: I use extra virgin olive oil, apple cider vinegar, and freshly minced garlic to toss the salad in.
Balsamic glaze: In addition to the dressing, drizzle on the balsamic glaze before serving for added flavor.
Romaine lettuce: Romaine has a great crunchy texture, but any lettuce will do!
Avocados: Make sure to use a ripe avocado for the creamiest texture.
Tomatoes: Grape tomatoes are perfect for this easy salad recipe, but any tomato you have will work.
Basil: To add an herby flavor, thinly slice fresh basil to toss into the salad. You can also use herbs such as mint, thyme, or parsley.
How to Make Avocado Toast Salad
Make the croutons. Tear the bread into bite-size pieces and toss with the olive oil and butter. Bake at 350F until golden crisp.
Prepare the dressing. Whisk together the olive oil, vinegar, and garlic. Season with salt and pepper to taste.
Assemble the salad. In a salad bowl, toss together the lettuce, tomatoes, avocado, basil, and dressing. Stir in croutons and add a drizzle of balsamic glaze.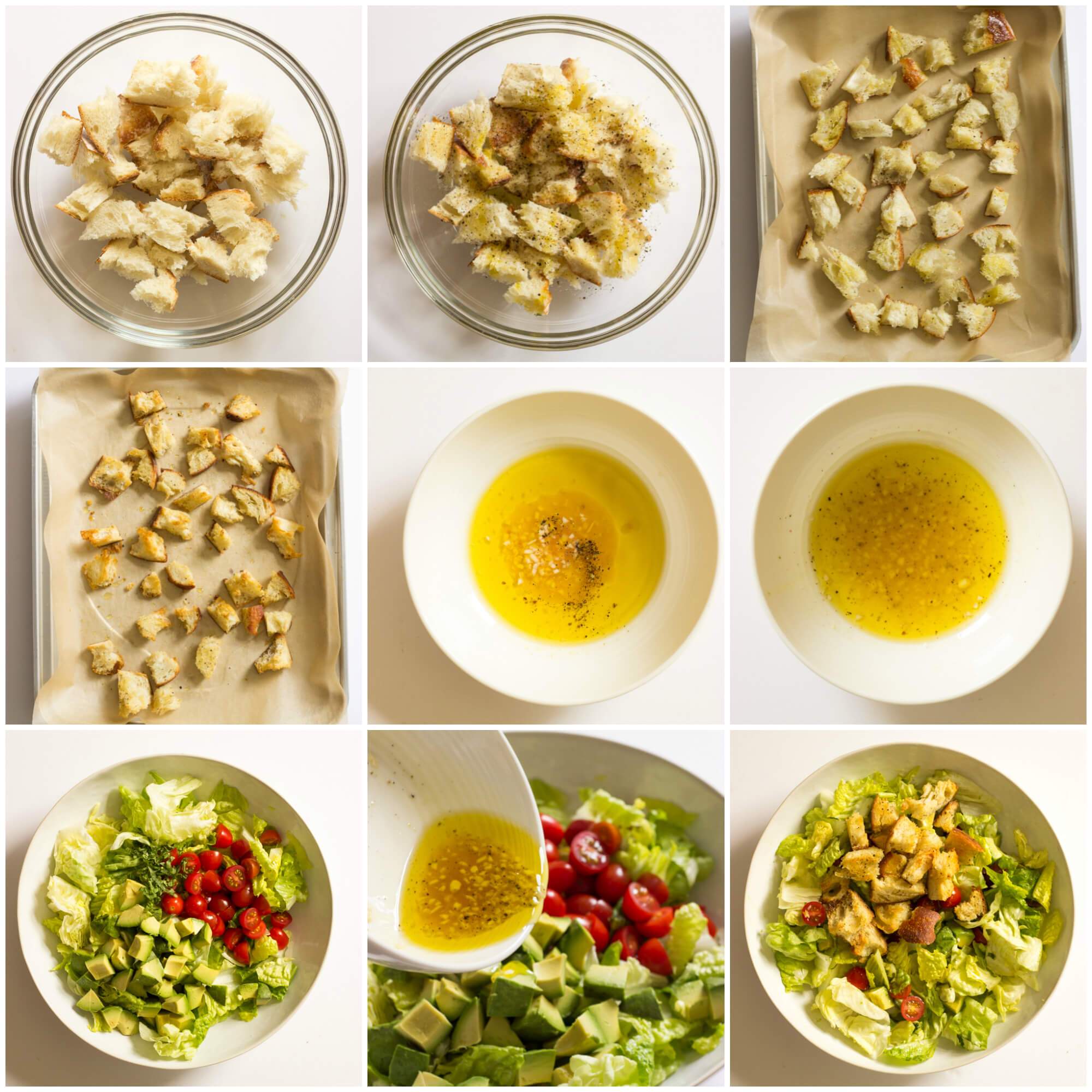 Recipe Tips
Making a salad is a personal experience, but when you find one you love, there are a few ways to ensure it tastes as delicious as you imagine. Here are a few tips for making this avocado toast salad perfectly every time!
Use ripe avocados. Ripe avocados are essential for a creamy and flavorful salad. Choose avocados that are slightly soft to the touch and have a dark green, almost black color.
Add other toppings. Add toppings like cheese, olives, cucumbers, red onions, or even boiled eggs to make the salad more interesting and nutritious.
Serve immediately. Avocado salad is best when served immediately after assembly. This will prevent the bread from getting soggy and the avocado from oxidizing.
Storage
If you plan on storing your salad, it's best to skip the dressing and keep the ingredients separately and assemble them before serving.
To keep homemade croutons crunchy, let them cool completely before storing them in an airtight container at room temperature for up to a week. Freeze for more extended storage. Bake them at 350°F for 5-7 minutes to re-crisp stale croutons.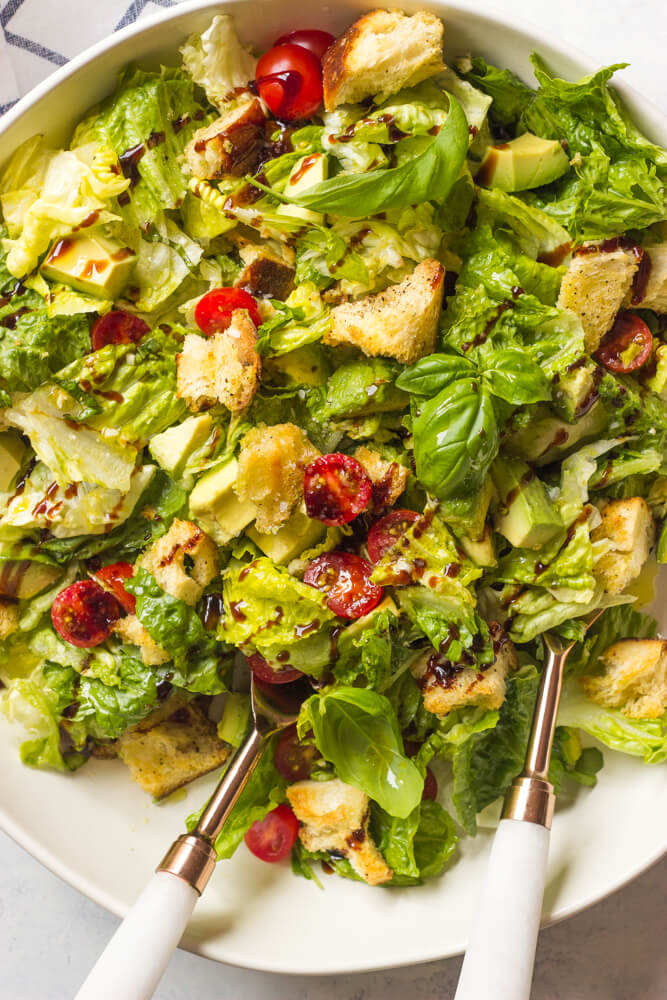 FAQs
Can avocado toast salad be made without bread or croutons?
Yes, you can make it without bread or croutons by using ingredients such as quinoa, sweet potato, or roasted chickpeas as a substitute for the bread cubes, or just skip it entirely.
How can I add protein to avocado toast salad?
Adding protein to avocado toast salad can include ingredients such as grilled chicken, shrimp, tofu, or beans. 
How can I prevent the avocado from turning brown in the salad?
To prevent the avocado from turning brown in the salad, adding it just before serving is best. You can also sprinkle a little lemon or lime juice on the avocado to slow the oxidation process.
More Salad Recipes with Avocado
Print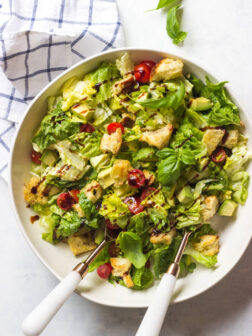 Avocado Toast Salad Recipe
Author: Katya
Prep Time: 20 mins
Cook Time: 20 mins
Total Time: 40 mins
Yield: 6 1x
Category: Salad
Method: Chop
Cuisine: American
---
Description
All the flavors of an avocado toast just in a salad! Crisp romaine lettuce, tomatoes, avocado, and buttery croutons tossed in olive oil dressing, then drizzled with balsamic glaze. It's so simple but SO good!
---
Croutons
4 oz. bakery-style bread torn into bite-size pieces* (about 4 cups)
1 Tbsp. olive oil
2 Tbsp. unsalted butter, melted
Dressing
3 Tbsp. extra-virgin olive oil
1 Tbsp. apple cider vinegar
1 tsp. minced garlic
Salad
8 oz. chopped romaine lettuce (about 8 cups)
2 avocados, diced
1 cup grape tomatoes, halved
1–2 Tbsp. thinly sliced fresh basil
Kosher salt and freshly ground black pepper
---
Instructions
Croutons
Preheat the oven to 350 degrees F.
Toss the bread pieces with olive oil and melted butter. Season with salt and pepper, to taste. Spread onto a parchment lined baking sheet and bake for 15-20 minutes or until golden crisp. Remove from the oven and let cool before serving.
Dressing
In a small bowl, whisk together the olive oil, vinegar, and garlic. Season with salt and pepper, to taste.
Salad
In a large salad bowl, toss the romaine lettuce, avocados, tomatoes, and basil with the dressing. Stir in croutons and drizzle with balsamic glaze. Serve immediately.
---
Notes
Croutons: Ciabatta bread, french bread, or country bread can all be used to make croutons.
Leftovers: This salad is best served immediately. You can keep the dressing, croutons, and salad stored separately for up to 4-5 days. Add avocado just before serving.
Nutrition
Serving Size:
Calories: 322
Sugar: 4.8 g
Sodium: 154.6 mg
Fat: 24.6 g
Carbohydrates: 23.9 g
Protein: 6.1 g
Cholesterol: 10.2 mg
Keywords: avocado toast, healthy
You May Also Like…