Roasted Asparagus with Lemon is a delicious side dish that can be paired with almost anything. It's quick and easy to make too!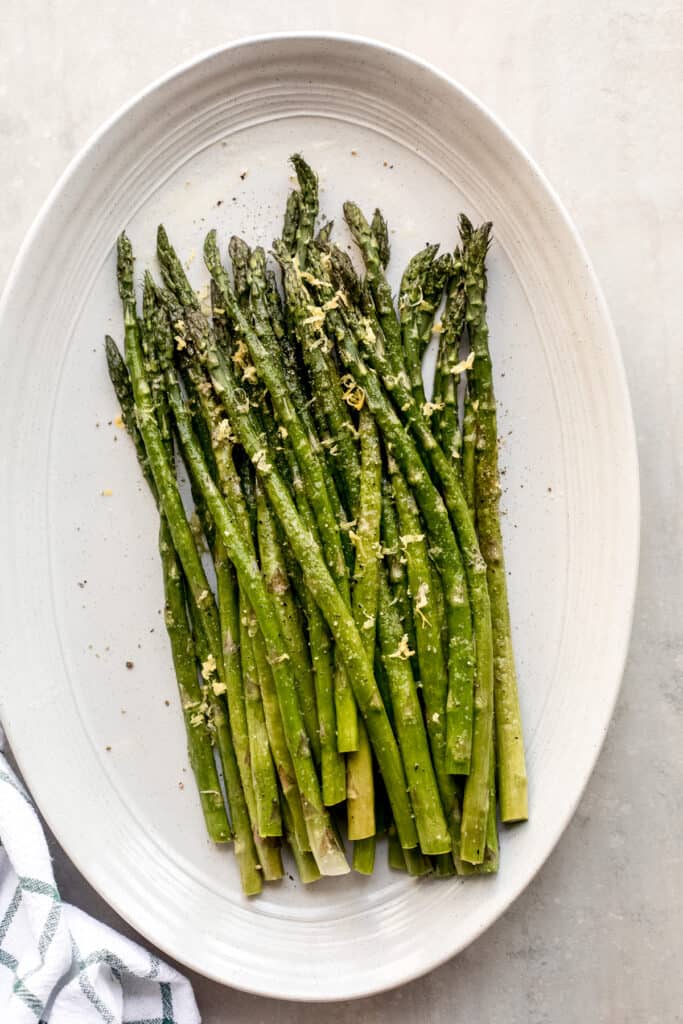 It can be made with thick or thin asparagus in just 20 minutes. This oven-roasted asparagus recipe is perfect for easy weeknight meals, especially when paired with our Creamy Mushroom Pasta.
Asparagus Recipe
Asparagus tastes the best when it's roasted in the oven. Just like our Asparagus with Parmesan Cheese and Prosciutto, this recipe uses fresh asparagus with minimal ingredients to create the most delicious side.
You can eat it as a side dish or chopped up in soup, quiche, or salad. Sprinkle some shredded cheese, balsamic vinegar, or glaze on top for added depth and flavor.
If you need to use your oven for another dish, another option is to use an air fryer to roast the asparagus. It's the perfect substitute when required.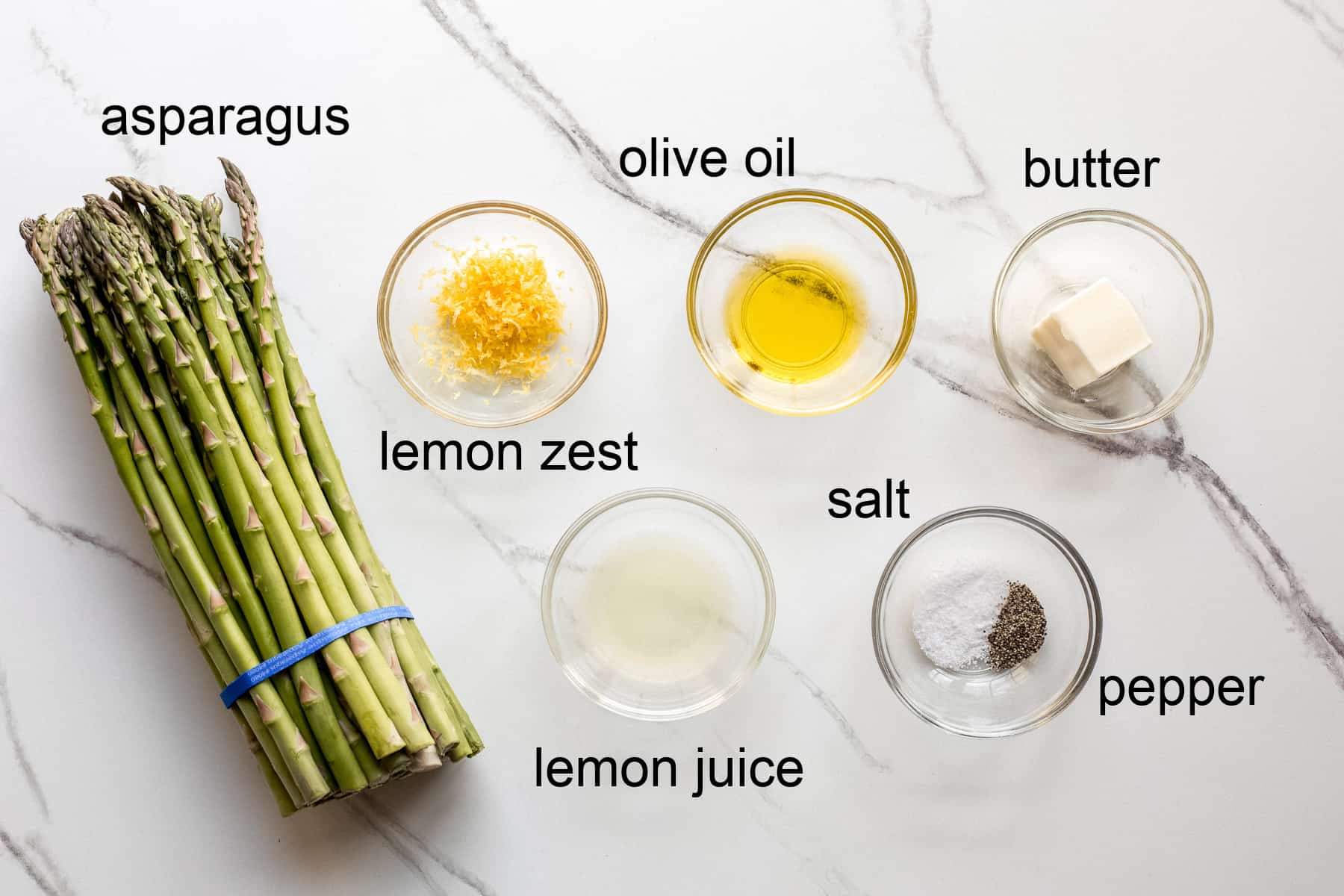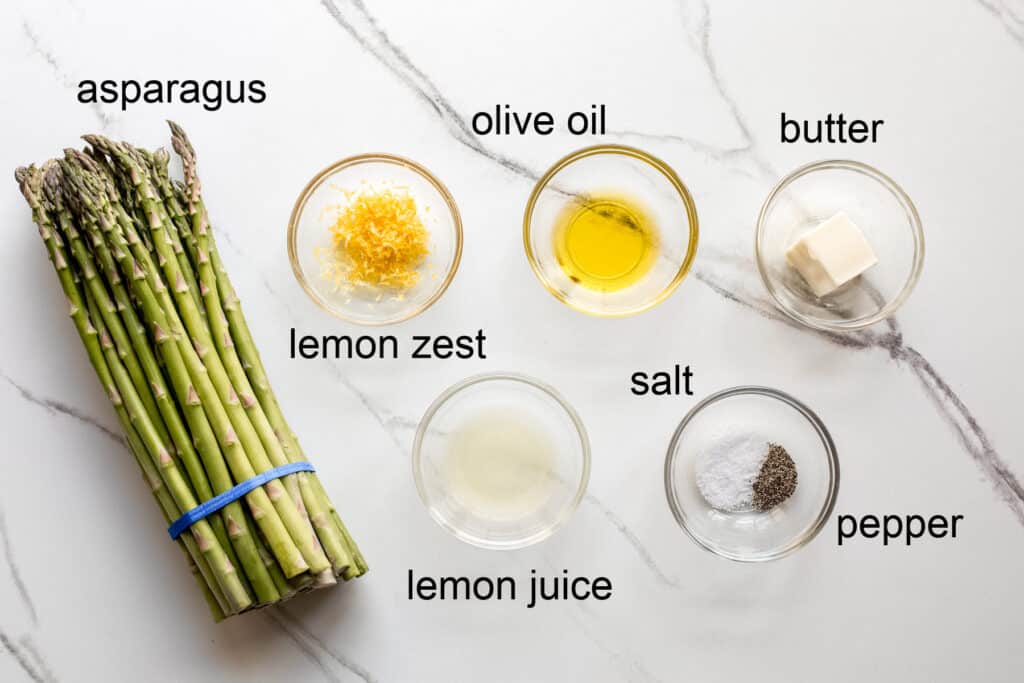 Ingredients
Here are the ingredients you need to make this roasted asparagus with lemon.
Asparagus: Be sure the asparagus is fresh and firm, and the tops are closed tightly when you buy it from the grocery store.  
Olive oil: Any neutral oil will work well here, such as avocado oil.
Salt: A sprinkle of salt enhances the flavors of asparagus.  
Pepper: Freshly ground black pepper is best because it tastes fresh and is more potent than pre-ground pepper. 
Butter: You just need a tablespoon of unsalted butter to add flavor to the asparagus.
Lemon zest and juice: Lemon zest and a little lemon juice give the asparagus that delicious lemony flavor.  
Do you wash asparagus before roasting?
Asparagus are washed after they're cut at the processing plant, but it's not guaranteed that it'll be completely free of dirt or little bugs, especially if organic. They did grow in the ground, after all.
If you want to be extra confident that they're clean, do a quick rinse under cold water and be sure to dry them thoroughly, so they aren't wet when you cook them. If they are wet, they will get mushy rather than crispy.
What part of asparagus do you cut off?
To make sure your asparagus isn't stringy, you will need to cut off the woody ends. This is easy to do with a knife, kitchen shears, or by breaking them off with your hands.
Before you start, bend the asparagus with your fingers starting from the bottom. Work your way up until you no longer feel resistance. This is where they need to be cut.
How to Make Roasted Asparagus with Lemon
Toss the asparagus with olive oil, salt, and pepper. Roast in the oven until fork-tender.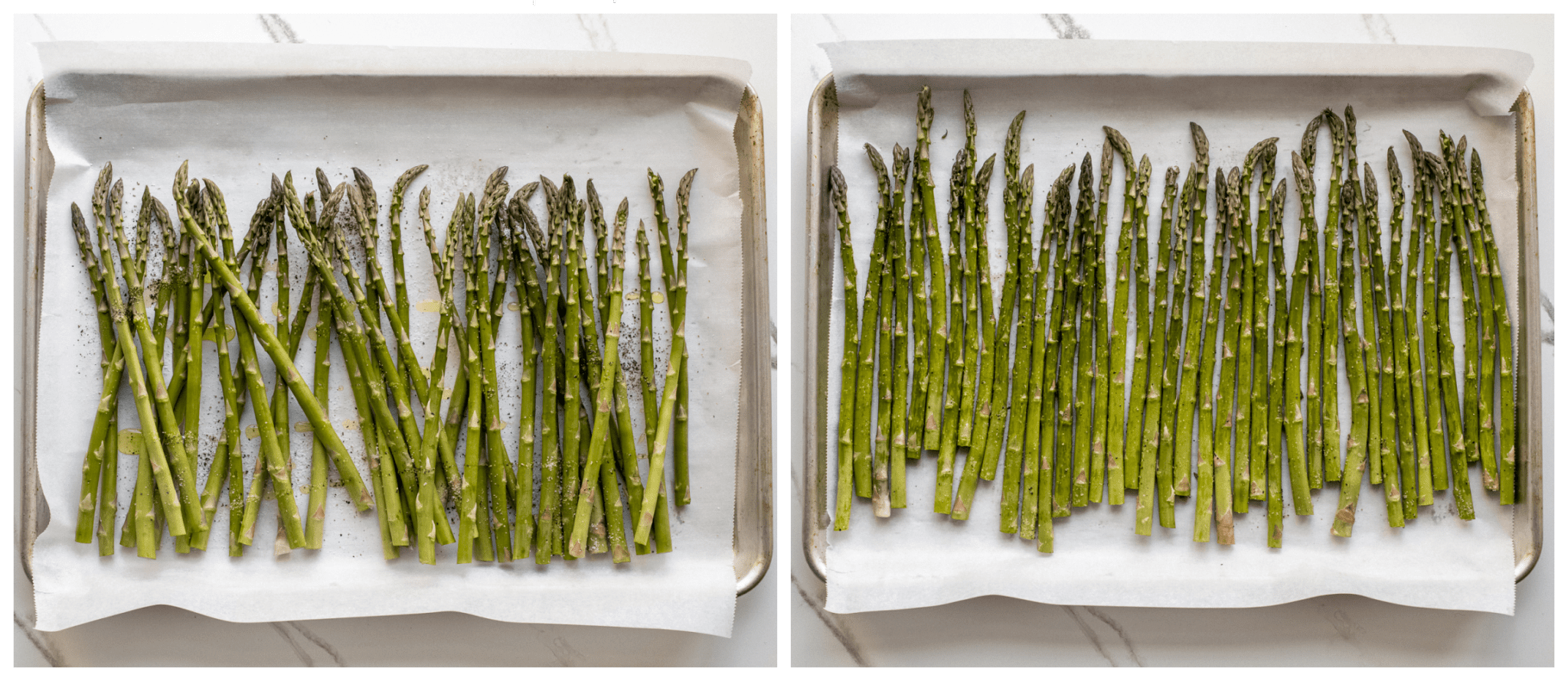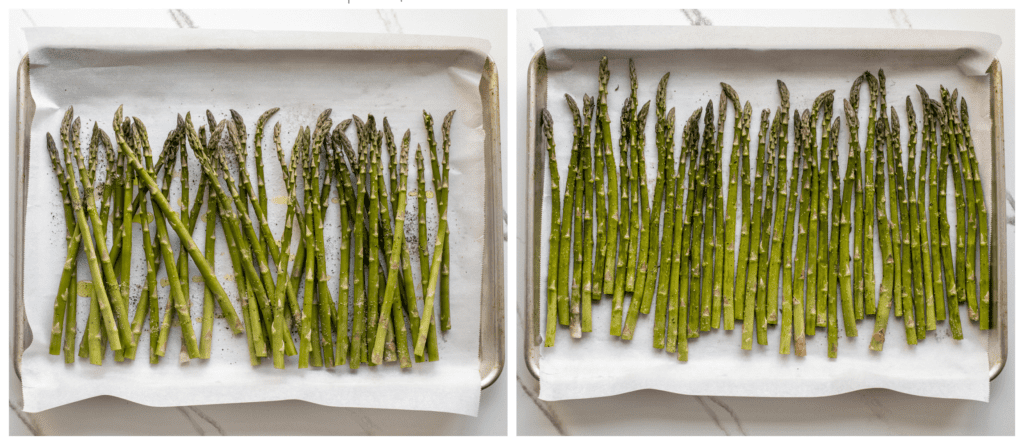 Melt the butter in the microwave and whisk in lemon zest and juice.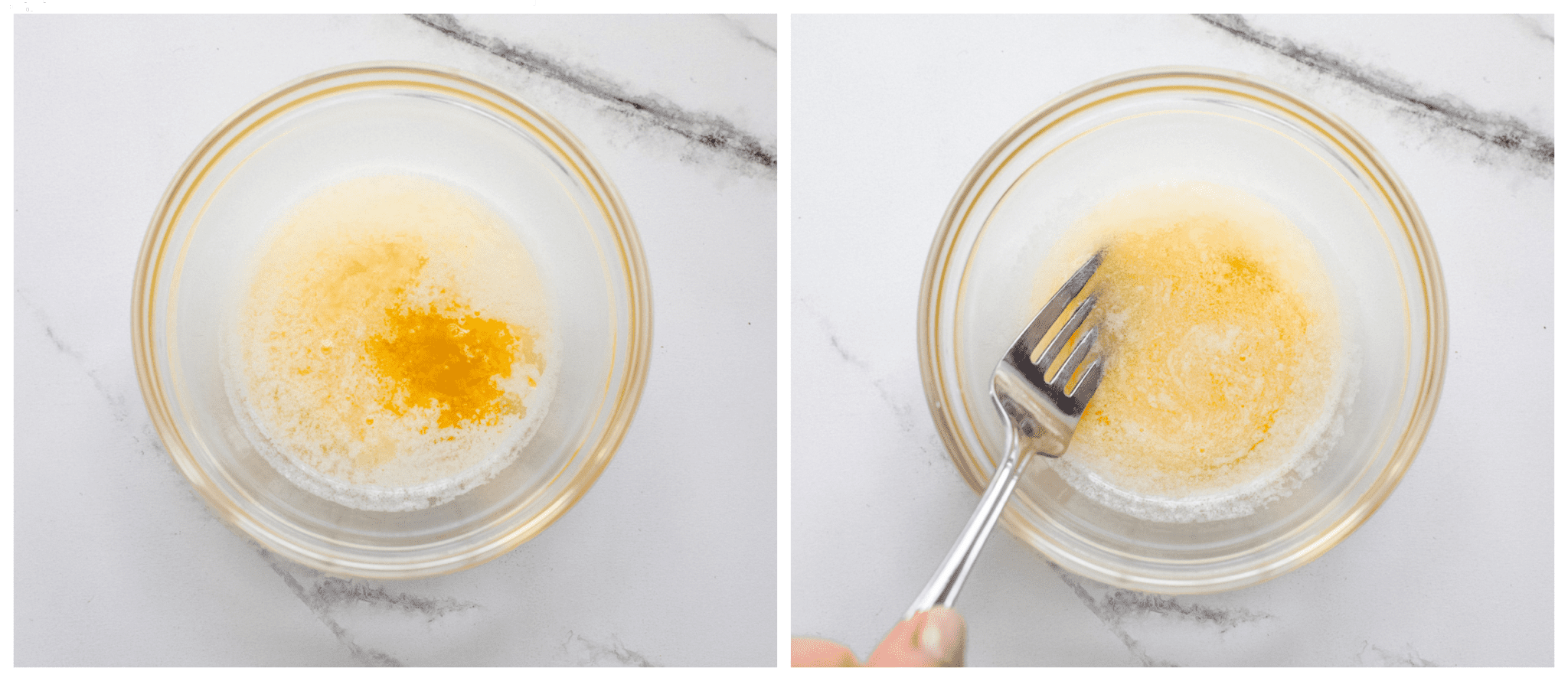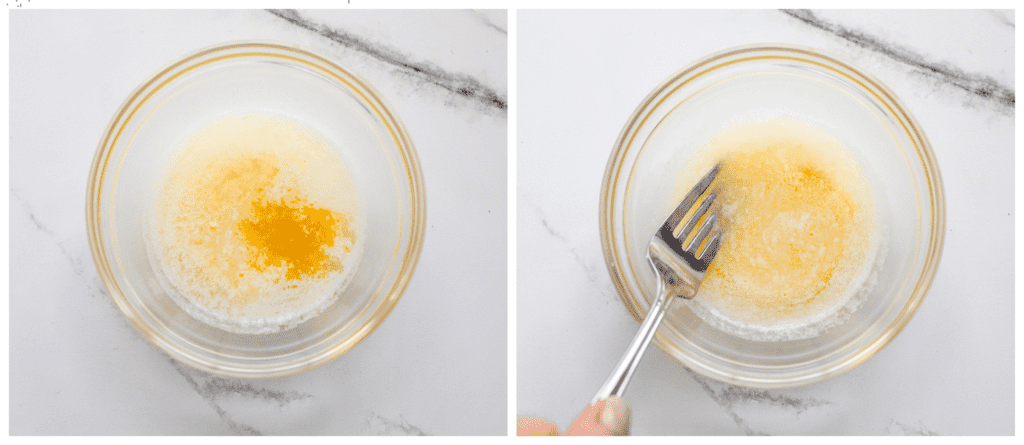 Toss the roasted asparagus with the lemon mixture. Add more salt to taste. Serve immediately.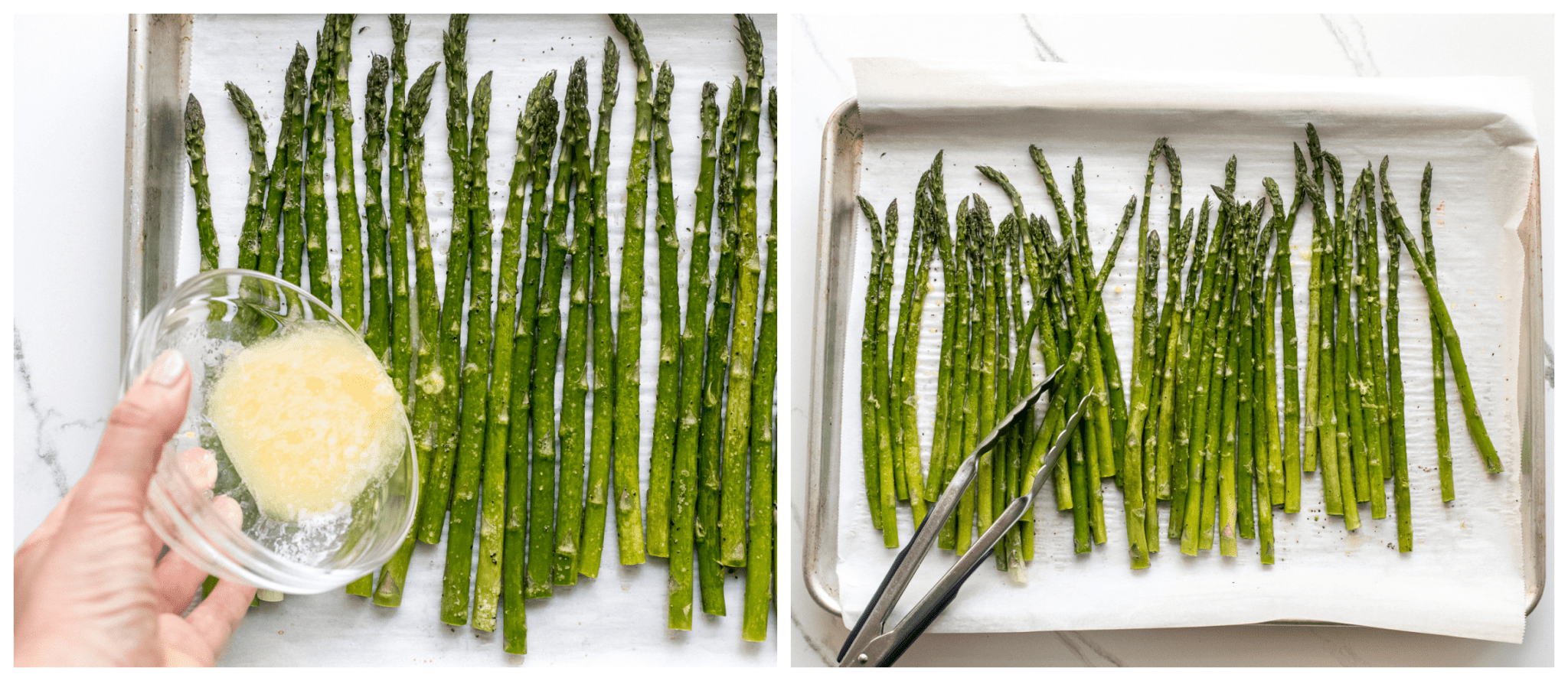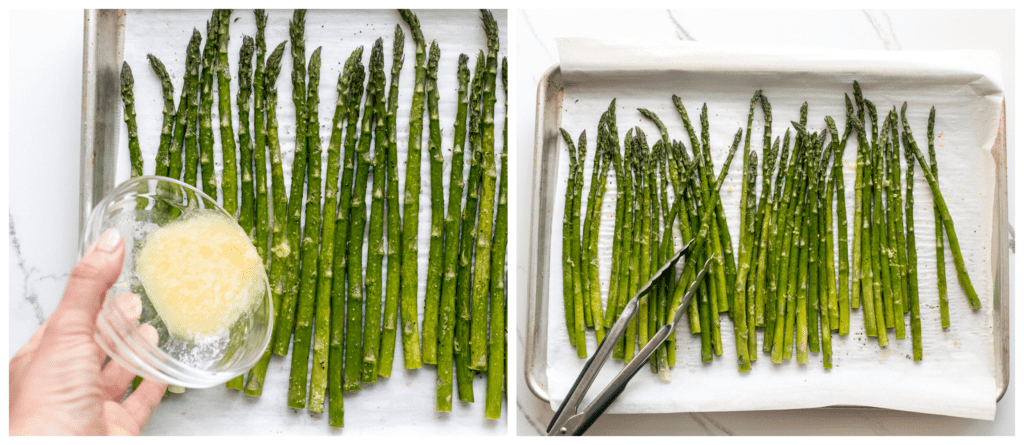 How do you know when asparagus is done cooking?
There are two ways to know when your asparagus is done cooking.
The first is to stick a fork or knife into the thicker end. If it slides in smoothly, it's finished.
The other way to know if asparagus is done cooking is to simply taste it. This is also great because you can make sure the seasoning is perfect too.
Why is my roasted asparagus stringy?
Asparagus is very fibrous, especially in the stems. This is so that the individual stalks can stand up straight when growing.
If you've eaten stringy asparagus before it's most likely that the ends were not properly cut. This can easily be remedied by making sure you chop or break off the woody ends of asparagus before cooking them.
Why is my roasted asparagus mushy?
Have you had mushy asparagus before? It's not great. This is easy to fix when making your own at home.
One cause of mushy asparagus is that they were cooked with too much liquid. If you add too much lemon juice or the oven isn't hot enough, the asparagus will steam out rather than cook with dry heat.
The other leading cause of mushy asparagus is overcooking. Be sure to pull them out right before they're done because they'll continue cooking afterward. This is when they are prone to get mushy.
Lastly, make sure to use a large baking sheet for roasting asparagus so there's plenty of room for steam to escape and for the asparagus to crisp up.
What does asparagus pair with?
Roasted asparagus with lemon is a fantastic side dish that can be served with so many other delicious vegetables and meats. Here are some great options to choose from:
Vegetables:
Carrots
Leeks
Sweet potato
Peppers
Butternut Squash
Meat: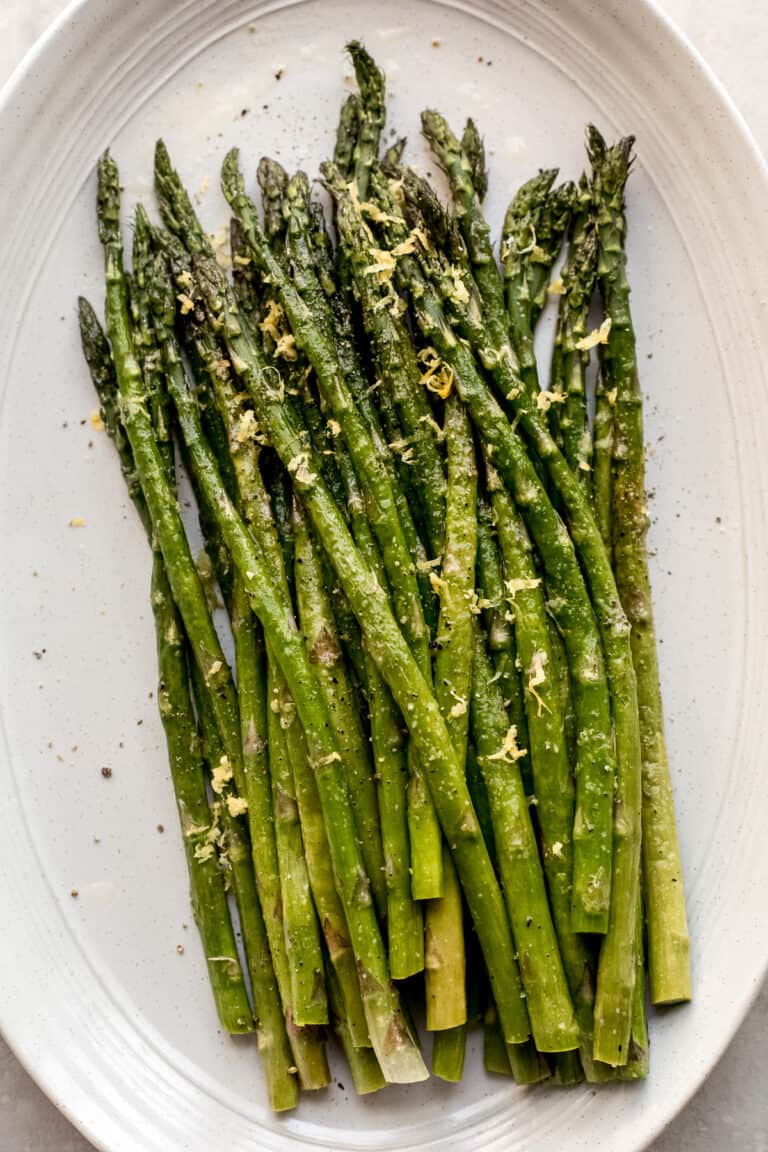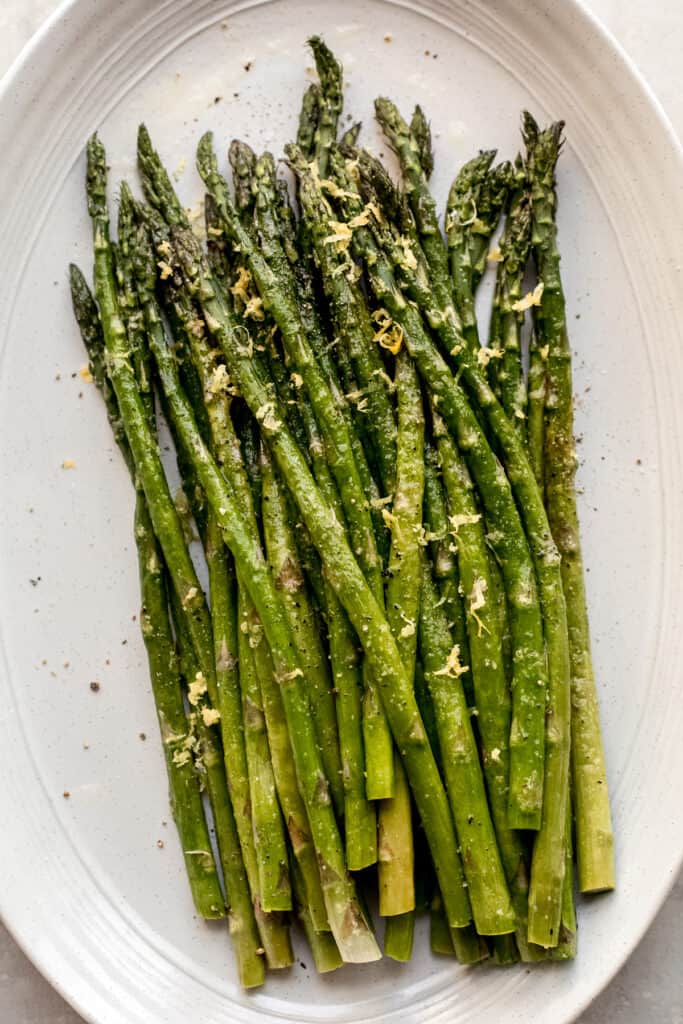 Frequently Asked Questions
Should I soak asparagus before roasting?
It's not necessary to soak asparagus before roasting it. You can rinse them off with water beforehand though. This is enough to remove any excess dirt.  
Should asparagus be blanched before cooking?
Blanching is an excellent method of cooking vegetables like asparagus because it softens them first. You can blanch asparagus before roasting them if you like them soft all the way through. 
What cheese goes well with asparagus?
Cheese is a wonderful pairing with asparagus because the flavors contrast nicely. Salty cheese is best, like parmesan or feta, because it enhances the taste of the asparagus. 
More Asparagus Recipes
Print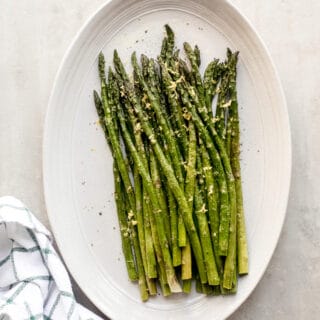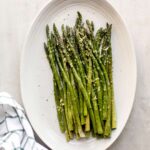 Roasted Asparagus with Lemon
Author:

Katya

Prep Time:

10 min

Cook Time:

12 min

Total Time:

22 minutes

Yield:

4

Category:

Side

Method:

Roasted

Cuisine:

American
---
Description
Roasted asparagus with lemon is a delicious side dish that can be paired with almost anything. It's quick and easy to make too!
---
1

lb. fresh asparagus, trimmed

2 tsp

. olive oil

1/2 tsp

. kosher salt

1/4 tsp

. black pepper

1 Tbsp

. butter, melted

1 tsp

. lemon zest

2 tsp

. lemon juice
---
Instructions
Preheat the oven to 425 degrees F. 
On a parchment-lined large rimmed baking sheet, toss together asparagus, olive oil, salt, and pepper. Arrange in an even layer and bake until tender, about 8-12 minutes, depending on the thickness of the asparagus.
While the asparagus is roasting, in a small bowl, whisk together the melted butter, lemon zest, and juice.
Remove the asparagus from the oven and immediately toss with the butter lemon mixture. Taste, and add more salt and pepper if needed. Serve immediately. 
---
Notes
Leftovers: Roasted asparagus is best enjoyed immediately. It will become softer the longer it sits.
Keywords: spring, vegetable, easy