Kale Apple Salad
Kale apple salad is a delicious side dish to pair with your main course or add protein for a full meal. It's filled with tender kale, crisp apples, cranberries, feta cheese, and pumpkin seeds and tossed in a homemade dressing.
What is Kale Apple Salad?
This apple kale salad recipe has a crunchy texture and a delicious sweet and salty taste. Just like our apple cranberry walnut salad–it combines some of the best fall flavors into one filling salad!
The leafy kale leaves with crisp romaine lettuce provide a hearty base, while the zesty apple cider vinaigrette softens the kale and makes every bite shine.
This salad is a great option, even if you're not a big fan of kale.
How to Choose the Best Kale
Leafy green kale is one of the best sources of fiber and vitamins for any diet.
There are a couple of different types of kale which include lacinato kale, dinosaur kale, or Tuscan kale. They are all great options for this salad.
You can buy one of these varieties at your local grocery store, specialty food store, or farmer's market in the summer or fall.
When looking in the produce section of the grocery store, choose the bunch of curly kale that looks freshest. It will have no holes in the leaves, be dark green, and maintain its shape when you hold it up. It shouldn't be wilted and the stems shouldn't be soft.
Ingredients
These simple ingredients can be found at your local grocery store. Prep the kale, romaine lettuce, apple, and red onions, and you'll be ready to combine them all together in the next step.
Salad:
Kale
Romaine lettuce
Granny Smith apple
Cranberries
Red onion
Feta cheese
Pumpkin seeds
Dressing:
Olive oil
Apple cider vinegar
Honey
Dijon mustard
Salt and pepper
How to Make Kale Apple Salad
This salad is really very easy to make. There are only three steps before you're ready to serve.
Whisk the dressing ingredients in a small bowl.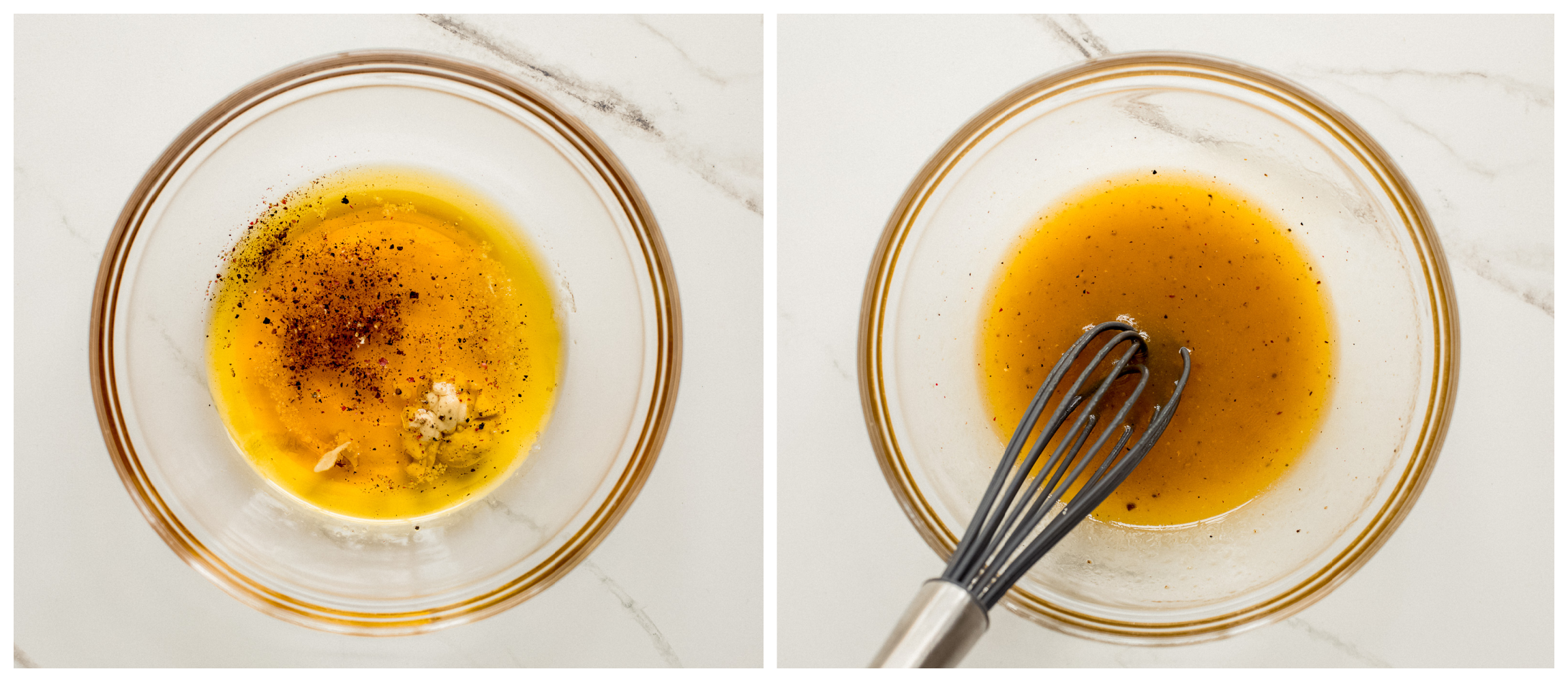 Stir together the salad ingredients in another large bowl.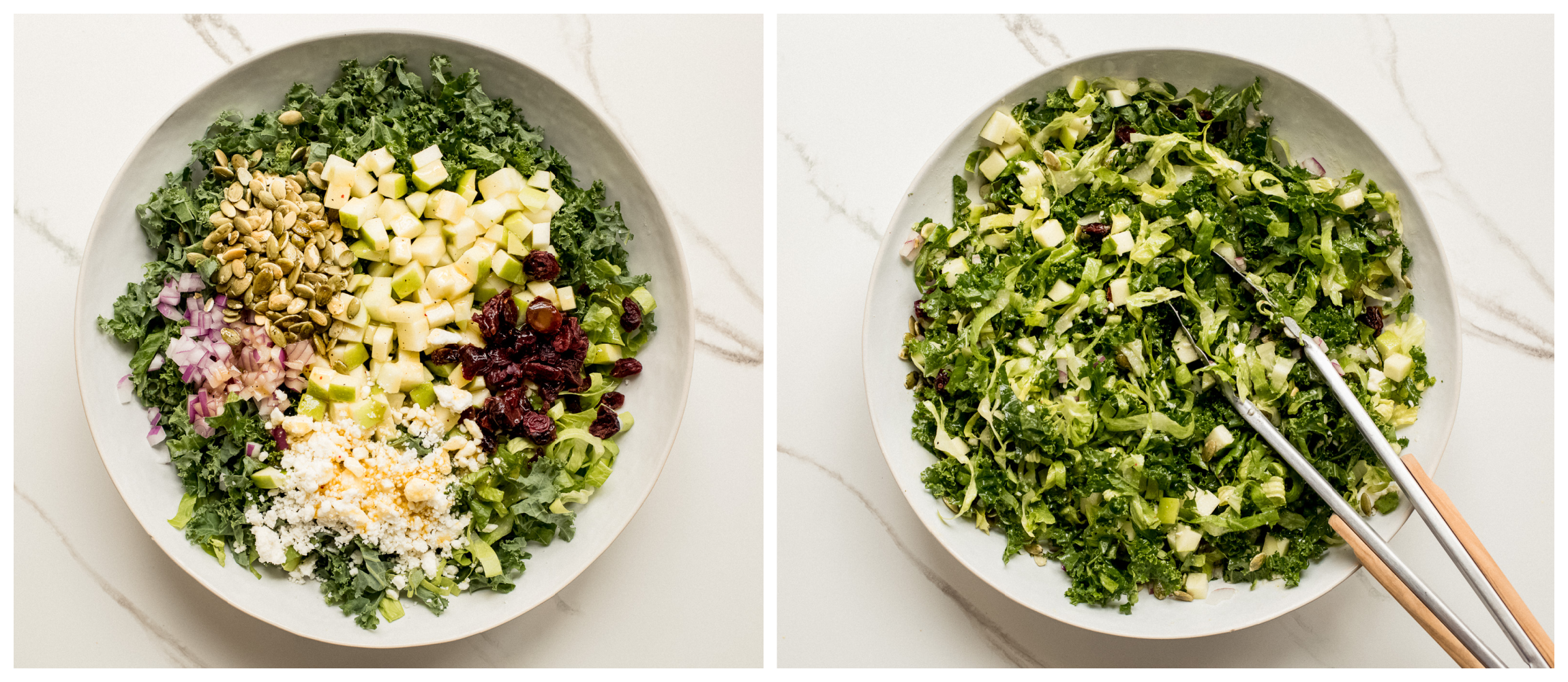 Combine the dressing and salad together and stir until all the ingredients are lightly coated.
Recipe Tips
Cut the kale into ribbons. Cut the kale into long strips (see ingredient photo). You can also buy shredded kale at the supermarket but make sure it's shredded not too finely, otherwise, the salad will wilt too quickly.
Make sure to cut out the woody stem! Run a chef's knife along the side of the stem to slice the stem away from the kale leaves. If using chopped kale from the supermarket, make sure to check it for stems.
Let the salad rest. There's no need to massage kale with the vinaigrette as it will soften on its own. After you toss the salad with the vinaigrette, simply let it sit for about 5 minutes before serving.
Add a grain. Add grains like quinoa, farro, or brown rice to make this dish heartier.
Toast the pumpkin seeds. For more flavor, toast the pumpkin seeds before adding them to the salad. Simply spread them out in an even layer on a sheet pan, and toast in a 350F oven for 5-8 minutes.
Variations
There are so many ways you can make this salad your own. You can make changes based on your tastes and preferences. Here are some great options you can try for the best results.
Salad
Fruit: pomegranate seeds, Honeycrisp apple, nectarines, peaches, strawberries, blueberries
Seeds or nuts: crunchy walnuts, sunflower seeds, toasted pecans, sesame seeds
Greens: Brussel sprouts, spinach, collard greens, cabbage, carrots, radishes
Cheese: white cheddar, goat cheese, shredded parmesan cheese
Dressing
Oil: avocado oil
Vinegar: red wine vinegar, white wine vinegar
Spices: garlic powder, onion powder, cayenne pepper
Herbs: thyme, rosemary, parsley, oregano, sage
Flavorings: lemon juice, maple syrup
What Kinds of Protein Can I Add?
Adding protein to your salad is a great way to make this a filling lunch or dinner.
When deciding what to serve with this kale apple salad recipe, choose a light protein that balances the flavors in the salad.
Some delicious options are grilled chicken tenders, simple whole roasted chicken, maple mustard salmon, or grilled garlic shrimp.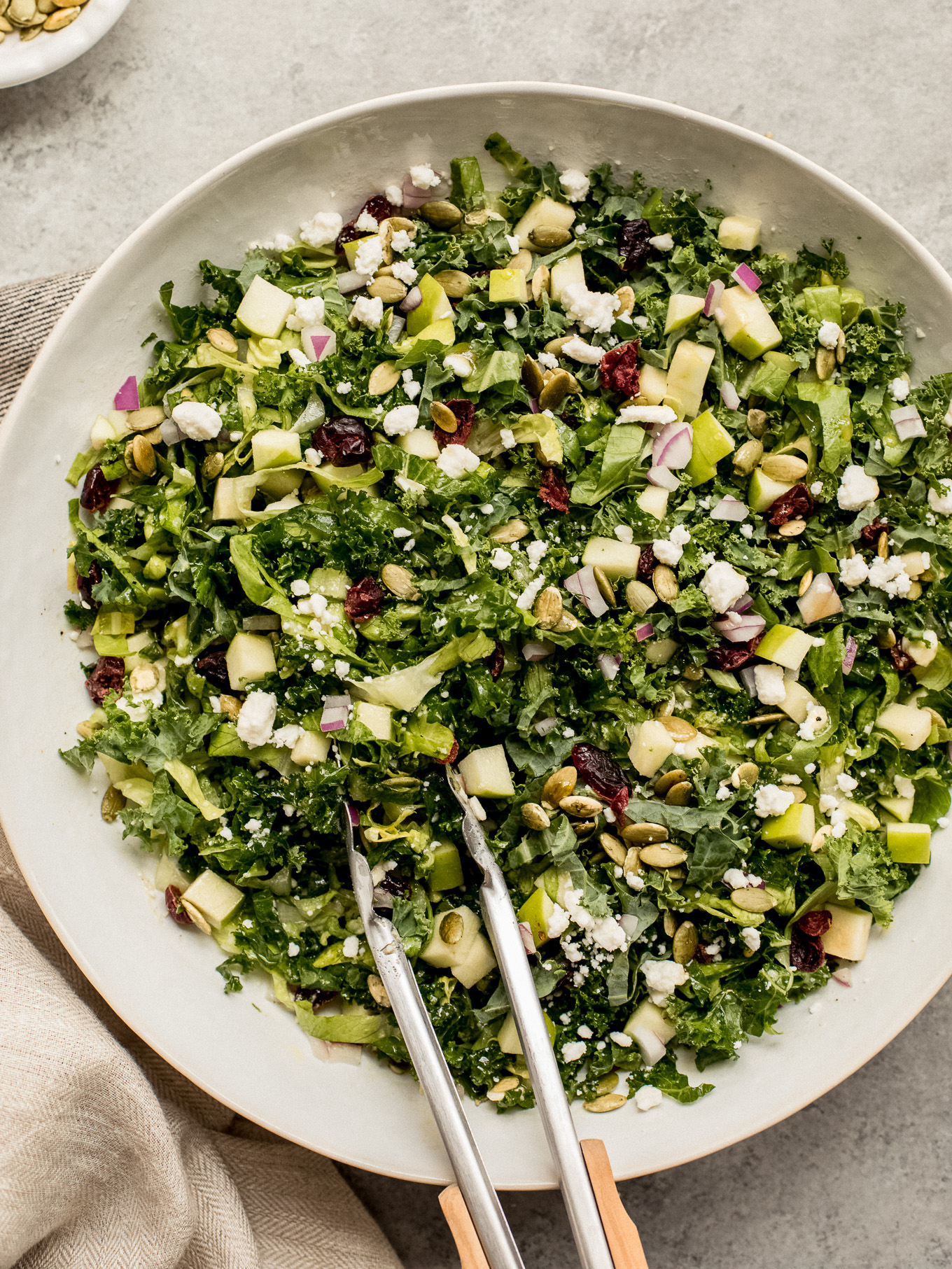 Storing Tips
Refrigerate: Store this chopped kale salad in an airtight container in the fridge for up to 3 days. It will soften the longer it sits.
Freeze: It's best to enjoy this salad fresh and not freeze it.
Meal Prep: To meal prep, this salad for a week, prepare salad and vinaigrette, then store separately until ready to serve.
FAQs
Can you eat raw kale?
Yes, you can eat raw or cooked kale. If you get baby kale, it's even more tender.
Should kale apple salad be served warm or cold?
Since the kale isn't cooked, you can eat this salad cold. The flavors will get even better the longer it sits in the fridge. Leave it at room temperature for a few minutes before serving for the best flavors.
Can kale salad be made in advance?
Yes, this salad recipe is great to make ahead. Simply store the salad and vinaigrette separately until ready to serve.
More Fall Salad Recipes
Print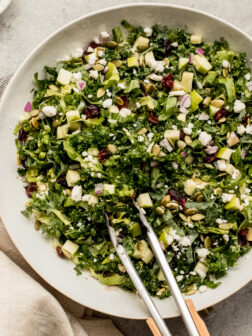 Kale Apple Salad
Author: Katya
Prep Time: 15 min
Total Time: 15 minutes
Yield: 6 1x
Category: Salad
Method: Chopped
Cuisine: American
---
Description
Kale apple salad is filled with tender kale, crisp apples, cranberries, feta cheese, and pumpkin seeds and tossed in a homemade dressing.
---
4 cups curly kale, de-stemmed and cut into ribbons
4 cup romaine lettuce, cut into ribbons
1 Granny Smith apple, cored and chopped
1/4 cup dried cranberries
1/4 cup chopped red onion
1/3 cup crumbled feta cheese
1/4 cup toasted pumpkin seeds
Vinaigrette
1/4 cup olive oil
1 Tbsp. apple cider vinegar
2 Tbsp. honey
1 tsp. Dijon mustard
Kosher salt and fresh black pepper
---
Instructions
Whisk together the vinaigrette ingredients.
In a large bowl toss the salad ingredients with the vinaigrette. Taste for salt and pepper and adjust as needed. Let the salad sit for about 5 minutes so the kale can soften, then serve.
---
Notes
Leftovers: Leftover salad will keep well in the fridge for about 2-3 days. It will soften the longer it sits. 
Nutrition
Serving Size: 1 cup
Calories: 205
Sugar: 14.6 g
Sodium: 106.2 mg
Fat: 14.1 g
Carbohydrates: 18.7 g
Protein: 3.9 g
Cholesterol: 7.4 mg
Keywords: fall, easy, salad
You May Also Like…