Zucchini Lasagna Roll-Ups
Zucchini lasagna roll-ups are filled with all your favorite baked pasta layers rolled up into strips of zucchini in place of noodles.
Love comforting meals? Try our Sausage Cacciatore. 
Kid-friendly and family-approved, this meatless lasagne dinner has so much delicious flavor that you'll be asked to make it again and again.
It's a veggie-loaded lasagne roll-up with spinach, artichoke hearts, and ricotta rolled in fresh zucchini planks with marinara sauce and mozzarella cheese.
Pair it with Chopped Wedge Salad and Sourdough Garlic Bread for a complete meal.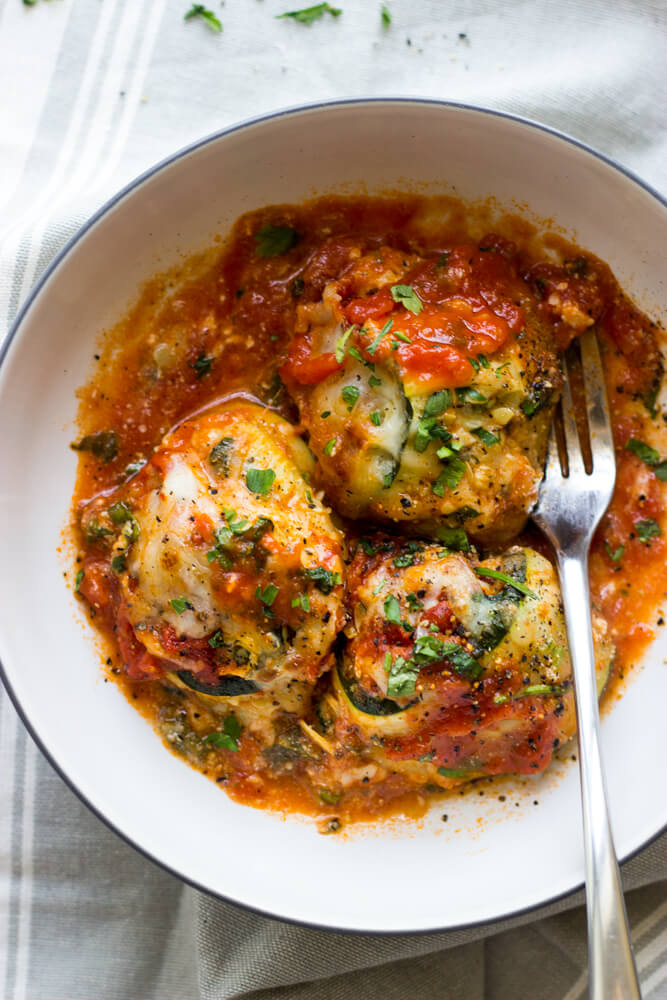 Reasons to Love this Recipe
These easy lasagna rolls are saucy, creamy, and loaded with veggies and cheeses. A healthier option to traditional lasagna that will be a family favorite dinner.
Low Carb – Minimizing the carb load on a lasagna recipe is easy to do when substituting the noodles for zucchini planks.
Gluten-Free – And because we're not using noodles, these stuffed lasagna rolls are gluten-free. *Always check store-bought items for gluten.
Kid-Friendly – An absolute favorite, kids will love how tasty these are.
Easy – This recipe is easy to make and just a few steps when you use premade tomato sauce.
Ingredients
Simple ingredients come together for a delicious weeknight meal that the whole family will love. Some prep is required, but they are easy to tackle and take little time to complete.
Zucchini – A low-carb, gluten-free alternative to pasta.
Olive oil – Avocado can be used instead.
Pasta sauce – Use store-bought pasta sauce like marinara, or spaghetti sauce if you prefer.
Ricotta filling
Ricotta cheese – Ricotta is a staple in lasagna recipes and I do not recommend a substitute.
Frozen chopped spinach – It's important to thaw the spinach first and drain it. Then, use paper towels to squeeze out as much extra liquid as possible.
Artichokes – Canned or jarred artichoke hearts that have been drained and dried. Frozen would also work with the same preparation method.
Fresh parsley – Don't like parsley? Try fresh oregano instead.
Shredded mozzarella – If possible, buy a chunk of mozzarella and shred it yourself.
Garlic – For best flavor, use fresh garlic and not jarred.
Egg – Egg will help bind the ricotta mixture together.
Salt and pepper – Kosher salt and fresh ground pepper is my go to.
See the recipe card for quantities.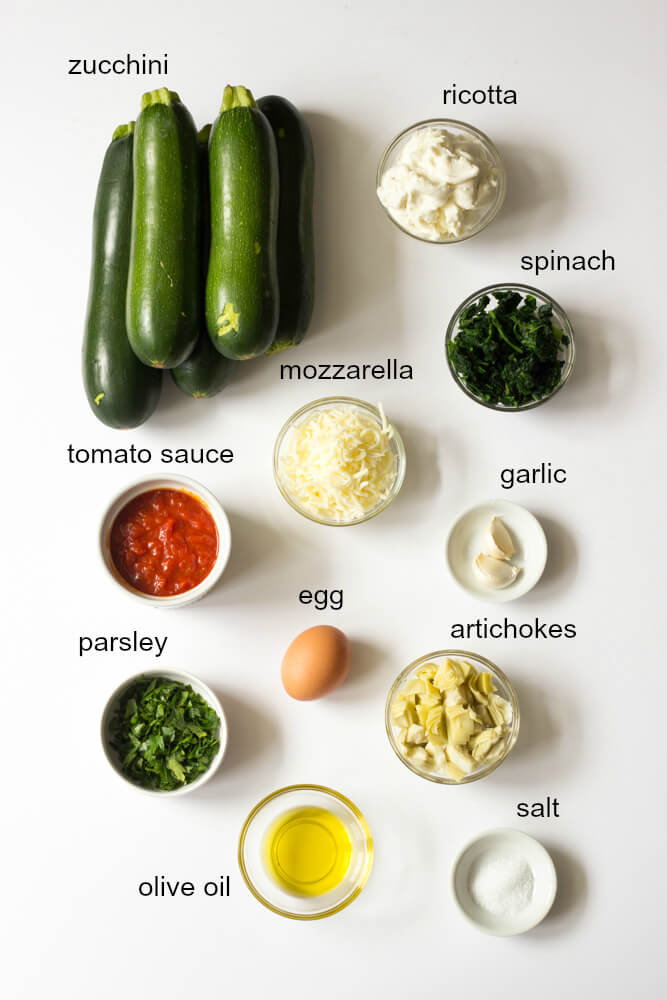 How to Make Zucchini Lasagna Roll-Ups
Prepare zucchini: Slice zucchini lengthwise into strips and place them on a wire rack in a single layer. Sprinkle both sides with salt and let stand for 30 minutes to leach out the extra water. Pat zucchini planks dry with paper towels.
Once dried, brush both sides with oil and roast until just tender and pliable. Note: Do not overcook or the zucchini lasagne will break and will be too soft to roll. Remove from oven and cool until able to handle.
Make ricotta filling: In a large bowl, mix ricotta, spinach, artichokes, cheese, seasonings, and egg.
Prepare zucchini rolls: Evenly spread about a tablespoon of ricotta mixture over each strip of zucchini and gently roll up.
Assemble lasagna rollups: In a large baking dish, spread ½ a cup of marinara on the bottom. Place each of the zucchini ricotta rolls on top of the tomato sauce as closely as possible to fill the dish. Top with remaining sauce and sprinkle with shredded mozzarella
Bake uncovered for 25 minutes, remove from the oven and let rest for a few minutes before serving.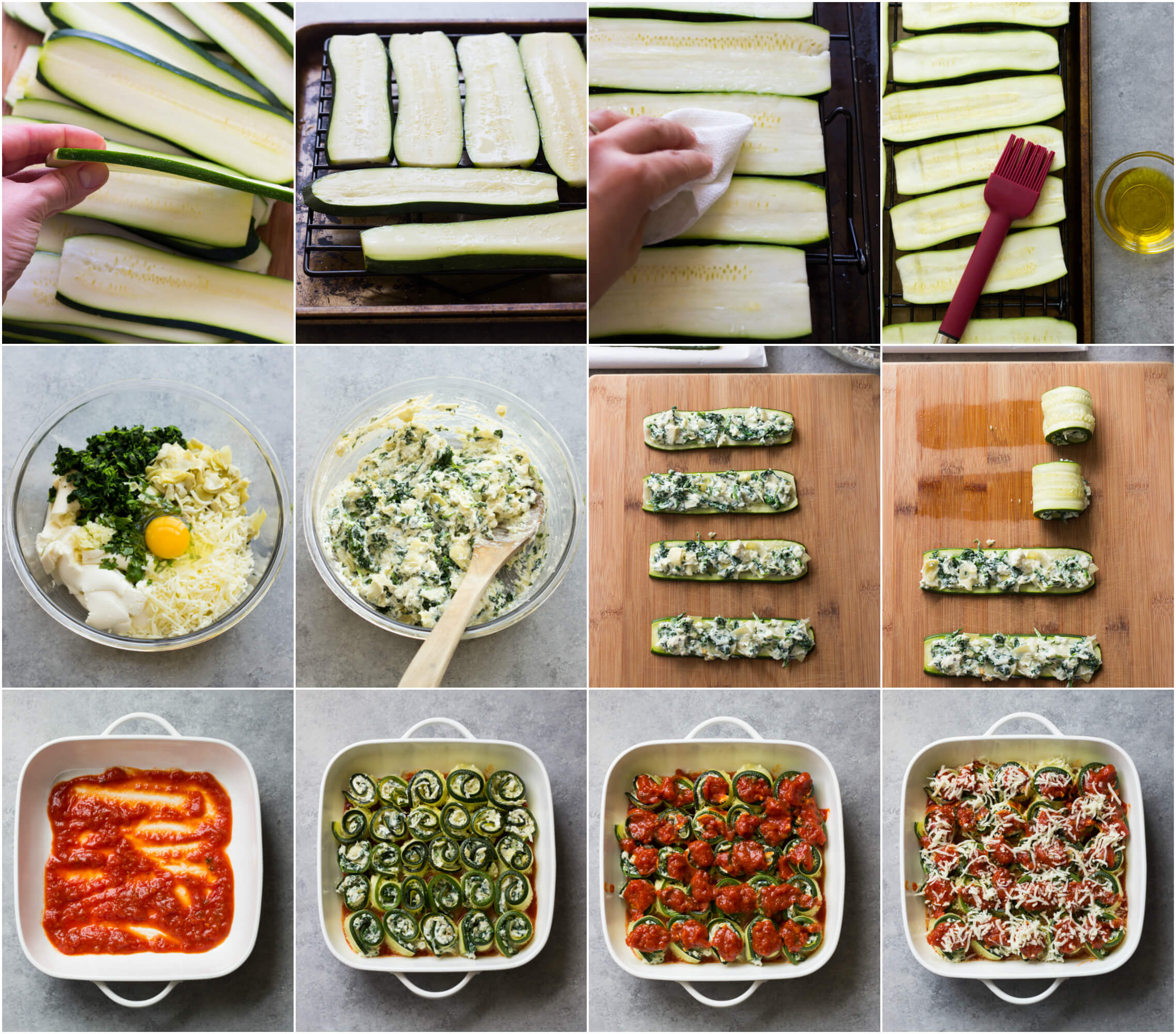 Recipe Tips
To make this recipe a success the first time, here are a few tips and notes for making the best zucchini lasagna roll-ups.
Dry zucchini – How do I keep zucchini lasagna from being watery? To ensure you don't have a soggy lasagna, sprinkle the zucchini with salt and allow to rest so the moisture is released and can be absorbed by patting dry with paper towels.
Dry spinach and artichokes – Frozen spinach and canned artichoke hearts can be dried the same way. Place in a strainer to remove liquid and then use paper towels to squeeze as much liquid out as possible.
Don't overcook zucchini planks – Because we roast the zucchini before assembling the lasagna rolls with ricotta filling, they need to still have a firm, but pliable texture. Overcooking will cause them to be too soft and unmanageable.
Substitutions
For a more personal approach to this recipe, here are a few ideas on substitutions to fit your taste and diet restrictions.
Use eggplant instead of zucchini – You can easily swap out the zucchini for eggplant, though the planks will likely be larger. If you have issues standing them on end, lay them down on their side instead.
Make it vegan – Use vegan ricotta and mozzarella.
Homemade Vodka Sauce – If you want a delicious marinara-style sauce then this tomato vodka sauce would be a perfect substitution. It takes a little extra time but is worth it!
Variations
Love this vegetable lasagna rolls recipe? Then you must try one of these fun different ways to enjoy similar flavors.
Zucchini Lasagna Casserole – If you want all these yummy flavors but want to try it another way, use a vegetable spiral to make zucchini noodles. Then, combine the ingredients into a casserole dish, top with cheese, and bake.
Zucchini Lasagna Roll ups WITH Lasagne – Slice the zucchini just a little thinner and use al dente lasagna noodles to roll them up. Or, layer like a traditional lasagna in a casserole dish.
Spicy Lasagna Rolls with Zucchini – Spice up this recipe by adding spicy sausage and red pepper flakes to the dish. Cook the sausage and sprinkle over the zucchini rolls before adding the remaining sauce and cheese.
For another variation of a lasagna recipe, try our Mushroom Spinach Lasagna with Chicken. It's a reader favorite!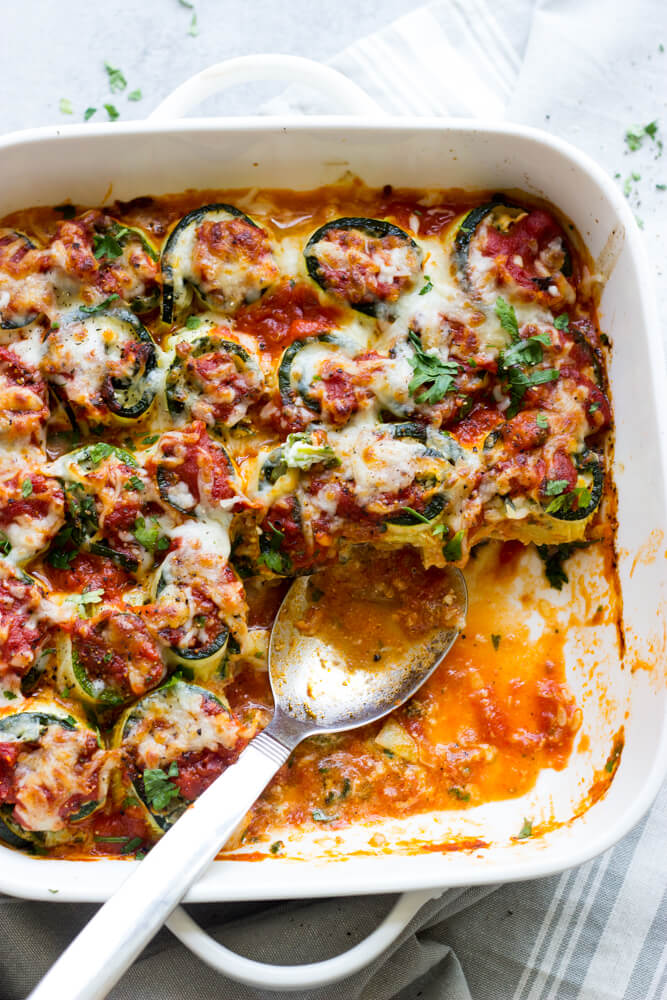 Storing Leftovers
Store leftovers in an air-tight container for up to 3 days in the refrigerator.
I do not recommend freezing zucchini roll-ups as they retain too much water and will be mushy when reheated.
Frequently Asked Questions
How do you cut zucchini for lasagna?
For zucchini lasagne, cut the ends off of the zucchini. Then, slice the zucchini lengthwise, about ¼ inch thick. Mandoline slicer works the best for this part.
Why is my lasagne watery?
There are many reasons why a lasagna may be watery. Too much sauce, too thin of sauce, noodles are wet when assembling, vegetables not dried properly before layering, and even not allowing the lasagna to cool before slicing into it can cause it to appear runny. 
Can I use fresh spinach instead of frozen?
You can use fresh spinach instead of frozen but it's important to draw out as much moisture as possible before adding it to the filling.

To do that, steam your spinach by cooking it in a colander over a pot of simmering water, then drain the spinach and squeeze out some of the excess water using the back of a large spoon.
More Family Dinner Recipes
Print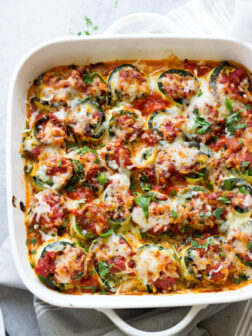 Zucchini Lasagna Roll Ups
Author: Katya
Prep Time: 1 hour
Cook Time: 1 hour
Total Time: 2 hours
Yield: 5-6 1x
Category: Main
Method: Baked
Cuisine: American
---
Description
Tender and juicy lasagna roll ups made with zucchini, creamy ricotta, spinach, and artichokes. These are low carb, gluten free and kid friendly!
---
2–2 1/2 pounds zucchini, trimmed and sliced 1/4″ thick with mandoline slicer
1 tsp. kosher salt, plus extra
1–2 Tbsp. olive oil
1 cup pasta sauce, such as marinara
1 1/2 cups ricotta cheese
1/2 cup frozen chopped spinach, thawed, drained, and squeezed out with paper towels
1/2 cup canned or jarred chopped artichokes
2 Tbsp. fresh chopped parsley, plus extra for garnish
1/2 cup shredded mozzarella, plus extra for the top
2 garlic cloves, pressed or grated with microplane
1 large egg
Fresh ground black pepper
---
Instructions
Arrange all of the zucchini strips in a single layer on 2-3 cooling racks and place on baking sheets. Lightly sprinkle one side of zucchini with salt, then flip, and sprinkle with remaining salt.
Let stand for 30 minutes to let some of the water out, then thoroughly pat dry both sides with paper towels. You want them as dry as possible.
Preheat the oven to 425 degrees F.
Brush both sides of zucchini with the olive oil and roast for 15-18 minutes or until zucchini loses some of its thickness and is soft. Make sure not to over roast or zucchini will break during rolling. Remove from the oven and cool just enough to handle. Keep the oven on.
Spread 1/2 cup of the tomato sauce on the bottom of a 10 X 10 baking dish and set aside.
In a large bowl, combine ricotta, spinach, artichokes, parsley, mozzarella, garlic, and egg. Season with salt and pepper, to taste.
Spread about 1 tablespoon of ricotta filling evenly over each zucchini strip. Gently roll up and place straight up in the prepared baking dish, keeping them close together. I was able to fit 5 rows of 5 rolls each into a 10 X 10 baking dish.
Spoon dollops of remaining tomato sauce on top of the rolls and sprinkle with mozzarella cheese.
Bake, uncovered, for 20-25 minutes or until filling is heated through and cheese is melted. Optional, broil for additional 2-3 minutes until cheese is golden brown.
Remove from the oven and let rest 6-8 minutes. The rolls will absorb any excess moisture from the bottom of the pan. If desired, sprinkle with fresh chopped parsley before serving.
---
Notes
Zucchini: Look for zucchini that's medium and thick in size. It works the best when rolled up as it's not too long or narrow.
Spinach: Measure out the spinach after it's been thawed, drained, and squeezed out.
Artichokes: I used artichokes that were in a brine and not oil and/or marinade but either one is fine. Just make sure to drain it well.
Recipe originally published September 2016
Nutrition
Serving Size: 4 roll ups
Calories: 216
Sugar: 2.9 g
Sodium: 557.9 mg
Fat: 15.7 g
Carbohydrates: 8.6 g
Protein: 11.2 g
Cholesterol: 68.1 mg
Keywords: low carb, zucchini roll ups, summer, fresh