Zucchini with Mozzarella
Tender grilled zucchini halves topped with fresh mozzarella, juicy tomatoes, and basil. It's a quick and easy side that everyone loves!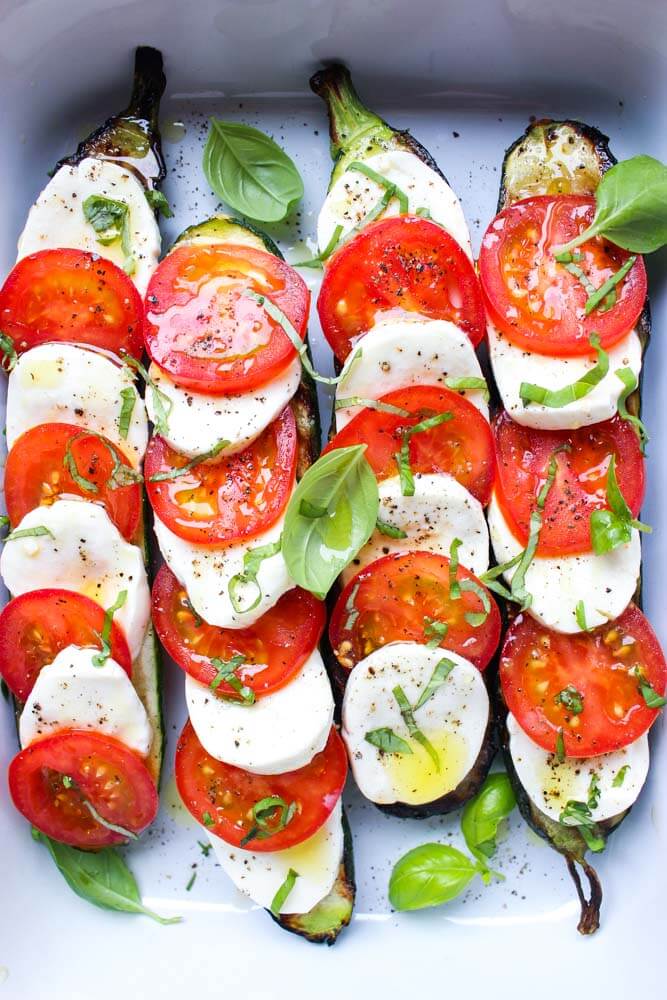 Zucchini with mozzarella and tomatoes is a bright summer dish made with grilled zucchini, juicy tomatoes, fresh mozzarella cheese, and drizzled with creamy olive oil.
This easy side dish is perfect for backyard barbecues or a simple summer lunch. Use fresh garden tomatoes and zucchini for a very tasty dish.
What is Zucchini with Mozzarella?
This zucchini with mozzarella recipe is made by grilling slices of zucchini and topping them with tomato and mozzarella slices.
It's a great way to use extra summer squash at the end of the season or especially large zucchini. You can take this delicious side dish with you to parties or eat it as a snack on hot afternoons.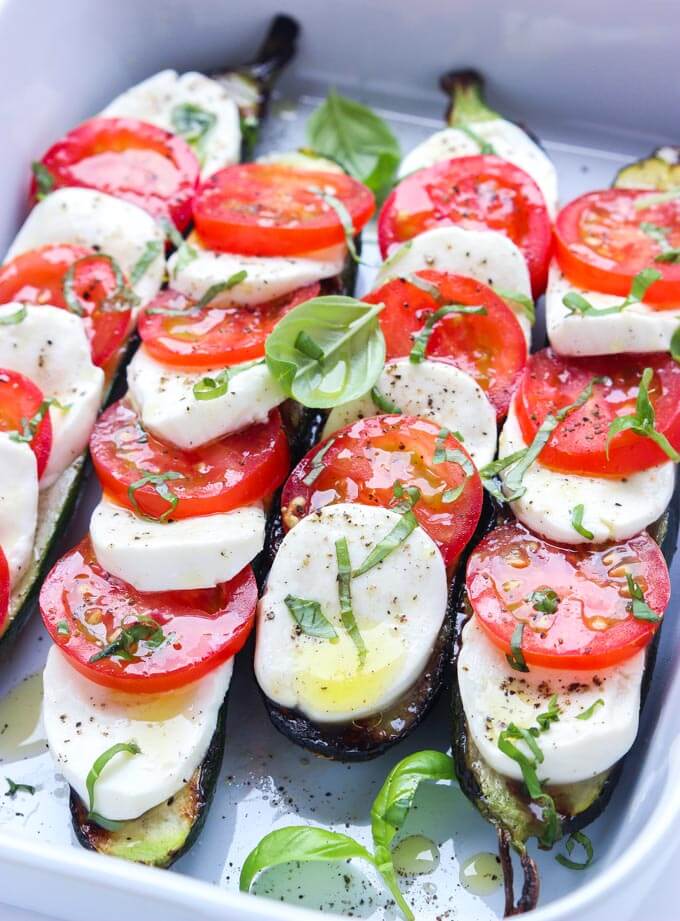 How to choose the best tomatoes
Fresh summer tomatoes are delicious, especially when you pick them right from your own garden. You can buy ripe tomatoes from a farmer's market or the grocery store. If you buy them from the grocery store, be sure they are locally grown for the best flavor.
The simplest way to ensure your tomatoes are ready to eat is to look for that bright red color. They will also smell earthy and strongly of tomato.
Ingredients
This dish is made with simple ingredients of fresh vegetables that you can find at the grocery store or in your own backyard.
Zucchini
Tomatoes
Fresh mozzarella
Garlic powder
Fresh basil leaves
Olive oil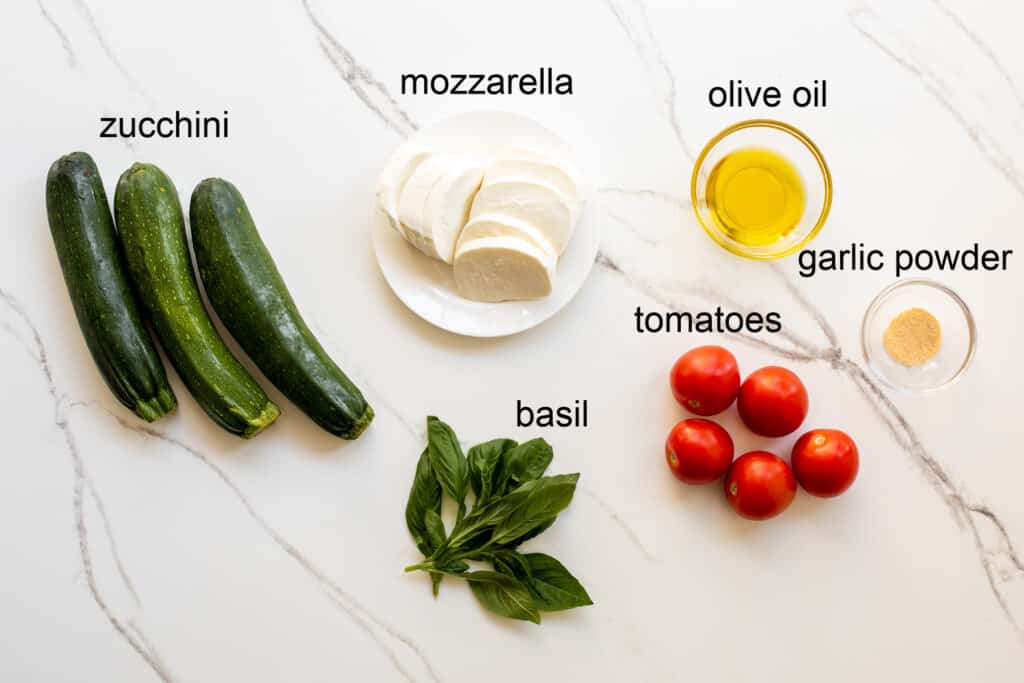 How to Make Zucchini with Mozzarella
This zucchini will be one of your favorite ways to use up a big zucchini from your garden. These brief instructions will show you how to make this dish. See the full recipe carb below for additional details.
Grill the zucchini: Drizzle the halved zucchini with olive oil and season with garlic powder, salt, and pepper. Grill the zucchini on each side for a few minutes until tender.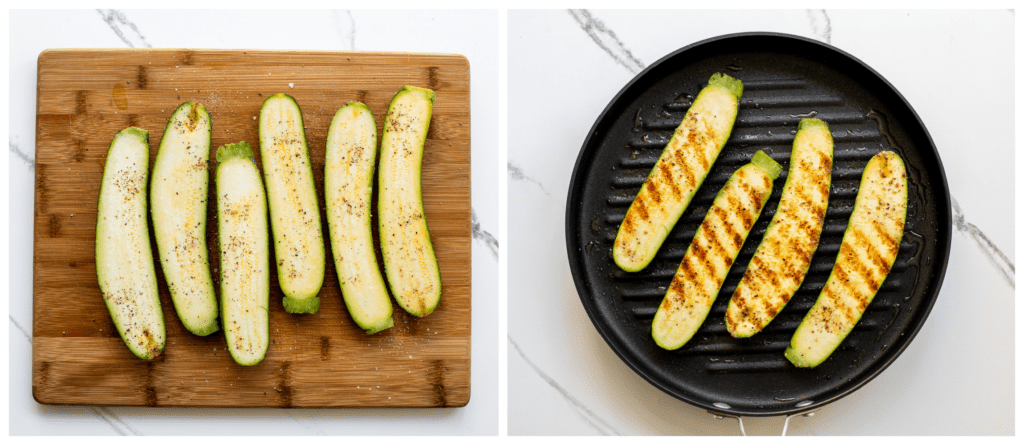 Assemble and serve: Slice the tomatoes and mozzarella into the same size rounds. Layer the mozzarella and tomatoes on top of the grilled zucchini and serve.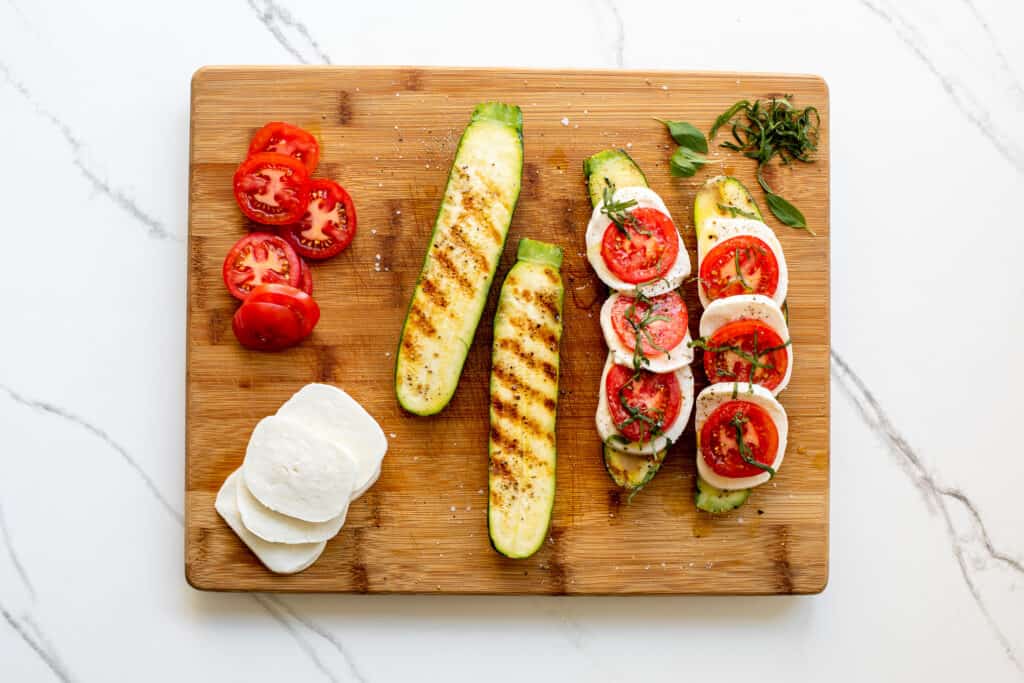 Recipe Tips
Don't overcook the zucchini. It should be soft all the way through but not mushy.
Before grilling, make sure to clean and oil the grill grates.
Buy fresh mozzarella that's tightly packed in its own liquid
The basil should be fresh and have no brown spots or be wilted.
Feel free to add a drizzle of balsamic glaze for added sweetness.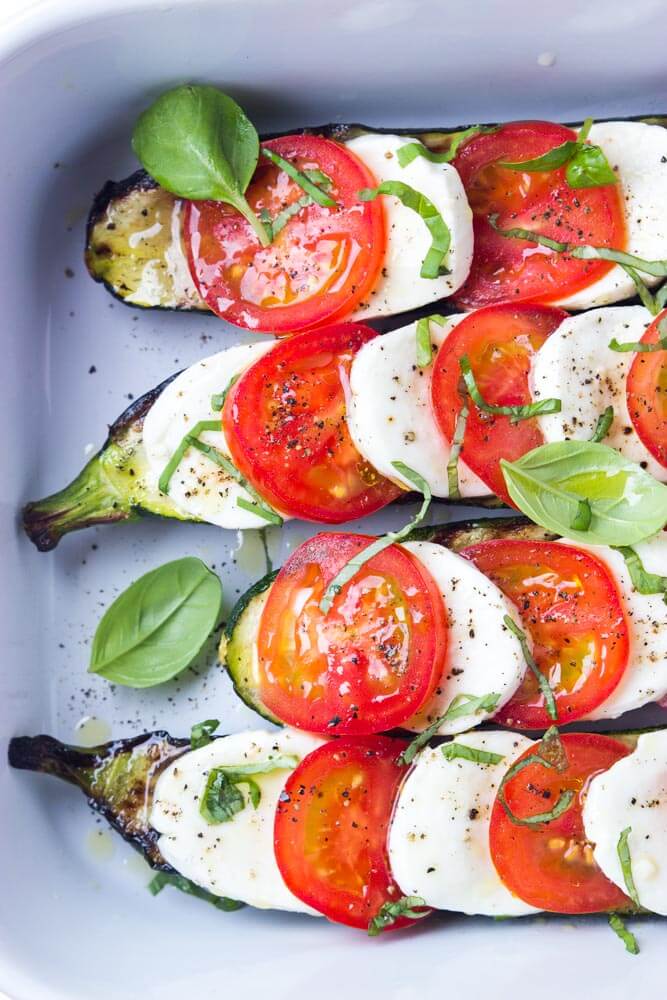 Other ways to cook the zucchini
If you don't have access to a grill or aren't able to use yours, there are other ways you can make this great side dish.
Roast: Roast the zucchini slices in the oven or air fryer for a few minutes until it's hot but not mushy.
Saute: Use a grill pan or regular saute pan to cook the zucchini on the stove, and then top with the mozzarella and a slice of tomato.
Variations
Here are some variations to make zucchini with mozzarella. This easy recipe is a spin on a classic caprese salad and is easily adaptable.
Substitute fresh herbs like dill, tarragon, parsley, or thyme for the fresh basil.
Turn it into stuffed zucchini by scooping out the middle and baking.
Add breadcrumbs or chopped nuts to add texture.
Add other seasonings like onion powder or paprika.
Try a different cheese like, parmesan cheese, Monterey jack, cheddar, Havarti.
Use yellow squash instead of zucchini.
Make a zucchini tomato casserole with the ingredients.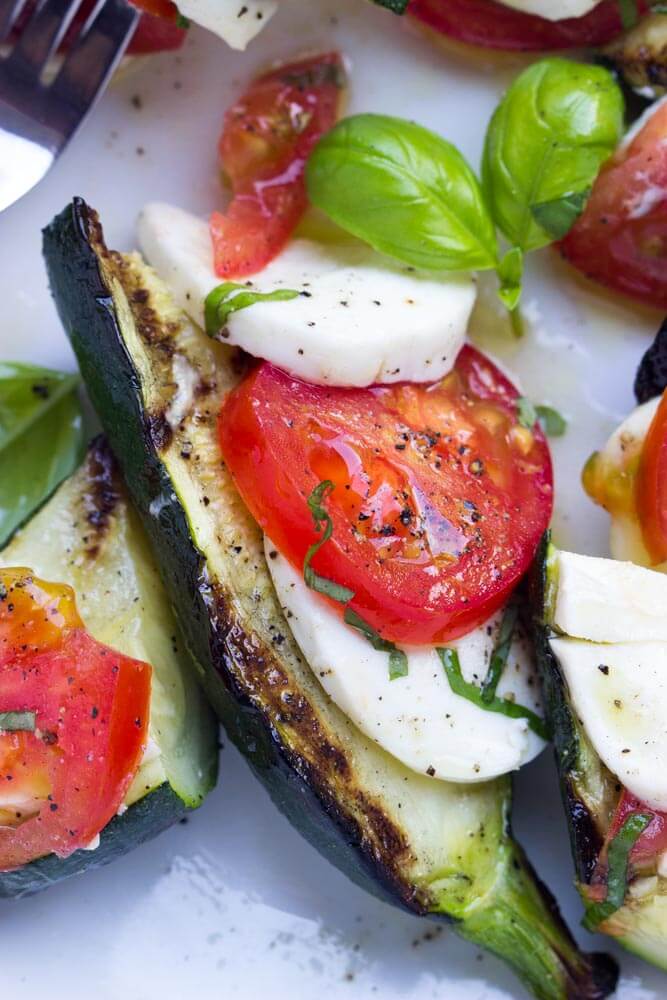 How to serve
Serve this fresh zucchini drizzled with balsamic glaze and good olive oil or sprinkled with fresh Italian herbs. It pairs wonderfully with summer dinners like grilled chicken breast, salmon, or other healthy recipes.
You can also serve it with jalapeno turkey burgers, chicken gyros, pesto pasta, or shrimp alfredo with broccoli.
How to store
To refrigerate Store leftover zucchini, mozzarella, and tomatoes in an airtight container in the fridge for up to three days. The zucchini will get soft sitting in the fridge, but it's still delicious eaten cold with the other ingredients for a snack or lunch the next day.
To meal prep: If you'd like to prep this dish to serve later in the day, you can slice the tomatoes and mozzarella and keep them in separate containers in the refrigerator. Wait to slice the zucchini until right before you're ready to grill so that it doesn't oxidize and turn brown in the meantime.
Frequently Asked Questions
Can I freeze zucchini for later?
Zucchini is mostly made of water and doesn't freeze well. The good thing about this dish is that it can easily be made from scratch in no time.
Why is my zucchini soggy?
Zucchini can get soggy after it's been cooked. You can place the grilled zucchini slices on paper towels on a plate for a few minutes before serving them. This will absorb any extra liquid that may still be coming from your zucchini.
What's another way to cut the zucchini? 
If you have an especially large zucchini, you can cut it into ¼-inch thick rounds instead of cutting the zucchini in half lengthwise. This will give you more slices that you can serve at a party.  
Love zucchini recipes? Try our Summer Squash Salad or Roasted Parmesan Zucchini.
Print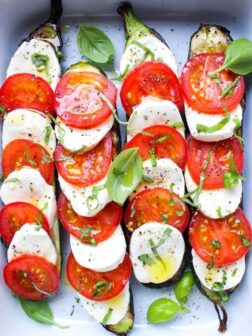 Zucchini with Mozzarella
Author: Katya
Prep Time: 15 mins
Cook Time: 5 mins
Total Time: 20 mins
Yield: 8 1x
Category: Side
Method: Grilled
Cuisine: Italian
---
Description
Tender grilled zucchini halves topped with fresh mozzarella, juicy tomatoes, and basil. It's a quick and easy side that everyone loves!
---
3 medium zucchini (1 1/2 lbs.), cut lengthwise
5 campari tomatoes or similar, sliced 1/2 – inch thick
8–10 oz. fresh mozzarella cheese, thinly sliced
1/4 tsp. garlic powder
Fresh basil leaves, julienned
Olive oil
Kosher salt and fresh ground black pepper
Balsamic glaze, for serving, optional
---
Instructions
Rub zucchini halves with little olive oil all over. Sprinkle with garlic powder and season with salt and black pepper, to taste.
Preheat an outdoor gas grill on medium heat. Clean and oil the grill grates. 
Grill the zucchini for 3-5 minutes per side or just until knife tender. Zucchini should be tender all the way through but not mushy. Cook time will depend on the thickness of the zucchini.
Remove the grilled zucchini to a serving platter cut side up. Top with mozzarella cheese and tomatoes in an overlapping pattern. Sprinkle with basil and drizzle with olive oil. Season with additional salt and fresh ground black pepper as needed.
Slice into serving pieces and serve immediately or at room temperature. It also tastes well chilled the next day. 
---
Notes
Tomatoes: Tomatoes on the vine can also be used.
Mozzarella: Narrow mozzarella logs work best for this recipe
Grill pan: Cook time will be a little more on a grill pan, especially if the zucchini is thick. Zucchini should be soft all the way through but not mushy. Make sure to lightly oil the pan. 
Recipe originally published March 2015
Nutrition
Serving Size: 1/2 zucchini half with toppings
Calories: 109
Sugar: 1.5 g
Sodium: 195.2 mg
Fat: 7.4 g
Carbohydrates: 3.9 g
Protein: 7.2 g
Cholesterol: 18.4 mg
Keywords: summer, easy, fresh, vegetable