Poppyseed Rugelach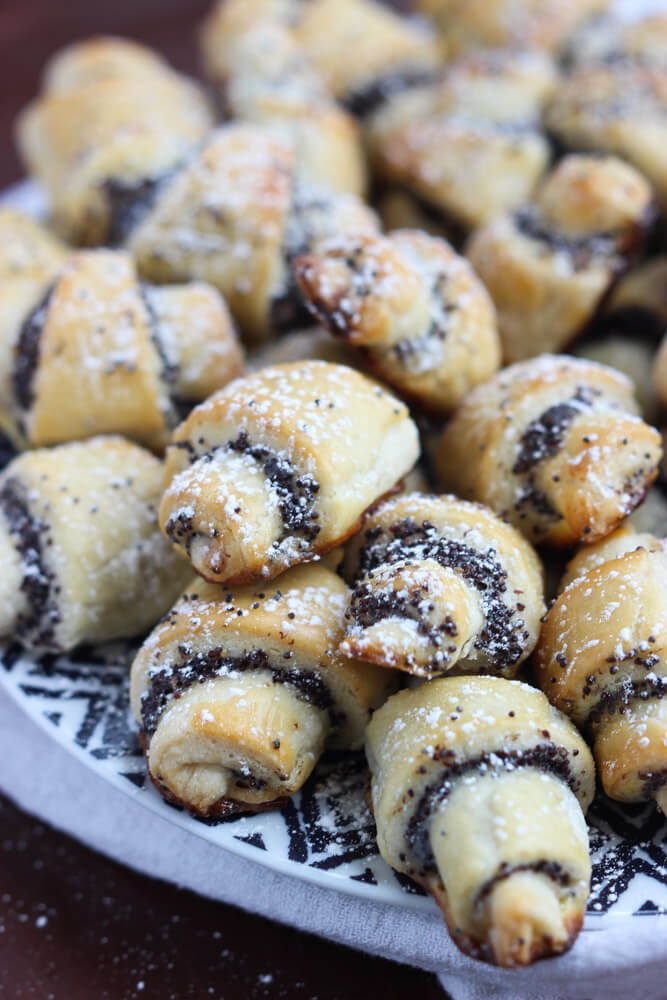 Happy weekend friends! I'm counting down to the last few days left of my 12 Days of Baking Extravaganza! And oh, what an extravaganza its been! Not going to lie, I'm a little relieved that I can go back to making savory dishes and don't have to look at butter, flour and sugar till…maybe next year? I've had a lot of fun baking this year and happy that I got to share some of the goodies with you virtually and also my superb taste testers. I've gotten really great feedback and looking forward to doing it all over again next year!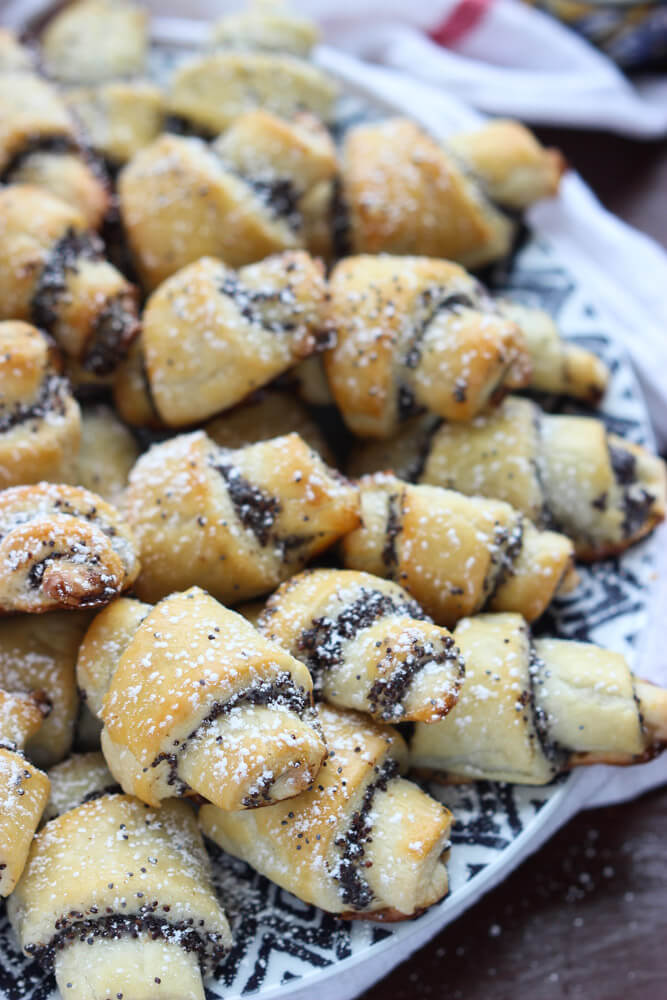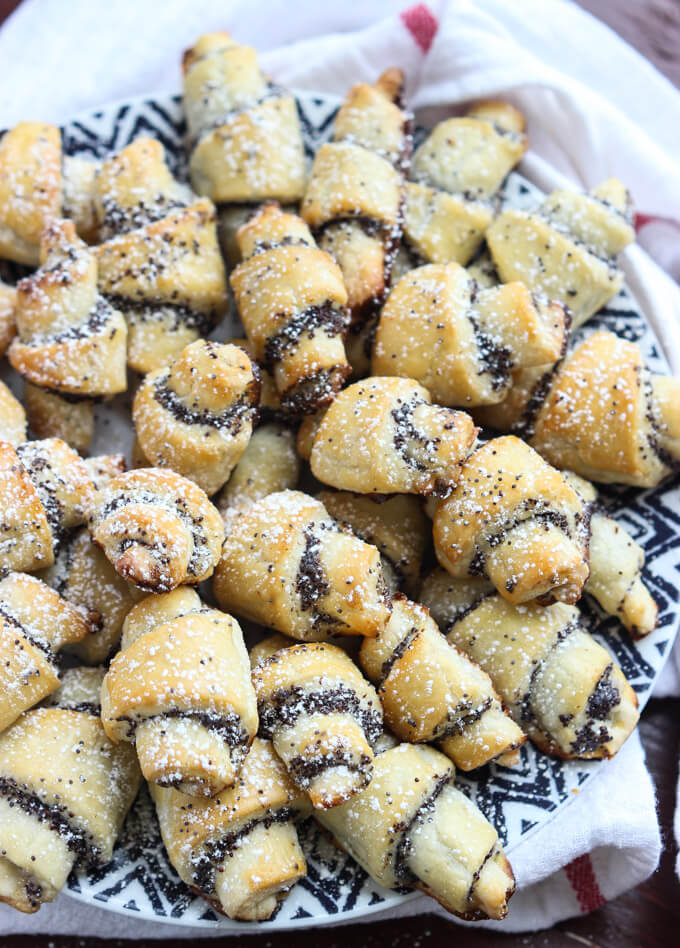 Now moving on to these delicious Poppyseed Rugelach cookies. I grew up eating what seems like loads of pastries with poppy seeds. Not sure whether it's a Russian thing or what but poppy seeds have a nutty taste and go well in baked goods. I also love them in salad dressings. This Poppy Seed Filling is super delicious and can be used in so many different pastries, baked goods, breads….you name it. This Poppy Seed Filling comes from one of my favorite Russia foodies, Natasha's Kitchen. You can find more in depth step-by-step photos on her blog.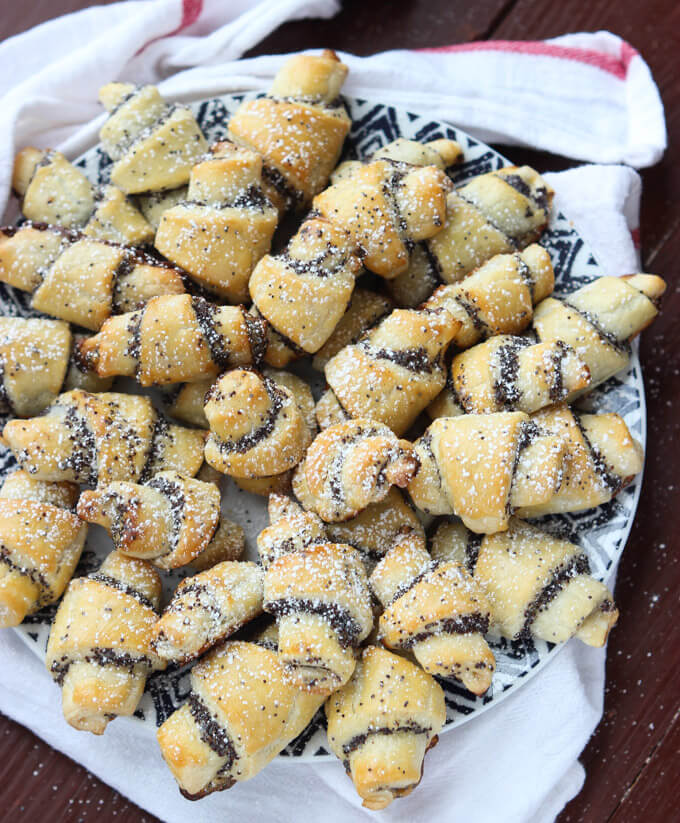 I used a simple dough recipe to which I added cream cheese . You will love it because it is SUPER EASY to work with! It's soft and just works so well with a rolling pin. Probably one of my favorites that I've worked with so far. You do need a little time to allow the dough to rest. You can prepare the cookies couple days in advance. They hold up really well and taste amazing even after being stored in an airtight container at room temperate.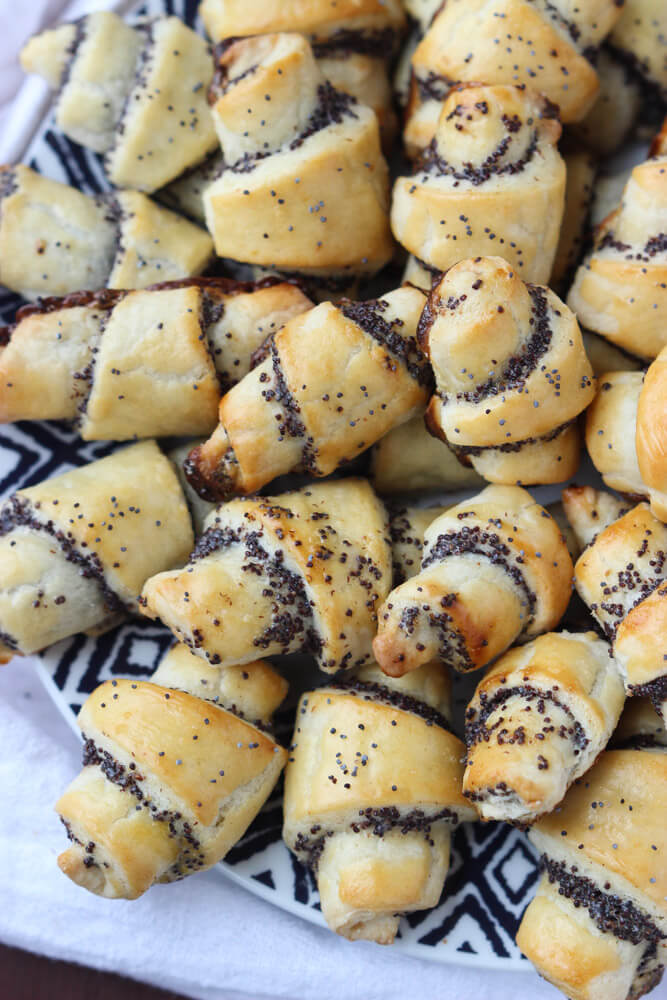 I love them with hot tea and they also make great dessert presentation for a large party as one recipe yields about 50 of these delicate little cookies.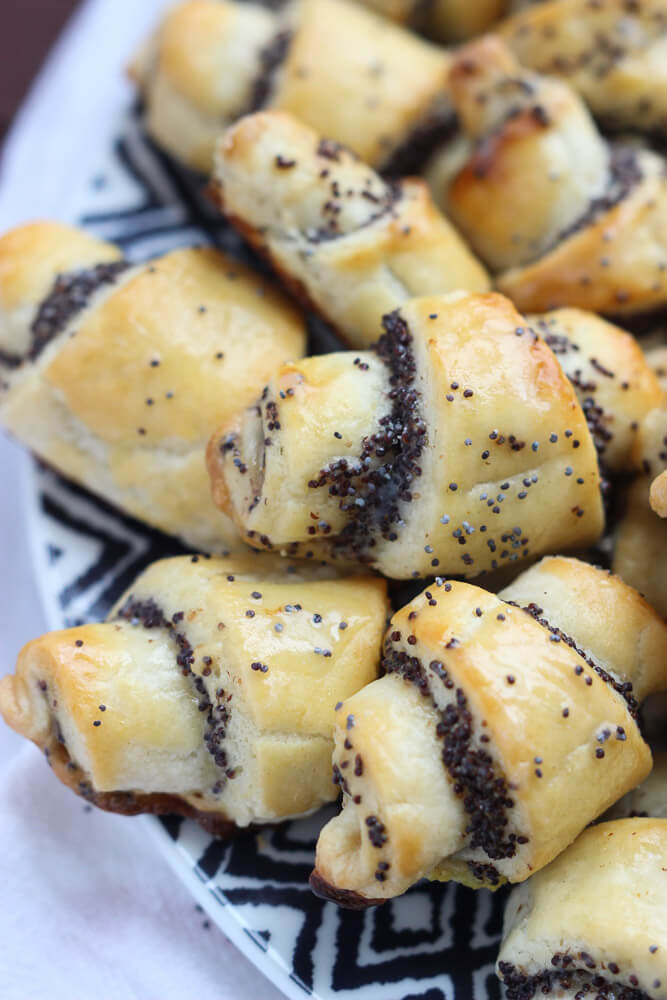 Love cookies? Try our Orange Ricotta Cookies.
Print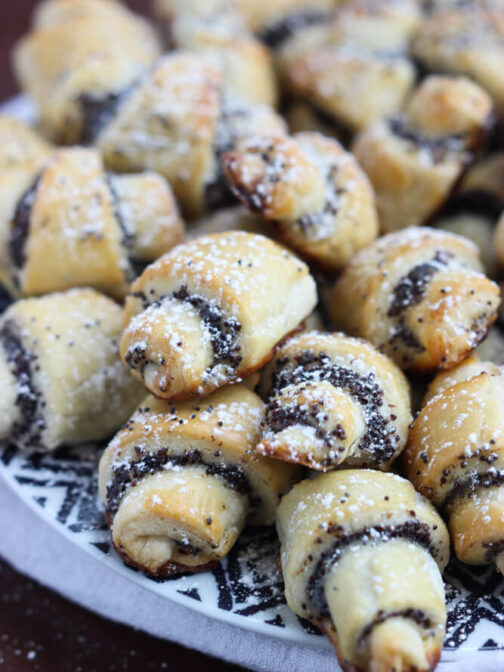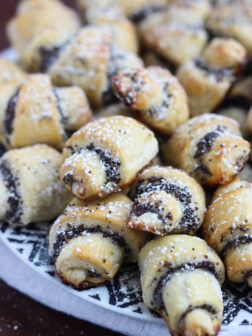 Poppyseed Rugelach
Prep Time: 1 hour 15 mins
Cook Time: 20 mins
Total Time: 1 hour 35 mins
Yield: 50 cookies 1x
---
Poppyseed Filling:
1 cup poppy seeds (available at Whole Foods -bulk foods section)
8–10 oz. sweetened condensed milk
Dough:
1 (8 oz.) cream cheese, softened
1 cup unsalted butter, at room temperature
1/4 cup granulated sugar
1 tsp. lemon zest
1 tsp. vanilla
1/4 tsp. salt
2 cups all-purpose flour
1 egg
1 Tbsp. milk
confectioners sugar (optional)
---
Instructions
Poppyseed Filling:
Rinse the poppy seeds under cold water in a fine mesh colander; transfer to a medium saucepan with 3 cups of cold water. Bring to a simmer over medium heat (do not boil). Remove from the heat and let sit in the saucepan, covered, for 30 minutes at room temperature. Repeat – return the mixture to a simmer, remove from the heat and let sit for another 30 minutes at room temperature, covered.
Drain poppy seeds thoroughly, using a fine mesh colander or couple layers of cheesecloth. Squeezing as much of the water as possible.
Place the poppy seeds in a food grinder (either coffee grinder or food processor – with grinder option turned on) and grind.
Mix in 8-10 oz. (I used about 10 oz.) sweetened condensed milk into the ground poppy seeds and mix well; refrigerate until ready to use.
Dough:
In a large bowl, beat cream cheese, butter, and granulated sugar with a hand held mixer on medium speed. Beat in lemon zest, vanilla, and salt. Gradually beat in flour on low speed until combined.
Divide the dough into four portions and wrap each portion in plastic wrap. Chill in the refrigerator for 1 hour.
On a lightly floured surface, roll one portion of the dough at a time into a 9-inch circle. Spread 1/4 cup of the poppy seed filling over circle, leaving 1/2-inch uncovered edge.
With a sharp knife, cut circle into 12 wedges. Starting at the wide end of each wedge, roll up toward the center. Place each pastry on a parchment lined baking sheet 1-inch apart; cover and refrigerate for 45 minutes.
Preheat the oven to 350F.
In a small bowl, whisk the egg with milk. Brush each pastry with egg wash. Bake for 15-20 minutes or until lightly golden. Transfer to a wire rack to cool.
Sift powdered sugar over the pastries and serve.
---
Notes
Time Management Tip: prepare the poppyseed filling while the dough is chilling.
**Total prep time does not take into consideration the time it takes to chill the dough**
Dough recipe adapted from Betty Homes Magazine "100 Best Cookies" 2014 and Poppy Seed Filling from Natasha's Kitchen