Poppyseed Rugelach
Poppyseed rugelach are rich and flaky crescent-shaped cookies wrapped around a delicious poppyseed filling. It's a staple pastry to make around the holidays!
This Poppy Seed Rugelach takes a traditional holiday cookie recipe and elevates it with bright flavors, all wrapped in a rich and flaky crescent-shaped pastry. It starts with a simple cream cheese dough recipe filled with a nutty poppy seed filling rolled and baked for a crispy, flakey holiday treat.
I love adding this Rugelach pastry recipe to treat gifts around the holidays for friends and family. You can make and freeze ahead of time for quick baking and enjoy fresh baked goods whenever you like.
These poppyseed rugelach's are perfect for a dessert spread if you're having a Christmas or New Year's Eve party. Add a few other tasty snacks like chocolate-covered pretzels, holiday cake pops, and ritz cracker cookies.
What are Rugelach Cookies?
Rugelach is a pastry dough made with butter and cream cheese rolled into small crescent-shaped rolls for a rich and flaky cookie. Traditional rugelach cookies are filled with cinnamon sugar nuts and a variety of other sweet fillings such as preserves and fruit.
Reasons to Love Poppyseed Rugelach Pastry
The best rich pastry – This recipe takes an unbelievably easy dough and adds in cream cheese for richness and lemon zest for a pop of bright citrus flavor for the ultimate buttery, flaky cookie.
Tasty poppyseed filling – If you opt to make the filling homemade, try this recipe from Natasha's Kitchen. Or, you can buy it premade to make this a quick cookie recipe.
A great holiday cookie – I love a traditional rugelach cookie filled with nuts, fruits, and cinnamon sugar, so this twist with poppy seeds and citrus is a delightful surprise. They are perfect for baking around the holidays and gifting, too. It's a true conversation starter with unique flavors and such a fantastic pastry that's similar to a croissant.
Exchangeable filling possibilities – The poppy seed filling has the best nutty flavor and slightly chewy bite, but you can also use other fillings. Get creative, start with the base dough recipe, and choose a different filling for endless options.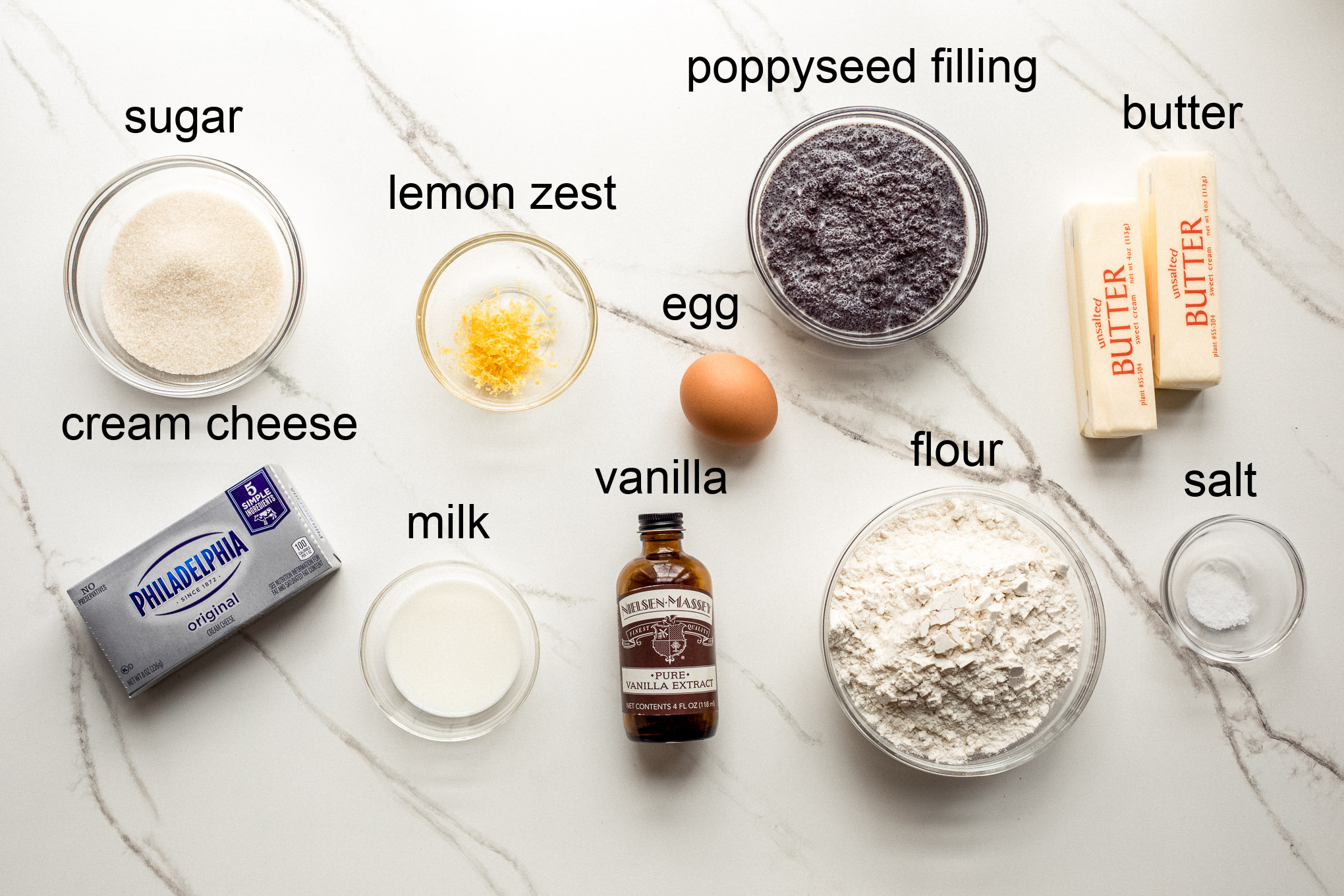 Ingredients
The cream cheese dough for this rugelach pastry uses basic pantry ingredients for an easy cookie. The poppyseed filling is an extra step but well worth it for these little nutty cookies.
Cream cheese and butter – To ensure that the cream cheese and butter mix into the dough well, bring it to room temperature first.
Dry ingredients – sugar, all-purpose flour, and salt. Use the spoon and level method when measuring the flour to ensure the proper amount.
Lemon zest – Freshly zested lemons add a punch of bright citrus flavor. You could also use orange zest to switch up the flavor.
Vanilla extract – Adds just the right amount of sweetness to balance the flavors of the dough.
Eggwash – Combine egg and milk to brush the top of the cookies to create a beautiful golden flaky crust.
Poppyseed filling – Do you have a meat grinder or a high-power coffee grinder? Then I suggest making your poppyseed filling! I LOVE Natasha's Kitchen poppyseed filling recipe as it's a straightforward and traditional Russian recipe. Alternatively, you can purchase the filling from the store and still get delicious results.
See the recipe card for quantities.
How to Make Poppyseed Rugelach
This is such an easy rolled cookie recipe with the best dough made with cream cheese and a sweet chewy filling. There's that extra downtime while the dough is chilling, but it is well worth the wait!
Place the softened cream cheese and butter in a large bowl with sugar and beat until light and fluffy. Add in the zest, vanilla, and salt.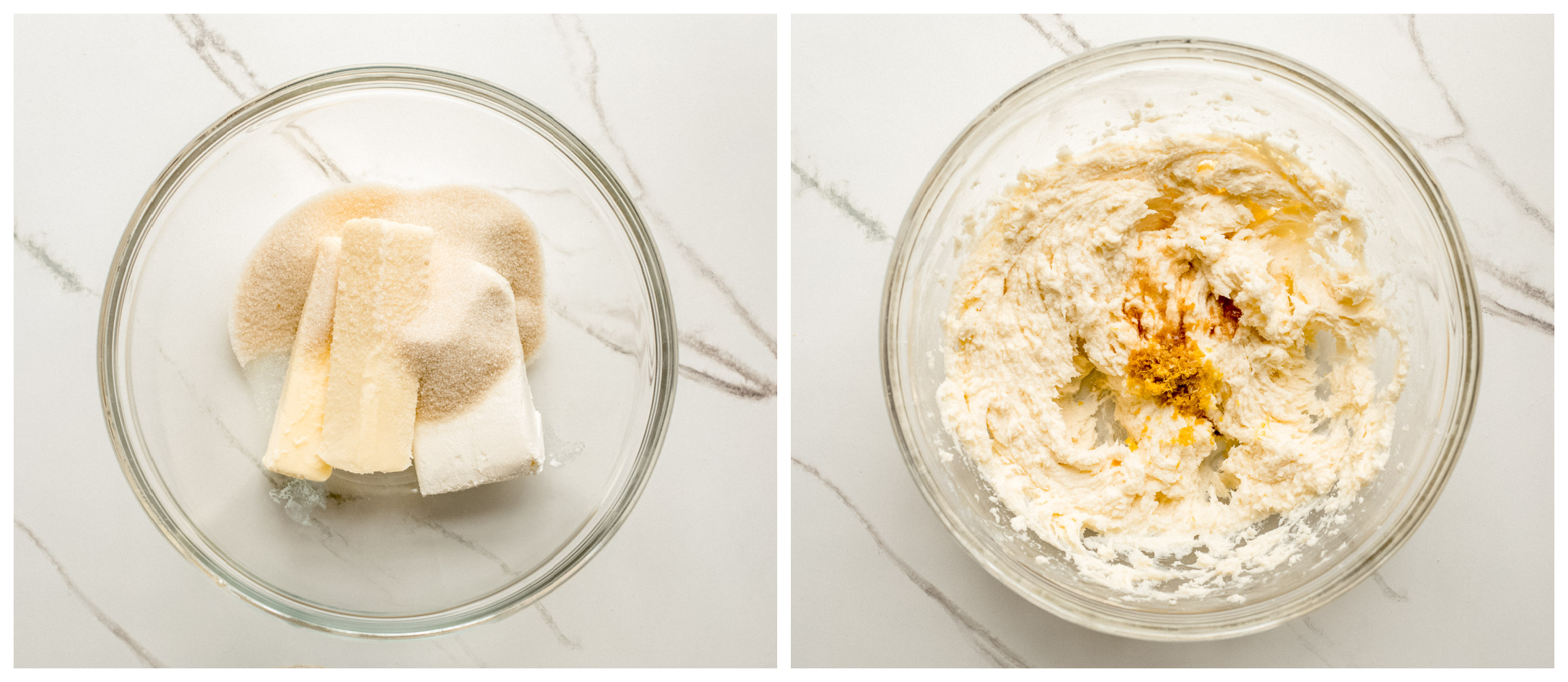 Gradually add in the flour until well combined. Divide the dough into 4 equal portions.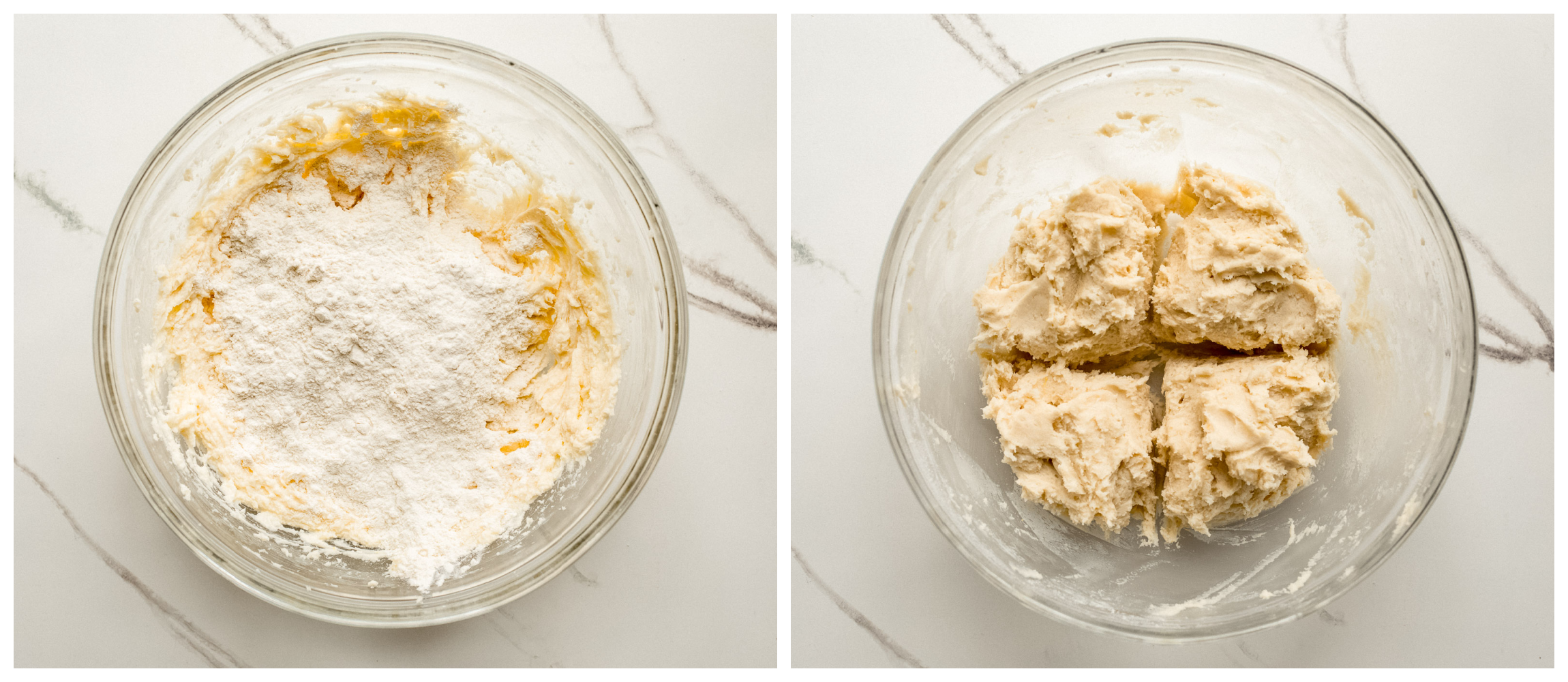 Flatten each dough into a flat disc and wrap it with plastic wrap. Allow to chill in the refrigerator for at least an hour.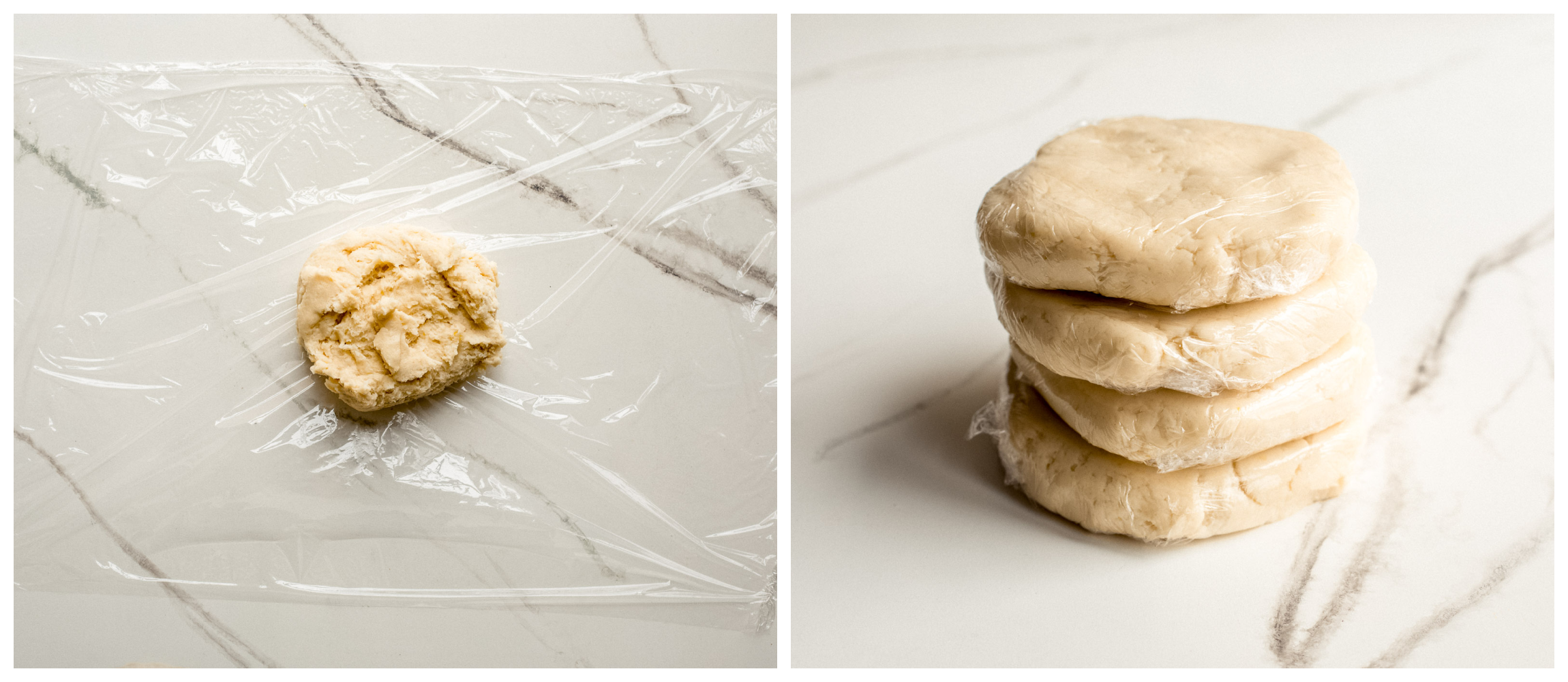 Lightly flour your surface, place a single dough disc out, and roll it into a circle. Spread the poppyseed filling over the rolled-out dough, leaving the edge uncovered.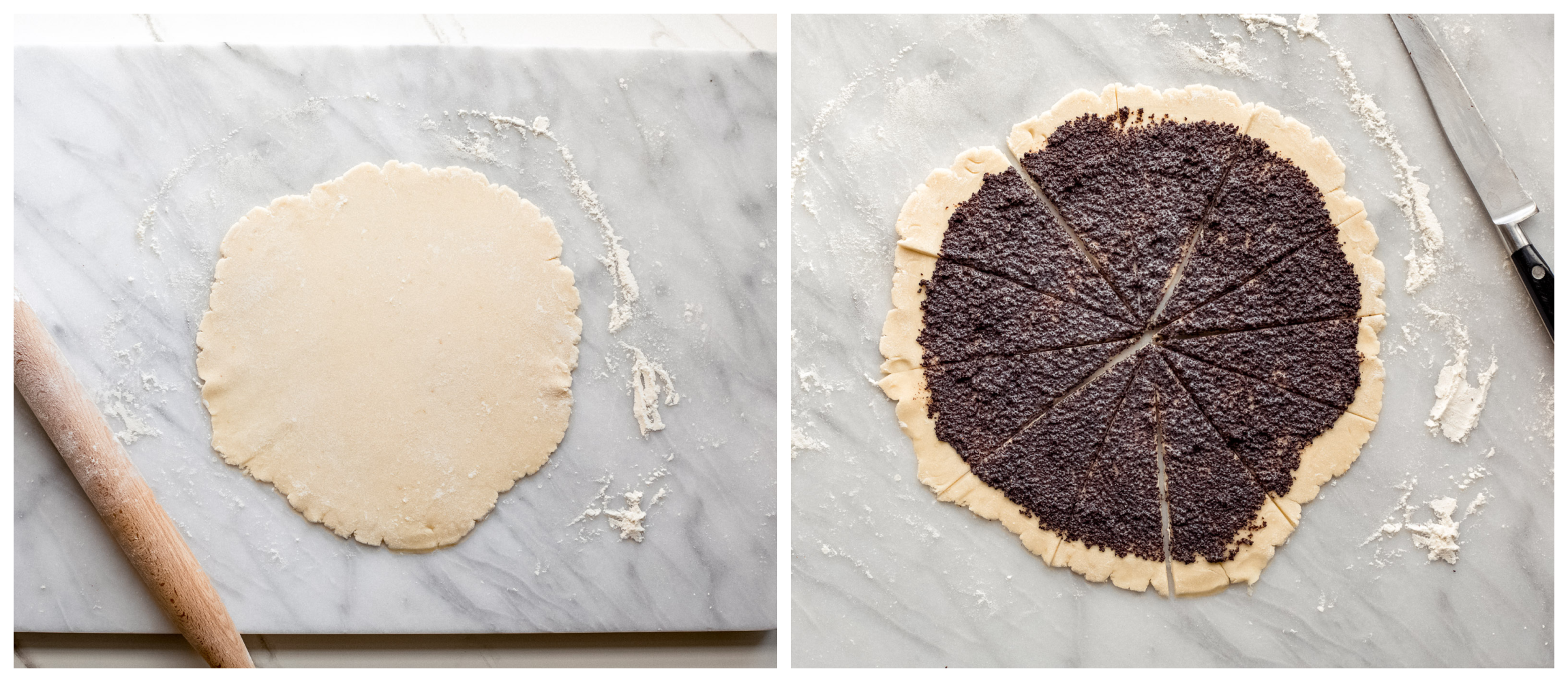 Use a sharp knife to cut the circle into even wedges and then roll each wedge from the outermost part to the inside, creating a crescent-rolled shape. Chill rolled rugelach for 30 minutes. Brush with egg wash.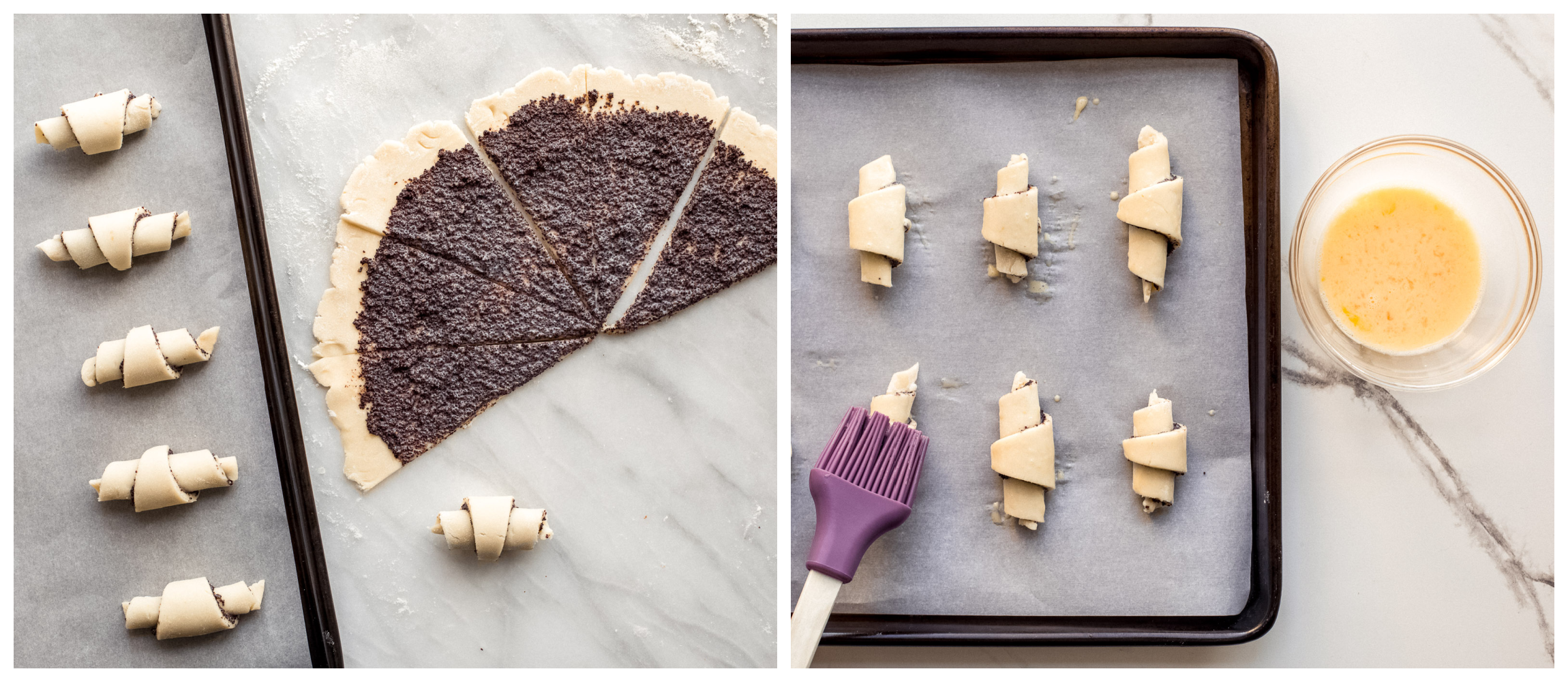 Bake until golden brown. Transfer to a wire rack to finish cooling and finish with a sifting of powdered sugar.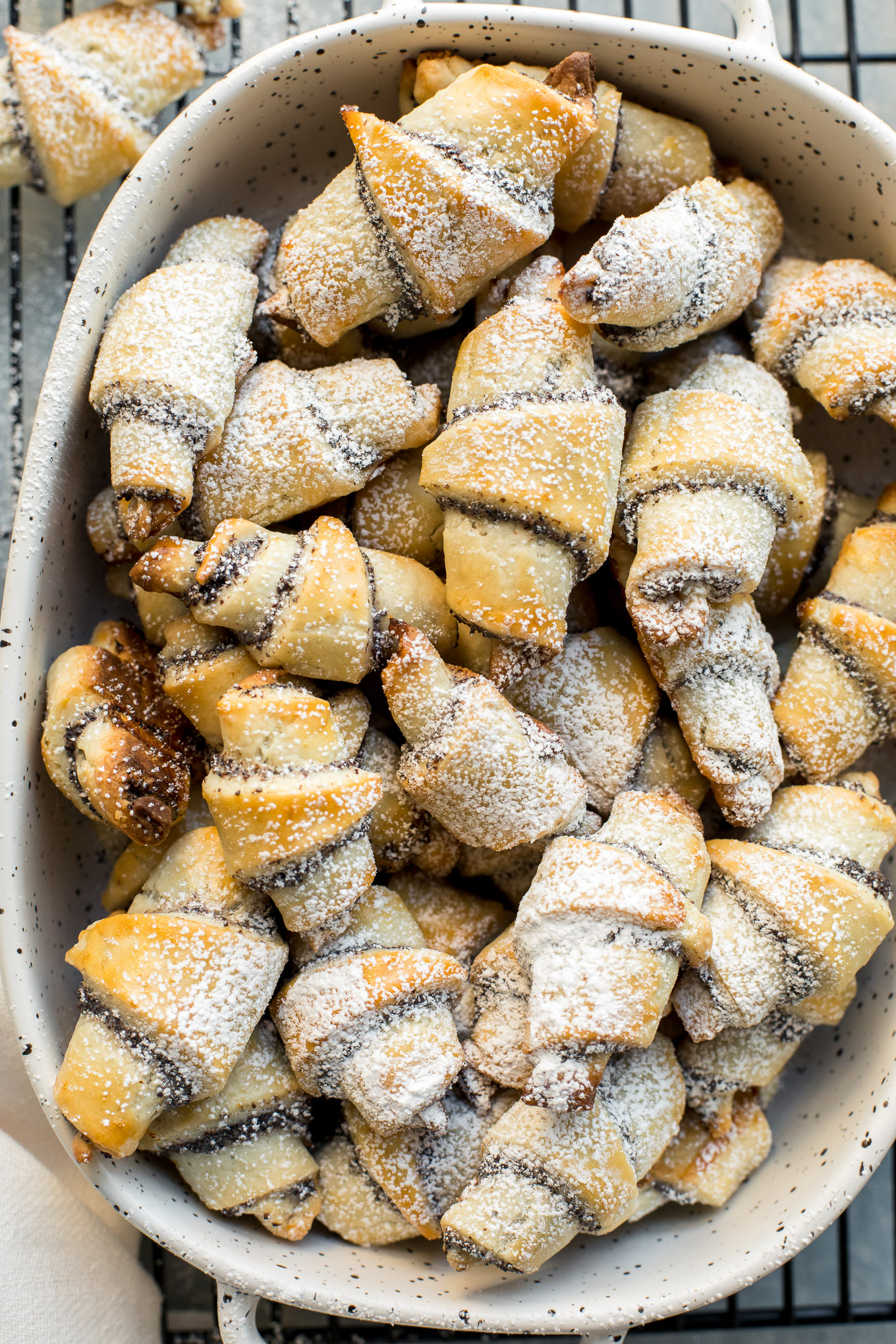 Tips for Making Rugelach Pastries
These little cookies are crave-worthy with their flaky, buttery rich pastry dough. They're perfect for special occasions but easy enough to make whenever you desire a delicious pastry. Plus, you can create new and exciting fillings to match the buttery cookie.
Chill the dough! Chilling the pastry dough is imperative for the best flaky texture. Because we started with room-temperature cream cheese and butter, this step of cooling the dough allows the flour to fully absorbed the ingredients and cools the dairy additions. Once you start to bake the cold dough, it will release steam and make for a flaky pastry.
Make the pastry dough ahead of time. You can make the dough up to a day ahead of time and allow it to chill in the fridge until ready to use. Or, freeze the dough for a few months. Even the prepared unbaked rugelach cookies can be frozen until ready to bake.
Switch up the filling. Instead of the poppyseed filling, line the inside of this rolled pastry with jam, nut kinds of butter, and chopped or ground nuts such as pistachios, walnuts, pecans, almonds, or Nutella.
Add a glaze. Instead of powdered sugar, top with a lemon zest glaze by combining 2 cups powdered sugar, 2 tablespoons softened butter, a teaspoon of vanilla, 3-4 tablespoons milk, and lemon zest. Drizzle, pour, or dip your poppyseed rugelach pastries in the glaze for a sweet bite.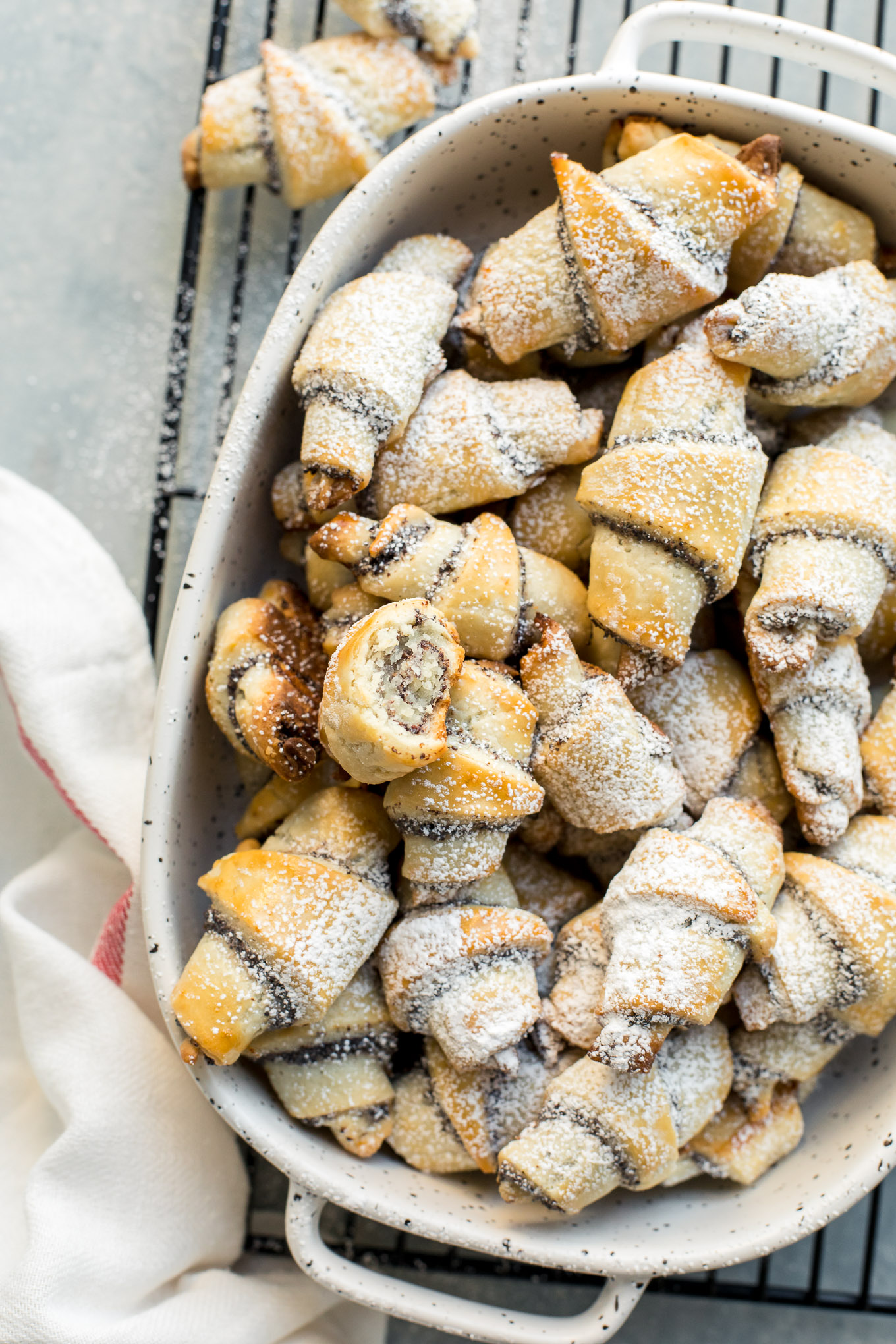 Storage
Store leftovers in an air-tight container for up to a week at room temperature or in the refrigerator for over a week.
To freeze: Freeze the pastry dough tightly wrapped in plastic for up to 3 months. Thaw in the refrigerator overnight.
For unbaked prepared cookies, place them on a baking sheet in the freezer until solid. Transfer to an air-tight container before freezing. When ready to bake, simply place the frozen pastries on a parchment-lined baking sheet and bake straight from frozen, adding a few extra minutes to the bake time.
More Dessert Recipes
Print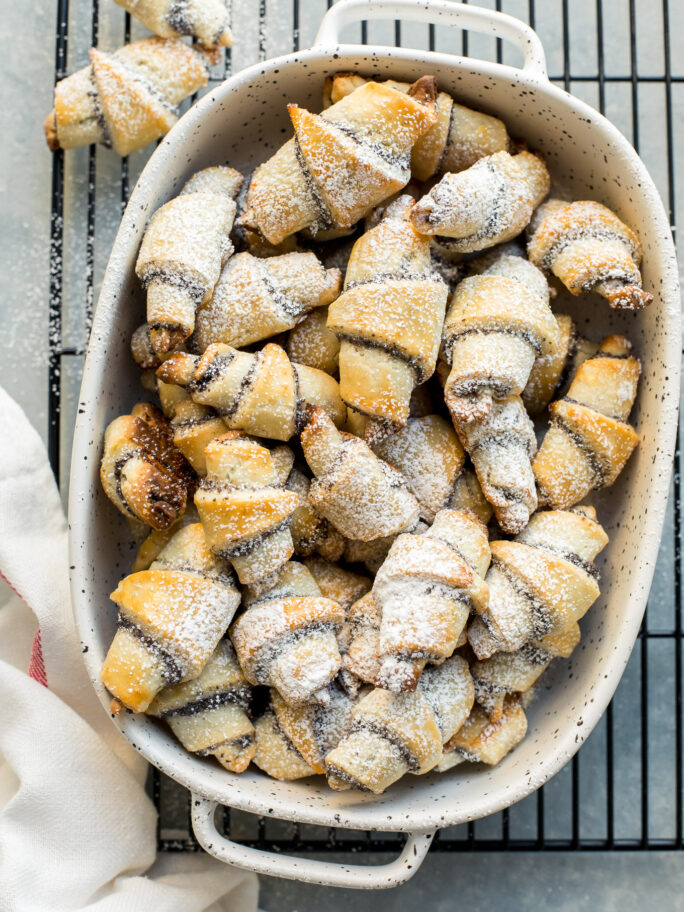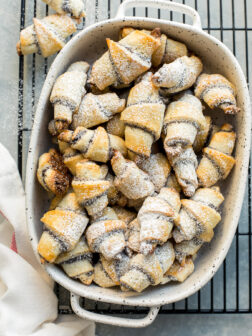 Poppyseed Rugelach
Author: Katya
Prep Time: 2 hrs 30 min
Cook Time: 20 mins
Total Time: 2 hrs 50 min
Yield: 4 dozen 1x
Category: Dessert
Method: Baked
Cuisine: American
---
Description
Poppyseed rugelach are rich and flaky crescent-shaped cookies wrapped around a delicious poppyseed filling. It's a staple pastry to make around the holidays!
---
1 (8 oz.) brick cream cheese, at room temperature
1 cup unsalted butter, at room temperature
1/2 cup granulated sugar
1 tsp. lemon zest
1 tsp. vanilla extract
1/4 tsp. salt
2 cups all-purpose flour, spoon & leveled
1 cup poppyseed filling, see note
1 egg
1 Tbsp. milk
Confectioners' sugar, optional
---
Instructions
In a large bowl, beat cream cheese, butter, and granulated sugar with a handheld mixer on medium speed until creamy. Beat in lemon zest, vanilla, and salt. Gradually beat in flour on low speed until combined.
Divide the dough into four equal portions, wrap in plastic wrap, and gently flatten into a 3/4-inch thick disc shape. Chill in the refrigerator for at least 1 hour or up to 1 day or freeze for up to 3 months and thaw overnight in the refrigerator before using. 
On a lightly floured surface, roll one portion of the dough at a time into about 10-inch circle. The dough will be hard but as you start rolling it out it will soften. If the circle is a little more than 10-inches that's okay. Mine were between 10-and-11 inches. Spread 1/4 cup of the poppyseed filling over the circle, leaving a 1/2-inch uncovered edge.
With a sharp knife or a pizza cutter, cut the circle into 12 wedges. Starting at the wide end of each wedge, roll up toward the center. Place each pastry on a parchment-lined baking sheet 1-inch apart. Do not overcrowd the pan. Cover with a dish towel and refrigerate for 30 minutes.
Preheat the oven to 350F.
In a small bowl, whisk the egg with milk. Brush each pastry with egg wash. Bake on the middle rack for 18-20 minutes. The outside should be lightly golden and the inside very soft. Do not bake longer or the cookie will be tough. Immediately, transfer to a wire rack to cool.
Sift powdered sugar over the pastries and serve.
---
Notes
Poppyseed Filling: You'll need 1 cup of poppyseed filling for this recipe. I make my own filling using this recipe from Natasha's Kitchen. It makes more than 1 cup though. I usually freeze the extra. I also tested this recipe using a store-bought poppyseed filling from this brand. You'll need 1 (12.5 oz.) can for this recipe. This specific brand of filling is a little drier than homemade. Be careful when spreading to not rip the dough.
To Store: Store leftovers in an air-tight container for up to a week at room temperature or in the refrigerator for over a week.
Nutrition
Serving Size: 2 cookies
Calories: 188
Sugar: 4.8 g
Sodium: 119.7 mg
Fat: 13.6 g
Carbohydrates: 14.3 g
Protein: 3 g
Cholesterol: 37.7 mg
Keywords: pastry, holidays, cookies
Recipe originally published December 2014, but has been updated to include new information.
You May Also Like…