Quick and Easy Potato Soup
Our Quick and Easy Potato Soup is creamy, thick, and so satisfying. It's easy to make and loaded with flavor, with a luscious creamy broth to die for.
Want more easy soup recipes? Try our Italian Wedding Soup, Sicilian Chicken Soup, Broccoli Potato Soup, or Broccoli Cheddar Soup.
Jump to:
Why This Recipe Works
Simple Recipe – Arguably the easiest potato soup recipe out there with just 6 ingredients! A lifesaver on those busy nights.
Hearty – Every bowl promises a satisfying meal, leaving you full and content, just like our turkey quinoa chili.
Roux-Free – Our recipe requires no roux. Instead, we use cream cheese as the ultra-creamy base – meaning it's a gluten-free soup.
Stuffed Full – If you love a loaded baked potato, this is the perfect recipe for you! These garlic parmesan potatoes are also great.
Ingredients
Find all the ingredients to make this easy potato soup recipe in your local grocery store: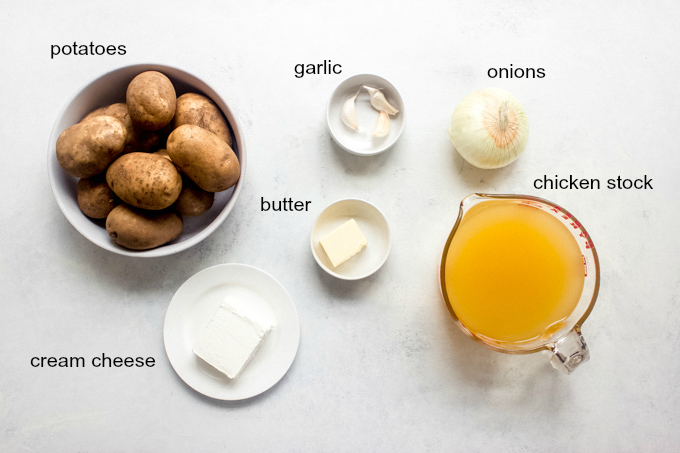 Potatoes: The body and heartiness of our creamy potato soup. We like to use Russet potatoes.
Chicken stock: Gives more depth of flavor. Homemade chicken stock is better, but store-bought broth is fine. 
Cream cheese: Key ingredient for that creamy consistency.
Butter: Brings in a lavish touch. Opt for unsalted butter for a low-sodium soup.
Onion: Adds a subtle sweetness and a bit of character.
Garlic: A little kick to take the flavor up a notch.
See the recipe card for full information on ingredients and quantities.
Choosing the Best Potatoes for Soup
Russet potatoes are the usual choice for potato soup recipes because of their high starch content and light texture. Their low moisture means they have a fluffy consistency, which is excellent for boiling.
While red or yellow potatoes remain firm with a waxy nature, Russets break down easily and blend up really well – so you get that creamy and smooth texture.
If available, Yukon Gold potatoes are another top pick. Their buttery nature and "melt in your mouth" quality makes them a great choice in soup recipes.
How to Make
Follow these step-by-step instructions to make this potato soup from scratch. To make this soup, you'll also need at least a 4-quart dutch oven and a food-processor or blender. 
Melt butter in the Dutch oven and cook onions until soft. Stir in garlic and cook for about 30 seconds or until fragrant.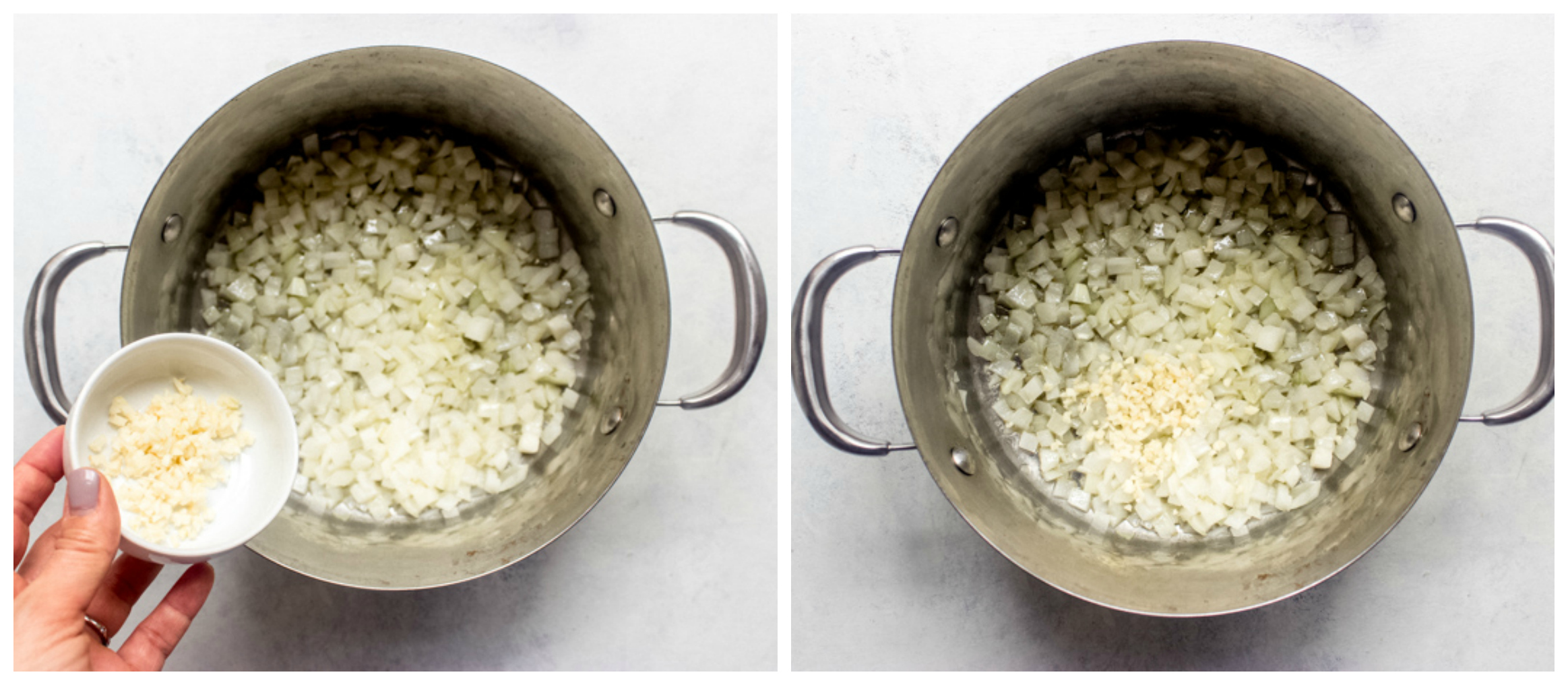 Stir in potatoes and chicken stock. Bring to a boil, reduce heat to a simmer, and cook until potatoes are knife tender.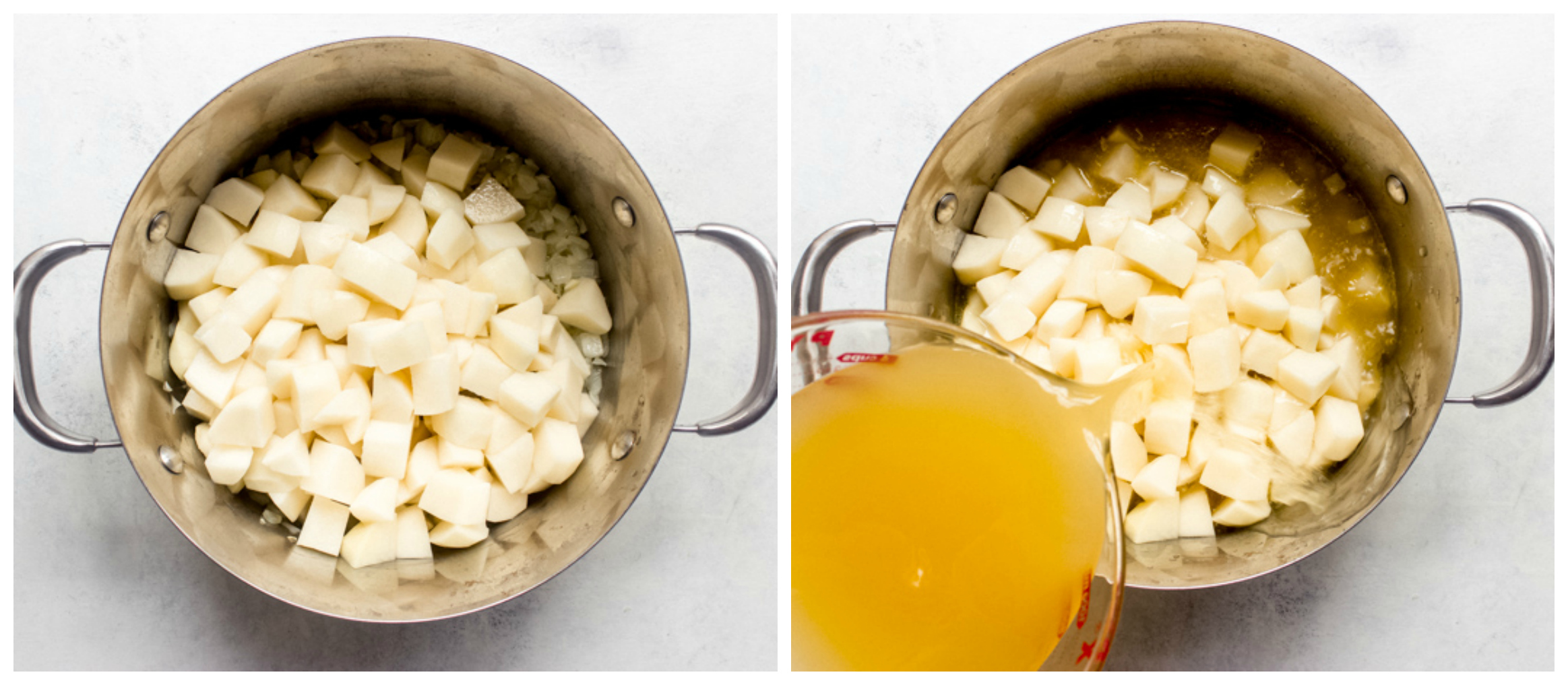 Add 3 cups of the soup mixture into a food-processor or blender. Add cream cheese and blend just until smooth. Do not over blend otherwise the mixture will turn gummy.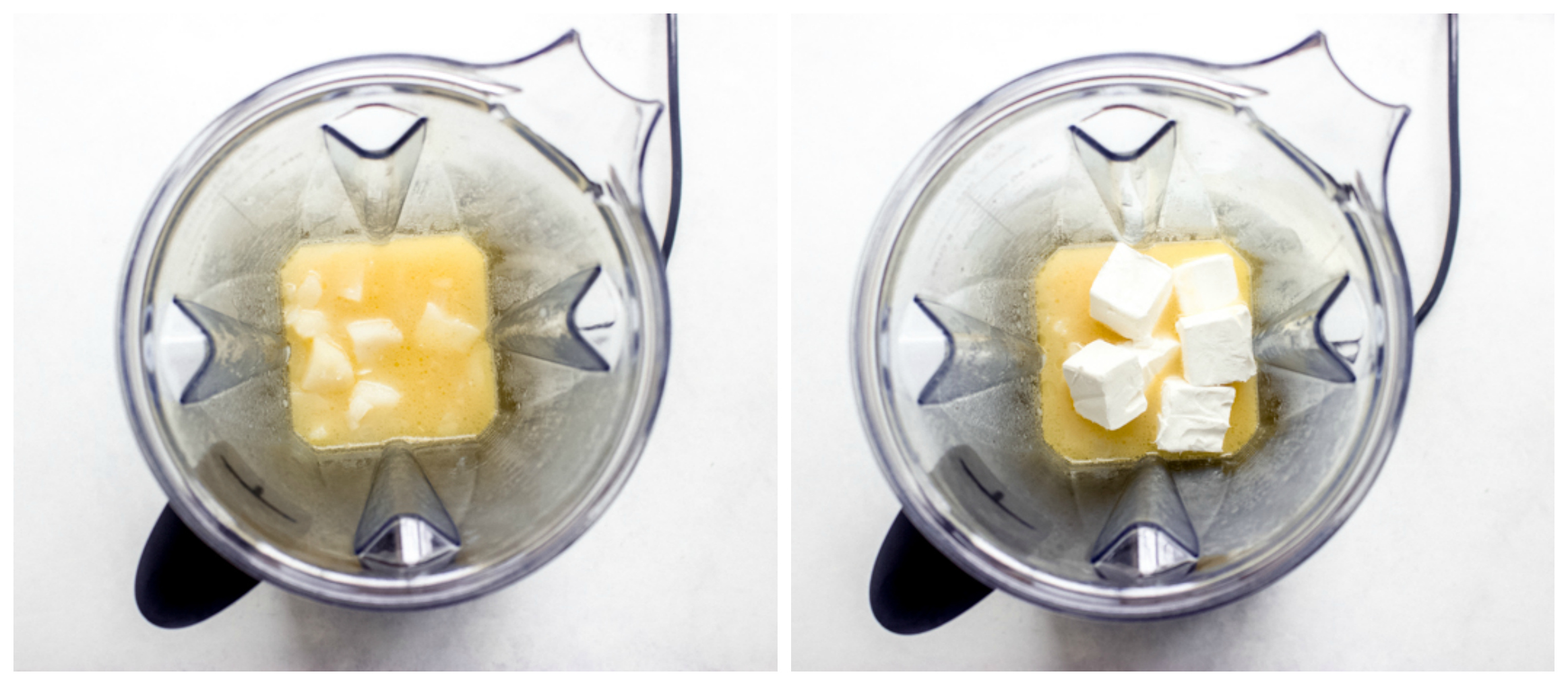 Stir the puréed mixture back into the soup. Taste the soup for salt and pepper before serving.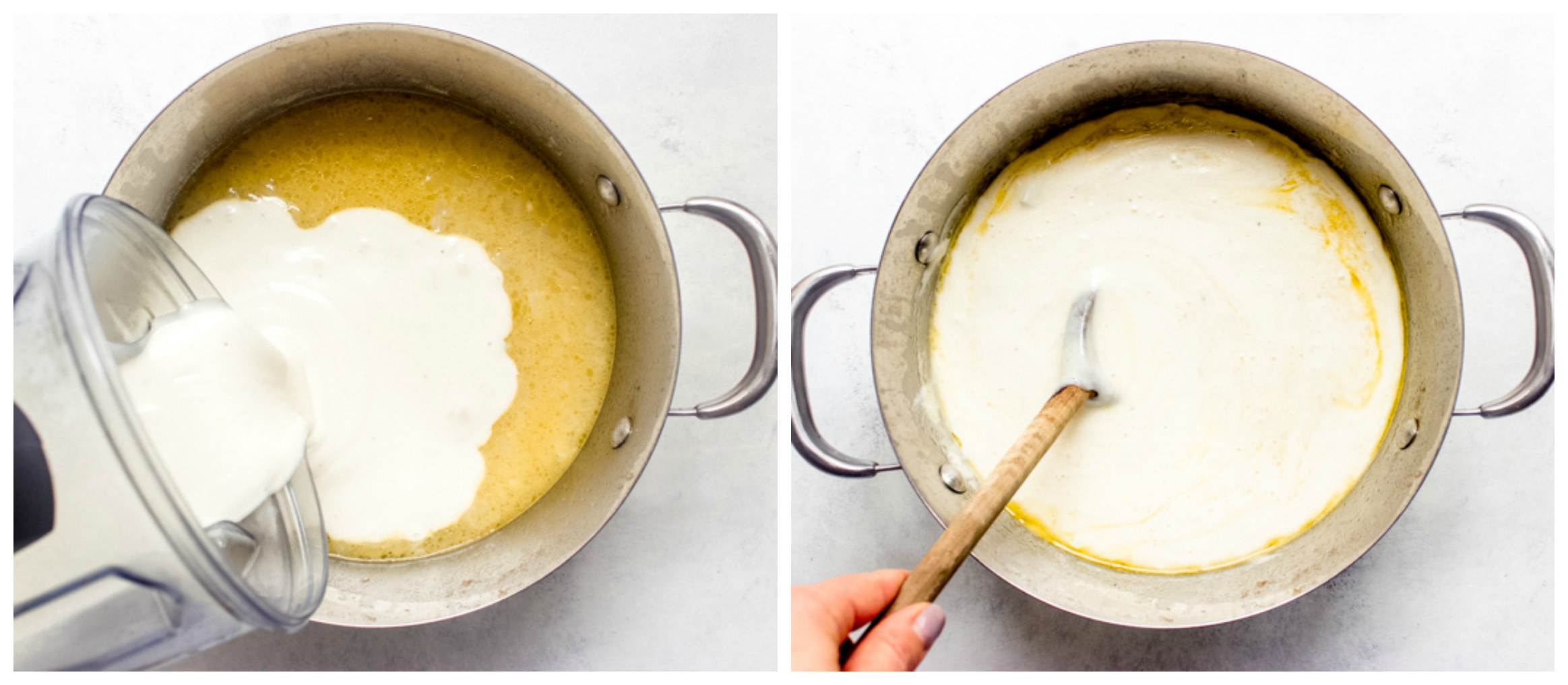 Expert Tips
Make this quick and easy potato soup even better with our expert tips:
Speedy Cooking: To get the soup ready quickly, finely chop the potatoes into smaller potato chunks. They'll cook much faster.
Keep it Smooth: Get the perfect creamy texture by blending the soup until just smooth. Don't overblend – it'll turn your soup gummy.
Veggie Boost: Try adding finely chopped carrots or celery for extra flavor and nutrition. They blend smoothly and add more depth.
Flavor Check: Make it a habit to taste and adjust the seasoning as you go. And be sure to add plenty of salt when boiling the potatoes.
How to Thicken the Soup
Thanks to the starchy nature of potatoes, making a thick potato soup is usually never a problem. However, if your soup is a bit on the watery side, we have a couple of tricks up our sleeve.
The preferred method, used in this recipe, harnesses the natural potato starch. We blend half the potato and mix it back into the soup. This should result in a velvety soup texture after a short simmer.
Still not thick enough? Turn to the ever-reliable cornstarch – a must-have in anyone's pantry. Make a cornstarch slurry with a little cold water, add it to the soup, then simmer for 1-2 minutes. As the soup cools, you should see it magically thicken.
Potato Soup Toppings
Want to add another layer of flavor? Here are some delicious toppings you can add to this easy homemade potato soup:
Cheese: A sprinkle of shredded cheddar cheese gives a creamy and tangy layer. Other varieties of cheeses also work – try Parmesan or even Gruyere cheese.
Bacon: Crown your dish with well-fried, crispy bacon bits for a salty crunch that's irresistible.
Fresh Herbs: Garnish with a scattering of fresh chopped parsley or sliced green onions before serving for that restaurant-worthy finish.
Chilli Flakes: Scatter with dried red chili flakes for a slight spicy warmth.
Black Pepper: An essential garnish. Use freshly ground black pepper – it's so much better.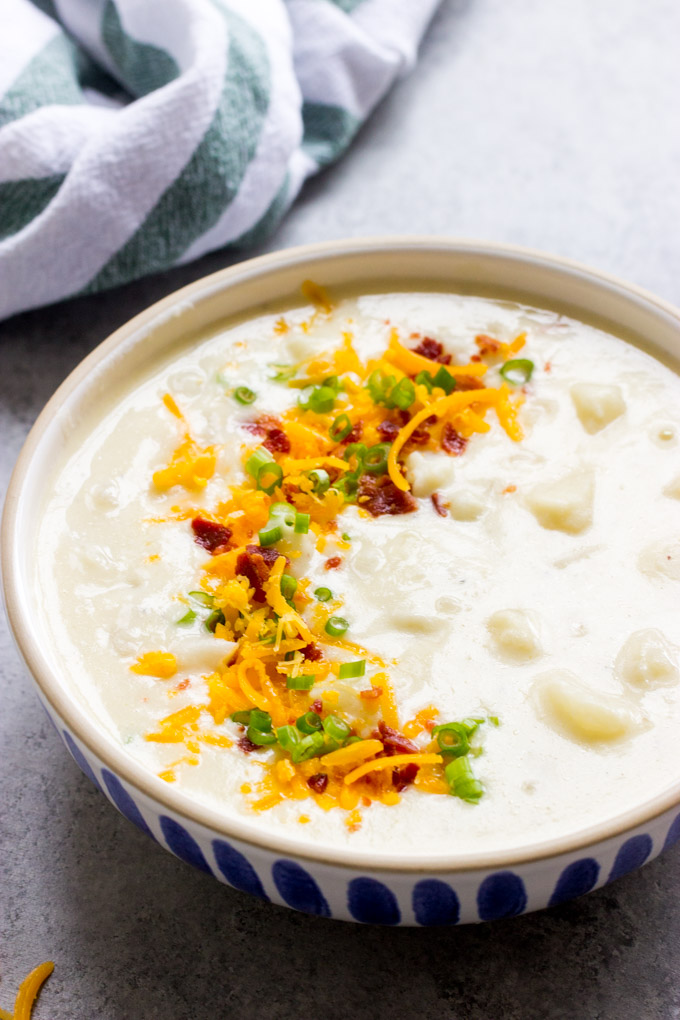 How to Store
Now you've made this easy homemade potato soup recipe, you might need to store any leftovers. Here are some key tips to keep your soup fresh and delicious:
Fridge: Cool the soup to room temperature, then pour it into an airtight container, such as a mason jar. It should last 4-5 days.
Freezer: It's best not to freeze this soup since it's dairy-based. Freezing can cause the soup to separate and give it a grainy texture.
Reheat: When you're ready to enjoy your soup again, reheat it on the stovetop over medium-low heat. Make sure it warms evenly without boiling.
Serving Sides
Your cream of potato soup should be served with something light and refreshing for balance. Take a look at these ideas:
Recipe FAQs
How do I make gluten-free potato soup? 
The great news is this is already a gluten-free recipe!

We don't use any wheat flour like you might see in other recipes that use roux. Instead, we rely on the natural starch from the potatoes as a thickening agent. 

You can also use cornstarch if you need to thicken your potato soup at the last minute – it's also gluten-free. 

Should I soak potatoes before putting them in a soup? 
If you find the variety of potatoes you're using results in a soup with a gummy texture – it might be down to too much starch. 

Soaking potatoes in water helps to remove excess starch – so try giving them an overnight soak next time.
Why does my potato soup taste bland? 
For an ultra-flavorful potato soup, always make your own chicken stock. It'll have a much deeper flavor. 

Also, check your seasoning. You should be adding salt and pepper at each stage – and taste testing, too. Under-salted potatoes are the worst.

And here's a little secret: Every dish needs a bit of acid to help bring out the other flavors. A little squeeze of lemon or lime is all it takes.
If you try our Quick and Easy Potato Soup, please leave a star rating and let me know how you like the recipe in the comments below.
Print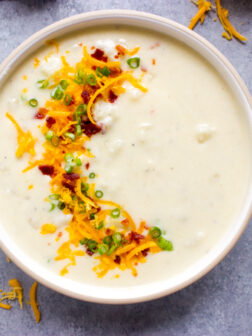 Quick and Easy Potato Soup
Author: Katya
Prep Time: 10 mins
Cook Time: 25 min
Total Time: 35 minutes
Yield: 4-6 1x
Category: Soup
Method: Stovetop
Cuisine: American
---
Description
Super simple potato soup with 6-ingredients! It's creamy, thick and so satisfying. Enjoy it topped with cooked bacon, cheddar cheese, and green onions.
---
3 Tbsp. butter
1 medium onion, chopped, about 1 1/2 cups
3 garlic cloves, minced
2 1/2 lbs. Russet potatoes, peeled and cut into 1-inch cubes
4 cups chicken stock
4 oz. cream cheese, cubed
To Serve
Bacon
Cheddar cheese
Green onions
---
Instructions
Melt butter over medium heat in a dutch oven or a soup pot. Add onions and cook until softened, about 5 minutes. Add the garlic and cook until fragrant.
Add potatoes and chicken stock. Season well with salt and pepper, to taste. Bring to a boil, then reduce to a simmer and cook uncovered until potatoes are knife tender, about 12-14 minutes.
Ladle 3 cups of potato mixture into a food-processor or blender. Add cream cheese and blend just until smooth. Make sure not to over blend or the potato mixture will turn gummy. Stir the puree back into the soup. Taste and adjust seasoning.
Serve topped with bacon, cheese, and green onions.
---
Notes
Leftovers: Leftover soup will last in the refrigerator for up to 4-5 days when stored in an airtight container. I do not recommend freezing this soup. Potato based soups can turn soggy, watery, or even grainy texture once thawed.
Nutrition
Serving Size:
Calories: 342
Sugar: 6.1 g
Sodium: 300.2 mg
Fat: 14.4 g
Carbohydrates: 45.1 g
Protein: 9.8 g
Cholesterol: 39.2 mg
Keywords: simple vegetable soup, creamy soup, fall